Since we are still on the topic of Western exploitation of humanity, let's look at some of the ways they prepare their operatives. Although the Anglo-American educational system is regularly ranked among the worst or lowest in the developed world, the hype created by the Anglo-American global propaganda machine is so powerful that a majority of the sheeple in the world actually go out of their way to send their impressionable sheeplets to the Anglo-American world for an education, that in fact is re brainwashing than education. At any given time, there are millions of young men and women around the world dreaming about a "Western education", and many do make it into the Western world to pursue their dreams.
What a situation like this essentially does is that it gives senior policymakers in the Anglo-American world a very large pool of "human resources" that they can tap into and exploit towards political purposes. This is in fact how they find and prepare their agents, activists and operatives. This is essentially why they periodically look for Armenian students to condition, of course free of charge.
This method of recruitment is one of the most effective ways to obtain and prepare operatives that eventually go back to work in their lands of birth. Incidentally, a good example of a Western educated political activist in Armenia is a London resident that goes by the name of Babken Der Grigoryan. He can be seen in the following picture holding an anti-Putin placard, on the very day President Putin was in Yerevan visiting the Armenian Genocide memorial -
Incidentally, this disgusting Babken character is very actively involved in anti-government activities of the Western funded political opposition in the country. [He was given a position in Nikol Pashinyan's Western backed government in 2018] Ultimately, it is foreign financed assholes like him that taint Armenia's political opposition, and make pragmatic nationalists such as myself see the much hated rule of the "Oligarchs" as a lesser evil.
Having a large pool of energetic and ideologically pliant army of western educated young activists is one of their most powerful weapons - after Hollywood and American pop culture of course - at their disposal. In recent years we have seen many examples of how Western officials use western educated young men and women from places such as Venezuela, Iraq, Syria, Libya, Iran, Egypt, China, Serbia, Greece, Ukraine, Russia and Armenia against their homelands. We periodically see such types on CNN and BBC justifying Western actions
in their homelands
as well as encouraging Western meddling
in their homelands
, including military actions.
I reiterate: Their grip over humanity is economic and political, as well as cultural and psychological. Think of it this way: If we want to speak their language, earn their money, live in their lands, learn in their schools, sing their songs, dance to their music, watch their films, eat their foods, wear their clothing... how would we ever see them as the enemy? Ultimately, our love for all things Western/American is what gives them their power over us and makes it easier for them to manipulate and exploit us.
Let's take a closer look at some aspects of mental processes that makes an individual pliable to Western manipulation and make him or her actively seek the Westernization of Armenia.
A young adult from one of Armenia's many dilapidated slums or backward villages gets awarded a grant to study or work in the Western world and suddenly opens his or her eyes in hustle-and-bustle of London, Paris, New York or Washington DC. Just imagine their awe, their excitement, their heightened consciousness. Imagine what it would be like for a young man or woman from a poor family in Armenia when they are given the opportunity to live and/or study in the Western world. Try to put yourselves into their shoes and try to think of what their impressions would be as they walk among the magnificent buildings of the most beautifully manicured Ivy League university campuses of the most powerful empire the world has known. How enjoyable it would be for them frolic with energetic and affluent youth from all around the world and do so without any cultural or sexual inhibitions. Would it be far-fetched to think that these young people would be more than willing to emotionally attach themselves to the political system of the land they are so awe struck by, the system that gave them an opportunity to leave their dilapidated/backward towns for the civilizational opulence they find themselves in? After living through Communism and Crony Capitalism, after experiencing firsthand Armenia's severe growing pains, after suffering impoverishment or unemployment, after growing up listening to the ubiquitous anti-Armenia hate-speech of all the grownups around them... of course these impressionable, naive and psychologically vulnerable individuals will be in total awe of the seemingly magnificent political system, and of course many of them will become its willing servants.
A thought that would be going through their impressionable minds would most probably be something along these lines: Why don't we have this kind of life back in our homeland? Why cant we have such diversity and freedoms back where we come from? Political system int he Western world = prosperity. Western diversity and egalitarianism = prosperity.
By consciously and enthusiastically latching themselves onto the Western system of things, they subconsciously convince themselves that they are trying to bring "progressive values" to their underdeveloped and backward homeland. They are also simply happy to have the opportunity to have a job, an education and some self-worth, all of which they lacked back in their homeland. This type of superficial and shortsighted - yet utterly human - thinking lies at the very root of a natural psychological process that takes young men and women down the path to assimilation (a best case scenario) or treason (a worst case scenario). These young adults unwittingly and sometimes wittingly become the "human resources" Western powers exploit for their imperial agenda.
The aforementioned natural processes of turning simple, poor folk from Armenia into enthusiastic activists for the political West can of course be applied to virtually all nations on earth today. Even the world's second largest economy, China, is not immune. A recent survey conducted in China suggested that a majority of China's wealthy would prefer sending their children to the US for an education - even though their educational system is known to be better than that of the US. And in some cases, young men and women don't even need to travel to any Western nation to receive a western education. For example: There is a much beloved American University providing western education right in the heart of Yerevan. Nevertheless, millions of young people are given the opportunity to study (i.e. get brainwashed) in Western institutions and a select few among them get recruited to become active operatives for Western governments. Therefore, keep this in mind for next time you are watching CNN or BBC and you see a western educated Arab, Russian, Iranian - or an Armenian - publicly criticizing and/or attacking his or her homeland.
The quality of education in the Anglo-American world's universities, even the "Ivy League" ones, are in no way superior to their counterparts around the world. It can be argued, for instance, that generally speaking students in Germany, France, Finland, Japan, China or Russia receive far better college educations. However, it should be noted that the thing that sets Western universities apart from their counterparts around the world is the priceless value of a thing called - networking - that students get to do, especially in "elite" Ivy League educational institutions such as Oxford, Cambridge, Yale or Harvard. These are the magnificent campuses where sons and daughters of kings and queens, presidents and prime ministers, tyrants and dictators, oligarchs and business tycoons meet and mingle, and often times make friendships that lasts a lifetime. These are also the ideal environments where Western intelligence operatives freely roam looking for prospects. They already have a pool of millions of young, naive, pliable minds yearning to learn English and become Westernized. Western powers therefore don't have to look hard for willing or unwitting operatives. All they need to do is just put out a sign and potential recruits will flood in. It should also be noted that homosexuals also figure prominently in this discussion.
As we all know, the Western world has become the epicenter of homosexuality. As a result of the Westernization and Globalization of human society, homosexuality is also on the rise around the world as more-and-more "closet homosexuals" are coming out in the open and a new generation of children are being encouraged to "explore" their sexuality. We know that the promotion of homosexuality and ultra-liberalism is one of the ways the Globalist elite in the Western world seeks to control population growth, breakup the traditional family, end nationalism and racism and undermine conservative religions. The ultimate agenda is to lower global population, mix all races and stamp-out nationalism and religion, all to make it easier to control the masses. This is why we see Western powers backing the proliferation of homosexual propaganda around the world through school curriculum, pride parades, same sex marriage legislation, children's shows, books, films, music and celebrities. Needless to say, when it comes to politics, a homosexual today (open or otherwise) will most likely be pro-Western. After all, Washington has become the beacon on the hill homosexuals around the world look up to today -
People with deep seated psycho-sexual disorders like homosexuality often times become very enthusiastic activists for any form of "change" that promises to bring about societal reforms (i.e. tolerance and sexual freedoms). Seeking societal change within which one feels emotionally, psychologically and physically secure is an instinctual "survival strategy" that is also commonly practiced by Jews. No surprise therefore that Jews spearhead "rights" movements around the world. Nevertheless, a homosexual (or anyone with nontraditional sexual preferences) living in a traditional, conservative society like Armenia will naturally yearn to live in the Western world.
And if he or she cant live in the West for some reason or another, he or she will yearn to bring Western "values" into Armenia.
Of course, living in the Western world (or in a country that is under direct Western influences) for any given period of time can also help in "bringing out" the gay in young adults. Consequently, there are many cases of homosexual opposition activists throughout Armenian society. I strongly suspect that many of those who want to see the Westernization of Armenia (or Armenia's "freedom" from Russia) are in fact the closet gay types. In any case, Western countries are incubators where activists and spies are grown and later sent back to their homelands to serve a Western imperial agenda. Armenia is in a very vulnerable position today because it has willingly opened itself up to the Social Engineering efforts of Anglo-American-Jews.

Arevordi
January, 2012
(amended 2018)

***
Opportunity of one-year free education in Great Britain for Armenian students
The British Embassy Yerevan is offering Chevening Scholarships, funded by the Foreign and Commonwealth Office and administered by the British Council. Press service of the British Council told Armenpress that these cover the costs of study (including living expenses and international flights) in the United Kingdom for 12 months. They are awarded on a competitive basis for Master's degree programme in the fields of: conflict prevention and resolution; development of the public sector to meet EU and other international standards; strengthening free/unbiased media.
Applicants must have the potential to rise to positions of leadership and influence. They will need to demonstrate that they possess the personal, intellectual and interpersonal attributes reflecting this potential. Although the scholars must meet the academic requirements for their courses of study, academic excellence is not the determining selection criterion for the scholarship. The criteria for suitability are: applicants should ideally be aged 25-35 but applications from all ages are welcome, should already hold a higher education diploma, hold a higher education diploma, should have at least two years work experience in their selected field of study, have an adequate standard of English, and should be committed to return to Armenia and contribute to the development of the country. All applications must be made on-line.
Chevening is the UK Government's international awards scheme aimed at developing global leaders. Funded by the Foreign and Commonwealth Office (FCO) and partner organisations, Chevening offers two types of award – Chevening Scholarships and Chevening Fellowships – the recipients of which are personally selected by British embassies and high commissions throughout the world. Chevening offers a unique opportunity for future leaders and influencers from all over the world to develop professionally and academically, network extensively, experience UK culture, and build lasting positive relationships with the UK. Applications for Chevening Scholarships and some Fellowships are open on 6 August 2018 for opportunities to study in the UK in 2019/2020.
Chevening is the UK government's international awards programme aimed at developing global leaders since 1983. Funded by the Foreign and Commonwealth Office (FCO) and partner organisations, Chevening offers two types of award – Chevening Scholarships and Chevening Fellowships – the recipients of which are personally selected by British Embassies and High Commissions throughout the world. Chevening offers a unique opportunity for future leaders, influencers, and decision-makers from all over the world to develop professionally and academically, network extensively, experience UK culture, and build lasting positive relationships with the UK. All former scholars and fellows, from 1983 to present, can reconnect with their classmates by joining the Chevening community platform.
Source: http://www.chevening.org/
Britain's Foreign and Commonwealth Office
Who should apply? Applicants should be:
Motivated to make a career that will take them to positions of leadership in their own country within ten years of their scholarship

Able to use their studies and experience in the UK to benefit themselves, their countries and the UK

Natural influencers and talented communicators, with energy and ambition

People who value networking and who can demonstrate the value of networks to their studies, and to bringing about change on a global level

Intelligent, with demonstrable academic potential

Strong characters with integrity, drive, and the ability to self manage and work independently
U.K. Has Record Influx of Immigrants
Migration into Britain last year hit its highest rate since record-keeping began in 1964, a blow to Prime Minister David Cameron's promise to curb an unprecedented immigration wave. Migration—defined as the difference between the total number of people who enter and exit the country to live—hit 252,000 in 2010, an increase of almost 15% over 2009, according to the Office for National Statistics. Government statisticians said they believe this is most likely the highest level of migration ever into Britain. The number was driven by a 591,000 increase in immigration and declining emigration, which fell to 339,000, its lowest level since 2001.
Since coming to power in May 2010 in a coalition government, Mr. Cameron's Conservative Party has promoted an annual cap of 20,700 visas for non-European Union workers; promised a clampdown on immigrants bringing families into the country; and cut the amount of colleges allowed to recruit foreign students. Thursday's figures show, though, that education was the most common reason stated for immigration to the U.K, with 238,000 people having arrived to study in Britain in 2010, compared with 211,000 in 2009. Mr. Cameron faces a tricky balancing act between satisfying concerns among the wider population and British businesses who say stricter controls are stopping them from hiring foreign workers with key skills, which they say exacerbates the economy's troubles. Foreign students are also a big earner for British educational institutions and had for many years been targeted as an area of economic growth by British ministers.
Immigration Minister Damian Green said immigration has been coming down since it hit a peak in September 2010, but said a lot more work needed to be done. He promised to bring net migration down from the hundreds of thousands to the tens of thousands over the course of this Parliament, which will end by 2015. While the U.K. doesn't have the same history of far-right political agitation over immigration that many European countries have, the subject has played an increasing role in voting behavior. Labour lawmakers say immigration was a big factor in their loss in last year's elections.
The issue has climbed national agendas across Europe after a decade-long burst of immigration led to fears of home-grown terrorism and the erosion of local culture. Also, the recession has increased unemployment, stirring resentment over extra competition for work. The U.K.'s unemployment rate is currently 8.3%, lower than most other major economies, which means fewer people are moving out of Britain for work reasons, according to the ONS. The numbers underscore how a globalized economy like Britain faces a struggle to control immigration. The U.K. has no control over immigration from the European Union given open-border agreements with its members. Still, despite Mr. Cameron's promise to cut down on immigration from outside the EU, more than three-quarters of immigrants into Britain came from the rest of the world. Almost half of new entrants came from the Indian subcontinent, which includes India and Pakistan.
Armenia First in Region in Winning US Green Cards
A total of 1,200 entrants from Armenia have won US Green Card Lottery 2011. And in the 2012 Lottery, the number of winners from Armenia is close to one thousand, US Consul to Armenia Robert Farquhar stated, during a press conference on Thursday, adding that with this indicator Armenia is the clear leader in the region. Farquhar also informed that in 2011 the number of Green Card Lottery winners was around 700 in Georgia, and 350 in Azerbaijan. Also, 2,400 people became Green Card winners in Russia. Green Card Lottery 2013 started on October 4 and it continues until November 5. Every year around 55 thousand Green Cards are played in this lottery, RFE/RL reported.
Source: http://news.am/eng/news/77821.html
The Future Leaders Exchange (FLEX) Program provides scholarships for high school students from Europe and Eurasia to spend an academic year in the United States, living with a family and attending an American high school.
The Future Leaders Exchange (FLEX) program is a competitive, merit-based scholarship program funded by the U.S. Department of State. FLEX students spend an academic year in the United States living with a volunteer host family and attending a U.S. high school. FLEX students gain leadership skills, learn about American society and values, and teach Americans about FLEX countries and cultures. The primary goal of the FLEX program is to improve mutual understanding and develop and strengthen long-term relationships between citizens of the United States and other peoples and countries. There are currently 17 countries that participate in the FLEX program. These countries include Armenia, Azerbaijan, Estonia, Georgia, Kazakhstan, Kyrgyzstan, Latvia, Lithuania, Moldova, Mongolia, Montenegro, Poland, Romania, Serbia, Tajikistan, Turkmenistan and Ukraine.
Source: https://exchanges.state.gov/non-us/program/future-leaders-exchange
Students studying overseas could be helping to make former Soviet countries more liberal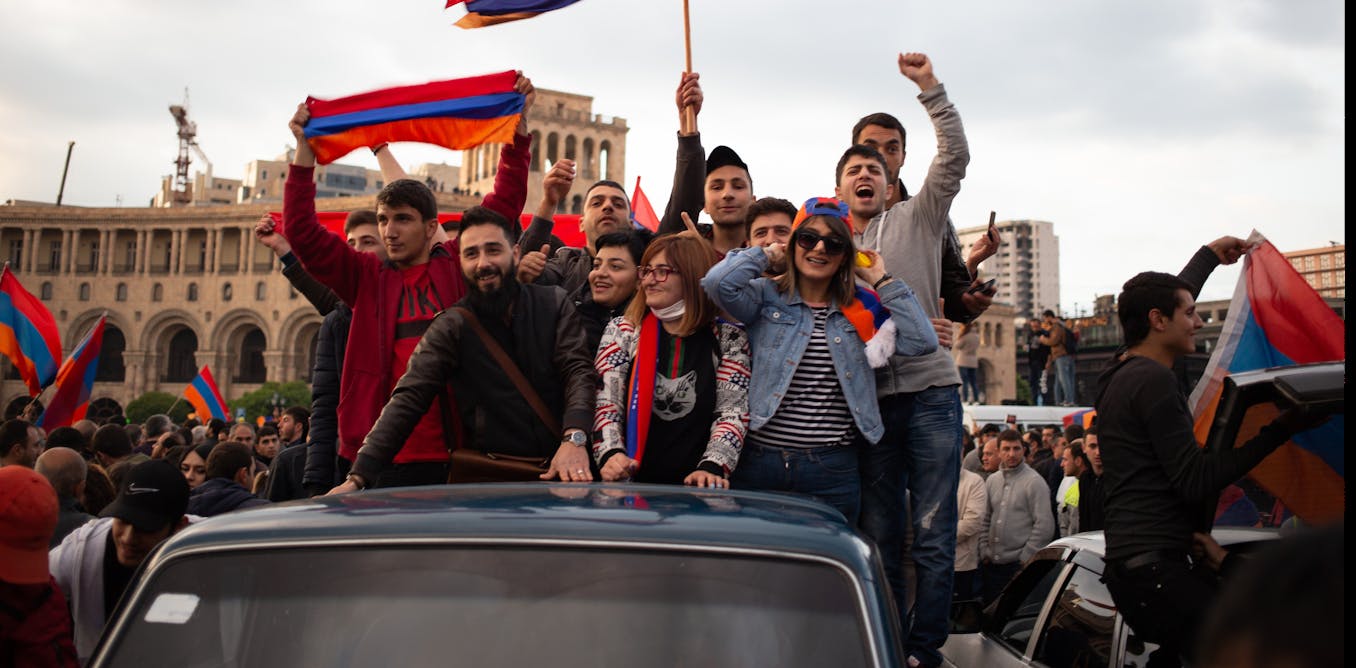 Society is defined by mobility. Crossing borders involves acquiring new knowledge, being exposed to new ideas and ways of thinking. People move for a variety of reasons – and education is one of them. International students come from diverse backgrounds. And prior to travelling away from home for university, students may have been exposed to a limited set of ideas on social and political issues. Universities in many countries nurture open political communities. Interactions at universities can often allow students to reflect on both the social and political culture of their host and home countries. For some, the experience can be so powerful that it changes the way they think about liberal values and practices as well as about their contributions to the communities around them. In this sense, universities can develop students' critical awareness of wider society and their willingness to participate in public life. And such potentially transformative experiences, when shared by a critical mass of individuals, can help to drive changes in the wider social and political culture at home.
Democratic development
Former Soviet countries provide a useful context for observing links between studying abroad and political transformation, as they have undergone a natural experiment since the early 1990s. At the time of the breakup of the Soviet Union, these countries were at a similar level of social and political development. But the diverse pathways of development that these countries chose has led to different patterns of student mobility and democratic development. The Economist Intelligence Unit measure of democracy is based on five categories: electoral process and pluralism, civil liberties, the functioning of government, political participation, and political culture. Under these rankings, three former Soviet countries are considered flawed democracies – Estonia, Lithuania, and Latvia. Five are classified as hybrid democracies – Moldova, Georgia, Ukraine, Kyrgyzstan, and Armenia. Then there are also seven authoritarian regimes: Belarus, Russia, Kazakhstan, Azerbaijan, Tajikistan, Uzbekistan, and Turkmenistan.
Studying abroad
As post-Soviet countries developed economically in the last three decades, the volume of migration has increased, with more students seeking study abroad. My research shows that in this region, countries with higher proportions of students studying in Europe and the US have achieved higher levels of democratic development. The number of mobile students from the former Soviet countries to Europe and the US has been increasing consistently since the 1990s. There are now around 119,000 students from this region pursuing their education in Europe and 12,500 students in the US.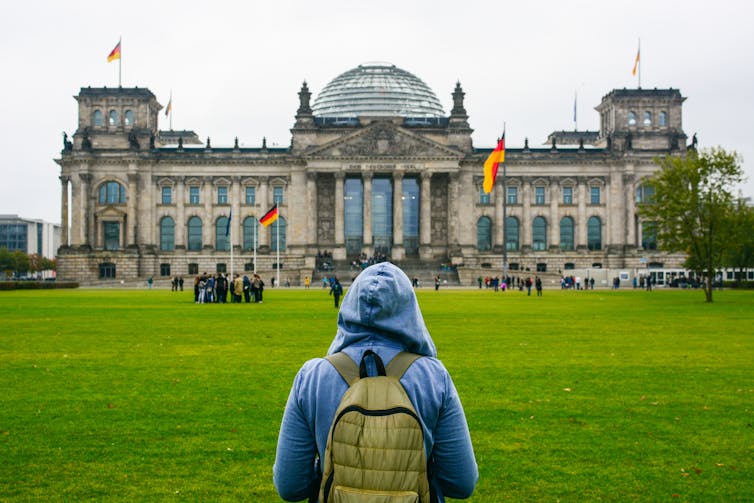 Studying abroad can help to open students' minds. shutterstock
That said, more students from the former Soviet countries study in Russia than in Europe and the US together. Russia remains the most popular destination for students from the region. There are more than 150,000 students from former Soviet countries enrolled at Russian universities.
Russia's role
Russia's popularity can be explained by its past political and economic role – in both the Russian empire and the USSR. Russia is large, wealthy, compatible language wise, and accommodating. Most importantly, Russia offers state funded scholarships to students from former Soviet countries. These scholarships cover university tuition as well as living expenses. And my analysis shows that former Soviet countries with higher proportions of students studying in Russia, are less democratic.
---
---
Former Soviet countries with higher levels of attained democracy seem to have had larger numbers of post-independence political leaders – presidents and prime ministers – who have studied in Europe or the US. And countries with lower levels of attained democracy have had higher proportions of post-independence political leaders who have studied in Russia. Studying abroad can, of course, help to change students' understanding of civil liberties and electoral process. Similarly, universities in different countries can also influence students' ideas about political participation and political culture. And these "apprenticeships" in democracy may well be critical in facilitating democratic developments when students finish their studies and return to their home countries.
The 26th group of Peace Corps Volunteers arrived to Armenia
Last night 42 American Peace Corps Volunteers have arrived to Armenia. The Volunteers form the 26th group of Peace Corps Volunteers to serve in our country. With the addition of this new group, currently there are approximately 110 Peace Corps Volunteers serving in rural villages and towns throughout all of the regions of Armenia. The Volunteers have come to Armenia with two year commitment to work as English language teachers in schools, as well as in NGOs. Before coming to Armenia, the Volunteers have participated in a virtual online course and they have learnt the Armenian alphabet and some elementary Armenian words and phrases. Before the Volunteers start their service in Armenia, they will have a 3-month training to learn the Armenian language and culture, as well as to develop their technical skills. During these three months the Volunteers will live in Ararat marz with Armenian families. After the completion of the training, the Volunteers will officially be sworn-in and depart for their communities throughout all of the regions of Armenia. The United States Peace Corps was founded in 1961 by John F. Kennedy to strengthen world peace and friendship. The Peace Corps started its activities in Armenia in 1992 at the invitation of the Government of Armenia. Over the past 26 years more than 1,000 Volunteers have served in Armenia.

Source: https://www.lragir.am/en/2018/03/22/38049
AUA Receives $900,000 USAID Grant to Build Center for Social Entrepreneurship
On October 3, the American University of Armenia received notification of a $900,000 grant from the American Schools and Hospitals Abroad (ASHA) program of the U.S. Agency for International Development (USAID). This grant is earmarked for the reconstruction and furnishing of the second of two buildings donated to AUA by K. George and Dr. Carolann Najarian. The last ASHA award of $999K was for the reconstruction and furnishing of the first Najarian building as AUA's future student residence facility.
The Najarian Center for Social Entrepreneurship project addresses the mission of the University to drive social change in Armenia. It will provide the learning and creative space, tools and resources for advancing social entrepreneurship. Students engaged in the activities and programming will develop the essential knowledge and skills to lead social innovation and model best practices for creating impact ventures. The project supports the strategic goals of the University to promote student learning, provide spaces where students, alumni and faculty nurture their agency for social change, create synergies between the public and private sectors, and facilitate collaborations in innovation and social entrepreneurship.
As noted by AUA President Dr. Armen Der Kiureghian, "Bringing these programs closer together under the same roof will create new synergies for enhanced community service and promotion of social entrepreneurship. We are very grateful that, thanks to ASHA's tremendous support, we will be able to accomplish this important project at a time when the local communities and citizenry are ready to share social responsibility. This helps AUA create the next generation of social problem solvers and entrepreneurs."
With the addition of a fourth floor, the Center will add 1,351 sq.m. of net usable space (1,691 sq.m. gross space) to house AUA programs, including the Center for Research in Applied Linguistics (CRAL), the Acopian Center for the Environment (ACE), and a new partnership with Impact Hub Yerevan. Aside from the capacity to accommodate the increasing number of child learners, degree and non-degree students, and continuing education learners, the Center will have conference facilities and offer state-of-the-art platforms that will reach diverse audiences.
In the words of Provost Dr. Randall Rhodes, the AUA Najarian Center for Social Entrepreneurship complements other entrepreneurial initiatives in Armenia by placing strong emphasis on the social components of development: "As per its mission, the AUA is committed to the social, economic and political development of the nation. While most initiatives related to entrepreneurship have focused on the IT sector, this new Najarian Center for Social Entrepreneurship will highlight initiatives fostering capacity building in other realms such as social welfare, education, environmentalism and civil society. As many of our students will be participating in these initiatives and benefiting from access to Impact Hub Yerevan's mentor network, the AUA's impact on Yerevan and Armenia will assuredly grow."
In that regard, AUA's partnership with Impact Hub Yerevan — Armenia Social Innovation Development Foundation — will expand the students' reach to a global network of professionals at 90+ Impact Hubs worldwide and 16,000+ change makers. This will enhance their empowerment through accelerator programs in social entrepreneurship that will contribute toward nurturing their ideas, connecting them with social entrepreneurs and NGOs in Armenia and abroad, realizing impact projects, and promoting research on issues related to social, environmental and cultural innovation.
"This ASHA grant is truly an affirmation of the mission of the University and its role in promoting democratic principles and values, gender and social change, and public outreach," asserted Assistant Vice President Anahit Ordyan. This grant supplements the financial support the University has received from ASHA since the University's founding to around $14 million.
As an integral part of AUA's sustained relationship with ASHA, earlier in October, Vice President of Operations Ashot Ghazaryan, Assistant Vice President Anahit Ordyan, Accounts Manager Lilia Darbinian from AUAC Oakland, and AUA Extension Program Operations Manager Anahit Ghazaryan attended the annual ASHA conference in Washington, D.C. The focus of this year's conference was on the strategic priorities and quantifiable outcomes of US public diplomacy in projects abroad, and upcoming changes in managing ASHA grants.
ASHA aids American schools, libraries, and medical centers abroad that serve as study and demonstration centers promoting American ideas and practices. ASHA's grants help these institutions train future leaders in a wide variety of disciplines, support local and regional infrastructure to foster development and cultivate positive relationships and mutual understanding among citizens of the host country, the United States and other nations.
Founded in 1991, the American University of Armenia is a private, independent university located in Yerevan, Armenia, and affiliated with the University of California. AUA provides a global education in Armenia and the region, offering high-quality graduate and undergraduate studies, encouraging civic engagement, and promoting public service and democratic values.
Thanks to a new partnership between the U.S. State Department and the Hirair and Anna Hovnanian Foundation, Armenian students will have even more opportunities each year to take part in the Fulbright Program, the largest U.S. exchange program offering opportunities for students and young professionals to undertake international graduate study, advanced research, and university teaching.
Beginning with the 2017-2018 school year, the newly created Fulbright-Hovnanian exchange program will provide five additional exchange opportunities for students working on master's degrees in STEM fields (science, technology, engineering, or math) and/or entrepreneurship. These five slots are in addition to the traditional Fulbright exchange opportunities offered annually to Armenian students and academics.
"We are very excited to be working with the Hovnanian Foundation, together giving the Armenian people the skills they need to realize their goals, and strengthen their respective fields and their nation's future," U.S. Ambassador to Armenia Richard Mills, Jr. said. "In today's world, no nation will grow without technology, without science, without entrepreneurship. So I believe this new Fulbright-Hovnanian program will go a long way in advancing Armenia."
The Hovnanian Foundation was looking for a way to invest in Armenia's future through STEM education and entrepreneurship, and chose to partner with the State Department's Fulbright Program after evaluating its past success. Approximately 200 Armenians have participated in the traditional Fulbright program, studying in the U.S., since its launch in Armenian, and returned home with new skills and expertise.
"Partnering with the Fulbright program was an easy decision to make — the reputation it has for being a top notch program that truly has impact worldwide is well established," said Edele Hovnanian. "Our family's foundation is hoping this is the beginning of a long and expanding partnership with the U.S. Embassy to create more opportunities for the citizens of Armenia to gain skills that will help Armenia be a place where anyone who wants to work, has such opportunities; a place where new ideas and ventures in science, technology, engineering and math help Armenians and allow Armenia to make its mark on the world stage."
Applications are now open for both the traditional Fulbright program and the new Fulbright-Hovnanian STEM+E exchanges which will take place in 2017. These grants will be for master's degree study in the U.S. during the 2017-2018 academic year. The deadline to apply for the traditional Fulbright exchanges is June 3, 2016. The deadline for the Fulbright-Hovnanian program grant is July 15, 2016. Eligibility requirements and application procedures can be found on the Embassy website: https://www.usa.am/cms/announcements.php.

Source: https://am.usembassy.gov/new-fulbright-hovnanian-program
New Law Could Boost Fortunes of Armenian NGOs
The Armenian government and the country's voluntary sector have finally hammered out a deal on new legislation governing NGOs.
A previous version of the bill, revealed in January this year, caused controversy by including what NGOs regarded as intrusive measures.
Experts say the latest version, likely to be adopted this year, marks a rare example of cooperation and trust between the government and the civil society sector.
"The draft law contains significant changes that will contribute to the development of civil society as an institution," Armenia's deputy justice minister Arsen Mkrtchyan told journalists on April 8.
Mkrtchyan said the new version would give NGOs more power and greater flexibility in handling their affairs, as well as making it easier for them to take on volunteers.
NGO legislation has been a contentious issued ever since Armenia became independent in 1991. The law now in force was passed in 2007 after consultation with NGOs, but it was deemed far from ideal, and work to draft new legislation began almost immediately.
For the last year, international experts on civil society reforms in Eastern Europe have worked with Armenia's NGO sector and government on an updated bill. The work has been funded by the British Council, the Civic Development and Partnership Foundation, the Grant Thornton company and the Thomson Foundation.
The European Union also provided funding some 950,000 euros towards the bill's development, and Hoa­Binh Adjemian, the head of cooperation with the EU delegation to Armenia, told reporters that the bill's wording was in line with European standards.
The revised version has done away with some of the provisions that NGOs objected to in the earlier one, including the right of justice ministry officials to attend their internal board meetings, and audit requirements which would have been too expensive for them. Instead, only NGOs receiving national or local government funding will have to submit financial reports to the state.
Another important point embedded in the bill is the right of NGOs as institutions to file lawsuits and represent themselves in court on matters within their remit. However, this right will only apply to organisations dealing with culture and the environment.
Mkrtchyan explained that this restriction was common in many countries, and was there for legal reasons. Environmental and cultural cases could affect the interests of society as a whole rather than individuals, so there was scope for NGOs to act to uphold and defend constitutional rights in those areas.
"In areas other than these, violations of the law relate to individuals who are able to defend themselves in court," he told IWPR. "Also, in a case where individuals have not gone to court themselves, one would have to ask why their interests should be defended by an NGO if they haven't authorised it to do so."
The new law should resolve another disputed area, the status of volunteer workers. In Armenia, their rights are partly regulated by the law on charities. In the proposed bill, they will be entitled to an employment contract after five days' work even though they are not being paid. They will be allowed to list volunteer service as part of their employment history for official purposes.
One of the big changes in the bill is that NGOs will be allowed to generate revenue through commercial activity.
"At the moment, civil society organisations can conduct business only through the medium of commercial organisations," Mkrtchyan said. "The new bill will provide more opportunities to use the fruits of their labour for commercial ends – they can rent out property, provide paid services and so on."
Nina Iskandaryan of the British Council's Support to Democratic Governance in Armenia programme told IWPR how this could work, "In many countries, NGOs live off endowment funds – from the interest on a protected sum of money in the bank – and this provides sustainability. In Armenia, this has so far been impossible under the law."
Iskandaryan said the new legislation would resolve the day-to-day survival problem facing civil society organisations and free them to focus on real issues.
The Equal Rights, Equal Opportunities group provides jobs for disabled people in the city of Vanadzor. Its director Anush Aslanyan told IWPR that the organisation would now be able to sell items made as part of its programmes and also hoped to set up a small printing house which would provide jobs for people with disabilities.
"But of course, all that still won't be enough to maintain the organisation," she added.
Sona Ayvazian, deputy director of the local branch of Transparency International, says the draft NGO law still has a number of shortcomings. For example, it does not set out procedures for closing down an NGO, and faith groups are still precluded from setting up non-profit organisations. Overall, though, she acknowledged that the bill was an improvement on the current law.
Iskandaryan added that the drafting process was a precedent for cooperation between civil society and the Armenian government.
"We have clearly demonstrated that engaged organisations and individuals can work together with government on the text of the law and arrive at a compromise," she said.

Source: https://iwpr.net/global-voices/new-law-could-boost-fortunes-armenian-ngos
George Soros Meets With Armenian Non-Profits in New York
On Wednesday, September 19, 2007, world-renowned philanthropist and financier George Soros met with six leading Armenian American non-profit organizations to exchange opinions on new innovative ways to build civil society in Armenia. The roundtable luncheon and discussion was organized by the Armenian General Benevolent Union (AGBU) and was hosted by AGBU President Berge Setrakian. The event took place at Manhattan's University Club and included representatives from the Armenian American Wellness Center, Armenia Fund USA, Children of Armenia Fund, Fund for Armenian Relief, the Izmirlian Fund, and philanthropist Jeffrey Acopian.
After brief introductions, George Soros spoke candidly about his hope that the roundtable would aid in the free exchange of ideas about what can be done in Armenia to strengthen civil society, an overarching goal for Soros' non-profit organization, the Open Society Institute (OSI). Soros underlined his belief that establishing good cooperation with diasporan Armenian organizations was important for OSI to accomplish its work in Armenia. "Our constituency is Armenia's society in general, and I know the diaspora has influence in this regard," he said.
OSI and the Soros foundations network-which began in 1984-spent more than $400 million worldwide in 2006 on improving policy and helping people to live in open, democratic societies. OSI works on issues ranging from human rights, to access to education, to freedom of information. Since 1997, OSI Assistance Foundation-Armenia, the Armenia-based Soros foundation, has spent $20 million in developing grassroots programs for Armenians.
Soros introduced the Executive Director of OSI Armenia, Larisa Minasyan, who elaborated on the media, arts, education and justice programs that the organization has been able to successfully implement. She explained that the organization received funding from the British and Dutch governments, in addition to annual funds from Soros' Armenian foundation. "Our goal is to establish democracy in a diverse way," Minasian said. "We are trying to bring systematic change in the various fields and we are achieving success in different ways."
OSI Armenia board member, Lucig Danielian outlined some of the objectives of the organization and their approach to the problems facing Armenia, "We feel it is about empowering people and giving them the skills and the jumpstart, and the funding when required, encouraging change from below."
Vigen Sargsyan, Board member of OSI Armenia and the World Bank Yerevan, explained the barriers to democratic reform in Armenia via the media, "The media [in Armenia] today, suffers from homogeneity and it is state-dominated, which doesn't allow for alternatives."
Various individuals spoke about the interconnection of democracy and economic development, and how the role of each could contribute to a sustainable and strong Armenia.
The frank discussion touched upon the problems of migration from Armenia, the sensitivity of Armenia's relationships with its neighbors, the continuing economic blockade of Armenia's borders, and the question of corruption in Armenia's public and private sectors.
Soros acknowledged that the Armenian scenario is unique, since a strong, diverse diaspora can contribute to reform in Armenia, which is not the case in other Eurasian nations. He concluded on a hopeful note, sharing a personal anecdote about his own native country of Hungary, which experienced a short period of freedom in the 1950′s only to be quickly suppressed by Soviet forces. "I will tell you that the 1956 Hungarian Revolution came into fruition in 1989. No one could have imagined that," Soros said.
AGBU President Berge Setrakian thanked Soros for his participation in the exchange and shared some of his personal thoughts. "This process is only beginning and we will certainly continue this dialogue. Hearing about the successes of the Soros foundation in its efforts to build civil society in Armenia, we are encouraged to explore new possibilities. As the world's leading Armenian non-profit organization, it is AGBU's responsibility to seek out effective ways to help Armenians and Armenia become a strong and stable nation," Setrakian said.
Source:

https://agbu.org/news-item/george-soros-meets-with-armenian-non-profits-in-new-york
Open Society Foundations: How the United States Can Support Armenia's Fledgling Democracy
In April 2018, Armenians took to the streets to demand better governance and more democracy—and, in what seems like a rare occurrence these days, the good guys won. Led by the former journalist Nikol Pashinyan, the pro-democracy activists swept aside a corrupt and entrenched government and took power.
Eight months later, in Armenia's first democratic election in a generation, reformers cemented their victory. Pashinyan and his My Step Alliance won more than 70 percent of the vote; he will now serve a full term as prime minister. Meanwhile, the Republican Party of Armenia, which ran the country for the past 20 years, failed to gain a single seat in the new parliament.
Now, Armenia has a once-in-a-generation opportunity to reform the criminal justice system and implement sweeping anticorruption laws, and the United States—which has its own interest in ensuring stability in a volatile region—has a chance to help achieve those goals.
First, the U.S. government can start by reviving the U.S.–Armenia Joint Economic Task Force. The Task Force has been the main vehicle for trade between the two countries since 1999, but it is a modest agreement, only focusing on trade and economic development.
A more expansive agreement between the two countries could help Armenia fight corruption, which for years has eroded Armenia's economy. Transparency International has ranked Armenia 107th out of 180 countries, worldwide, for levels of corruption. Close to 30 percent of Armenia's population lives below the national poverty line, and the country struggles with high unemployment and low labor force participation—particularly among women.
Organizations that focus on key issues such as anticorruption and legal reforms can act as both a partner to and a check on the government, which would be essential as Pashinyan seeks to build a long-term democracy. However, this can only occur if civil society organizations are allowed to freely operate as nonpartisan entities.
The U.S. government could help the new prime minister, who has said he is committed to eradicating corruption, and recover stolen assets. Specifically, the United States could regularly exchange information on assets that oligarchs who backed the previous regime siphoned out of Armenia to the United States—and get them back.
For example, the U.S. Department of Justice could provide Armenia with updates on measures it is taking, such as prosecutions or individual sanctions, against kleptocrats. It could facilitate exchange programs for Armenian investigators and prosecutors to help the former learn about how to use effective investigative strategies—such as financial forensics—to investigate corruption. For decades, Armenia's old regime let ineffective training practices flourish. Armenia's existing anticorruption institutions, such as the national Anticorruption Council, for example, failed to prosecute corrupt officials—and were accused of accepting bribes, as well as spending their budgets on personal expenses.
Coming out of that corruption-filled milieu, Armenia's new class of civil servants will need outside assistance. Specialists from the U.S. law enforcement agencies could advise the Armenian government on legal processes and reforms that would reduce the rate of conflicts of interest while strengthening the integrity of the civil service in general.
Second, the United States could help the Armenian government rebuild the independence of the judiciary by helping to make its law enforcement agencies—and its judges, prosecutors, and police officers—more understanding of civil rights and anticorruption practices. The U.S. State Department and the Department of Justice could help Armenian law enforcement hire outside experts to improve its police service and train prosecutors (and judges) on the protection of human rights and professional integrity.
An expanded Task Force could also allow the U.S. government to increase its support of human rights defenders and other civil society organizations. For example, the Task Force could establish provisions that would ensure that NGOs are able to participate in regular meetings with the new government. The agreement could call for annual meetings between these organizations, after which public reports about the meetings' findings could be released. This would help enhance accountability with the new government and Armenian citizens. The United States could also offer technical experts from the State Department to advise new Armenian civil servants on best practices for engaging with civil society.
Reforming a country plagued by a history of corruption can't be done overnight. Armenia has significant challenges ahead of it that will take time to overcome. To assist Armenia in its journey to sustainable democracy, the United States could expand the Task Force and commit to enhancing the relationship it has with Yerevan. Armenia now has a unique opportunity to overcome years of autocracy and corruption, and the United States can play a significant part in that.
Source: https://www.opensocietyfoundations.org/voices/how-united-states-can-support-armenia-s-fledgling-democracy