Russia to Set World Record With 39 Space Launches in 2009
December, 2008
Russia is planning to set a world record by conducting a total of 39 space launches in 2009 despite the current global financial crisis, the head of the Russian Space Agency said on Monday. "We have scheduled a record number of launches for next year. We are planning to carry out 39 launches, half of them commercial and civilian satellites," Anatoly Perminov said. Russia conducted 27 space launches in 2008 and 26 launches in 2007, becoming the world's leader in this sphere. Perminov said Russia would meet all its obligations before international partners in a variety of joint space programs. "Despite the difficulties created by the crisis, we are preparing to launch in 2009 four manned space missions instead of two, and we are planning to send six Progress cargo vehicles to the International Space Station instead of four," Russia's space chief said. Perminov also said there were no changes in Russia's Glonass satellite program. "We will conduct two launches with three satellites each to increase the Glonass orbital grouping by six satellites," he said. The Glonass grouping currently consists of 19 satellites, of which 16 are operational, two are undergoing maintenance, and one is due to be withdrawn. The system requires 18 satellites for continuous navigation services covering the entire territory of the Russian Federation, and 24 satellites to provide services worldwide. A total of 9.9 billion rubles ($360 million at the current exchange rate) was allocated for Glonass from the federal budget in 2007, and 4.7 billion rubles ($170 million) in 2006. Six new Glonass satellites were added to the network in 2008. Prime Minister Vladimir Putin signed a directive on September 12 allocating an additional $2.6 billion to develop the system. Anatoly Perminov said in September that the number of satellites in the Glonass network would be increased to 30 by 2011.
Source:
http://en.rian.ru/russia/20081229/119210306.html
In other news:
Russia Selling Surface-to-Air Missiles to Libya, Syria: Report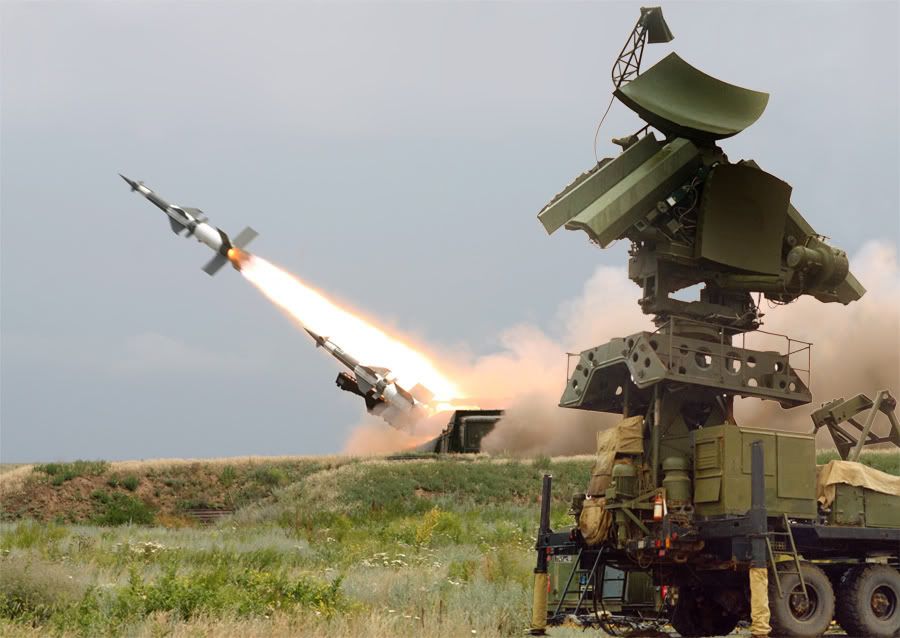 Russia has begun to fulfil a 250-million-dollar contract to deliver surface-to-air missiles to seven countries including Libya, Syria and Venezuela, the Vedomosti business daily reported Friday. Russia will also deliver the S-125 Pechora-2M missile batteries to Egypt, Myanmar, Vietnam and Turkmenistan under the contract, the newspaper said, citing a source in the state-owned Russian Technologies corporation. Contacted by AFP, a spokeswoman for the company declined to comment. Russian Technologies includes arms exporter Rosoboronexport among its holdings. The paper did not say which parties had signed the contract. The Pechora-2M -- known as the SA-3A Goa in NATO parlance -- is an upgraded version of a surface-to-air missile originally developed in the 1960s that was widely shared with the Soviet Union's allies around the world. Under the contract, 200 missiles are to be delivered including 70 for Egypt, an unnamed manager at a Russian defence-industry factory told Vedomosti. He added that most would be built at the Obukhov factory in Saint Petersburg. "It is a simple but effective system, like the Kalashnikov assault rifle," he said of the Pechora.

Source:
http://news.yahoo.com/s/afp/20081226...nezueladefence
Russia Sells SA-20 to Iran
Irrespective of Kremlin denials, Iran is buying the Russian-built SA-20 strategic-range air defense system, say senior U.S. government officials. Deployment of the system - a threat previously thought to be only a bargaining tool - would mark a capability leap in the Middle East and considerably improve Iran's ability to defend its nuclear facilities. Western officials are concerned that Tehran is pursuing nuclear weapons. "The Iranians are on contract for the SA-20 [which NATO designated Gargoyle]," says one of the U.S. government officials. "We've got a huge set of challenges in the future that we've never had [before]. We've been lulled into a false sense of security because our operations over the last 20 years involved complete air dominance and we've been free to operate in all domains."

The proliferation of so-called double-digit surface-to-air missile systems - such as the Almaz Antey SA-20 (S-300PMU1/S-300PMU2) - poses an increasing threat to nonstealthy aircraft, and will force changes in tactics and operational planning. The SA-20 has an engagement envelope of roughly 100 mi., and Iran may be signed up for the S-300PMU-2 variant with even greater range. Russia could use Belarus as the route for a sale, allowing Moscow to deny any direct involvement, says a U.S. official. It would likely take the Iranian armed forces as long as 24 months to become proficient in the operation of the SA-20; however, any deal would almost certainly cover training support in the interim. Israel might be tempted to preemptively strike suspected nuclear sites prior to the SA-20 becoming operational, or even try to hamper delivery. "The beginning of proliferation of double-digit SAMs is more of a concern than the potential air threats [such as Russia's Sukhoi Su-35 and China's Chengdu J-10] that are coming into service," says the government official.

The presence of Russian double-digit long-range SAM systems in the region during the recent Georgian incursion had a direct impact on NATO planning - resulting in a decision not to use the Boeing E-3 AWACS for surveillance. The SA-20 and, even more so, the SA-21 Growler (S-400) now entering service pose an increasing problem for mission planners using conventional strike aircraft. While low-observable aircraft offer greater latitude for operations, they are not totally immune to air defenses. The Lockheed Martin F-22 with its all-aspect, -40-dBsm. radar cross-section signature can operate within the engagement envelope of the SA-20 and SA-21. But the Lockheed Martin F-35 with its -30-dBsm. signature, but not all-aspect stealth, is at greater risk. The rear quadrant of the F-35, particularly around the engine-exhaust area, is not as stealthy as the F-22. Because of its aging stealth design, the Northrop Grumman B-2 also has limitations in the amount of time it can spend within the range of double-digit SAM systems, since small signature clues can become cumulative and offer a firing solution. The U.S.'s next-generation bomber program is aimed at developing a low-observable platform capable of operating irrespective of the threat from systems of the SA-21 class.

During the recent conflict between Georgia and Russia, the caution with which double-digit SAMs are treated was obvious. NATO wanted to monitor the fighting and refugee problems and track combat forces with its fleet of recently updated E-3 AWACS surveillance aircraft. They were banned from the area because the Russian attack columns included mobile SA-20 batteries. From their location in the Georgian breakaway region of Abkhazia, these SAMs covered airspace over the eastern Black Sea where the E-3s would have needed to operate. "If a coalition organization wanted to establish [surveillance or reconnaissance] flights or a no-flight zone in an area populated by double-digit SAMS, you couldn't do it with nonstealthy aircraft," the government official says. "These modern weapon systems are going to deny us strategic and operational options that in the past we haven't had to worry about."

The Iranian deployment of the SA-20 would most directly be a threat to Israel's fleet of advanced, but nonstealthy, F-15Is and F-16Is. Israel would need to rely on countermeasures - such as airborne jamming, false-target creation and network attack - rather than on platform survivability to counter the introduction of the Gargoyle. More capable point-defense systems - which would likely be used to protect SA-20 sites, for example - are also being introduced into the region. Syria is acquiring the SA-22 Greyhound (KBP Pantsyr), which uses a vehicle-mounted combination of cannon and missiles intended to provide defense against aircraft, helicopters, precision-guided munitions and cruise missiles. New threats, involving advances in commercially available electronics, continue to rapidly mutate in the area of secure communications and command and control, as demonstrated in Mumbai, India. During the recent attack, gunmen talked by cell phone and Voice Over Internet Protocol (VOIP) to their commanders in Pakistan for orders about avoiding police, attacking additional sites, and selecting hostages for execution.

And during the 2006 fighting between Israel and Hezbollah in Lebanon, the non-state group was able to set up command-and-control networks - using commercially available, Chinese-built, high-power cordless phones - to shift combatants and rocket launchers. These messages could not be intercepted by the Lebanese or Israeli governments. "[Part of the threat is] the new phones that are coming out with GSM, Satphone, Bluetooth, 80211G and 80216 [technologies] all built into one handset," says an electronic warfare specialist in the U.S. aerospace industry. "It's already happened. A multifunction handset switches you through all the options to find a usable route. If your GSM link goes out, it will automatically hook up to the nearest 80211G link, get the message to an Internet node and then go VOIP. That kind of connection technology is here, and it's cheap for the bad guys. All you have to do is be clever about how you use it for command and control."

Recent pictures of the interior of a new Chinese surface-to-air-missile command-and-control vehicle show two Lenovo laptops and the commander of the integrated air defense system talking on a Blackberry. In the battery's briefing vehicle, there's a VOIP connection. These are all good, cheap commercial products. Defense officials say that with the new telecommunications used by opponents, U.S. planners have to be much more detailed about how electronic attack is conducted against certain networked, computer-controlled threats such as integrated air defenses. The question arises: Is there any good news in this scenario? Perhaps there is at the intersection of electronic attack and cyberwarfare (a new specialty called special-purpose electronic attack, or SPEA) and at the overlap of electronic attack and high-power microwave weapons (called nontraditional electronic attack, or NTEA).

SPEA moves into cyberwarfare because operators are looking at more than jamming external emissions. They are dealing with affecting layers of digital instructions, called protocols, that run the network. They are using electronic attack, but it is against a computer network and not just a radar or radio signal. So there are new procedures that can be used in the electronic attack domain that are special and unique. NTEA involves producing long-lasting, instead of temporary, effects on enemy electronics. "It's not solely about effective radiated power [for jamming] anymore, it's about control," the EW specialists says. "It's about what part of the protocol stack can you get to and, possibly, take control of. A lot of it is not about preventing them from communicating; we're just controlling it in some way."

Source:
http://www.aviationweek.com/aw/gener...20%20to%20Iran
Russia Testing New Missile for S-400 Air Defense System
The Russian Air Force is testing a new missile for the S-400 Triumf air defense system, the Air Force commander said on Friday. The S-400 (SA-21 Growler) is designed to intercept and destroy airborne targets at a distance of up to 400 kilometers (250 miles), twice the range of the U.S. MIM-104 Patriot, and 2.5 times that of the S-300PMU-2. The system is expected to form the cornerstone of Russia's theater air and missile defenses up to 2020 or even 2025. "The S-400 system is being successfully deployed with air defense units. At present, we are testing a new missile for this system," Col. Gen. Alexander Zelin said. Russia successfully conducted last year live firing tests of the S-400 air defense complex at the Kapustin Yar firing range in south Russia's Astrakhan Region, and deployed a battalion of the first missile regiment equipped with the new system to protect the airspace surrounding Moscow. The system is believed to be able to destroy stealth aircraft, cruise missiles, and ballistic missiles, with an effective range of up to 3,500 kilometers (2,200 miles) and a speed of up to 4.8 kilometers (3 miles) per second. A regular S-400 battalion comprises at least eight launchers with 32 missiles and a mobile command post, according to various sources. The new state arms procurement program until 2015 stipulates the purchase of enough S-400 air defense systems to arm 18 battalions during this period.

Source:
http://en.rian.ru/russia/20081226/119183668.html