In an effort to discourage a warmongering Baku, Yerevan recently announced for the first time that it has in its possession the world famous Russian made S-300 surface-to-air missile system. The anti-Armenian staff of the Washington Post and the CIA funded "Radio Liberty" and "ArmeniaNow" have picked up on the story (see articles below). The "Zinuzh" video presentation appearing below the picture of the S-300 missile launch is an interesting look inside Armenia's air defense network, it includes a segment on the S-300 starting at 5:30.


Arevordi
January, 2011
Armenia says it has S-300 air defense missiles

Zinuzh - Hakaodayin uzher (video):
http://www.youtube.com/watch?v=0alcsowxUiM&feature=player_embedded
Armenia's Defense Ministry has announced that it has S-300 air defense missiles and says it made the announcement to remind neighboring Azerbaijan of the dangers of renewing military conflict. Tensions remain high between the two countries over the unresolved status of Nagorno-Karabakh, a region that lies within Azerbaijan but has been under the control of Armenian troops and ethnic Armenian forces since a six-year separatist war ended in 1994. Russia has long maintained S-300s on its base in Armenia, but Wednesday's announcement was the first acknowledgment that Armenia has missiles of its own. It is not clear how long Armenia has had them. Defense Ministry spokesman David Karapetyan said the missiles would "coerce Azerbaijan into keeping the peace."
Source: http://www.washingtonpost.com/wp-dyn/content/article/2010/12/29/AR2010122902494.html

Armenia Sees Closer Defense Ties With Russia, West
Armenia has modernized its armed forces and stepped up military cooperation with both Russia and NATO over the past year, Defense Minister Seyran Ohanian said on Wednesday.
In a New Year address to the nation, Ohanian also pledged to continue NATO-inspired defense reforms which he said have already made the Armenian army stronger along with a series of military exercises, training programs and new arms acquisitions. "As a result of all this, the interoperability of various army detachments and the degree of their combat-readiness rose considerably," he said. "The year 2010 also saw considerable progress in the development of the domestic military-industrial complex. The army's weaponry and other equipment was modernized and enhanced."
"Military cooperation with member states of both the [Russian-led] CSTO and NATO was expanded," added Ohanian. He pointed to Armenian participation in CSTO military exercises and the ongoing NATO-led missions in Kosovo and Afghanistan. Armenia's ties with the Western alliance have been developing under the Individual Partnership Action Plan (IPAP) launched in 2005. A revised version of that plan publicized in June reaffirms Yerevan's intention to "draw closer" to NATO and calls for a more far-reaching reform of its armed forces.

In particular, it commits the Armenian authorities to ensuring "maximum transparency" in defense planning and budgeting as well as an "adequate mix" of civilian and military personnel within the Defense Ministry. The authorities are also supposed to "review" the Armenian military's chain of command and control procedures along the lines of NATO standards. The updated IPAP was made public just two months before Armenia and Russia signed a new defense pact prolonging and upgrading Russian military presence in the South Caucasus republic. NATO officials have said that it will not hamper closer ties between the alliance and Armenia.

In his address, Ohanian said the reforms have already introduced "advanced standards" into the armed forces and will continue in 2011. Their results will be "visible to the society," he said. The minister made little mention of recent months' spate of non-combat deaths of servicemen that have sparked a barrage of public criticism of the Armenian army command. Dozens of military personnel have been prosecuted, fired or demoted in connection with those incidents highlighting chronic abuses within the army ranks.

Ohanian has repeatedly pledged a tougher crackdown on army crime. Critics, among them human rights activists, say that the Armenian military is still not doing enough to tackle the problem in earnest. The defense chief, who played a major role in the Armenian-Azerbaijani war for Nagorno-Karabakh, insisted that the army has become "more open and transparent" of late. "It is commendable that both positive and negative phenomena that happened in the armed forces were actively discussed in various public circles and the media," he said.

Source:
http://www.azatutyun.am/content/article/2262550.html
Diplomatic winter: Armenia, Azerbaijan in "state of siege" after Astana summit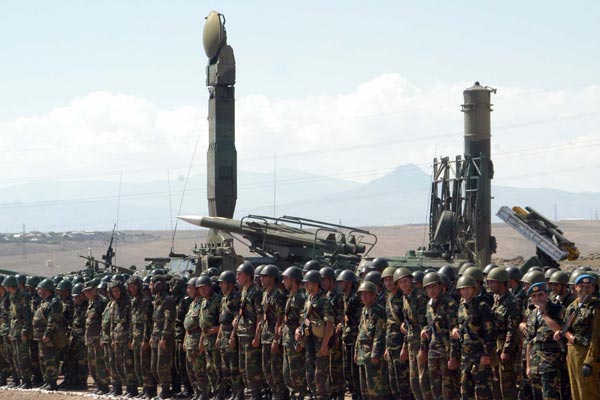 U.S. Ambassador to Armenia Marie Yovanovitch said in an interview with RFE/RL's Armenian Service that the five-sided declaration on Karabakh adopted at the Organization for Security and Cooperation in Europe (OSCE) summit in Kazakhstan's capital Astana at the beginning of this month "represented progress". "And certainly we hope that we'll see more progress in 2011," the US diplomat said. Yovanovitch's is, perhaps, the first optimistic statement after the Astana summit of the OSCE, which, while issuing a statement on Karabakh, still could not provide an environment for a meeting between the presidents of Armenia and Azerbaijan, Serzh Sargsyan and Ilham Aliyev. Mostly pessimistic statements have been made after that summit not only about the Karabakh conflict settlement and the likelihood of renewed hostilities, but also about the fate of the OSCE as a mediator in the settlement.

The bleak assessment has been reinforced with the actions of the parties in the period since the Astana meeting resembling preparations for a severe winter: diplomatic windows are being insulated, information blankets are being prepared. But no one excludes that the preparation for a siege may well turn into a preparation for an unexpected offensive. On December 21, the Parliament of Azerbaijan ratified the Treaty "On Strategic Partnership and Mutual Support between Azerbaijan and Turkey". The contents of this treaty have not been published yet. Azerbaijani Defense Minister Safar Abiyev said only that the treaty "does not yield to the military pact signed between Russia and Armenia."

In August, Armenia signed an agreement with Russia committing Moscow to "ensuring the security of Armenia." In December, an agreement was signed to expand the mandate of the armed forces of the Collective Security Treaty Organization (CSTO), a Russia-led defense alliance that includes Armenia, but not Azerbaijan. CSTO Secretary General Nikolay Bordyuzha has voiced concern in connection with the disproportionate increase in the military budget of Azerbaijan.

A joint Armenian-Russian air defense command post was opened in Armenia earlier this week. With the aid of state-of-the-art equipment this post can record airspace threats with an up to the second precision and control the destruction of air targets. Besides, in response to the information about the purchase by Azerbaijan of two high-precision missiles, Armenian Defense Minister Seyran Ohanyan visited a military unit and got acquainted with the high-precision anti-aircraft missile systems S-300. Thus, Armenia for the first time acknowledged the possession of a super-powerful system in the country.

Armenian President Serzh Sargsyan on December 18 warned Azerbaijan against relying on the perceived weakness of Armenia and said that "hostilities would flare up with new vigor at the very moments when the strengths of Armenia and Artsakh are underestimated." Will the "siege" last long? The OSCE Minsk Group mediators have already announced they will visit the region in January.

Source:
http://armenianow.com/karabakh/26683/armenia_azerbaijan_astana_meeting_karabakh_settlement
January 5, 2011: Armenia admits that it has its own S300 anti-aircraft missile systems. This has been rumored for over a year, but this was the first official admission. Since the 1990s, Russia has made no secret of that fact that it's 3,000 man force in Armenia (as part of a "friendship treaty") was equipped with S300 systems, as part of a joint air defense system for the CIS (Commonwealth of Independent States, a coalition of some of the countries that used to be part of the Soviet Union). With Armenia now controlling some S300s of its own, neighboring Azerbaijan is less likely to revive the dispute it has with Armenia over some territory. That war ended in 1994, but Azerbaijan was a poor loser and threatens to try again.

Meanwhile, last year Armenia signed a pact with Russia that, in effect, makes it a protectorate of Russia. The deal extends the lease on a Russian military base in Armenia from 2020 to 2044. The 3,000 man Russian force in Armenia may be increased and Russia, in effect, guarantees Armenia's security. Armenia needs all the help it can get, as it is a landlocked Christian nation surrounded by three hostile Moslem states (Turkey, Azerbaijan and Iran). To the north, there is Georgia which, while Christian, has its own problems with Russia.

There are over nine million Armenians worldwide (including three million in Armenia), making it clear that most Armenians want to be anywhere but Armenia. But not everyone could get out. Moreover, Armenians have been in Armenia for over 3,000 years, and there is a certain attachment to the place. The Russians like surrounding Georgia, and being closer to Turkey (an ancient enemy).

In return for this security, Armenia will have to follow Russia's lead in diplomacy, and any other area the Russians feel is important (like relations with Azerbaijan, a friend of Russia).. Meanwhile, the Russians will provide new weapons and equipment for the 43,000 troops in the Armenian military, and help arm an even larger reserve force.

The only active enemy Armenia has at the moment is Azerbaijan. Both countries continue to disagree over possession of Nagorno-Karabakh, a 4,400 square kilometer district, full of Armenians, surrounded by Azerbaijani territory. Technically, there has been a truce between Armenia and Azerbaijan since 1994. But it has been a hot truce. Between 1991 and 1994 there was a war between the two countries over Nagorno-Karabakh, which Armenia won. Some 20,000 people died, and over a million (400,000 Armenians and 700,000 Azerbaijanis) fled their homes as Armenia occupied 31,000 square kilometers of Azerbaijani territory, to connect Nagorno-Karabakh to Armenia. Most of the refugees were from areas dominated by one group, who drove out the minority. Some 40,000 Azerbaijani civilians were driven from Nagorno-Karabakh. The situation was humiliating for Azerbaijan, who saw it as yet another example of more powerful and wealthier (via oil fields) Moslems being defeated by a smaller number of more capable non-Moslems.

The Armenians have survived, although surrounded by Moslems, for centuries. But the Armenian economy is a disaster, particularly since Turkey and Azerbaijan have closed their borders with Armenia. Since the early 1990s, the best educated Armenians have been emigrating. They join a six million strong community of expatriate Armenians. This group can raise millions of dollars on short notice, and have provided the emergency funds when needed for the fighting against Azerbaijan. Some twelve percent of the 150,000 Armenians in Nagorno-Karabakh are armed and organized to defend the mountainous area, and are backed up by even more troops in Armenia. Since the late 1990s, the economy began recovering as well, and is now growing at about 7 percent a year, but is still poorer than its major neighbors (Turkey, Iran and Russia)

Azerbaijan is making a serious effort to create an effective military. Azeri defeats at the hands of better trained, led and organized Armenian troops were caused, in part, by Azerbaijani corruption and double dealing among themselves. Moreover, the Armenians have a military tradition going back centuries. The Azeris are constantly working to redress the military balance, thus the Armenian need for a Russian alliance.

The S-300 system is roughly equivalent to the U.S. Patriot system and was known as the SA-10 to NATO, when the system first appeared in the early 1980s. S-300 missiles weigh 1.8 tons each and are 8.4 meters (26 feet) long and about 50 cm (20 inches) in diameter. The missiles have a range of some 200 kilometers and can hit targets as high as 32 kilometers (100,000 feet). The missile has a 145 kg (320 pound) warhead.
Source: http://www.strategypage.com/htmw/htada/articles/20110105.aspx

Related developments:
Russian-Armenian air defense command post opened in Armenia
As a result of cooperation of air defense troops of the RA Armed Forces and 102nd Russian military base stationed in Armenia, a joint air defense command post was opened. Due to its modern equipment, the command post will be able to fix threats at air borders within the accuracy of one second and manage air target destruction. The RA Defense Ministry's press service reported that Armenian Defense Minister Seyran Ohanyan participated in the official opening ceremony of the joint air defense command post. Stressing the importance of the joint air defense command post opening, Ohanyan said that it is a qualitatively new level of the Armenian-Russian military cooperation and is an evidence of the strategic nature of the two countries' relations. The Minister also participated in a ceremony of army building's opening in a military unit of the Armenian Armed Forces' air defense, familiarized himself with conditions in barracks and operation of S-300 missile systems.
Source: http://www.panarmenian.net/eng/politics/news/58763/RussianArmenian_air_defense_command_post_opened_in_Armenia
Russia to deliver S-300 air defense systems to Kazakhstan
Russia will soon sign a contract on the supply of S-300 air defense systems to Kazakhstan, the Russian Defense Ministry said on Wednesday. "The sides are working on a relevant contract at present," spokeswoman Irina Kovalchuk told journalists after a meeting between Russian Defense Minister Anatoly Serdyukov and his Kazakh counterpart Adylbek Dzhaksybekov. Kazakhstan signed an agreement with Russia to purchase 40 S-300PS (NATO designation SA-10D Grumble) air defense missile systems in March 2009, with deliveries to take place from 2009 to 2011. The S-300PS model was introduced in the Russian Armed Forces in 1985. It features 5V55R missiles which increased the maximum engagement range to 90 kilometers (56 miles) and a terminal semi-active radar homing (SARH) guidance mode. Russia has announced plans to expand military-technical cooperation with members of the Collective Security Treaty Organization (CSTO) and set up an integrated air defense network with them. The CSTO is a post-Soviet security grouping comprising Armenia, Belarus, Kazakhstan, Kyrgyzstan, Russia, Uzbekistan and Tajikistan. The Kazakh military believe that S-300 systems would "significantly enhance the protection of the country's airspace."
Source: http://en.rian.ru/mlitary_news/20101208/161684868.html
Nagorno-Karabakh conflict may cause WW III, Russian expert says
Azerbaijan and Armenia must continue the Nagorno-Karabakh peace process, the Russian expert Anatoly Tsiganok stated in an interview with Day.az. The negotiation process remains in stalemate. However, with through the OSCE MG Co-Chairs' mediation, the negotiations will go on, with official conclusions to be made. The reason is that the interests of the major external actors – Moscow, Washington and Brussels – are convergent at some points, but conflicting at others. Moscow is "behind" the status quo being observed now. "Moscow would agree to a change in the status quo provided, however, that a full-scale peacemaking operation is carried out, and Russian peacemakers are deployed on the line of contact," Tisganok said. In their turn, Brussels and Washington propose the deployment of pacemakers representing the nations that do not have any immediate interests in the region or borders with Azerbaijan and Armenia. Also, they insist that the peacemaking missions not be composed of forces of the OSCE Minsk Group co-chairing countries, the expert said. Tsiganok also holds the opinion that the settlement of the Nagorno-Karabakh conflict largely depends on Washington. "Why so? We should not forget that, along with its annual assistance to Armenia and Azerbaijan, the U.S. renders assistance to Nagorno-Karabakh. Washington may at any moment stop doing it, which will have a serious impact on the negotiation process," he said. According to him, this seemingly local conflict, may, if intensified, cause a third world war. Once NATO sides with Azerbaijan, and Russia with Armenia, a third world war is sure to begin.