From the period of the Russian Czars to the bloody Bolshevik era, from the tense days of the Cold War to the anti-Russian agenda in the Caucasus today, organized Jewry has always had a role (in the case of Bolshevism, almost an exclusive role) in conspiring against the Russian state. Well, as the Zionist experiment in the Middle East, Israel, has been recently finding out, payback's going to be a bitch. Moscow's onslaught in the Middle East is continuing without respite. First it was Tehran, then it was Damascus and now it's Palestine. President Dimitry Medvedev's visit to Zionist occupied Palestine is a historic development in the political world but have no doubt, it will be muted and/or misrepresented by the Zionist controlled mainstream news media here in the United States. They may spin the political ramifications of Medvedev's trip any way they want, one thing that is certain, however, is the clear fact that they are worrying in Tel Aviv and in Washington.

When was the last time a president of a major power dared to visit Palestine and lend political support to Palestinian independence? When was the last time any of America's "freedom and democracy loving" presidents (most of the recent ones who have been made to pay homage to the Zionist state) done so? The answers to these questions are - never. And why is this? Simply because Israel and organized Jewry would not allow it. How can a relatively speaking small nation not allow anything? Well, when the small nation in question controls the financial system, the political system and the news media in the Western world - it can do whatever the hell it wants.

There are two standards for the modern world: one for Jews and one for the Goyim.

Nevertheless, taking into account the fact that Russia supplies Israel's archenemy, Iran, with advanced weaponry and nuclear technology and the fact that Moscow is setting up a naval presence in Syria, Israel's number two archenemy - how did Tel Aviv allow President Medvedev to visit Palestine? It's simple. Moscow can't be stopped - even by international Jewry. The global community is only now beginning to understand that the resurgence of a Russian state not under the shackles of the Anglo-American-Zionist global order has been God sent. If Iran has not yet been invaded and/or brutalized, it's because of Russia. If Syria has not yet been invaded and/or brutalized, it's because of Russia. For the first time in twenty years, we are finally beginning to see the emergence of a real balance of power in the political world.

Thus it should come as no surprise that Afghan president Hamid Karzai had to travel to Moscow to secure the future (at least the immediate future) of NATO's troubled existence in Afghanistan. And Belarus' Alexander Lukashenko is finding out the hard way that the West is not willing to piss-off Moscow and risk Russian energy supplies for his cozy dictatorship. Without Moscow at his side, Lukashenko will come to realization that his de facto kingdom can indeed be a lowly place. Nonetheless, Belarus and Russia will make amends, sooner than later. And it's highly probable that before the end of this year, Minsk will also recognize the independence of Abkhazia and South Ossetia (see corresponding articles below).


Arevordi
January, 2011
***
Medvedev Backs Creation of Palestinian State

Infighting backfire leaves Israel left off key Medvedev visit agenda (RT video): http://www.youtube.com/user/russiatoday?blend=1&ob=4#p/u/3/NKb0dr7im_o
Russia backs independent Palestine with East Jerusalem capital (RT video):http://www.youtube.com/watch?v=v3eqQyVe0wc&feature=player_embedded

Russian President Dmitry Medvedev on Tuesday reiterated his support for the creation of an independent Palestinian state. "Everyone will benefit from the establishment of a Palestinian state - the Palestinians, the Israelis, the region, and all the peoples of the Middle East," Medvedev said at a news conference after talks with Palestinian leader Mahmoud Abbas in the West Bank. Russia will continue supporting the Palestinians' course toward building an independent state with a capital in East Jerusalem, Medvedev said. The resumption of Israeli-Palestinian dialogue is possible provided Israel freezes its settlement activity in the Western Bank, he added. Direct talks between the Israelis and Palestinians, which resumed last September in Washington after a 20-month hiatus, ground to a halt after Israel refused to halt construction in the occupied West Bank. The Palestinians have said they will not return to the negotiating table unless the building of settlements, which are considered illegal under international law, is completely stopped.
Medvedev Makes 'Historic' Visit to West Bank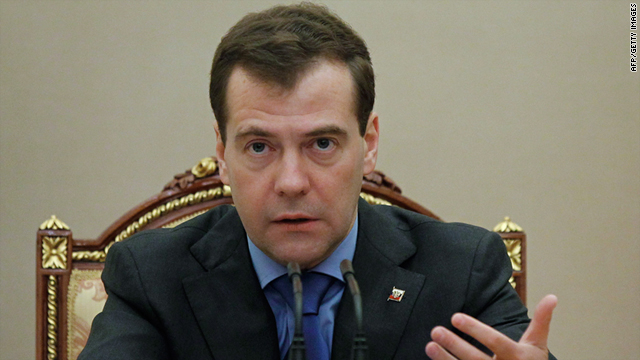 Russian President Dmitry Medvedev visited the Palestinian territories on a "historic" trip Tuesday as part of his Middle East tour. The goal of the trip is to "intensify international efforts to stabilize the situation and achieve peace in the region," Russian presidential aide Sergei Prikhodko told Russian media ahead of the visit. Palestinian Authority President Mahmoud Abbas greeted the Russian president in Jericho in the West Bank, where the two held a joint press conference. Medvedev told reporters the visit is "very important ... this visit will hold deep historic meaning. This is the first visit of a Russian Federation president to the region and to the Palestinian territories that is not connected to a visit to a neighboring country."
Chief Palestinian negotiator Saeb Erakat called Medvedev's trip a "historic state visit," adding that "the message to the world is that the Palestinians are ready for statehood and independence." "Dmitry Medvedev will discuss with the Palestinian side the Middle East settlement, the situation in the region, the prospect of calling a peace conference on the Middle East in Russia, the situation around the Gaza Strip, the restoration of Palestinian unity, to which we traditionally pay much attention," Prikhodko said, according to the state-run Itar-Tass news agency.
"There are two options ... either to choose negotiations and peace or violence and terrorism, and we will not choose violence and terrorism," Abbas told reporters at the joint press conference. "We tell the Israelis to choose the path of peace for their own interest and the interest of their generation to come and to stop the settlements, to continue and return directly to the negotiations table to implement the road map and the Arab initiative and the United Nations resolutions." Medvedev initially planned to visit Israel, but that part of the trip was canceled because of an ongoing strike by Israeli Foreign Ministry employees.
However, Russian Foreign Minister Sergey Lavrov said allegations that Medvedev is traveling to the Palestinian territories in retaliation for Israel failing to receive him "have absolutely nothing in common with reality, and they smell of a very bad provocation." The Israeli Foreign Ministry employees refused to organize the visit and threatened to disrupt the visit if it took place. Foreign Ministry workers have been striking since mid-December, demanding higher wages. Ministry spokesman Yigal Palmor told CNN last week that the strike is harming Israeli interests, just as teachers' strikes and hospital strikes do harm, but he blamed the finance ministry for ignoring the workers' demands. "They are not taking the strike seriously -- they are treating it as a playground strike," he said.
Israeli President Shimon Peres phoned the Russian president, apologized for the canceled visit, and thanked him for his involvement in the Middle East peace process. Medvedev accepted Peres' invitation to meet him at the World Economic Forum in Davos, Switzerland, Israel said. During Tuesday's visit, the Palestinian and Russian presidents will sign three agreements in agriculture, sports and communications. Medvedev will then inaugurate a new Russian art museum in Jericho. "It's a beautiful addition" to the city, Erakat told CNN.
Erakat sees this visit as an important step toward achieving Palestinian independence, he said. "This is our message to the world: Look at us. We are ready for a statehood, we are ready for independence, we are ready for freedom." In talks with Abbas Tuesday, Medvedev intends to speak "in favor of the simplification of the Palestinian unity, because if there is no such unity, the efforts are ineffective and do fail to ensure a consolidated dialogue, including with Israel," Prikhodko said.
Russia was one of the first countries to recognize the Palestinian state and the Palestinians have full diplomatic representation in Moscow. "Russia's position towards the Palestinians has not changed," Medvedev told reporters Tuesday. "Russia chose in the late '80s, and we reaffirm and support the right of the Palestinians to establish a viable and independent Palestinian state with East Jerusalem as its capital." Russia will also promise economic assistance, and will grant some $30 million in humanitarian aid to the Palestinian Authority, according to state-run Russian news agency RIA-Novosti.
But Medvedev's biggest goal is to accelerate the convening of the ministerial Quartet of international mediators on the Middle East -- Russia, the United States, the European Union and the United Nations -- and the Palestinians and Israelis, to revive peace talks. "In this sense, Russia puts forward the idea of a peaceful Middle East conference in Moscow, which could become one of the tools of the dialogue," Prikhodko said. "We have not specified the dates for the conference, but the idea is on the table."
Later Tuesday, Medvedev will visit Jordan for talks with King Abdullah II on subjects including bi-lateral economic projects, energy cooperation and arms sales, along with the fight against terror and measures to counter the impact of the global financial crisis, the Kremlin said.
Source: http://www.cnn.com/2011/WORLD/meast/01/18/mideast.russia.visit/
Medvedev's Mid. East tour: oil, gas and politics
Russia will be exploring oil and gas deposits in Jordan. An agreement in this respect was signed during talks between Russia's President Dmitry Medvedev and King Abdullah II of Jordan, putting the final touch to Medvedev's Middle East tour to Palestine and Jordan. Economics are important, but this time politics mattered more. Russia's leader talked Middle East problems both with King Abdullah II and Mahmoud Abbas. Russia is an exceptional player in this game, as it's the only state which has contacts with all key powers in the region, including Israel, Palestine and even Hamas movement which keeps an eye over the Gaza Strip.
Medvedev's Middle East tour has two major outcomes: firstly, Russia has declared its support of an Independent Palestinian State with a capital in East Jerusalem and secondly, Moscow is still eager to host a Middle East conference. The idea is especially timely, while the Middle East mediators seem to be re-distributing power, foreign relations expert Andrey Volodin told the VoR.
"Now, the West is busy with its domestic affairs and control over the Middle East is being more frequently exercised jointly controlled by the West, Russia and others concerned. Some predict India and China to get involved in the process of peaceful regulation. The US is also losing influence in the region. In these circumstances, Moscow can be not just the conference host but the forum for a new Middle East peace formula."
Medvedev's initial plan was to visit Israel first, but the trip was cancelled as Israeli diplomats went on strike. This gave western media a pretext to accuse Russia of redirecting its Middle East policy vector. Moscow denied the accusations, as it realizes that the Middle East knot can not be untied without Israel. The countries have already rescheduled their meeting for February.
Source: http://english.ruvr.ru/2011/01/19/40394932.html

Russia to talk Palestinian independence with Israel
Moscow will hold talks with Tel Aviv on the issue of a modern independent Palestinian state with its capital in East Jerusalem, Russian President Dmitry Medvedev said on Wednesday. "We will certainly consult with our Israeli partners [on this issue]," Medvedev told reporters during a visit to Jordan. "It is impossible to resolve the Palestinian issue without consulting with the Israelis," he said, adding that he planned to meet with Israeli President Shimon Peres during an annual world economic forum in Davos on January 26-30. Medvedev reaffirmed earlier on Wednesday Russia's endorsement of an independent Palestinian state during a meeting with King Abdullah II in Jordan.
The visit to Jordan follows the Russian leader's talks with Palestinian Authority President Mahmoud Abbas in the West Bank on Tuesday. Medvedev told Abbas the Soviet Union had recognized the state in 1988 and that "Russia's position remains unchanged." Medvedev reiterated that Russia would continue to be "one of the co-sponsors" of Middle East peace efforts and would prepare its recommendations for the Quartet of international mediators. The Quartet, made up of Russia, the United States, the United Nations and the European Union, will meet next month in Munich to discuss future peace efforts and stability in the Middle East.
Medvedev said only joint efforts would help resolve the conflict between the Palestinians and Israel, and Russia would consult with all participants in the peace process. "Depending on the results of our consultations, we will decide how to support our Palestinian colleagues," the Russian president said. "In general, we are ready to go as far as the international community decides to go in terms of supporting Palestinian efforts under a UN aegis," Medvedev said. Direct talks between the Israelis and Palestinians, which resumed last September after a 20-month standoff, collapsed in December after Israel refused to stop construction in the occupied West Bank.
Source: http://en.rian.ru/russia/20110119/162210490.html
Expert: Palestinian state may be established next year

Vitaly Naumkin, director of the Russian Academy of Sciences' Institute of Oriental Studies, believes there are prerequisites for a Palestinian state to be established in 2011. At the same time, the expert warns that there still remain serious obstacles in the way to an efficient conclusion of the Middle East peace process, among which he highlighted the rift inside Palestine itself and the Israeli government's uncompromising attitude.
Despite the stagnation of Israeli-Palestinian negotiations, Naumkin believes, there are reasons for optimism including the international community's conviction that there is no alternative to "a fairly quick agreement" between the conflicting parties, the US Administration's new Middle East policy and the Palestinian National Authority's achievements in economy revival and the building of public infrastructure.
RIA Novosti interviews Vitaly Naumkin in the run-up to the 2nd conference of the International Valdai Discussion Club's Middle East section. The conference entitled "Scenarios and Models for a Middle East Peace Settlement" will be held in Malta on December 9 and 10 under the auspices of RIA Novosti, the Russian Academy of Sciences' Institute of Oriental Studies and the Council for Foreign and Defense Policy.

Pros
"My optimism rests upon the fact that the international community, the members of the Quartet and the majority of other nations agree that it is necessary to establish a Palestinian state as soon as possible. "Two states for two peoples" is the formula that is now universally acknowledged. It is based on international legitimacy and solutions, and the international law calls for its implementation," Naumkin said. According to the expert, since Barack Obama became U.S. president the United States has also made a step toward the Palestinians. "It's crucial for Obama to succeed on the Israeli-Palestinian track," the Russian expert added.
Vitaly Naumkin recalled the U.S. president's address to the recent UN General Assembly, in which Obama expressed his hope that a solution would have been reached by the next UNGA session in September, 2011 and that the UN would welcome its new member – an Arabic Palestinian state. "Barack Obama was very clear on that. Given his status and that of the country he heads, if this statement comes to nothing and turns out to be mere pageantry this will be a harsh blow for Obama's reputation… Obama does need a breakthrough in the Middle East process," Naumkin said.
According to the Russian expert, the maturity of the Palestinian state is evidenced by the successes of the Palestinian National Authority, above all that of the government headed by prime minister and reformer Salam Fayyad, who has set a goal of creating by 2011all the independence prerequisites on the ground.
"The PNA has been steadily improving its repute by strengthening its statehood and public institutions. This is confirmed by the recent World Bank report on Palestine, which reads that if it manages to keep up the pace in establishing public institutions and providing public services, it will be ripe to set up a state of its own in the nearest future. This is very encouraging. The World Bank is a very serious and reputable organization and it must have very strong reasons for an optimistic estimate like this," Naumkin said.

Cons
The main hurdle for a peace settlement for the Arab side, according to the expert, is the conflict between Fatah and Hamas. They split the Palestinian territory into two isolated political entities – the Gaza Strip governed by the Hamas Islamic fundamentalists and the West Bank managed by Fatah via the PNA.
"This rift has not been overcome yet and considering the high tensions and hostility which exist in relations between the two parties an agreement to build a coalition government is unlikely to be reached soon. At the same time, Palestinians need to speak in one voice because if the Palestinian state becomes a reality today, we can imagine reaching agreement with the West Bank while it's completely unclear what to do with the Gaza Strip governed by Hamas," Naumkin pointed out.
"Should separate talks be conducted with the Gaza Strip? But many Western countries and Israel classify Hamas as a terrorist organization. So, what can be done? Should the Palestinian state be established on the West Bank and Gaza left as an isolated dirt trap, a sort of a Palestinian ghetto? Nobody has the answer to this question. It lies beyond the negotiations process," the expert said.
In this respect, Naumkin questioned whether it was reasonable for the international community to continue refusing to negotiate with Hamas thus isolating and marginalizing the organization. In the Israeli part, Naumkin said, the process is impeded by the Israeli leadership's "unwillingness to settle the issue under the "two states for two peoples" formula." This manifests itself in the continued construction of settlements while the Palestinians have made the resumption of peace negotiations conditional on its cessation. Moreover, Israel is "evading the border issue" and is reluctant to discuss the status of Jerusalem.
"Nentanyahu's government refuses to negotiate the issue of East Jerusalem. The Israeli prime minister currently views Jerusalem as an eternal and indivisible capital of Israel, which is why he has excluded the issue of East Jerusalem from the negotiation agenda. Is then a Palestinian state at all possible if the entire Muslim world, whether for religious or ideological reasons, never agrees to give Jerusalem to the Jews? This is impossible. How can these two positions be reconciled?" Naumkin said.
The expert also expressed his fear that "the issue of Jerusalem the way it is put now is absolutely unresolvable." "This city needs to be divided even though Israel's current right-wing government does not want to do so. I see this as the main barrier for peace negotiations. This is the main source of skepticism," the Russian expert concluded.
U.S. pressure
The United States is the only global player that can efficiently put pressure on Israel and make it soften its approach to the peace settlement, Naumkin believes. "It seems that all the other parties involved have little chance of prevailing on Israel, including Europe, Russia, the UN and all others. What can Obama do? What are his chances of persuading Israel? Will he be willing to apply that pressure? That's the key point," the expert said.
Naumkin is convinced that no American leader would ever depart from perceiving Israel as a strategic partner of the United States and from providing political, military and financial assistance to it. This being the case, the United States could use as leverage a threat to support in the UN Security Council the project to recognize an independent Palestinian state within the 1967 borders with the capital in East Jerusalem. "The idea of a unilateral declaration of a Palestinian state is brewing in certain political circles, including even in the United States; moreover, such circles include Jewish lobbyists, who presumably should support Israel. The idea is that it's high time to put an end to all this," Naumkin said.
"There is an understanding that the Israeli government's policy runs counter to the interests of the Jewish people. The only option to frighten Netanyahu into changing his policy seems to be to threaten him: "By letting Obama down and backing him into a corner, you are forcing him to recognize a Palestinian state through the UN together with his partners," the expert added.
If this threat is carried out, Israel will automatically become "an invader in a state recognized by the UN and from which it must withdraw. Otherwise it will be subject to international sanctions." "This is an unpalatable alternative. Will Barack Obama embark on it? I believe it's unlikely to happen, but this, as the New York Times wrote, is very serious leverage," Naumkin said.
Source: http://en.rian.ru/analysis/20101206/161649420.html

Netanyahu warns Palestine against unilateral steps
Israeli Prime Minister Benjamin Netanyahu on Sunday warned Palestinian government against attempts to replace the direct Israeli-Palestinian talks with unilateral actions. Palestinians have sounded ideas of alternative ways of settling the Middle East conflict in circumvention of Israel amid stagnation of the direct negotiations. Direct talks between Palestinian President Mahmoud Abbas and Israeli Prime Minister Benjamin Netanyahu resumed on September 2 in Washington, after an almost two-year hiatus but are on the verge of breaking down over the issue of Israeli construction in the occupied West Bank.
"We expect that the Palestinians will fulfill their obligation to carry on direct talks. I believe that any attempt to bypass the talks turning to various international organizations is unrealistic and could not give an additional impulse to the diplomatic process," Netanyahu told a governmental meeting on Sunday.
The Israeli prime minister said he seeks for a solution which would allow Israel and Palestine to reset the negotiation process and expressed hope that such a solution would be found soon. "Our goal is not only to resume the [negotiation] process but to create such conditions in which it [the negotiation process] will not ground to a halt after several weeks or months, but will continue as ceaseless dialogue during about a year," Netanyahu said. "Only direct talks may lead to peace and, I hope, we will soon return to it."
Source: http://en.rian.ru/world/20101024/161072513.html


In other news:
Russia to Restart Soviet Projects in Afghanistan
Karzai Exclusive: Russians understand us better than Americans (RT video): http://www.youtube.com/watch?v=dANvDK3DAE4

Russian President Dmitry Medvedev and his visiting Afghan counterpart Hamid Karzai agreed Friday to restart joint projects in Afghanistan abandoned after the Soviet withdrawal in 1989. "We want to breathe life into vitally important projects, started a long time ago," Karzai said after talks with Medvedev here. The talks addressed ways to broaden trade and investment by Russia in Afghanistan. Russia's Economic Development Minister, Elvira Nabiullina, signed an agreement on trade and business cooperation with Afghanistan after a meeting of the two presidents. "Russia and Afghanistan would also cooperate in training Afghan military specialists and students in Russia," Karzai was quoted by Interfax news agency as saying. The Afghan president thanked Medvedev and the Russian people for the contribution they were making to Afghanistan's development. Medvedev accepted an invitation by Karzai to visit Afghanistan. Russian troops withdrew from Afghanistan in 1989 after 10 years of unsuccessfully attempting to establish stability in the civil war-torn country. Karzai is on an official visit to Russia that is scheduled for Jan. 20-21.
Source: http://news.xinhuanet.com/english2010/world/2011-01/21/c_13702007.htm
Karzai visits Moscow as Russia eyes greater role in Afghanistan
President Hamid Karzai is in Moscow this week for the first bilateral summit between the two countries in two decades. The last Afghan president to visit Moscow on a state visit was Mohammad Najibullah, the final Soviet-backed president during whose term in office the Soviet Union withdrew forces. The Soviet Union disintegrated soon after. Russia then kept a safe distance from involvement in the messy politics of Afghanistan, although it kept a watchful eye on the country. Now, Russia is keen to play an increasingly larger role in the country and is gradually expanding the range and intensity of its engagement.
During Karzai's Moscow visit, Afghanistan and Russia are likely to sign agreements on political, social, economic, and defense cooperation initiatives, including the possible revival of some key infrastructure projects that had been implemented by the Soviet Union. Russia is keen not to only provide aid and training to Afghans, but to secure a piece of the aid pie for its businessmen in exchange for technical expertise. Rehabilitation of the Salang tunnel, the main artery connecting northern Afghanistan to the south, for example, could be done with Russian expertise and international aid, say Russian officials.
Russia sees opportunity
Last year, the Russian government donated 20,000 AK-47 rifles to the Afghan government and trained some 250 Afghan police. This year it hopes to deepen its involvement and expand the number of military officers it trains in Moscow, says Andrey Avetisyan, the Russian ambassador to Afghanistan. "The general situation during the past year has not developed in the way I could call safe and secure," he told the Monitor in an interview at the new Russian embassy in Kabul. "We now see constant fighting in the north, which worries us a lot because it is almost on our borders, [and] since our borders with the central Asian republics are absolutely open" Two main threats emanating from Afghanistan are drugs and terrorism, and it's clear, he says, that they must be dealt at least at the Afghan border. "We are willing to support [Afghanistan] in any possible way, except direct military involvement in Afghanistan. No Russian soldier will ever be on Afghan soil."
Making the increased role of Russia possible
Russia has shed its concern about the presence of NATO and US troops in its backyard, and sees the threat of terrorism from Afghanistan as a top priority. It also now sees an opportunity to maximize its leverage with the US and NATO by using its influence on Central Asian countries. Fahim Dashty, the editor of Kabul Weekly, points out that NATO itself changed its tune on a Russian role in Afghanistan because of its "need for a northern route into Afghanistan and the growing threat of the Taliban in the north." The southern supply route of NATO that runs through Pakistan has been severely compromised by the growing number of attacks by insurgent and criminal groups. If NATO were to fail in Afghanistan, it would cost both Russia and NATO, he said.
"Military assistance from Russia will be welcome," says Mr. Dashty, a former close associate of Ahmed Shah Masood, who led the armed resistance against the Soviet troops. "The goals of the Russian Federation are quite different from that of the Soviet Union," he says, although he was quick to reject the possibility of any Russian troops on Afghan soil. A recent joint counternarcotics raid with Russian counternarcotics officials highlighted both the possibilities as well as limitation of a Russian role.
The raid last fall led to the recovery of a large quantity of heroin, but was criticized by President Karzai, who lashed out at Russian interference. Observers say Karzai was possibly preempting any political fallout. However, senior government official and political analyst Najib Manalai says that while "there was a strong response from the government, there was no apparent reaction from the public. There have been many changes since the departure of the Russians. The emotional baggage of the past has been swept away by the misdeeds of the mujahideen."
While Karzai's anger was in keeping with his frequent outbursts against the international community, the subsequent conciliatory overtures were unusual. Less than a week later, Karzai called Russian President Medvedev, and the two emphasized Russia's role in Afghanistan including counternarcotics cooperation. As Western powers ready themselves for an exit, "the relationship with Russia is going to be key in the future," says Candace Rondeaux of the International Crisis Group.
Source:
http://www.csmonitor.com/World/Asia-South-Central/2011/0120/Karzai-visits-Moscow-as-Russia-eyes-greater-role-in-Afghanistan
Russia to supply Afghanistan with drug crop eradication equipment
Russia is ready to supply Afghanistan with equipment to eradicate illicit drug crops, the head of the Russian drug enforcement agency said Friday. "We have agreed that our Afghan partners will in more detail and with more interest discuss our Rainbow-2 plan to eradicate drug production. The plan includes increasing the efficiency of drug crop eradication," Federal Drug Control Service head Viktor Ivanov said. "Russia is ready to supply industrial sprayers designed to eliminate 50 hectares of drug crops per hour," he told journalists following a Kremlin meeting between Russian President Dmitry Medvedev and his Afghan counterpart, Hamid Karzai. Afghan drug production increased dramatically after the U.S.-led invasion that toppled the Taliban in 2001, and Russia has been one of the most affected countries, with heroin consumption rising steeply. An estimated 90% of heroin consumed in Russia is trafficked from Afghanistan via Tajikistan and Uzbekistan. Karzai arrived in Moscow on a two-day visit Thursday. Ivanov also said cooperation with regional states surrounding Afghanistan is important.
Source:
http://en.rian.ru/world/20110121/162240759.html
Belarus President Gets Cold Welcome
Europe's longest-ruling president took office for a fourth term Friday, facing threatened Western sanctions for his disputed, violence-tainted re-election in Belarus and unexpected pressure from Russia, his former Soviet republic's chief benefactor. As the U.S. and European Union boycotted Alexander Lukashenko's gala inaugural ceremony in Minsk, Russia's oil pipeline monopoly stepped up a pricing dispute, saying it had begun redirecting oil earmarked for Belarus to alternative buyers. Mr. Lukashenko has for years sought to play Russia and the West against each other, hinting at softening his authoritarian rule to lure limited Western aid and ease his country's historic dependence on Moscow. His balancing act collapsed the night of the Dec. 19 presidential election with a brutal police crackdown on thousands of protesters who said the count was rigged to give him nearly 80% of the vote.
While the U.S. and 27-nation EU weigh a coordinated ban on visas and a freeze on bank accounts of senior Belarussian officials, Russia has come forward with offers of cooperation with Minsk. On Thursday, Prime Minister Vladimir Putin said Russia would lend money for a nuclear power plant to generate more than one quarter of Belarus' electricity. He also said Belarus could count on $4.1 billion in subsidies for Russian oil and gas, a figure slightly higher than officials in Moscow had previously announced. But Russia is demanding more in return for its largesse and, with the West in a punitive mood, holds more leverage over Mr. Lukashenko.
Subsidies aside, Russia is seeking higher baseline prices than Belarus paid last year for oil and gas. Russian companies halted crude-oil deliveries to Belarus on Jan. 1. Mr. Putin and his Belarussian counterpart met Thursday but failed to agree on new prices for oil. Friday's move by pipeline monopoly OAO Transneft to redirect Belarus-bound oil is a sign that Russia doesn't expect the dispute to be settled soon. Belarus says its oil will run out at the end of January. Russia is also pressing for concessions Mr. Lukashenko resists—ownership stakes in Belarus's oil companies and energy infrastructure.
The 56-year-old leader spent part of his inaugural address Friday belittling his domestic critics, including four rival presidential candidates and nearly 30 others who remain in jail following their election-night arrests. "The time for revolutions and revolts is over," he declared before a few thousand people in the Palace of the Republic in Minsk. But he gave faint signals of willingness to compromise, calling Belarus "a bridge between East and West" that seeks "the best results from cooperation with Russia, Ukraine, China, Venezuela as well as the EU and the U.S."
Jaroslav Romanchuk, an election rival who wasn't jailed, said Mr. Lukashenko might be interested in freeing prisoners in order to head off sanctions. "He does not sound like a leader who wants to isolate himself from the West altogether and put himself in a position where Russia can dominate him completely," Mr. Romanchuk said in a telephone interview from Minsk. Lithuanian vice foreign minister Evaldas Ignatavicius said Mr. Lukashenko's actions in the coming days will shape the EU foreign ministers' decision on sanctions at a meeting on Jan. 31. Thomas Melia, a deputy assistant U.S. secretary of state, will make an assessment during a visit to Minsk starting Saturday.
"There is a consensus that a travel ban has to be targeted against those officials involved" in the crackdown, Mr. Ignatavicius said, adding that other options are also on the table. He spoke in a telephone interview from Lithuania, where all 12 chiefs of EU diplomatic missions in Belarus traveled Friday to visit Belarussian exiles and discuss the bloc's position. Some diplomats said the EU does not want to push Mr. Lukashenko too deeply into Russia's embrace and may stop short of sanctions, demanded by Poland and others, that would cut off EU funding and block resources from international financial institutions to Belarus.
Representatives of 32 countries and international organizations, including Russia, attended Mr. Lukashenko's inauguration. The Belarussian leader, who has held power for 16½ years, was driven to the government palace with his 6-year-old son Kolya, the offspring of an extramarital relationship. After the swearing-in, he joined the boy in a special box to watch a variety show featuring pop singers in folk costumes and dancers clad in pink.
Source: http://online.wsj.com/article/SB10001424052748704115404576096133399687792.html