It is being reported that Russian Federation President Vladimir Putin - the living legend - is expected to travel to Armenia an official visit in the coming weeks. The last time the great leader of the Russian Federation traveled to Armenia was back in 2005. The trip back then was very brief and barely noticed. It was widely thought at the time that the trip's purpose was to ensure Armenia's political allegiance to Moscow. Having finally crushed Russia's Western-backed oligarchy and defeated the Western-backed Islamic insurgency ravaging the Caucasus by the early years of the new millennium, Putin's 2005 visit to Armenia was coming at a pivotal time in history when Moscow was just beginning to get off its knees and reasserting itself in regional politics. It certainly feels like that was a very long time ago. Times have certainly changed and this time around the trip and its geopolitical implications will be a quite different.
Yerevan does not need to be convinced of Russia's crucial role in the region anymore. The Great Czar of Eurasia will be in Armenia to build on the foundations he laid back in 2005. Putin will be in Armenia to bolster the small, landlocked and blockaded nation's political standing in the south Caucasus and to further cement bilateral relations between the two former Soviet nations. I hope to see powerful political symbolism to be on display during the historic visit. Naturally, I also expect Washington to bring out many of its street whores to spread fear, hate and disinformation. I can hear our Captain America's now - "Armenia is losing its independence"... "Armenia is being taken over by Russia"... "Armenia is being forced back into the Soviet Union"..."Armenia is a dirty Russian province"... "Armenia is being enslaved by Putin"...
Regardless of what our Western-led self-destructive peasantry will say or do, the Armenian nation will be deeply honored to host an illustrious leader like Vladimir Putin on Armenian soil. Although many millions of people around the world today have begun recognizing his crucially important role on the international stage, Putin's true greatness will be recognized only after he departs this world, when future generations look back and rationally assess the turbulent times we are currently living in. Men like Putin come about very rarely. In fact, pivotal leaders like him appear during times of great upheaval. The great leader of the Russian Federation was indeed born under a very bright star.
Coming on the heals of the unprecedented CSTO military exercises in Armenia, Vladimir Putin's appearance in Yerevan will be another very powerful message to Turks, Azeris and Western officials alike. In the aftermath of his historic visit, I hope to see deeper cooperation and collaboration between Yerevan and Mosow in all realms, be it business, military, political, financial, cultural or tourism. Moreover, I'm also hopeful that his visit will serve to boost President Serj Sargsyan's ratings. In short, I expect to see a few breakthrough developments. Interestingly, one such breakthrough has already been revealed.
Current Gazprombank vice president and former Yerevan mayor Karen Karapetyan will be accompanying the President of the Russian Federation.
When Karen Karapetyan prematurely vacated his short-lived position as mayor of Yerevan to assume a high level position in the Russian Federation, there were some rumors that Moscow was temporarily pulling him out of the political muck in Yerevan to groom him for the Armenian presidency. It is now being reported that Yerevan is preparing to offer Karapetyan a position as Prime Minister. Apparently, this is due to happen after the next presidential elections in Armenia in which President Serj Sargsyan is expected to win another five year term. If this report holds true, there is a very good chance that Karapetyan will be a presidential candidate in 2018.
Karen Karapetyan is an ideal manifestation of today's Armenia and Armenia's Soviet past. He is an example of a person that has drawn the best from both worlds. The man is well-educated, professional, wealthy, has stage appearance and, very importantly, he has very good connections in Moscow. He is an excellent example of what Armenian-Russian relations can be and should be. He is definitely not one of Armenia's 1990s era derived criminally-inclined-chobans-in-Armani-suits, nor is he one of Washington's many whores infesting the streets of Yerevan today. In my opinion, Karen Karapetyan would make an great president in Armenia. If he is in fact being groomed for the Armenian presidency, and I can only pray that he is, this means Moscow is taking Armenia's security and long-term political stability very seriously indeed. Putin's state visit and Karapetyan's reappearance within the political scene in Armenia are in my view some of the best political developments that have come out of Armenia in recent years. I'm very glad that Moscow is finally making its presence felt in the south Caucasus.

After a long period when Moscow's dealings with Yerevan were more-or-less confined to behind-the-scenes negotiations, we are now seeing Moscow get noticeably proactive - and public - inside Armenia of late. Although it seems a bit awkward, we are indeed seeing Western-style Public Relations (PR) coming from the Russian camp recently. Perhaps having learned dearly from the methods with which the political West sometimes gets things done around the world (i.e. before Western leaders resort to blackmail, sanctions, terrorism or war when things don't go their way), Moscow has clearly begun using an effective tool known as "Soft Power" as a means of promoting and projecting its political agenda as well. But Moscow has a very long way to go before it can truly compete with the West in this regard.

Since the rise and fall of Bolshevism and National Socialism, the Anglo-American-Zionist global order has managed to monopolize the PR market, and it has been exploiting it with deadly effect around the world ever since. In a sense, the political West became a "global leader" more-or-less by default. And by a psy-ops assault they conquered the hearts&minds of humanity. Several generations have now lived and died under a global "reality" crafted by Western officials. Nevertheless, what Kremlin officials have begun doing in recent times is a good beginning.

For much of the past twenty years Moscow executed politics in Armenia via traditional/conventional methods - disregarding the base and simply dealing directly with high level state officials and using strong arm tactics when need be. Such an approach is of course a lot less complicated and a lot less costly for Russian officials. However, such an approach also left a serious void. Because the top leadership in Yerevan were essentially spoken for, Western interests simply began working on the rest of Armenia, the bottom half if you will. Exploiting the services of an army of operatives, NGOs, Think Tanks, aid agencies, various USAID funded programs and western-style television programing, Washington began its efforts to hijack the fledgling nation from the bottom up. Therefore, Moscow's most serious flaw in Armenia had been its severe lack of PR in the country.

It could also be said that Kremlin officials, pressed with a multitude of serious problem throughout the Russian Federation, took Armenia somewhat for granted. After all, Kremlin officials were confidant that Armenians have historically been pro-Russia. After all, the Kremlin knew that Armenia is surrounded by enemies. Therefore, as far as Kremlin officials were concerned, where was Armenia to go? Needless to say, this flaw in approach (although understandable in the light of serious problems Russia faced during the past two decades) was exploited by others. The void created by the absence of Russian PR and soft power in Armenia was ostensibly filled by Washington and friends.

From television programming to the young republic's educational system, from aid agencies to news outlets, Western propaganda soon began permeating Armenian society. The youth, particularly those who did not live during Soviet times were most susceptible to the corrosive aspects of Western Globalism. To put it as briefly as possible, with the void that Russia had left in Armenia, Armenians simply woke one day to see that: Washington had built the world's second largest US embassy in Yerevan; English had begun replacing Russian as the second language in the country; and most of the nation's opposition leaders, rights advocates, political activists and independent journalists were on Western payrolls...

Having already lost Georgia and Azerbaijan, the Kremlin's indifference or inability to cultivate its playing field in Armenia could have in fact cost Russia the entire south Caucasus, and may have even cost Armenia its independence. Although much of the danger posed to Armenia by the West and its allies in the region has been dissipated in the years following Russia's bloody pummeling of Georgia in 2008, significant threats still remain.

The mental/psychological conditioning of the masses through Western-controlled aid agencies, information media and entertainment indistry, for instance, continues to pose a serious problem. For instance, the conditioning of Armenians in particular have been so thorough that despite how well Russia provided for or protected our small, poor, landlocked and blockaded nation surrounded by hostiles in the south Caucasus, Armenians (diasporans in particular) found ways to be suspicious of Russians and to bad-mouth Moscow. And despite how terribly Armenia was treated by the West, Armenians always found ways to compliment Washington and make convenient excuses for its anti-Armenian policies.
Seeing a nation that sustains you as an enemy and seeing an enemy that wants you destroyed as a friend is essentially what Western propaganda and psy-ops has been all about.
As Russian officials were scrambling to save their nation from literally falling apart, the immense power of propaganda was basically neglected by Moscow - to its detriment. Nevertheless, despite the West's massive and highly refined propaganda machine that for decades created alternative realities and stupefied and zombified masses of people around the world, the veil is now slowly lifting as more-and-more of us mortals see the bloodthirsty demon well hidden behind the humanitarian mask. The political West is in decline and reptiles in places such as Washington, Wall Street, London and Tel Aviv are worried about losing their iron grip over humanity. This is essentially the reason why the world today is standing dangerously close to a Third World War.
In this regard, Vladimir Putin's rise to power in the Russian Federation a little over twelve years ago was God sent; perhaps literally. Some point to the Stock Market crash and some point to the Housing Market crash to explain Washington's descent. In my humble opinion, the West began its historic decline when President Vladimir Putin took office in Moscow.
I dare any well informed and/or rational individual to imagine where Armenia would be today had Russia been pushed out of Armenia in the 1990s. I dare any well informed and/or rational individual to imagine where the entire Caucasus would be today had Russia been defeated there. I dare any well informed and/or rational individual to imagine how much worst the situations in the places such as Syria, Lebanon and Iran would have been had Russia been eliminated from the global stage. Russia's resurgence as a global power not only saved Armenia by stopping the Caucasus from turning into a Western-financed playground for Turks, Azeris and Islamists, it also saved the world from the clutches of the Anglo-American-Zionist global menace.
A good look at Moscow's brilliant political maneuverings in recent years can be observed in the paranoid rantings of a self-hating Iranian named Amir Taheri and in the diatribe by the infamous Heritage Foundation. The New York Post article titled "Putin's Power Plays" and The Foundry's "Obama's "Reset" with Russia: A Long Retreat" are featured at the bottom of this page. Please read them. But, as always, I need to caution the reader that such works need to be read between-the-lines because they are written by Washingtonian presstitutes.
And a good look at the Russian PR taking place in Armenia lately is the Pravda article titled "Russia protects Armenia from Western influence" posted towards the bottom of this page. Armenian news has been saturated lately by coverage of various developments pertaining to Russian-Armenian relations. The Pravda article may be a form of Russian psy-ops coming ahead of the great leader's visit to Armenia. Having finally rid Russia of its Western parasites (e.g. Jewish oligarchs, IMF, homosexual activists, USAID, Pussy Riot, NED, Radio Liberty, etc), Vladimir Putin may be planning on doing similar things in Armenia. In the big picture, Vartan Oskanian's prosecution should be looked at under this light. As Russia grows in strength and the West retreats from the Caucasus, we can expect other misbehaving operatives such as Raffi Hovanissian to eventually be chased out of Armenia as well.
Armenia's only hope for progress and survival in the south Caucasus lies with closer integration with the Russian Federation. Armenia's most important diaspora is the Russian-Armenian diaspora. The only hope the Caucasus has for peace and stability is Pax Russicana. I have always maintained that if law and order was to ever descend upon Armenia it would have to come by the way of Moscow. I have always maintained that the only way Armenia would enjoy some semblance of a normal statehood is by the way of men such as Karen Karapetyan. Having taken some twenty years to get its act in order, a resurgent Moscow is now strongly invested in Armenia and it is displaying it for the world to see. Vladimir Putin's visit to Armenia promises to herald a new age in the south Caucasus.
Arevordi
October, 2012
***

Vladimir Putin to Visit Armenia
The Armenian Time reported that the Russian President Putin's visit to Armenia will perhaps take place at the end of October or at the beginning of November. Putin's visit to Armenia was initially planned in September, during the CSTO exercises. The Russian ambassador to Armenia said a few days after the exercise that Putin's visit to Armenia is still due. Now the visit will be either at the end of October or at the beginning of November. According to the sources of the newspaper, the Russian delegation to visit Armenia is being formed by the ex-mayor of Yerevan Karen Karapetyan, the vice-president of Gazprombank. During the visit, Karen Karapetyan's appointment as prime minister of Armenia will be discussed. Governmental sources report that the prime minister will be replaced only after the presidential elections. Otherwise only in case no agreement is reached with Prosperous Armenia on this matter. In other words, if Serzh Sargsyan does not get PAP's support for his nomination, he will have to change the prime minister before the elections. Then, Karen Karapetyan will need crisp and clear guarantees that he will keep his office even after the presidential elections. Yesterday, Russian media reported that Vladimir Putin's visit to Turkey was postponed. It was planned to be held on October 14-15, while the Russian president meant to leave from Ankara to Baku. According to Russian media, yesterday, Putin and Erdogan spoke on the phone and Putin proposed to postpone his visit until November. This means that the Russian president decided to respect the parity and hold regional visits to Turkey, Azerbaijan and Armenia in November, the paper writes.
Source: http://www.armtown.com/news/en/lra/20121011/27692/
Putin Politics: Russian president's expected visit likely to influence decisions in Yerevan
Several Armenian media, citing their sources, report the visit to Armenia by Russian President Vladimir Putin, which was originally said to have been scheduled for mid-September, will take place in late October or early November.
The Russian leader's visit was first announced in the summer by the director of the CIS Institute Konstantin Zatulin, who said that Putin will attend Collective Security Treaty Organization exercises in Armenia held in September. The Kremlin had neither denied nor confirmed that information, leaving Armenian experts guessing afterwards why Putin did not come to Armenia.
Now the discussion is centered around the entourage of President Putin on his possible visit to Armenia as well as what he will actually be bringing to Armenia. The price of natural gas remains high on the agenda of Armenian-Russian talks.
Ukrainian Prime Minister Nikolay Azarov said recently that his country was asked to join the Customs Union of Russia, Belarus and Kazakhstan and offered as a "reward" a reduction of natural gas prices down to $160 per cubic meter. Otherwise, the price of this fuel would fluctuate around $440. Azarov said that Russia could thus lose its largest buyer of gas; he did not agree that his country should join the Customs Union.
One should assume that the same proposal will be made to Armenia. Armenia's Minister of Energy and Natural Resources Armen Movsisyan acknowledged that the negotiations on the gas price with Russia are still continuing. And experts believe that Russia will offer to maintain or even reduce prices for Armenia if the latter agrees to integrate with the Eurasian Community, a new integration process in the post-Soviet space initiated by the Russian president and expected to get its flesh and bones by 2015.
Another issue that is almost certainly going to be discussed during Putin's likely Yerevan meetings will be the upcoming elections in Armenia. Soon it will be the stage of nomination of candidates for president in Armenia, and the Kremlin has not yet expressed its preference on the candidates. In Armenia, the guessing game is around whether Putin will extend his support to the incumbent president, Serzh Sargsyan, or will back Robert Kocharyan, the former president.
The Haykakan Zhamanak daily writes that Putin will bring with him to Armenia Karen Karapetyan, a former mayor of Yerevan and ex-CEO of ArmRosgazprom, a Russian-Armenian joint venture distributing natural gas in Armenia. At present, Karapetyan is deputy manager of Gazprombank in Moscow. The Russia-connected top manager is tipped as a possible prime minister in Armenia, and the paper assumes it is the prime minister's post and not that of president that Putin will be talking about during his visit to Armenia.
However, there is still one remarkable circumstance that could change everything. On October 10 Putin unexpectedly canceled his visit to Turkey, which was originally scheduled for October 14-15. The very next day Turkey intercepted a Syrian civilian aircraft operating a flight from Moscow to Damascus. Turkish air force jets made the Syrian plane land to be searched. Ankara insists component parts for prohibited weapons were found on board the civil aircraft.
Experts rushed to describe the incident as a sign of damaged relations between Turkey and Russia, which have been developing quite incrementally of late. The possible reason for the souring relations is the escalating situation around Syria and Turkey's possible invasion of this embattled country. In Yerevan there has been a traditional concern that well-developing Russo-Turkish relations could come at the expense of Armenia. In particular, Russia, on the initiative of Turkey, could insist on the return of some territories around Karabakh to Azerbaijan, it does not recognize Nagorno-Karabakh, has not contributed to the opening of an airport in Stepanakert, and so on.
The Turkish factor may also be crucial in what Putin offers to Armenia. In particular, Russia may want to strengthen its military base in Armenia that guards the border with Turkey. Whether the allied relations between Yerevan and Moscow grow in the future will also depend on the further course of the Russia-Turkey row.
If things around Syria develop according to their recent scenario, Turkey is likely to invade the Middle Eastern country, which will ultimately damage its ties with Moscow and create a new international situation for Yerevan.
Source: http://armenianow.com/commentary/analysis/40344/armenia_russia_president_vladimir_putin_visit
Armenia has become object of battle between US and Russia – opposition member
The Civilitas Foundation founder, former FM, and Prosperous Armenia Party MP Vartan Oskanian's prosecution was permitted by the United States itself, Karabakh Committee member Ashot Manucharyan stated during a press conference on Thursday. He noted that he does not believe the US ambassador is unable to prevent a persecution against a person in Armenia. "That is, they are not against [it] for the most part. Armenia has become an object of battle between the US and Russia, and the primary lever to dominate over Armenia is the presidential chair. Today, Russia is infuriated because they are attempting to snatch its influence in Armenia away from it, and, under such condition, the Russian side is capable of many things," Manucharyan said.
According to him, this is why the US is trying to weaken and neutralize Russia's main weapon with such small strikes. "Armenia's ruling 'regime' begins persecuting a protected man, who is the second person of the Prosperous Armenia Party. At that time the party's first person disappears while its remaining members, who used to hold state positions and make money unlawfully, begin contemplating as to what they would do with them if they are launching such actions against a man who is protected to such [high] level. Thus, the entire 'Russian system' is being neutralized by the actions against Oskanian," he noted.
And in response to the query as to whether Oskanian's nomination for next year's presidential elections is real, Ashot Manucharyan said it would be better to pose this question to the Russian and US ambassadors because, according to him, they are the ones who decide which role is preferred for Oskanian to play: a presidential candidate, or a distressed prisoner?As Armenian News-NEWS.am informed earlier, the National Security Service (NSS) Department of Investigation has brought formal charges Monday against Vartan Oskanian.
To note, on October 2 the National Assembly voted—by 64 ballots for, six against, and with one invalid vote—in favor of Prosecutor General's petition to include Vartan Oskanian as a defendant in a criminal lawsuit. A total of 71 MPs participated in the voting. On May 25 NSS Department of Investigation had filed a criminal lawsuit on charges of money laundering with respect to The Civilitas Foundation.
Source: http://news.am/eng/news/124470.html
"Soft power" of Russia in Armenia
The presence of Russophobic sentiment in Armenia is already not a secret. The secret for the majority of Armenian society, including its Russophobic part, is the real causes of these trends in the country, which is considered an age-old partner and friend of the Russian people. It should be recognized that there is still some discontent with individual elements of Russian policy in Armenia and in the South Caucasus, as well as with the policies of any other country. However, in the case of Russia, these elements are artificially inflated and heated by the forces of pro-Western orientation. These forces are mainly funded by USAid and similar institutions, government organizations and political forces. However, it is believed that the presence of anti-Russian sentiment in Armenia is being heated at the official level...
Another catalyst of increasing Russophobia in Armenia was the statement by the governor of Krasnodar Territory Alexander Tkachev on establishing a "Cossack police" in the region. Tkachev substantiated the emergence of such a new structure in such a way: Stavropol isn't coping with the role of a filter "sifting Caucasians from Kubans." Some overseas-funded Armenian information resources of appropriate orientation immediately came to the paradoxical conclusion that the Cossack police would actually be engaged in the forcible deportation of the Caucasian peoples and, first of all, for some reason, the Armenians from Krasnodar Territory. In reality, only a mad man could imagine that the Cossack police would clean out Armenians from Krasnodar Territory and primarily from Sochi, where the number of Armenians amounts to about half the population. There is no need to be a genius to understand that the implementation of xenophobic attitudes in multi-ethnic and multi-religious Russia would do harm to its federal structure. However, somebody in Armenia does not want to understand it by continuing to disturb the minds of citizens, mostly living on transfers, which certainly do not come from overseas.
The reason for the talk "about the imminent loss of Armenia's independence," was the idea of ​​Vladimir Putin of the creation of the Eurasian Union. The idea led to intense discourse in post-Soviet space - some felt nostalgia and hope, others felt fear. In general, it seems that any idea of ​​integration with Russia will be welcomed in Armenia, traditionally and rightly considered to be a pro-Russian country. However, there are people who see the Eurasian Union and even its forerunner, the Customs Union, as a direct threat to the independence of Armenia. For some reason they do not see such a threat in the opening of the border, initiated by the U. S., with those who committed the genocide of the Armenians. Thus the main reproach against Russia remains its alleged lack of interest in a just settlement of the Nagorno-Karabakh conflict.
However, these criticisms of Moscow sound not only in Yerevan but also in Baku. And if the Armenians accuse Moscow of selling weapons to Azerbaijan, the peak of which was the sale of an S-300 anti-aircraft missile system in 2010, Baku is unhappy that Russia not only supplies weaponry to Armenia but makes a discount. These pro-Western Armenians somehow do not see this, as well as they do not want to see Russian efforts to reach a compromise in the Karabakh conflict. Moscow has a military base in Gyumri and supplies Armenia, as a CSTO member, weapons at domestic prices. The majority of Armenians are sincerely and deeply grateful for this. However, there are people complaining that Yerevan bears all the expenses for the maintenance of the Russian 102nd military base, according to the intergovernmental agreement for a period of 49 years. The same people, oblivious to the fact that the stay of the Russian base in Armenia fits the interests of Armenia, because it protects its external borders, and Russia is spending huge amounts of money on it, demand the withdrawal of the base as a "threat to the sovereignty of Armenia."
Today some politicians in Yerevan, having forgotten our history, including the latest, and their own conscience, do not want to remember the indisputable fact that it was the terrible cries of Moscow that stopped an imminent Turkish invasion of Armenia. And there is no doubt that the Kremlin today is interested in preserving the independence of Armenia, while the U.S. and the West, in the best case, can locate "peacekeepers" on the front line in Karabakh, which is certainly more likely to look in the direction of the south, that is, to Iran, than to engage in the preservation of peace in the South Caucasus. Not only Russia, but also any other state, and the U.S. in the first place, determining its priorities in a given region, is guided by its own national interests, and only after that - the interests of "brotherly states". And this is quite normal and accepted by people who have at least a remote idea about politics. However, given that a large part of the population has no idea of ​​this, opponents of Russian influence in Armenia managed to exploit even a military parade dedicated to the Independence Day of the Republic, which took place a year ago in Yerevan. The passage of Russian troops from Gyumri under a Russian flag caused rejection on the part of pro-American youth. Russian participation in the parade of the Armenian army was seen not as a political move to a certain direction, but as another manifestation of the "imperial ambitions" of Russia. Moreover, the protest meeting against the participation of Russian troops in the parade was dismissed by police only the next day.
The economy is also widely discussed. Recently, there were a lot of discussions in the media on the question of negotiations between Russia and Armenia on the increase in the price of natural gas supplied by Russia. According to replicated pro-Western media reports, from October 1, 2012, Russia plans to raise the price of gas from 180 to 280 dollars per thousand cubic meters. And from January 1, 2013, Russia will set the price of gas at about 380 dollars. Despite the lack of official statements related to the increase of the price of Russian gas for Armenia both from Yerevan and from Moscow, the very prospect of higher prices for the Armenian economy, which is not in the best position, also boosts the injection of anti-Russian sentiment in the country. It should not be forgotten that, even in case of a price of 380 dollars, the population of the country today with the price of about 180 dollars gets the gas at a price of 132 drams, that is, taking into account maintenance fees, it is up to 400-420 dollars per thousand cubic meters. In these conditions, pro-Western Armenians should have accused not Russia but their own government or "Armrosgazprom" for such pricing.
One of the first factors which the anti-Russian forces in Armenia adopted was a project of the "debt-for-enterprises", realized during Robert Kocharyan's presidency, when in exchange for repayment of the Armenian foreign debt of 100 million dollars Russia received several businesses and the Hrazdan thermal power plant, which produced almost half of the country's electricity. The fact of the transaction did not shock anyone, because the above-mentioned companies were idle. However, Armenia hoped that the companies which the Russians got would make money, but most of them remained idle. After that some forces asked the following question: why, for example, did Moscow write off a hundred times more debt of $10 billion to Syria, but it did not write off the Armenian debt?
Many do not like the excessive influence of Moscow on local domestic life. However, geopolitics and economics just do not leave other options in Armenia, which, however, does not prevent the largely pro-Western opposition with no dividend on the proximity to Moscow from always looking around in search of other strategic partners. This could be considered a problem of the Armenian opposition. However, the problem is mostly still a Russian one, because Moscow has traditionally worked with the current government of the important countries, not maintaining contact with the opposition, as the West does.
As a result, this breach is used by geopolitical rivals of Russia, driving a wedge between Yerevan and Moscow. From the point of view of the history of Armenian-Russian relations, Armenia may be an important strategic area for Russia only when the authorities are weak, because with a strong government Armenia will seek more independence, and this is not beneficial for Russia. However, the same can be said about the West. There is a version according to which President Putin is trying to increase the importance of Armenia, exchanging Serzh Sargsyan for Robert Kocharyan, who is not sufficiently popular in Armenia. Against this background, the preferred and non-alternative candidate for the U.S. is Serzh Sargsyan who has reportedly already started a "renovation" of Armenia. In this version, the anti-Russian wave rises in Armenia with the participation of official structures. Thus, by simulating the growth of anti-Russian sentiment, the ruling force tends to gain time and not to give the pro-Western opposition a chance in the domestic political struggle.
In general, there has always been anti-Russian sentiment within the statistical error in Armenia. But if in the first years of independence they were local in nature, not appearing in the media, and in general people were quite pro-Russian, nowadays the situation is different. The rejection of Russian policy in the Caucasus did not emerge suddenly; it proceeded step by step, at least in the last 10 years. However, people who are trying to drive a wedge in Armenian-Russian relations do not represent the whole Armenian people. Even recent Gallup polls show that three-quarters of the population of Armenia still view Russia positively. Unfortunately, there is no merit on the part of the Russian embassy in this case, since its public diplomacy activities, if they exist, are extremely subtle. However, the recent upheavals and increased funding of "Rossotrudnichestvo" demonstrate that Moscow is also seriously thinking about the effect and potential use of "soft power", at least in the countries of the CIS. For Armenia, not interested in becoming a second Georgia, this is very handy.
Source: http://vestnikkavkaza.net/articles/politics/32430.html
Tigran Sargsyan: Time to think about closer inter-regional cooperation between Armenia and Russia
The second Armenian-Russian inter-regional forum kicked off in Yerevan today. The opening ceremony was attended by Prime Minister Tigran Sargsyan and the Russian co-chair of the Armenian-Russian Intergovernmental Commission Maxim Sokolov. Welcoming the participants of the forum, the Prime Minister voiced hope that the it will promote the development of economic and humanitarian ties between the two countries and elaboration of new initiatives.
"The relations between Armenia and Russia are of strategic nature. Political and economic dialogue has been established on all levels of state governance. Time has come for closer inter-regional cooperation," Tigran Sargsyan said.
"I think we have much to learn from each other. The dialogue between the regional authorities of the two countries can suggest the mechanisms that will contribute to the development of regions. We must think about the development of inter-regional cooperation in different directions. We must not only maintain, but also reinforce the bilateral information space, consider the creation of the database of the supply and demand of the regional markets, present corresponding business programs," he added.
Speaking about the proportionate development of regions, the Prime Minister said one of the priorities of the Armenian government is the development of regional infrastructures – roads, water supply systems, logistic and educational centers.
"We are making efforts to have the quality of life in rural regions correspond to that in urban areas. For that purpose we have started implementing a special programs to create regional development programs. A Techno Park has been established in Gyumri, the next will be opened in Vanadzor, a financial and educational center is being constructed in Dilijan," the Prime Minister said.
The forum features representatives of central and regional authorities, NGOs and business circles of the two countries.
Armenian-Russian Tourism Campaign to reveal new tourism resources of Armenia
The Russian-Armenian joint Tourism Campaign will contribute to the development of the field of tourism in Armenia. As reported by the Deputy Minister of Economy of the Republic of Armenia Ara Petrosyan at the press conference held on September 27, the Tourism Campaign, to be held from September 30 to October 9, aimed at revealing the new tourism resources of Armenia.
The Deputy Minister highlighted the efforts of the state of keeping Armenia in the tourism focus. "The country works to create favorable environment for the development of the field of tourism", - stated Ara Petrosyan, as reported by Armenpress. According to him, the International Tourism Conference to be held on October 18-19 in Armenia will as well contribute to the growth of interest in the field.
The Ambassador Extraordinary and Plenipotentiary of the Russian Federation to Armenia Vyacheslav Kovalenko highly evaluated the tourism potential of Armenia, emphasizing the importance of the Campaign. "It is a very good and important start for the inflow of tourists to Armenia. The scientists and aspirants, involved in the Campaign, will contribute to the increase in the recognition of Armenia", - said the Ambassador. Vyacheslav Kovalenko highlighted as well the high level of interest of the journalists towards the Campaign.
The Director of the Armenian Tourism Institute Robert Minasyan stated about the attractiveness of Armenia for tourists. "Our main objective is to create a united tourism zone between Armenia and Russia", - said Robert Minasyan. The Armenian-Russian Scientific Tourism Campaign is to be held on the occasion of the 20th anniversary of the diplomatic relations between Armenia and Russia. The Campaign will launch from the city of Yerevan and will involve Gyumri, Dilijan, Sevan, Goris, Kapan, Meghri, Oshakan and Etchmiadzin cities.

The diplomatic relations between the Republic of Armenia and the Russian Federation have been established on April 3 1992.
Source: http://armenpress.am/eng/news/694429/armenian-russian-tourism-campaign-to-reveal-new-tourism-resources-of-armenia.html
Armenia and Russia are activating cultural cooperation
Armenia and Russia will continue cooperation in cultural spheres for future. On October 12 in the Ministry of Culture of the Republic of Armenia was signed "The Program for Cooperation of Ministry of Culture of the Republic of Armenia and Ministry of Culture of the Russian Federation for 2012-2015", that aims the regulation of Armenian-Russian cultural relation for the period mentioned.
As reports "Armenpress" the document was signed by Minister of Culture of the Republic of Armenia Hasmik Poghosyan and Deputy Minister of Culture of Russian Federation Andrey Bousigin. The program of cooperation includes 18 articles regulating Armenian-Russian relations in a number of cultural spheres. As Minister of Culture of the Republic of Armenia mentioned this is a clear program of activities. In accordance with the program the sides will support the exchange of soloists and collectives, international festivals and contests in both countries. This will help to make favorable conditions for cooperation in the spheres of fine arts, stage craft, cinematography, libraries and museums, design, amateur talent activities, circus, objects of historical and cultural heritage and national craft.
Minister of Culture of the Republic of Armenia said: "Notwithstanding, one thing is of an extraordinary importance for me, that both sides will continue supporting qualification and requalification procedures of the cadres". Minister of Culture of Russian Federation stressed good relations between Armenian and Russian nations and administrative bodies and the importance of development of the cooperation between our countries.
Source: http://armenpress.am/eng/news/696068/armenia-and-russia-are-activating-cultural-cooperation.html
Armenian-Russian humanitarian center to be established in Armenia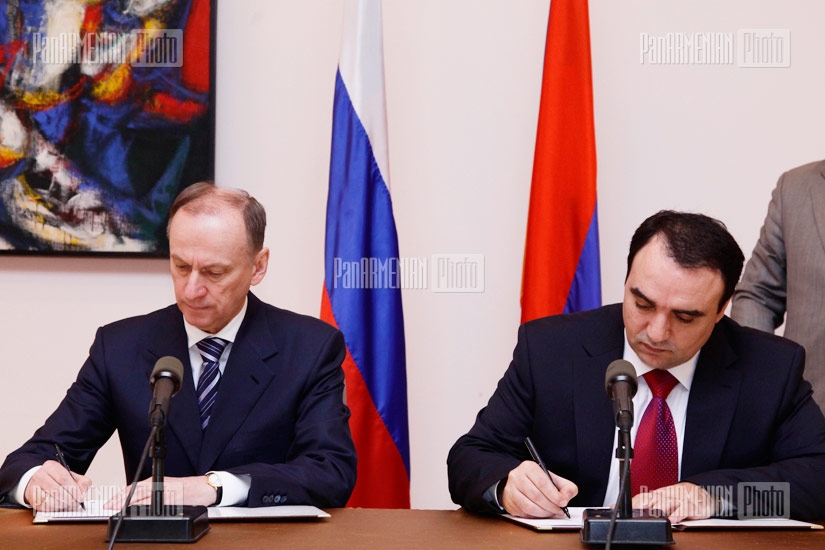 Armenian National Security Council Secretary Arthur Baghdasaryan, who is in Moscow on a working visit, on Tuesday met with Russian Federation (RF) Security Council Secretary Nikolai Patrushev. Following their private talk, meeting of the Armenian and RF security councils' representatives was held, during which they exchanged views on the current situation in the Collective Security Treaty Organization (CSTO) zone as well as on regional and international security. As a result of the talks, Baghdasaryan and Patrushev signed a protocol, whereby the arrangements were specified.
On the same day, Arthur Baghdasaryan met with Vladimir Puchkov, the RF Minister of Emergency Situations. As a result of this meeting, the parties signed the protocol on the intentions to establish a joint humanitarian center in Armenia. Also, the Armenian National Security Council Secretary got together with CSTO Secretary General Nikolay Bordyuzha. This meting was followed by a roundtable discussion under the theme "The Republic of Armenia's activities within the framework of the CSTO," during which the attendees examined the interaction as well as the avenues to improve the organization's activities. As a result of the meeting with Bordyuzha and the aforesaid roundtable, a protocol with several arrangements was signed.
In addition, Arthur Baghdasaryan met with Sergei Ivanov, the Chief of Staff of the RF Presidential Administration. The interlocutors discussed the military partnership between Armenia and Russia, and reflected on the implementation of the arrangements that were made during Armenian President Serzh Sargsyan's and RF President Vladimir Putin's last meeting.
Putin: Armenia remains Russia's reliable ally
Armenia has been and remains Russia's reliable ally, Russian President Vladimir Putin wrote in his message of greeting to the participants and guests of the second convention of the World Armenian Congress (WAC) that kicked off in Yerevan earlier today. "Russians and Armenians have been united by ties of friendship, mutual respect and spiritual affinity for many a century now," said the Russian leader, according to the Voice of Russia quoting the press agency TASS. "Bilateral relations have been successfully developing on the basis of good traditions and have reached the level of strategic partnership."The Russian president reportedly wished the delegates "from the bottom of his heart" fruitful work and success, and wished the fraternal people of Armenia well-being and prosperity. The WAC, founded in 2003, is an organization led by affluent Russian-Armenian businessman Ara Abrahamyan. Its declared objective is to strengthen relations between Armenia and its worldwide Diaspora.
Russia will supply gas to Armenia on a privileged cost
Russia will supply gas to Armenia on a privileged cost that will be rather cheap. As "Armenpress" reports, this was announced by the minister of Energy and Natural Resources of Armenia Armen Movsisyan at the end of the session of intergovernmental committee, but he refused to tell what exact price he meant. The minister mentioned the following: "We are still negotiating about the price for gas. There will be special privileged price for Armenia, but the precise cost will be clear only after the end of the negotiations. Unlike other countries we will buy gas for very cheap prices." According to him after the final cost is fixed the government will start thinking about subsidizing needy classes. Current gas price for Armenia is 180 USD for 1000 cubic metre. Speaking about the new energy station Movsisyan mentioned that presently they are working on the development of new financial schemes.
Source: http://armenpress.am/eng/news/696138/russia-will-supply-gas-to-armenia-on-a-privileged-cost.html
Gazprombank vice president may become candidate for president of Armenia
Karen Karapetyan, former Mayor of Yerevan and First Vice President of Gazprombank, may become a candidate for President of Armenia in 2013, News Armenia reports. Prosperous Armenia and the Armenian National Congress may for a consensus around the official. Russia may also encourage Karapetyan to go ahead. Karen Karapetyan resigned as the Yerevan Mayor on October 28, 2011, staying in office less than a year. He used to be the Director General of ArmRosgazprom, the monopolist of gas distribution in Armenia.
Source: http://vestnikkavkaza.net/news/politics/30513.html
Early Endorsement: Russian-Armenian tycoon backs Sargsyan's reelection
A Kremlin-friendly businessman leading the largest Armenian community organization in Russia on Monday voiced support for President Serzh Sargsyan's plans to win a second term in office in an upcoming presidential election. Ara Abrahamyan said the governing body of his Moscow-based World Armenian Congress (WAC) officially endorsed Sargsyan's reelection at a weekend meeting in Yerevan.
"We have no other [presidential] candidates yet. Nobody has nominated [their candidacy,]" he told RFE/RL's Armenian service (Azatutyun.am) during a WAC congress in Yerevan. Asked whether he and his group have considered backing an opposition candidate, Abrahamyan said, "You can't become president in two months. You need a serious preparation for becoming president."
The tycoon added that the WAC decided to endorse the incumbent president in recognition of his policy on the Nagorno-Karabakh conflict, pursuit of greater international recognition of the 1915 Armenian genocide and efforts to bolster Armenia's ties with its worldwide Diaspora. He admitted that many Armenians are dissatisfied with their government's socioeconomic track record but said Sargsyan does not have a "magic wand" to rapidly improve their plight.
Incidentally, Sargsyan attended and delivered a speech at the WAC congress on Monday. He again stressed the Diaspora's importance to the country. The WAC was set up in 2003 as an offshoot of Abrahamyan's Union of Armenians of Russia. Russian President Vladimir Putin personally attended the WAP's founding congress in Moscow to indicate his support for the Armenian-born tycoon's attempt to create a global pan-Armenian structure.
The Armenian government's reaction to the initiative was less than enthusiastic, with then President Robert Kocharyan openly expressing misgivings about the idea of putting all major Diaspora communities under a single umbrella structure. Leading Armenian organizations in the United States and Western Europe have also viewed the WAC with suspicion.
Abrahamyan announced on Monday that the WAC has decided to move its headquarters from Moscow to Yerevan in order to end Diaspora allegations that the group is furthering the Kremlin's agenda.
Source: http://armenianow.com/news/politics/40393/armenia_russian_tycoon_ara_abrahamyan_elections2013_president_serzh_sargsyan
Russia's Defense Minister Hails 'Strategic' Ties With Armenia
Russian Defense Minister Anatoly Serdyukov emphasized the "strategic significance" of his country's relations with Armenia after meeting Armenian leaders and watching military exercises held by the Russian-led Collective Security Treaty Organization (CSTO) near Yerevan on Wednesday. Serdyukov joined President Serzh Sarkisian as well as his Armenian and Belarusian counterparts in monitoring the concluding phase of the five-day maneuvers held at the Armenian army's Marshal Bagramian training ground. Kazakhstan's top army general also arrived in Armenia on the occasion.
They looked on as about 2,000 soldiers from Armenia, Russia, Belarus, Kazakhstan, Kyrgyzstan and Tajikistan simulated a joint operation against imaginary "illegal armed formations" invading a CSTO member state. The CSTO troops were backed up by tanks, armored vehicles, artillery systems, helicopter gunships and warplanes firing live rounds. The drills also involved unmanned aircraft designed and manufactured in Armenia. The Krunk drones were first demonstrated by the Armenian military during a September 2011 parade in Yerevan.
Serdyukov praised the course of the war games when he held talks with Sarkisian later in the day. The Armenian president's press office said they also discussed Russian-Armenian military ties and security "challenges" facing the region. Serdyukov said Russian-Armenian relations are currently "at the highest level" and are strategically important to both nations after a separate meeting with Defense Minister Seyran Ohanian. The meeting focused on what the two men called a "reorganization" of Russian troops stationed in Armenia.
"We have had quite good meetings today during which we discussed a broad range of issues related to the 102nd Russian military base stationed in Armenia and its reorganization taking place within the framework of a reform of Russia's Armed Forces," Serdyukov told journalists. "We are transferring about 10 facilities to the Armenian side," he said without elaborating. "We also discussed the issue of material-technical supplies to the base and our relationships in that regard."
The Russian minister appeared to refer to a redeployment of Russian army units in Armenia, which began in early 2011. In an apparently related development, the Russian military announced in June that it will double this year the number of its soldiers serving at the Soviet-era base headquartered in Gyumri on a contractual basis. It is still not clear if the total number of its military personnel will change as a result.
The Russian base is believed to have between 4,000 and 5,000 troops. It is equipped with hundreds of tanks, armored vehicles and artillery systems as well as sophisticated S-300 surface-to-air missiles and a squadron of MiG-29 fighter jets. A Russian-Armenian agreement signed in 2010 extended the Russian military presence in the South Caucasus nation by 24 years, until 2044, and upgraded its security mission. It also committed the Russians to helping the Armenian military obtain "modern and compatible weaponry and (special) military hardware."
Source: http://asbarez.com/105552/russia%E2%80%99s-defense-minister-hails-%E2%80%98strategic%E2%80%99-ties-with-armenia-2/
Russia protects Armenia from Western influence
The deployment of the 102nd Russian military base in Gyumri remains the subject of heated debate. Some believe that that the Russian base guarantees security for Armenia, while some are convinced that the base threatens the sovereignty of the country. Pravda.Ru talked to the Vice President of the Academy of Geopolitical Issues Konstantin Sivkov to get some clarity on the situation.

"Turkey has an overwhelming military superiority in the region, and Russia is unlikely to be able (in military terms) to stop the advance of the Turkish troops. However, in case of an attack on Armenia, Turkey would declare a war on Russia as well. The 102nd Russian military base in Gyumri has more of a geopolitical significance rather than military. Do you agree with this statement?"
"Any military base located outside of Russia is a guarantee that in the event of military action against any such country, Russia will enter the conflict on the side of that country. Otherwise, there would be no military bases deployed there. This is clear. If Turkey attacks Armenia, it will be treated as an attack on Russia. Russia would fight on Armenia's side with all its might. If necessary, Russia could use nuclear weapons against Turkey, both tactical, and if need be, strategic. This is defined in the military doctrine of the Russian Federation. Armenia is fully protected with the Russian umbrella of both conventional forces as well as strategic nuclear forces."
"Russia spent a significant amount of money on Gabala radar station (RS) in Azerbaijan, as well as its military bases in Central Asia. There are sales of Russian weapons, including the offensive ones, to Azerbaijan. Currently, Armenia and Azerbaijan have the same sore issue - Artsakh (Nagorno-Karabakh). Why is Armenia not charging rent for the Russian base?"
"This is because Russia and Armenia are allies. They have no commercial relationship like the one between Azerbaijan and Russia. Russia will not fight for Azerbaijan, but will fight for Armenia. Armenia is part of the overall defense of the Collective Security Treaty Organization (CSTO). Armenia cannot maintain effective means of defense because it's quite expensive. The presence in the country of the Russian Federation base equipped with anti-aircraft missile systems S-300 and MiG-29 and able to provide a reliable defense against threats to Armenia of a certain scale, that is, something that can be fought off with their own forces and resources. In case of a more serious threat, additional forces and air defense and fighter aircraft may be redeployed there.
"The question of who needs the base more - Russia or Armenia - often turns into a pointless debate about dependence. Given the strained relations between Turkey and Armenia, the Karabakh conflict and open support that Ankara provides to Baku in this conflict, the 102nd Russian base plays an important role in ensuring the safety of Armenia. However, the U.S. has reasons behind the encouragement of normalization of Armenian-Turkish relations with the help of Zurich protocols. The goal is to eliminate Armenia's interest in the presence of a Russian military base on its territory. What do you think about it?"
"The Russian military base in Armenia is not just for defense from Turkey. As I mentioned earlier, at the moment there is only one front - the conflict with Azerbaijan. To some extent, NATO military may present some risk for Armenia. The presence of the Russian military base in Armenia is equally convenient for both sides. Russia wants to push the frontiers of air capture as far from its borders as possible. In turn, Armenia is interested in protecting its sovereignty. The presence of the Russian military base in Armenia implies protection of the interests of this country. If some Armenians serve in the Russian army, the base is a natural element of the economic system in Armenia and aids in the consolidation and development of the economy of the country.
"Do you think the presence of the Russian military base in Armenia is a threat to its sovereignty?"
"This position is likely shared by Dashnak Armenian nationalists who in the beginning of the last century called for sovereignty and independence of Armenia. But such a small country like Armenia cannot exist without the patronage of major powers. If Russia leaves Armenia, the United States will come back. This is the only possible solution. The mere presence of the Russian military base is a guarantee of the sovereignty of Armenia. Moreover, the composition and size of the military base, and its primary task of defense, rule out the possibility of any significant impact on the internal political life of Armenia. Fighter jets can in no way affect the political life of this country."
Defense Ministry: Russian missiles' deployment in Armenia
Russia is installing an advanced anti-aircraft missile system in its southern military region in reaction to Turkey's deployment of a NATO missile system, Press TV reported citing the Turkish daily Hurriyet.Russian Col. Igor Gorbul said the army will complete the installation of S-400 anti-aircraft missiles by the end of this year. Gorbul also stated that the new missiles can destroy ultra-stratospheric and ballistic missiles and all types of airplanes. NATO's missile system has been established in Turkey's East Anatolia region. The Hurriyet report comes several days after Turkish fighter jets forced a Syrian passenger plane heading to Damascus from Moscow to land in the capital Ankara.
A military expert did not rule out the possibility for deployment of Russia's S-400 missiles in Armenia. "Deployment of Russia's S-400 anti-aircraft missiles in Armenia seems quite logical, considering current developments in Iran, as well as military partnership between Yerevan and Moscow," David Jamalyan told a PanARMENIAN.Net reporter.
Armenia's Defense Ministry commented on the possibility for deployment of Russia's S-400 missiles in Armenia. Considering the lack of Russia's land frontier with Turkey, it cannot be ruled out that the missiles will be deployed in the territory of Armenia, where Russia's 102nd military base is stationed. As the Ministry's spokesman Artsrun Hovhannesyan told PanARMENIAN.Net "noting can be ruled out at the moment. With rearmament of the Russian military base in progress, renewal of anti-aircraft missile system might also be expected. However, we're not sure as to the specific systems to be deployed."
Source: http://www.panarmenian.net/eng/news/128443/Defense_Ministry_Russias_S400_missiles_deployment_in_Armenia_not_excluded
Obama's "Reset" with Russia: A Long Retreat
The disgraceful firing of Radio Liberty's loyal Moscow staff on September 20 and 21 is the latest chapter in the Obama's Administration's Russia policy retreat, also known as the "reset." Forty-one dedicated and professional reporters with deep knowledge of Russia—and in particular its human rights record—have been given their marching papers by theU.S.government. Allegedly, this is because Russian media law is changing on November 10 to restrict AM broadcasting. But those who follow the Obama Administration's Russiapolicy will see a familiar pattern. As the Russian government and media get more aggressive and more anti-American, theU.S. meekly retreats.
While the new Russian media law certainly does make the work of broadcasting more challenging, it is also a fact that Radio Liberty's mission—to broadcast the truth and promote democracy—fits ill with President Obama's accommodationist Russia policy. The "reset" policy was of course launched by Secretary of State Hillary Clinton with the presentation of a large red button to Russian Foreign Minister Igor Ivanov during her first year in office. This silly gimmick proved prophetic of the ineptitude of the policy it symbolizes. Under the "reset," American national interests and those of its friends and allies have endured one setback vis-à-vis Russia after another:
Radio Free Europe/Radio Liberty director Steven Korn attempted to defend the firings in an op-ed in yesterday's Moscow Times. "This is not a calamity," he wrote, which certainly is not the view of the fired journalists. "On the contrary, we see this as an opportunity to improve and strengthen Radio Svoboda and to accelerate our plans to move to digital platforms." This simply does not pass the smell test, especially as the entire digital team of theMoscow office was among those fired. U.S.national interests abroad, including our security interests, continue to be compromised by the Obama Administration, andRussiais but one example. The worst part is that it is being done intentionally.
Source: http://blog.heritage.org/2012/10/17/obamas-reset-with-russia-a-long-retreat/
Russia this week signed a contract to export $4.2 billion of weapons to Iraq — which is of special interest for two reasons. First, it is the largest arms-export deal since Putin became the effective ruler of Russia in 1999. Second, it marks Russia's return as a top supplier of weapons to Iraq — a position lost in 2003 with the overthrow of Saddam Hussein, after Putin had opposed the liberation of Iraq and tried to help Saddam cling to power. Nor is Russia's dramatic return to Iraq confined to the arms bazaar. Russian energy companies are also making a comeback, seeking a share of Iraq's massive oil reserves while US companies play reluctant debutante.
Westward, Russia has regained much of its lost influence in Ukraine, a vital link in gas transit to European markets. Over the past four years, pro-Russian parties in Ukraine have won control of most levers of power. The pro-West opposition leader, former Prime Minister Yulia Timoshenko, has ended up in prison. Putin has worked hard these past four years to recapture positions that Russia lost when the Soviet empire disintegrated. Despite occasional hitches, the despotic regime of President Alexander Loukachenko in Belorussia is now effectively in the Russian orbit. (Putin has even proposed a pan-Slavic Union of Russia, Belorussia and Ukraine.)
Southward, Putin invaded Georgia, annexing 20 percent of its territory in the two enclaves of Abkhazia and South Ossetia. And this month a pro-Moscow coalition led by Bidzina Ivanishvili, a billionaire linked to the euphemistically labeled "Russian business elite," won the presidency, replacing the pro-American Mikheil Saakashvili. South of Georgia, Putin (with Iranian help) has managed to bully tiny Armenia back into the fold. He is now raising pressure on Azerbaijan, which (thanks to links with Turkey) still pursues a pro-West policy. Moscow is also making a comeback in Central Asia. Last month, the Russian army orchestrated a series of military exercises with units from Kyrgyzstan, Uzbekistan and Tajikistan. Russia has held similar exercises with China and Kazakhstan, ostensibly as part of a counterinsurgency strategy.
Everywhere, Russian advances have been facilitated by what is perceived in the region as a strategic retreat by the United States under President Obama. Ukraine and Georgia have all but abandoned their efforts to join the European Union and/or NATO. The Central Asian republics have frozen joint projects with NATO that date to the 1990s. And Kyrgyzstan and Uzbekistan have terminated accords that let the US use facilities there to supply NATO forces in Afghanistan — increasing American dependence on problematic routes through Russia and Pakistan. The perceived "American retreat" started with the Obama administration's rather comical "reset" offer in 2009. Criticizing President George W. Bush's "cowboy diplomacy," the Obama administration abandoned the missile-defense project slated to be sited in Poland and the Czech Republic. Putin said he appreciated the move — but offered no concessions in return.
Instead, he saw it as a signal to intensify Russian efforts to force the United States out of positions gained in Eastern Europe, the Middle East and Central Asia since the end of the Cold War. In the years since, signs of an American retreat have multiplied. In Iraq, Obama gave the impression that his sole wish was to walk away and shut the door behind him. Much of the influence that the US had gained by liberating Iraq and fighting to help it create a new political system has evaporated. Intent on depicting Iraq as a nightmare that is best forgotten, Obama has even excluded Iraq from Arab-American efforts to reshape the region in the wake of the Arab Spring upheavals. Putin is no doubt watching the US presidential campaign with keen interest. A second Obama term would offer the Russian strongman four more years to complete his grand imperial design to force Russia's near and far neighbors into line by bribing, bullying and, when necessary, invading them.
Source: http://www.nypost.com/p/news/opinion/opedcolumnists/putin_power_plays_9KbwWUGck9WIDXCgMx5apM