I have always claimed that the brutal war in Chechnya was a covert military operation waged against the Russian Federation by the United States and NATO with direct support from Pakistan, Saudi Arabia, Turkey, Azerbaijan and Georgia. The operation was intended to undermine Russian power within the Caspian Sea and the Caucasus region thereby giving the interested parties free access to the region's vast oil/gas reserves and strategically important transit routes. Their bold plan succeeded somewhat while Yeltsin the Drunk was in power. After Putin's rise in Moscow, the Caspian Sea region has been thoroughly pacified and its much coveted oil/gas reserves as well as its strategically vital transit routs have been more-or-less monopolized by the Russian Federation.
I strongly suggest watching
the following Russian documentary.


Arevordi
***

Russian Film Accuses West of Orchestrating Chechen War

A new film released on Russia's state-run Channel One has sparked as much international eye-rolling as controversy. Swirling around a central shadowy Turkish secret agent, the 55-minute "Caucasus Plan" implicates a series of western countries, including France, Germany, Turkey and the United States in orchestrating Russia's war with Chechnya in the 1990s. The Turkish embassy in Moscow has already discounted the "unfounded assertions regarding Turkey," questioning the conclusions of the self-designated "documentary." The film, which first aired on April 22nd, alleges that ENKA, a Turkish construction company with major market share in Russia, directly funded Chechen rebels. It also alleges that the U.S. State Department as well as Turkish authorities staged a number of cunning plots to exacerbate separatism in the North Caucasus region, including smuggling weapons and injecting the market with counterfeit dollars. France allegedly gave a hand by printing new regional passports, and Germany provided assistance by minting new currency. A statement from Channel One called the project an "investigative journalism" documentary based on a number of on-the-ground witnesses. In response, ENKA quickly released a statement: "We state that all information regarding our company broadcast on April 22 in 'The Caucasus Plan' TV program on Channel One is totally groundless and untrue. We deny all such accusations."

Experts called the film a joke, adding that it resembles Soviet-style propaganda rather than a serious investigation. Radio Free Europe/Radio Liberty quotes Said-Khasan Abumuslimov, a historian who was Chechnya's vice president in the 1990s: "The Russians have always claimed that the Chechen struggle was instigated by outside forces," he said. "They say we always wanted to live in peace with the Russians, but first Turkey, then England, and now America is sowing seeds of discord in the Caucasus. I don't even want to comment on these silly allegations. This is not serious." Government critics commonly describe television in Russian as the most strictly government-controlled media. At the same time, television serves as the major source of news for the largest share of the population. Channel One (also called Rossiya), a state-run enterprise that broadcasts across the country, has been repeatedly criticized for serving as a Kremlin press-agency, and not a serious source of news. In September 2007, the channel aired another anti-Western special titled "Barkhat.ru" (lit. Velvet.ru). The prime-time special described a mass-conspiracy wherein the CIA was using foreign NGOs, the western media and opposition groups in an attempt to overthrow the government and foment a "color revolution" in Russia.

Source:
http://www.theotherrussia.org/2008/0...g-chechen-war/
Russian journalist's film "Plan Kavkaz" caused bewilderment in Azerbaijan
The investigation made by Anton Vernitskiy, journalist of Channel One, in his film "Plan Kavkaz", shown on April 22 and dedicated to the attempts in early 1990s of external forces, including Baku and Ankara, to separate Chechnya from Russia, has caused bewilderment in Azerbaijan. The ORT journalist reminds the viewers about the events in the 1990s, when after collapse of the USSR Chechen leaders got a chance to appeal for help to foreign special agencies in implementing their mercenary separatist plans. The journalist's investigation asserts that Azerbaijan was then a serious player, and allegedly the then presidents of country Abulfaz Elchibey and Geidar Aliev rendered assistance to Chechen separatists. Khazar Ibragim, head of the press service of the Ministry of Foreign Affairs of Azerbaijan, has stated in his comments on Anton Vernitskiy's assertions that Azerbaijan had never interfered and does not interfere into home affairs of other countries. In his turn, Vafa Guluzade, former foreign policy state adviser, has named the Russian journalist's fabrications to be a lie. "Unlike Russia, Azerbaijan never helped separatists. The point is that Russia was irritated by Azerbaijani delay of Russia's confidential cargo for Iran; therefore, it has grown so furious. It's just one form of provocation," he said. We remind you that back on March 29, Azerbaijani custom inspectors detained at the "Astara" checkpoint a Russian road train with heat insulation equipment intended for the construction of the "Busher" Nuclear Power Plant in Iran. Negotiations of "Rosatom" representatives with the Azerbaijani Government on the fate of the cargo have brought no fruit so far. The Azerbaijani party asserts that Russia failed to submit the necessary documentation, detailing the character of the special equipment delivered for the "Busher" Nuclear Power Plant.

Source:
http://eng.kavkaz.memo.ru/newstext/e...d/1213763.html
Western Secret Services Plotted Chechnya's Separation
The western secret services plotted in 1990s Chechnya's separation from Russia. Ichkeria's passports were printed in France and the weapons were delivered to Chechnya via Georgia, according to The Caucasus Plan documentary that Russia's First Channel showed late Tuesday. One of protagonists of the film is Abubakar, Turkey's resident of Chechnya's origin, who has been living under the assumed name of Berkan Yashar for 40 years. Yashar said he got that name after inking a contract with the U.S. Department of State. In the documentary, Yashar narrated how he had been building up a political platform for Chechnya's separation in early 1990s. The project was funded by different states. The passports for unrecognized Ichkeria were printed in France, the money was minted in Germany, Yashar said. Then Chechnya's President Johar Dudaev appointed Yashar deputy foreign minister in 1992. Yashar simultaneously held different offices in Turkish government. He was the so-called power behind the throne in 1990s in Chechnya, controlling all more or less significant financial transactions of the North Caucasus militants, the filmmakers said. He was one of the masterminds of the diamond trafficking operation. Rough diamonds from northern Russia were illegally exported by using the charter flights. Representatives of Turkey and officials of Azerbaijan's government were involved in negotiations aimed at arranging the flights. The profit was spent to buy mines to explode combat vehicles, Abubakar told the camera crew. Theoretically, the aircraft flights were banned from Grozny, but the airport got the permission somehow. The plane first flew to Baku, Azerbaijan, and then to Turkey as an Azeri airliner. But that channel was closed in a few years and they had to establish a new link, via Georgia, through Pankiss Gorge, Yashar said. Boris Berezovsky took over the diamond business in part and in whole, according to Yashar. I knew practically nothing about that man, who later on has completely grabbed that business and is in it, I'm sure at 100 percent, up to today, Yashar said.
Source:
http://www.kommersant.com/p-12402/Chechnya_separation/
The War in Chechnya


With regard to Chechnya, the main rebel leaders Shamil Basayev and Al Khattab were trained and indoctrinated in CIA sponsored camps in Afghanistan and Pakistan. According to Yossef Bodansky, director of the U.S. Congress's Task Force on Terrorism and Unconventional Warfare, the war in Chechnya had been planned during a secret summit of HizbAllah International held in 1996 in Mogadishu, Somalia. 21 The summit, was attended by Osama bin Laden and high-ranking Iranian and Pakistani intelligence officers. In this regard, the involvement of Pakistan's ISI in Chechnya "goes far beyond supplying the Chechens with weapons and expertise: the ISI and its radical Islamic proxies are actually calling the shots in this war". Russia's main pipeline route transits through Chechnya and Dagestan. Despite Washington's perfunctory condemnation of Islamic terrorism, the indirect beneficiaries of the Chechen war are the Anglo-American oil conglomerates which are vying for control over oil resources and pipeline corridors out of the Caspian Sea basin. The two main Chechen rebel armies (respectively led by Commander Shamil Basayev and Emir Khattab) estimated at 35,000 strong were supported by Pakistan's ISI, which also played a key role in organizing and training the Chechen rebel army:

[In 1994] the Pakistani Inter Services Intelligence arranged for Basayev and his trusted lieutenants to undergo intensive Islamic indoctrination and training in guerrilla warfare in the Khost province of Afghanistan at Amir Muawia camp, set up in the early 1980s by the CIA and ISI and run by famous Afghani warlord Gulbuddin Hekmatyar. In July 1994, upon graduating from Amir Muawia, Basayev was transferred to Markaz-i-Dawar camp in Pakistan to undergo training in advanced guerrilla tactics. In Pakistan, Basayev met the highest ranking Pakistani military and intelligence officers: Minister of Defense General Aftab Shahban Mirani, Minister of Interior General Naserullah Babar, and the head of the ISI branch in charge of supporting Islamic causes, General Javed Ashraf, (all now retired). High-level connections soon proved very useful to Basayev.



Following his training and indoctrination stint, Basayev was assigned to lead the assault against Russian federal troops in the first Chechen war in 1995. His organization had also developed extensive links to criminal syndicates in Moscow as well as ties to Albanian organized crime and the Kosovo Liberation Army (KLA). In 1997-98, according to Russia's Federal Security Service (FSB) "Chechen warlords started buying up real estate in Kosovo... through several real estate firms registered as a cover in Yugoslavia. Basayev's organisation has also been involved in a number of rackets including narcotics, illegal tapping and sabotage of Russia's oil pipelines, kidnapping, prostitution, trade in counterfeit dollars and the smuggling of nuclear materials (See Mafia linked to Albania's collapsed pyramids, 25 Alongside the extensive laundering of drug money, the proceeds of various illicit activities have been funneled towards the recruitment of mercenaries and the purchase of weapons.



During his training in Afghanistan, Shamil Basayev linked up with Saudi born veteran Mujahideen Commander "Al Khattab" who had fought as a volunteer in Afghanistan. Barely a few months after Basayev's return to Grozny, Khattab was invited (early 1995) to set up an army base in Chechnya for the training of Mujahideen fighters. According to the BBC, Khattab's posting to Chechnya had been "arranged through the Saudi-Arabian based [International] Islamic Relief Organisation, a militant religious organisation, funded by mosques and rich individuals which channeled funds into Chechnya". Concluding Remarks Since the Cold War era, Washington has consciously supported Osama bin Laden, while at same time placing him on the FBI's "most wanted list" as the World's foremost terrorist. While the Mujahideen are busy fighting America's war in the Balkans and the former Soviet Union, the FBI --operating as a US based Police Force- is waging a domestic war against terrorism, operating in some respects independently of the CIA which has --since the Soviet-Afghan war-- supported international terrorism through its covert operations.


In a cruel irony, while the Islamic jihad --featured by the Bush Adminstration as "a threat to America"-- is blamed for the terrorist assaults on the World Trade Centre and the Pentagon, these same Islamic organisations constitute a key instrument of US military-intelligence operations in the Balkans and the former Soviet Union. In the wake of the terrorist attacks in New York and Washington, the truth must prevail to prevent the Bush Adminstration together with its NATO partners from embarking upon a military adventure which threatens the future of humanity.
Source:
http://www.globalresearch.ca/articles/CHO109C.html
British And American Covert Operations In Chechnya
"The Clinton administration followed up by providing strong support to the KLA, even though it was known that the KLA supported the Muslim mujahadeen. Despite that knowledge, then Secretary of State Madeleine Albright had the KLA removed from the State Department list of terrorists. This action paved the way for the United States to provide the KLA with needed logistical support. At the same time, the KLA also received support from Iran and Usama bin Laden, along with 'Islamic holy warriors' who were jihad veterans from Bosnia, Chechnya and Afghanistan. Swiss journalist Richard Labeviere, in his book, 'Dollars for Terror,' said that the international Islamic networks linked to bin Laden received help from U.S. intelligence community. Indeed, Chechen sources claim that U.S. intelligence also aided them in their opposition to Russia. Given that U.S. policy in the post-Cold War period has not only been anti-Russian but anti-Iranian, the United States worked closely with Pakistan's predominantly Sunni Inter-Services Intelligence organization. Through ISI, the United States recruited Sunni mujahadeen by staging them in Chechnya to fight in Bosnia and later in Kosovo."
"As the intelligence newsletter Stratfor -- which Time magazine ranked as the nation's top intelligence site in 2003, and which Barron's described as 'a private quasi-CIA' -- pointed out a few months ago, with Ukraine now firmly in the West's orbit, America, with NATO and the EU, has managed to succeed exactly where Hitler and Napoleon failed: it has dismantled the Russian empire, leaving the rump state exposed, weakened and essentially at the West's mercy.... In the wake of the Beslan massacre in September, 2004, in which hundreds of children were killed during a Chechen separatist seizure of a school in southern Russia, President Putin went on television and blamed certain foreign powers for supporting the terrorists with the aim of defanging Russia for good, breaking it apart, and seizing its valuable resources. He did not name the United States, but it was clear whom he meant. .....Stratfor, whose politics could be described as something between patriotic-American and realpolitik, agreed. According to its Kremlin sources, Putin specifically named the U.S. and Great Britain during private meetings. And as Stratfor noted in its April report, there is plenty of evidence to support the Kremlin's claim. In the first place, while Muslim separatist militants from other conflict zones are shunned and even violently pursued by the U.S., the Chechen separatist representatives are routinely given haven and official voice in both the U.K. and America. ... As Stratfor notes, the British connection to the Chechen separatists goes farther back. 'During the first Chechen war -- from 1994 to 1996 -- retired U.K. special forces officers trained British Muslim recruits in British territory to fight in Chechnya,' Stratfor claims, echoing reports out of Russia. 'Some militants who attended that training and were later captured told the Russian government.' After Chechnya gained de facto independence, a scandal apparently erupted in Russia-U.K. relations when de-mining instructors from a private security firm, which included American ex-military personnel, were caught 'training Chechen militants how to launch mine and bombing attacks against Russian troops,' according to Stratfor.."
"Why would a group of leading American neo-conservatives, dedicated to fighting Islamic terror, have climbed into bed with Chechen rebels linked to al-Qaeda? The American Committee for Peace in Chechnya (ACPC), which includes Pentagon supremo Richard Perle, says the conflict between Russia and Chechnya is about Chechen nationalism, not terrorism. The ACPC savaged Russia for the atrocities its forces have committed in the Caucuses, said President Vladimir Putin was 'ridiculous', claimed Russia was more 'morally' to blame for the bloodshed than Chechen separatists and played down links between al-Qaeda and the 'Chechen resistance'. The ACPC's support for the Chechen cause seems bizarre, as many of its members are among the most outspoken US policymakers who have made it clear that Islamist terror must be wiped out. But the organisation has tried to broker peace talks between Russia and Chechen separatists. The ACPC includes many leaders of the neo-conservative think-tank, Project for the New American Century (PNAC), which advocates American domination of the world.... ACPC executive director Glen Howard said the continuation of the 'brutalising tactics' of Russian forces would only lead to 'the resistance employing more brutal tactics' like the assault on School Number One in Beslan...... The nurturing of Chechen fighters against Russia recalls America's support for the Mujahideen in Afghanistan - an act that went on to spawn al-Qaeda and the Taliban.... Howard said hardliners like Richard Perle were backing Chechnya as they 'understood what it feels like to be under the Russian yolk'. Some critics believe the support for the Chechens may be a cold war hangover or part of a policy to keep Russia weak through bloodletting in the Caucuses.... According to Howard, due to the vast energy resources in the Caucuses, the West, which is heavily dependent on foreign energy, has strategic interests in the area to which it cannot afford to turn a blind eye."
Source:
http://www.btinternet.com/~nlpWESSEX...ne-Caspian.htm
Russia reveals US plans to capture Caucasus
Russian Channel 1 presents a documentary 'Plan Caucasus' about the plan of western intelligence service to make Caucasus the battlefield between the Western world and Russia. The reporter states that the first point was the ignition of Nagorny Karabakh conflict and then in other places of Caucasus via the nationalistic moods strengthening. A Chechen man Abu Bakar, a news analyst of the German radio station «Freedom" in the 60s, who worked under the pseudonym Berkan Yashar, reveals the secret plans of the US Foggy Bottom. Baker was enrolled by the USA, and even after he left 'Freedom' and headed for Turkey, where he became a powerful authority, Abu remained a "grey eminence", through whom the West controlled the situation in Caucasus and financed separatists' tribes. He said that the plan of Chechnya annexation was backed by Germany, France, Great Britain, Turkey and Saudi Arabia. His words were proved with pictures of money, printed in Germany that might still be in the Munich factory, and fake passports, printed in France. His words are confirmed by some other people. Thus, Shamseddin Yusef, the Foreign Secretary in Dudaev's government, says: "CIA people even took us to London. Then the war in Iraq started. They planned to take over Chechnya after the victory in Iraq, but that war didn't finish as soon as they predicted. Neither does Richard Perl, the ex- US Ministry of Defense counselor and one of the key strategists of the war in Iraq, conceal the fact that America tried to give spiritual and financial support to Dudaev. The reporter also states, that Western powers pursued in Caucasus not only political, but financial interest as well. Since 1992 with Jokhar Dudaev's help there operated a contraband canal that exported to the West Russian diamonds and gold. For the right to drive it through Chechnya Dubaev got a quarter of the profit received from diamonds' gem-cutting and selling. After the airport in Groznyy was shut in 1994, Berkan changed the scheme of diamonds transportation and started to put them across Pankiyskoe clove to Turkey. Akhmed, one of Dudaev's mates, states that the bloody story of Chechen diamonds goes on even now. The money, saved between the First and Second Chechen Wars, was put in the diamond mines of Africa. The input of money into these mines gives enormous profits to Akhmed Zakaev and Whice Akhmadov, the man, whose name was mentioned in relation to Badri Patarkacishvili's death.
Source:
http://english.pravda.ru/world/ameri...ure_caucasus-0
TURKISH VOLUNTEERS IN CHECHNYA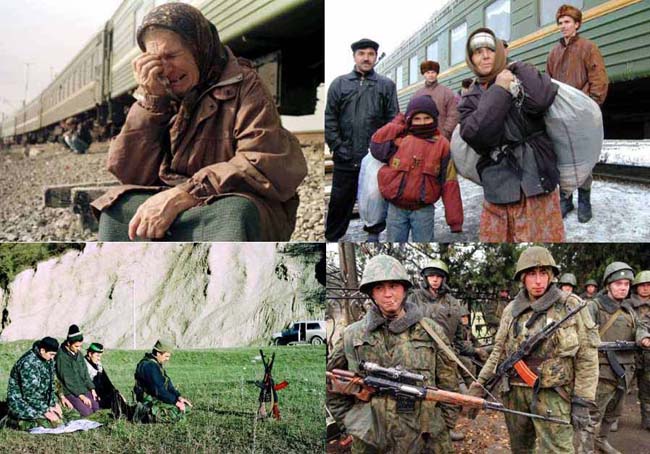 For several years Kremlin spokespersons have identified Turkey as the primary source of foreign jihadi volunteers (always referred to as naemniky, "mercenaries" in official proclamations) fighting alongside their Chechen adversaries. One spokesman claimed "We keep killing armed Turkish citizens on Chechen territory" and another described Turkey as "a record breaker for producing foreign mercenaries killed in Chechnya." [1] While skeptics might be tempted to dismiss such claims as mere bluster in light of Turkey's well known secular tendencies, the evidence is mounting that Turkish volunteer fighters make up a sizeable component of the foreign element fighting alongside the indigenous Chechen insurgents in Russia.
While it is widely recognized that the 100-200 foreign jihadis fighting alongside the approximately 1,200 Chechen insurgents are led by Arab emirs (commanders) such as the slain Amir Khattab (a Saudi whose mother was Turkish according to jihadist websites), Abu Walid (Saudi killed April 2004), and Abu Hafs al Urdani (aka "Amjet" a Jordanian), the Russian government has consistently maintained that Turks play a prominent role among the foreign "terrorists" in Chechnya. [2]
To support their claims, Russian security services have produced Turkish passports found on the bodies of several slain fighters and have given the names and personal details of Turkish jihadis killed in Chechnya. Among others, Russian spokespersons referenced one Ziya Pece, a Turk who was found dead with a grenade launcher following a fire fight with Federal forces. Russian officials have also provided detailed information on 24 Turkish fighters killed between 1999 and 2004, and Russian soldiers in Chechnya have spoken of engaging a unit of 40 skilled Turkish fighters. [3] If this were not compelling enough evidence, Russian security forces have also produced a living Turkish jihadi named Ali Yaman who was captured in the Chechen village of Gekhi-Chu.
A Turkish Platoon in Chechnya
Surprisingly, this evidence is not refuted by Chechen or Turkish jihadi sources and on the contrary has been corroborated on such forums as the kavkaz.org website produced by Arab and Chechen extremists linked to the field commander Shamil Basayev. The following excerpt from a kavkaz interview with a Turkish jihadi commander in Chechnya is illuminating and suggests the existence of a Turkish jamaat known as the "Ottoman platoon" in the Arab-dominated International Islamic Brigade (it also corroborates the above Russian claim that Federal forces have killed 24 Turks in Chechnya): "Interview with the Chief of the Turkish Jamaat 'Osmanly' (Ottoman) fighting in Chechnya against the troops of Russian invaders, Amir (Commander) Muhtar, by the Kavkaz Center news agency: (Interviewer) Are there many Turks in Chechnya today? Some mass media were reporting that there are about 20 of you guys.
(Amir Muhtar) Out of the first Jamaat that was fighting in 1995-1996 seven mujahideen have remained. Back then there were 13 of us. They are actually the core of the Turkish jamaat in Chechnya today. Twenty-four Turks have already died in this war. Among them was Zachariah, Muhammed-Fatih, Halil…Three mujahideen became shaheeds (martyrs) during the battle with commandos from Pskov in the vicinity of Ulus-Kert. Some died before that in the battles in Jokhar (Grozny). Five were wounded." [4] In February 2004 a Turkish jihadi website devoted to Chechnya also announced the martyrdom (shehid olmak) of three Turkish mujahideen in just two weeks. [5] Another site that has been removed left the following account of the combat that led to the martyrdom of three Turkish jihadi fighters: "Last night we had news from verifiable sources that a group of Turkish mujahideen came across Russian soldiers north of Vedeno in a small village. After stumbling on them a fire fight ensued and one Algerian and three Turkish brothers died. The Algerian's name is Hassam and the Turkish brothers' names are Ebu Derda, Huzeyfe and Zennun. These brothers fought in Commander Ramazan's unit in the Dagestan conflict." [6]
For several years now Turkish jihadi websites have actually been posting the martyrdom epitaphs of Turkish fighters who died in the Chechen cihad. Much of the jihadist rhetoric found on these Islamist sites will be familiar to those who follow the martyrdom obituaries of foreign jihadis who have died fighting in Kashmir, Iraq, Afghanistan and other conflict zones. The following account, for example, describes the fate of a Turkish fighter who followed the well worn path of roaming Turkish jihadis in the Balkans before being killed: "Shaheed Bilal Al-Qaiseri (Uthman Karkush). 23 years old from Qaiseri, Turkey. Martyred during the Withdrawal from Grozny, February 2000: Bilal fought for six months in Bosnia during 1995 from where he unsuccessfully attempted to travel to Chechnya. He went to fight for the Jihad in Kosova but returned after a month when the fighting ceased. He came to Chechnya in August 1999 where he participated in the Dagestan Operations in Botlikh. After the Mujahideen withdrew, he was planning to return to Turkey when Russia invaded Chechnya. He participated in the fighting in Argun and, subsequently, Grozny. Before and throughout Ramadan he cooked for the Mujahideen in his group. During the fighting he was distinguished for his bravery. After seeing a dream in which he was married, he decided to marry a Chechen, but Shahaadah (martyrdom) was destined for him instead. He was severely injured during the withdrawal from Grozny in the village of Katyr Yurt where his room received a direct hit from Russian Grad Artillery. He was later martyred from his injuries in the village of Shami Yurt."
Ethnicity and Turkish jihad in Chechnya
The following epitah, which describes a Turkish martyr "with some Chechen ancestry" speaks of a deeper and less obvious current in the Turkish jihadi movement that delineates Turkish volunteer fighters from the majority of trans-national Arab jihadis fighting in Chechnya: "Shamil (Afooq Qainar). 25 years old from Istanbul, Turkey.
Martyred in Grozny, November 1999:
With some Chechen ancestory, he deeply loved Chechnya and was more often alongside Chechens than Turks. He had also participated in the Chechen Jihad of 1996-99. With his good manners, polite demeanor and modesty, he got along well with everyone. He also took part in the Dagestan Jihad in the Novalak Region where, notably, his group fought their way out of a Russian siege at a cost of 25 Shaheed (martyrs). He was martyred in the second month of this War (November 1999) in Grozny." [7]
While it might be overlooked, the fact that the slain Shamil is, like many of his compatriots, of Chechen extraction, is of tremendous importance. It would seem that many Turks who volunteer to fight on the behalf of the Chechens do so because they have ethnic origins in the Caucasus region or identify with the Chechens as irkdashlar (kin).
In the 19th century, Tsarist Russia instigated a brutal policy of ethnic cleansing that saw tens of thousands of indigenous Caucasian highlanders expelled to Anatolia. While public expressions of Laz, Circassian, Kosovar, Bosniak, Tatar and Chechen ethnic identity were subsequently discouraged in officially homogenous Republican Turkey, folk traditions such as the famous Caucasian highlander sword dances, Albanian borek (pastry), Crimean Tatar destans (legends), and ritualized commemoration of past victimization at the hands of Russians, Serbs, Bulgarians and others continued.
It was only with the liberalization of Turkey under President Turgut Ozal in the early 1990s that these historical sub-ethnic grievances could be expressed in the public sphere. As this unprecedented celebration of ethnicity and commemoration of past repression took place in a liberalizing Turkey, Turks were confronted with horrifying images from the Balkans and Caucasus. Stories of rape camps in Bosnia, mass graves in Kosovo, and televised images of columns of pitiful Chechen refugees in Russia struck many Turks as a replay of the apocalyptic destruction of millions of Balkan-Caucasian-Ukrainian Muslims by Orthodox Christians in the 19th century.
As a result, informants interviewed by the author in Turkey in the summer of 2004 claimed that many young men from villages in Eastern Turkey inhabited by people of Caucasian origin were told by their family patriarchs to go and fight for their honor, faith, and ancestral homeland in Chechnya. Moreover, with the advent of the internet in Turkey, gruesome images of horribly mutilated Chechen women and children, mass burials and vandalized mosques appeared on Islamist and secular-nationalist websites alike and enraged many traditionalists in the country. In this climate, both nationalists and religious extremists exploited many Turks' sense of ethnic or religious solidarity with their Chechen "brothers and sisters" and invoked strong feelings of namus (a traditional sense of machismo, pride and honor among Turks that comes from the defense of faith, family, motherland, and honor of one's women).
Like the Turks who continue to fight and die in Chechnya, the websites that glorify the defense of the Chechens run the gamut from the anti-American/Zionist rhetoric of the Islamists to the nationalist irredentism of the Pan-Turkists. But the latter predominate. [8] The pro-Chechen websites with an ethnic dimension tend to feature images of Turks wearing traditional Caucasian folk costumes and 19th century anti-Russian heroes. Others with a slightly more nationalist bent (such as
www.kafka.4t.com/photos.html
) blend images of Ataturk and Alparslan Turkes (the founder of the Turkish Grey Wolves extreme nationalist party) with images from Chechnya. As these sites make clear, many Turks who fight in Chechnya are engaging in the same sort of volunteerism that led Albanian Americans to go fight in Kosovo in 1999 under the auspices of Homeland Calling and other widely recognized diasporic organizations.
This ethnic diaspora narrative might also explain some of the Arab jihadi participation in Chechnya. Many Chechen refugees settled in Ottoman Jordan following their expulsion from Russia in the 19th century. Jordanian Arabs of Chechen extraction, such as the influential Sheikh Muhammad Fatih, have played an important role in the Chechen jihad as warriors, preachers, and fund raisers.
Notwithstanding the involvement of Turks in the Chechen conflict, it would be erroneous to interpret this as proof that secular Turkey faces a serious Islamist problem. Turkish jihadis who have fought in Chechnya have found the Wahhabi Puritanism of their Arab jihadi comrades-in-arms unsettling, and many secular Turks partake in "jihad tours" simply to gain prestige at home in their tight knit families or neighborhoods. In addition, the vast majority of Turks interviewed tended to view Chechens as "terrorists" who reminded them of the hated Kurdish PKK/Kadek militants. Finally, the involvement of two Turkish extremists (Azad Ekinci and Habib Akdas) who had a history of jihadi activity in Chechnya in the bloody al-Qaeda bombings in Istanbul in November 2003 further undermined the Chechen cause in the country. [9] Indeed for all the romantic notions, some Turks have of volunteering to fight on behalf of the Chechens, the carnage wreaked on innocent Turks by El Kaide Turka (Turkish al-Qaeda) clearly demonstrates that jihadism has a potentially unpredictable effect on those who are attracted to it.
Source:
http://www.jamestown.org/publication...cle_id=2369571