This is it. The lunatic in Tbilisi has given Russian authorities a chance to reset the geopolitical order of the Caucasus region. All I know is that Moscow better get this one right. No limited engagement bullshit. Moscow has the moral and legal right to carry out full-scale military operations within Ossetia, Abkhazia and Georgia to ensure the safety of its citizens and to ensure the protection of Abkhazia and South Ossetia. This is an historic opportunity Moscow can finally use to destroy NATO's plans for the Caucasus region for once and for all. The following are various news reports.
Arevordi
Putin Says `War Has Started,' Georgia Claims Invasion
(In this image, made from television , what Russian First Channel claims - burning Georgian armored vehicles are seen in Tskhinvali in the South Ossetian Georgian enclave on Friday, Aug. 8, 2008. Georgia launched a massive attack Friday to regain control over South Ossetia, using heavy artillery, aircraft and armor. South Ossetian officials said at least 15 people were killed Friday and an unspecified number were wounded.)
August, 2008
Russian Prime Minister Vladimir Putin said ``war has started'' over the breakaway region of South Ossetia as Georgian President Mikheil Saakashvili accused its neighbor of a "well-planned invasion.'' Saakashvili said in a Bloomberg Television interview that his nation of 4.6 million people is "fighting to secure its borders'' amid a ``full-blown military aggression'' involving thousands of Russian troops. Aerial bombings and wide-spread fighting in and around the region killed an unknown number of civilians and wounded "scores'' more, Saakashvili said. Putin earlier today told U.S. President George W. Bush in Beijing that "volunteers'' were pouring over the border to help defend South Ossetia from Georgian forces, according to Putin spokesman Dmitry Peskov. "War started today in South Ossetia'' when Georgia attacked Russian peacekeepers in the disputed region, Putin said. The Defense Ministry later said it deployed "reinforcements'' in the region. The ruble dropped the most against the dollar in 8 1/2 years and Russian stocks tumbled today on concern the conflict will worsen. The U.K., European Union and NATO, which Georgia is seeking to join, all called on both sides to end hostilities. The U.S. called for an immediate cease-fire.
`NATO Hopes'
"Georgia's immediate NATO hopes have all but evaporated,'' Dominic Fean, a researcher at IFRI, the French Institute of International Affairs, said by telephone. "Countries like Germany and France were already resistant to the idea of giving a NATO security guarantee to a country with an open dispute with Russia. I can't see how they can get the consensus of 26 states anytime soon.'' South Ossetia, which has a population of about 70,000 and is less than half the size of Kosovo, broke away from U.S.- backed Georgia in the early 1990s and now is a de facto independent state with Russian peacekeepers and economic support. The peacekeepers are deployed under a Commonwealth of Independent States mandate. "We will not allow the deaths of our compatriots to go unpunished,'' Russian President Dmitry Medvedev, 42, said on state television after the Interfax news service said Russian troops were killed in Georgian shelling of a barracks and checkpoint. "The guilty will get the punishment they deserve.''
Iraq Pullout
Georgia called today for an emergency meeting of the United Nations Security Council on South Ossetia. "We've been encouraging everyone involved and every international party to engage in talks for years, months, days, hours,'' Georgian Prime Minister Lado Gurgenidze said by telephone. "What we get is another column of Russian tanks.'' Georgia, the third-largest member of the allied coalition in Iraq after the U.S. and U.K., will bring home half of its 2,000 soldiers from the Middle East country in the next few days, Kakha Lomaia, head of Georgia's Security Council, said by telephone. The Georgian contingent is stationed in Al-Khut, 185 kilometers (114 miles) southeast of Baghdad. Fighting escalated throughout the day, with Russian planes dropping four bombs on the Vaziani military base, which the North Atlantic Treaty Organization uses for training, Lomaia said. The base is about 15 kilometers from the Georgian capital.
Russian Tanks
Georgian forces have shot down three Russian planes since the fighting began, Lomaia said. Russia earlier bombed two Georgian towns, Gori and Kareli, he said. Russia's Foreign Ministry denied the bombing claim. The Defense Ministry denied losing aircraft. Russian troops occupied parts of the South Ossetian capital Tskhinvali, Georgian Interior Ministry spokesman Shota Utiashvili said by telephone. Russian television showed tanks heading over the border to South Ossetia from the Russian region of North Ossetia at about 3:30 p.m. Moscow time. "We find ourselves in a situation similar to where the Czechs were in 1968, to where the Hungarians found themselves in 1956,'' Lomaia said. "All we can do is defend our freedom.'' Georgia last month increased the size of its military to 37,000 soldiers and today Saakashvili called up reservists and urged the nation to defend "every meter'' of land. Russia has a standing army of about 1.1 million.
`Energy Corridor'
"Fighting continues,'' Russian Major General Marat Kulakhmetov, commander of Russia's peacekeeping forces in South Ossetia, said by mobile phone. The peacekeepers have suffered casualties, although it's too early to say how many, he said. Georgia is a key link in a U.S.-backed ``southern energy corridor'' that links the Caspian Sea region with world markets, bypassing Russia, the world's biggest energy producer. Two pipelines pass through the country linking Azerbaijan and Turkey. The BP Plc-led Baku-Tbilisi-Ceyhan oil pipeline, which has been closed since Aug. 5 due to an explosion in Turkey, runs about 100 kilometers south of the South Ossetian capital of Tskhinvali. The most recent violence in the region erupted on Aug. 1, when South Ossetia said Georgian shelling of the regional capital Tskhinvali claimed six lives. Georgia said South Ossetian forces sparked the fighting. "The conflict might be short and hot, but my sense is that neither party wants a prolonged conflict,'' said Michael Denison, associate fellow at London-based research group Chatham House and a professor of international security at the University of Leeds.
Source:
http://www.bloomberg.com/apps/news?p...EQs&refer=home
Georgian tanks head for South Ossetia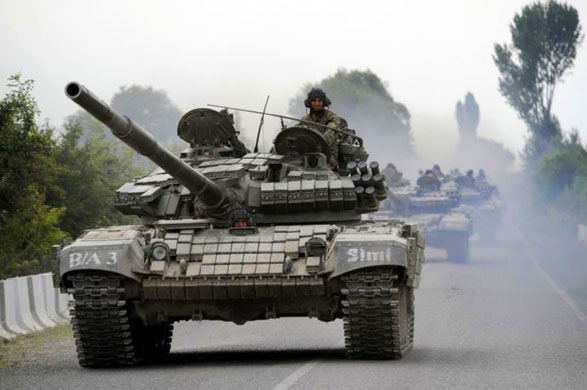 Georgia is reportedly moving tanks, artillery and troops to the border with its breakaway republic of South Ossetia. It follows days of shelling and skirmishes between the sides. Russia is leading diplomatic efforts to stop a full-scale conflict. South Ossetian President Eduard Kokoity said military scouts have detected about 20 tanks and a large number of other guns near the border. Early on Thursday, he said, Georgia shelled the South Ossetian villages of Pris, Dmenis, and Sarabuk using artillery guns. "The shelling caused very significant damages in Dmenis, and a number of civilians have been wounded," Kokoity said. There was a 40-minute lull in the violence after Russian peacekeepers intervened. However, the two sides continued to exchange fire later. Meanwhile, the command of the Joint Peacekeeping Forces in the conflict zone is holding ceasefire negotiations with the parties. Vladimir Ivanov, aide to the commander of the Joint Peacekeeping Forces, said everything possible was being done to end the fighting. "The command of the Joint Peacekeeping Forces is working with the parties to the Georgian-South Ossetian conflict with the aim of relieving tensions and preventing the firing," Ivanov said. Ivanov added that the situation is currently calm in the conflict zone, and no gunfire is being observed.
Source:
http://www.russiatoday.ru/news/news/28601
Georgia begins war to retake South Ossetia
Georgian forces have launched a massive military offensive to take control of its breakaway republic of South Ossetia. Heavy artillery is bombarding the capital Tskhinvali while fighter planes have attacked at least one village. Meanwhile, the UN Security Council has rejected a Russian-drafted statement calling on both sides to renounce violence. South Ossetian leader Eduard Kokoity says his forces are still in control of the capital Tskhinvali despite reports to the contrary. Earlier, Imedi radio in Tbilisi reported that Georgian forces had seized the city. In a televised address on Friday, Georgian President Mikhail Saakashvili accused Russian war planes of bombing Georgian villages inside and outside the confict zone. He said the nation's reserve forces had been mobilized in a bid 'save the country'. He also claimed Georgian forces had seized most of South Ossetia. In Moscow, President Medvedev has met top advisers to discuss ways of ending the violence. He says a top priority is protecting South Ossetia's civilian population – many of whom hold Russian passports. In New York, the UN Security Council has failed to agree on a draft resolution calling on both sides in the conflict to end the violence. The Russian-drafted resolution was blocked by the US, Britain and other members of the 15-member council.
Military onslaught
Georgian Su-25 attack planes are bombing the South Ossetian village of Kvernet, according to local officials. They also claim Georgia is using truck-mounted missile launchers to shell the centre of Tskhinvali. North Ossetia's President Teimuraz Mamsurov has accused Georgian forces of hitting a humanitarian aid convoy travelling from his country to South Ossetia. More than 15 civilians have been killed in overnight clashes, according to preliminary reports. South Ossetian sources say Georgia is sending vast amounts of military hardware to the region. "A column of Georgian tanks and infantry is moving toward Tskhinvali. A large part of the city has already been destroyed," the administration's press service said. Several buildings are on fire in central Tskhinvali, and the local parliament building has burned down, the statement said. Georgian President Mikhail Saakashvili has called up the country's reserve force. "The mobilization of reserve troops has been declared and is ongoing," he said. More than 100,000 reserve soldiers aged 25-45 have received military training in Georgia in the past few years. Meanwhile, Georgia's Prime Minister Vladimir Gurgenidze said the military operation against South Ossetia would continue until peace is established, reports Russia's Ria news agency. "The goal of Georgia's actions in the conflict zone to establish peace in the region. And we will not stop until we have attained this goal," he's reported to have said.
Russian casualties
It's been confirmed that some Russian peacekeepers working in the region have been killed in the fighting, although exact figures have not yet been released. Yuri Popov - co-chairman of the joint control commission of the Russian Foreign Ministry for settling the conflict – told the Itar-Tass news agency: "The headquarters of the peacekeeping forces have been partially destroyed". In the meantime, in Moscow, Russian President Dmitry Medvedev is heading a meeting aimed at halting the violence. The Kremlin press service issued a statement saying the meeting was also focusing on measures to protect the civilian population and Russian citizens in the conflict zone. The statement went on to say that Russian peacekeepers "have a mandate…to safeguard Russian interests in the region".
UN Security Council in stalemate over the conflict
And the United Nations Security Council has failed to agree on a statement drafted by Russia, calling on Georgia and South Ossetia to immediately end the violence. Russia called an emergency session of the 15-nation council. Two hours of talks were held behind closed doors late on Thursday in New York. The session continued with an open meeting and public speeches by Russia, Georgia and other council members for another hour. At the meeting, Russia's UN Ambassador Vitaly Churkin said the Georgian leadership had lost the international community's trust as a result of its military operation. "All of Tbilisi's actions have fully undermined the credit of trust vested in the Georgian leadership as a committed party in the negotiations and in international dealings that meet the UN principles and charter," he stressed. Diplomats say the Security Council reached a stalemate after the United States, Britain and some other members backed Georgia in rejecting a phrase in the statement requiring both sides to 'renounce the use of force.'
Source:
www.russiatoday.ru/news/news/28640/video
Russia bombs Georgian troops on offensive in rebel province
(A Russian fighter attacks a Georgian position near the city of Tskhinvali, 100 km (62 miles) from Tbilisi, August 8, 2008. Georgia's interior ministry said three Russian jets entered Georgian airspace and "dropped bombs" at two locations just south of breakaway South Ossetia, where fighting raged on Friday.)
Russian tanks and troops entered Georgia's breakaway South Ossetia province on Friday to repel a Georgian military offensive to reclaim the region amid fighting said to have left hundreds dead. Moscow vowed retaliation to defend Russians in the South Ossetian capital Tskhinvali hit by the Georgian artillery and air assault -- the worst fighting since the 1992-94 separatist war in the region. Amid spiralling tensions that the main European security watchdog warned were heading for "all out war", the Georgian government acknowledged it was already losing newly won areas of Tskhinvali that were bombarded by Russian forces. South Ossetian separatist leader Eduard Kokoity said hundreds of civilians have been killed in the fighting and the international Red Cross said Tskhinvali hospitals were overflowing with casualties.
"If this is not war, then I wonder what is," Georgia's ambassador to the Organization for Security and Co-operation in Europe (OSCE) was quoted as telling a special meeting of the organisation's permanent council in Vienna. The European Union, NATO and United States all called for a halt to hostilities. The UN Security Council was to meet again after failing to agree a similar statement. South Ossetia broke from Georgia in the early 1990s and has since been a constant source of friction between Georgia and Russia. The Tblisi government accuses Moscow of wanting to take over the province, and launched its new assault in an apparent bid to stamp its authority on South Ossetia. During the night, an AFP reporter saw Georgian forces fire more than a dozen missiles towards South Ossetia from inside Georgia and witnessed helicopters and hundreds of soldiers in trucks moving towards the region.
The Russian military said more than 10 Russian peacekeepers had been killed in Tskhinvali when Georgian shells hit their barracks, Russia's Interfax news agency reported. "As a result of the hours-long shelling of Tskhinvali by heavy weaponry, the city is almost totally destroyed," General Marat Kulakhmetov, commander of Russian peacekeeping forces, was quoted as saying by Interfax. In response, Russia sent dozens of tanks and troop carriers to the South Ossetia border and the defence ministry in Moscow confirmed that "reinforcements" had been sent into the province. "We cannot allow the deaths of our countrymen to go unpunished. The guilty parties will receive the punishment they deserve," Russia President Dmitry Medvedev said earlier. "They have in effect begun hostilities using tanks and artillery," Prime Minister Vladimir Putin said in Beijing where he attended the Olympics opening ceremony. "It is sad, but this will provoke retaliatory measures."
Dozens of wounded Georgian soldiers arrived at the military hospital in the Georgian city of Gori, returning from the offensive. An AFP reporter saw trucks arriving every 30 seconds on Friday afternoon, each carrying up to five wounded soldiers -- many unconscious and bleeding -- as ambulances raced back to the front line for more. Georgian soldiers speaking under condition of anonymity said they had come under heavy fire from Russian aircraft after surrounding Tskhinvali. "Russian armed forces are bombarding Tskhinvali," Georgian Interior Ministry pokesman, Shota Utiashvili, told AFP. "We have lost control over some parts of the city," he added. Georgia said it had shot down five Russian jets and that Russian aircraft had attacked a military base near Tbilisi. Russia denied it had lost any planes or that it had staged operations in Georgia.
Georgia's National Security Council warned there would be "a state of war" between the two countries if Russia entered South Ossetia. President Mikheil Saakashvili warned of "large-scale military intervention" and called for a mass mobilisation. "We are a freedom-loving nation right now under attack," he said. Georgia's Foreign Minister Ekaterine Tkeshelashvili told the BBC that Tbilisi was appealing to world leaders to press Moscow to stop "direct military aggression" on its territory. The International Committee of the Red Cross called for a "humanitarian corridor" to be opened in South Ossetia to allow ambulances to evacuate the wounded. "Ambulances cannot move, hospitals are reported to be overflowing, surgery is taking place in corridors," an ICRC spokeswoman told journalists in Geneva.
People are sheltering in their basements with no electricity or access to communications, she added. "This morning, a UNHCR staff member reported that many buildings and houses have been destroyed and that only military personnel are moving on the streets," spokesman Ron Redmond said. "Water is also in short supply -- a chronic problem, worsened by recent events -- most transport has stopped and shops are running out of food," he added. The OSCE's chairman, Finnish Foreign Minister Alexander Stubb, said the fighting in South Ossetia "risks escalation into a full-fledged war." The United States said its 100 military trainers in Georgia were not involved in the conflict and that it was sending an envoy to South Ossetia to join international mediation efforts. It joined the European Union, NATO and a host of world powers calling for an immediate ceasefire. Putin said he had discussed the crisis with Chinese leaders and with US President George W. Bush. "Everybody agrees -- nobody wants to see a war. "In recent months, Moscow and Tbilisi have sparred repeatedly over South Ossetia and another breakaway Georgian region, Abkhazia.
Source:
http://afp.google.com/article/ALeqM5...9izLJRjYT1ATkA
Russia Sends Reinforcements to Georgia As Fighting Flares
(In this image, made from television, what Russian Channel 1 claims, is a convoy of Russian tanks moving towards Tskhinvali in the South Ossetian Georgian enclave on Friday, Aug. 8, 2008. Russia's Defense Ministry says it has sent reinforcements to its peacekeepers deployed to South Ossetia to help end bloodshed. Georgian officials confirmed that the Russian convoy had crossed the border and was advancing toward Tskhinvali. Georgia launched a massive attack Friday to regain control over South Ossetia, using heavy artillery, aircraft and armor.)
Heavy fighting between Georgian government forces and Russian-backed separatists brought Georgia and Russia to the brink of war Friday. The president of Georgia, Mikhail Saakashvili, accused Russia in a televised address of sending fighter jets to bomb Georgian towns in order to help the breakaway territory of South Ossetia, where a large number of Russian citizens live. Russian officials in turn said that Georgia's military had attacked Russian peacekeepers stationed in the area. The Russian Defense Ministry announced late Friday afternoon that it was sending reinforcements to South Ossetia, a move that followed Russian President Dmitry Medvedev telling an emergency meeting of his security council that "we will not allow the deaths of our compatriots to go unpunished." In a phone interview with McClatchy, Georgian Foreign Minister Eka Tkeshelashvili confirmed that Russian units had passed through the Roki tunnel connecting the two countries. She said she worried that war with Russia was increasingly possible. "The Russian Federation is interested, it seems, to get involved ... in open military aggression against the sovereign state of Georgia," Tkeshelashvili said. "If that happens, then it will be a disaster not only for Georgia but the whole region."
Tensions have heightened between Georgia and Russia during the past few years, but both sides had stopped short of direct confrontation, and until now Georgia hadn't directly attacked Russia's allies in the rebel areas. While the places involved are obscure to most Americans _ the South Ossetians are joined by the Abkhazians in wanting independence from Georgia _ there are grave geopolitical considerations. Georgia, which was part of the Soviet Union, is a key transit point for oil and gas pipelines from the Caspian Sea to Europe. It's also a focus of Russian officials' anger about the encroachment of Western powers on Russia's borders: Georgia is seeking to join the North Atlantic Treaty Organization and is an ally of the United States. "There are a lot of agendas, and they all lead to war," said Pavel Felgengauer, a military analyst in Moscow. Last August, Georgia accused Russia of sending a jet into its airspace and dropping a missile, which didn't detonate. Russia denied involvement. This April, the Georgian government said that a Russian fighter jet had shot down one of its unmanned reconnaissance planes, which Russia again denied. Georgia recalled its ambassador from Moscow last month after the Russian Foreign Ministry confirmed that its air force had flown jets over South Ossetia "in order to clarify the situation" and "to cool heads in Tbilisi." In Washington, the White House called Friday for a cease-fire. There had been skirmishes in recent days around South Ossetia, which is in northern Georgia, but the fighting exploded overnight when Georgian forces launched missile and artillery strikes, then sent infantry and tank units against the South Ossetian capital of Tskhinvali.
Source:
http://www.istockanalyst.com/article...sia_Sends.html
Russian tanks enter Georgia as war looms
Russian tanks rumbled into the breakaway Georgian republic of South Ossetia on Friday, and volunteer Russian fighters made their way over the border, pushing Moscow closer to a full-blown war against U.S.-backed Georgia. The fighting that erupted among Georgia, Russia and Ossetian rebels over the mountainous sliver of land threatened to provide a battleground for long-simmering tensions between Moscow and the West. At nightfall, each side was calling in reinforcements and pumping out its own radically different versions of the day's events. A sharp escalation began earlier Friday, when Georgia launched a large-scale, predawn military operation meant to seize control over the rebel region, whose de facto autonomy and ties to Russia have long been an irritant to Georgian leaders. Backed by warplanes, Georgian troops plunged into South Ossetia and waged a hard battle throughout the day for control of the republic's capital, Tskhinvali. Officials on both sides reported civilian deaths, although estimates could not be confirmed. Each side blamed the other for violating a shaky cease-fire and throwing the republic back into fighting. And both claimed that victory was almost theirs. Tskhinvali's status remained unclear late Friday. Both sides claimed to have seized control of most of the city. Russian troops reported that many of the buildings had been destroyed, and that the Parliament building burned to the ground. Aid organizations warned that civilians were in basements without water, electricity or medical help. The United Nations Security Council called its second emergency session in less than 24 hours in an attempt to prevent war, but by Friday evening diplomats remained unable to reach an agreement calling for negotiations and an end to violence. In Beijing, where President Bush was attending the Olympics, White House Press Secretary Dana Perino said the United States, which "supports Georgia's territorial integrity," was calling for an immediate cease-fire. The Pentagon has about 200 troops in Georgia training units deployed to Iraq, officials said. The Georgian Foreign Ministry, issued a statement calling on the international community to "give Russia the message that invading the territory of a sovereign state and bombing its territory is unacceptable in the 21st century." South Ossetian leader Eduard Kokoity called the fight a "genocide." "The latest tragic developments should become the last step toward the recognition of South Ossetia's independence," he told Interfax. "I am sure that the independence of South Ossetia will be recognized in the near future." Pitting Russia against U.S.-backed Georgia, the conflict could escalate quickly – and prove difficult to quell. From Chechnya to Abkhazia, Russian-sponsored volunteers were encouraged to join South Ossetia's fight against Georgia, raising the threat of a war that could engulf the historically bellicose Caucasus. The region is important for its oil and gas pipelines, and has emerged as a sort of proving ground where the United States and Russia jockey for influence.
Source:
http://www.journalgazette.net/apps/p...WS04/808090304
Russia says Georgian forces expelled from S.Ossetian capital
(South Ossetian separatist fighters look at Georgian soldiers killed in fighting in the breakaway Georgian province capital, Tskhinvali, in this image made from television Saturday, Aug. 9, 2008. Georgia, a U.S. ally whose troops have been trained by American soldiers, launched a major offensive overnight Friday to retake control of it's breakaway province.)
Russia's peacekeeping command said on Saturday the country's troops have driven Georgian forces from the capital of the separatist republic of South Ossetia. "Tskhinvali has been fully liberated," a spokesman said. The city has suffered major destruction since the start of Georgia's ground and air onslaught that began early on Friday. Russia says 1,500 people have so far died in the violence, and 30,000 South Ossetians have fled across the border into Russia. Chief of Government Staff Sergei Sobyanin told Russian President Dmitry Medvedev at a meeting in the Kremlin earlier on Saturday that "a real humanitarian catastrophe" is developing. South Ossetian Prime Minister Yury Morozov confirmed that the city is now under the control of Russian troops, but warned that the death toll may rise. He told Russian TV channel Vesti-24 that thousands of people have been injured, and that numerous residents remain trapped under the rubble of bombed-out buildings, making it difficult to assess the number of fatalities. Medvedev announced earlier that the country's troops had begun a military operation in South Ossetia to force Georgian troops to cease violence. Paratroopers from Russia's Ivanovo, Moscow and Pskov airborne divisions have been sent to Tskhinvali, and international news agencies have reported Russian air strikes on the Georgian town of Gori, near South Ossetia, the Black Sea port of Poti, and on two military bases. The current conflict is a culmination of years of tensions between Russia and Georgia, which has accused Russia of trying to annex South Ossetia along with another rebel region, Abkhazia. The pro-Western leaderships in Georgia, along with ex-Soviet Ukraine, have angered Moscow in recent years with their efforts to gain NATO membership. Russia's Foreign Ministry accused Ukraine on Saturday of encouraging Georgia to launch an offensive against South Ossetia.
Source:
http://en.rian.ru/world/20080809/115919037.html
Russia stages bombing raids as Ossetia conflict escalates

Russian troops in Tskhinvali to help stop violence:
http://www.youtube.com/watch?v=Tg5RYFbKVYc
Russian warplanes on Saturday staged bombing raids across Georgia as a conflict over control of South Ossetia widened beyond the breakaway region and Moscow appeared to rebuff a call for truce by Tbilisi. Georgia's president declared "a state of war" and the United States led international calls for Russia to halt its military assault. But Russia's President Dmitry Medvedev said his country would "force the Georgian side into peace" and accused Georgia of causing thousands of "victims". Russia backs the separatist government in South Ossetia and sent in tanks and troops on Friday in response to pro-Western Georgia's military campaign to take back the province which broke away in the early 1990s. Georgia said a Russian air raid had "completely devastated" the Black Sea port of Poti in attacks that the country's UN ambassador likened to "a full-scale military invasion".
This was followed up with air raids on Gori, the main Georgian city closest to South Ossetia and another near the Baku-Tbilisi-Ceyhan (BTC) oil pipeline -- the world's second longest -- which Prime Minister Lado Gurgenidze told Georgian television was "miraculously" not damaged. Georgian President Mikheil Saakashvili told CNN Saturday his country was ready to "cease fire immediately, provided the other side stops to shoot and to bomb," and accused Moscow of war crimes against his people. But Russian Prime Minister Vladimir Putin, who arrived Saturday in the city of Vladikavkaz, close to Russia's border with Georgia, to deal with an influx of refugees from South Ossetia, adopted a confrontational tone. "From a legal point of view our actions are absolutely well-founded and legitimate and moreover necessary," Putin said, blasting Georgia's "criminal" leadership.
Putin also said "dozens" of people had been killed in Georgian attacks on South Ossetia, contradicting a claim by Moscow's separatist allies of 1,500 dead. South Ossetia was unlikely to reintegrate with the rest of Georgia after Tbilisi's current military action, Putin added, quoted by news agencies. Georgia, a close US ally, said it would withdraw its 2,000 troops backing US forces in Iraq and the army faced new pressure when the Russian-backed separatist administration in another region, Abkhazia, said they had begun a military operation against Georgian troops. Abkhazia's self-styled foreign minister Sergei Shamba said the attacks on Georgian troops were in the Upper Kodori Gorge, a Georgian-controlled part of the region. Georgian President Saakashvili earlier declared a 15-day state of war, a form of martial law, which was approved by parliament.
Georgian and South Ossetian rebel forces made rival claims to control Tskhinvali but Russia said it had "liberated" South Ossetia's main city after airlifting paratroopers. "Tactical battalions have completely liberated Tskhinvali from Georgian military forces," General Vladimir Boldyrev, head of Russia's ground forces, told Russian news agencies. The death toll from the first two days of fighting was disputed. South Ossetia's government said 1,600 people had been killed. Saakashvili dismissed the figure as a "truly Soviet-style disinformation campaign". A top Georgian security official said 10 Russian aircraft had been shot down and 30 Russian tanks destroyed. Russia has said only that 15 of its soldiers had been killed and 150 wounded. In the streets of Tskhinvali, home to an estimated 20,000 people before the conflict, tanks burned and women and children ran for cover. An AFP reporter in South Ossetia saw women, children and elderly riding buses toward the Russian border.
The United States and the European Union prepared a joint delegation to seek a ceasefire. US President George W. Bush cut into his engagements during a visit to Beijing to call for an end to Russian bombing. "We have urged an immediate halt to the violence and a stand-down by all troops," Bush told reporters. "We call for an end to the Russian bombings." The UN Security Council was to meet again Saturday at 3:30 pm (1930 GMT) to agree on a call for an immediate ceasefire after talks failed Friday. Poland called for an emergency EU summit on the crisis. South Ossetia broke from Georgia in the early 1990s. It has been a constant source of friction between Georgia and Russia, which opposes Tbilisi's aspirations of joining NATO and has supported the separatists without recognising their independence.
Source:
http://afp.google.com/article/ALeqM5...IbRCC6nrgbilRQ
In related news:
Israel backs Georgia in Caspian Oil Pipeline Battle with Russia

Georgian tanks and infantry, aided by Israeli military advisers, captured the capital of breakaway South Ossetia, Tskhinvali, early Friday, Aug. 8, bringing the Georgian-Russian conflict over the province to a military climax. Russian prime minister Vladimir Putin threatened a "military response." Former Soviet Georgia called up its military reserves after Russian warplanes bombed its new positions in the renegade province. In Moscow's first response to the fall of Tskhinvali, president Dimitry Medvedev ordered the Russian army to prepare for a national emergency after calling the UN Security Council into emergency session early Friday.Reinforcements were rushed to the Russian "peacekeeping force" present in the region to support the separatists. Georgian tanks entered the capital after heavy overnight heavy aerial strikes, in which dozens of people were killed.
Lado Gurgenidze, Georgia's prime minister, said on Friday that Georgia will continue its military operation in South Ossetia until a "durable peace" is reached. "As soon as a durable peace takes hold we need to move forward with dialogue and peaceful negotiations." DEBKAfile's geopolitical experts note that on the surface level, the Russians are backing the separatists of S. Ossetia and neighboring Abkhazia as payback for the strengthening of American influence in tiny Georgia and its 4.5 million inhabitants. However, more immediately, the conflict has been sparked by the race for control over the pipelines carrying oil and gas out of the Caspian region. The Russians may just bear with the pro-US Georgian president Mikhail Saakashvili's ambition to bring his country into NATO. But they draw a heavy line against his plans and those of Western oil companies, including Israeli firms, to route the oil routes from Azerbaijan and the gas lines from Turkmenistan, which transit Georgia, through Turkey instead of hooking them up to Russian pipelines. Saakashvili need only back away from this plan for Moscow to ditch the two provinces' revolt against Tbilisi. As long as he sticks to his guns, South Ossetia and Abkhazia will wage separatist wars.
DEBKAfile discloses Israel's interest in the conflict from its exclusive military sources: Jerusalem owns a strong interest in Caspian oil and gas pipelines reach the Turkish terminal port of Ceyhan, rather than the Russian network. Intense negotiations are afoot between Israel Turkey, Georgia, Turkmenistan and Azarbaijan for pipelines to reach Turkey and thence to Israel's oil terminal at Ashkelon and on to its Red Sea port of Eilat. From there, supertankers can carry the gas and oil to the Far East through the Indian Ocean. Aware of Moscow's sensitivity on the oil question, Israel offered Russia a stake in the project but was rejected. Last year, the Georgian president commissioned from private Israeli security firms several hundred military advisers, estimated at up to 1,000, to train the Georgian armed forces in commando, air, sea, armored and artillery combat tactics. They also offer instruction on military intelligence and security for the central regime. Tbilisi also purchased weapons, intelligence and electronic warfare systems from Israel. These advisers were undoubtedly deeply involved in the Georgian army's preparations to conquer the South Ossetian capital Friday. In recent weeks, Moscow has repeatedly demanded that Jerusalem halt its military assistance to Georgia, finally threatening a crisis in bilateral relations. Israel responded by saying that the only assistance rendered Tbilisi was "defensive." This has not gone down well in the Kremlin. Therefore, as the military crisis intensifies in South Ossetia, Moscow may be expected to punish Israel for its intervention.
Source:
http://www.debka.com/article.php?aid=1358
Abkhaz troops moved closer to Georgian forces

Troops from Georgia's separatist region of Abkhazia have advanced their positions about 50 km (30 miles) to the south towards where Georgian forces are massed, Russia's Interfax news agency reported. Abkhazia, hugging the Black Sea coast, has expressed fear that Georgia could invade after it launched an incursion to regain another separatist province, South Ossetia. Abkhazia said on Saturday Georgia was building up forces on its borders. "On the order of the (Abkhaz) president, it was decided to move the republic's armed forces onto the border of the security zone in the Gali area," the agency quoted Kristian Bzhaniya, a representative of Abkhazia's self-styled president, as saying. The town of Gali is about 12 km (8 miles) from Abkhazia's border with Georgia proper. Another Abkhaz official said earlier on Saturday the size of the Georgian force on the border had quadrupled since the action was launched in South Ossetia.
Source:
http://www.alertnet.org/thenews/newsdesk/L9504123.htm