Ankara has been working hard to readjust to the new geopolitical realities of its surrounding region. Gul's historic first visit to Yerevan as well as Ankara's strong urge to better relations with Moscow is a clear signal that Turkey has begun to gradually move away from NATO and the EU. In this regard, Moscow would be more than happy to accommodate Ankara. After all, the name of the game superpowers continue playing is still called - divide and conquer. With a firm foothold in the Caucasus as a result of its defeat of Georgia and its strategic partnership with Yerevan, Moscow is using its regional influence, as well as its desperately needed energy, to impose its political will throughout the region.
Arevordi
Turkish-Russian Relations Enter New Era With Gül's Moscow Visit
February, 2009
President Abdullah Gül and his Russian counterpart, Dmitry Medvedev, signed a joint declaration on Friday in Moscow. Turkish President Abdullah Gül and Russian President Dmitry Medvedev signed a joint declaration in Moscow on Friday aimed at deepening friendly relations and improving multidimensional cooperation between the two countries, with the Russian side defining the declaration as a "strategic document." Gül arrived in Moscow on Thursday, accompanied by Minister for Foreign Trade Kürşad Tüzmen, Energy Minister Hilmi Güler, Gül's spouse, Hayrünnisa Gül, and a large business delegation. Foreign Minister Ali Babacan joined the delegation, traveling from Riga, Latvia, where he had been on an official visit, to Moscow late on Thursday. The four-day visit by Gül, a former foreign minister, to Moscow in his capacity as president was classified as a "state visit" upon the Russian side's request, although it was earlier planned as an "official visit." Moscow's request displayed the importance attached to the visit -- since a state visit is described as the highest level of state protocol -- and made Gül the first Turkish president to ever pay a state visit to Russia. Following their meeting the two leaders signed a joint declaration which Gül said displayed the mutual political will to carry ongoing multidimensional bilateral cooperation further. "I believe this visit will open a new page between our countries," Gül said.
Source:
http://www.todayszaman.com/tz-web/de...ay&link=166978
Closer to Russia, Farther From the West?
President Abdullah Gül's visit to Russia may indicate a new era in Turkey-Russia relations. Dailies reported that Gül's visit to Russia could extend Turkey-Russia relations beyond economic activities. If the reports are true, both sides agreed to establish relations on military and technological cooperation. It is no secret that the Turkish military has long been trying to end its dependence on US technology. Instead of buying technology from abroad, Turkey wants to produce it within the country. Perhaps the real motivation behind the agreement with Russia is Turkey's long-lasting effort to bring technology to Turkey and to produce key weapons systems and aircraft in Turkey. Reports on Gül's visit do not indicate that both sides have talked about any level of political cooperation on international issues. However, international communities may interpret that the visit itself carries a political message about Turkey's intention to establish better relations with Russia on every level, including economic, political and cultural cooperation. Furthermore, when a state deals with Russia, it can hardly escape Russia's political and economic influence. Not to mention that increasing economic relations with Russia will eventually lead to political cooperation.

Knowing that Turkey is pretty much dependent on Russian gas supplies, if Turkey's dependency on Russia is extended to the level of military technology, nuclear power and space technology, Turkey in the future may find itself in a position to support Russia on certain political issues. In addition, Russia under Putin's leadership has been pursuing a foreign policy strategy that requires uniquely skilled diplomats to figure out what comes next after taking the initial step. There is little doubt that Turkey's foreign policy perspective hasn't been shifted from the West to the East, but Turkey's domestic and foreign policy limitations do not allow it to make whatever foreign policy decisions it wants to make. In terms of domestic problems, i.e., Kurdish problems, neo-nationalist problems and economic difficulties, Turkey has to be close to the EU and the US to find better solutions.

In addition, Turkey's foreign policy engagements with the EU calmed its domestic problems. Any sign of breaking away from the EU would worsen its domestic politics. It is still too early to claim that Gül's visit to Moscow might be a sign that Turkey is breaking away from the EU; however, since 2007, because of lack of interest, the Turkish prime minister and president have almost forgotten how to go to Europe, creating an incentive to question whether Turkey is breaking away from the Western camp. In terms of Turkey-US relations, Turkey's dependence on US support on every level -- including cooperation in fighting terrorism and political, economic and military cooperation -- limits Turkey's ability to be a dance partner with Russia. Because of the March 1, 2003 crisis between Turkey and the US, Turkey's every foreign policy step is under the radar of the US.

Concerning Russia, the US's first priority in this region is to prevent Russian influence in the south Caucasus, Turkey and the Black Sea region. Given that Russia and Iran have close relations, the US does not want Turkey to establish relations with Russia that resemble Russia-Iran relations. Therefore, from the US perspective, Turkey's relations with Russia should be limited to economic ties and energy dependency. Anything beyond this, i.e., establishing relations to transfer Russian military technology to Turkey, could alarm the US government. Although the details of the cooperation to transfer Russian military technology are unknown, the symbolic meaning of having such relations is bad enough to irritate US foreign policy makers.
Source:
http://www.todayszaman.com/tz-web/de...ay&link=167034
Armenian PM to Meet Putin for Talks on Deeper Economic Ties
Prime Minister Tigran Sargsyan will lead a delegation of top government officials Friday on a one day working visit to Moscow for high level talks with Russian Prime Minister Vladimir Putin and other government and business leaders, the government's press office reported Thursday. Sargsyan's delegation will include members of government whose ministries' control Armenia's energy resources, transport and communication infrastructure, and financial and banking system. The trip will focus on strengthening economic relations, Sargsyan's office said, adding that the Prime Minister's meetings would also expand "the mutually beneficial and promising cooperation in a number of spheres." Russia currently controls most of the strategically vital sectors of Armenia's economy, owning the rights to manage its railway and telecommunication infrastructure, as well as its natural resources and energy. Russian investors have snatched up Armenian mining companies, gaining the rights to exploit the country's natural resources. Meanwhile, nearly 80 percent of Armenia's energy system is also estimated to be under Russian control, with Russia maintaining control over the Hrazdan hydropower plant, one of the largest in the South Caucasus. Armenia depends on Russia for nuclear fuel and technological support for its existing nuclear power station, which is managed by the Russian company UES. The Prime Minister's talks with Putin will be followed by meetings with the Russian Transport Minister, the Co-Chair of the Armenian-Russian Intergovernmental Commission on Economic Cooperation, the Russian Central Bank President. Sargsyan will also meet with a number of Russian businessmen, as well as the Armenian Ambassador in Russia, ArmRadio reported.
Source:
http://www.asbarez.com/#AMC=Open&ASBSC=Closed
Russia, Armenia to Set up Joint Air Defense Network
Russia and Armenia will set up an integrated air defense network similar to recently announced Russian-Belarusian air defenses, the head of a post-Soviet security bloc said on Friday. "The so-called Russian-Belarusian integrated air defense network is just a part of the cooperation within the Collective Security Treaty Organization (CSTO)," Secretary General Nikolai Bordyuzha said. "We are expecting Russia and Armenia to set up a similar joint [air defense] network," he said at a news conference in Moscow. According to Bordyuzha, the CSTO, which comprises Russia, Belarus, the Caucasus republic of Armenia and four Central Asian states of Kazakhstan, Uzbekistan, Kyrgyzstan and Tajikistan, will set up three regional air defense networks - in Eastern Europe (Belarus), in the Caucasus and in Central Asia. "After that we will advance to a higher level of cooperation, coordinating the activity of all regional networks and introducing common rules of engagement and information exchange," the official said. Russia announced last year it was planning to expand military-technical cooperation with CSTO members and build a CSTO integrated air defense network. Russia and Belarus signed on February 3 an agreement on the joint protection of the Russia-Belarus Union State's airspace and the creation of an integrated regional air defense network. The network will comprise five Air Force units, 10 anti-aircraft units, five technical service and support units and one electronic warfare unit, and will be placed under the command of a Russian or Belarusian Air Force or Air Defense Force senior commander. Kazakhstan announced on Wednesday that Russia would deliver the latest version of the S-300 air defense missile system, called S-300PMU2 Favorit (SA-20 Gargoyle), to the Central Asian state in the near future.
Source:
http://en.rian.ru/russia/20090213/120124464.html
Armenia to Get $500 mln Loan From Russia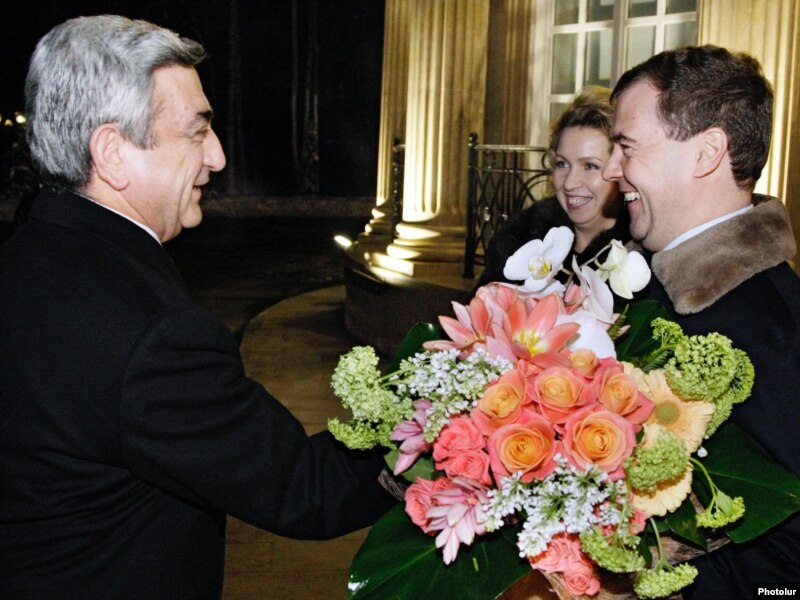 Russia will allocate a $500 million stabilisation loan to Armenia, its strategic partner in South Caucasus, to help counter the impact of the global crisis, Armenia's Finance Ministry said on Tuesday. The ministry said in a statement the two countries signed a preliminary agreement on disbursement of the loan for 15 years with a four-year grace period. The ex-Soviet state had enjoyed strong economic performance in the past few years, but the authorities were forced to take steps after GDP growth halved to 7.2 percent in the first 11 months of 2008 from 13.6 percent in the same period the year before. Its central bank has slashed rates by 75 basis points in the last two months and the IMF approved a three-year, $13.6 million loan programme in November to support Armenia's economy through to 2011. Armenia is also negotiating with the
World Bank
, the
Asian Development Bank
, the EBRD and Black Sea Trade and Development Bank to secure a stabilisation loan worth a total of $525 million to be used to support Armenian businesses hurt by the crisis, particularly small and medium-sized enterprises. Russian firms control a significant chunk of the economy, and Armenia is likely to feel the impact of its much larger neighbour sliding into its first recession in a decade. Russia promised aid and credits worth billions of dollars to other former Soviet states of Kyrgyzstan and Belarus earlier this month.
Putin Says Turkey 'Priority' For Russian Foreign Policy

Russia considers ties with Turkey to be a foreign policy priority, the Russian prime minister said on Friday. "Russia is Turkey's number one partner in terms of trade turnover," Vladimir Putin told Turkish President Abdullah Gul, who is on the first day of a four-day official visit to Russia. The Russian prime minister said that the trade between Russia and Turkey totaled $32 billion in 2008, adding that "Turkey is a priority in our [Russian] foreign policy." Gul, whose current visit is his first to Russia since becoming president, also appraised relations between the countries and invited Putin to visit his country. "We want to see you in our country and invite you to Turkey," Gul said. Russia is a major energy exporter to Turkey, pumping natural gas across the Black Sea through the Blue Stream pipeline, the largest Russian-Turkish energy project to date. Turkey is also one of the most popular destinations for Russian tourists, helping boost a sector that is an important foreign-currency earner for Turkey.
Source:
http://en.rian.ru/world/20090213/120131597.html