The hypocrisy of Western officials has been breathtaking. After the massive social unrests that shook much of

Britain

last week, British officials have actually begun discussing how to clampdown on wireless communications and internet usage in the

United Kingdom

. A couple of young men were even given harsh four year jail terms for allegedly inciting violence on Facebook. Britain's military has been put on alert. And Britain's p
rime minister is now on public record for saying
- "
if you are old enough to
take part in the violence then
you are old enough to
be punished for it
."
If this is what they are capable of doing to their under-aged, under-employed and under-privileged citizenry who went on a rioting rampage as a result of socioeconomic stresses and police brutality, just imagine what they are capable of doing if there were an armed insurgency in Britain similar to what is happening in places like Syria and Libya...
In case you haven't noticed yet, these are the same officials who have for years attacked "repressive" regimes for restricting information flow during times of crisis and dealing harshly with rioters and/or protesters. Well, all this BBS (British Bull-Shit) brings to mind something else that recently took place in Britain.
The Rupert Murdock scandal claimed a life when a well-known British journalist with insider knowledge mysteriously turned up dead two months ago (see RT video report). As it with all mysterious murders that occur in the West, the public at the time was told by the police that -
"The death is currently being treated as unexplained but not thought to be suspicious. Police investigations into this incident are ongoing."
Later it was quietly said that "foul play" was suspected. And that was it.

The criminal who committed the crime was in fact investigating the crime that was committed... and the public is expected to believe the findings.

The funny/sad part for me here is that the sheeple of the western world by-in-large, as well as the politically naive people of former Soviet nations that look to Western governments for political inspiration, will accept whatever Western governments claim as undisputed fact. End of story.
As often happens in the west, the public soon forgot that the murder in question even took place.
Well, regardless of who committed the murder of Sean Hoare, political murders carried out by government death-squads in the West is nothing new. As a matter or fact, several important individuals have been murdered by British and American governments in recent years and, typically, they have been all but forgotten or ignored by the public.
Which brings to mind: where's the Western world's much touted "free" press in all this?
The controlled mainstream press of the
Anglo-American-Zionist alliance
relentlessly bombards us with politically motivated stories such as Sergei Magnitsky's murder in Russia -

yet next to nothing is written about the murder of this British journalist?

An international commission wants to investigate the Jewish lawyer's death in Russia...

but who is investigating
Sean Hoare
's

murder

? For that matter, who is investigating

Deborah Palfrey

's

murder? Who is investigating

David Kelly's

murder?
Who is investigating

Bruce Ivins
'

murder?
Mired in utter corruption and criminality, aren't these governments lecturing the rest of the world about justice, human rights and democracy? Aren't our self-destructive peasantry in Armenia and our self-righteous "leaders" in the diaspora doing their bidding?
Imagine what would happen if such murders occurred in a place like Moscow, Beijing, Tehran or Yerevan... Imagine what would happen if Russian officials decided to curb internet/cellphone usage due to some violent protests... Imagine what would happen is Armenian officials were handing out multi-year jail sentences to young protesters that get out of hand... Imagine Chinese officials handing out harsh jail terms for what individuals write on Facebook... Imagine if Russia or Armenia were giving refuge and protection to criminals who have stolen billions of dollars in the West - similar to how official London has given refuge and protection to major criminals such as

Boris Berezovsky

and

Sergey Pugachev

...
When Russian or Armenian officials sneeze without excusing themselves, Western news media is ready to express outrage and Western funded news agencies and Western trained activists in Russia and Armenia are ready to call for a bloody revolution! Well, the sad fact is that the well-dressed, highly refined and very sophisticated criminals of the political West have always assisted the ignorant idiots of the developing world to undermine their nations. And that, unfortunately, also includes us hopelessly naive Armenians.
Anyway, all this underscores various internal problems that nations like Britain and the United States have, problems that their governments have done a lot to mask for many years. We know why there is

poverty in places like Armenia and Russia...
we have heard it a million times in the Western press, in the Russian press... in the Armenian press... With unimaginable wealth stolen throughout the world during the past several centuries,

the real question should rather be -

why is there poverty, corruption and violence in places like the United Kingdom and the United States?

Despite their best efforts to mask various sociopolitical problems and place the blame on the shoulders of immigrants (which is nothing but a diversionary tactic), the problems of the West will only get worst with time simply because the cozy honeymoon Western leadership enjoyed with the global populace after the defeat of National Socialism in 1945 and the fall of the Soviet Union in 1991 is fast coming to an abrupt end.
With dwindling resources under their direct control, with growing political awareness around the world and with the rise of nations like China and Russia upon us, their time on top of the global food chain is winding down.

They will not, however, take any of this passively. As a result, we can expect more bloodletting around the world in the coming years. And social media, which is making the political reawakening around the world possible,
will be targeted more frequently by Western officials in the future
. Nevertheless, what we are seeing around the world today
is essentially the birth pangs of a new global period; the dawning of a new age.
I have posted various video reports and articles relating to this topic. I strongly recommend reading the following two pieces. The article titled

"Anarchy in the UK: The Socio-Economic Factors Behind The London Riots"

is an in-depth explanation of the socioeconomic causes of the riots in Britain. And the article titled

"The Decline and Fall of the American Empire"

is a very interesting pieces written by a prominent Reagan-era American economist. On a side note: during a recent political youth rally in Russia, Vladimir Putin again lashed out at Washington calling it a "parasite on the global economy."
Arevordi
August, 2011
***

***

News of the World phone-hacking whistleblower found dead
Sean Hoare, the former News of the World showbusiness reporter who was the first named journalist to allege that Andy Coulson was aware of phone hacking by his staff, has been found dead . Hoare, who worked on the Sun and the News of the World with Coulson before being dismissed for drink and drugs problems, was said to have been found at his Watford home.
Hertfordshire police would not confirm his identity, but said in a statement: "At 10.40am today [Monday 18 July] police were called to Langley Road, Watford, following the concerns for the welfare of a man who lives at an address on the street. Upon police and ambulance arrival at a property, the body of a man was found. The man was pronounced dead at the scene shortly after.
"The death is currently being treated as unexplained but not thought to be suspicious. Police investigations into this incident are ongoing."
There was an unexplained delay in the arrival of forensics officers at the scene. Neighbours said three police cars and two ambulances arrived at the property shortly before 11am. They left around four hours later, around 3pm, shortly after a man and a woman, believed to be grieving relatives, arrived at the premises. There was no police presence at the scene at all for several hours.
The curtains were drawn at the first-floor apartment in a new-build block of flats. At about 9.15pm, three hours after the Guardian revealed Hoare had been found dead a police van marked "Scientific Services Unit" pulled up at the address, where a police car was already parked. Two officers emerged carrying evidence bags, clipboards, torches and laptop-style bags and entered the building. Three officers carrying cameras and wearing white forensic suits went into the flat at around 9.30pm.
Hoare was in his mid-40s. He first made his claims in a New York Times investigation into the phone-hacking allegations at the News of the World. He told the newspaper that not only did Coulson know of the hacking, but he also actively encouraged his staff to intercept the calls of celebrities in the pursuit of exclusives.
In a subsequent interview with the BBC he alleged he was personally asked by his editor at the time, Coulson, to tap into phones. In an interview with the PM programme he said Coulson's insistence he did not know of the practice was "a lie, it is simply a lie". At the time a Downing Street spokeswoman said Coulson totally and utterly denied the allegations; he had "never condoned the use of phone hacking and nor do I have any recollection of incidences where hacking took place".
Hoare said he was once a close friend of Coulson's, and told the New York Times the two first worked together at the Sun, where, Hoare said, he played recordings of hacked messages for Coulson. At the News of the World, Hoare said, he continued to inform Coulson of his activities. He "actively encouraged me to do it", Hoare said. In September last year he was interviewed under caution by police over his claim the former Tory communications chief asked him to hack into phones when editor of the paper, but declined to make any comment.
Hoare returned to the spotlight last week, after he told the New York Times that reporters at the NoW were able to use police technology to locate people using their mobile phone signals, in exchange for payments to police officers. He said journalists were able to use "pinging", which measured the distance between a mobile handset and a number of phone masts to pinpoint its location.
Hoare gave further details about "pinging" to the Guardian last week. He described how reporters would ask a news desk executive to obtain the location of a target: "Within 15 to 30 minutes someone on the news desk would come back and say 'Right, that's where they are.'"
He said: "You'd just go to the news desk and they'd come back to you. You don't ask any questions. You'd consider it a job done. "The chain of command is one of absolute discipline, and that's why I never bought into it, like with Andy saying he wasn't aware of it and all that. That's bollocks."
He said he stood by everything he told the New York Times of "pinging". "I don't know how often it happened. That would be wrong of me. But if I had access, as a humble reporter … " He admitted he had had problems with drink and drugs, and had been in rehab. "But that's irrelevant," he said. "There's more to come. This is not going to go away."
Hoare named a private investigator who he said had links with the News of the World, adding: "He may want to talk now, because I think what you'll find now is a lot of people are going to want to cover their arse." Speaking to another Guardian journalist last week, Hoare repeatedly expressed the hope that the hacking scandal would lead to journalism in general being cleaned up, and said he had decided to blow the whistle on the activities of some of his former NoW colleagues with that aim in mind.
He also said he had been injured the previous weekend while taking down a marquee erected for a children's party. He said he broke his nose and badly injured his foot when a relative accidentally struck him with a pole from the marquee. Hoare also emphasised that he was not making any money from telling his story.
Having been treated for drug and alcohol problems, Hoare reminisced about his partying with former pop stars and said that he missed the days when he was able to go out on the town. On Monday evening the curtains were drawn at his home, a first-floor apartment in a new-build block of flats. A neighbour living opposite, Nicky Dormer, said three police cars and two ambulances arrived at the property at 11am; police left at 3pm, shortly after a man and a woman, believed to be grieving relatives, arrived at the premises.
She and another neighbour described Hoare as a jovial man who would often sit on his balcony, overlooking the block entrance, and talk to residents. They said he lived in the block with his partner, a woman called Jo, who they believed had been away on holiday. Neither had seen Hoare for a few days. Paul Pritchard, 30, another neighbour, said Sean Hoare was "the most sociable" resident, and they would regularly see him watering the communal front lawn. "It is just such a shock. About a month ago he said he felt unwell and he said he went to the doctors for a checkup. Then I saw him again and he seemed well."
Source: http://www.guardian.co.uk/media/2011/jul/18/news-of-the-world-sean-hoare

Russian banker steals billions and runs for London
The case of a former Russian senator, whose bank owes the state more than $1 billion, has grown into one of the biggest financial scandals in Russian history, exposing drastic drawbacks in the country's banking regulations. ­Russian businessmen making it onto the UK's rich list have become a common thing – just as Russian investigators, in turn, take an interest in their affairs. Sergey Pugachev has everything: a fortune in several banks, a couple of private jets and numerous properties – from the Cote d'Azur to London.
Married to a Russo-British socialite, he was a guest at Prince Albert's recent royal wedding in Monaco. Among the top ten richest people in the UK according to last year's Sunday Times newspaper, Pugachev leads a life many would envy. He even made his wife a star of a TV advertising campaign in France for the grand French food store Hediard, which he owns.
However, all that is hardly a consolation at home – in Russia – where he owes billions of rubles to his bank's creditors. "As a result of misconduct and violations by the management and founders of Mezhprombank its creditors suffered damages totaling more than US$1 billion," reported Investigative Committee spokesman Vladimir Markin.
Last year the International Industrial Bank known in Russian as Mezhprombank was the first private bank to default on euro bonds in more than 10 years. It received a more-than-$1 billion loan from the Russian state as part of the anti-crisis support program. But the state has not been returned the money – nor have all the creditors been paid off.
"It was Mr Pugachev's pocket bank that catered for his various businesses. In the wake of its license being revoked, it practically halted its operations and focused on transferring the assets through credits to shell companies that moved it on and on. And in the end the money most probably ended up in the structures affiliated with the owner of the bank," explained the general director of Russia's Deposit Insurance Agency, Aleksandr Tourbanov.
The bank's database was deliberately erased and investigators say the bankruptcy was intentional. It is the largest bankruptcy case of a financial institution in Russia's modern history. Along with the bank, the rest of Pugachev's business empire seems to have dissolved into other offshore assets. A similar scandal broke out with the Bank of Moscow, Russia's fifth-largest bank. The review revealed a gaping hole in the books, with bad loans totaling $9 billion, or nearly a third of its assets. The former head of the bank is also hiding in London.
The bankruptcy of Mezhprombank last year and the recent downfall of the Bank of Moscow, reveal that the country is in desperate need of stronger banking supervision. And while those responsible for the damage enjoy their lives outside Russia, it is the state and its people that have to carry the burden of their losses.
Source: http://rt.com/news/businessman-pugachev-uk-financial/
Britain may use army to crack down on future riots
The British government could consider using the army to deal with future riots and may allow police to block social networks and force people to take off masks, the prime minister said on Thursday. David Cameron was speaking in the wake of riots and looting that hit several British cities and left 111 police injured on August 6-10, Scotland Yard said.
"It is the government's responsibility to make sure that every future contingency is looked at, including whether there are tasks that the army could undertake that might free up more police for the front line," Cameron told an emergency parliamentary session.
The unrest was organized by young people using telecom gadgets and social networks such as Facebook and Twitter. Many rioters wore hoods and balaclavas. Cameron said police could be given powers to demand people remove face coverings, and that the government will compensate people whose houses or businesses were damaged in the riots.
Cameron also said police might be allowed to interfere with Internet networks and other telecommunication devices if any suspicions arise. "And when people are using social media for violence we need to stop them. So we are working with the police, the intelligence services and industry to look at whether it would be right to stop people communicating via these websites and services when we know they are plotting violence, disorder and criminality," he said.
Over 1,300 people have been arrested since the unrest began on Saturday. The prime minister said the police force would be maintained at 16,000 officers on London streets through the weekend. Cameron said on Wednesday every action would be taken to restore order, with contingency plans for water cannon to be available at 24 hours' notice.
London police have refrained from using any riot control weapons or firearms against rioters in the past four days. However, an emergency COBRA meeting resolved that harsher measures are needed to curb the rioting.
Violence began in the British capital's northern district of Tottenham on Saturday over the fatal shooting of a young man by police. On Sunday and Monday, it spread to other areas in London and Birmingham. Cameron denied, however, that the unrest was linked to the death of Duggan, saying it was "used by opportunistic thugs in gangs, first in Tottenham itself then across London and then in other cities."
"Responsibility for crime always lies with criminals. These people were all volunteers. They didn't have to do what they did and must suffer the consequence," Cameron said. "This is not about poverty, this is about culture. A culture that glorifies violence and shows disrespect to authorities. A culture that says everything about rights and nothing about responsibility."
Source: http://en.ria.ru/world/20110811/165712575.html

Iran offers Britain peacekeepers to deal with riots
Iran is ready to send paramilitary volunteers to Britain to help "establish security and stability" in the wake of widespread rioting, Iranian media reported on Friday. A wave of riots and looting engulfed many British cities in recent days, leaving at least five people dead. Basij Brigadier General Mohammad Reza Naghdi said, "We are ready to send Basij detachments as a peacekeeping force to London, Liverpool, Birmingham and other cities to help restore order and stability in Britain."
He said the volunteers would act as "peacekeepers between police and protestors," adding that the detachments would only be deployed with UN permission. The military official described the situation in Britain as "people's demonstrations against tyranny," saying that the London's description of the events as "disturbances" was not true. Iranian President Mahmoud Ahmadinejad condemned on Thursday British police actions against the rioters, saying they were excessive.
London police have refrained from using any riot control weapons or firearms against rioters in the past four days. However, an emergency COBRA meeting resolved that harsher measures are needed to curb the rioting. Violence began in the British capital's northern district of Tottenham on Saturday over the fatal shooting of a young man by police. On Sunday and Monday, it spread to other areas in London and Birmingham.
Source: http://en.ria.ru/world/20110812/165735037.html

Anarchy in the UK: The Socio-Economic Factors Behind The London Riots




The worst riots in England for several decades have drawn widely divergent interpretations from politicians and commentators. Views range from the right-wing position, which is that the rioters were all "thugs and delinquents" and should be punished accordingly, to the liberal view that prevailing socio-economic conditions in Britain played a major role in provoking an upsurge of anger.
One reason the events sparked so much speculation about their causes was because the rioting was not simply in one place, but in cities across England. The first riots started in the working-class North London suburb of Tottenham on August 6, following demonstrations against the fatal police shooting of Mark Duggan, a black 29-year-old father of four. The first rioters were black Londoners, but violence and looting soon spread to other parts of London, then to other major cities, including Manchester, Birmingham, Leeds, Bristol, Liverpool and Birmingham. A simplistic racial interpretation of events became redundant as whites, Asians and blacks all rioted. But one thing most of the rioters had in common was their youth. Around 73% were under the age of 25.
The sheer scale of events was unprecedented in modern Britain. London has known previous riots, in Brixton in 1981, and Tottenham, in 1985. Both were riots by the black community against perceived police repression and brutality. In the 1985 Tottenham riot, a police officer was stabbed to death and more than 50 more officers ended up in prison. But the violence did not spread beyond those disadvantaged, working-class black communities.
The recent British riots had more in common with the 2005 riots in France, which were sparked by the death of two teenagers in the Parisian suburb of Clichy-sous-Bois. First, the French suburbs exploded with violence and then the rioting rapidly spread to suburban areas across the country. For three weeks, cars were burned, buildings were attacked and young people clashed with police. The riots culminated in a national state of emergency and the eventual cost was hundreds of millions of euros.
Both the French and British riots started in poor areas, where disaffected ethnic minorities face high levels of unemployment. (The rate of unemployment for 16-24-year old blacks in Britain is around 48%), and there are tensions between youths and police. But the riots then spread to other communities across England and France, including predominantly white neighbourhoods.
Matthew Moran, a research associate at the International Centre for Security Analysis, King's College London, said:
"There were great similarities in the government response to the riots. The French rioters were labelled by politicians as 'voyous', or 'thugs', and both the British Prime Minister, David Cameron, and the British Police, have also labelled the rioters "thugs and delinquents".
This attitude serves a political function as it lays the ground for a response based firmly on repression.
But it gives us a binary view of the situation so there are good guys and bad guys and if we get rid of the bad guys by putting them in jail everything will be okay. But I doubt very much the English riots were not influenced by socio-economic factors."
Moran said the British government should remember how the French Government's repressive approach had failed to address the socio-economic causes of the violence and more rioting followed in 2007.
"There were aftershocks after the deaths of some young people in a similar suburb, which was a sign that the underlying problems hadn't been addressed. While on the surface the French rioters did not articulate clear demands, there was a message underlying the violence."Inhabitants of the banlieues are excluded from mainstream society, and the violence and destruction represented a revolt against this exclusion."
The right-wing British media has also refused to consider socio-economic causes. The columnist Max Hastings, who attended the private Charterhouse School, where annual fees are £29,430, wrote in the Daily Mail:
"The rioters are illiterate and innumerate, beyond maybe some dexterity with computer games and BlackBerries. They are essentially wild beasts."
And he continued: "They respond only to instinctive animal impulses — to eat and drink, have sex, seize or destroy the accessible property of others. Their behaviour on the streets resembled that of the polar bear which attacked a Norwegian tourist camp last week. They were doing what came naturally and, unlike the bear, no one even shot them for it...

"...The depressing truth is that at the bottom of our society is a layer of young people with no skills, education, values or aspirations. They do not have what most of us would call 'lives': they simply exist."
Similarly, Damian Thompson in the Conservative broadsheet, The Daily Telegraph, wrote:
"...Britain's educational establishment has cringed helplessly in the face of a gang culture that rejects every tenet of liberal society. It's violent, it's sexist, it's homophobic and it's racist. But it is broadly tolerated by many people in the black community, which has lost control of its teenage youths."
But Moran, at King's College, said the riots would not be fully understood unless politicians and analysts delved deeper into the causes. He said:
"In the French riots, attacks were mostly directed towards state-owned buildings such as schools and police stations, symbolic of an education system that is selective and a justice system that appears discriminatory. The London riots have seen the opposite: attacks on private property and businesses. This also tells us something. Is it possible that these young people are attacking a consumer-oriented society in which they feel they have no stake?"


Dr Paul Bagguley, who lectures on the sociology of protest at Leeds University, agreed that much of the rioting was caused by disenfranchised youths in working-class areas feeling they have no stake in modern consumerism. "The initial explosion of anger was in the black community in London, but it soon moved beyond that.
"In most parts of the country the main activity was looting, which is why I think of them as 'consumer society riots'. They stole what they couldn't have, but found eminently desirable, such as electronic devices, mobile phones, Nike clothing and flat screen TVs."Although the rioters were not following a political movement, and had no leader, their actions were political, said Dr Bagguley.


"There were no banners, or slogans, but the actions were implicitly political. A lot of the rioters felt they didn't have any other way of expressing their grievances in a society in which people relate to each other primarily through consumption."
Grievances about being unable to afford desirable items are bound to be exacerbated in a society which has a big divide between rich and poor. As long ago as 2007, Sir Ronald Cohen, the multi-millionaire founder of private equity firm Apax Partners, said the widening gap between Britain's rich and poor was a growing worry. "Entrepreneurial economies which have high rates of growth and high rates of job creation do lead to great divergences in wealth. When economic situations get bad, it takes a spark to ignite a violent reaction," he wrote, presciently, four years ago.
In 2010, a Government report, An Anatomy of Economic Inequality, scrutinised the degree to which the UK has become more unequal over the past 30 years. The report showed that the household wealth of the top 10% of the population stood at £853,000 and more – over 100 times higher than the wealth of the poorest 10%, which is £8,800 or below. For the highest-paid workers, such as bankers and chief executives, the division was even starker, with individuals in the top 1% each possessing total household wealth of £2.6m or more.
The report also noted "profound and startling differences" between areas. Median hourly wages in the most deprived 10th of areas – some of the ones in which rioting occurred - were 40% lower than in the least deprived. Meanwhile, a report by Save the Children revealed that 13% of the UK's children were living in severe poverty.
This poverty is apparent in the London areas where the initial riots took place. In Haringey, where the trouble began, four out of 10 children are born into poverty, and Tottenham has London's highest unemployment rate. In Hackney and Tower Hamlets, where there was also unrest, there are similar levels of poverty.
Yet, the Conservative government's cuts in the budgets of borough councils – which are intended to slash the UK's spending deficit – have fallen disproportionately on poorer areas. Haringey saw the second-highest reduction in its budget among London boroughs, with funds due to fall by one-third over the next three years and the council cutting 75% of spending on "youth services".
Lewisham, which was also hit by violence, is one of London's most deprived neighbourhoods. The borough council has been forced to close five libraries and cut back youth services, including advice centres for pregnant teenagers and unemployed youth.
Paul Bagguley said:
"The youths in these areas who rioted are not idiots. They watch TV and they pick up things off the web. They may not read newspapers because of falling circulation among young people, but they know what's going on in politics and how it affects their lives. They also feel that their grievances are no longer addressed by parliamentary politics any more, which limits their means of self-expression."
Dr Bagguley felt the simmering resentment in poorer communities had been exacerbated by a number of recent events in Britain, including the 2009 scandal over MPs' expenses, the continuing culture of massive bonuses in the City of London, and the recent phone-hacking scandal, which exposed a culture of complicity between media and politicians.
"When Cameron makes his arguments about moral decline in the inner cities, he is on really thin ice. People will say 'look at MPs expenses, and look at phone hacking - these journalists are your friends and they were arrested for hacking phones'. He hasn't got a leg to stand on," said Paul Bagguley.
The theory that the riots had their roots in social deprivation finds support in the work of Richard Wilkinson and Kate Pickett in their cult book The Spirit Level: Why Equality is Better for Everyone. They point out that "social problems" (crime, ill-health, imprisonment rates, mental illness, etc) are far more common in unequal societies than ones with better economic distribution.
Richard Wilkinson said:
"What the bankers with their bonuses and MPs with their expenses were doing was helping themselves when they thought they could get away with it. These sums are much larger than what the kids in the riots were taking. The bankers can get away with it because of the huge difference in social background. People are very aware of the lifestyles of celebrities, and the shops are full of what separates the kids from that lifestyle, so for them to smash windows and make off with mobile phones and trainers is surprising only in that it doesn't happen more often."
Source:
http://www.economywatch.com/economy-business-and-finance-news/anarchy-in-the-uk-the-socio-economic-factors-behind-the-london-riots.19-08.html
Related material:
The Decline and Fall of the American Empire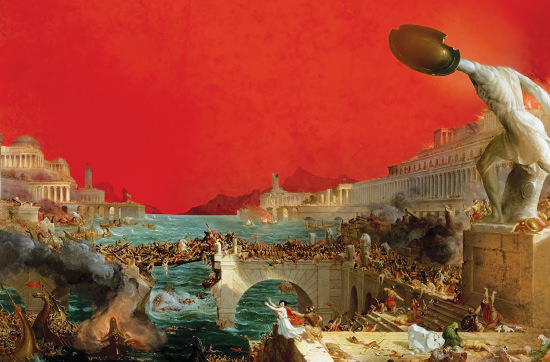 The United States Government and its presstitute media have wasted time and energy creating hysteria over a non-existent "debt ceiling crisis." After reading the "news" in the Ministry of Propaganda and witnessing the stupidity of the US government, the rest of the world is struck dumbfounded by the immaturity of the "world's only superpower." What kind of superpower is it, the world wonders, that is willing to go to the eleventh hour to convince the world, which holds its banking reserves in US Treasury debt, that the US government will default on the debt?
Every country in the world now worries about the judgment and sanity of the country with the largest nuclear arsenal in the world. This is the achievement of the Republicans, who took an ordinary commonplace increase in the debt ceiling limit, an event that has occurred routinely many times over the course of my life, and turned it into a crisis threatening the world financial system. To be clear, there was never any risk whatsoever of US default as President Obama has power established by President George W. Bush's Presidential Directive 51 to declare default a National Emergency and to set aside the debt ceiling limit and Congress' power of the purse, and to continue to issue the debt necessary to fund the US government and its wars.
That the American press ever took this highly-hyped "crisis" seriously merely demonstrates their prostitute status. The US public debt is rising too rapidly against US GDP, although it is still below the percentages during World War II. The problem that is ignored by the idiots in Washington and the presstitutes is that the debt is rising relative to the economy because the economy is not rising, but war expenditures are.
Why is the economy not rising?
It is not rising, because it has been offshored. What formerly was US GDP produced in Gary, Indiana, St. Louis, Detroit, Silicon Valley, and other US locations is now GDP for China, India, Indonesia and other countries where manufacturing labor and professional services can be hired below US rates. What happens with offshoring? The answer is clear. US GDP, consumer income, career opportunities, and tax base leave the country. Corporate profits and bonuses rise due to the lower labor costs.
Who is this good for?
The answer is that it is only good for Wall Street, corporate shareholders, and corporate management. Their incomes go up, and the GDP goes down along with the employment opportunities of Americans and the tax base for government.
The other destroyer of American economic prospects was the deregulation of the financial sector. Economists theorized that markets were self-regulating and created the illusion that greed was never a problem. This was music and dollars to Wall Street's ears. Federal Reserve Chairman Alan Greenspan and the Wall Street-owned US Treasury jumped on board. Those, who like Brooksley Born, were empowered by US law to regulate derivatives, were driven out of office by the Federal Reserve Chairman, the US Treasury Secretary, and the Securities and Exchange Chairman.
Financial institutions freed from Glass-Steagall, freed from capital requirements, and freed from oversight, immediately took debt leverage on highly unrealistic bets to amazing heights. When the schemes collapsed, the Federal Reserve lent US and foreign banks $16.1 trillion dollars, a sum larger than the US national debt and larger than the US GDP.
Where did the Federal Reserve get $16.1 trillion to lend? The Fed created it out of thin air with a stroke of a computer entry. While the Federal Reserve created $16.1 trillion in new loans for private banks, the bailed out banks bulldoze the foreclosed homes of the evicted Americans. http://news.yahoo.com/bulldoze-way-foreclose-102000063.html
So in America, the light unto the world, American citizens are thrown out of their homes in order that banks can bulldoze their homes.

Only in America does this makes sense.
And it is not only Americans who are being made homeless by US policies. Afghans, Pakistanis, Iraqis, Yemenis, Somali, Libyans are also consigned to homelessness by American policy. Moreover, America's wars against these peoples together with the supporting military/security budget account for 75% of the US budget deficit. Indeed, the cost of these wars exceed the planned future budget savings from the debt limit deal.
In other words, the cost of the wars that make millions of foreigners homeless use up revenues that the federal government could have used to keep Americans in their homes and teachers in the schools. As much as many Republicans profess to be concerned about the US public debt, Republicans were not sufficiently concerned to address their issue by cutting back the $1.2 trillion military-security budget or by raising the low tax rates on the mega-rich.
Look at these July 30 headlines, just two days prior to the default deadline, from the online group, Stop NATO:
US Military To Be Based In Australia To Confront China

Call To Expand American Counterinsurgency Operations In Philippines

US Could Upgrade Polish Warships For Baltic Sea

Bulgaria: Pentagon Continues Upgrading Military Bases

US Uses Romanian Air Base To Supply Afghan War

America's Africa Partnership Station In East Africa

Mongolia: US Leads NATO, Asian NATO Allies In Military Exercise

Libyan War: Over 17,000 NATO Air Missions, Nearly 6,500 Strike Sorti

The Big Picture: War on Libya is War on Africa
What in the world is a country facing bankruptcy and default doing conducting military exercises in Mongolia and Central Asia? What is the North Atlantic Treaty Organization, designed to counter a Soviet thrust into Western Europe, doing in Mongolia? Why are these military expenditures necessary, but not expenditures to keep America's homeless population from rising while homes are destroyed?
Why do not the Republicans listen when mega-billionaire Warren Buffett says that the tax rate on his massive income is lower than the tax rate on his secretary's income? The answer is that the Republicans have an agenda: War. And Republicans want to fund this war, not by taxing high incomes but by cutting support programs for the down and out. To cut to the chase: Even if all the cuts actually happen, the weakening economy will result in new deficit projections that will wipe out the expected savings from the debt limit agreement.
What then will the government do?
Until US policymakers comprehend that the economy has been moved offshore and take steps to bring it home, there will be no solution to America's debt problem or to its unemployment problem.
Dr. Paul Craig Roberts is the father of Reaganomics and the former head of policy at the Department of Treasury. He is a columnist and was previously an editor for the Wall Street Journal. His latest book, "How the Economy Was Lost: The War of the Worlds," details why America is disintegrating.
Source:
http://www.infowars.com/the-decline-and-fall-of-the-american-empire/
Putin says U.S. is "parasite" on global economy
Russian Prime Minister Vladimir Putin accused the United States Monday of living beyond its means "like a parasite" on the global economy and said dollar dominance was a threat to the financial markets.
"They are living beyond their means and shifting a part of the weight of their problems to the world economy," Putin told the pro-Kremlin youth group Nashi while touring its lakeside summer camp some five hours drive north of Moscow. "They are living like parasites off the global economy and their monopoly of the dollar," Putin said at the open-air meeting with admiring young Russians in what looked like early campaigning before parliamentary and presidential polls.
US President Barack Obama earlier announced a last-ditch deal to cut about $2.4 trillion from the U.S. deficit over a decade, avoid a crushing debt default and stave off the risk that the nation's AAA credit rating would be downgraded. The deal initially soothed anxieties and led Russian stocks to jump to three-month highs, but jitters remained over the possibility of a credit downgrade.
"Thank god," Putin said, "that they had enough common sense and responsibility to make a balanced decision."
But Putin, who has often criticized the United States' foreign exchange policy, noted that Russia holds a large amount of U.S. bonds and treasuries. "If over there (in America) there is a systemic malfunction, this will affect everyone," Putin told the young Russians. "Countries like Russia and China hold a significant part of their reserves in American securities ... There should be other reserve currencies."
U.S.-Russian ties soured during Putin's 2000-2008 presidency but have warmed significantly since his protégé and successor President Dmitry Medvedev responded to Obama's stated desire for a "reset" in bilateral relations.
EARLY CAMPAIGNING?
Casually dressed in khaki trousers and a striped white shirt, Putin flew by helicopter to the tented camp as part of a string of appearances that are being closely watched in the run-up to the elections. He did not say whether he plans a return to the Kremlin or will stand aside for Medvedev, his partner in Russia's leadership tandem, to run for a second term.
But young people crowding round Putin, caught up in the campaigning spirit created by huge portraits of Putin hung from trees, were not shy about saying who they wanted as president. "Russia's next president will be small, bald and look like Putin," 17-year-old Ilya Mzokov joked with reporters. Asked why Medvedev was not paying a visit to the summer camp, he said: "Only serious people come here."
Youngsters chanted Putin's name and applauded his remarks as he strolled round the camp, where US-style business seminars, extreme sports and political mudslinging were among the topics on offer. Putin, whose macho image appeals to many Russians, briefly swung himself up the first half of a climbing wall, filmed by a gaggle of state television cameras.
Nashi, which means "Our People," was created by the Kremlin to counter popular dissent after youth activism helped topple a pro-Moscow government in Ukraine's 2005 Orange revolution. Yhe group has worked to spread a personality cult around Putin and regularly campaigns against Kremlin critics.
Opinion polls show Putin, still widely viewed as the country's paramount leader, retains near 70 percent approval. But his United Russia party is trying to reverse a slide in popularity before December parliamentary polls, hoping to use a strong showing there to help Putin in the March 2012 presidential vote.
Source: http://www.reuters.com/article/2011/08/01/us-russia-putin-usa-idUSTRE77052R20110801

Russia to Sell U.S. Assets
Russia intends to reduce its holdings of U.S. government debt, the Wall Street Journal reports, citing presidential economic adviser Arkady Dvorkovich. "The share of our portfolio in U.S. instruments has gone down and probably will go down further," Dvorkovich told Dow Jones in St. Petersburg yesterday, the newspaper reported on its website. On whether or not U.S. debt remained a good investment today as it was ten years ago, Dvorkovich told the Journal, "On an absolute basis, yes. On a relative basis, compared to other investments, of course not." "When we take decisions and compare, we're not thinking in absolute terms," Dvorkovich said. Russia has lowered its position in U.S. Treasury securities significantly since late last year, down from $176.3 billion in October of 2010 to $125.4 billion in April 2011, according to the Journal. Russia's financial reserves are the third biggest, after China and Japan's.
Source:
http://wallstreetpit.com/78366-russia-to-sell-u-s-assets