With the financial crisis taking a serious toll on the West, Moscow has been using the historic opportunity to flex its muscles worldwide.
Arevordi
***
Russian Strategic Bombers Patrol Caribbean
September, 2008
Two Russian Tu-160 Blackjack strategic bombers that landed in Venezuela last week will carry out a patrol mission over the Caribbean on Monday, a Russian Air Force spokesman said. The bombers landed at Venezuela's Libertador airfield on September 10 and were accompanied by NATO fighters during the 13-hour flight from their home base in central Russia. "The current patrol mission will be conducted over neutral waters in the Caribbean," Lt. Col. Vladimir Drik said. "The aircraft will take off from Libertador airbase and spend about six hours in the air." The Tu-160 Blackjack is a supersonic, variable-geometry heavy bomber (INFOgraphics , VIDEO), designed to strike strategic targets with nuclear and conventional weapons deep in continental theaters of operation. According to the spokesman, the bombers are carrying dummy missiles without warheads and will practice patrol sorties in a tropical climate. Following the training mission, the Tu-160 crews will meet with Venezuelan President Hugo Chavez on Tuesday. "The meeting will take place on September 16 at the invitation of the Venezuelan president," Drik said. The spokesman added that the bombers will return to their home base in southern Russia on September 19. "The aircraft will take off from an airfield near Caracas on September 18 and conduct a 15-hour return flight to Russia. Their landing at a base in Engels [Saratov Region] is scheduled for September 19," Drik said. Earlier reports indicated that the bombers had been scheduled to return home on September 15.
Source:
http://en.rian.ru/russia/20080915/116799837.html
U.S. Fleet to Watch Russia's Bombers
The U.S. Navy's Fourth Fleet commander said they are keeping an eye on Russia's Tu-160 bombers that landed in Venezuela September 10, The Associated Press reported. "We're always going to be careful about who's out there and what could potentially be a threat," the U.S. Navy's Fourth Fleet Commander Rear Adm. Joseph Kernan told The AP aboard of Kearsarge combat ship of the United States. The arrival of Russia's bombers hasn't affected the plans of the Fourth Fleet, Kernan made clear. "In my mind if the Russians flew those aircraft down to this region because of a threat from the U.S., they I think they wasted gas." The Fourth Fleet of the United States that watches the Caribbean basin and South America has been revived this year despite the apprehension of Brazil and Venezuela. Its official mission is participation in the anti-drug operations and humanitarian actions. Russia's two strategic bombers landed in Venezuela's Libertador aerodrome late Wednesday to practice above the neutral water for the next few days. The plans are that Tu-160s that carry dummy missiles will fly over the Atlantic Ocean and the Caribbean Sea. Russia and Venezuela will hold joint exercise in the Atlantic Ocean in November. Moscow will be represented by ships of the North Fleet headed by atomic cruiser Pyotr Veliky (Peter the Great). The exercise had been planned for a year, but the final decision was made in July, during the meeting of presidents of Russia and Venezuela.
Source:
http://www.kommersant.com/p-13206/Tu-160_U.S._Navy/
Russia Eyes Mediterranean as Alternative to Sevastopol Naval Base
Russia could build up its presence in the Mediterranean to make up for the loss of its naval base in Ukraine's port of Sevastopol, a Black Sea Fleet official said on Monday. "Undoubtedly, the withdrawal [of the Black Sea Fleet] from the Crimea will affect Russia's security in the south. New bases in the Mediterranean Sea could make up for the departure," Rear Admiral Andrei Baranov said without elaborating. Russia is set to leave the Sevastopol base when the current lease agreement expires in 2017. The base has been a source of friction between Russia and Ukraine in recent years, as Ukraine's pro-Western President Viktor Yushchenko has sought NATO and EU membership for the country. Russia has accused Kiev of 'unfriendly' policies toward the Black Sea Fleet base. Yushchenko has called for the Russian navy's early pullout, tougher deployment requirements and higher fees, demands that have not been backed by his former coalition ally, Prime Minister Yulia Tymoshenko. Russia-Ukraine tensions heightened after several Black Sea Fleet warships dropped anchor off the Georgian coast during and after the armed conflict with Tbilisi over breakaway South Ossetia last month. Russia's naval base in the Crimea currently has 50 warships and patrol boats, along with around 80 aircraft, and employs coastal defense troops. The Soviet-era Navy maintenance site in Syria named Tartus is the only Russian foothold in the Mediterranean. Russian media reports earlier said the facility could be turned into a base. About 10 Russian warships and three floating piers are reported to be currently deployed there, and Russia is expanding the port and building a pier in nearby El-Latakia. No official confirmation of the reports has been made. Baranov said Black Sea Fleet and NATO commanders will continue cooperation in the Black Sea and the Mediterranean. "I do not see why our relations with NATO should end over last month's events," Baranov, said referring to Russia's response to Georgia's offensive to retake South Ossetia in early August. Western nations criticized Russia's counterattack as excessive and condemned Moscow's subsequent recognition of South Ossetia and Abkhazia as independent states. Russia and NATO have since frozen cooperation. Russia has blamed Western powers for encouraging Tbilisi's aggression and criticized the alliance for building up forces in the Black Sea and helping Georgia to re-arm in the conflict zone. Baranov said Russia is meanwhile building up its Black Sea Fleet: "We are learning the lessons of the naval operation to force Georgia to peace" He said a gunship and a minesweeper have been supplied to the fleet, and new torpedo boats and air defense systems are undergoing tests.
Source:
http://en.rian.ru/russia/20080915/116801633.html
Russia's Baltic Fleet Starts Week-Long Exercise
Russia's Baltic Fleet has launched a week-long scheduled exercise, the navy press service said on Monday. It said the exercise, which will last through September 22, involves over 20 warships and more than 10 support and auxiliary vessels, as well as 15 fixed and rotary winged aircraft. "The exercise is aimed at honing the battle skills of naval, air force, air-defense and coast guard units," the press service said. It added that the exercise would involve missile test launches on coastal and aerial targets, precision bombing, artillery and other drills. The exercise is under the general supervision and command of Vice Admiral Viktor Mardusin, commander of the Baltic Fleet.
Source:
http://en.rian.ru/russia/20080915/116813333.html
Russia is Determined to Bring NATO's Expansion Eastward to a Halt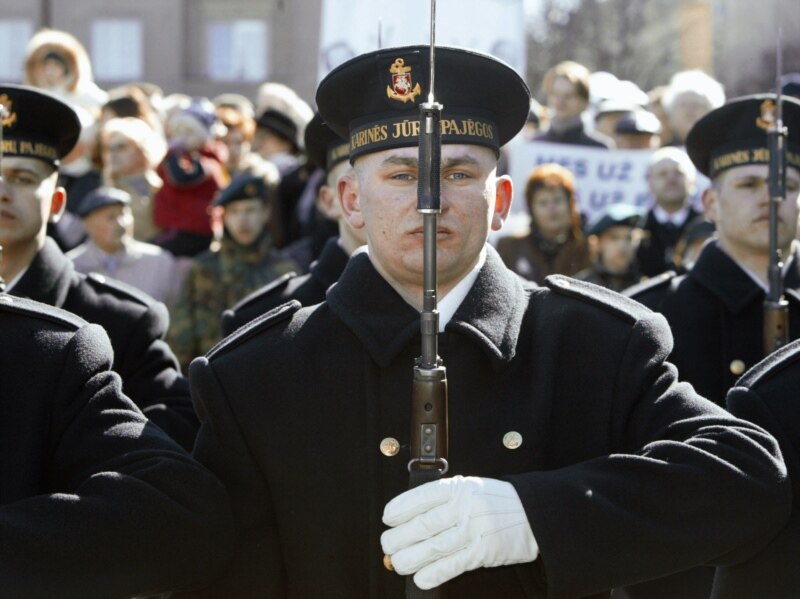 The ghost of Stalingrad
NATO's metamorphosis from Cold War Euro-policeman into the unabashed global military arm of the United States over the past 18 years has left a trail of debris from the Balkans to Afghanistan that will take decades to clear. It is a flagrant violation of the agreement James Baker III made with Soviet president Mikhail Gorbachev that the US would not extend the borders of NATO eastwards in return for Moscow allowing a united Germany to be a member of NATO. Russia was still in disarray and in no position to protest when the Eastern European countries and the Baltics joined, but as this policy of expansion turned into a blatant encirclement of Russia and a conquest of the Middle East, a furious, now self-confident Russia has finally drawn the line, at least in its immediate neighbourhood, with Georgia and Ukraine the last straws.
In a provocative analogy, Russian President Dmitri Medvedev called Georgia's 8 August attack on Ossetia Russia 's 9/11, and said Russia would react the same even if Georgia is accepted as a prospective member of NATO. He announced to the Russian Information Agency 31 August "Five Points of Russian foreign policy" already dubbed the Medvedev Doctrine, as a response to what we might call the Bush I/ Clinton / Bush II Doctrine, i.e., the dismemberment of the USSR / Russia to ensure a US-dominated unipolar world. They include:
-a commitment to the principles of international law,
-a statement that "the world should be multipolar",
-the wish to have peaceful friendly relations with all nations,
-the intent to protect its citizens "wherever they may be", and
-the decisive fifth point: "as is the case of other countries, there are regions in which Russia has privileged interests. These regions are home to countries with which we share special historical relations and are bound together as friends and good neighbours. We will pay particular attention to our work in these regions and build friendly ties with these countries, our close neighbours."
The crisis in Georgia will be seen by future historians as the beginning of the end for the grandiose plans of the US to bring its version of a New World Order in Eurasia to fruition, if not "Russia's 9/11". Instead of a seemingly inexorable march towards the Volga and the dismantling of the Russian Federation — recall this was Hitler's goal — we are now witnessing war preparations at full tilt across the globe, with little Georgia as the catalyst. The spider's web of intrigue surrounding Georgia is thick indeed. It even reaches as far as Iran , which Israel appeared to be preparing to attack using nearby Georgian bases as a launching pad. This plan has been thwarted for the moment, though Iran proceeded last week with its war games to test its defences in anticipation of a US/Israeli attack from farther afield.
As Georgia welcomes a permanent US military presence to help restore its battered army, Russia is expanding its military presence at Tajikstan's Gissar Airport. As the US positions missiles in Russia's neighbours Poland and the Czech Republic, Russia is preparing to hold joint naval drills with US neighbour Venezuela (10-14 November) and station long-range anti-submarine patrol aircraft there "temporarily". The Russian navy has resumed its (or rather its predecessor's) presence in different regions of the world's oceans. A naval task force from Russia's Northern Fleet conducted a two-month tour of duty in the Mediterranean Sea and North Atlantic from December 2007 to February 2008.
Russia's Foreign Ministry spokesman Andrei Nesterenko insisted that Russia's decision to send its armed forces to Venezuela was made before Russia's war with Georgia. "This deployment had been planned in advance, and it's unrelated to the current political situation and the developments in the Caucasus." But the announcement was made just a week after Prime Minister Vladimir Putin warned that Russia would mount an unspecified response to recent US aid shipments to Georgia.
Thankfully, the war is still at the level of hot air. "Go ahead and squeal, Yankees," Venezuelan President Hugo Chavez said in a national broadcast in which he announced the exercises. The US mocked the announcement. State Department spokesman Sean McCormack poked fun at Russia's navy, expressing surprise that "they found a few ships that can make it that far." Just in case Venezuela is too far from US shores for the outmoded Russian vessels, Russia has signaled it is keen to restore military and intelligence ties with Cuba. There are rumours it is seeking a naval base in Vietnam.
Not to be left out of the increasingly complex maritime equation, in June the US Navy announced it was re-establishing the Fourth Fleet, disbanded in 1950, which would direct naval operations in the Caribbean and Latin America. It is also negotiating with Georgia and Turkey to establish a naval base at the Georgian port of Poti.
One of the responsibilities of US Special Forces in the region is to ensure the security of an oil pipeline passing through Georgia. As US "aid" flows to the Black Sea in US warships, Russian military hardware flows to the Caribbean, as Venezuela recently bought 24 Russian Sukhoi fighter jets, as well as submarines and missiles. Chavez has said that he would allow Venezuela to be a strategic base for Russian bombers should it be required. "In Venezuela they will always have a green light, they will be welcome, because Russia is an ally of Venezuela," said Chavez. He proceeded to expel the US ambassador last week until after the November presidential elections.
Sergei Markov, a United Russia Duma member, sees this as posturing rather than the prelude to setting up a permanent base in the Americas. "We need bases on the territory of Iran and Syria where our strategic interests lie." While it indeed looks like Russia will re-establish a permanent presence in the Mediterranean using a Soviet-era base in Tartus, Syria, this talk of bases in Iran is a new development. It is rumoured that Russia may set up bases there and supply Tehran with the cutting edge S-300 missile system to help protect its nuclear facilities from airstrikes.
But apart from Venezuela, the main posturing is going on in Tbilisi, where President Mikhail Saakashvili insisted the West would help his country regain control of South Ossetia and Abkhazia, the separatist regions of Georgia recognised as independent nations by Russia and a trickle of other countries, including Nicaragua and Belarus. "Our territorial integrity will be restored, I am more convinced of this than ever," Saakashvili said in a televised appearance. "This will not be an easy process, but now this is a process between an irate Russia and the rest of the world."
The hot air and military strutting by this collection of antagonists is beginning to look like the calm before the storm. If it is true that US military were part of the invasion of South Ossetia, if only as advisors, this could mean that Russian soldiers might have been killed by Americans, something that never happened even during the height of the Cold War. During the Cold War, "the sides were very careful of each other. They were careful not to come too close," said Alexander Pikayev. "The risk of direct military clashes is much higher. This situation is much riskier than the Cold War." Both US presidential candidates are talking tough, and vice presidential hopeful Sarah Palin said, "We will not repeat a Cold War", presumably meaning she preferred a hot one. In such a hair-trigger atmosphere, Ukraine and Georgia can kiss any dream of joining the ersatz Western "defence" alliance do svidania.
Nevertheless, last week Vice President Dick Cheney toured ex-Soviet countries the US considers threatened by Russia, including Ukraine, Georgia and Azerbaijan, promising Georgia $1 billion (where do these nice round sums come from?), vowing the US will continue to back the country's NATO application and saying that Moscow's intervention "cast grave doubt on Russia's intentions and on its reliability as an international partner." In Ukraine, he spoke of the "threat of tyranny, economic blackmail and military invasion or intimidation" from Russia . That is an interesting slant on the Medvedev Doctrine. The reader can easily conjure up appropriate words that Medvedev might use to describe the Bush I/ Clinton/ Bush II Doctrine.
Ukraine is now embroiled in a mud-slinging match, with the collapse of the coalition government 3 September, when President Viktor Yushchenko withdrew his support over the refusal of Prime Minister Yulia Tymoshenko to back the president in his support for Georgia and condemnation of Russia. Yushchenko accused Tymoshenko of "treason and political corruption", over her failure to back a pro-US stand, and of seeking Moscow 's support of her likely presidential bid. Ukraine 's pro-Russian former prime minister Viktor Yanukovich, who heads the Party of Regions, did not rule out the possibility of forming a parliamentary majority with the Yulia Tymoshenko bloc. Such a move would remove from the discussion the entire issue of a Ukrainian application to join NATO. Tymoshenko could well pull off a metaphorical coup by campaigning in the upcoming presidential elections on a sober platform of peace with Russia , which would very likely hand her the presidency with the support of the large Russian population of Ukraine as well as astute Ukrainians.
Another such scandal is brewing in Georgia itself, with the arrest of former president Zviad Gamsakhurdia's son Tsotne as a Russian spy smack in the middle of Cheney's visit to Georgia . He was charged in late 2007 with an attempted coup and links with Russian security services after opposition protests against Saakashvili. The voices of sensible Georgians, fed up with President Mikheil Saakashvili's reckless chauvinism, are clearly being cut in the bud, as he consolidates a very nasty dictatorship backed by the Americans and Israelis. Of course, all Western media coverage of Georgia slavishly supports this loose cannon, but Medvedev's description of him as "a political corpse" probably is closer to the truth.
It is hard not to sympathise with the Russians. The Black Sea, once the domain of the Soviet navy, now is the home of three NATO members — Turkey, Bulgaria and Romania — and two applicants, Georgia and Ukraine . If the two applicants join the alliance, Russia 's Black Sea coastline would be surrounded by NATO. The volatile Caucasus would then be the playground of the US. "Now it looks like there is a certain red line that exists in the heads of Russian leadership and they are willing to do anything to stop it from being crossed," said Nikolai Petrov, at the Carnegie Endowment for International Peace. "And this red line is Ukraine and Georgia joining NATO."
Russia 's success in thwarting the Georgian attempt to wrest back Ossetia has shown its resolution. Russian warships have been sent to the coast of nearby Abkhazia. In the relatively close proximity in which the Russian and American ships operate there and elsewhere in the Black Sea , one misunderstanding could create an international incident. "We remember very well the Tonkin Gulf incident" in which untrue reports of North Vietnamese ships firing on US ships started the Vietnam War, said Markov. This was seconded by Republican California Congressman Dana Rohrabacher in a sharp criticism of US support for the Georgian attack. Aleksandr Dugin, whose ideas about America's weakening geopolitical standing are popular with many Russian leaders, said Russia was challenging US dominance and that confrontation may be unavoidable. Russia's move into Georgia was "an irreversible decision that will mean in the future a serious, profound, irreversible confrontation with the United States. The stakes are so high that Moscow has placed all its chips on the table."
It is not surprising that the Shanghai Cooperation Organisation, which includes Russia, China and the former Soviet Asian republics Kazakhstan, Kyrgyzstan, Tajikistan and Uzbekistan , are supporting Moscow for "assisting peace and cooperation in this region." Nor that Armenia and Belarus also support Russia, and the non-Yushchenko forces in the Ukraine are backing away from the flirtation with NATO. It is clear now that the US has insufficient power to cope with the occupations of Iraq and Afghanistan. Both were to have been an essential part of a US policy to militarily control Eurasian rivals, especially Russia and China. If the Russians hold firm, and it is worth remembering their spectacular defeat of the Nazis at Stalingrad in this regard, this crisis will defuse with or without fireworks, US hawks will find their feathers clipped, and the world will adjust to a "post-America" multilateral sanity.
The tide has already turned. The latter-day Dr Strangelove was pointedly ignored on his cheerleading tour of countries supposedly threatened by Russia, except by his pal Saakashvili, and the European Union disregarded the US veepee's bluster, hammering out an agreement with Russia to replace Russian troops with EU observers in undisputed Georgian territory by 1 October. The bottom line here is a very mundane one: the EU is Russia's neighbour and dependent on it for gas, whether her politicians like it or not. It is one thing for the US to wage wars far from its shores, as it is doing in Afghanistan and Iraq, or to play war games in other people's backyards, as it is doing in Poland and Georgia, but it is quite another thing to expect a war-weary Europe to sign up and prepare to freeze in the dark.
Source:
http://globalresearch.ca/index.php?context=va&aid=10237
Moscow tries to restore its peacekeeping reputation in the region
Russian President Dmitry Medvedev will hold talks today with Azerbaijani President Ilham Aliyev in the Meindorf residence outside Moscow. Moscow was the initiator of this summit meeting. Kommersant has learned that Russia will propose a package of peace initiatives for a settlement of the Nagorny Karabakh conflict to Aliyev and try at the same time to guarantee that Baku will steer clear of Western political and energy games.
Divide and Conquer
The meeting between the presidents had been discussed since the beginning of the month. On September 3, they spoke by telephone, also at Russia's initiative. Natalia Timakova, the Russian president's press secretary, told Kommersant then that the two leaders had reached an agreement in principle on high-level negotiations. Last week, Azerbaijani Foreign Minister Elmar Mamedyarov visited Moscow and Medvedev and Aliyev spoke again on Sunday to agree on the agenda for today's meeting. A Kremlin source called the close contact between the countries logical, considering Azerbaijan's role in the region. Sources in the presidential administration say that the time for negotiations between Medvedev and Aliyev had come even earlier. Medvedev has met with Armenian President Serge Sargsyan twice this month, on September 2 at presidential residence in Sochi and three days later at the Moscow summit of the Collective Security Treaty Organization, which Azerbaijan is not a member of.
Relations between Baku and Erevan will receive particular attention in today's Russian-Azerbaijani talks, and specifically within the context of a settlement in the Nagorny Karabakh conflict. In the final declaration of the CSTO summit, it is noted that the allies are "concerned with the growing military potential and escalation of tensions in the Caucasus region." Many observers, including those in Baku, think that phrase should be interpreted as a warning to Azerbaijan, where the need to retake "territories occupied by Armenia" is voiced from time to time. Source in the Russian Foreign Ministry close to today's negotiations say openly that Moscow would like a firm guarantee from Baku that it will not consider military means to solve the Karabakh problem either before or after the October presidential elections there.
Moscow, which, along with France and the United States, took part in searching for a settlement to the Karabakh conflict as part of the OSCE Minsk group, plans to propose its own plan to Azerbaijan and Armenia. The first point of that plan is the organization of a meeting between Aliyev and Sargsyan in Russia with the participation of Medvedev. Kommersant has learned from sources near the Armenian president that Sargsyan has already approved that idea. Today Medvedev has to obtain Aliyev's consent. To interest the Azerbaijani president in a meeting with the other two presidents, Moscow will propose a discussion of a sensitive question for Baku, that is, jurisdiction over the Lacha corridor, which connects Nagorny Karabakh with Armenia. Specifically, they are to conciliate a operation along the route to allow the safe movement of people and cargo along it without transferring it to the jurisdiction of Erevan or Stepanakert.
A Weak Link
Besides peacekeeping initiatives, Medvedev has other important topics that demand urgent discussion with Aliyev. After Russia's military operations against Georgia, Azerbaijan has been the subject of increased attention from the West. High-ranking guests from Washington are becoming common in Baku, and Aliyev even received U.S. Vice President xxxx Cheney this month. Baku was the energy capital of the region last week when it hosted the international business forum "The Gas and Oil Potential of Turkmenistan and Azerbaijan: Energy, Economy, Ecology. Partnership Strategy." First Deputy Prime Minister of Azerbaijan Yagub Eyubov assured attendees there that his country is prepared to offer its infrastructure for deliveries of Central Asian hydrocarbons to the West. Bypassing Russia, of course. Immediately after Aliyev's Moscow talks, U.S. Assistant Deputy Secretary of State Matthew Bryza, who is cochairman of the OSCE Minsk group, will visit the Azerbaijani capital.
The West's intensive attention to Azerbaijan does not make Russia happy, and even more so since Azerbaijan is allied with Georgia, which has severed diplomatic relations with Russia, through the GUAM (Georgia, Ukraine, Azerbaijan, Moldova) organization. Therefore, Russia is extremely interested in seeing to it that Azerbaijan follow through on any impulses to strengthen military ties with the West. The U.S. already offered last year to create a training camp on the Caspian like the ones in Georgia. A Kommersant source who manages Azerbaijani affairs at the Russian Foreign Ministry said that one of the key topics in today's talks between the two presidents will be a written ban on the presence in the Caspian region of outside armed forces. Ideally, Moscow would like principles for activities in the Caspian to be outlined in a convention. That convention is already being drafted. Russia is prepared to expand its military partnership with Azerbaijan as compensation and to fulfill its obligations to deliver armored military equipment, parts for it and firearms.
Energy partnership is a traditional topic of talks between the Russian and Azerbaijani presidents. A source in the Kremlin mentioned with satisfaction that, after operational lapses in the Baku-Tbilisi-Ceyhan pipeline during the conflict in Georgia, Azerbaijan has applied to increase the transport of its oil through the Baku-Novorossiisk pipeline. An unsettled question is the volume of Gazprom's maximum gas purchases during the development of the second line at the Shah Deniz gas field. That is sure to be a difficult conversation, considering that Baku quite willingly responded to the West's proposal that it participate in the Nabucco project, the implementation of which has taken on new impetus since the Russian-Georgian war.
Source:
http://www.kommersant.com/p1026605/r...jan_relations/
Russian Economy Solid Enough to Ride Out World Crisis - PM Putin
The Russian economy is strong enough to see out the current global financial crisis, the Prime Minister Vladimir Putin said Tuesday. Markets were unsettled by the fallout from the mortgage crisis in the United States and the collapse of investment bank Lehman Brothers, with Russian stocks plummeting. "We have no doubt that the safety nets that have been put into place in the Russian economy over the past few years will work to good effect," Putin said during a meeting with the Azerbaijani president. Earlier Tuesday, Russia's benchmark RTS and MICEX indexes plunged 11.47% and 17.45%, respectively, compounded by the withdrawal of capital from the country. "We are studying the possibility of using long-term instruments by the Central Bank," Putin said. "We will act carefully and judiciously." He added that the Finance Ministry had injected 150 billion rubles ($6 billion) into the Russian financial market in liquidity provided to domestic lenders through repo auctions, while the Central Bank contributed 325 billion rubles ($13 billion) to the repurchase auctions. "Tomorrow the Finance Ministry plans to more than double the figure, offering 350 billion rubles ($14 billion)," the prime minister said. Putin said the worldwide crisis was certainly affecting the Russian economy because it was a part of the global economy, but stressed that it would have no problem riding out the bumpy patch. President Dmitry Medvedev said Monday the Russian market was not in danger and ordered the government to boost liquidity. A Russian Central Bank deputy chairman said Tuesday there was no need to boost lending to banks. "There is no need to expand lending to banks, at least for the time being," Konstantin Korishchenko said. He said the Central Bank's current priority was to sustain liquidity levels in the banking sector to enable its smooth operation. The Russian Cabinet met late Tuesday to discuss Russia's financial markets and what measures should be taken to stabilize the situation. The meeting was chaired by First Deputy Prime Minister Igor Shuvalov, but no details of the discussions were announced.
Source:
http://en.rian.ru/russia/20080916/116857981.html
Russian MP Has Dirt on Western Banks
Andrey Kokoshkin, first deputy chairman of the State Duma Committee on Science and High Technology and deputy leader of the United Russia faction in the Duma, has declared that Russia should shed its "excessive piety" toward Western banks in light of the bankruptcy of Lehmann Brothers Holdings. In an interview with RBC, Kokoshkin emphasized that there are deep roots to the events in the United States. For the last 20-25 years, he said, the management of Western banks has engaged in increasingly risky projects, resulting in a heightened level of management of credit organizations. Kokoshkin advised the Russian government to pay heed to the fact that the U.S. government did not come to the aid of Lehmann Brothers. Russia, he said, should become involved in the settlement process in the interest of the national banking sector. "It is a question of economics that goes beyond general politics," he said. The Russian government, Kokoshkin continued, should provide aid to Russian credit organizations to enable them to overcome the crisis in liquidity and prevent a general banking crisis in Russia. He noted that Russia has built up sufficient reserves to minimize the consequences of a crisis. Kokoshkin also stressed that it was necessary to consult with and exchange experience with Asian partners that have overcome their crisis.
Source:
http://www.kommersant.com/p-13226/Ru...anking_sector/