Russian arms have been getting a lot of news coverage lately. After a long lull, a post-Soviet stagnation and degradation period that lasted about a decade, Russia's military command has been stirring as of late. The following news articles are a sampling of what was seen in the press lately.
Arevordi
**************
Outside View: Russian Air Power
November, 2008
Past problems with lack of funding for pilot and crew training have led to strange incidents in the Russian air force. A few years ago, a Maj. Troyanov lost orientation in the Baltic sky, flew over Lithuania instead of the Kaliningrad region, and had to eject from the aircraft when his plane ran out of fuel. It was later established that Maj. Troyanov had had just seven hours of flight experience in the year preceding the incident. Lack of combat experience was among the reasons for the loss of two planes during the peacekeeping operation in South Ossetia. It's no secret that until recently, Russian military pilots had just 20 hours of flying time a year, while the standard was 150 hours. A rapid growth in oil prices limited the availability of fuel and lubricants. Young graduates of flying schools could not gain the necessary experience as they were not allowed to conduct solo flights because of the potential risk of losing expensive hardware. Meanwhile, it was necessary to keep the older, more experienced pilots fit for combat duty. Simulators, no matter how perfect, cannot substitute for real flying experience. The Russian air force currently has enough fuel, three-star Col. Gen. Alexander Zelin, commander of the Russian air force, told a recent news conference in Moscow. By now, the average flying time among tactical and army aviation pilots has risen to around 90 hours a year. Special attention is paid to young pilots.
The flying time for the crews of strategic bombers also has increased considerably. Starting from Aug. 17, 2007, Tupolev Tu-160 Blackjack and Tupolev Tu-95MS Bear warplanes resumed flights over the Atlantic, Pacific and Arctic oceans. Since then, the crews have conducted more than 150 patrols amid "counteraction by aviation of neighboring countries," Gen. Zelin said. NATO fighters approached very close to Russian planes, sometimes beyond safety regulations, aiming their weapons, and the Russian crews responded, although they had no combat missiles on board, by simulating firing at the "potential adversaries," practicing repelling "hostile" attacks. In fact, it was joint combat training. During the 2007-08 joint drills with Russia's Northern and Black Sea fleets in the Atlantic, long-range aircraft for the first time in many years saw intensive action far away from their bases. They rehearsed the destruction of naval targets together with ships, naval aviation, air defense and shipboard missile systems. This year, Russian army aviation crews have conducted a few dozen tactical training exercises with live firing of missiles at aerial, ground and naval targets. The exercises usually were part of joint drills with motorized infantry, coastal units and navy vessels. This proves that the Russian armed forces command is focused on simultaneous multirole combat employment of troops on the ground, in the air and at sea.

Joint drills of long-range aviation and navy ships are scheduled to be held in the Indian Ocean this year. Last year's cruise will be repeated but with new objectives and in new conditions. Another priority is the further development of the joint air defense system of the Russian-led Commonwealth of Independent States (CIS), which is the only operational defensive system within the CIS countries, Gen. Zelin said. Besides Russia, this system comprises the air defense troops of Belarus, Kazakhstan, Kyrgyzstan, Tajikistan, Uzbekistan, Armenia and Ukraine. The CIS countries are facing the task of improving the control system of the joint air defense and securing mutual information exchanges concerning the situation at the frontiers of the commonwealth. A universal automation equipment complex for command and control centers is under development on request by the CIS Air Defense Coordination Committee. Air defense troops from the member countries are engaged in joint combat duty. Around 100 warplanes at a time take part in drills within this system. The Russian air force still has a lot of problems to be solved, Gen. Zelin said. Nevertheless, it is clear that it is recovering, he added.

Source:
http://www.washingtontimes.com/news/...ian-air-power/
Russian Navy to Hold Exercises in The Mediterranean in November
A naval task force from Russia's Northern Fleet will depart from its main base in Severomorsk in early November to participate in joint drills with the Black Sea Fleet in the Mediterranean, a senior Navy official said on Thursday. "The task force from the Northern Fleet [headed by the Admiral Kuznetsov aircraft carrier] will join a naval task force from the Black Sea Fleet headed by the Moskva missile cruiser in the Mediterranean and conduct exercises simulating a sea battle between two opposing naval task forces," the source said. The group of warships from the Northern Fleet will spend a total of three months on the upcoming tour of duty in the Mediterranean and the Atlantic. "The main goals of the tour are to accomplish a number of operative and strategic tasks, to demonstrate Russia's presence in the world's oceans, and to pay visits to foreign ports," the official said, adding that the Moskva missile cruiser, for instance, would call at the port of Messina in Sicily. A task force from the Northern Fleet, consisting of the Admiral Kuznetsov aircraft carrier, the Udaloy class destroyers Admiral Levchenko and Admiral Chabanenko, as well as auxiliary vessels, conducted from December 2007 to February 2008 a two-month tour of duty in the Mediterranean Sea and the North Atlantic.

Source:
http://en.rian.ru/russia/20081030/118036772.html
Russia's New Nuclear Attack Submarine Starts SeaTrials
The Amur shipyard in Russia's Far East said on Monday it had started sea trials of a newly built nuclear-powered attack submarine, which according to media reports may be leased to India. The construction of the Akula II class Nerpa nuclear attack submarine started in 1991 but has been suspended for over a decade due to lack of funding. Akula II class vessels are considered the quietest and deadliest of Russian nuclear-powered attack submarines. "The submarine, built under a contract with the Russian Defense Ministry, has been moved from the shipyard in Komsomolsk-on-Amur to a maintenance facility in the Primorye Territory and fitted with all necessary equipment. At present it is undergoing sea trials," a spokesman for the shipyard told RIA Novosti. Indian media have reported on various occasions that the construction of the submarine was partially financed by the Indian government. India has reportedly paid $650 million for a 10-year lease of the 12,000-ton submarine. According to Indian defense sources, Nerpa is expected to join the Indian navy under the designation INS Chakra in the second half of 2009. The submarine will not be equipped with long-range cruise missiles due to international restrictions on missile technology proliferation, but India may later opt to fit it with domestically designed long-range nuclear-capable missiles. However, a spokesman for the Amur shipyard earlier said that Nerpa differed considerably from the previous Akula-class submarines. "Our Nerpa is fitted with more sophisticated navigation, sonar, and hydraulic systems," he said. Russian state officials have categorically denied reports of a possible lease of a nuclear submarine to India. Asked in late September to comment on media reports on alleged plans to export nuclear submarines, in particular to India, Defense Minister Anatoly Serdyukov said: "The press discusses lots of things. We do not export nuclear submarines." India previously leased a Charlie I class nuclear submarine from the Soviet Union from 1988 to 1991. Russia recently handed over to India the INS Sindhuvijay diesel-electric submarine after an extensive overhaul at a shipyard in northern Russia.

Source:
http://en.rian.ru/russia/20081027/117976941.html
Russia to Float Out New Missile Frigate in 2011
The first Russian Project 22350 frigate being built at a shipyard in St. Petersburg will be launched in 2011, a Russian deputy prime minister said on Thursday. The St. Petersburg-based Severnaya Verf shipyard started building the Admiral Sergei Gorshkov frigate in February 2006. According to military sources, Russia's Navy intends to procure up to 20 such vessels. "As we agreed today, the frigate must be floated out in 2011," Sergei Ivanov told a meeting of Russia's Military-Industrial Commission. The frigate has a displacement of about 4,500 metric tons, a length of over 130 meters (430 feet), a maximum width of 16 meters (51 feet), and a range of over 4,000 miles. The main weapons of the ship are reported to include eight SS-NX-26 Yakhont anti-ship cruise missiles, a new 130-mm gun mount, a Medvedka-2 ASW system, and a Hurricane medium-range air defense missile system. Ivanov, who is responsible for overseeing the defense, aerospace, nanotechnology and transport industries, also said that the second Project 20380 missile corvette, the Stoykiy, would be ready in 2010. The first corvette of the series, the Steregushchy, was commissioned with the Navy in 2007. Russia plans to have up to 20 vessels of this class to ensure the protection of its coastal waters, especially in the Black Sea and the Baltic Sea. Ivanov said that timely construction of combat ships is now a priority task of the Russian shipbuilding industry. "The current situation in the world makes us realize that only the possession of modern warships of various classes can ensure the reliable protection of Russia's national interests in coastal and international waters," he said. "In this respect we could hardly overestimate the importance of fast, maneuverable, and well-armed frigates and corvettes [for the Russian Navy]," the deputy prime minister said.

Source:
http://en.rian.ru/russia/20081030/118043727.html
In related news:

Russia, Venezuela to Hold Joint Air Force Drills in 2009
Venezuela and Russia are planning to conduct joint air force exercises in 2009, the Venezuelan air force chief has said. "Joint Russian-Venezuelan air force drills have been planned for next year. We could have participated in joint naval exercises due in November if they included a simulated air attack, but this has not been included in the plans so far," Luis Acosta was quoted as saying by the Venezuelan Ministry of Communications and Information on its website. Two Russian strategic bombers recently carried out patrols along the coast of South America during a visit to Venezuela and a naval task force led by the nuclear-powered missile cruiser Pyotr Velikiy is on its way to the country for joint exercises in the Caribbean in November. U.S. Secretary of State Condoleezza Rice said in mid-August that the Bush administration was unhappy with flights by Russian strategic bombers near U.S. borders and accused Moscow of playing a "dangerous game." However, Russia's Foreign Minister Sergei Lavrov subsequently denied Western media reports that military cooperation between Russia and Venezuela was aimed against the United States. "I do not know how such conclusions are drawn. Neither Russia nor Venezuela have any plans to attack anyone. Russia and Venezuela enjoy cooperation basing on the norms of international law," Lavrov said.

Source:
http://en.rian.ru/world/20081031/118054642.html
Libya 'Ready to Host Russian Naval Base'
Libya is willing to host a Russian naval base as a means of security against any possible U.S. attack, a Russian business daily said on Friday. Libyan leader Muammar Qaddafi will pay an official visit to Russia at the invitation of President Dmitry Medvedev from October 31 to November 2. The Kommersant newspaper cited a source close to the preparations for the visit as saying that the Libyan leader was planning to raise the naval base issue during talks with the Russian leadership. "The Libyan leader believes that a Russian military presence in the country would prevent possible attacks by the United States, which despite numerous Libyan attempts to amend bilateral relations is not in a hurry to embrace Colonel Qaddafi," the paper said. Russia desperately needs a naval base in the Mediterranean to establish a permanent military presence in the region. As a sign of a possible deal with Libya, Russian warships have recently paid a number of visits to the North African country. A naval task force from Russia's Northern Fleet, led by the nuclear-powered missile cruiser Pyotr Veliky, visited the Libyan capital, Tripoli, in October and the Neustrashimy (Fearless) missile frigate from Russia's Baltic Fleet has also recently called at Tripoli to replenish supplies. Another Russian business daily, Vedomosti, said last week that deals to supply arms to Libya worth more than $2 billion could be signed during Qaddafi's visit. Qaddafi, who has ruled oil and gas-rich Libya since 1969, last visited the Russian capital in 1985, before the breakup of the Soviet Union. The paper also cited an official in the Russian Technology Corporation as saying that contracts had been discussed on the supply of 16 SU-30 MKI Flanker-H multirole fighters, T-90 tanks, and TOR-M2E air defense systems to Libya. Libya's Soviet-era $4.6 billion debt was recently written off in lieu of a host of new contracts, the largest being a $3 billion deal under which the Russian Railways monopoly is to build a 554-km (344-mile) railroad in Libya. The deal was signed when the then president and current prime minister, Vladimir Putin, visited the country in April 2008.

Source:
http://en.rian.ru/world/20081031/118052964.html
Russian Warships to Hold Drills in Indian Ocean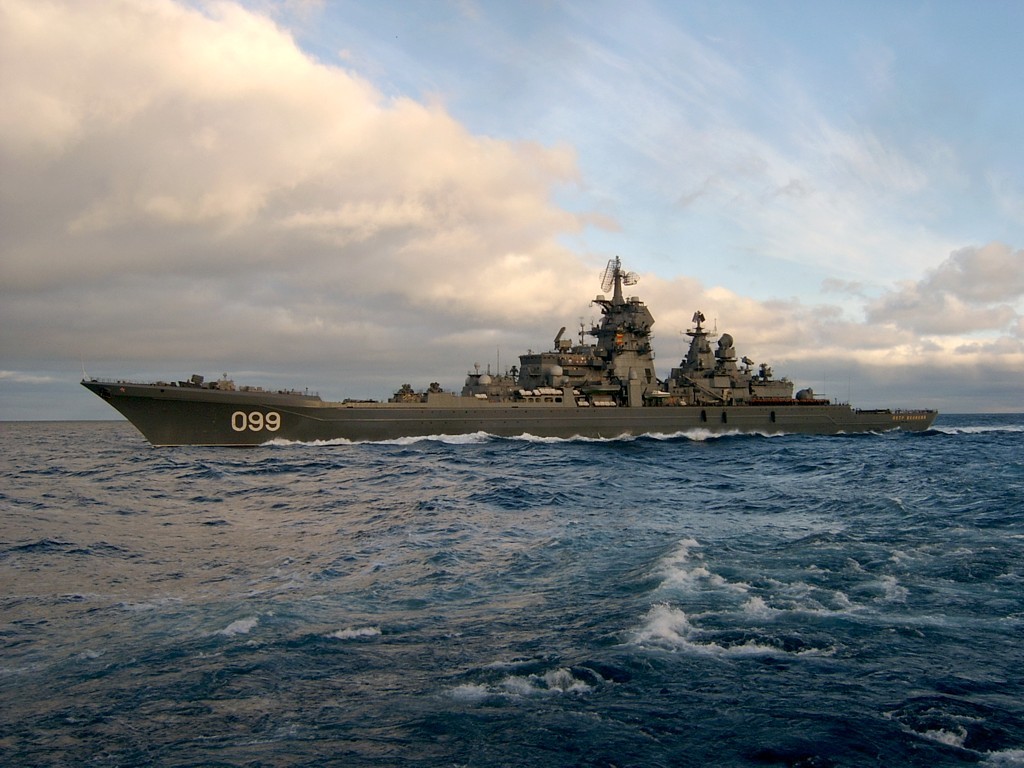 Russian warships from the Pacific and Northern Fleets will conduct exercises in the Indian Ocean later this year, a Navy spokesman said on Saturday. A group of Northern Fleet warships, led by the missile cruiser Pyotr Veliky (Peter the Great), will go to the Indian Ocean after joint drills with the Venezuelan Navy in the Caribbean. "Pacific and Northern Fleet warships will meet up and jointly perform a series of combat training missions in the Indian Ocean," Capt. 1st Rank Igor Dygalo said. He added that later this month a group of Pacific Fleet warships would go the Arabian Sea, calling at a number of ports en route. The Arabian Sea is strategically important as an intersection of major trading routes. The region has also lately been exposed to pirate attacks against commercial and civilian vessels. Russia has vowed to protect the world's main shipping routes against piracy. A missile frigate from Russia's Baltic Fleet started on Tuesday patrolling waters in the Gulf of Aden to protect Russian ships and crews from pirate attacks. Another Northern Fleet task force, led by the missile cruiser Admiral Kuznetsov, will conduct joint exercises with Black Sea Fleet warships in the Mediterranean in December.

Source:
http://en.rian.ru/russia/20081101/118089035.html
Russian Arms Still Bestsellers
A report prepared for the U.S. Congress entitled "Conventional Arms Transfers to Developing Countries 2000-2007" states that Russia was the world's second largest arms exporter in 2007, and the four previous years, sandwiched between traditional leader the United States and Great Britain in third place. The Russian military industrial complex earned $10.4 billion last year. The U.S. earned $24.8 billion that year, up 50 percent from 2006. That figure is not expected to continue to increase, due to the financial crisis. Great Britain sold $9.8 billion worth of weapons in 2007. Mikhail Barabanov, editor-in-chief of Moscow Defense Brief, told Kommersant that, if all weapons supplies are considered, and not just those to developing countries, the U.S. remains in first place, Great Britain is in second place and Russia and France share the third position. Great Britain and France do a brisk arms trade with developed countries. Konstantin Makienko, deputy director of the Center of the Analysis of Strategies and Technologies, said that the volume of Russia's arms exports has grown from $3.7 billion in 200 to $7.5 billion today. The total portfolio of orders reaches $32 billion, of which $23 billion rests with Rosoboronexport. Vyacheslav Davidenko, head of the Rosoboronexport press service, said that competition between Russia and the U.S. is very keen on the arms market. He added that the three sanctions placed on Russian corporations by the U.S. in recent years have had no effect on trade. The biggest purchasers of Russian arms are China and India. Venezuela has joined their ranks recently as well. Since 1999, for example, China has bought 100 Su-30MK jet fighters, India has bought about 50, and Venezuela 24. Algeria and Malaysia are also notable customers. They have bought 28 and 18 of the jet fighters, respectively.

Source:
http://www.kommersant.com/p1049910/arms_sales/