Even with all its faults, Armenian history will look back favorably upon the Sargsyan administration. Authorities in Yerevan are playing a brilliant game of politics and diplomacy in one of the most complicated, volatile and unforgiving places on earth, the Caucasus. The fact of the matter is, after years of political isolation and economic stagnation (in large part due to Western interference in the Caucasus) Armenia has not had it this good for centuries. Armenia today is poised to become a major regional player, both economically and politically, if it plays its cards right, and if the current Russocentric geopolitical climate in the region endures. What's more, Artsakh's

territorial integrity

has never looked so secure as well. After Tbilisi's debacle in the summer of 2008, it is very unlikely that Baku will attempt to use force against Artsakh. With Turkey and Azerbaijan growing increasingly dependent on Moscow, they no longer have the political clout they once sported when the West had penetrated the region. Will we as a people be able to take advantage of the opportunities presented by the new geopolitical climate in the Caucasus for the long-term benefit of our nation? I don't know the answer to this question.
Arevordi
***


Reality Check: Sargsyan Urges Baku to Show "Down-to-Earth" Approach in Karabakh Talks
Stratfor Video Dispatch: In the Caucasus, a Web of Alliances and Animosities:
http://www.youtube.com/watch?v=E6M6GjUAavo&feature=player_embedded
Armenian President Serzh Sarsgyan called on leadership in Baku to drop their "all for myself" approach and concentrate in earnest on the current stage of peace talks with Yerevan to find a solution to the longrunning dispute over Nagorno–Karabakh. At the end of his two-day working visit to
Nagorno-Karabakh
on Thursday, Sargsyan gave an interview to the local public television in which he reiterated that the Armenian side is in search of "realistic solutions that will lead to real peace and will be durable."
The Armenian leader was responding to a recent statement made by Azerbaijani
President Ilham Aliyev
, who said an agreement had been reached about an Armenian withdrawal from the territories surrounding Nagorno-Karabakh that are currently controlled by Karabakh forces. "Of course, in every negotiation each of the sides is trying to get the maximum, but I do not understand when during negotiations one of the sides is seeking to gain everything and is being guided by the motto "everything is for me". In this case negotiations for this side could be unpleasant and they may be left unsatisfied as a result of these negotiations. And this is not our fault," said Sargsyan, as quoted by his press service.
"When our partners in talks come to the conclusion that there should be a logical solution, then these solutions will be easily found," continued Sargsyan. "When they realistically approach the matter and besides making declarations also show that they really want a solution, then the problem will be solved… I think it will only be right if both we and the Azerbaijanis now concentrate our efforts on the current stage of the negotiations instead of trying to cut a slice from the past talks and presenting it to an 'own' audience."
In what appeared to be a response to Aliyev's notorious war rhetoric, Sargsyan also said: "I just can't imagine how one can speak of troops' combat-readiness and morale while strolling on the parquet floor of his office?" Again in a clear reference to
Azerbaijan
(and implying that Armenia maintains military superiority over its archrival), Sargsyan continued: "We have really combat-ready armed forces, unlike some countries in the region that have large groups of armed people. And these are different things." Sargsyan's remarks came on his visit to Nagorno-Karabakh during which he inspected the frontline positions and met with top military brass of the Armenia-backed republic that has enjoyed de-facto independence from Baku since the end of a three-year bloody war in 1994.
Internationally mediated talks around the conflict resulted in proposed principles of settlement, known as the Madrid principles, which yet have to be agreed by the presidents of Armenia and Azerbaijan. Sargsyan and his Azerbaijani counterpart met two weeks ago in Moldova for fresh talks. International mediators said then the sides had moved closer to overcoming their differences over a framework agreement put forward by the
Organization for Security and Cooperation in Europe
's Minsk Group. Aliyev, however, called the meeting "unproductive" and said the parties "failed to reach agreement on the main issues under discussion."
An Armenian withdrawal from several districts surrounding Nagorno-Karabakh proper appears to be one of the key elements of the proposals advanced by the international mediatory group jointly chaired by the Untied States,
Russia
and France. Along with security guarantees for the local population, the proposals also appear to offer an interim status for Nagorno-Karabakh providing guarantees for its security and self-governance and a future determination of the final legal status of the territory "through a legally binding expression of will."
Source:
http://armenianow.com/news/10704/reality_check_sargsyan_urges_baku
New Karabakh War Will Devastate Azeri Economy, Says Analyst
Oil fields in Baku pump crude from the Caspian to be processed and sent to the West through the
Baku-Tbilisi-Ceyhan Pipeline
. The outbreak of war would endanger the pipeline and bring an end to oil exports for Azerbaijan. A renewed war over Nagorno-Karabakh will result in a nightmare scenario for Azerbaijan, grinding its oil-based economy to a halt and bringing an end to international investment in the country, according to the head of a think tank centered around former Soviet issues. Konstantin Zatulin, the director of the
CIS Countries
Institute, made his prediction during an interview with Voice of America focused on the trilateral talks between the presidents of Armenia, Azerbaijan and Russia held in Sochi on Monday. Zatulin painted a bleak picture of what lay ahead for Armenia and Azerbaijan, saying that "he sees no prospects" for the resolution of the longstanding conflict, mediated by the
OSCE Minsk Group
.
"Official Baku and Yerevan have different views about the final results of the current negotiations," he said, predicting that the impasse could lead only to one side opting to use force to resolve the situation. Zatulin noted, however, that success for Azerbaijan in a new war is "not obvious" and will "cause great economic problems and a pulling out of international investments for which Azerbaijan is striving today." Negotiations are better than war, he said they support the level of trust and preserve hope for the future peaceful way of the conflict settlement. The analyst presented a possible scenario in case negotiations completely break down, describing a situation in which Russia, the US, and the EU "dictate conditions of a final settlement to Baku and Yerevan." But the success of such a move is unlikely, he noted. "First of all the conflicting parties can refuse to fulfill the provisions of the leading superpowers and second, the regional superpowers–urkey and Iran–may declare their own special interest."
Source: http://www.asbarez.com/2010/01/27/new-karabakh-war-will-devastate-azeri-economy-says-analyst/

Combat ready: MoD tells students Armenia, Karabakh ready to stop enemy attack
As Armenian President
Serzh Sargsyan
was holding fresh Russia-hosted negotiations with his Azerbaijani counterpart to try to find a peaceful settlement to the long-running dispute over Nagorno-Karabakh, his defense minister on Monday was assuring youths in Yerevan that the country's military are capable to encompass all tasks to keep the current borders intact. Speaking to
Yerevan State University
(YSU) faculty and students
Seyran Ohanyan
said that he always stays "combat-ready" as minister and so does his army.

"All know that the leadership of our army, beginning with the minister, will participate in all hot spots which may, God forbid, arise on the borders of our republic and Karabakh, in order to protect our people," said Ohanyan in a clear reference to the intensified war rhetoric heard from the leaders in neighboring Azerbaijan, thus stressing the presence of high morale in the Armenian military. The Armenian minister further emphasized the huge fortification effort pursued along the line of contact in recent years, which he said made the Nagorno-Karabakh defenses impossible to overrun for the enemy. At the meeting Ohanyan also sought to draw a link between the combat-readiness of Armenia's conscription-based armed forces and the education of young people. He said 2010 is declared "a year of knowledge" in the Armenian army, since "educational reforms in the military-patriotic sphere are a necessity."

"In the army it is necessary to raise the level of knowledge of both soldiers and officers, since today all problems of the army are connected with shortcomings in management and discipline," said Ohanyan. The minister said, jokingly, the matter was of particular relevance to 2010, the year when "the Armenian army itself turns 18" (officially marked January 28) – the official call-up age in Armenia. To questions raised by students regarding steps being made by the ministry to tackle these problems and whether special "military-patriotic" textbooks would be published for students, Ohanyan promised that "these matters will be addressed in the course of the year." The minister disagreed with the opinion that young men in Armenia do not want to serve in the army, and YSU rector Aram Simonyan added that people who do not contribute to the development of the Armenian army automatically contribute to the development of the "enemy army."

Students were also curious why the large banners in the city dedicated to the 18th anniversary of the army depict not a soldier, but different TV stars, whom, some said, "they had already got tired watching on TV." Ohanyan said that the recognized phrase "Our name is the Armenian army" already says that the army is not only soldiers, but all people. To ArmeniaNow's question whether the ministry was planning reform in the army to raise discipline and deal with hazing and other malpractices, thus excluding deaths in the military in peacetime, the minister said: "Even one person whom we lose in the army is the most painful phenomenon and has become our most pressing concern today, which is directly connected with the shortage of education, lax discipline and wrong control from commanders. So we are going to take a much stricter line on this in 2010."

Source:
http://armenianow.com/news/20551/armenia_defense_minister_speaks_to_students
Georgian Premier Visits Armenia, Hints At Opening Of Key Border Crossing
Georgian Prime Minister Nika Gilauri welcomed the possible opening of the Turkish-Armenian border and urged Russia to reopen its main border gate with Georgia used by Armenia during a working visit to Yerevan on Tuesday. Gilauri and his Armenian counterpart, Tigran Sargsyan, spoke of further progress in the development of Georgian-Armenian economic ties after chairing a session of an inter-governmental commission on bilateral economic cooperation. "I am happy to conclude today that we have reached agreement on all those issues [discussed by the commission,]" Sarkisian told a joint news conference. "I am confident that solutions to those issues will contribute to political, economic and social cooperation between our countries. There is no sphere which is outside the framework of our cooperation."
"We have common projects," Gilauri said for his part. "We have done a lot together and have a lot to do in the future." The two premiers singled out the planned construction of a new high-voltage electricity transmission line that will connect the two neighboring countries. "This is a very important project which has been included in the Armenian government's 2010 program of actions and which we are going to finance," said Sargsyan. "I am convinced that construction work will get underway in full swing this year."
Official Armenian sources gave few other details of the commission meeting, saying only that it touched upon a wide range of issues of mutual interest. It was not clear if the anticipated reopening of the Russian-Georgian border was also on the agenda. The Upper Lars crossing served as Armenia's sole overland route to the former Soviet Union and Europe until it was controversially shut down by the Russian authorities in June 2006. Moscow and Tbilisi announced last month that they have agreed to allow renewed commercial traffic through the checkpoint starting from March. The announcement was welcomed by Yerevan. Gilauri hinted, however, that the reopening of Upper Lars is still not a forgone conclusion. "The opening of the Upper Lars crossing would beneficial for Armenia, and Russia should eliminate those restrictions," he said.
Armenia is heavily reliant on Georgian territory and the Black Sea ports of Batumi and Poti in particular in its transport communication with the outside world. Analysts believe that dependence could ease significantly in case of the opening of its frontier with Turkey. Gilauri asserted that his country would only welcome such a development. "We welcome the resolution of all conflicts existing in our region, as well as the opening of the Turkish-Armenian border and the normalization of Turkish-Armenian relations," he told journalists. "Diversification will be positive for all countries of the region," he said. The Georgian premier was also confident that Turkish-Armenian border opening would not have an immediate impact on Georgian transit fees levied from cargos shipped to and from Armenia.
Meanwhile, Gilauri and President Serzh Sarkisian described the Georgian-Armenian relationship as "brotherly" during talks held later in the day. "We consider Georgia a brotherly and friendly country and are ready to further deepen our relations," Sarkisian told the visiting Georgian official. "We are good neighbors and we must communicate more frequently to discuss the issues that emerge from time to time," Sarkisian added.
Source: http://www.asbarez.com/2010/01/26/georgian-premier-visits-armenia-hints-at-opening-of-key-border-crossing/
Moscow Mayor Signals Support For Yerevan Redevelopment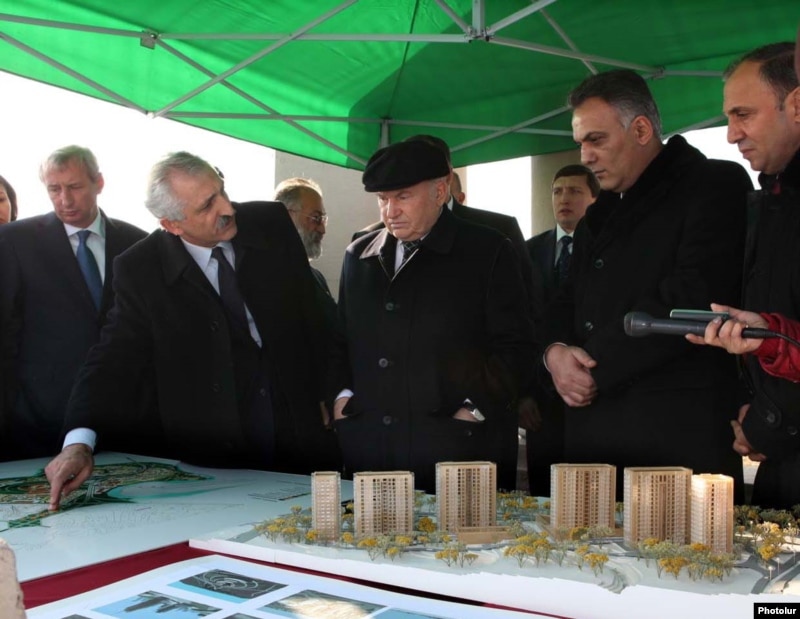 Moscow's longtime Mayor Yuri Luzhkov expressed on Friday his readiness to attract large-scale Russian investments in a massive redevelopment project in Yerevan unveiled by the Armenian authorities during his visit to Armenia. It emerged that the authorities plan to build an upscale residential and financial district in place of a rundown neighborhood perched on a hill just outside the city center. Armenian officials spoke of billions of dollars needed for making those plans a reality. Possible Russian involvement in the extremely ambitious project appeared to have dominated Luzhkov's talks with Yerevan Mayor Gagik Beglarian. The two men headed to the Noragyugh neighborhood covering about 200 hectares of land after the talks. "These proposals are very impressive. In the event of their implementation, a wonderful residential, business and cultural neighborhood will emerge in this location," Luzhkov told journalists after inspecting the site and familiarizing himself with the architectural design of the buildings that would replace Noragyugh's mostly ramshackle houses.
Luzhkov, who has presided over a massive post-Soviet construction boom in Moscow, said one of his deputies will visit Yerevan with a group of Russian investors in mid-March for more detailed talks with Armenian officials. "I think they will find interesting solutions and interesting proposals on the construction," he said. "The place is good, the project is very reasonable and good … We will therefore pay quite serious attention to this project," added the influential mayor. Luzhkov, whose wife reportedly owns one of Russia's largest construction companies, was already prepared to estimate the approximate costs involved. "Freeing up this hill and resettling people will cost more than $100 million, and every building to be constructed there, if it is going to be big, will cost from $40 million to $60 million," he said. "I think at least 50 such structures should be built in this place."
Yerevan's chief architect, Samvel Danielian, came up with an even more whopping estimate: at least $6 billion. The figure is equivalent to more than two-thirds of Armenia's Gross Domestic Product in 2009. "We plan to build here Yerevan's new international center," Danielian told journalists. "There will be a cultural section, a business section. The main foreign embassies will be represented here with their cultural missions. There will also be residential construction." Danielian added that the municipal authorities are already making plans for relocating some 1,500 families presently living in Noragyugh. All of them are to be resettled in new apartment blocks elsewhere in Yerevan, he said. "We will do everything to make sure that the residents relocate with joy," said Beglarian. "Remember this."
The Armenian capital and especially its center have already undergone considerable redevelopment over the past decade. The process has been marred by forcible expulsions of hundreds of families unhappy with the meager government compensations for their properties. The construction boom, fuelled by soaring real estate prices, was a major driving force behind Armenia's double-digit economic growth that came to an end in late 2008. The Armenian construction sector has been hit particularly hard by the ensuing recession, contracting by over 36 percent in 2009. Many of the luxury apartments build in recent years have yet to find buyers.
Source: http://www.asbarez.com/2010/01/29/moscow-mayor-signals-support-for-yerevan-redevelopment/comment-page-1/#comment-10829