Excellent speech in

London

by president Sargsyan. Even with their only twenty somewhat years of existence on the political stage, the Republican party of

Armenia

has again proven that they have more political savvy and diplomatic sophistication than all our traditional diasporan political parties combined. I for one never doubted this man's intentions nor the strategic importance of unconditional normalization of relations with Ankara. Nevertheless, I was very impressed by his rhetorical performance in London. Bravo, Mr. president.

Arevordi
***

Sarkisian To Send Turkish-Armenian Accord To Parliament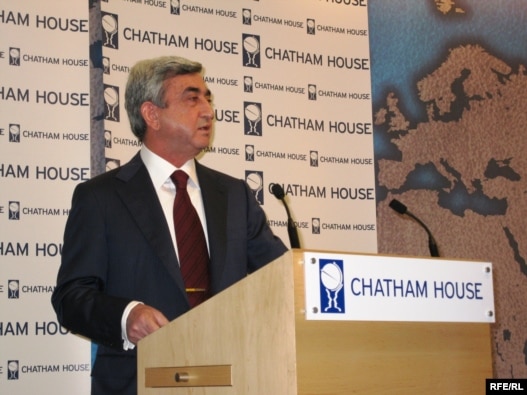 UK -- Armenian President Serzh Sarkisian delivers a speech in Chatham House, London, 10Feb2010
President Serzh Sarkisian said on Wednesday that he has decided to formally submit Armenia's normalization agreements with Turkey to the Armenian parliament for ratification despite what he called Turkish efforts to distort their essence.
Speaking during a visit to London, Sarkisian also reaffirmed his threats to annul the two "protocols" if
Ankara
drags its feet over their ratification. "If, as many suspect, it is proven that Turkey's goal is to protract, rather than to normalize relations, we will have to discontinue the process," he warned in a speech at the Royal Institute of International Affairs, a renowned London think-tank also known as
Chatham House
.
"After the meeting here at Chatham House I intend to instruct my staff to send these documents to Armenia's National Assembly for starting the ratification process," Sarkisian said. "I reiterate that as the
political leader
of the [Armenian] parliamentary majority, I exclude a failure by Armenia's parliament to ratify the protocols in case of their ratification by Turkey without preconditions in accordance with our understandings," he said. Turkey's leaders claim that Armenia itself set such preconditions with its Constitutional Court's interpretation of the protocols' implications contained in a recent ruling. They have singled out the court's conclusion that the deal can not stop Yerevan from seeking greater international recognition of the
Armenian genocide
.
"It's only the Turks that are trying to find something in it," Sarkisian scoffed during a question-and-asnwer session that followed his speech. "Nobody else, no other involved party, sees anything strange in that decision."
Like other Armenian officials, Sarkisian suggested that Ankara is simply looking for an excuse to avoid normalizing relations with Yerevan before a resolution of the Nagorno-Karabakh conflict. "Would the Turks have been happy if our Constitutional Court had ruled that these protocols do not conform to Armenia's constitution?" he said. "Maybe they would have been happy, seeing as they are trying to use every opportunity to torpedo the process."
"I can't understand why the Turks … attach so much importance to the Constitutional Court's decision. It's an integral part of our domestic decision-making process," added the Armenian leader. Ankara says Armenia's highest court essentially prejudged the findings of an inter-governmental "subcommission" of history experts which the Armenian and Turkish governments plan to set up. Its establishment is one of the key provisions of the protocols.
"Did we say in those protocols that the Republic of Armenia calls into question the genocide?" countered Sarkisian. "Did we ever say during the negotiations that we are going to hamper the process of international recognition of the genocide? If the Turks think we did, it's not our fault."
In Yerevan, meanwhile, senior representatives of Sarkisian's
Republican Party of Armenia
(HHK) reiterated that the National Assembly will not vote on the protocols before their endorsement by the Turkish parliament. Asked by RFE/RL's Armenian service when the Sarkisian-controlled assembly might start debating them, Eduard Sharmazanov, the chief HHK spokesman, said: "Everything depends on the Turkish side."
Razmik Zohrabian, a deputy chairman of the HHK, said the Turks have until the April 24 anniversary of the genocide to ratify the protocols or face their annulment by Armenia. "April is a deadline for the United States as well because Congress may recognize the Armenian genocide. That would be big blow to Turkey," he said, predicting that Ankara will have to drop its preconditions by that time.
Failure to do that, Zohrabian told RFE/RL's Armenian service, would lead Yerevan to declare the normalization process dead. "If the protocols are not ratified until then we will not have big expectations anymore," he said. Speaking at Chatham House, Sarkisian again rejected the Turkish linkage between protocol ratification and the resolution of the Nagorno-Karabakh conflict, saying it is only undermining the two processes.
"I, however, believe that the rapid normalization of Armenia-Turkey relations can set an example of a proactive problem-solving attitude that will positively stimulate and set an example the resolution of the Karabakh conflict," he said. "I would like to take one step further and inform you that I am going to invite [Azerbaijani] President Aliyev to the potential opening ceremony of the Armenian-Turkish border."
The Karabakh conflict was another major theme of the hour-long speech, with Sarkisian accusing
Azerbaijan
of provoking an "extremely dangerous" arms race in the region and condemning Aliyev's regular threats to resolve the dispute by force. He also ruled any out peaceful settlement that would result in Karabakh's return under Azerbaijani rule.
"Azerbaijan has exhausted the resources of trust in terms of autonomous status for minorities within its boundaries," he said. "It was not and is not capable of providing guarantees of even

internal security

to such autonomies."
Sarkisian did not comment on chances for the signing of an Armenian-Azerbaijani framework agreement on Karabakh drafted by the American, French and Russian mediators. The latter have expressed hope that the conflicting parties will overcome their remaining differences this year.
Source:
http://www.azatutyun.am/content/article/1954101.html