For obtaining a better geopolitical understanding of the energy rich Caspian Sea region I'm posting two articles. I believe that a better understanding of the energy distribution network of the Caspian Sea region, as well as that of the Persian Gulf, is the key to understanding the root causes of Eurasia's major conflicts today. Also relevant in this context is Moscow's landmark agreement last spring to build a major gas pipeline routing Central Asian gas to the Russian Federation, thereby giving Moscow more-or-less a monopoly of the region's energy distribution and a severe blow to the region's western interests.
Arevordi
***

As the five Caspian states - Azerbaijan, Iran, Kazakhstan, Russia, and Turkmenistan - are trying, with little success, to come to terms on the legal status of Caspian Sea, the region is gradually emerging as one of the most explosive parts of the world. Experts believe that tensions there could come to a head soon.
In Washington's Cross Hairs
The Caspian region is turning from a zone of diplomatic games into a military test site. The coastal states are actively building up their military presence: in the past decade, the number of warships on the Caspian has almost doubled, while coastal infrastructure is also being rapidly reinforced. Furthermore, "non-Caspian" countries, in particular the United States, have started demonstrating their interest and flexing their muscle in the area. Washington's foreign policy line in the Caspian region is geared toward several goals. Priority is given to creating conditions where Moscow would be unable to exercise control over U.S. energy projects. The United States is currently trying to justify its plan to increase its influence on the Caspian with the pressing need to boost security along the Baku-Tbilisi-Ceyhan oil pipeline. There has been increasing talk in the West about the need for NATO's military presence in the Caspian region.
"The North Atlantic Treaty Organization is considering the possibility of providing security for the Baku-Tbilisi-Ceyhan oil pipeline," said Robert Simmons, the NATO secretary general's special representative for the Caucasus and Central Asia. "The Baku-Ceyhan oil pipeline runs to Turkey, a NATO country, and passes through the territory of Azerbaijan, a NATO partner. The protection of energy infrastructure includes the security of this oil pipeline in addition to other energy infrastructure facilities." He said that terrorism is the biggest threat to the pipeline. Washington is also seriously concerned by the prospect of a full blown war breaking out between Turkey and ethnic Kurds based in the north of Iraq. The White House is no longer attempting to hide its fear of bomb attacks against the oil pipelines leading from rebellious Kurdistan. Furthermore, the Americans do not rule out that possible terrorist attacks could be carried out on orders from Tehran, while Washington is on the verge of war with it.
The Iran problem is yet another plausible excuse for the U.S. to strengthen its military presence in the Caspian: the Pentagon needs logistic bases in the region should it decide to use force against Tehran. The Americans intend to use Azerbaijan's territory in an anti-Iran campaign. Washington has already provided $30 million to beef up the country's coast guard. Now the United States has earmarked $135 million as part of the Caspian Guard Initiative, a framework program designed to coordinate activities in Azerbaijan and Kazakhstan with those of U.S. Central Command and other U.S. government agencies to enhance Caspian security. The program assists the two countries in improving their ability to prevent and, if needed, respond to terrorism, nuclear proliferation, drug and human trafficking, and other transnational treats in the Caspian region. According to some reports, the Pentagon has already built two radar stations, as well as command and control facilities in Azerbaijan. In addition to that, as part of Baku's partnership plan with Brussels, Azerbaijan's Navy and Border Service will be provided with advanced, state of the art military hardware and equipment.
NATO has also finalized a long term program to provide military support for all pipelines along the Caspian-Turkey-Balkans route. A NATO contingent is already present in the region, in particular at former Soviet military bases in the Azerbaijani towns of Kurdamir, Nasosnoye and Gulli: "temporary mobile forces" have been deployed there since the spring of 2006. Their strength, according to different estimates, varies between 750 and 1,300 troops, but is expected to double in the foreseeable future. This force is also designed for "strategic missions" in Georgia, its principal function being to "protect" the Azerbaijani-Georgian section of the Baku-Tbilisi-Ceyhan pipeline.

The Stakes
It is noteworthy that the Caspian "Group of Five" have different views on Western military presence in the oil region. Like Iran, Russia has long been opposed to any interference by "third party countries" in regional affairs. At their recent summit in Tehran, the "Group of Five" adopted a declaration prohibiting the presence of "non-Caspian" armed forces in the region or any use of force in resolving regional problems. The Caspian was declared "a sea of peace." The Kremlin is convinced that Washingxton's military plans in the Caspian region are not only aimed against Tehran: they also jeopardize Russia's security and sovereignty. Furthermore, Moscow is evidently attempting to neutralize the West's efforts to strengthen its presence in the Caspian region, not least through large scale energy projects. Analysts believe that one of Russia's priorities today is to thwart the construction of the Nabucco trans-Caspian natural gas pipeline to Europe bypassing Russia. The provisions of the Tehran agreements signed by the five Caspian nations can easily freeze this project skirting Russia.
However, many experts are skeptical about the Tehran documents, stressing that they are but a declaration of intent. Indeed, it is rather unlikely that Azerbaijan will deny the Americans the use of its soil. After all, Baku, which has already clashed with Tehran over disputed oil fields, is well served by U.S. military presence, especially in the event of new friction with the Iranian side. For their part, Kazakhstan and Turkmenistan, which were unable to bow out of participation in the Trans-Caspian project lobbied for by the West, are also unlikely to adopt a tough stance on U.S. military presence in the Caspian, especially considering that Washington is actively helping these republics in protecting their oil and gas deposits and is ready to invest heavily in developing sections of the Kazakh and Turkmen shelves in the Caspian Sea.

It seems that only China could show complete solidarity with Russia and Iran in their anti-U.S. stance. Analysts believe that China could soon become an additional center of influence in the region. Beijing, which is building a gas pipeline from Turkmenistan, will somehow or other have to protect its oil and gas interests. So it is quite possible that unless a convention on the legal status of the sea (lake) is signed, Chinese flagged ships could appear in the Caspian waters. Incidentally, experts believe that Tehran, which owns two percent of global oil reserves, nevertheless, regards Moscow as a potential competitor and does not rule out the possibility of clashes with the Russian side and could use Beijing as a counterweight not only against the United States, but also against Russia. And it looks like Iran is ready to bet on the new Caspian player. Meanwhile, the stakes in the Caspian game are very high: according to various estimates, this body of water contains between four and 10 percent of the world's hydrocarbon reserves.

As for Kazakhstan and Turkmenistan, thus far, they are only building up their military capability on the Caspian to protect their own natural resources. But given the disparity of the geo-political interests of the Caspian states and the lack of serious agreements in the realm of regional security, today, they can be seen as potential adversaries in a possible war. True, to date, there have been no scenarios for a military conflict in this landlocked sea: the military doctrines of the coastal states do not even use the term "border threats."

Source:
http://mnweekly.ru/cis/20071108/55288159.html
Russia Seals Caspian Deal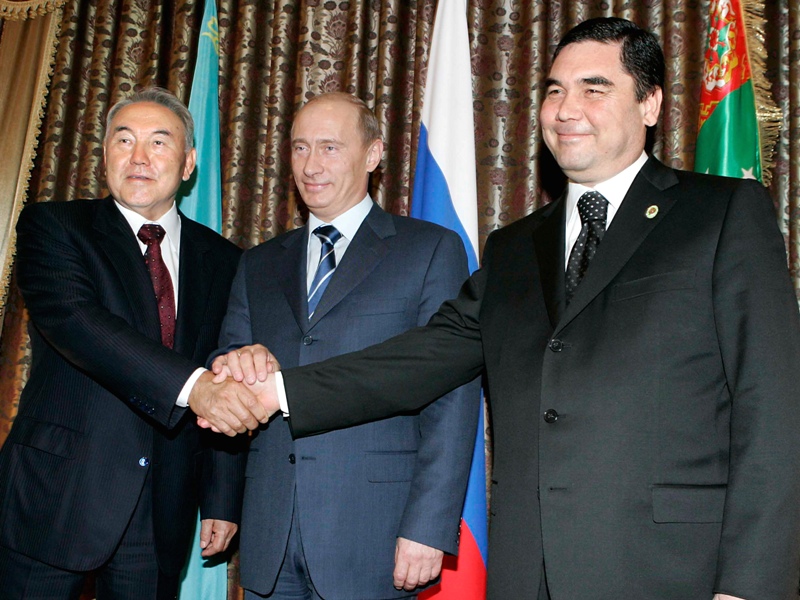 President Vladimir Putin didn't spend a week in Central Asia in vain. Finding room in his tight schedule to accommodate a weeklong trip to Kazakhstan and Turkmenistan definitely paid off as Putin brought back to Moscow a landmark agreement to build a gas pipeline routing Central Asian gas to Russia. The Kremlin strongman once again proved his commitment to strengthening Russia's role in global energy supply, offsetting the United States' effort to push forward a Trans-Caspian gas pipeline project.

While its unprecedented length might have been surprising, the trip's timing was definitely not - Putin chose an open window of opportunity that coincided with an energy summit in Krakow where Polish officials hosted a group of former Soviet nations looking to break away from Russia's 'energy stranglehold.' The leaders of Azerbaijan, Georgia, Lithuania and Ukraine traveled to Krakow to hammer out an oil transportation deal that aimed to diminish their countries' dependence on the Russian energy giant.

Kazakhstan also joined this group, but with President Nursultan Nazarxbayev receiving Putin in Astana, it was apparent that Kazakhstan's representation at the forum would be hurt. Staying at home with Putin and sending his lieutenants to Poland wasn't just a technicality for Nazarbayev. It was a clear indication of the choice he had made. Though formally backing the idea for the diversification of oil and gas supply routes, largely promoted by EU members trying to reduce Russia's energy clout, Nazarbayev still decided to support a declaration that will create a pipeline system, which will likely make its Western-backed alternative redundant. The same story applies to Turkmenistan Presixdent Gurbanguly Berdyxmuxkhamxmedov, the host of the May 12 meeting in the city of Turkmenbashi. Western majors have been courting Berdymukhammedov since his predecessor's death last fall, hoping he would give a nod to a gas pipeline project linking Turkmexnixstan with Central and Western Europe.

But Putin's diplomatic skills were apparently strong enough to convince the Central Asian leaders to throw their support behind the project, which foresees an increase of supplies of local gas to foreign markets via Russia by 30 million cubic meters by 2016-2017. According to the Turkmenbashi declarations, this will be achieved by constructing along the Caspian shore an overland gas pipeline dubbed Central Asia-Center-4, which will carry 10 billion cubic meters of gas annually, as well as through the upgrade of the existing Central Asia-Center-3 pipexline, whose throughput capacity is expected to grow to 20 billion cubic meters. This deal involves a fourth country, Uzbekistan, whose Presxident Islam Karimov had separately signed the declaration in Tashkent on May 9.

"We will rebuild the existing facilities and construct a new pipeline. This will be done in the nearest future and by 2012 we will have increased the throughput to at least 12 billion cubic meters," Putin told reporters. According to Russia's Industry and Energy Minster Viktor Khristenko, the project would be implemented in two stages. The first stage would see the current capacity expanded to 10 billion cubic meters per year by 2009-2010. The second stage could take "five to seven years" during which the throughput could be increased by a further 20 billion cubic meters, he said.

The Turkmenbashi agreements will be formalized through an intergovernmental treaty, which is to be prepared by the September 1 deadline. The project's implementation would question the logic behind constructing the U.S.-backed Nabucco gas pipeline, which was meant to transport gas from Azerbaijan, Turkxmexnistan and Iran to consumers in Central and Western Europe, with the throughput peaking at 31 billion cubic meters per annum by 2017. The Kremlin officials' jubilant mood after Saturday's declaration signing at Turkmenbashi was a bit spoiled, however, by Kazakh and Turkmen leaders' remarks suggesting they are not burying the idea of the Trans-Caspian trunkline yet.

"Diversification of gas transport routes is taking place all over the world. As regards this issue (construction of the Trans-Caspian pipeline - MN), it can be put under consideration," Berdyxmukhammexdov told reporters. The Turkmen leader also brushed off speculations that Turkmenistan's gas deposits cannot be sufficient to fill both pipes. "Don't worry, there is enough gas," he said. Nazarbayev stressed that Astana would pursue a "completely pragmatic approach" toward construction of new gas pipelines.

"For us diversification of gas and oil deliveries is advantageous. Politics has nothing to do with it. Kazakhxstan's growing oil and gas production requires such diversification," the Kazakh president said. Russian officials remain skeptical about the future of the Trans-Caspian pipeline project, which may encounter legal problems since part of its suggested route runs across the Caspian seabed. So far, the five littoral states have failed to clinch an agreement on the division of the Caspian, and as long as there isn't one, the plans to build a subsea section of the proposed pipeline could be stalled. Moreover, Moscow questions the project's commercial viability while contesting that it has a political dimension.

[...]
Source:
http://mnweekly.ru/business/20070517/55248324.html