More shock and awe from Moscow. A very significant development has occurred today. According to various news reports coming out, Russian energy giant Gazprom is said to have taken effective control over Serbia's national oil monopoly, NIS, by purchasing 51 percent of its shares. This comes only several days after the Burgas-Alexandroupolis pipeline deal was finalized between Russia and Bulgaria. This is yet another severe blow to Western plans in the region. As a result, the much heralded "Nabucco" project is dying a slow and agonizing death. Undoubtedly, these developments will have a direct impact on a wide range of geopolitical issues in the Balkans, specifically issues regarding the political status of Kosovo. Nevertheless, Gazprom continues to be, without a doubt, Russia's main weapon of mass - acquisition.
Arevordi
Russia's Gazprom Takes Control of Serbian Oil Monopoly
January, 2008
Russia added Serbia's oil monopoly to its recent string of energy acquisitions in a deal that will also allow Moscow to send more natural gas to Europe through its South Stream pipeline, it was announced Tuesday. Four days after signing a major pipeline deal with Bulgaria, the Russian state-owned energy giant Gazprom agreed to take a 51 percent stake in NIS, the Serbian state-owned oil company. The purchase was announced in a statement by the Serbian government.The deal was yet another blow to the European Union's ambitions to build its own 2,000-mile pipline to bring gas to Europe from Iran and Azerbaijan via Turkey, analysts said. The E.U.'s Nabucco pipeline project was conceived to allow Europe to reduce its dependence on Russia, which already supplies a quarter of the bloc's natural gas. Nabucco has been dogged by logistical delays, lack of political will and disputes over financing, the analysts said. "As regards the deal between Russia and Serbia, we can blame the E.U. for some of this," said Borut Grgic, an energy expert and director of the Institute for Strategic Studies in Ljubljana, Slovenia. "In all its negotiations with Serbia when dealing with the future status of Kosovo, the E.U. never brought up with Serbia the issue of energy security and how Serbia could play an important role for Europe," he added.
Gazprom has taken advantage of the disarray inside the European Union by forging ahead with its own contracts with Italy, Bulgaria, Hungary and now Serbia, as it consolidates its presence in southeastern Europe. Under terms of the provisional agreement, approved Tuesday by Serbia's cabinet, Gazprom has offered to pay $600 million for a 51 percent stake in NIS, with pledges to turn Serbia into a hub for Russian energy. The contract is to be signed Friday in Moscow. Gazprom will also commit investments of around $725 million toward modernizing Serbia's energy infrastructure. In addition, a spur from the South Stream pipeline under the Black Sea will be directed into Serbia, enhancing its role as a transit point for Russian gas.
The Russian deal coincides with a fiercely contested presidential election that has focused on plans by the United States and the European Union to recognize the independence of the province of Kosovo despite opposition from most Serbian political parties and Russia, Serbia's closest ally on the issue. The ultranationalist candidate, Tomislav Nikolic, won the most votes during the first round of voting last Sunday but not enough to secure outright victory. His pro-Western challenger, Boris Tadic, also opposes Kosovo's independence but has refused to support sanctions against countries that recognize Kosovo's statehood. The two candidates face a run-off in two weeks. Given the political context, analysts said, there was a linkage between the energy deal and the presidential elections.
"If a pro-Western candidate were to win the election, the deal with Russia might not be signed," said an E.U. energy expert who requested anonymity because of the sensitivity of the issue. "There was no need to rush through the NIS deal, but the cabinet did it Tuesday."
Source:
http://www.nytimes.com/2008/01/23/wo...html?ref=world
Serbian PM praises oil and gas agreement with Gazprom
The joint construction of a stretch of a natural gas pipeline with Russia's Gazprom under the South Stream project will turn Serbia into a regional economic leader, Serbia's prime minister said on Tuesday. The Serbian government approved on Tuesday an international agreement on cooperation with Russia in the oil and gas sector, which includes the sale of a majority stake in state-owned Serbian oil monopoly Naftna Industrija Srbije (NIS) to Russia's Gazprom, the development of Serbia's natural gas transportation system under the South Stream project, and an increase in the capacity of underground gas storage in Serbia. The agreement is expected to be signed on January 25 in Moscow.
Gazprom offered $580m for NIS last month, and the European Union subsequently urged Serbia to make sure its interests were "objective." The mooted deal again raised fears in Europe over perceived growing energy dependence on Russia. Prime Minister Vojislav Kostunica said that after the agreement is signed Serbia will become more stable and will "turn into an energy leader in the region." The South Stream pipeline proposed by Russia's Gazprom and Italy's Eni is a rival project to the Nabucco pipeline backed by the European Union and United States, which will pump Central Asian gas to Europe via Turkey bypassing Russia. The pipeline will run from Russia's Black Sea coast under the sea to Bulgaria, where it will branch off to different destinations in the European Union, supplying 30 billion cubic meters of gas annually.
In the fall of last year a delegation from Gazprom visited Serbia, where company's CEO Alexei Miller voiced the gas giant's intention to bid for a stake in the state-run NIS after meeting with Serbian President Boris Tadic and Prime Minister Vojislav Kostunica. Serbia initially planned to sell a 25% stake in NIS for $300 million and oblige the buyer to invest another $250 million in the development of the company. The company is estimated as being worth $1.2 billion. In December 2006, Gazprom, the Serb government, and Serbia's state-run Srbijagas signed a memorandum of understanding, expressing their interest in the construction of a new natural gas pipeline through the Balkan country's territory to ensure uninterrupted gas supplies to European countries.
Source:
http://en.rian.ru/world/20080122/97551077.html

Russian gas will be a crucial factor in the Serbian presidential election

Serbia's government on Tuesday gave the green light to a gas deal with Russia for Gazprom to buy Serbia's largest oil and gas firm NIS and gain a more solid foothold in the Balkans. But the biggest deal between the two countries could be put in jeopardy if Serbian nationalist Tomislav Nikolic wins the presidential election on February 3. Kommersant sources report that Moscow is determined to try to influence the election campaign in Serbia to make sure incumbent president Boris Tadic stays in power.

Gazprom's Balkan Campaign
The Serbian government empowered Infrastructure Minister Velimir Ilic to sign the draft gas deal. "The agreement is going to be signed in Moscow on January 25, and this is by far the best news for Serbian businessmen and our people," Mr. Ilic said in an interview with Belgrade's B92 radio. A Kommersant source familiar with the course of talks said that Industry and Energy Minister Viktor Khristenko would sign the deal as representative of the Russian party. The agreement will be carried out by Gazprom. Once the agreement is signed, Gazprom Neft and the Serbian government will enter talks on the terms of sale and further development of state-owned Naftna Industrija Srbije (NIS), Gazprom Export and state-owned Srbijagas on the construction of the gas pipeline and the purchase of underground gas storages in the town of Banatski Dvor, the Serbian government said in a statement. Mr. Ilic added that Tuesday's session of the government did not discuss the money aspect of the deal but said that it would be agreed at talks of a working group of the Serbian government and Russia before the deal is signed.
Gazprom Neft would not elaborate on the terms of the deal but said that talks are still on. The company's Vice-President Alexander Dybal told Kommersant that confidentiality is Serbia's requirement for the deal. NIS owns oil refineries in Pancevo and Novi Sad with the total capacity of 7.3 million tons and two chains of gas stations which account for 72 percent of the country's retail and wholesale market. The Serbian federal budget draws 20 percent of it from NIS's taxes. NIS's assets were estimated to be worth $1.9 billion at the end of 2007. Underground gas storage facilities in Banatski Dvor, which are situated 40 kilometers away from the Romanian border, are the only in the country and has the capacity of 800 million cu. meters. Serbia's government is selling to Gazprom Neft a controlling stake in NIS without mapping out any conditions. In November, Gazprom offered to buy 51 percent in NIS for €400 million and giving investment obligations worth €500 million. A Kommersant source close to the talks confirmed that the deal would mentioned these figures but "Gazprom will improve the terms offering additional extras". Another €1 billion is to be invested in the construction of the gas pipeline and underground storages, according to the source.
The fact that Serbia accepted Gazprom's offer destroys plans to privatize NIS in a tender, which was announced two years ago. Initial terms of the tender for NIS mentioned the sale of the controlling stake to a strategic investor with a gradual increase of the share up to 49 percent as capital investments will be proceeding. The prospect of having no control in the company put off Russia's LUKOIL and Rosneft from bidding at the tender. The sale of the company to Gazprom without the tender enraged Serbian Prime Minister Vojislav Kosnutica's political opponents. Economics Minister Mladjan Dinkic said that a tender would have outbid Russia's price for NIS five- or even eight-fold. The signing of the package of deals with Serbia means that the route of the South Stream pipeline is finally settled. Gazprom Export CEO Alexander Medvedev said in an interview with Serbian journalists last week that there are two possible routes for the pipeline. It could go from Bulgaria to Serbia, Hungary and then to Austria till the terminal of Baumgarten or from Bulgaria to Romania and Hungary.
Valery Nesterov from investment firm Troika Dialog lauded Gazprom's deal in Serbia as energy assets in Central and Western Europe as such are hard to buy for Russian companies. "After many futile attempts of Gazprom to buy assets in Hungary and Romania this is the first big success which was achieved due to Russia's package deal," the analyst said. He believes that the package was less expensive for the Russian gas monopolist than $2.7 billion that Kazmunaigaz paid for 75 percent in Rompetrol. However, Mr. Nesterov would not compare the deals directly since Kazmunaigaz paid a market premium for the breakthrough to the European market and expresses interest in increasing its holding to 100 percent. Valery Nesterov believes that Gazprom Neft will stop at the controlling stake.
"Even if we forget about the price, it is a profitable purchase give a high profitability of oil refining," said Konstantin Reznikov from Dresdner Kleinwort. He also noted that Gazprom Neft has quite enough of refining capacity. Gazprom Neft and its share in Slavneft are able to refine up to 80 percent of oil it produces. But Kommersant's source in Gazprom said that new refineries would be very important for Gazprom Neft given the ownership of Tomskneft. Mr. Reznikov adds that like LUKOIL Gazprom Neft is going to have to face the need of modernizing the old factories in Eastern Europe, which, however, does not make the deal less lucrative. Gazprom Neft will soon audit units of NIS to estimate the amount of investments and time for the reconstruction and modernization of the plan, a source in Gazprom said.
Moscow's Serbian Card
However, the implementation of the biggest energy deal in Russian-Serbian cooperation could be put in jeopardy due to the volatile situation in Serbia. Sunday's presidential election did name the next Serbian leader. The leader of the Serbian Radical Party Tomislav Nikolic mustered 39 percent of the vote while EU-leaning incumbent leader Boris Tadic came in second with 35 to make up the run-off on February 3. Following the poll, the third candidate and Economics Minister Velimir Ilic lashed out at Boris Tadic saying he wished Mr. Tadic would lose in the run-off. Some analysts in Belgrade considered it as a sign that Boris Tadic would not get Prime Minister Kostunica's support either. The 7.6 percent that Velimir Ilic got in the Sunday poll would go to Tomislav Nikolic to give him a safe win. Analysts agree that the Vojislav Kostunica's opinion would give a crucial lead to either of the candidates in the run-off. Earlier Mr. Kostunica supported Velimir Ilic.
The result of the poll would define the country's course after the unavoidable loss of Kosovo as its independence is now a matter of several weeks. Although both Boris Tadic and Tomislav Nikolic are strongly against Kosovo's independence, their views differ on what Belgrade should do after Europe and the United States recognize Kosovo. Boris Tadic is not going to compromise Serbia's European choice in any ways and is likely to refrain from harsh rhetoric and demarches while Tomislav Nikolic threatens to break relations with every country that recognizes Kosovo. It means that Tomislav Nikolic's victory on February 3 would mean a break-up with leading Western nations and isolation for Serbia to turn it into a new Balkan rogue nation.
Source:
http://www.kommersant.com/p844610/r_...a_Gazprom_NIS/
In related news:
Serbian victory for Putin and Russia Inc

Russia will reap its first big reward today for supporting Serbia in trying to stop Kosovo from declaring unilateral independence. Next week the European Union may suffer a serious reverse for doing the opposite, if Serbia elects a hardline nationalist president. The price of Kosovo's freedom is high. Gazprom, the Russian state-controlled gas monopoly, is to acquire a majority shareholding in NIS, the Serbian state oil monopoly, and in return incorporate the former Yugoslav republic into its proposed South Stream gas pipeline that will run under the Black Sea via Bulgaria to Greece and Italy.
The deal has already been approved by the Belgrade government, although the price to be paid for NIS has not been finalised. Whatever happens, Gazprom will get a bargain, as well as a customer for South Stream rather than the rival Nabucco pipeline project, intended to reduce EU dependence on Russian gas, without having to submit to any competitive bidding process. What has Russia done to deserve such favourable treatment? It has blocked a resolution in the United Nations Security Council to endorse Kosovo's independence. That will not stop the process, but it makes it much more difficult for other countries to grant the future state formal recognition. Although the US and most EU states will recognise it de facto, Kosovo will be left in a sort of legal limbo. That suits President Vladimir Putin in three ways. First, he is profoundly opposed to any process of national self-determination that allows a country such as Kosovo to declare independence unilaterally, rather than by agreement with the country from which it is separating. Today's Russia, after the collapse of the Soviet Union, is determined not to allow any other of its constituent parts to break away. That is why Moscow fought two bloody wars in Chechnya. Although Mr Putin hints that breakaway regions such as Abkhazia - part of Georgia, not Russia - might follow Kosovo, all the evidence suggests he wants nothing of the kind.
Second, he can exploit differences between EU members and the US. He knows that countries such as Spain, Greece and Cyprus hate the idea of self-determination, fearing it might be copied by Basque separatists or Turkish Cypriots. They are very unhappy about the precedent to be set by Kosovo. Best of all for the Kremlin, however, is the third benefit: the sweetheart deal for Gazprom. Its strongest supporter in Belgrade is Vojislav Kostunica, the prime minister, because he thinks Russia deserves a reward. Serbia also needs the gas. Mr Kostunica got his way in cabinet this week because the pro-EU party in the government, the Democratic party of President Boris Tadic, desperately needs his backing to help Mr Tadic win the second round of the ongoing presidential election. In the first round last Sunday he trailed behind Tomislav Nikolic, nationalist leader of the anti-EU Radical party. Mr Kostunica is notorious for not showing his hand. Mr Nikolic may very well end up winning the run-off on February 3. That would be a disaster for EU relations with the most important country in the western Balkans.
Analysts in Moscow say Mr Putin might prefer Mr Tadic to win. He does not want to do business with an isolated Serbia. They dismiss suggestions that Russia's opposition to Kosovar independence reflects some sort of Orthodox Christian, Slavic solidarity with the Serbs. It is far more likely to be related to the Gazprom deal. This is classic behaviour by Russia Inc, a Russian state driven by money, not ideology. There is also a strategic motive, although it is probably secondary. Every energy customer won by Gazprom further justifies construction of the South Stream gas pipeline rather than the alternative Nabucco pipeline to link central Asian suppliers via Turkey to Europe. Nabucco already has problems getting enough gas supplies to justify its construction. It will never get them without customers. Mr Putin must be laughing all the way to the bank.
Source:
http://www.ft.com/cms/s/0/033ddc78-c...077b07658.html
Russia seals $2.2B Serbia gas deal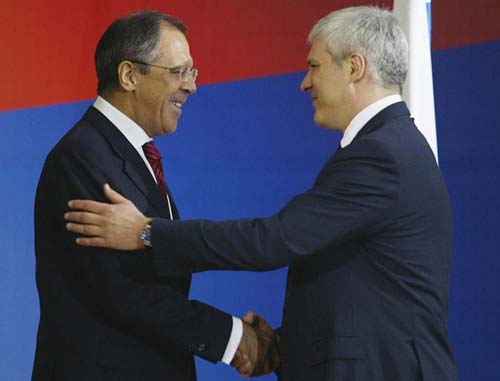 Serbia has signed a multibillion-dollar deal that would make it a key hub for Russian energy supplies and strengthen Moscow's dominance of the European energy market. The agreement includes building a branch of a prospective major natural gas pipeline and a huge gas storage facility in Serbia. A separate agreement also lays the groundwork for Russia's state gas monopoly, OAO Gazprom, to acquire a controlling stake in Serbia's state oil company NIS. "The agreements signed would make Serbia a key hub in the prospective network of Russian energy supplies to southern Europe," Russian President Vladimir Putin said after Friday's signing. "This network will be long-lasting, reliable, highly efficient and -- what is very important -- help boost energy supplies to Serbia and the entire European continent."
The agreements, which Serbian officials have estimated as worth at least $2.2 billion, would include building a branch of the prospective South Stream natural gas pipeline in Serbia. South Stream would run under the Black Sea from Russia to Bulgaria, from where it would branch off. The section through Serbia would carry at least 10 billion cubic meters a year, Gazprom CEO Alexei Miller said. The 550-mile, $15 billion project undercuts the prospective United States and EU-backed Nabucco pipeline designed to ease Europe's reliance on Russia by carrying gas from the Middle East and Caspian countries other than Russia via Turkey.
Serbia President Boris Tadic said the deal would bolster his country's standing by making it a key transit country for energy supplies to Europe.
"This agreement has a huge strategic importance for Serbia," Tadic said. "It will strengthen Serbia's strategic positions in southeastern Europe, since it will serve as a transit point for gas supplies to the EU's southern flank." Belgrade has turned increasingly away from the West and toward Russia, which has supported Serbia in the debate over independence for the province of Kosovo.
Tadic and Serbian Prime Minister Vojislav Kostunica both thanked Moscow for its support on Kosovo at the start of the talks with Putin. "Serbia very deeply respects the position of Russia on Kosovo," Tadic said at the start Friday's talks with Putin. "We will defend our interests in Kosovo, operating on the basis of international law and we will never do otherwise."
Russia has used the rift to strengthen business and diplomatic ties to Serbia, with which Moscow has historic cultural and linguistic ties. Serbia endorsed the energy deal after Putin won Bulgaria's support last week for the South Stream project. The terms of the deal for Gazprom to acquire a 51 percent stake in Serbia's state oil company NIS were not announced. But Serbia's Energy Minister Aleksandar Popovic has confirmed reports that Russia offered $600 million -- just one-fifth of the company's estimated market value -- and an additional $730 million in modernizing the run-down company. Popovic said Tuesday that Serbia would try to better the price in further negotiations.
Source:
http://edition.cnn.com/2008/BUSINESS...sia.serbia.ap/
Putin says Serbia can count on Russia
President Vladimir Putin said on Friday that Russia was categorically opposed to independence for the Serbian province of Kosovo and added that Belgrade could count on Moscow as a reliable friend and partner. Putin told reporters after meeting Serbian leaders at the Kremlin that Kosovo independence "would cause serious damage to the whole system of international law, bring negative consequences for the Balkans, for the world and for stability in other regions".
Source:
http://www.reuters.com/article/europ...s/idUSL2546322
Nikolic not ruling out Russian military base in Serbia
Tomislav Nikolic, the presidential candidate, who won the first round of the presidential elections in Serbia, would not object to the deployment of a Russian military base in their country, if this could consolidate its security. He said so in an interview with the Nikkei newspaper, the leading economic newspaper of Japan, which was published on Friday. "If the United States deploys its missiles in Europe for protecting their country against terrorism, Russia could in the same way create its stronghold in Serbia," he continued. He even does not rule out a possibility of the deployment of Russian nuclear missiles in their country. "There is reason to hold talks on the problem, if this could make a contribution to ensuring Serbia's security," he said. Tomislav Nikolic, the leader of the Serb Radical Party, got 39.9 per cent of votes in the first round. His rival, President Boris Tadic, got 35.4 per cent. The second, the decisive round of voting will take place on February 3. Both presidential candidates are going to hold consultations in Moscow before the second round.

Source:
http://www.itar-tass.com/eng/level2....4530&PageNum=0