Russia Led Arms Sales to Developing World in '05
Russia surpassed the United States in 2005 as the leader in weapons deals with the developing world, and its new agreements included selling $700 million in surface-to-air missiles to Iran and eight new aerial refueling tankers to China, according to a new Congressional study. Those weapons deals were part of the highly competitive global arms bazaar in the developing world that grew to $30.2 billion in 2005, up from $26.4 billion in 2004. It is a market that the United States has regularly dominated. Russia's agreements with Iran are not the biggest part of its total sales — India and China are its principal buyers. But the sales to improve Iran's air-defense system are particularly troubling to the United States because they would complicate the task of Pentagon planners should the president order airstrikes on Iran's nuclear weapons facilities.



The Bush administration has vowed a diplomatic solution in dealing with Iran. But as United Nations diplomats argue over potential sanctions against Iran for its nuclear ambitions, Russian officials have expressed reluctance to vote for the most stringent economic sanctions, partly owing to Moscow's extensive trade relations with Tehran. Russia's weapons sales to China also worry Pentagon planners. Although China has joined the United States in partnership to press for a resumption of six-party talks to end North Korea's nuclear weapons program after its recent test, Taiwan remains a potential flash point between Beijing and Washington.



Thus, China's ability to refuel its attack planes and bombers to enable them to fly farther from Chinese soil could require the United States Navy to operate even farther out to sea should the United States military be called to deal with a crisis in the Taiwan Strait. That would have an impact on the range and number of air missions of United States Navy aircraft launched from carriers. Details of the specific weapons deals in the global arms trade last year are included in an annual study by the Congressional Research Service that is considered the most thorough compilation of statistics available in an unclassified form. The report was delivered to members of Congress on Friday.



Among other arms transfers described in the study was a statistic that a single, unnamed nation — but one identified separately by Pentagon and other administration officials to be North Korea — shipped about 40 ballistic missiles to other nations in the four-year period ending in 2005, the only nation to have done so. Transfers of these weapons are prohibited under international agreements to control the trade of ballistic missiles.



United Nations sanctions passed earlier this month after the North Korean nuclear test include a new and specific ban on trade or transport of ballistic missiles and missile parts to or from North Korea. The report, entitled "Conventional Arms Transfers to Developing Nations," found that Russia's arms agreements with the developing world totaled $7 billion in 2005, an increase from its $5.4 billion in sales in 2004. That figure surpassed the United States' annual sales agreements to the developing world for the first time since the collapse of the Soviet Union.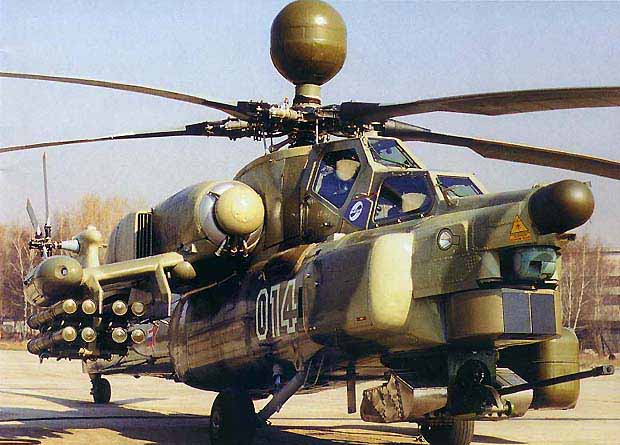 France ranked second in arms transfer agreements to developing nations, with $6.3 billion, and the United States was third, with $6.2 billion. The leading buyer in the developing world in 2005 was India, with $5.4 billion in weapons purchases, followed by Saudi Arabia with $3.4 billion and China with $2.8 billion. The total value of all arms sales deals worldwide, when counting both developing and developed nations, in 2005 was $44.2 billion.



The Russian sales in 2005 included 29 of the SA-15 Gauntlet surface-to-air missile systems for Iran; Russia also signed deals to upgrade Iran's Su-24 bombers and MIG-29 fighter aircraft, as well as its T-72 battle tanks. "For a period of time, in the mid-1990s, the Russian government agreed not to make new advanced weapons sales to the Iran government," wrote Richard F. Grimmett, author of the study by the Congressional Research Service, a division of the Library of Congress. "That agreement has since been rescinded by Russia. As the U.S. focuses increasing attention on Iran's efforts to enhance its nuclear as well as conventional military capabilities, major arms transfers to Iran continue to be a matter of concern."


Russia also agreed in 2005 to sell China eight of the IL-78M aerial refueling tanker aircraft, according to the study. In 2005, the United States led in total arms transfer agreements, when deals to both developed and developing nations are combined. The total was $12.8 billion, down from $13.2 billion in 2004. The report charted no blockbuster military sales deals by the United States in 2005, and the total in many ways was reached by sales of spare parts for weapons purchased under previous contracts. France ranked second in total sales, with $7.9 billion, up from $2.2 billion in 2004. Russia was third when sales to developing and developed nations were combined, with $7.4 billion, up from $5.6 billion in 2004. The study uses figures in 2005 dollars, with amounts for previous years adjusted to account for inflation.

Source:
http://www.nytimes.com/2006/10/29/wo...gewanted=print
Russia to sell arms worth $6 bln in 2006 - Putin

Russia may receive some $6 billion on sales of weapons and military hardware in 2006, the president said Thursday. Russia's military hardware "enjoys high demand in the world. This year we will reach a level of $6 billion," Vladimir Putin told a meeting of the commission for military and technical cooperation. Russia's state arms export monopoly Rosoboronexport, the country's sole state intermediary in the sphere of military hardware exports and imports, said earlier one of its priorities was to expand the geography, range and volume of Russian armament and equipment supplies to regional markets. The company is completing talks on the sale to China of about 50 Su-33 Naval Flanker ship-borne fighters, worth $2.5 billion. If successful, this will be Russia's second most expensive arms sale contract after a $3 billion agreement for the assembly of 140 Su-30MKI fighters in India by 2014 under a Russian license. According to the Pentagon, China buys about 95% of its new weapons from Russia. Its 2006 Annual Report on the military power of the People's Republic of China said Russia remains the leading supplier of weapons to China, and continues to cooperate with the country on a variety of technical and logistics issues, enabling China to maintain and modernize its large military potential.

China has bought Su-27 Flanker fighters and Su-30 Flanker interceptors, AA-12 Adder medium-range air-to-air missiles, SA-10 Grumble, SA-15 Gauntlet and SA-20 Triumf surface-to-air missiles, 3M-54E (SS-N-27B) anti-ship cruise missiles, Kilo-class diesel submarines, Sovremennyi-class destroyers, Il-76 Candid transport planes and Il-78 Midas in-flight refueling tankers, according to Pentagon analysts. The Pentagon said that in 2000-2005 China concluded a series of contracts on military hardware deliveries with Russia worth $13 billion, and has already received $11 billion worth of weaponry under the deals. Russian government officials have said Moscow is not afraid of strong competition on the Chinese arms market if the EU lifts a ban on arms sales to China, imposed in 1989, following the repression of student demonstrations in Tiananmen Square. Recently, however, several EU members, including France and Germany, have proposed the embargo be lifted because China has improved its human rights record. South America is also a lucrative market for arms exporters. Russia will deliver the first two Su-30MK2 Flanker multi-role fighters to Venezuela by the end of 2006 under a $1-bln contract on supplies of 24 fighters and 30 helicopters signed in July prior to this year's visit to Russia by Venezuelan President Hugo Chavez. Russian-made fighters will substitute American F-16 and French Mirage fighters currently deployed by the Venezuelan air force. Moscow also intends to boost its military technical cooperation with African countries, including by establishing maintenance centers for Russian-made armaments and equipment.

The Soviet Union supplied arms to many African countries in the ideological standoff with the West, and Russia has been seeking to re-establish contacts under President Putin. Rosoboronexport announced it had signed deals worth $7.5 billion with Algeria in March. Rosoboronexport earlier highlighted its strengthening cooperation with traditional African importers of Russian weapons - Algeria, Libya, Angola, Ethiopia and Uganda - as well as progress in cooperation with Morocco, Botswana, Namibia, Mozambique and Burkina-Faso. The company has said it is proposing competitive projects on supplies of new armaments, as well as maintenance of old equipment. In July this year, Washington imposed sanctions on Rosoboronexport and combat jet maker Sukhoi as part of U.S. efforts to stop the export of arms to Syria and Iran, a move the arms exporter said reflected unfair competition and resistance on behalf of some players on the world arms market. The two companies, as well as several counterparts from India and North Korea, were accused of violating the U.S. Nonproliferation Act of 2000 by selling weapons to Iran. Russia denied any wrongdoing, saying all its weapons deals are in line with international regulations. The sanctions were lifted in mid-November, with Washington's decision announced at a meeting of the U.S. and Russian leaders on the sidelines of the Asia-Pacific Economic Cooperation (APEC) summit in the Vietnamese capital, Hanoi.

Source:
http://en.rian.ru/russia/20061207/56604693.html
In related news:
Israel blames Russian rocket launchers for its setbacks in Lebanon

Nice Israeli Denfence Forces propaganda images and... their antidote.

Hizbullah has, reportedly, already destroyed at least one armor division out of a total of seven that the IDF relies upon. These losses have jeopardized Israel's blitzkrieg strategy and have lead the latter to limit its ground campaign to the pace of infantrymen. The Lebanese Resistance uses upscale Russian anti-tank rocket launchers that not only punch holes through Israeli Merkava, but also through US-made tanks. Viktor Litovkin analyses the growing argument between Tel-Aviv and Moscow. Israeli Public Security Minister Avi Dichter and Defense Minister Amir Peretz said Hezbollah was using modern anti-tank weapons of Russian make, specifically the RPG-29 Vampirs with a tandem warhead. Such statements have perplexed Russian arms experts, but they agreed to talk with me if I did not mention their names.

"As usually happens in war, either side can interpret our words in its favor, and we don't want that. We are neutral, and do not want to be accused of bias," one of them said. The main point they made is this: the fact that Hezbollah militants are armed with RPG-29 handheld anti-tank grenade launchers does not mean that they received them from Syria, which acquired them in the course of military-technical cooperation with Moscow. A suspicion is not a fact. Facts must be proved by documented evidence, but there is none.

The fragments of projectiles and the tailpiece, which the Israelis have sent to us, do not provide any evidence of anything. They do indeed bear the letters of the Russian (Cyrillic) alphabet, but this is not enough for a complete examination. We have to look at the serial numbers of the weapons in order to determine where they were made, who sold them, and to whom. The experts explained that the RPG-29 Vampir with a tandem HEAT (high explosive anti-tank) PG-29V warhead was developed in the late 1980s when tanks acquired reactive armor. The Soviet army received them in 1989. After the disintegration of the Soviet Union and the Warsaw Pact, these grenade launchers and their projectiles could be found in almost all the newly independent ex-communist nations. They were even produced in some of them. Trying to establish whose grenades are hitting Israeli tanks will be pure guesswork.

If a contract on arms supplies is official, or "white", it always mentions the end user. But apart from white contracts there are semi-official, or "grey", exports, and even "black", which are unofficial and illegal. Anyone from any country could sell RPG-29s to the Middle East, the Palestinians, Hezbollah, Hamas, or any other armed group. Elaborate set-ups could be used to do so. The experts did not name countries or companies, acting according to the innocent-until-proven-guilty principle, but many have already been proven guilty. Trials of illegal arms merchants have long ceased being a sensation. If senior officials have suspicions, or even make public accusations, they should back their statements with documents. Without facts this is idle talk and even political scheming.


The military experts observed that talk of "wrongful use of Russian weapons" starts whenever one of the sides has setbacks at the front lines. This is what the Americans did in Vietnam, and this is what they are doing in Iraq more than twenty years later, when they blame Russia for the fact that the militants are fighting with Russian arms. What other arms could they have if Iraqi leaders were getting them officially from the Soviet Union for almost 30 years? Now Israeli officials have followed suit. The experts said that in accusing Russia of indirect support for the other side, politicians fail to realize that they admit their helplessness and discredit their own weapons and combat hardware. The Merkava tank has always been considered invincible in Israel. The Israelis were proud of its design and its upgraded reactive armor. They claimed it was the best tank in the world. Tactically, the Israeli army has used it very skillfully in the Gaza Strip and the West Bank. Merkavas entered rural districts only when they were supported by helicopters, and had direct and stable communication with them.

But, apparently, there are not enough helicopters for tank support on Lebanese territory. The crew of any tank can see very little. They do not know what is happening on the sides or in the back. It is an easy target for any militant, who can hide in the bushes or behind a jamb. He does not need to attack a Merkava from the front, where it does indeed have excellent protection. He can hit it from the side, the rear, or the space between the running gear — any tank has many vulnerable spots. Perfect weapons simply do not exist. So why complain about a Russian grenade launcher? The experts thanked the Israeli ministers for the free promotion of Russian weapons, but repeated they had nothing to do with this. They observed that Israeli tanks were hit in Lebanon, not in Israel. Members of Hezbollah, no matter what emotions they may evoke, are mostly citizens of Lebanon, and have a lawful right to defend their land against the aggressor. At this point the experts said that they were reluctant to go into politics. They switched back to weapons, and added that Israel was not only using its own weapons.

The Merkava is an Israeli tank, but the M-113A1/A2 and M-577A2, on which Israeli soldiers drive into Lebanon, are of American make. The same applies to the following helicopters: the AH-1E/Bell-209, Chechnya-53D Stallion, UH-60 Blackhawk, S-70A, and assault AH-64 Apache. All their artillery — the AMRAAM, AIM-120B, AIM-95, and even the MLRS 227 multiple-launch rocket systems — were also made in the United States, not to mention assault aircraft, bombers, and fighters. The experts asked rhetorically: "Why blame anyone, if you are bombing a foreign country with foreign weapons?" I did not argue with them. As a journalist, I merely try to familiarize readers with an opinion, which is different from what some Israeli leaders do regarding the "participation" of Russia and its weapons in the bloody conflict in the Middle East.

Source:
http://www.voltairenet.org/article143068.html