W
e are currently seeing a steady escalation of tensions across the globe. This all has to do with the West's attempt to gain global domination before the Russian Federation (and to a lesser extent China) become limiting factors for it. I believe all this will eventually come to a climax within the near future; and all it will take is a single shot. One of my primary intentions of starting this blog about Russia's emergence as a super power was to inform the reader that Armenia's best chance for survival and prosperity lies with closer relations with Moscow and not with Washington or Brussels. And the other reason for this blog was to inform the reader of relevant news developments concerning the Russian Federation because there is a virtual blackout in the USA on real/accurate news regarding the Russian Federation. I can't yet fully explain why this is. However, once one places all the major global hot spots - Persian Gulf, Caucasus, Central Asia, Middle East, Balkans, South America - under a geopolitical microscope one will find that the Russian factor figures prominently within them all.

So, as the 'Clintonian' saying goes, albeit with a twist: it's all about Russia, stupid...
We should all thank God that Russia has risen from its ashes and is today seeking to reestablish itself as a global power. And this has come just in the nick of time, just when the evils of West was beginning to manifest itself within various global theaters. Although things are still dangerous today, and will continue being so in the foreseeable future, just imagine the kind of geopolitical situation the world would have found itself in had Russia continued on the course that was artificially set up for it during the Yeltsin years. What would have become of the Caucasus, the Middle East, Central Asia, Persian Gulf, the Balkans?



Although Moscow has been very assertive as of late,
in all honesty, I don't think Moscow is ready to directly take on the West as of yet. Their military hardware, although in an accelerated phase of modernization, is still very outdated and not prepared for a major global conflict. Their financial/economic situation, although awash in petrodollars, is still heavily dependent on the West. Taking the aforementioned into consideration, perhaps the West is attempting to take this opportunity to have its way with Russia - before Russia becomes truly untouchable. Nevertheless, Russia is being pushed into a corner, there is a very good chance it will fight back sooner or later.

I am not kidding nor am I exaggerating when I say: the existence of a powerful Russian Federation imposing its will within various global theaters will eventually save western civilization, the very notion of nation-states and apostolic/traditional Christianity from destruction. And Vladimir Putin will be ranked amongst the greatest of rulers.
Arevordi
Russian Missile Shield in Serbia?
2007
According to the Sunday edition of Belgrade daily Kurir, Moscow has decided to respond to the announced U.S. missile shields in Poland and Czech Republic by installing its missile shield on the river Drina, in Serbia. Allegedly, Serbia has already given its consent. Presumably, this latest development is part of the detailed plans Moscow intends to carry out in order to take Serbia and Republic of Srpska in Bosnia entirely under its wing, outside the EU/U.S. sphere of influence. The greatest majority of Serbs, disillusioned with the West during the past two decades of harsh sanctions, merciless vilification, bombardments, aggression and colonization, during which they were treated as the enemy of the West and continually punished both individually and as a collective, would welcome the more direct Russian involvement. This is especially true at the point where the U.S., UK, German, French et al. drive to dismember Serbia and sever its southern province of Kosovo and Metohija appears to be entering the final stage, goading Kosovo Albanian separatist to obstruct every attempt at negotiated settlement and declare the unilateral independence, which the Western powers have promised to recognize soon after. Twelve years after the Dayton Accords, US, EU and NATO have also continued their anti-Serbian policy in Bosnia and Herzegovina, consistently siding with Bosnian Muslims and backing their drive to obliterate Serbian Republic created in Dayton in 1995. The latest decisions of the EU High Representative Miroslav Lajcak, strongly opposed by the Bosnian Serbs, are aimed at rendering Serbian nation in Bosnia voiceless — a first step in dissolution of the Serb entity through imposed "reforms". Kurir quotes the international politics expert and university professor Darko Trifunovic saying that the possibility of installing the Russian missile shield in Serbia is very real. According to him, United States are targeting Iran for dismemberment by promising an independent state modeled after the Serbian Kosovo province to the Kurds who, together with Azerbaijanis, comprise 48% of total Iran population. Russia and China are opposed. "Serbia has been turned over to Russia not by its choice, because the West views and targets Serbia as a part of the Russian interest zone," said Trifunovic.

Pro-Western Serbs Abused by the West Like No European Nation Since WWII
Russian daily Izvestya recently noted that "pro-Western Serbs have been hammered by the West like no other European nation since the WWII [...] their common state of Yugoslavia destroyed, their people expelled from each of the former republics with the U.S., German and British help, sanctioned and finally bombed for 78 days by NATO, at the hight of cynicism, Serbs were also scapegoated and blamed for all the civil wars and all the victims." "As if twenty years of suffering was not enough, Western powers are now insisting on further destruction of Serbia and Republika Srpska, the only two swaths of land where Serbs are allowed to live and call home," Izvestya writes, concluding that Russia is the only country that can help Serbian nation regain its dignity and peace, and the only one Serbs today trust. The editorial calls for "decisive action on behalf of official Russia" which will put an end to further Western "abuse and killing of a nation."
Source:
http://byzantinesacredart.com/blog/2...le-shield.html
In other news:


Russia test-fires new intercontinental missile
Russia on Monday test-launched a new intercontinental ballistic missile, part of a system that can outperform any anti-missile system likely to be deployed, according to the officer in charge of missile forces. The missile was launched from the Tula nuclear-powered submarine in the Barents Sea in the Arctic, a statement from the Russian navy said. It hit a designated area in the Kura testing ground on the Kamchatka Peninsula on Russia's Pacific coast. "The launch was conducted from an underwater position as a part of training to test the readiness of the marine strategic nuclear forces," the statement said. A spokesman would not say what type of missile was tested. Itar-Tass news agency said the Tula carried Sineva missiles commissioned by a decree from President Vladimir Putin in July. Missile tests have become regular occurrences by the armed forces in the past few years. They are viewed by the political and military leadership as evidence of a revival of military might. The commander of Russia's strategic rocket forces, speaking after the launch, said Russia could thwart any anti-missile system that could be put in place for years to come. "The military hardware now on our weapons, and those that will appear in the next few years, will enable our missiles to outperform any anti-missile system, including future systems," Col.-Gen Nikolai Solovtsov was quoted as telling journalists. The United States plans to deploy a missile defense system in central Europe to defend against attacks by rogue states and it is not aimed at Russia, but Moscow says the system threatens its security and has promised counter-measures. Solovtsov, quoted by Russian news agencies at a site outside Moscow, said new missile systems could be deployed in the coming years in Russia, based on the Topol-M system being developed for more than a decade. He also said the proposed U.S. anti-missile systems, to be deployed in Poland and the Czech Republic, could be viewed as legitimate targets by Moscow if circumstances warranted. "We are obliged to take appropriate measures to ensure that Russia's potential for nuclear deterrence is in no way devalued," he told reporters. "I cannot rule out that should such an attempt be undertaken and in the event of a decision by top military leaders, these anti-missile sites in Poland and the Czech Republic could be selected as targets for our ... missiles."
Source:
http://www.reuters.com/article/newsO...26908520071217
Russia to double ICBM launches after 2009 - commander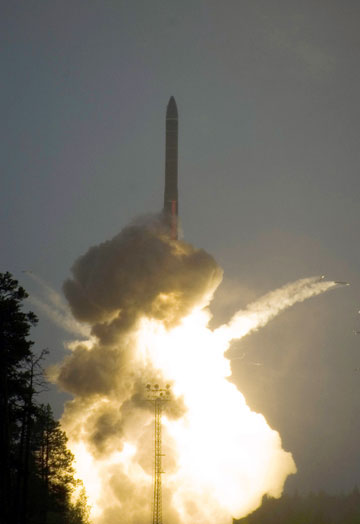 Russia will double its test launches of intercontinental ballistic missiles after 2009, the Strategic Missiles Forces (SMF) commander said on Monday. "The number of launches will almost double after 2009 or 2010," Colonel General Nikolai Solovtsov told a news conference. He said Russia is putting an average of three mobile and three or four fixed-site missile launching systems into operation every year. He said new missile systems to be adopted soon by the SMF would enable the force to infiltrate any defenses, even those that have not been established yet, but did not specify the systems. The general said that if U.S. missile defense elements are deployed in Poland and the Czech Republic, Russia's Strategic Missile Forces could aim long-range missiles at these sites. "We have to take appropriate measures to prevent the weakening of Russia's nuclear deterrence under any circumstances. And I do not rule out that... some intercontinental ballistic missiles could be aimed at these Polish and Czech facilities," Gen. Solovtsov told journalists. Russia will operate 48 fixed-site Topol-M (NATO reporting name SS-27) ballistic missiles by the start of 2008, an SMF spokesman said. The SMF said previously that the system will be equipped with multiple independently targetable reentry vehicles (MIRV) in the next two or three years, adding the new system will help penetrate missile defenses more effectively. As of December 2006, Russia's SMF operated 44 silo-based and three mobile Topol-M missile systems. Col. Alexander Vovk also said Russia will conduct 11 launches of intercontinental ballistic missiles in 2008. "A total of 11 combat training and test launches of intercontinental ballistic missiles are planned to be conducted next year," he said. He said the adoption of a new ICBM, RS-24, would greatly strengthen the SMF's strike capability and Russia's nuclear deterrent, as well as that of its allies until the mid-21st century.

Source:
http://en.rian.ru/russia/20071217/92814830.html
Russia Warns of Targeting US Shield
Russia's nuclear weapons chief, General Nikolai Solovtsov said that if the US shield undermines the Russian nuclear capability it could be targeted by intercontinental ballistic missiles. Russia's nuclear weapons chief threatened Monday to target a planned US missile defense shield in central Europe if Washington fails to take into account Moscow's worries, the Interfax news agency reported. General Nikolai Solovtsov, head of strategic missile forces, said such a decision could be taken if the US shield is seen to "undermine the Russian nuclear deterrent capability." In that case "I do not exclude...the missile defense shield sites in Poland and the Czech Republic being chosen as targets for some of our intercontinental ballistic missiles," Solovtsov said. On Saturday, the Russian chief of staff, General Yury Baluyevsky, warned the launch of US interceptor missiles could accidentally trigger a Russian retaliatory strike. Polish Prime Minister Donald Tusk denounced the comments as "unacceptable" and said "no declaration of this kind will influence Polish-American negotiations." Solovtsov, speaking hours after state television showed images of a ballistic missile being test fired from a submerged submarine at a target on the other side of Russia, said the US was untrustworthy. "If the Americans signed a treaty with us that they would only deploy 10 anti-missile rockets in Poland and one radar in the Czech Republic and will never put anything else there, then we could deal with this," he said. "However they won't sign, they just tell us verbally, 'We won't threaten you.' "They already cheated Russia once," he said, referring to North Atlantic Treaty Organization expansion into former Soviet-dominated territory after the fall of the Berlin Wall in 1989. "Verbally they already told us that when we re-unite Germany there won't be one NATO soldier there. Now where are they?" East-West relations are increasingly strained as Russia and NATO countries argue over how to ensure security in the post-Cold War landscape. Russia froze compliance last week with the Conventional Forces in Europe treaty, which imposes strict limits on deployment of troops around the country. The Foreign Ministry offered reassurance Russia had "no current plans to accumulate massive armaments on our neighbors' borders." However the decision was criticized by NATO, the US and other Western powers.

Source:
http://www.alalam.ir/english/en-News...20071217215540
Russia starts nuclear deliveries to Iran
Russia on Monday announced the start of nuclear fuel deliveries for Iran's first atomic power station, brushing aside US and Israeli claims that Tehran harbours secret bomb-making plans. "On December 16, 2007, Atomstroiexport began delivery of the fuel for the initial installation at the future Bushehr power station," the state-run corporation said in a statement. The delivery process will take up to two months to complete, Atomstroiexport said, with the Russian-built station starting to generate electricity in approximately six months time. The still-unfinished Bushehr is the Jewel in the crown of Iranian President Mahmoud Ahmadinejad's nuclear power ambitions.
Iran confirmed the Russian shipment and in a fresh show of defiance toward the West, repeated that it would refuse UN demands to give up work on enriching uranium. Israel and Western governments, led by the United States, have long argued that Iran's civilian programme is being used as cover for a bomb-making project. Russia rejects this and Moscow's position was bolstered earlier this month when the US intelligence community contradicted the White House by reporting that Iran had stopped a drive for nuclear weapons in 2003. The US report provided Russia with its "final argument," Fyodor Lukyanov, at the journal Russia in Global Affairs, told AFP.
The Russian foreign ministry stressed in a statement that deliveries were made under control of the International Atomic Energy Agency (IAEA). It added that spent fuel from Bushehr would be "returned to Russia for reprocessing and storage" -- part of a plan to ensure that the fuel does not go astray. IAEA officials monitored the sealing of the nuclear fuel two weeks ago at a factory in Novossibirsk ahead of the delivery. The decision to send fuel -- which in its current state is fit only for civilian use -- marked a diplomatic victory for Russia, which has been building Bushehr since 1995. "The Russian-Iranian cooperation on the Bushehr power station visibly demonstrates that one can effectively and reliably guarantee the realisation of national plans on developing the civilian atomic energy sector," the foreign ministry statement said.
In addition to rejecting US calls for the suspension of Bushehr, Moscow has also sold Iran anti-aircraft missiles and other high-tech weapons reportedly deployed by Iran's military in defence of nuclear installations. Western powers, led by the United States, are pushing for a third UN sanctions resolution against Tehran to punish its refusal to suspend uranium enrichment -- a process that could eventually lead to weapons-grade uranium. Russia's delivery of fuel makes the possibility of passing further UN measures increasingly unlikely however, analysts said. "Russia and China, which were already against sanctions, will now be even more confident," Lukyanov said.
Iran in any case shows no sign of buckling under the pressure. The head of Iran's atomic energy organisation Gholam Reza Aghazadeh said that enrichment was needed for "a 360-megawatt nuclear reactor in Darkhoyen" in the western Khuzestan province. "The fuel for this power station must come from Natanz," the site of Iran's uranium enrichment plant, he said. Meanwhile, the Israeli daily Maariv reported over the weekend that a delegation left Israel for Washington last week "with the goal of proving to the Americans that the Iranian nuclear weapons programme is definitely still in development."
Source:
http://afp.google.com/article/ALeqM5...KpRJ37qPnpUVGw