Russia's military-industrial-complex has been getting a lot of press coverage as of late. The following news articles were collected in a span of just several weeks between November and December, 2007.
Russia to showcase new-generation subs at maritime exhibition
2007
Russia will present its new-generation Amur-1650 class submarine at an international maritime exhibition in Malaysia, Russia's state-controlled arms exporter said on Monday. The Langkawi International Maritime and Aerospace (LIMA) 2007 exhibition will take place on December 4-8 at the Mahsuri International Exhibition Center (MIEC). "The submarines will include Project 636 [submarines] with an integrated missile complex, Club-S, and the next-generation Amur-1650 submarine," Rosoboronexport said in a press release. The Project 677 or Lada-class submarines have been designed to engage surface ships and submarines as well as to perform surveillance, mine laying, and special operation forces deployment missions. Long range anti-ship missiles, rockets, torpedoes and mines can be fired from the torpedo tubes at the bow. The ninth edition of the biennial LIMA is expected to be the biggest ever with more than 250 companies from 26 countries taking part in the aerospace exhibition alone. They include Australia, Brazil, the United Kingdom, France, Hong Kong, India, Germany, Italy, Japan, Brazil, Indonesia, Singapore and Spain.
Source:
http://en.rian.ru/russia/20071203/90765627.html
Russian strategic bombers conducted over 70 patrols since August
Russia's strategic bombers have carried out since August over 70 patrol flights over the Pacific, Atlantic, and Arctic oceans, as well as the Black Sea, a senior Air Force official said on Tuesday. Russian President Vladimir Putin announced the resumption of strategic patrol flights on August 17, saying that although the country had halted long-distance strategic flights to remote regions in 1992, other nations had continued the practice, compromising Russian national security. "Since August 17, Russian strategic bombers have conducted over 70 patrol flights and more than 217 practice launches of unarmed missiles," Major-General Pavel Androsov, commander of the Russian Air Force's strategic aviation, said at a Defense Ministry news conference. The general said bomber crews had practiced early detection and identification of potential targets and counter-intercept measures. "Every patrol flight included elements of a tactical aerial engagement," Androsov said. He also said at least 120 NATO interceptor aircraft had escorted Russian bombers during almost all their patrols, which had a total duration of over 40 hours. "Military aircraft from the U.S., Canada, the U.K, Norway, and even France escorted us [Russia's strategic bombers] in the air," the general said, adding that NATO pilots had never shown hostility towards Russian planes. Although it was common practice during the Cold War for both the U.S. and the Soviet Union to keep nuclear strategic bombers permanently airborne, the Kremlin cut long-range patrols in 1992. The decision came as a result of the collapse of the Soviet Union, and the ensuing economic and political chaos. However, the newly-resurgent Russia, awash with oil dollars, has invested heavily in military technology, and the resumption of long-range patrols is widely seen among political commentators as another sign of its drive to assert itself both militarily and politically. According to various sources, the Russian Air Force currently deploys 141 Tu-22M3 Backfire bombers, 40 Tu-95MS Bear bombers, and 14 Tu-160 Blackjack planes.
Source:
http://en.rian.ru/russia/20071204/90864261.html
Russia launches first naval power build-up in the Mediterranean in response to the US about-face on Iran
President Vladimir Putin and defense minister Anatoly Serdyukov decided to send a sortie of six Russian warships, led by the Admiral Kuznetsov aircraft carrier and the Moskva guided missile cruiser, to the Mediterranean. This will be the first prolonged stay of a Russian carrier to the eastern Mediterranean vicinity of Israel's shores and waters patrolled by the US Sixth Fleet. On its decks are 47 warplanes and 10 helicopters. The Moskva is the Russian Navy's Black Sea flagship. According to our Moscow sources, the Kremlin is determined not to be left lagging behind the new Bush administration's steps towards an accommodation with Iran, which were signaled by the US National Intelligence Estimate absolving Tehran of running a military nuclear program from 2003. DEBKAfile's military sources report that the Russian fleet, which has already set out for its new mission from the North and Black Seas, will have the use of naval facilities at Syria's Tartous port. Its presence for several months will be a complication for the Israel navy's operations opposite the Lebanese and Syrian coasts, especially if the Russians are joined at Tartous by Iranian submarines or warships. The Kremlin also decided to send a sortie of ships to the northeastern Atlantic.

Source:
http://www.debka.com/
Russia to Resume Cold War Navy Patrols

Russian warships are steaming towards the Atlantic Ocean last night at the beginning of a series of joint naval and aerial exercises designed to showcase Russia's resurgent military prowess before the world. Against a backdrop of growing international concern over Russia's rapid re-armament and its government's increasingly belligerent rhetoric, naval cruisers and air-force jets will test-fire missiles in both the Atlantic and the Mediterranean Sea over the next three months. Defense minister Anatoly Serdyukov told President Vladimir Putin that the manoeuvres would help consolidate the navy's military presence in international waters. In themselves, the exercises — which will involve an aircraft carrier, anti-submarine ships and missile cruisers -- will not cause international concern. Unlike Mr Putin's August announcement that long-range nuclear bombers would resume sorties in international airspace for the first time since the Cold War, these manoeuvres have been extensively discussed with western nations. The Russian ships are expected to visit 11 ports in 16 countries. While many western countries have cut back on military spending — so much so that a report this week claimed that the Royal Navy could no longer fight a major war — Russia has embarked on an aggressive policy to reverse years of military decline after the collapse of the Soviet Union. Russia's defence budget has almost quadrupled in the past six years and the Kremlin has announced it will spend pounds 25 billion on building new ships. In 2003, three years after Mr Putin came to power, the Russian navy resumed military exercises in earnest — though often with embarrassing consequences. With Mr Putin on board, the SSBN Arkhangelsk twice failed in its attempts to fire a dummy missile during exercises in 2004. The Russian navy announced in August that the ship launched bulava nuclear missile would be commissioned despite misfiring during most of its tests. Mr Putin has a personal stake in rebuilding the Russian navy's reputation after the sinking of the Kursk submarine, with the loss of all 118 sailors on board, during an exercise in the Barents Sea in 2000 caused the biggest crisis of his international career.

Source:
http://www.telegraph.co.uk/news/main...wrussia105.xml
Russian Navy Group Goes to Mediterranean
Russia dispatched an 11-ship aircraft carrier group to the Mediterranean Sea, the defense minister said Wednesday — part of what he said was an effort to resume regular Russian naval patrols on the world's oceans. The announcement by Defense Minister Anatoly Serdyukov is the latest move by Russia to expand its military presence internationally and flex growing economic and military strength. Speaking at a Kremlin meeting with President Vladimir Putin, Serdyukov said an aircraft carrier, two anti-submarine ships, a guided missile cruiser along with refueling ships from Russia's Northern and Black Sea fleets and 47 aircraft would be part of the group in the Mediterranean. He said the group would conduct three tactical exercises with real and simulated launches of sea- and air-based missiles and make nearly a dozen port calls. "The expedition is aimed at ensuring a naval presence and establishing conditions for secure Russian navigation," Serdyukov said in televised comments. Earlier this year, naval chief Adm. Vladimir Masorin called for restoring a permanent Russian presence in the Mediterranean, saying it was a strategically important zone for the Black Sea Fleet. Soviet navy ships used to be based at Syria's Mediterranean port of Tartus, and Russia still maintains a technical base there. Analysts have said it made no sense militarily for Russia to have a presence in the Mediterranean. Others have suggested that Russia might seek to relocate part of its Black Sea Fleet there if it fails to get an extension of its agreement with Ukraine on leasing the Sevastopol port when it expires in 2017. The naval expedition is the latest effort by Putin to breathe new life into Russian armed forces, bolstered by the torrent of oil revenues pouring into government coffers. Earlier this year, he ordered the military to resume regular long-range flights of strategic bombers. In recent years, Russia's bombers have resumed flights to areas off Norway and Iceland, as well as Russia's northeast corner, across the Bering Strait from Alaska several years ago. Still, it was unclear how much of a presence the Russian ships would have, either in the Mediterranean or elsewhere. Like other branches of military, the navy, particularly its surface fleet, suffered in the aftermath of the Soviet collapse, as a lack of funding resulted in ships and submarines rusting away in docks and berths. Last month, a group of independent military experts said Putin's government had failed to reverse the post-Soviet decline of Russia's armed forces despite repeated pledges, saying the military continues to suffer from rampant corruption, inefficiency and poor morale. The Kremlin also has failed to deliver on promises to modernize arsenals, they said. Experts also have said increasing military budgets under Putin have actually bought fewer weapons than under his predecessor, Boris Yeltsin, blaming graft as the root of the problem.

Source:
http://ap.google.com/article/ALeqM5h...LmVzwD8TBEMJG1
Russian Navy Resumes Constant Presence in World's Oceans
Russia's Navy has resumed its continual presence in different regions of the world's oceans, Defense Minister Anatoly Serdyukov told the president at a meeting in the Kremlin on Wednesday. "There are plans to dispatch ships to the northeast Atlantic and the Mediterranean Sea from now to February 3, 2008. The expedition is aimed at ensuring a naval presence and establishing conditions for secure Russian navigation," Serdyukov told Vladimir Putin. The minister said an aircraft-carrying heavy cruiser, two anti-submarine ships and a tanker left for the Mediterranean on Wednesday, where they will be joined by a Black Sea Fleet missile cruiser and a tanker. Serdyukov said a total of four warships and seven other vessels of Russia's Northern, Black Sea and Baltic fleets, as well as 47 planes and 10 helicopters, have been dispatched for the mission. Three exercises, involving the vessels and aircraft, are being planned. In mid-August, Putin announced the resumption of strategic patrol flights, saying that although the country halted long-distance strategic flights to remote regions in 1992 with the collapse of the Soviet Union and the ensuing economic and political chaos, other nations had continued the practice, compromising Russian national security. Russia's strategic bombers have since carried out over 70 patrol flights over the Pacific, Atlantic, and Arctic oceans, as well as the Black Sea, a senior Air Force official said on Tuesday, adding that NATO interceptor aircraft had escorted Russian bombers during almost all their patrols.
Source:
http://en.rian.ru/russia/20071205/91056421.html
Russia to Test Fifth-Generation Fighter in 2009
Flight tests of a fifth-generation Russian-Indian fighter will begin as early as 2009 and mass production of the aircraft may start by 2015, the Sukhoi aircraft maker said Wednesday. A Russian-Indian advanced multirole fighter is being developed from a Russian prototype by Sukhoi, which is part of Russia's United Aircraft Corporation (UAC), and India's Hindustan Aeronautics Limited, under an intergovernmental agreement signed in October. "At present we are building prototypes of the fifth-generation fighter and will soon start preparation for flight-testing, which is planned for 2009," Sukhoi CEO Mikhail Pogosyan announced at the Langkawi International Maritime and Aerospace (LIMA) 2007 exhibition in Malaysia. Pogosyan said mass production of the future fighter could begin by 2015. The new fighter aircraft, which will feature high maneuverability and stealth to ensure air superiority and precision in destroying ground and sea targets, will be built at the Komsomolsk-on-Amur aircraft-manufacturing plant in Russia's Far East. Discussing the future implementation of the Russian-Indian project, Pogosyan said joint efforts should be focused on three areas: coordination of technical specifications, application of advanced technologies, and preparation of a legal framework for future cooperation. "We have conducted preliminary discussions on these issues and now we have to work out a detailed program for the implementation of the [fifth-generation fighter] project," the official said. India and Russia have a long history of military cooperation, going back almost half a century. The existing Russian-Indian military-technical cooperation program, which lasts until 2010, lists up to 200 projects worth about $18 billion in all, according to Russia's defense ministry.

Source:
http://en.rian.ru/russia/20071206/91196743.html
Russia 'needs nuclear arsenal to match US'
A senior Kremlin hawk gave warning yesterday that Russia would lose its independence if it did not achieve nuclear arms parity with the United States. Sergei Ivanov, the deputy prime minister, told members of the military-industrial commission that Russia had to smile but also "hide a gun" in its bosom if it was once again to compete with its former adversary. "The weak are not loved and not heard, they are insulted," he said. "When we have parity they will talk to us in a different way." Although Russia has urged the US to agree further reductions in both countries' nuclear stockpiles, Mr Ivanov said that Russia had to improve its "qualitative" strike potential. The Kremlin has already announced plans to commission six or seven of its ultra-modern Topol-M intercontinental ballistic missiles a year. The Topol-M, which can to carry up to six warheads, is capable of penetrating America's most sophisticated defence systems.

Russia's nuclear modernisation programme is at the core of an ambitious plan to update the country's armed forces, which came close to total collapse during the chaotic and penurious 1990s. With East-West relations at their most strained since the Cold War, observers are watching Russia's rearmament with a concern that has grown since February, when President Vladimir Putin gave warning of a new arms race because of Washington's plans to build a missile defence shield in central Europe. Russia has already announced that it will pull out of one important Cold War treaty limiting the build-up of conventional weapons and has signalled that it could withdraw from another which forbids European countries from building intermediate-range nuclear missiles. At the same time, the Kremlin is keen to cut the size of its expensive nuclear stockpile by pushing for an extension of the 2002 Treaty of Moscow which requires the US and Russia to cut their arsenals to between 1,700 and 2,200 warheads by 2012. With the focus now on building sophisticated new missiles to replace its ageing nuclear arsenal, Russia has called for the limit to be reduced to 1,500 warheads - a proposal that has so far met with a lukewarm response from Washington.

Source:
http://www.telegraph.co.uk/news/main...wrussia208.xml
Russia boosts weaponry output by almost 25% in 2007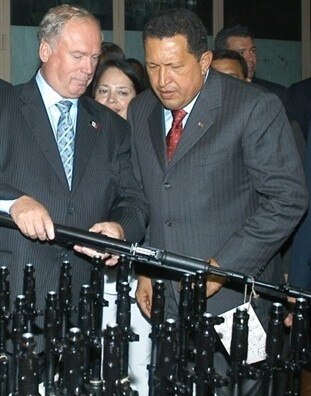 Russia increased production of weaponry and military equipment by almost 25% in 2007, year on year, a first deputy prime minister said Friday. "Production of military equipment increased by 23.1% in 2007, compared with last year," Sergei Ivanov said at a meeting dedicated to the 50th anniversary of the Military-Industrial Commission. He said the defense industry has increased overall annual production by 15.6% in 2007 compared with 2006, while production of military aircraft grew by 39.1%, electronics by 34.7% and conventional arms by 73.9%. "We will continue increasing production in the defense sector, as we have sufficient funds to do so," Ivanov said, adding that Russia had allocated $189 billion for the 2007-2010 armaments program. However, Ivanov said Russia had no plans to increase production of Topol-M (SS-27) ballistic missiles, as the annual output of six-seven missiles was sufficient to ensure Russia's national security. "We do not need to produce 30 Topol-Ms annually," the first deputy PM said. "Not everything is measured by numbers."


As of December 2006, Russia's Strategic Missile Forces operated 44 silo-based and three mobile Topol-M missile systems. Russia's Defense Ministry earlier said several dozen silo launchers and over 50 Topol-M mobile missile systems would be put on combat duty before 2015. "We do not need a multi-million personnel army, thousands of nuclear warheads or a militarized economy," Ivanov said. "Our Armed Forces must be compact, mobile and well-trained." Russia has cut its Armed Forces to about 1.1 million personnel, but military spending has increased dramatically under President Putin. According to the federal budget, defense spending in 2008 will grow another 16.3% from 2007 to 956 billion rubles ($36.8 billion), and is set to total 1.184 trillion rubles ($45.5 billion) by 2010. The first deputy prime minister said the state defense order for 2008 will amount to about one trillion rubles (about $41 billion), but warned that defense companies must use the federal funds efficiently, facing hefty fines for not meeting their production schedules.

Source:
http://en.rian.ru/russia/20071207/91399420.html
Russia successfully launches spy satellite
To enhance its military capabilities, Russia on Sunday successfully launched a Kosmos series spy satellite from a cosmodrome leased from Kazakhstan. A Proton-M rocket carrying military satellite took off from the Baikonur cosmodrome in Kazakhstan, at 5:36 am IST and was successfully placed in the designated orbit at 15:47 hours. The launch was controlled by the Space Forces' automated ground services, according to the reports. It is the third spy satellite to be launched since the beginning of the year. Simultaneously, Russia is rapidly filling gaps in its orbital cluster of GLONASS global navigational system as the Russian strategic bombers, surface and underwater warships are resuming global patrolling after a gap of 15 years following Soviet collapse.

Source:
http://www.hindu.com/thehindu/holnus...0712091860.htm