Russian-Armenian Relations - Caucasus Update Part-IV

Although a bit measured, in other words without the usual temper-tantrum we are accustomed to seeing from them, we are finally getting some Turkish/Azeri and Georgian reactions towards Medvedev's state visit to Armenia.

As I pointed out in my previous Caucasus Updates, Ankara and Baku (as well as Tbilisi) are feeling the heat now as Russia and Armenia enter a firm embrace at their very doorsteps. Russia is not in Armenia for show, it means business. And business for Moscow means a firm foothold in a stable pro-Russia Armenia, regime change in Tbilisi, expulsion of all Western interests from the Caucasus, the containment of Turkey, and no military attempts by Baku to retake Nagorno Karabakh. Although we are not privy to insider information, looking at news reports coming out of Moscow during the past several years, we can nonetheless speculate as to what Moscow's long-term plans are for the region. Some of these plans may be the construction of a major regional rail network connecting Russia to Iran via Armenia; a superhighway traversing the Black Sea and Caucasus; and the construction of a new gas/oil pipeline network under Moscow's control. Thus far, Armenia seems to be the platform, the main hub from which Moscow will be carrying out its agenda once various obstacles are negotiated.
With the West no where in sight, Moscow has embarked on a massive political offensive all across Eurasia. While regime change in Tbilisi is still being worked on, and Chechen thugs are still being gunned down like animals, the Caucasus is where Moscow has achieved some of its greatest successes and this has been in large part do to its ever blossoming alliance with Armenia. As I demonstrated in my previous writings, Moscow did not have to appear in Tsitsernakaberd, but it did, and it did so with style. Moreover, Medvedev's appearance at the Hill of Honors memorial was in itself very revealing and poignant. This was no doubt done to send a loud "Tsarist" message to Ankara. Coming at a time when tensions between Yerevan and Baku have been very strained, Medvedev's visit to Armenia may have ultimately derailed Azeri plans to militarily resolve the Nagorno Karabakh issue.

It's fascinating to me that despite it's very profitable dealings with Ankara and Baku, Moscow is openly threatening the two with the Armenian saber. Hence my characterization of Armenia being the sledge hammer Moscow has hanging over Turkish heads as it encourages Turks to work with it. [Despite ones feelings towards the Kremlin, it must be admitted that what we are currently seeing is a brilliant display of geopolitical chess by Kremlin officials.]

Yes, I realize that this is nothing personal, Russia is clearly pursing its interests in the Caucasus. Let's thank God, however, that we Armenians are an integral part of their regional interests. And let's pray to God that the Tsarist spirit continues to infect the hearts and minds of Kremlin officials. Instead of fear mongering and complaining about "losing sovereignty" (which is utterly ludicrous since a vast majority of nations on earth today are dependent on another power for survival, let alone a Caucasus nation with so few assets like Armenia) for once I would like to see us Armenians attempt to exploit this historic opportunity to its fullest potential.
After twenty somewhat years of destruction and bloodshed (mainly due to Turkish and Western interferences in the Caucasus), stability in the form of Pax Russica is descending on the region once again. There will be some hurdles along the way but the direction towards which Moscow seems to be heading today holds many promises for our embattled republic.

The Turkish author in one of the following news articles asks - "changing landscape or an old balancing act?" Much to its dismay, Ankara will finally come to the realization that what it's witnessing is definitely a changing landscape in the Caucasus. I'm confident that Turkish, Azeri, Georgian and Western reactions to Medvedev's visit to Armenia is exactly what Moscow expected. As anticipated, the geopolitical chess pieces are now falling into place. And the following quote taken from the Georgian press (reminder of the article is found at the bottom of this page) is what I have been saying for some time now:

"Viktor Yakubin, analyst on the Caucasus region is confident that a confrontation in the region between Russia and Turkey is an historic inevitability."
Yes, it's not a probability but an inevitability; Russia and Turkey are destined to clash. Such a clash will no doubt cause tectonic shifts in the political and cultural character of the region - most definitely in the favor of Russia and its allies. Despite the current complexities of the political world which has caused great upheavals in the region, the Caucasus will eventually have to fall under one of the three most powerful geopolitical influences in the Caucasus - Russian, Turkic or Iranian. For reasons that are only too obvious, Armenia's alliance and hope must remain with the Russia. Knowing well the risks of the political world, especially that of the Caucasus, we Armenians don't want Russians only with Armenia - but IN Armenia.

Arevordi
***

A Changing Caucasus Landscape or an Old Balancing Act?

During President Dmitry Medvedev's visit to Yerevan last week, Russia and Armenia were reported to have signed a series of deals in the military sphere, some of which were not made public. The most striking of these agreements, however, was a protocol that extended the lease of a Russian military base in the Armenian town of Gyumri from 25 to 49 years. The base, officially operating since 1997, presently hosts 5,000 Russian troops along with MiG-29 fighter jets as well as S-300 air defense missiles.
Medvedev maintained that the purpose of the base is to "support peace and stability in the southern Caucasus, and the entire Caucasus region." Yet many analysts, those from Turkey and Azerbaijan in particular, believe that the new deal could also be interpreted as a veiled message from Moscow, as well as a warning, to both Ankara and Baku. According to those subscribing to this view, the protocol is proof of the emergence of new alliances in the region. In fact, remarks made by Armenian authorities subsequent to the new agreement indeed strengthen such arguments. As a case in point, President Serzh Sarksyan has gone on the record as claiming that the base will extend the sphere of its geographic and strategic responsibility.
The coincidence of the recent deal with growing voices from Azerbaijan that it might resort to force to liberate its territories under Armenian occupation is another factor being cited in support of claims that the alliance of the recent past between Armenia and Russia is being consolidated again. In Ankara, however, circles close to the Turkish government don't share this pessimism. They say that the protocol is another attempt by Russia to maintain the balance between Armenia and Azerbaijan. A senior Turkish authority who shares this view maintained that the recent move is one intended to placate the Armenian government following rumors with regard to plans to sell high-tech weaponry to Azerbaijan and Russia's commitment for the resolution to the Karabakh problem.
Another senior Turkish figure I spoke with has suggested that I concentrate on the economic aspect of the visit. Indeed, Yerevan has reportedly awarded Russia with a contract to build two new reactors on the site of a Soviet-era nuclear power plant. Moreover, arms sale is rumored to be on the agenda as well. With a wry smile on his lips he told me, "The Russians have become very good businessmen and have learned how to bargain and what to sacrifice in return for economic gain."
However, Turkish foreign policy circles hold serious concerns that Armenia might see this protocol as a green light from Russia to continue with a non-conciliatory approach to ongoing peace negotiations with Azerbaijan. A Justice and Development Party, or AKP, figure close to Turkish Prime Minister Recep Tayyip Erdoğan, for instance, said that Erdoğan has very strong expectations from both President Medvedev and Prime Minister Vladimir Putin regarding a resolution to the Karabakh problem. He emphasized that on nearly every occasion when this issue has been discussed with the Russians, this country's expectations of them have been communicated with frankness. He concluded with a reminder that without positive Russian involvement, this problem can never be solved and that they have given firm commitments to help.
In such a milieu, I believe it is worth wrapping up by reminding our Russian friends of what Erdoğan is said to have frankly told the two Russian leaders last year: "We, as Turkey, don't want outside forces to get involved in a problem that the regional countries should be able to solve themselves." What do you think? Is this a desire shared by the Russians as well? Or in the Russian perception, are the narrow short-term gains more important than the long-term mutual benefits?
Source: http://www.hurriyetdailynews.com/n.php?n=a-changing-caucasus-landscape-or-an-old-balancing-act-2010-08-22
Will Turkey put a base in Azerbaijan in response to Russia-Armenia agreement?

That's what the Russian newspaper Nezavismaya Gaezta says [2], citing Azeri news reports alleging Azeri dissatisfaction with their relations with Russia (summary via RT):
Meanwhile, Azerbaijan and Turkey may have prepared their "symmetrical answer to Yerevan and Moscow," Nezavisimaya Gazeta daily said. A Turkish military base may be deployed in Azerbaijan as a result of the talks between Baku and Ankara, the paper noted. "The topic was allegedly discussed during the recent visit of Turkey's President Abdullah Gul to Baku and his meeting with Azerbaijan's leader Ilkham Aliev," the daily said. According to Azerbaijan's media, the military base may be deployed in Nakhichevan autonomous republic, an exclave between Armenia and Turkey. The relations between Turkey and Azerbaijan are so close that the question arises why Ankara has not yet deployed its military base in the friendly country, the paper asked. Baku may have expected Russia's more effective role in settling the conflict between Azerbaijan and Armenia over Nagorno-Karabakh, the daily explained. Hoping that Russia could "influence its strategic ally – Yerevan – and help to promote the restoration of Azerbaijan's territorial integrity," Baku "did not venture on strengthening a pro-Turkey vector or another one," the daily stressed. However, the authorities in Baku think that "expectations were overestimated" as the situation over Nagorno-Karabakh remains unchanged, the daily said. "Baku, in fact, has determined the limitation of its expectations after which it will probably try to change the situation in its favor by other actions," the daily said. "This limit is President Medvedev's visit to Baku scheduled for September."
(The original article, in Russian, here [3].) One thing notably missing from this analysis is Russia's alleged pending sale of S-300 air defense systems to Azerbaijan (which Russia continues to not deny [4]), and which obviously should change Baku's perception of whether or not Russia is selling it out. And as I've discussed before [5], all of this speculation about a Turkish military base in Azerbaijan seems to be coming solely from Azerbaijan, and not at all from Turkey. And it's hard to imagine would Turkey would gain from having a base in Nakhchivan. Still, as EurasiaNet has reported [6], Turkey has increased its ties to Nakhchivan, and has at least spoken vaguely of military cooperation:
Turkish Prime Minister Recep Tayyip Erdogan went still further, noting that "Nakhchivan is exposed to various threats from the Armenian state." "Therefore, military cooperation between Turkey and Azerbaijan and the NAR [Nakhchivan Autonomous Republic] is one of the major components of our relations," Erdogan said. Azerbaijan maintains a base in Nakhchivan that has received heavy Turkish support in the past, but no official information is available about the current scope of military cooperation between the two countries in the exclave.
And things are changing pretty quickly, at least in geopolitical time, in the relations between Turkey and Armenia, Turkey and Russia and Turkey and Azerbaijan. So we shouldn't be too surprised by further big moves to come.
Source: http://www.eurasianet.org/print/61778
Turkish military base in Azerbaijan threat to Armenia, Russia

"Turkey is a country with great geopolitical ambitions going far beyond its territories. No doubt, Azerbaijan views Turkey as one of the most important allies and partners in the region. So we do not know about the possible format of a military base Azerbaijan is going to open in Nakhichevan. Air defense, missile or air forces may be stationed there," Voice of Russia reports, referring to Igor Korotchenko, Editor-in-Chief of the National Defense magazine.
"In any case, we must realize the obvious disproportion between the military budgets of Armenia and Azerbaijan. Azerbaijan has consistently been increasing its military budget over the years due to its not too high oil incomes. In this aspect, possible opening of a Turkish military base will cause Baku to cherish even greater geopolitical ambitions. It may ultimately galvanize Azerbaijan – which will feel Turkey's support – into a military settlement of the Nagorno-Karabakh conflict," the expert said.
Russia may view a NATO military base in Azerbaijan as a threat not only to Armenia, but also to Russia, as it will be followed by an active policy of drawing Azerbaijan into NATO. "Moreover, the location of the Turkish base will create most favorable conditions for reconnaissance, including air reconnaissance, in the region. The information will be sent to the NATO database, which will affect Russia's interests," the expert said.
Source: http://news.am/eng/news/28584.html

The Agreements Signed In Baku And Yerevan Will Accelerate Polarization In The South Caucasus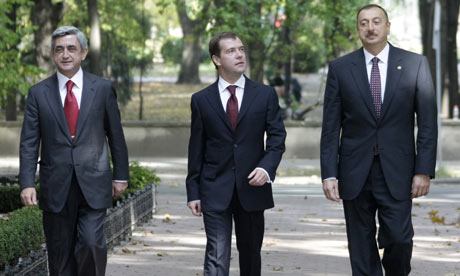 Russian-Armenian agreement signed in Yerevan today for prolongation of the term of deployment of the Russian military base in Armenia didn't create new agenda. The similar agreement has been existed between the two countries since 1995 and after the USSR collapse Russia took responsibility for the security of Armenia. The newly-signed agreement didn't entrust the sides with additional responsibilities. Moscow was a guarantor for Armenia's security on the basis of bilateral and multilateral (Collective Security Treaty Organization) agreements and it continues to do that. There is no important process in the world and region that can change the situation and it has little probability to occur.
What is changed? The agreement is a Russian message to the West that it will not step back from its policy to strengthen its position in the South Caucasus for long time. Unlike its predecessor, the Obama's administration prefers to pursue careful policy in the points where its interests confront with the Russian interests and following the East Europe it gives up the South Caucasus to Kremlin. Moscow successfully uses the USA's "momentary" hesitations to strengthen its positions in the troubled areas. Russia officialized its military presence in Armenia for 35 years more and it is proving to the United States that scenarios prepared by the Western political circles for "pressing Russia to leave the South Caucasus" is utopia.
One of the dangerous points of the agreement is that it leads to the military balance upset in the South Caucasus and it can also promote the acceleration of the armament process in the region. Of course, military balance upset in favor of the aggressor country concern other countries and both Azerbaijan and Georgia (with direct support of the United States) will have to increase defense expenses to restore the balance. The Russian-Armenian agreement shows that the South Caucasus will remain as an active conflict zone for long time.
The agreement signed in Yerevan means that the situation will not be changed toward the settlement of Nagorno Karabakh conflict for long time. Updating its alliance with the aggressive part of the Nagorno Karabakh conflict, Moscow proved that it can not take unbiased position in the settlement of the conflict. This action will render confidence, which was reduced even without that, to the OSCE Minsk Group's efforts null. Russia doesn't officialize its commitments not to use its military resources in Armenia against Azerbaijan. In this regard, Russian-Armenian military-political alliance will threaten Azerbaijan's interests, specially its interests in the solution to Nagorno Karabakh conflict, for long years (until 2044).
What can change this status-quo existed and expected to exist for long years? In this context, Azerbaijan's joining the Collective Security Treaty Organization is one of the scenarios that can be considered in hypothetic order. In fact, the agreement signed in Yerevan is a message to Azerbaijan inviting it to the Collective Security Treaty Organization. Of course, Azerbaijan's representation in this military alliance can fundamentally change the balance of political interests in the region. Baku has fundamental arguments to avoid membership in CSTO. Azerbaijan can not participate in joint security scenarios together with Armenia, which occupied a part of its lands. CSTO membership can be possible only in that case when the Nagorno Karabakh conflict is solved and Armenia doesn't threaten Azerbaijan's security. Can Russia, which hopes to see Azerbaijan in CSTO, be a guarantor for fair solution to Nagorno Karabakh conflict? It is not likely. Russia prefers its interests than interests of Azerbaijan, Armenia or Georgia and in this regard, Russia makes brave steps forward against the background of weakening positions of the West in the region and it shouldn't surprise anyone that Russia will start pressure campaigns against the regional countries in the near future.
How can the threats to Azerbaijan's interests posed by Russia-Armenia alliance be neutralized? It is possible to view variants of improving the relations with the countries having similar interests into the strategic alliance, making the strategic position and energy resources of the country an influential political resource. It would be one of the most important steps to improve the relations with the neighboring countries, first of all with Georgia and Turkey into real strategic alliance (US-UK, US-Israel, Russia-Armenia etc.). In this context the "Contract between Turkey and Azerbaijan on strategic partnership and mutual assistance" signed during the visit of Turkish President Abdullah Gul to Azerbaijan is of great importance. Such kind of contracts officializing the strategic alliance lay the responsibility on the participating states to perform from common position, not pursuing a policy contrary to one another.
Everyone knows that at times there were problems between Azerbaijan and Turkey. And the main source of these problems was compulsion of Turkey by the West to pursue policy-approach with Armenia. Opening borders with Armenia is one of the urgent issues in the agenda for two years. Indeed, Armenia represents interests of Russia in this issue as well. Undoubtedly, making more official its partnership ties with Moscow, Yerevan will increase its pressure upon Ankara in the issue of opening borders in the next period. It is not clear whether Ankara will make backward or not in this issue. Last statements made at the official level shows Ankara's hesitation, opinions on opening borders with Armenia temporarily due to holding trainings with NATO aims to prepare the public opinion from psychological standpoint.
From this standpoint, Turkey will send a message to both homeland and international society by opening borders with Armenia. By this means, ruling AKP party will be able to give a promise "You see, I have shown that I may open borders though the pressure of Azerbaijan, this issue will be realized after the elections" to the part of its electorate which supports the opening of borders. The message to US, Europe and Russia does not change essentially: "I have shown that I may open borders though pressure from inside, your pressure is important for direct solution of this problem".
Moreover, unlike previous period, Turkey has a new argument in its hand – this is the treaty on strategic partnership signed with Azerbaijan. According to this treaty, there is a connection between the opening of Turkey-Armenia borders and settlement of Nagorno Karabakh conflict. Formalized strategic alliance means the mutual protection of interests and from this point of view Turkey will partly neutralize pressures through making statements that the opening of Turkey-Armenia borders is contrary to the interests of an official ally Azerbaijan. Certainly, Ankara should openly declare that it seriously approaches the commitments undertaken to Azerbaijan. Like statement Dmitry Medvedev made in Yerevan that "we seriously approach the commitments undertaken to Armenia".
Dmitry Medvedev's visit to Armenia, Abdulla Gul's official visit to Azerbaijan again resulted with formalization of allied relations between the countries. Russia and Turkey formalized their interests in struggle for Caucasus through Russia's prolongation of the term of deployment of the its military base in Armenia and Turkey's strategic alliance and mutual assistance treaty with Azerbaijan. Poling process has already started in the South Caucasus. Will the treaties signed in Yerevan further accelerate this process? We will find an answer to this question soon.
Source: http://www.historyoftruth.com/news/latest/7803-the-agreements-signed-in-baku-and-yerevan-will-accelerate-polarization-in-the-south-caucasus
Military Agreement Between Russia and Armenia Necessitates Azerbaijan's Integration Into NAT

Azerbaijan believes that Russia will never use the 102nd military base against Azerbaijan as it promised, Azerbaijani Foreign Ministry press officer Elhan Polukhov told Turan while commenting on the recent Russian-Armenian agreement on the extension of the term of the Russian military base in Gyumri. The spokesman for the Azerbaijani Foreign Ministry said Russia promised not to use the Russian military base in Armenia against Azerbaijan when in 2006 it transferred part of the ammunitions and weapons from the Russian military base in Georgia to Armenia.
Arastun Orujlu, the president of the Research Center East-West, said the new Russian-Armenian military demonstrated the failure of the so-called "balance" policy of the Azerbaijani government which consisted of keeping an equal distance from Russia and the West. "The agreement blocked the way to liberation of the occupied Azerbaijani territories in a military way for at least 35 years," Orujlu said. Arastun Orujlu said the agreement between Russia and Armenia created a new geopolitical situation in the region. Orujlu criticized Azerbaijan's imitation of integration into the Euro-Atlantic security system.
The new Russian-Armenian agreement has shown that Russia cannot be Azerbaijan's choice and the perspectives of the military cooperation between Azerbaijan and Russia are close to nil. "Russia's new commitments to safeguard Armenia's security automatically turn Russia into Azerbaijan's adversary," Orujlu said. "Integration into NATO is a long-term process and the most reliable choice of Azerbaijan is Turkey," Orujlu added. Mubariz Gurbanly, deputy executive secretary of the ruling party Yeni Azerbaijan, said Russia's actions do not correspond to its role of an impartial mediator to the Garabagh conflict. "In fact, Russia is on Armenia's side and it actually encourages the aggressor," he added (Turan).
Source: http://azerireport.com/index.php?option=com_content&task=view&id=2312&Itemid=53
Crossroads Visits South Caucasus

On August 16, Turkish president Abdullah Gul will visit Baku; on 19-20 August Russian President Dimitry Medvedev will visit Yerevan. These two countries – Turkey and Russia have become rather active in the south Caucasus following 08/08/08. Seemingly they behave like partners, yet analysts assert there are serious problems between them which will become increasingly evident as time passes. There is the opinion that the almost simultaneous visit of the Russian and Turkish leaders to the capital cities of their strategic partners shows a demonstration of support for, rather than an attempt to resolve the Karabakh conflict. Russian analysts suggest that Turkish activation of its policy in the South Caucasus is aimed at gaining leadership, which will inevitably lead to confrontation between Turkey and Russia. So far Turkish efforts in this direction have been rather successful. Russian political analyst Federov Lukianov thinks that while Turkish claims for leadership in the region are quite understandable, they mean that at some point it will confront Russia, although not in the near future.

Meanwhile Turkey should develop its relations with all participants in the region including Armenia. However here Turkey faces the Karabakh issue; Ankara cannot afford to lose its strategic partner Azerbaijan and under these circumstances it is very difficult to have good relations with Azerbaijan and Armenia simultaneously.

Today Baku has become a very important player in the energy sphere, bringing a serious stake to the table. The only thing which Turkey has managed to achieve is that it initiated the game on its own field, in its region. Both Presidents have multiple goals for their visits. It is likely that during President Gul's visit to Baku, abolishing the visa regime between two countries will be discussed. Presumably further cooperation in the energy sector and regional issues will be touched upon, while of course the Karabakh conflict will be the main issue.

During his visit to Armenia, the Russian president will inspect the 102nd military base in Gyumri, which according to a recent agreement between two countries will now be securing Armenia's safety. Medvedev will also participate in the Collective Security Treaty Organisation summit which will be held on August 21. The major obstacle to establishing peace between the two countries, Armenia and Azerbaijan is Karabakh; neither side wants to make concessions and neither of their strategic allies is going to force them to do so. Thus the same issue appears to be the most important subject of discord between not only Azerbaijan and Armenia but now Russia and Turkey.

Viktor Yakubin, analyst on the Caucasus region is confident that a confrontation in the region between Russia and Turkey is an historic inevitability.

Meanwhile, what is Tbilisi's position? Azerbaijan has its protector – Turkey, and Armenia has its mentor who has officially declared that it will defend Armenia militarily if needed. We in Georgia know what that means and our question is, 'Who will protect Georgia?' August 2008 showed the answer to be nobody, despite Georgia's western orientation and its devotion to western values – the real reasons for the Kremlin's punishments against Tbilisi. Thus it seems everyone in the region has managed to find a niche in which to harbour itself, apart from Georgia. Naive Georgians ask that if Russia is officially claiming to protect Armenia's safety, then why can't Georgia find a worthy and capable protector?
Source: http://www.messenger.com.ge/issues/2170_august_13_2010/2170_edit.html
Russia further strengthens its position in the Caucasus

Russia is further strengthening its position in the South Caucasus and consequently all over the post Soviet area as well as in the Middle East. Meanwhile the West naively observes this "resetting policy" with curiosity. This is what we conclude from the recent developments in the mentioned areas - the deployment of S300 missiles on Georgia's territory of Abkhazia, the possible sale of the same devices to Azerbaijan, the visit of Russia's president Medvedev to Yerevan, along with his signing of an agreement on Russian military base in Armenia, holding the Collective Security Treaty Summit, an upcoming visit of Medvedev to Baku in September, as well as a general strengthening of its military presence in Georgia's occupied territories which have already been "the new reality" for two years.

Analysts worldwide, not only in Georgia, express their deep concern as they see Russia increasing its presence not only in the regions mentioned, but around the world. For instance Ariel Cohen in his article in Washington Times thinks that Moscow is using whole geopolitical instruments to change the balance in Eurasia. This includes diplomacy, informative operations, selling arms and constructing military bases to protect its interests in the sphere. It has become clear that either the West cannot stop Russia, or it is choosing not to do so. With the deployment of S-300 missiles in Abkhazia and Armenia, Russia is able to control the entire area of the South Caucasus, Black Sea and part of the Near East. Strangely enough the West "cannot see" that and/or cannot respond effectively.

The US administration has chosen a soft force policy, while Moscow exploits a "hard policy" and is gradually exercising more and more influence in this strategically important region. Ariel Cohen predicts that if things continue like this, Washington's influence in the region will decrease considerably and the US would need tens of years to rebuild it, while the Russians are acting directly to expel the US out of these regions. Cohen's predictions are rather pessimistic concerning the US reset policy towards Russia.

We can also surmise that Russia does not even think about the EU as a player while it is creating its new reality. Russian analyst, Stanislav Tarasov extremely positively evaluates Russia's moves in the regions, believing that they change the regional balance of the forces in Moscow's favour. Speaking about the South Caucasus, we should assume that Moscow has also managed to push Turkey aside. The final major problem Russia must overcome is to be the champion that brokers the settlement of the Azeri-Armenian conflict over Karabakh. If it can find an acceptable solution of the conflict for both sides, then Russia's position will be finally domineering in this region, at least for time being.