The Russian president is on a working visit in Baku and the primordial fear amongst Armenians once again is that "Moscow is going to sell Artsakh" for gas and oil deals with Azeris... Please, don't panic! Calm down. Relax. It ain't going to happen, despite how much some Armenians would like to see it happen. As usual, Armenia's so-called "opposition" will be fear-mongering and CIA funded front offices disguised as "think tanks" and "independent journalism" will attempt to sow discontent within our nation; and our naive/backward sheeple, stuck between fantasy and reality, will simply not know what to think.
The fact of the matter is, Moscow is not about to sell Artsakh or Armenia or anything else in the Caucasus for that matter
. As a matter of fact, Moscow is still not done reversing the political setbacks it suffered during the 1990s. It is well known that the south Caucasus is one of Russia's three most vital geostrategic areas of concern. Accordingly, no self-respecting Russian leadership will tolerate a non-Russian presence in the area, let alone a Turkic-Islamic one.
This ain't your father's Bolsheviks. Armenians that bring up the evils of Bolshevism to discredit Russians today are either intellectual midgets or doing the dirty work for foreign agents.
Several months ago former national security adviser Ashot Manucharyan stated what I have been saying since the fall of 2008 -

Russia is attempting to drive a wedge between Turkey/Azerbaijan and the West by approaching Turks with lucrative business deals and by enticing them to sit at the negotiation table with a Moscow backed Yerevan.

As a result of a series of Western set-backs across the region, Moscow is continuing its relentless geopolitical campaign to either regain its influence/control over areas of interests or to simply pacify/neutralize areas of concern that pose potential problems for them. This is what we are currently seeing Moscow do in places like Armenia, Belarus, Kyrgyzstan, Azerbaijan, Ukraine, Poland, Georgia and Turkey. Nevertheless, geopolitically speaking, it is in Yerevan's long-term interest for regional Turks to be dependent on Russia.
Despite warming of relations between Ankara/Baku and Moscow, despite the tens of billions of dollars that flow between them, Yerevan will continue playing a pivotal role for Moscow in the south Caucasus as Russia's only reliable platform.

After all, Armenia is Moscow's only insurance policy in the Caucasus.

In my opinion, as long as Turkish, Islamic and Western threats exist in the Caucasus region, Armenia will continue to be an important strategic partner for policy makers in the Kremlin.

However, in order for Armenia to progress socioeconomically, the Caucasus region will need a lasting peace. As long as American, Russian, European, Turkish and Iranian interests compete in the Caucasus, Armenia will remain poor, isolated and endangered. Thus, there needs to be one victor, one master in the region. Needles to say, that victorious master has to be the Russian Federation.
Pax Russica in the Caucasus holds many promises for the Armenian state.
One more point: Russians don't forget and they rarely forgive. Kremlin officials know the serious dangers of pan-Turkism and militant Islam perhaps even better than us Armenians. Russians also know the major role Turks played in the Chechen insurgency. Moscow is simply trying to exploit regional Turks by gradually gaining their dependency. However, despite their warming relations, Moscow and Ankara/Baku will continue to remain regional competitors and knowing their long and bloody history, they will sooner-or-later clash once again. In the meanwhile, we can all expect Russia to continue bolstering Armenia's strength, economically and militarily.
However, matters concerning how much more benefits we can extract from Moscow and what we do with the help we are receiving from them is ultimately up to us Armenians.
The prevailing Bolshevik,

Cold War

and Ottoman era mentalities within our people's mindsets today are a liability for us.
We must realize that

Armenians

can be in

Russia

what Jews are in America.
But this will require a sophisticated approach on our part, as well as a pan-national effort and some time.
But it's a long-term investment well worth making.
If Russians are corruptible/easily bought, as many of our Russophobes claim (although they essentially screwed up once in their centuries long and glorious national history), then let's use this trait of theirs for the benefit of our republic. Where are all our big-talking "sharp", "shrewd" and "cunning" compatriots with their massive "business" minds? Are our talents only reserved to be used against each other? We Armenians are well placed in all layers of Russian society, we have the numbers there, we know the people, the history, the culture, and more importantly, our enemies (Turkic/Islam) are their enemies as well. If pursued properly, similar to what the Zionist leadership did over a century ago in the West (primarily
in Britain
and America),
within a generation or two we can have a superpower like Russia serving OUR interests.
Also like what Zionists did in the West, this will require us to be fully immersed in all levels of Russian affairs; be it social, political or economic. However, taking a close look at our uneducated, eastern oriented, egomaniacs with emotional issues - I don't think it will happen. Perhaps this is the reason why I choose to settle on being content with our pro-Russian former Communists in charge like Serj Sargsyan.
I believe we can better exploit/manipulate our relationship with Moscow to extract greater benefits for the Armenian state. But our Richard Giragosians, Raffi Hovanissians,
Hayk
Demoyans, Levon Petrosians and many in the ARF hierarchy who are essentially Western operatives are keeping our nation in limbo, thus stagnant and on the verge of becoming a failed state
.
I repeat: as long as major powers like European, American, Russian, Turkish and Iranian interests continue competing in the

Caucasus

- Armenia will remain poor, isolated and endangered.
Finally, I want to ask one of Washington's operatives in Yerevan, the "political expert" with a "think tank" called Richard Giragosian (see third article below), who also just happens to be quite intimate with the Armenian Assembly of America, a question: are Iraq, Afghanistan, Taiwan, Saudi Arabia, Pakistan, South Korea, Japan, Philippines, Columbia, Jordan, Panama, Kuwait, Albania, Turkey, Georgia, Poland, Czech Republic, Croatia and dozens of other nations I don't have the time or space to write - "partners" for America or "pawns"? Actually, I have a better question to ask of our "political expert" with a military intelligence background from America: are you, Richard Giragosian, a CIA asset in Armenia or are you a real Armenian? As we have seen, as a result of Russia's growing partnership with Armenia, Western operatives like Raffi Hovanissian and Richard Giragosian are being forced to come out of their noble facades and reveal themselves for who they really are.
Arevordi
***

RF President's visit to Azerbaijan stock visit, RPA MP says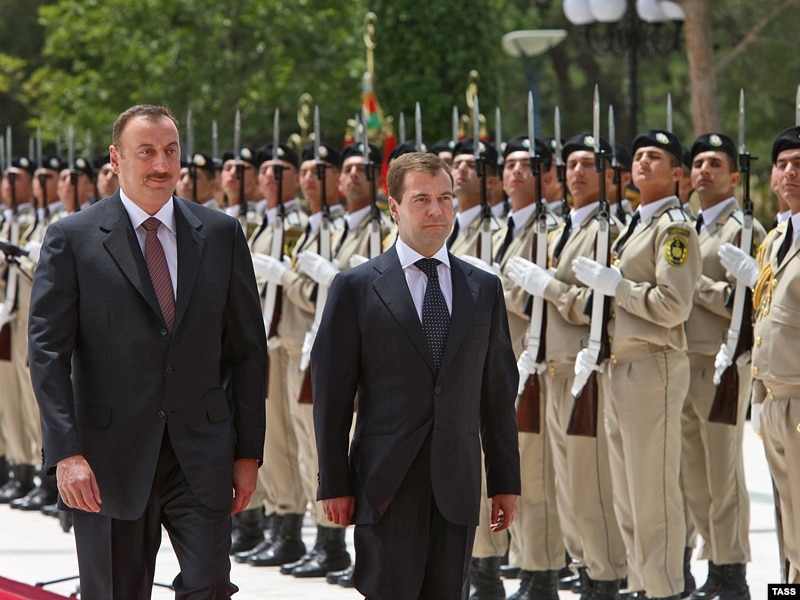 The status of RF President Dmitry Medvedev's visit to Azerbaijan is low, as it is not a state, but official visit, MP from the Republican parliamentary group (RPA) Gagik Melikyan stated, commenting on Medeved's trip to Azerbaijan. According to him, this is the difference in Armenia-Russia and Azerbaijan-Russia relations. "Medvedev's visit to Baku is a stock visit to diminish the anti-Russian hysteria, caused by the developments of Armenia-Russia interests and Russia's initiative to defend Armenia in case of the military aggression. Two documents will be signed, of which state border agreement is more important," Melikyan said. Referring to Medvedev's visit to Armenia, the parliamentarian said Armenia-Russia century-long relations entered a new stage during the RF President's visit. The sides signed very important agreements on strengthening further relations, Melikyna stressed.
Source:
http://news.am/eng/news/29557.html
Medvedev in Baku for Talks on Karabakh, Energy, Security
Russian President Dmitry Medvedev arrived in Azerbaijan on Thursday for a two-day visit to focus on economic ties, cooperation in the Caspian Region, and the Nagorno Karabakh conflict, the Russian RIA Novosti news agency reported. The long-running conflict between Azerbaijan and Armenia over Nagorno Karabakh will be high on the agenda, RIA Novosti cited Sergei Prikhodko, an aide to Medvedev, as saying. As a co-chair of the OSCE Minsk Group with France and the United States, Russia is at the center of international efforts to mediate a settlement. "Though insignificant, there is some progress," said Prikhodko. "The parties and mediators manage to continue the political settlement of the process."

The Kremlin source also downplayed a recently signed defense pact between Armenia and Russia extending Moscow's military presence in Armenia and committing it to defending its security. "We are not saying that we will defend them [Armenians] against Azerbaijanis. The reactions in Azerbaijan are various. I do not think that those who are aware of the real situation are concerned very much; it is something else as far as the opposition is concerned. We don't worry about it," he said. "The [defense] document isn't about military-technical cooperation between Armenia and Russia but rather about the protection of the border," he said.

According to Armenian Public Radio, Prikhodko said the meeting between Medvedev and Aliyev would not focus on the Russian military base in Gyumri but on the more important issue of Karabakh. The Russian source said Medvedev and Aliyev will discuss military cooperation between their two countries, but did not elaborate on the issue. It was recently announced that Azerbaijan will buy four Russian Ka-32 helicopters, used in utility cargo work and fire-fighting.

Russian energy giant Gazprom and Azerbaijan's state oil and gas company, SOCAR, are also expected to sign a deal to increase supplies of Azerbaijani gas to Russia in 2011-2012. Medvedev and Aliyev will also sign a border agreement that will delineate part of the land border that begins where Russia, Azerbaijan and Georgia meet and runs eastward to the Caspian Sea. It is unclear whether the two presidents will discuss the status of the oil- and gas-rich inland Caspian Sea, which has been a source of long-running disagreements between the five littoral states – Azerbaijan, Iran, Kazakhstan, Russia, and Turkmenistan – since the collapse of the Soviet Union in 1991.

Source:
http://asbarez.com/84789/medvedev-in...ergy-security/

Is Armenia Russia's Partner Or Pawn?

Two years after the brief but destructive war between Russia and Georgia, Moscow has further consolidated its power and influence in the South Caucasus by concluding a modified defense agreement with Armenia that significantly extends the lease for Russia's largest military base in the region." Most small states are compelled to look to large powers for security, and Armenia is no exception. For a small country like Armenia, which is doubly landlocked -- with no outlet to the sea and with two of its four borders closed -- security concerns are paramount to national survival.

In large part reflecting this reality, Armenia has been driven ever closer to Russia. In the broader context, Armenia's embrace of Russia comes as no real surprise. But the Armenian-Russian "strategic partnership," as hailed by Armenian officials, has become defined more by a dangerous degree of Armenian overdependence than by an equitable alliance. And Russian dominance over Armenia has only increased in recent years, as Moscow has acquired outright control over many strategic sectors of the Armenian economy, from energy to transport.

The asymmetry of the Armenian-Russian relationship was most recently evident in the signing of a modified security accord during a visit to Armenia by Russian President Dmitry Medvedev. Signed on August 20, the agreement is seriously flawed, however, and has sparked criticism within Armenia for four main reasons.

First, the terms of the newly modified basing agreement are both unusual and questionable. The agreement resulted in the extension of Russia's sole military base in the region by another 24 years, to 2044.

The initial agreement, signed in 1995, granted Russia the right to maintain its military base at Armenia's second-largest city, Gyumri, along the Armenian-Turkish border, and was not due to expire until 2020. Despite the stationing of a small squadron of MiG-29 aircraft and S-300 missile-defense systems at the base, the facility is rather insignificant in purely military terms, with its roughly 3000 Russian personnel mainly serving as a "trip-wire" to any attack from NATO-member Turkey.

Moreover, both the military posture of the Russian presence and the mission and mandate of the base are based on "threat misperception," reflecting an outdated and now inappropriate Soviet-era doctrine.

Nevertheless, the Russian base in Armenia provides a firm foothold for the Russian presence and offers Moscow an attractive potential platform for power projection. But it satisfies Russian interests that only happen to coincide with Armenia's perception of insecurity.

But perhaps most insulting for Armenia, the base is the only such facility where the host country not only foregoes any form of rent or payment but has agreed also to pay all operational costs and expenses of the facility. While other countries, such as Azerbaijan and Kyrgyzstan, receive lucrative annual payments in return for hosting Russian military facilities, Armenia is a clear loser.

Second, the modified Armenian-Russian defense accord offers Armenia little in the way of any clear military advantage. Despite the agreement's formal declaration to "ensure the security" of Armenia and promises to provide "modern compatible weaponry and special military hardware" in the future, Russian Foreign Minister Sergei Lavrov openly admitted there would be "no real or functional change" to the mission or mandate for the Russian base. Speaking in an interview on Armenian television prior to the signing of the agreement, Lavrov also dismissed Armenian concerns over the pending sale of S-300 air-defense systems to Azerbaijan by noting that they are "defensive weapons designed to protect a territory from external missiles," adding that Moscow would "never supply arms to regions where such supplies may destabilize the region."

Beyond such vague pledges of support in the event of attack, this Russian security pledge does not bolster Armenian security in any concrete sense. If anything, it only reinforces the impression that Armenia has been steadily mortgaging its own national security in return for short-term and meager returns.

The agreement has been defended by Armenian officials as providing an important deterrent to Azerbaijan, which Armenia accuses of launching two military attacks in recent months, beginning with a successful probe of Armenian defensive positions along the Line of Contact separating Nagorno-Karabakh from the rest of Azerbaijan. The most recent skirmish, an August 31 assault by Azerbaijani forces that was successfully repelled, demonstrates that the accord does little to deter Azerbaijan from considering the use of military force to "resolve" the Karabakh issue. In fact, this third problem with the Armenian-Russian security agreement centers on a flawed premise -- that it provides greater security for Armenia.

A fourth shortcoming in the agreement stems from its broader implications for Armenian statehood. The agreement is widely seen as yet another dilution of Armenian independence and sovereignty, especially as the accord may also expand the role of the approximately 2,000 Russian border troops in Armenia. Since the onset of independence, it has actually been Russian border troops that have secured Armenia's border with Turkey.

And this latest agreement may deal a further blow to Armenian sovereignty by deploying additional Russian border guards to Armenia's other borders, with Iran and Georgia, if not Azerbaijan. A Soviet-era legacy, yes, but it is clearly also a liability for any independent state.

Source:
http://www.rferl.org/content/Commentary_Is_Armenia_Russias_Partner_Or_Pawn/2147689.html
Related News from the past:
Russia Seeks to Separate Turkey From West Through Armenia-Turkey Rapprochement

Former national security advisor to the first President of Armenia, Ashot Manucharyan, doesn't believe that Russian President's visit to Turkey will trigger significant changes in South Caucasus region. As he told a news conference in Yerevan, Russia struggles to increase its influence in Caucasus, seeking to separate Turkey from the West through Armenia-Turkey reconciliation. "However, this can't be viewed as a positive development, considering tragic consequences Armenia faced 100 years ago because of Russian-Turkish approximation," Manucharyan emphasized. "The only difference in current Russian policy is the country's geopolitical interests and unwillingness to yield its positions to Turkey," he concluded.
Source: http://www.panarmenian.net/eng/politics/news/48448/Russia_seeks_to_separate_Turkey_from_West_through_ArmeniaTurkey_rapprochement
Armenia Should Not Have Concerns Over Russian President's Visit to Turkey

Reasons behind President Medvedev's visit to Turkey are understandable, with Russia pursuing certain interests in the region, according to RPA parliamentary group secretary Eduard Sharmazarov. As he told PanARMENIAN.Net reporter, Armenia should not have concerns over Russian President's visit to Turkey in view of strengthening RF-RA bilateral collaboration and Russia's support for Armenia during rapprochement process. As he noted, either Russia or Turkey's bringing up Karabakh conflict issue during the meeting should not suggest the possibility of Turkey joining OSCE MG. "For Turkey to become OSCE MG Co-Chair, we need the agreement of all conflicting parties. Armenia, however, will never agree to it." "With both countries vying for regional influence, Russia will not allow for Turkey's increased influence in South Caucasus region. Increase of Turkeys' influence spells weakening of Russia's position," Eduard Sharmazanov emphasized.
Source: http://www.panarmenian.net/eng/politics/news/48470/Armenia_should_not_have_concerns_over_Russian_Presidents_visit_to_Turkey
Situation in North Caucasus result of Pan-Turkism, expert says
The current explosive situation in the North Caucasus is, to a great extent, the result of Pan-Turkism, Vladimir Zhakharov PhD, Coordinator of the Center for Caucasian Studies, Moscow State Institute of International Relations (MGIMO-University), stated during a Yerevan-Moscow space bridge on the occasion of the 95th anniversary of the Armenian Genocide in Ottoman Turkey. According to him, Pan-Turkism remains a real threat even now. "Nothing 'more real' could exist, and it is spearheaded against Russia," the expert said.
Speaking of the Armenian Genocide, Zhakharov stressed that not only the tragic events in Turkey in 1915, but also the Armenian massacres in Shushi in 1918 and in Baku in 1920, as well as the events that occurred in Azerbaijan 20 years ago, can be termed as genocide. The expert, however, did not dwell on the events in Azerbaijan – he reported that the Embassy of Azerbaijan in Russia showered MGIMO with letters of protest at his statements. "We received the last note from the Embassy of Azerbaijan this Monday," he said.
As regards the reasons for Turkey's unwillingness to admit the Armenian Genocide, the expert said that in private talks Azerbaijani politicians expressed their fears. "Ankara is afraid of the financial and territorial responsibility should it admit the Armenian Genocide," Zakharov said. Commenting on Russia's assistance to the Armenians that survived the Genocide, the expert pointed out that Russia helped the Armenians that survived and settled down there, but "it might have done more." Russia must not forget the sacred and tragic date, the expert said. He also proposed the organization of an international conference on the Armenian Genocide and the Nagorno-Karabakh problem.
Source:
http://news.am/en/news/russia/19582.html
Turkey Hops Aboard Russia's Ride

Despite the impact of the rouble's instability and weak oil prices on the Russian economy in recent months ,
Moscow
is pursuing a very active foreign policy strategy. Its elements focus on countering the continuing North Atlantic Treaty Organization (NATO) encirclement policy of
Washington
, with often clever diplomatic initiatives on its Eurasian periphery. Taking advantage of the cool relations between Washington and longtime NATO ally Turkey, Moscow recently invited Turkish President Abdullah Gul to come to Russia on a four-day state visit to discuss a wide array of economic and political issues. In addition to siding up to Turkey, which offers a vital transit route for natural gas to Western Europe, Russia is also working to firm an economic space with Belarus and other former Soviet republics to firm its alliances. Moscow delivered a major blow to the US military encirclement strategy in Central
Asia
when it succeeded last month in convincing Kyrgyzstan, with the help of major financial aid, to cancel US military airbase rights at Manas, a site of great importance to Washington's escalation plans in Afghanistan.
In short, Moscow is demonstrating it is far from out of the new "Great Game" where influence over Eurasia is concerned. Turkey's government, led by Prime Minister Recep Erdogan, has shown increasing impatience with not only Washington policies in the
Middle
East
, but also the refusal of the European Union to seriously consider Turkey's bid to join. So it's only natural that Turkey would seek some counterweight to what it has perceived as overwhelming US influence in Turkish politics since the Cold War. And Russia's leaders have no problems opening such a dialogue, much to Washington's dismay. Turkish President Abdullah Gul paid a four-day visit to the Russian Federation from February 12 to 15, where he met with President Dmitry Medvedev, Prime Minister Vladimir Putin, and also travelled to Kazan, the capital of Tatarstan, where he discussed joint investments. Gul was accompanied by his state minister responsible for foreign trade and minister of energy, Hilmi Guler, as well as a large delegation of Turkish businessmen. Foreign Minister Ali Babacan joined the delegation.
Visit to Tatarstan
The fact that Gul's Moscow visit also included a stop in Tatarstan, the largest autonomous republic in the Russian Federation, whose population mainly consists of Muslim Tatar Turks, is a sign of just how much relations between Ankara and Moscow have improved in recent months as Turkey cooled to Washington's foreign policy. In previous years, Moscow was convinced that Turkey was trying to establish Pan-Turanism in the Caucasus, Central Asia and inside the Russian Federation. Today, Turkish relations with Turk entities inside the Russian Federation are clearly no longer considered suspicious, confirming a new mood of mutual trust. Indicating the value Moscow now attaches to Turkey, Russia elevated Gul's
trip
from the previously announced status of an "official visit" to a "state visit", the highest level of state protocol. Gul and Medvedev also signed a joint declaration announcing their commitment to deepening mutual friendship and multi-dimensional cooperation. The declaration mirrored a previous "Joint Declaration on the Intensification of Friendship and Multidimensional Partnership", which was signed during a 2004 visit by then-president Putin.
Turkish-Russian economic ties have greatly expanded over the past decade, with trade volumes reaching US$32 billion in 2008, making Russia Turkey's biggest trade partner. Given this background, bilateral economic ties were a major item on Gul's agenda and both leaders expressed their satisfaction with the growing commerce between their countries. Cooperation in energy is the major issue. Turkey's gas and oil imports from Russia account for most of the trade volume. According to Russian press reports, indicate that the two sides are interested in improving cooperation in energy transportation lines carrying Russian gas to European markets through Turkey, a project known as Blue Stream-2. Previously Ankara had been cool to the proposal but the recent completion of the Russian Blue Stream gas pipeline under the Black Sea increased Turkey's dependence on Russian natural gas from 66% up to 80%. Furthermore, Russia is beginning to see Turkey as a transit country for its energy resources rather than simply an export market, due to the significance of Blue Stream-2.
Russia is also eager to play a major role in Turkey's attempts to diversify its energy sources. A Russian-led consortium won the tender for the construction of Turkey's first nuclear plant recently, but as the price offered for electricity was above world prices, the future of the project, which is awaiting parliamentary approval, remains unclear. Prior to Gul's Moscow trip, the Russian consortium submitted a revised offer, reducing the price by 30%. If this revision is found legal under the tender rules, the positive mood during Gul's trip may indicate the Turkish government is ready to give the go-ahead for the project. Russia's market also plays a major role for Turkish overseas investments and exports. Russia is one of the main customers for Turkish construction firms and a major
destination
for Turkish exports. Similarly, millions of Russian tourists bring significant revenues to Turkey every year. Importantly, Turkey and Russia may start to use the Turkish lira and the Russian rouble in foreign trade, which could increase Turkish exports to Russia, as well as weaken dependence on dollar mediation.
Post-Cold War tensions reduced
However, the main reason for Gul's visit was to develop stronger political ties between the two. Both leaders repeated the position that, as the two major powers in the area, cooperation between Russia and Turkey was essential to regional peace and stability. That marked a dramatic change from the early 1990s after the collapse of the Soviet Union, when Washington encouraged Ankara to move into historically Ottoman regions of the former Soviet Union to counter Russia's influence. Then, in sharp contrast to the tranquility of the Cold War era, talk of regional rivalries, revived 'Great Games' in Eurasia and confrontations in the Caucasus and Central Asia were common. Turkey, as in the 19th century, was becoming once more Russia's natural geopolitical rival. Turkey's quasi-alliance with Ukraine, Azerbaijan and
Georgia
until recently led Moscow to view Ankara as a formidable rival. The regional military balance developed in favor of Turkey in the Black Sea and the Southern Caucasus. And after the disintegration of the USSR, the Black Sea became a de facto "NATO lake". As Russia and Ukraine argued over the division of the Black Sea fleet and status of Sevastopol, the Black Sea became an area for NATO'S Partnership for Peace exercises.
By contrast, at the end of the latest Moscow visit, Gul declared, "Russia and Turkey are neighboring countries that are developing their relations on the basis of mutual confidence. I hope this visit will in turn give a new character to our relations." Russia praised Turkey's diplomatic initiatives in the region. Medvedev commended Turkey's actions during the Russian-Georgian war last summer and Turkey's subsequent proposal for the establishment of a Caucasus Stability and Cooperation Platform (CSCP). The Russian president said the Georgia crisis had shown their ability to deal with such problems on their own without the involvement of outside powers, meaning Washington. Turkey had proposed the CSCP, bypassing Washington and not seeking transatlantic consensus on Russia. Since then, Turkey has indicated its intent to follow a more independent foreign policy.
Russia aims to use its economic resources to counter the growing NATO encirclement, made more severe by Washington's decision to place missile and radar bases in Poland and the Czech Republic aimed at Moscow. To date the Obama administration has indicated it will continue the Bush "missile defense" policy. Washington also just agreed to place US Patriot missiles in Poland, clearly not aimed at Germany, but at Russia. Following Gul's visit, Medvedev will go to Turkey to follow up the issues with concrete cooperation proposals. The Turkish-Russian cooperation is a further indication of how the once overwhelming US influence in Eurasia has been eroded by the events of recent US foreign policy in the region. Washington is waking up to find it is now confronted with Sir Halford Mackinder's "worst nightmare". Mackinder, the "father" of 20th century British geopolitics, stressed the importance of
Britain
(and after 1945, the US) preventing strategic cooperation among the great powers of Eurasia.
F William Engdahl is author of
A Century of War: Anglo-American Oil Politics and the New World Order
(Pluto Press) and
Seeds of Destruction: The Hidden Agenda of Genetic Manipulation
(www.globalresearch.ca ). His new book,
Full Spectrum Dominance: Totalitarian Democracy in the New World Order
(Third Millennium Press) is doe for release in late spring 2009. He may be reached via his website: www.engdahl.oilgeopolitics.net .
Source:
http://www.atimes.com/atimes/Middle_East/KC04Ak02.html