Spring cleaning has begun quite early in the Russian Federation this year. Just recently, the offices of Alexander Lebedev, one of the last remaining Yeltsin era Jewish oligarchs, was raided by internal security forces in Moscow and in Kiev. Mikhail Khodorkovsky, a thief/collaborator/Jew, continues to rot in jail. Just recently, a Zionist working as a journalist in a privately owned news agency was literally beaten into silence.
And not too long ago, Sergei Magnitsky, a lawyer, a thief, collaborator, a Jew, what else is new, was beaten to death in his jail cell.
What we are seeing in Russia is more-or-less the continuation of a major house cleaning campaign. This task has been undertaken by Kremlin officials to put the political system in Moscow back into order after the chaos of the 1990s.


Public enemy number one continues to be - Sir Boris Berezovsky, another high ranking Jew of the criminal world hiding in London. He must be looking over his shoulder in London quite frequently these days.

This begs the question.

Are Russian officials particularly racist towards Jews? Of course not! Russian officials are merely eliminating enemies of the state. It so just happens that many Russian-Jews (and of course Islamic/Chechen fanatics in the Caucasus region) tend to be enemies of the Russian state these days.
I would like to clarify that I get absolutely no enjoyment in knowing that a human being was killed or nearly beaten to death. However, I also realize that we must learn to balance our feelings/compassion with the cold understanding that some of these human beings in question and their benefactors in certain power centers around the world are directly and indirectly responsible for the destructive mayhem, the widespread misery and the deaths of millions of innocent people worldwide - including Russians (think 1990s, when Russia suffered immensely essentially as a result of allowing criminal entities with connections to Washington, London and Tel Aviv to setup shop in the Russian Federation).

Some of these human beings, as well as a range of none governmental organizations, privately owned news agencies and foreign corporations
are destructive cancer cells that were transplanted into the Russian Federation during the turbulent 1990s. Thankfully, these cancerous cells are proving to be benign tumors. However, only through drastic and sometime ugly measures will they be eradicated.

Bare in mind that Russia's special services could very well have disposed of their anti-state collaborators, agents and mercenaries similar to how Western governments do the same - through car accidents, airplane crashes, a lone and/or crazed gunman, induced heart attacks, forced suicides, etc... Why the continuing show of unbridled brute force in Russia? Most definitely because of the West's continuing efforts to meddle in Russian internal affairs.
The Kremlin is clearly sending a loud massage to its antagonists, both foreign and domestic. And the message is clear: anti-state policies on behalf of foreign interests are no longer to be tolerated within the borders of the Russian Federation.
Below are several news reports that have appeared in Western/Zionist controlled press that are worth reading between the lines.
Arevordi
2 Bloody Weeks of Beatings, Killings and Raids
During the past two weeks, Russia was shaken by a whole string of horrible events that has once again clearly shown the extent to which the Russian state has become criminalized under Prime Minister
Vladimir Putin
's power vertical. On Nov. 5, an extended family of 12 people, including four children, were stabbed to death by a local gang in the village of Kushchyovskaya in the Krasnodar region. This is just the latest demonstration of how criminal groups, which enjoy close ties to large businesses and law enforcement agencies, are capable of terrorizing people and how they can apply force and violence with full impunity.
Village residents are scared to cooperate with investigators. They are afraid that the local head of the criminal syndicate, who is also the most powerful businessman in the region, will seek revenge. They remember only too well how for years the police have overlooked all the crimes he and his clan members have committed and how all of the previous beatings and murders have gone unpunished. The villagers are fully justified in fearing reprisals from the killers — or even from the police, who offer protection to criminals.
The Nov. 6 brutal attack on Kommersant journalist Oleg Kashin is the latest in a long series of beatings and murders of journalists that have become commonplace in Russia. Moreover, only one in every 10 of these kinds of attacks are ever brought to court. In Khimki, a suburb of Moscow, a gang war is being waged openly against activists and journalists. Journalist Mikhail Beketov, who was convicted for defamation against Khimki Mayor Vladimir Strelchenko, had been brutally beaten and crippled. On Nov. 4, activist Konstantin Fetisov was attacked with a baseball bat just outside his home and has remained in a coma ever since. Already, dozens of activists and journalists have been beaten or arrested in Khimki, and the police have not investigated a single crime. Does it surprise anyone that Strelchenko is still in power in this highly criminalized town?
In the past five years, 350 journalists in Russia have been beaten and 41 killed. The overwhelming majority of those cases have not been solved, including the high-profile murders of Novaya Gazeta reporters Anna Politkovskaya, Igor Domnikov and Yury Shchekochikhin, Forbes Russia editor Paul Klebnikov and others. Of the 31 reported cases this year of attacks against journalists, not a single one has gone to trial. In addition to using violence against journalists, the authorities also bring criminal charges against them. Last week, the prosecutor's office in the Altai region charged local journalist and politician Sergei Mikhailov with defamation for the "crime" of reporting the government abuses in the region.
One year after lawyer Sergei Magnitsky died in prison after authorities refused to provide him medical care, the investigators and prosecutors who were effectively responsible for his death were given promotions and honors. Meanwhile, the question of who in the Interior Ministry may have organized the seizure of companies belonging to Hermitage Capital — which Magnitsky was defending — that allowed the ministry officials to purportedly steal $230 million from the country's federal budget remains unsolved. No one has been charged in the case, even though Magnitsky and his former colleagues at Hermitage and law firm Firestone Duncan, where Magnitsky worked, has submitted strong evidence implicating top Interior Ministry officials. It has been known for a long time that Russia's law enforcement agencies run their own businesses, making hundreds of millions of dollars by raiding private businesses and extorting payments for protection and other "services."
No business is safe in Russia. On Nov. 2, police wearing masks and toting automatic weapons raided the head office of National Reserve Bank, owned by billionaire Alexander Lebedev, and conducted a search on the absurd allegation that the bank embezzled government funds while rescuing Rossiisky Kapital at the request of the Central Bank and the Finance Ministry. The National Reserve Bank's bailout was in accordance with the law and under the supervision of state authorities, returning the credit to the Central Bank in full and on time. At the same time, Lebedev repeatedly reported to law enforcement agencies that the former owners and directors of Rossiisky Kapital had removed more than 5 billion rubles ($162 million) from the institution after its assets had been frozen. Rather than investigate the criminal actions that led to the collapse of Rossiisky Kapital, the police came after National Reserve Bank. All of this creates the impression that the guilty parties used the search as a diversion tactic to focus attention away from their own crimes and to try to frame Lebedev's bank on trumped-up charges.
There may also be a political motive. After all, Lebedev, together with former Soviet leader Mikhail Gorbachev, own 49 percent of opposition newspaper Novaya Gazeta, known for its investigative reports on corruption and government abuse. Kremlin deputy chief of staff Vladislav Surkov has helped create an atmosphere of hatred and violence in the country by serving as the ideological patron for extremist youth groups, such as United Russia's youth movement Young Guard. In addition, Surkov has supported siloviki structures that have become the largest extortionists in the country.
Putin, Surkov and others in the Kremlin are leading the country to moral and economic ruin. Against this backdrop of rampant violence and corruption, Russia's best and brightest citizens continue to abandon the country in droves, choosing to contribute their talents and skills in the West. It is urgent that Russia make the transition from a state run by siloviki and organized crime to one in which the country is managed and kept in check by democratic institutions and civil society. Otherwise, the mere survival of Russia as a country will be in jeopardy.
Source: http://www.themoscowtimes.com/opinion/article/2-bloody-weeks-of-beatings-killings-and-raids/423321.html
Police in Russia Raid Bank of Billionaire
Masked police officers armed with automatic weapons conducted a raid on Tuesday of a bank belonging to the billionaire Aleksandr Y. Lebedev, who owns Russia's pre-eminent opposition newspaper and two London-based newspapers, The Evening Standard and The Independent. Shortly after 11 a.m., several dozen armed men in balaclavas and black uniforms surrounded the glassy office building without warning and entered the National Reserve Bank. According to a report in the newspaper Novaya Gazeta, masked men entered Mr. Lebedev's office and asked to speak with him; when he told them the documents they sought were not on the premises, they said they would conduct a search anyway. In a late-night blog post that included video of the raid, Mr. Lebedev said he was tired and exasperated. "Don't get involved in business," he wrote. "It will cost you too much. And don't support opposition newspapers."
Investigators were seeking documents related to a bank that Mr. Lebedev's company briefly owned and helped restructure after the 2008 financial crash, said Artyom Artyomov, a spokesman for Mr. Lebedev. He said the bank's previous owners had withdrawn 5 billion rubles, about $162 million, and Mr. Lebedev reported this to the authorities, but there was no follow-up at the time.
A spokesman for Moscow's police department, Viktor A. Biryukov, said investigators were seeking evidence for a criminal case that was opened some time ago. Mr. Artyomov described the raid as a "masky show," a term coined in the 1990s when the police began carrying out dramatic raids on businesses. "For many years, there have been no 'masky shows' in Moscow," Mr. Artyomov said. "If they have any questions, they should come and take the documents. We don't see any reason to organize this circus." The search drew immediate interest because it involved Mr. Lebedev, who stands out from the rest of Russia's industrial titans for his willingness to tease — and sometimes openly challenge — the Kremlin. A former lieutenant colonel in the K.G.B., Mr. Lebedev ran for mayor of Moscow in 2003, served as a member of Parliament and, more recently, toyed with the idea of founding an opposition party.
Political ventures were common among financiers in the 1990s, but they were all but forbidden under the presidency of Vladimir V. Putin. Mr. Putin ordered the arrest of the billionaire Mikhail B. Khodorkovsky, at the time Russia's richest man, and the media moguls Vladimir Gusinsky and Boris A. Berezovsky fled the country to avoid prosecution. Mr. Artyomov said that there were frequent police raids on the National Reserve Bank in the 1990s, but that the last one had occurred in 2001. He said Russian authorities had changed their tactics in dealing with large businesses, promising "that there would be no more masky shows, that they will not try to terrify us."

Yana Yakovleva, who was passing the site in her car on Tuesday morning, watched a column of young men "with the same short hair and needly eyes" emerge from black cars with tinted windows and head for the office building. "Ten years ago I would have said they were bandits," she said. "Today, I realized right away that they are law enforcement officers." Ms. Yakovleva, an entrepreneur, was herself jailed in 2006 for selling a product without the necessary licenses. The charges against her were dropped, but she formed a nongovernmental organization to help jailed businesspeople and has documented dozens of such raids, though usually on businesses no one has ever heard of. "The first primal feeling is simply fear," she said. "All of a sudden 20 armed, aggressive men are rushing into your premises, and they treat you like a criminal — not a potential one, but a real one. There is a clear certainty that in any case, they'll find something. In any case, you will be a criminal."

Source:
http://www.nytimes.com/2010/11/03/world/europe/03russia.html?src=me
Russian Journalist in Coma After Assault
A prominent Russia journalist known for his critical reports on pro-Kremlin youth groups was in a coma Saturday morning after being severely beaten, an assault his colleagues link to his reporting work. It is the latest case of such attacks in Russia, which is considered one of the most dangerous places for journalists. Oleg Kashin, 30 years old, was assaulted in the early hours of the morning near his home in the center of Moscow. According to Mr. Kashin's neighbor, who quoted a witness, he was attacked by two men who waited for him with a bunch of flowers to look less suspicious. Doctors induced a coma after the journalist was admitted to a local hospital with a severe concussion, broken legs, fractured jaw and damaged skull. Police opened a criminal investigation. Russian President Dmitri Medvedev was informed of the accident and ordered his interior minister to take control of the investigation.

Mr. Kashin's colleagues at the newspaper Kommersant, which is usually mildly critical of the authorities, connected the assault to the journalist's work. "By his reporting he managed to earn too many enemies, not known for their restraint," said one of Kommersant's journalists. Mr. Kashin reported extensively on youth groups, both those supported by the Kremlin, and the opposition ones. A member of the youth wing of the dominant United Russia party, in his article on the party's official website earlier this year, called to "punish a traitor" and said Mr. Kashin was "a member of a fascist underground"—language associated with Stalin's purges.

Police were interviewing Mr. Kashin's friends Saturday and declined to answer questions. The U.S.-based Committee to Protect Journalists ranks Russia eighth, between Nepal and Mexico, in its Impunity Index of the countries where journalists are regularly assaulted and the crimes against them unresolved. In all, 18 press killings have gone unsolved between 2000 and 2009 in Russia, according to the group.
Source:
http://online.wsj.com/article/SB10001424052748704366704575598191852053382.html?mod=googlenews_wsj#
Oil CEO in Russia guilty, prosecutors say
Prosecutors in Russia said former Yukos Chief Executive Officer
Mikhail Khodorkovsky
and his business partner were guilty as charged. Khodorkovsky and
Platon Lebedev
have been charged with stealing $9.6 billion from the oil company between 1999 and 2003, RIA Novosti reported Thursday. In addition, prosecutors say the pair stole 350 million tons of oil. They are each serving eight-year sentences for tax evasion and fraud. The Moscow News said Thursday the two are nearing the end of their sentences and that prosecutors are now asking for lighter terms for the thefts than originally sought. "We will ask the punishment for Khodorkovsky and Lebedev to be considered with the easing of the law," the prosecutor said. The maximum sentence, changed earlier this year, is 15 years, The Moscow News said. Khodorkovsky maintains the charges are political motivated and part of a government campaign to dismantle the company, which was declared bankrupt in 2006.
Source:
http://www.upi.com/Business_News/2010/10/14/Oil-CEO-in-Russia-guilty-prosecutors-say/UPI-83681287085259/
Kremlin Says New Evidence Ties Lawyer Who Died in Jail to Theft of $230 Million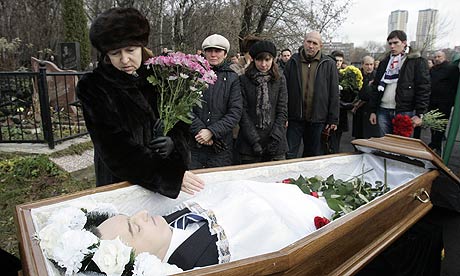 Senior Russian police officials, stung by accusations that they had framed a lawyer and then
allowed him to die
of an untreated illness in jail, sought on Monday to defend themselves by disclosing what they said was new evidence of his guilt. The police officials contended that the lawyer, Sergei L. Magnitsky, had helped to mastermind a complex tax scheme to steal $230 million from the government. Their announcement, scheduled for the eve of the anniversary of his death last year, represented an effort to turn the tables on Mr. Magnitsky's supporters, who have organized a
concerted campaign
in
Russia
and abroad to show that high-ranking police officials themselves embezzled the money. The Interior Ministry called a news conference to offer what it called the new information about Mr. Magnitsky. Col. Irina V. Dudukina, a spokeswoman, said the ministry had arrested a person she called an accomplice of Mr. Magnitsky's who was ready to testify against him.
"Magnitsky was an accountant and participated, in particular, in tax evasion schemes," Colonel Dudukina said. "It is not possible to say that he simply fulfilled the will of this employer without being informed of the final goal of his actions." In response, Mr. Magnitsky's colleagues assailed the ministry, saying it was smearing a dead man. Mr. Magnitsky had been caught in a feud between an international investment fund, Hermitage Capital Management, and law enforcement authorities. Hermitage has contended that senior Interior Ministry officers raided its offices in Moscow in 2007, took documents related to three of its subsidiaries and used those documents to illegally assume ownership of the subsidiaries. The officers then filed fake tax returns for the subsidiaries and received an illegal $230 million tax refund, Hermitage said.
William Browder, the founder of Hermitage, who was expelled from Russia in 2005 and now lives in London, called the Interior Ministry's announcement abhorrent. "Sergei Magnitsky reported a crime committed by police officers," Mr. Browder said. "They then arrested him, tortured him and killed him. Now, one year later, they are accusing him of the crime that they committed. There is a special place in hell for people like this." Mr. Browder has circulated documents showing that two investigators assigned to the Hermitage case spent a combined amount of more than $4 million on real estate and vehicles during the period that followed the tax fraud. Colonel Dudukina said the Interior Ministry had looked into these charges as part of a slander case initiated by ministry officials. She said the properties in question were all bought before the tax fraud occurred.
Colonel Dudukina was scathing about a measure put forward by Senator Benjamin L. Cardin, Democrat of Maryland, that would impose financial penalties and visa bans on officials implicated in Mr. Magnitsky's case. She said the list was "aimed at preventing investigators from taking part in investigative actions on the territories" of countries that have such measures. She said only 7 or 8 of the 60 names on the list were of people involved in the investigation. "We don't know why the other people are on that list," she said. Mr. Magnitsky documented repeated requests for medical care in prison, and numerous Russian officials have acknowledged that official misconduct contributed to his death. President Dmitri A. Medvedev ordered an official inquiry and dismissed about 20 prison officials. But a year later, the investigation has not led to any arrests, a fact that human rights advocates planned to protest on Tuesday.

Source: http://www.nytimes.com/2010/11/16/world/europe/16moscow.html?partner=rss&emc=rss
Blast from the past:

More Moscow Murder - Two Critics of Vladimir Putin Take Bullets in the Head

January, 2009
ANOTHER RUSSIAN fighting for human rights and the rule of law has been murdered in Vladimir Putin's Moscow. Stanislav Markelov, a lawyer who defended Chechens brutalized by Russian troops and journalists who wrote about the abuses, was shot in the head yesterday by a masked man carrying a silencer-equipped pistol. An opposition journalist who tried to intervene, Anastasia Baburova, was also fatally shot in the head. This occurred in broad daylight, on a busy street in central Moscow less than half a mile from the Kremlin. It was another demonstration that assassinations are a dominating feature of political life under Mr. Putin's regime. Mr. Markelov, 34, was killed just after holding a news conference. In recent days, he had been fighting against the early release from prison of a Russian colonel who had been convicted of brutally murdering a Chechen woman. The officer, Yuri Budanov, has become a symbol for many of Russia's gross violations of human rights in Chechnya, since he was one of the few officers ever held accountable.

Mr. Budanov's release a year before the end of his sentence prompted protest demonstrations in Chechnya; Mr. Markelov pointed out that Mr. Budanov's release contrasted sharply with the treatment of nonviolent political prisoners such as former Yukos oil executive Mikhail Khodorkovsky, who was denied parole. The larger story here is of serial murders of Mr. Putin's opponents, at home and abroad. Ms. Baburova, 25, is at least the 15th journalist to be slain since Mr. Putin took power. No one has been held accountable in any of the cases -- including that of Anna Politkovskaya, a former client of Mr. Markelov who also was murdered execution-style in broad daylight, on Mr. Putin's birthday in 2006. In London, dissident former KGB agent Alexander Litvinenko was poisoned; so was Ukrainian President Viktor Yushchenko, who survived. Karina Moskalenko, another opposition lawyer who has represented Ms. Politkovkaya's family, fell ill from mercury poisoning in Strasbourg, France, in October, just before a hearing in the case.

Last week in Vienna, a Chechen dissident who had received political asylum was murdered on the street -- shot twice in the head. It is possible that Mr. Putin and his security services had nothing to do with any of these murders. But it is a fact that the Russian leader has not pressed for justice; on the contrary, he has protected the suspects identified by Scotland Yard in the Litvinenko case. What is indisputable is that Russians live in a political climate in which those who criticize Mr. Putin or the human rights violations of his government can be murdered with impunity. Although some of the killings have occurred in their cities, Western governments have made no attempt to hold Mr. Putin or the Russian government accountable. Their silence helps keep brazen murder a part of Russia's politics.

Source:
http://www.washingtonpost.com/wp-dyn...011902604.html
Critic of Chechen President Is Killed in Exile in Vienna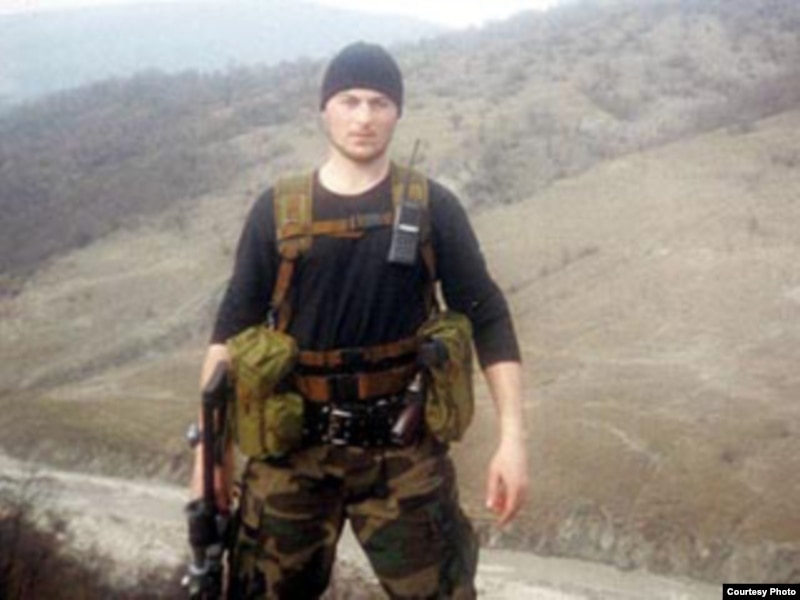 January, 2009
A Chechen who had formally accused the president of Chechnya of participating in kidnappings and torture sessions was fatally shot Tuesday as he walked out of a grocery store in Vienna, according to his lawyer and family friends. The shooting appeared to be another politically motivated killing of a Russian citizen who had criticized government conduct. The slain man, Umar S. Israilov, 27, had been detained as a separatist rebel, then was given amnesty, and briefly became a bodyguard to President Ramzan A. Kadyrov of Chechnya. He ultimately fled Chechnya for Europe. In late 2006, Mr. Israilov filed a complaint against Russia in the European Court of Human Rights that detailed his claims of the systematic use of abductions and torture by Mr. Kadyrov, and indigenous security forces under Mr. Kadyrov's command, to punish suspected insurgents and their families. The complaint covered events from 2003 through 2005, when Mr. Kadyrov led a state-sponsored militia and became the republic's deputy prime minister. It included Mr. Israilov's experiences as one of Mr. Kadyrov's victims and later as a witness to what he said were Mr. Kadyrov's crimes against others.

In an interview with The New York Times last fall, Mr. Israilov described several of the allegations, including the beating and kicking of detainees by Mr. Kadyrov and his fighters, the rape of a detainee by one of Mr. Kadyrov's subordinates, and Mr. Kadyrov's use of a device that delivered electric shocks to prisoners. Mr. Israilov said Mr. Kadyrov had used the electrical device on him, turning a hand-crank to deliver an excruciating charge. "It feels as if all of your muscles are going to explode," he said. "It was as if you were being torn apart." After Mr. Israilov fled Russia, his father was abducted, tortured by Mr. Kadyrov and held illegally for more than 10 months, in an effort to force the son to return home, according to both victims and a human rights worker who investigated the case. Mr. Israilov's father, who has received asylum in another European country, planned to travel to Vienna this week to arrange his son's funeral, a friend of the family's said by telephone.

The news of Mr. Israilov's killing became public late Tuesday night in Russia. Mr. Kadyrov's spokesmen could not be reached. Mr. Kadyrov has long been accused of human rights abuses and of ruling Chechnya through patterns of organized sadism and fear. He has always vehemently denied the accusations. As the allegations have mounted over the years, his rise to power has been nurtured by the Kremlin. He has remained closely associated with Prime Minister Vladimir V. Putin of Russia, who in 2004, as president, awarded him the Hero of Russia medal, the nation's highest honor. Mr. Israilov's complaint presented one of the first formal challenges in Europe to Mr. Kadyrov's official stature in Russia and raised implicit questions about his privileged place in Mr. Putin's circle.

Mr. Israilov had been granted asylum by Austria, but his life there had been filled with worries about his safety. In the interview last fall, he said he limited his movements and contacts with strangers after an emissary from Mr. Kadyrov visited Austria and tried to dupe him into returning home. "Ramzan is a very powerful man," Mr. Israilov said, "and he can have anyone killed." Nadja Lorenz, his lawyer in Vienna, said by telephone that she had recently sought protection for Mr. Israilov from the Austrian authorities, but that the request had been denied. A family friend of Mr. Israilov's gave this account of his killing: He was ambushed at lunchtime on Tuesday near his apartment as he left a grocery store where he had stopped to buy yogurt. At least four men in two cars were waiting for him. Mr. Israilov tried to run away but was quickly overtaken and shot. The family friend, out of fear for his own safety, asked that his name be withheld.

Source:
http://www.nytimes.com/2009/01/14/wo...html?ref=world
Why Chechens Need Anna Politkovskaya Right Now
March, 2010
On October 7th 2006, Russian journalist Anna Politkovskaya was exitting the elevator from her Moscow apartment when a hitman shot her four times. The correspondent for the Novaya Gazeta, a controversial newspaper owned by former Soviet leader Mikhail Gorbachev that explores Russia's true social/political environment, was killed on the spot. The assassination, triggered on Vladmir Putin's birthday, ignited the outrage and sorrow of Chechens as well as fellow Russian journalists who sought to expose the corruption of the FSB and government officials. Said Litvinenko, fellow journalist and a former KGB/FSB officer who resigned due to firsthandedly witnessing much of this corruption, "I know that a journalist of her stature could not be touched without sanction from the Russian president himself. Anna was a political opponent, and this is why she was killed."
When later poisoned to his own death in London, Litvinenko uttered the famous phrase: "You may succeed in silencing one man, but the howl of protest from around the world will reverberate, Mr Putin, for the rest of your life." But the furor, as always, reverberates for a short period of time before dying down, the names and stories of Politkovskaya and Litvinenko fading into obscurity — which was part of the intent of those behind their assassinations, as well as a clear message to those championing human rights and truth in Russia that, should their work continue, they will be next.
But today Russia, Chechnya, the world needs Politkovskaya more than ever. The Moscow subway bombings of yesterday reek of unanswered plotholes that the Russian government will most likely keep to themselves. The event was blamed on Chechnen suicide bombers — though hard evidence to this has not manifested. Due to the brutality of the two past Chechen wars, during which both sides suffered immensely, every act of terrorism in Russia seems to be automatically assigned to the doings of the Chechen people. However, this accusation is not always true; the 1999 apartment bombings in Russia were originally blamed on Chechnen terrorists but were most probably orchestrated by FSB officials themselves. The end result of that conspiracy was Vladmir Putin's ascension to power, and the engagement of the Second Chechnen War. Anyone who dared to divulge this truth was at once silenced through intimidation, or death. One man standing outside one of the bombed apartments in which his daughter, son-in-law, and grandson died, angrily said, "They say it was Chechens who did this, but that is a lie. It was Putin's people. Everyone knows that. No one wants to talk about it, but everyone knows it."
Which leaves us with this perplexing, ugly question: Were the Moscow subway bombings orchestrated NOT by Chechens, but by someone else? Like the FSB, for example (and for what end)? Does it even make sense that Chechens, after the end of the counter-terrorism operation in 2009 and during much-needed recovery, wish to trigger another war? Although some US journalists have intelligently questioned the verity of the statements that it was Chechnen suicide bombers behind the attack, they are unfortunately physically too far-removed from Russia to solidify their investigations. Neither do they seem to understand that investigations carried out by Russian officers (some of whom are tied to the FSB) can lead to a truth that will do anything to remain hidden.
It is unfortunately easy to ascribe such acts of terror like the subway bombings to Chechen rebels. In October 2002, Chechen terrorists held hostage 850 people in a Russian theater. In September 2004, Chechen rebel leader Shamil Basayev (killed 2006) masterminded the Beslan School hostage crises, where more than 1,000 children and teachers were held captive in the gymnasium for several days and at least 330 people died. Although they carried their dissent through these seiges, it was Politkovskaya who was their voice. Politkovskaya was the medium of truth, the only one who would frankly and intelligently tell their story to the world. Although she did not agree with the methods the Chechnen terrorists were using, she understood that they were using such opportunities to negotiate with the Russian government. When Russian officials tried to send in their own to the theater and Beslan school, the Chechens refused to speak with them. They demanded Politkovskaya.
During the theater siege, Politkovskaya immediately flew back to Russia from a media ceremony in LA, and while giving water and juice to the hostages, broadcast their voices to the world. "The terrorists," she said, "wanted someone who would accurately report things as they were. My work in Chechnya makes people there feel that I don't lie. But there wasn't much I could do for the hostages anyway." During the siege at the Beslan school, as Politkovskaya was getting ready to actively save the children by brokering talks between Russian officials and Chechen rebels, her tea was poisoned by state agents. Due to her illness, she was unable to attend the scene and mourned the catastrophic aftermath where sudden open-fire took the lives of so many.
But with Politkovskaya gone, there may not be anyone to broadcast the voice of the Chechen people and investigate if they were behind the bombings. There may be no one willing to expose the truth, if they should find it, for fear that the FSB would silence them next. Even today, the aftermath of the theater and Beslan school crises are left with disturbing conclusions found from crime scene investigations–that it was the FSB who fired first on both accounts, that Chechens did not begin firing until Russian officials started killing both terrorists and hostages alike. With Litvinenko and Politkovskaya now permanently MIA, this means possible danger for the Chechen people even more than ever. Who will continue the work Politkovskaya started?
Source:
http://dudetteinbrownsweater.wordpress.com/2010/03/31/why-chechnyans-need-anna-politkovskaya-right-now/
Yet Another Chechen Commander Assassinated in Istanbul
December, 2008
On December 10 former Chechen commander Islam Canibekov was assassinated in the Umraniye district of Istanbul. According to the police, the weapon used in the assassination was an SP3 or SM4 "Silent Pistol," which makes very minimal noise and was made especially for the KGB. Canibekov, who had been living in Istanbul for six years, was a businessman involved in the blanket business (Sabah, December 11). The Russian news agency RIA Novosti quoted a Turkish news agency as saying that "a dispute over donations being collected in Turkey for Chechen separatists could have led to the murder of Canibekov" (RIA Novosti, December 11).
This suggestion fails to explain, however, how and why the execution was carried out in such a professional way with a weapon designed for the KGB. It is no secret that the Russian Special Forces have carried out "operations in other countries, including in Qatar in 2004, when two Russian intelligence agents were convicted for a car bombing that killed Zelimkhan Yandarbiyev, a Chechen rebel leader who had taken refuge there" (RIA Novosti, December 11). Pro-Chechen web sites reported that the Russian intelligence service, FSB, was working actively in Turkey to find out who organized the donation activities, to direct a disinformation campaign against those who collected aid for the Chechens, and to spread rumors that the donations were not being transferred to the people in Chechnya (www.kavkaz.org.uk, August 29, 2006).
Salman Mashadov, who came from Chechnya, stated during the funeral ceremony that "Canibekov has done a great job for the Chechen cause. We will find who killed him. We will stop those who [try to] stop the Chechen struggle" (Yeni Safak, December 12).
Canibekov was reportedly on the Russian law enforcement agencies' most wanted list. He was accused of killing 30 people and organizing three bomb plots. It was claimed that Canibekov was the number-two man in Chechen insurgent groups. Police sources think that the Chechen mafia or the Russian intelligence services could be behind this murder, but because Canibekov had not received any threats, involvement by the Chechen mafia may be less likely (Vatan, December 11).
Canibekov's murder is especially alarming because it is not the first killing of former Chechen fighters in recent months. On September 6 Gazhi Edilsultanov, a former Chechen colonel, was gunned down in Istanbul reportedly during a dispute over financial aid being collected in Turkey for Chechen separatists. Edilsultanov was the head of the Chechen refugee camp in Istanbul (Zaman, September 17). It was reported that Edilsultanov had been wounded in Chechnya and came Turkey to receive medical treatment. Like Canibekov, he was also financially well off (www.iyibilgi.com, September 18; RIA Novosti, December 11).
It is interesting that the six people arrested for the Edilsultanov murder were Chechens and included two teenagers. The suspects confessed to killing Edilsultanov and stealing €50,000 (about $67,000). Two months later, the police found the gun believed to have been used in the murder along with €50,000 in the possession of one of the suspects (Taraf, November 11). Since the stolen money was found at a suspect's home, one should assume that the killers were not ordinary thieves and that they did not steal the money to spend it. The murderers apparently thought that Edilsultanov was collecting money for the fighters in Chechnya but was not sending it to them; therefore, they presumably killed him and kept the money until they could send it to Chechnya. Perhaps, however, the story of killing Edilsultanov for the €50,000 was not true, and the suspects invented the money story to cover up the fact that the murder was committed by Russian intelligence.
It should be noted that these murders came in the year that Prime Minister Tayyip Erdogan had announced that all Chechens in Turkey should not be regarded as terrorists. He said that "it is true that there are people who fled from Chechnya to get away from the war in the Caucasus. Some of them may be wounded, but we cannot brand every wounded person as a terrorist" (www.rusya.ru, February 11).
No matter what the real reason behind the killings of the two former Chechen commanders is, the Chechen community in Turkey is uneasy. The Chechen war refugees, of which there were 1,500 to 2,000 in 2002 (www.mazumder.org, March 4, 2002), are particularly concerned that the Russian intelligence service is targeting their leaders to stop Chechen activities. The two recent murders created the perception among Turks as well as Chechens that Russian intelligence has been actively involved in killing key Chechen figures. It remains to be seen whether the Chechen murders will trigger a crisis between Turkey and Russia. The two murders have, at any rate, greatly heated the political climate.
Source:
http://www.jamestown.org/single/?no_cache=1&tx_ttnews[tt_news]=34268
Russian died reporting on arms sales to Iran, Syria

2007
A journalist who plunged to his death from his apartment building window faced threats while reporting on a sensitive story that Russia planned to sell sophisticated missiles to Syria and Iran, his newspaper reported Tuesday. Ivan Safronov, a military affairs writer for the daily Kommersant, died Friday after plunging from a stairwell window between the fourth and fifth stories. Kommersant reported Tuesday that Safronov had told his editors he was working on a story about Russian plans to sell weapons to Iran and Syria via Belarus.
The deals, if concluded, could upset the balance of power in the Middle East and strain Russia's relations with Israel and the United States, which strongly objected to earlier Russian weapons sales to the two countries.
Kommersant reported that Safronov, 51, had recently told colleagues he was warned he would face a criminal investigation for possibly releasing state secrets if he reported allegations that Russia had struck a deal to supply Iskander missiles to Syria.
"Ivan Safronov said he was not going to write about it for a while because he was warned that it would create a huge international scandal and the FSB (Federal Security Service) would launch a criminal case on charges of breaching state secrets," the newspaper said. Safronov did not say where the warning came from, according to Kommersant, but he had repeatedly been questioned by the FSB — the KGB's main successor agency. Prosecutors have said nothing about Safronov's death, except that they are investigating it as a suicide.
The death comes amid a rash of attacks on journalists who write about official corruption, Chechnya and other abuses and amid fears that, under President Vladimir Putin, Russia is backsliding toward authoritarianism. Investigative reporter Anna Politkovskaya, a Kremlin critic, was shot dead in Moscow in October. The U.S.-based Committee to Protect Journalists said that 13 journalists have been killed in contract-style murders since Putin took office in 2000.

Source: http://www.azstarnet.com/sn/printDS/172382