Russian-Armenian Relations -
Caucasus Update Part-II
Russia's increasing military presence in the South Caucasus, its newly amended military pact with Armenia and Medvedev's arrival in Yerevan is drawing a lot of attention in Ankara and Baku and raising quite a few eyebrows the West (see posted articles below, including the last one by the deluded former presidential candidate John McCain).
With heightened tensions in the region and the specter of war looming over Nagorno Karabakh, Moscow's increased activity in the region is a clear warning to Ankara and Baku - hands off Armenia!
Yes, I believe that the timing of the military pact as well as president Demitri Medvedev's state visit to Yerevan is a clear show of solidarity with Armenia, a crucial show of support meant to discourage Turkish aggression. Despite what our agents of disinformation want us Armenians to believe, Moscow does not wish to see a war between Armenians and Azeris. More importantly, Moscow does not wish to see Armenia vulnerable.
I have been repeating the following for years now: Armenia is Moscow's only insurance against pan-Turkism, NATO expansionism, American imperialism and Islamic fundamentalism in the South Caucasus region. As long as the aforementioned threats remain in the region Moscow will jealously protect its close relationship with Yerevan.
From Central Europe to Central Asia Moscow has managed to roll back Western advances during the past several years. What's more, since Georgia's crushing defeat in the summer of 2008 Russia has become the sole power in the Caucasus. Currently we are seeing Moscow consolidating their gains. Regime change in Tbilisi will be next.
If Aliyev made a Saakashvilian mistake, if Baku tried something foolish against Armenia or Artsakh, they will pay dearly.
Grossmeisters in the Kremlin are continuing to play a brilliant game of geopolitical chess. Moscow's successes has also resulted in propelling Yerevan into an important political role. As we have seen, officials in Washington, Brussels, London, Paris, Moscow and Ankara have begun taking Yerevan seriously. Having developed a firm strategic partnership with Armenia in the South Caucasus (that which they continue to develop), Moscow has managed to mutilate Georgia (despite the West's best efforts to stop them), they have also managed to isolate Azerbaijan - and are currently working on driving a wedge between NATO and Turkey.
The worst one can say about Russia's attitude towards Nagorno Karabakh is that Moscow wants to maintain the status quo, in essence a political stalemate that keeps Baku and Yerevan dependent on Moscow.
However, I have to remind the reader that the status quo in Artsakh is in effect a pro-Armenian stance. As we have seen in places like Northern Cyprus, Kosovo, Abkhazia and South Ossetia, "official" recognition for Nagorno Karabakh should be considered of secondary political importance. As long as Artsakh is free and independent we can wait for the international community's (read the Western world's) worthless stamp of approval. Besides, Artsakh is not the end of the story for us Armenians, it's only the beginning.
We as a nation have a long ride ahead of us. We still have Javakh, Nakhijevan and Western Armenia to look forward to. And why not the Black Sea? If not us, then our children, if not our children then our grandchildren will reclaim those lands. And the only plausible scenario under which such an agenda can be undertaken is one that envisions the active participation of Russian forces, as it was in Tsarist times.
Those of you who think that a piece of paper, an old treaty or some international law will help us liberate our occupied homeland need to have your heads examined.
Although Armenians don't like thinking/talking about it, the reality is that Armenia owes its very existence to Russia. This situation/the dependency, albeit to a lesser degree, continues to this day. As a result, for better or for worst, our future as a state is tied to that of Russia's. Putting aside the dark days of the Bolshevik era (during which ethnic Russians suffered by far the worst fate), Armenia and Russia have been in an embrace for centuries. From the times of Israel Ori and David Bek to our anti-Ottoman revolutionary movements of the late 19th century, from the establishment of Soviet Armenia to Artsakh's war of independence - Russians have been with us Armenians through it all.
Russian presence in the Caucasus has allowed us to reestablish an Armenian state in the midst of Turkish and Islamic infestations. The formula is quite simple: no Russia in the Caucasus means no Armenia in the Caucasus.
Our self-destructive peasantry desperately need to realize this peculiarity of our history before they attempt to make demands of Moscow or to threaten them with a divorce.
Despite the aforementioned realities of our national existence in an unforgiving place like the Caucasus, we still have a significant number of intellectual dwarfs amongst us working to undermine Armenia's alliance with Russia. This can be explained: due to our massively inflated egos and our uncontrollable emotions a significant number of us Armenians today (including some of our best and the brightest) have a serious problem today with objectivity and rationality. We seem to have a difficult time analyzing and/or assessing information, especially if the information is political in nature. More troubling, however, is our severe problem with perception; the proper realization/view of who we are, what we are capable of and what we are not capable of.
The bottom line is this: Armenia is a tiny, impoverished, landlocked, blockaded nation without resources surrounded by enemies. Despite what our big-talking diasporan nationalists want to believe, for the foreseeable future Armenia will be dependent on other nations for survival.
Let's be happy that a major global power (one that is also a virtual neighbor) has a vested interest in us. Russians more-or-less have the same enemies as we do, they provide us with military protection, they provide us with affordable nuclear and conventional energy, they provide us with crucial economic trade and investments, and just to make the Armenian diaspora happy (because for our diaspora Armenia's well being as a state is only secondary to genocide recognition) - they even officially recognize our genocide
(every Russian official that has visited Armenia, including Putin, Ivanov, Lavrov and Medvedev, has visited our genocide memorial).
What the **** more does our Russophobic peasantry want from these people - being spoon fed? Well, despite what our self-destructive peasantry or our agents of disinformation want us to believe, Moscow has treated us Armenians with white gloves. The scariest thought for me as an Armenian is to imagine the Caucasus without a Russian presence. God bless Mother Russia, God bless our Hayrenik. Russian-Armenian alliance is the last front against pan-Turkism, American imperialism, NATO expansionism and Islamic fundamentalism.
Arevordi
***

Russia's Medvedev Begins Armenia Visit
Russian President Dmitry Medvedev accompanied by his wife, Svetlana Medvedeva, arrived in Yerevan on Thursday on a state visit and were greeted at Zvartnots airport by President Serzh Sarkisian and his wife, Rita. The first stop for Medvedev was Dzidzernagapert, where he laid a wreath at the monument to the victims of the Armenian Genocide. He also visited the adjacent Memory Part, where he watered a tree he planted during his 2008 visit. Medvedev was accompanied by Armenian Foreign Minister Eduard Nalbandian. Medvedev and Sarkisian are scheduled to meet Friday for a closed-door meeting, to be followed by talks with delegations representing the two countries. Accompanying Medvedev to Armenia are Russian Foreign Minister Sergey Lavrov, Defense Minister Anatoliy Serdyukov, Transport Minister Igor Levitin, Russia's Ambassador to Armenia Vyacheslav Kovalenko and other officials.
Corresponding amendments to a 1995 treaty regulating the presence of a Russian military base in Armenia will extend Russia's basing rights by 24 years, to 2044, and upgrade the mission of its troops stationed in Armenia's second largest city of Gyumri close to the border with Turkey. According to a relevant "protocol" submitted to Medvedev by the Russian government, besides "performing functions on defending the interests of the Russian Federation," the Russian military base also "jointly with the Armed Forces of the Republic of Armenia ensures the security of the Republic of Armenia." The document also commits Russia to supplying its regional ally with "modern and compatible weaponry and special military hardware," reported Radio Free Europe/Radio Liberty. The two leaders are also scheduled to visit Gyumri and preside over the inauguration of Hill of Honor, the resting place of Russian officers killed during Russia-Turkish wars of the 19th century. Following the inauguration ceremony, the two leaders will travel to Lake Sevan for an informal summit of the Collective Security Treaty Organization leaders.
Source: http://asbarez.com/84320/russia%E2%80%99s-medvedev-begins-armenia-visit/

Russian Deployment of S-300 Missiles Threatens U,S. Interests in the Caucasus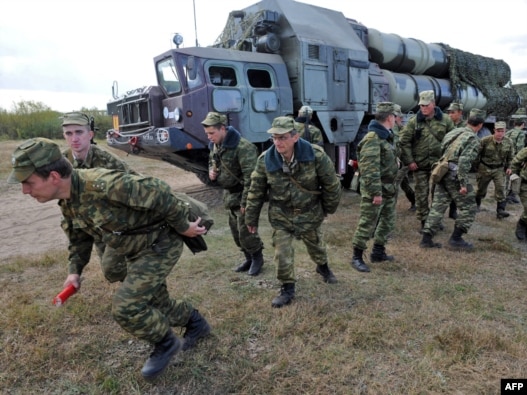 On Wednesday, Gen. Alexander Zelin, the commander of the Russian Air Force,
announced
that Moscow had deployed a state-of-the-art S-300 (SA-20 Favorit) long- range air defense system in Abkhazia, a region of the Republic of Georgia that Russia has occupied since the August 2008 war. Since then, Russia recognized breakaway Abkhazia and South Ossetia as independent republics. According to Zelin, the task of the air defense systems is "to prevent violation of Abkhaz and South Ossetian airspace and to destroy any aircraft intruding into their airspace
no matter what their purpose might be
". However, there is much more than the defense of Abkhazia to the Russian deployment. Taken together with the S-300 base in Armenia, it extends the strategic air space over South Caucasus and over parts of the Black Sea, furthering Russian control.
The response from the Obama Administration was faint. P. J. Crowley, U.S. Assistant Secretary of State and State Department spokesman said: "I believe it's our understanding that Russia has had S-300 missiles in Abkhazia for the past two years." He later claimed that this is "not necessarily" a new development. This is another example of the Obama Administration's "don't let your missiles interfere with my reset policy" approach. However, with this move Russia is yet again flagrantly violating the August 2008 ceasefire agreement, negotiated by French President Nicolas Sarkozy. It called upon both countries to withdraw troops to pre-war positions and restore status-quo ante bellum. In addition, Russia has built up to five military bases in Abkhazia and South Ossetia in the past two years alone.
Although the range of the system is about a 120 miles, the deployment has to be seen in the context of recent Russian policies in the Caucasus. Moscow negotiated a contract extension for basing troops in the Armenian Gyumri military base till 2044. It will assume joint control over Armenian borders. As the leading member of the Collective Security Treaty Organization, Russia controls air space over Armenia. Now Moscow is reportedly selling an S-300 air defense system to Azerbaijan. There is a clear strategy behind these actions. While Secretary of State Hillary Clinton hails "soft power" in the Caucasus, Moscow engages in a hard, classic political-military power projection in this strategic region, which connects the Atlantic (via the Black Sea and Mediterranean) with the energy riches of Eurasia. As President Medvedev stated in his post-war 2008 speech, this is "a zone of Russian exclusive interests", where it is willing to use force.
Most importantly from the perspective of the United States, Russian actions are aimed at denying the United Space airspace and over-flight options. The surveillance aspect is no less important—depending on the actual deployment of the air defenses: associated radars will be able to picture or "paint" much of western Georgia and the adjoining Black Sea coastline. The ultimate objective for Moscow is to become an uncontested hegemon in the South Caucasus. And of course this has potential implications in case of an Iranian contingency. The Russians are committed to deployments in the Caucasus that lead to the strategic denial of U.S. power projection in that region. This bears on the U.S.'s future ability to resupply Afghanistan; to use power to disarm a nuclear Iran; to ensure energy supply from the Caspian; and to help pro-Western friends and allies. These are hardly great accomplishments for the Obama "reset" policy".
Source: http://blog.heritage.org/2010/08/13/russian-deployment-of-s-300-missiles-threatens-us-interests-in-the-caucasus/

Russia: A Cop for the Caucasus?
Last year, the South Caucasus's self-styled sheriff, Russian President Dmitri Medvedev, came to town (in Sochi)
with a message
for the region's gun-slinging hombres: Russian bases in breakaway Abkhazia and South Ossetia are a "signal to those, who get the itching and who have idiotic ideas visit their head every once in a while."
The message may have been meant for Georgian President Mikheil Saakashvili, but Azerbaijan's Ilham Aliyev might also take note. Medvedev is expected to sign in Yerevan this month an
agreement on keeping Russian troops in Armenia for half a century
, and maybe more, to "protect" Armenia. And, of course, it is Azerbaijan that Armenia sees as enemy number one. Yerevan sees the Russian guard as the main deterrent against Azerbaijan's potential attempt to reclaim the breakaway Nagorno-Karabakh region by force. But the news of Russia's plans left an unpleasant aftertaste behind for many Americans. Some see it as a threat to Armenia's independence.
Similar opinions also reportedly exist beneath the surface within breakaway Abkhazia, where Russian protection is sometimes seen as both vital and overbearing. Armenian National Security Secretary Artur Bagdasarian was quick to assert that the move is not going to limit the nation's ability of independent decision-making. But critics say that in making decisions, Caucasians must stay mindful of the man with a gun.
Source:
http://www.eurasianet.org/node/61719
Russia to beef up military presence in former Soviet space

The deal, which is expected to be officially unveiled later this week, will allow Russia to keep and expand a military base in the strategically vital South Caucasus region which is criss-crossed with oil and gas pipelines. "The contract was previously concluded for a period of 25 years but will now be effective for 49 years starting from 1995," Armenian foreign minister Eduard Nalbandian told Russian state TV. "The Russian military base, along with providing for the interests of the Russian Federation, will provide for the security of Armenia." Analysts said the agreement was evidence of Russia's desire to bolster its geopolitical influence in the former Soviet Union in the face of what it sees as an increasing American interest in the region.
It is the latest show of strength by the Kremlin that has alarmed other countries in the region, notably Georgia against whom Russia fought a short war in 2008. Earlier this year, Russia brokered a surprise deal to keep its Black Sea Fleet based in Ukraine until at least 2042, and, only last week, the Kremlin admitted it had installed game-changing S-300 air defence missiles in Abkhazia, a breakaway region of Georgia, as long ago as 2008. In the case of Armenia, the extended Russian deployment could have far-reaching consequences as tensions between Armenia and neighbouring Azerbaijan remain high over the disputed Nagorno-Karabakh enclave. The two countries fought a war in the early 1990s over the territory that claimed 30,000 lives and Azerbaijan regularly threatens to take back the enclave by force.
Reset the Russian Reset Policy
Russian President Dmitry Medvedev recently proclaimed Eurasia a Russian "sphere of exclusive interests." Moscow has backed up those words with every available foreign-policy tool: diplomacy (including recognition of breakaway republics), arms sales, defense pacts, base construction—even regime change. This month marks the second anniversary of the Russian-Georgian war, a conflict that put Tbilisi's NATO and European Union ambitions on hold while cutting off for good the pro-Russian secessionist territories of Abkhazia and South Ossetia.To further strengthen its dominance in the region, Russia was intimately involved in this April's overthrow of Kyrgyzstan President Kurmanbek Bakiyev. The move was a payback for his refusal to evict the U.S. airbase at Manas airport and a lesson to those in the region who buck the Russian diktat.
Russia is also pressuring Belarus to jettison strongman Alexander Lukashenko in favor of a more pliant, pro-Moscow, but not necessarily more democratic, leader. And just last week, Russia tightened the screws on Georgia and Moldova by ordering its customs-union partners Kazakhstan and Belarus to stop importing Georgian mineral water and Moldovan and Georgian wines. The U.S. response to all this has been confused at best. During her recent visit to the Caucasus, Secretary of State Hillary Clinton did call the Russian presence in Abkhazia and South Ossetia "occupation" of Georgian territory. But she spent most of the time stressing the importance of "soft" over military power, which still plays a key role in the region.
Unfortunately, the Obama administration rarely goes beyond rhetoric, jettisoning 20 years of often muscular pursuit of a bipartisan freedom agenda, which included opposition to Russia's military presence in the post-Soviet space, support of Georgian integration into Euro-Atlantic security structures, and boosting ties between post-Soviet states from Uzbekistan to Ukraine and Moldova. While the Obama administration praises soft power, Russia still speaks the language of arms. In the past two years it has built five military bases in Abkhazia and South Ossetia. Later this month, during President Dmitry Medvedev's visit to Yerevan, Moscow will provide military guarantees to Armenia, assuming a "joint" responsibility to protect the country's borders against Azerbaijan and Turkey. Prime Minister Vladimir Putin has prepared a draft protocol for President Medvedev's signature that would commit Russia's troops at its military base near the Armenian city of Gyumri to the country's defense and sell advanced weapons to Yerevan. Baku and Ankara must be livid. While the previous contract called for the Gyumri base to be dismantled in 2015, the new protocol will allow Russia to stay there until 2049. The arrangement is similar to the renegotiated lease for the Sevastopol naval base in Ukraine, which is extended to 2042 as it, too, prevents the country's future membership in NATO.
Russia's pledge to defend Armenia puts Azerbaijan in an untenable situation. It's a clear warning against any Azeri attempt to regain the secessionist Nagorno-Karabakh region or its seven Armenian-occupied districts. The subtext is clear as well: Azerbaijan should scale back cooperation with the West or face the consequences. The Russian-Armenian protocol makes Russia the dominant power in South Caucasus, as the U.S. and NATO are unwilling to commit to long-term military presence there. Baku's efforts to reach out to Russia by selling gas and buying sophisticated weaponry so far have not borne fruit. At the same time, Russia is skillfully playing both sides and may have found a way to sweeten the Armenian defense pact for Baku. Russia's Vedomosti newspaper reported last month that Moscow has sold Azerbaijan the state-of-the-art S-300 anti-aircraft missile system. While Russia's Defense Ministry denied the report, the Azeri Defense Ministry did not. If the S-300 sale went through, it probably contributed much to Baku's surprising silence on the Russian-Armenian defense protocol.
While extending its military reach, Moscow is simultaneously trying to assume the role of primary mediator in the territorial dispute over Nagorno-Karabakh. Moscow hopes to retain its historic ally, Armenia, while wooing a new partner, Azerbaijan. That's not to say Moscow is intent on resolving the conflict. Rather, it pursues greater cooperation with Yerevan and Baku—including military cooperation—as a means of increasing its leverage and arms sales to both sides. The growing tension over Iran's nuclear program may have also played a role in Russia's extension of its lease in Gyumri. In case of a "hot" conflict, Russia would be able to stop the deployment of U.S. military and allied forces in the Caucasus, including the use of air bases. Russian control of South Caucasus airspace from bases in Armenia, Abkhazia and South Ossetia could deny U.S. air operations there without Moscow's consent.
Meanwhile, Washington seems content with preaching the importance of "soft power." Its pseudo-Realpolitik approach of "seeing no evil" only encourages Moscow to expand its hegemony. To roll back the Kremlin's growing regional influence, Washington should expand its political-military cooperation with the countries of Central Asia and the Caucasus; lift the de facto weapons embargo on Georgia; and engage in meaningful efforts in the realms of energy, security and good governance. Washington should explore sales of Patriot missiles and modern military equipment to Azerbaijan; boost support for the Nabucco and trans-Caspian gas pipelines in coordination with European capitals; and promote greater transparency, democracy and the rule of law in the region. The Obama Administration, in short, needs to reset its Russian reset policy to protect America's interests in Eurasia.
Source:
http://online.wsj.com/article/SB10001424052748704164904575420983022047918.html?mod=googlenews_wsj