Russia has exported record-high $7 billion arms in 2007, First Deputy Prime Minister Sergey Ivanov said on Monday. Still, it came short of $1 billion as a ship construction contract with Algeria was frozen over tensions in the bilateral relations. Russian arms sales have doubled over the past seven years when arms exports have been overseen by Rosoboronexport's former CEO and Rostekhnologia's new director general Sergey Chemezov. Sergey Ivanov said on Monday "there are good reasons to say that this year the benchmark of $7 billion has been surpassed" to beat the record of $6.5 billion in 2006. Arms exports are growing on major deals signed between 2004 and 2006. During that period a number of Muslim countries were buying a lot of arms from Russia at the backdrop of U.S. military interventions in Afghanistan and Iraq as they perceived Moscow if not as America's enemy but at least a rival. In the meantime, the Russian military industry has bounced back from the 1990s slump on export contracts which built groundwork for large-scale serial supplies.

The biggest part of the contracts was executed by Rosoboronexport, the state arms exports agency which was set up in November 2000. Arms producers and designers are now allowed to export only spare parts and do repairs and modernization of the hardware they have exported. Rosoboronexport was first headed by Alexander Belyaninov but it was Sergey Chemezov who was doing preparations for all major deals. Mr. Chemezov went on to take the helm at the firm in April 2004. His old friendship with Vladimir Putin made sure that the state was very supportive of Russian arms export projects. On November 26, 2007, Mr. Chemezov became head of the state-run corporation Rostekhnologia which will merge with Rosoboronexport. Over Sergey Chemezov's seven years in Rosoboronexport, sales of Russian arms abroad went up from $3.68 billion in 2000 to $7 billion this year.

Rosoboronexport would not comment on Mr. Ivanov's announcement on Monday. Mikhail Dmitriev, head of the Federal Military and Technical Cooperation Service, said that "aviation is still in the greatest demand – Su and MiG jets and Mi helicopters". Russia will have exported 70 Su-30 fighters alone to India, Algeria, Venezuela and Malaysia worth $3 billion this year. "This was a record-breaking year for us," Oleg Demchenko, president of the Irkut corporation, told Kommersant. "The plant in Irkutsk will assemble 43 Su-30MKI, Su-30MKM and Su-30MKI(A) fighters by the end of the year. We were not producing as much even in the Soviet times."

There have also been major deals in missile defense systems. Early this year Mr. Ivanov announced a contract with Iran on the Top-M1 short-range complex to be executed. Meanwhile, Russia is still doing a contract with China on a long-range system S-300PMU-2. Scheduled naval supplies have failed. Indian fleet officials said in September that the leasing of the Chakra nuclear submarine of the 971 Shchuka-B project was put off until June 15, 2008 after the Amursky Shipyard in Komsomolsk-on-Amur was 9 months late with the construction. Russia also insisted that the bill should grow from $650 million to $785 million. India agreed to the postponement but would not have the price reviewed. Several contracts with Algeria which were part of an $8 billion package deal signed during Vladimir Putin's visit to the country in March 2006 have been frozen at Algerian authorities' initiative. The chill in the bilateral relations seems to be linked to the domestic situation in the country as well as France's resurgence in the region.

Apparently, these reasons can account for a $1 billion drop in exports compared to estimates at the start of the year. Mikhail Dmitriev said in February: "In 2007 we may reach the level of $8 billion in military and technical cooperation." Still the named $7 billion may be viewed as a rough estimate. For example, in 2005, results of the year's arms trade were revised several times. In December 2005, the Federal Military and Technical Cooperation Service reported the year's exports to reach $5.1 billion, which was $700 million below 2004's indicator. Russian President Vladimir Putin revealed later at a session of the Military and Technical Cooperation Commission revised figures of the exports of $5.3 billion. In January 2006, Sergey Ivanov was already quoting a figure of "over $6 billion". Finally, Mikhail Dmitriev in February announced exports to stand at $6.126 billion in 2005.

In the short term, Russian arms exports are likely to keep growing, which is proved by a rise in exporters' contract portfolios. Mr. Dmitriev said in February that the portfolio was worth $30 billion, $20 billion of which accounts for Rosoboronexport, which will make sure Russia exports are at least no less than in 2007 for two or three years to come. The head of the Federal Military and Technical Cooperation Service said on Monday: "Currently the portfolio is worth over $32 billion, which allows us to be confident about military and technical cooperation in the future. The start has been launched by Rosoboronexport which will have a portfolio of orders of $24 billion." Exports in 2008 are also expected to be dominated by air force supplies including Su and MiG fighters to India, Venezuela, Indonesia and Syria. There are also supplies of missile defense systems to China and Syria, military ships to Vietnam, and submarines to India and Algeria.

But experts say that Russian arms exports might slump in three or four years' time. "We will reach some sort of 'tableland' with the $7 billion," Ruslan Pukhov, director of the Strategy and Technology Analysis Center, told Kommersant. "Our export will be keeping at the same level in the next three to four years if the current political situation in the world persists. But this 'tableland' may be followed by a dramatic fall." The expert says that the Russian military industry is desperately understaffed especially with highly-skilled workers. At the same time, inflation in the industry is higher than the national average. In 2007, prices in Russia will grow some 12 percent while the military and industrial complex will see a 20 percent jump. Mr. Pukhov also said that the industry sees a steep growth of overhead expenses as it is not using energy saving technologies. As a result, Russia may not be able to produce some specimens of arms while others will be impossible to sell at a competitive price.

Source:
http://www.kommersant.com/p839684/r_...s_Export_2007/
In other news:
Construction of Black Sea Fleet base in Novorossiisk on track
Construction of a base for the Black Sea Fleet in the port of Novorossiisk is proceeding according to schedule, Russia's defense minister said on Wednesday. "Today I have visited Novorossiisk, our Black Sea Fleet base there - the one that we are building as part of a federal program," Anatoly Serdyukov told President Vladimir Putin. President Vladimir Putin signed a decree in 2003 setting up an alternative naval base for the Black Sea Fleet in Novorossiisk, which the Navy said will be ready by 2012, after Ukraine demanded the base in Sevastopol be closed by 2017. Russia has allocated 12.3 billion rubles (about $480 million) for the construction of the new base between 2007 and 2012. The construction of other facilities and infrastructure at the base, including units for coastal troops, aviation and logistics, will continue beyond 2012, the admiral said. Russia and Ukraine signed an agreement in 1997 stipulating that the Black Sea Fleet's main base in Sevastopol, on the Crimean Peninsula, be leased to Russia for 20 years, with the possibility of extending the term. The annual rent of about $100 million is deducted from Ukraine's debt for Russian energy supplies. In addition to the main base, the Black Sea Fleet maintains two airfields and a ship re-supply facility on the Crimean Peninsula. But Ukrainian President Viktor Yushchenko said previously that the current rent could be increased in the future.

Source:
http://en.rian.ru/russia/20071226/94260539.html
Moscow hails ballistic missile tests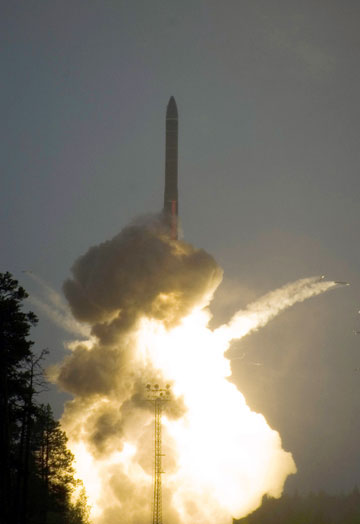 Russia has successfully tested a new generation of land- and sea-based ballistic missiles in the latest signal of the revival of its military capability. The Russian military on Tuesday carried out a xsecond successful test of the RS-24 intercontinental ballistic missile, capable of carrying multiple warheads - first tested last May.

The missile was fired from a mobile launcher at the xPlesetsk space centre in northern Russia. Its multiple test warheads hit their designated targets in the Kura test range on the Kamchatka peninsula in the Pacific. At the same time, Russia launched its second successful test in a week of the submarine-launched RSM-54 or Sineva hybrid ballistic xmissile - which in its final stage becomes a cruise xmissile. It also hit a target in Kamchatka, Russia's defence ministry said. The tests come amid vehement Russian opposition to US plans for a missile defence system in eastern Europe. Although the US has said the system is aimed not at Russia but at "rogue" states such as Iran, Moscow has warned that the plans could upset the strategic xbalance of forces.

Russia has promised an "asymmetric" response, including missiles capable of circumventing any antixmissile system. Russia's strategic missile forces said the RS-24 would strengthen their ability to "penetrate missile defence systems and strengthen the nuclear deterrent potential of Russia's strategic nuclear forces". "The RS-24 will form the backbone of the Strategic Missile Forces and safely ensure the security of Russia and its allies through the mid-century," the Russian forces said. The RS-24 is based on the existing Topol-M, which can carry a single warhead as far as 6,000 miles (10,000km). Strategic missile forces said the RS-24 was designed to replace ageing Soviet-era weapons such as the SS-19 Stiletto and SS-18 Satan.

Russia also demonstrated its technological abilities on the same day by launching a rocket carrying three more satellites for its Glonass global positioning satellite system, taking the totalin place to 18. The launch completed the system's coverage of Russia. Six more satellites are due to be launched next year, giving the system global coverage by 2009 and turning it into a rival to the US Global PositioningSystem.

Iran's defence minister said yesterday that Tehran had agreed to buy an S-300 surface-to-air missile system from Russia, according to Iranian media reports quoted by Reuters from Tehran. "The S-300 system, under a contract signed in the past with Russia, will be delivered to Iran," Mostafa Mohammad Najjar told Fars News Agency, without xgiving details. "The timing of the delivery . . . will be announced later," he said. The ISNA news agency carried a similar report. In a deal criticised by the west, which fears that Tehran might want to build nuclear bombs, Russia this year said that it had completed a contract to deliver TOR-M1 tactical surface-to-air missiles to Iran.

Source:
http://www.msnbc.msn.com/id/22400089/
Russia's Submarine Successfully Fired IBM
K-114 Tula nuclear submarine has successfully fired an intercontinental ballistic missile, RIA Novosti reported. The warhead of the missile hit the target in Kura training ground of Kamchatka, people in the Navy's news service specified. The missile was fired from submerged condition. K-114 Tula submarine was constructed under the Project 667BDRM. It was rebuilt and upgraded in Severodvinsk a few years ago. The missile-carrying submarines of this type are armed with sixteen RSM-54 missiles of D-9RM system. These submarines that are 167-meter long and 12-meter wide have submerged displacement of 18,200 tons and are capable of going down to the depth of 400 meters. The crew has 135 members. The recent launch from K-114 Tula submarine was the fourth launch carried out by Russia's Navy in 2007 and this year's second launch of RSM-54 missiles. Russia's Navy also fired a RSM-50 and a RSM-56 Bulava in addition to two RSM-54s.

Source:
http://www.kommersant.com/p-11818/IBM_submarine/
Russia launches 3 satellites to expand its space navigation system
Russia on Tuesday launched three satellites to complement its space navigation system, officials said. The satellites were sent into orbit on a Proton-M rocket that blasted off successfully from the Baikonur launchpad in Kazakhstan, said Russia's Federal Space Agency spokesman Alexander Vorobyov. They are to join Russia's Global Navigation Satellite System, or GLONASS - the equivalent of the U.S. Global Positioning System, or GPS. The system, which serves both military and civilian purposes, was developed during Soviet times and is supposed to have 24 satellites. Their number dwindled after the 1991 Soviet collapse, but the government has earmarked funds to revive the system to its full strength thanks to Russia's windfall oil revenues. Russia's First Deputy Prime Minister Sergei Ivanov said that Tuesday's launch would bring the GLONASS satellite fleet to 18 - the number necessary to provide navigation services over the entire Russian territory. He said Monday that the system would be available worldwide by 2010, for which it would need to have 24 satellites.

Source:
http://canadianpress.google.com/arti...3l4Eba2U0EHwOA
Russian army to get new combat vehicles in 2008
Russia's Defense Ministry has ordered new tank support combat vehicles to boost firepower of the Ground Forces armored units, a Russian newspaper reported. The Uralvagonzavod Plant, based in Nizhny Tagil in the Sverdlovsk region, has long been developing a concept for a unique combat vehicle (Russian acronym BMPT) to provide fire support and protection for tanks on the battlefield, however its implementation has been subject to delays. "We have received the first orders for new BMPT combat vehicles," the Vzglyad business newspaper Thursday quoted Uralvagonzavod Director General Nikolai Malykh as saying. "We will produce the first two vehicles next year," Malykh said. The BMPT, dubbed the Terminator, is built on the basis of the most mass-produced T-72 battle tank. The new combat vehicle features enhanced armor protection and is equipped with powerful armament capable of destroying anti-tank capable ground and air targets and infantry, while operating in a common battle formation. БМПТIts main armament consists of two 30-mm 2A42 automatic cannons, a coaxially-mounted 7.62-mm PKTM machine gun with an electromechanical drive, and four launchers with laser-guided Attack-T anti-tank missiles. Russia's Ground Forces Commander, Colonel General Alexei Maslov, earlier said that the army expected to deploy a company equipped with tank support combat vehicles by 2010. Several foreign countries have already expressed an interest in buying the Russian-made BMPTs.

Source:
http://en.rian.ru/russia/20071228/94527278.html