Armenian oil refinery could get green light in February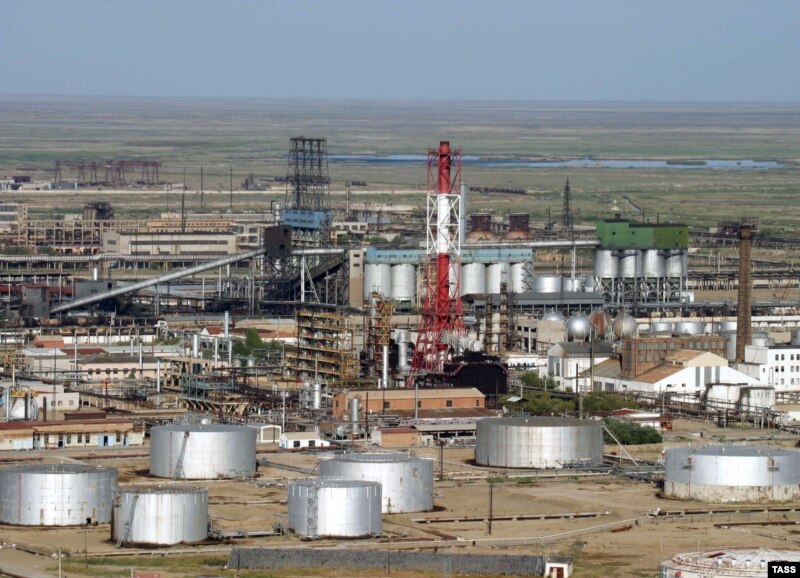 December, 2007



Armenian Energy Minister Armen Movsisyan announced that next February, a team of Armenian, Russian and Iranian researches will present its final viability report on the construction of an oil refinery in southern Armenia to process Iranian oil. The report should detail the profitability, or lack thereof, of an Armenian oil refinery and a plan to send oil in a U-turn back to Iran. The refinery, which would be built near the Iranian border, could cost about USD 2 billion, according to the news agency Regnum. Its capacity should be in the region of 6.5 million tons of crude oil a year, producing 3.3 million tons of diesel and 2.8 million tons of petrol. The finished product could wind up in Armenia, Iran and possibly other markets. The Russian and Armenian presidents were said to have hammered out a plan for the refinery in a Sochi meeting at the start of this year.


Source:
http://www.messenger.com.ge/issues/1...con_three.html
Armenian minister says only his country capable of using nuclear power
On December 22, Armenian Energy Minister Armen Movsisyan said that the international community would oppose any Georgian or Azerbaijani bid to construct a nuclear power station, according to the news agency Regnum. Armenia's regional neighbors do not have the experience needed to build and maintain a nuclear reactor, Movsisyan said, adding that only Armenia, which has operated the Metsamor nuclear power plant since the 1970s, is capable of safely using nuclear energy. "The international community has a loyal relationship towards the building of a new nuclear power station in Armenia," Movsisyan concluded. Yerevan is decommissioning the aging Metsamor station at an estimated cost of USD 345 million, Regnum reports. The Armenian government is now looking to build a new nuclear power plant, with a projected cost of USD 2 billion.

Source:
http://www.messenger.com.ge/issues/1...con_three.html
Armenia can launch uranium output within 2-5 years



Armenia can launch uranium output within 2-5 years, said RA Energy Minister Armen Movsisyan. At the best, Armenian and Russian experts will accomplish the essential research during a year. Preparations for the output may take from 1 to 5 years, according to him. "Uranium enrichment in Armenia is expedient from the economic standpoint, since there are no major commercial pools in the republic," the Minister said, Rosatom.ru reports. Last month Armenia decided to join the Russia-Kazakhstan agreement on establishment of an international center for enrichment of uranium in Angarsk (Irkutsk region of Russia). Presently, the terms of geological prospecting are being determined. According to preliminary data, uranium resources in Armenia total no less than 30 thousand tons. Rosatom specialists suppose that the figure can double.

Source:
http://www.panarmenian.net/news/eng/?nid=24464
Kocharian Signs Armenian Defense Doctrine

President Robert Kocharian signed on Wednesday Armenia's official military doctrine that describes Azerbaijan's pledges to win back Nagorno-Karabakh as a key threat to national security and asserts Yerevan's right to launch pre-emptive military strikes against potential aggressors. "In the event of an immediate threat of armed aggression, the Republic of Armenia reserves itself the right to take military actions aimed at neutralizing it," reads the doctrine approved by Kocharian's National Security Council on Friday.

The 18-page document was drawn up by a special commission of the Armenian Defense Ministry in collaboration with local and foreign experts. Its main points are in tune a separate "national security strategy" that was signed by the president in February. Both documents were developed as a result of Armenia's decision three years ago to deepen its defense and security links with NATO and other Western security structures. The Armenian government has since upgraded its participation in NATO's Partnership for Peace program by negotiating an "individual partnership action plan," or IPAP, with the U.S.-led alliance. Accordingly, the military doctrine states that Armenia will increasingly cooperate with the armed forces of NATO member states and the United States in particular in reforming its military and contributing to international security. It specifically commits Yerevan to expanding its involvement in Western-led peace-keeping operations abroad. The Armenian military already has small contingents deployed in Kosovo and Iraq and is considering joining the NATO-led multinational force in Afghanistan.

The doctrine makes it clear at the same that "strategic partnership" with Russia will remain the bedrock of Armenia's defense policy. It says the two countries will continue to maintain close military ties both on a bilateral basis and within the framework of the Russian-led Collective Security Treaty Organization. The agorno-Karabakh conflict and Azerbaijan's persistent threats to resolve it by force are high on the list of "external threats" to Armenia's security contained in the document. "The Republic of Armenia is the guarantor and supporter of the security of the people of the Nagorno-Karabakh Republic and their chosen path of development," it says. Among other perceived security threats is Turkey's "strategic alliance" with Azerbaijan and continuing economic blockade of Armenia.

The doctrine also lists internal security challenges such as attempts to change the country's "constitutional order," set up "illegal armed groups" and "discredit" the Armenian Armed Forces. The latter are to play the central role in meeting all these challenges. The government, for its part, undertakes to make the army more combat-ready by supplying it with modern weaponry and boosting the morale of military personnel. The doctrine reaffirms the government's commitment to defense reforms that are meant to bring the Armenian military into greater conformity with NATO standards and practices. The government undertook to implement such reforms three years ago and plans to complete them by 2015. If implemented, they will lead to greater civilian control over the military and a so-called "civilianization" of the Armenian Defense Ministry. The ministry's current organizational structure essentially mirrors that of the formerly Soviet and now Russian armed forces, with army officers holding just about every ministerial position and facing little civilian oversight. The doctrine further envisages that the proportion of contractual personnel in Armenia's conscription-based army will grow significantly in the coming years.

Source:
http://www.armenialiberty.org/armeni...6665B4419A.ASP
Yerevan: Gazprom ready to finance completion of Iran–Armenia natural gas pipeline
Russia's Gazprom is moving forward with the construction of an Iran–Armenia natural gas pipeline, the news agency Regnum reports. Armenian Energy Minister Armen Movsisyan said Gazprom will be investing in the project via ArmrosGazprom, the joint Russian-Armenian company responsible for Armenia's natural gas industry. The construction of the gas pipeline, expected to finish in 2008, may result in Gazprom increasing its majority stake in the company, he stated. "The final amount of the Gazprom share in ArmrosGazprom will be known after all the investment works are ended," Movsisyan said. The Iran–Armenia gas pipeline is slated to have an annual capacity of 1.2 billion cubic meters when it comes into operation, with the project taking a three-year investment of USD 148 million. By 2019, Armenian officials say, they will be able to import 2.3 billion cubic meters annually. As part of the 20-year contract, Regnum writes, Armenia will exchange three kilowatts of electricity for every cubic meter of Iranian natural gas.
Source:
http://www.messenger.com.ge/issues/1...con_three.html