Vladimir Putin Tries to Keep Armenia as the Last Ally of Russia

The official part of a visit of the President of Russia, Vladimir Putin, to Armenia has begun. The formal pretext for the visit was the opening of the Year of Russia in Armenia. In actual fact, the agenda goes beyond the framework of protocol and cultural functions: it will include the Karabakh problem, cooperation in the gas sphere, and the use of Armenian territory for the deployment of Russian military bases which will be withdrawn from Georgia within the next few years. The President of Russia, together with his Armenian colleague, Robert Kocharyan, will take part in the official opening of the Year of Russia in Armenia and attend a gala concert. The pompous protocol functions serve as a smokescreen for a very important dialogue on the burning issues of the day. Alarmed by a whole series of "Rose", "Orange" and other revolutions, Russia is afraid of losing one of the last of its bulwarks in the area of the former USSR. In the context of the deepening of their strategic partnership the presidents of the two countries will discuss the problems of resolving the Karabakh conflict, as well as the prospects of deploying the Russian military bases on Armenian territory, which should be withdrawn from Georgia within the next few years. As regards the first problem, Moscow tries to soften the position of Yerevan in order to avoid the exacerbation of the relations with Baku. The Kremlin hoped to bring the President of Armenia, Robert Kocharyan, and the President of Azerbaijan, Ilkham Aliyev, to negotiations during the celebration of the 60th anniversary of Victory in the last war in Moscow in May. However, judging by information coming in from Baku, President Aliyev will hardly come to Moscow for the occasion. The question of the withdrawal of Russian troops and arms from Georgia has been solved, in the main, as a result of negotiations with the Georgian leadership, although the deadlines have not been fixed. The most probable time will be 2007. After that Russia hopes to deploy its military units on Armenian territory, in the vicinity of the Russian base No 102. Yerevan agrees to it, but puts forward a number of conditions. The main one is a solution to the problem of the transport blockade of Armenia. This is why both Moscow and Yerevan hope to work out a concerted policy aimed at obtaining Georgia's consent to a free transport corridor by commissioning the Novorossiisk – Poti sea ferry, and also resuming the railway connection through the territory of Abkhazia. Naturally, the questions of military cooperation will also be discussed. Armenia receives arms and ammunition from Russia at preferential prices. To date more than 500 Armenian army officers study in Russia free of charge, that is, at the expense of the Russian budget. This figure can be bigger. A range of problems to be discussed deal with the relations between Russia, Armenia and Iran. Teheran remains an important regional partner of Moscow, but it views rather cautiously the plans to build a gas pipeline between Iran and Armenia, which will later be one of the channels of supplying Iranian gas to Ukraine and Europe. But the deputy foreign minister of Armenia, Gegam Garibjanyan, has said that Russia should take part in the negotiations on the matter. President Putin will, no doubt, raise the question of "Gazprom" taking part in the implementation of this project.
Source:
http://www.kommersant.com/page.asp?id=557608
Russian Deputy Speaker: "Russia Has Every Reason to Recognize Artsakh, Abkhazia, South Ossetia, And Transdnestr"
"The international situation has given us a positive example – if Albanians receive the right to establish their own independent state in the foreign territory, so ancient Armenian people must perhaps receive the right to restore the territory;" leader of the Russian Liberal Democratic Party, Deputy Speaker of Russian State Duma Vladimir Zhirinovsky is quoted by a REGNUM correspondent as stating in Moscow, speaking at the third Russia's Armenian Union (RAU) Congress. "Yes, we pity Serbs, but it is a positive signal for the international community – it is a positive signal for Artsakh (Nagorno Karabakh – REGNUM), for Abkhazia, South Ossetia, and Transdnestr," Zhirinovsky continued. According to him, if the international community recognizes Kosovo and Montenegro, Russia will have every reason to recognize analogous territories, especially as it has more rights for that, because these republics were parts of the Russian Empire, and now they pretend to restore their legal personalities. "It may not be denied – it is the international law," he stated. As Vladimir Zhirinovsky stressed, addressing to the Russian Armenians Union (RAU) Congress deputies and guests, "the Armenian people have already been suffering for 100 years, and it is necessary to achieve adoption of at least one international organization's resolution on returning territories to Armenian state by 2015, the 100th anniversary of those awful events." "It is not enough to recognize the Genocide; the territories should be returned. Those ones, who are living there now, should be returned to Ashgabat and Tashkent — what does one people need two states for? And territories should be returned to Armenia and Kurdistan. Kurds are betrayed people too – they have been expecting for 100 years," the LDPR leader said. Also, he called the RAU to be more active in the Russian provinces and to cooperate with Russian political and non-governmental organizations in order to explain to young generation of Russians that "Armenians are our brothers; they are Christians, and they have been living side by side with Russians for hundreds of years." Zhirinovsky called on the RAU to cooperate for realization of other socially vital initiatives.
Russia Intends to Revise Policy Towards Armenia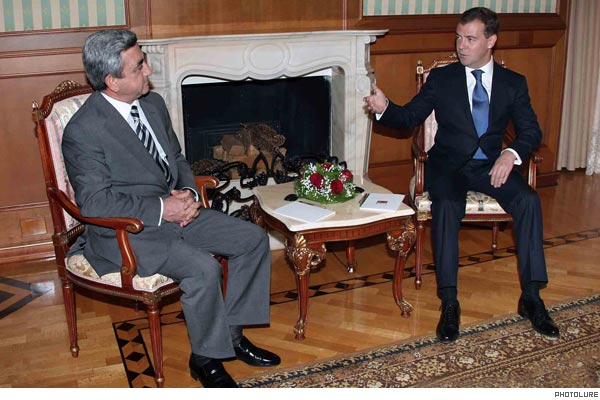 Administration of the Russian President intends to revise its policy line in relations with Armenia, said professor Mikhail Meyer, the Director of the Institute of Asian and African Studies of Moscow State University. In his words, relations with a strategic partner as Armenia is for Russia, should be closer. «Absence of scientific and cultural ties between our countries in latest 10-15 years have had a negative impact on the relations. After the collapse of the USSR a situation that is very unfavorable for Russia was formed: it does not have specialists on CIS countries. Now the state of affairs started improving, however there is a lack of Armenian teachers, especially grabar (ancient Armenian),» the professor noted. He also remarked that certain progress is available on the way of Armenia and Russia becoming closer. «Academician Mikhail Piotrovsky was in Yerevan lately, my colleague Vitaly Naumkin is in Yerevan now, specialist on Arab countries Dmitry Frolov is soon expected to arrive. We almost do not know the works of contemporary Armenian historians, however I hope the gap will be filled,» Mikhail Meyer remarked. Professor Mikhail Meyer is in Yerevan on the invitation of the South Caucasian branch of the Caucasus Democracy Institute development foundation.
Source:
http://panarmenian.net/news/eng/?nid=17147
Allied Relations With Russia Vitally Important For Armenia
Russia, in the person of the reasonable part of its leadership, is trying to maintain its presence and influence in the Caucasus. It's important for Russia to prevent destabilization in the North Caucasus, deployment of NATO military bases and projection of military force inland, first vice-president of the Academy of Geopolitical Studies, Colonel General Leonid Ivashov stated in an interview with PanARMENIAN.Net reporter. In his words, Armenia is Russia's monument point in the South Caucasus. "At the same time it's vitally important for Armenia to have allied relations with Russia. If Armenia relies on promises made by the West it will lose its state system and independence," Ivashov said. He remarked that Armenia has the right to establish relations with whom it wishes. "But if it conflicts with Russia's interests it can transform cooperation into the level of mutually beneficial relations without any political or economic preferences. However such situation will conflict with Armenia's national interests and result in the isolation of the republic and even in its collapse," the Russian scientist said. Leonid Ivashov reminded that numerous Armenian Diaspora lives in Russia. "I think it could make a great contribution to the development of the Russian-Armenian allied relations," he noted.
Source:
http://www.panarmenian.net/news/eng/print/?nid=17440
Cooperation With Russia And Iran Neutralizes Military Threat From Turkey
Armenia's relations with both Russia and Iran help to neutralize threats to Armenia and preserve military and political balance in the region stated Armenian National Security Secretary and Defense Minister Serge Sarkisian in a report titled "Directions of National Security Strategy of Armenian Republic." "Armenian-Russian military cooperation, especially the presence of the Russian military in Armenia, neutralizes the military threat coming from Turkey," says the report. The document notes that the Armenian-Russian strategic partnership is developing in three important directions, these being the formation of coalition groups, anti-aircraft defense, and cooperation within the Collective Security Treaty Organization (CSTO).
The report also highlights Armenian and Russian cooperation in the multilateral sphere. "For example, the unified anti-aircraft defense system along with the joint Armenian-Russian patrol solves one of the most important problems of the national security, while the Armenian-Russian military bloc within the CSTO maintains the military-political balance in the South Caucasus region," the report says. At the same time the report says Armenian-Russian relations never posed obstacles for the development of Armenia's foreign policy in other directions, such as European integration. "Russia has also adopted the European way of development and the increasing cooperation between Russia and the European Union creates a favorable environment for the harmonization of Armenia's two priority directions for the development of state and national security," the document says.
The document also describes the importance of Armenian-Iranian relations in preserving military and political balance in the region. The document states, that Iran, along with Turkey, is a crucial country for regional military and political balance in the region. And since Turkey is a member of NATO and allied with the US and Israel, it is regarded by Iran as a possible enemy. Their rivalry provides Armenia with the ability to neutralize the Azerbaijan-Turkey coalition against Armenia. The report also mentions cooperation with Iran in the energy sector, which is aimed at finding alternative energy sources for Armenia. According to the report, Iran is very important to Armenia for transportation and because of the economic blockade of Armenia. Iran is a strategic route to Asia and the Middle East, and also an alternate route to Russia. Iran is also geographically close to Karabagh, and maintains a balanced position regarding the conflict.
The report pays special attention to the pressure that Azerbaijan puts on Iran, as an Islamic country. Azerbaijan frames the Karabagh conflict as a religious conflict and speculates that there are over "one million Muslim refugees." It also points out that Azerbaijan is threatening to expand cooperation with the US that rivals Iran. Armenia, on the other hand, maintains balanced relations so cooperation between the US and Armenia does not go against Iranian interests.
Close Cooperation With Russia is Armenia's Security Guarantor
In the near future Armenia's foreign line will be seriously challenged, Ruben Safrastyan, Director of the Institute of Oriental Studies at the RA National Academy of Sciences of Armenia, told a news conference in Yerevan. "Complementary policy has already been exhausted and Armenia should be build relations with other states proceeding from its own interests. Regional processes will sooner or later influence on Armenia and we should be ready for reciprocal diplomatic moves. Ankara's foreign policy targeted at formation of a military and strategic alliance between Turkey, Georgia and Azerbaijan is to cut Armenia off all regional development programs. The other factor is NATO's enlargement to the South Caucasus. With receiving a status of NATO aspirant country, Georgia will strengthen ties with Turkey. The third factor is the Iranian problem. To be more correct, the U.S. policy towards Iran's nuclear file. Hostilities will have grave consequences for the region," Safrastyan said. Mr Safrastyan is convinced in necessity of coordination of diplomatic steps and enablement of strong points of Armenia's foreign policy. "Close cooperation with Russia is one of Armenia's strongest points. The Armenia-Russia military and strategic cooperation is the guarantor of our security. The 102nd Russian military base is a restraining factor for Turkey. As you remember, in 1992 the Turkish army was planning to intrude into Armenia and only the statement by Russian Defense Minister Yergeny Shaposhnikov, who said, "Any encroachment on Armenia will give a start to World War III," made Turkey abandon its intentions," Safrastyan underscored.
Source:
http://www.panarmenian.net/news/arm/?nid=22204
Yerevan-Moscow Relations Can be Described as Strategic Partnership
Armenia and Russia have enjoyed friendly and strategic relations during 15 years that passed since the establishment of diplomatic relations between the two states, Russian Ambassador to RA Nikolay Pavlov told a news conference in Yerevan. Relations are dynamically developing in political and economic fields, he said. "Bilateral visits of leaders of the states and governments are very important since they suppose discussion of regional problems, bilateral relations and cooperation on the international arena," Pavlov said. "However, there are some difficulties in economic cooperation, specifically absence of transport communications between Armenia and Russia. Nevertheless the commodity turnover between our states reached $426 million against $350 million in 2005. The amount of Russian investments in the Armenian economy is growing. The activities of Gazprom, Armenal and VTB (Vneshtorgbank) as well as Vympelcom's coming to the Armenian telecommunication market can serve as an example. As to starting of 5 Armenian enterprises conveyed to Russia within "Property for Debt" treaty, this is an issue of concern not only for Armenia but also for Russia. The work of the Armenian-Russian intergovernmental commission on economic cooperation in aimed at resolution of these problems," the Russian diplomat said. The Russian Ambassador also pointed out to the efficient Armenian-Russian cooperation in military field. "Russia guards Armenia's state borders with Iran and Turkey, Armenian servicemen study in Russian institutions. Furthermore, Russia supplies Armenia with technical equipment at reduced prices," Pavlov underscored.
Source:
http://www.panarmenian.net/news/eng/?nid=21469
Armenia and Russia Agree: Foreign Policy Change Unlikely After Elections
Konstantin Zatulin, director of the Russian Institute of CIS Studies, talks about Russian-Armenian relations at a conference at the Moscow House in Yerevan on May 10.
Changes may come after Armenia's upcoming parliamentary vote, but don't look for them in the country's close bilateral ties with Russia, a group of Armenian and Russian experts concluded at a May 10 government-sponsored conference in Yerevan. "I am often asked: What will happen after the elections? The answer is: nothing will happen in terms of foreign policy," said political scientist Alexander Iskandarian, head of Yerevan's Caucauss Media Institute. "Because there are no forces in Armenia which are striving to come to power with the purpose of spoiling its relations either with Russia or the West." The most outspoken members of Armenia's opposition are largely pro-Western; pro-government parties, billed as the frontrunners in the parliamentary race, take a more measured stance; or, in the case of pro-government Prosperous Armenia Party, an avowedly pro-Russian stance. Prosperous Armenia Party leader Gagik Tsarukian recently told one Russian media outlet that 90 percent of Armenia's foreign relations should be focused on Russia and only 10 percent on the West. A party representative, however, confirmed Prosperous Armenia's support for the current official government policy of attempting to balance Armenia's ties with both.
No doubt with such considerations in mind, Russian parliamentarian Konstantin Zatulin, director of the Moscow-based Institute of Commonwealth of Independent States, noted that the timing of the conference was deliberate. The gathering was organized by Zatulin's institute, which recently opened a Yerevan branch office, and supported by the Armenian government. "It is extremely important for us in Russia to know what will be the situation in Armenia, in a country which is of great importance for Russia," Zatulin said. Zatulin is one of more than 40 Russian Duma deputies who are observing the May 12 parliamentary vote. Competition between Russia and the West was among the main topics discussed at the event. In a nod to Armenia's existing foreign policy, Armenian Justice Minister David Haroutiunian, a leading member of the ruling Republican Party of Armenia, assured conference participants that the country wants to preserve its ties with both Russia and other outside powers interested in the South Caucasus, a veiled reference to the United States and other Western states.
Both Russia and the West want stability in the region, he continued, but differ on tactics. "[E]ach side believes that the best way of keep stability is by establishing its own dominance. Armenia does not share this vision, and this is why it will oppose efforts to push Russia out of the region," the minister said. Haroutiunian named Armenia and Russia's joint membership in the CIS Collective Security Treaty as the most important aspect of relations between the two states, noting that he preferred the term "alliance" to "partnership." In turn, Aleksei Gvinianin, a Russian foreign ministry department head who represented the ministry at the conference, hailed Armenia for providing "a good source of security, given Russia's problems in both the North and South Caucasus." In an apparent tit-for-tat overture, Gvinianin did not exclude the possibility that Moscow could join Western countries in encouraging Turkey to reopen its borders with Armenia. Policy-planning cooperation on this front with Yerevan was also proposed.
Sympathy for Armenia's own sensitive areas in its relations with the West was made clear. Gvinianin went so far as to recommend that Armenians not take recommendations about the parliamentary elections from the Organization for Security and Cooperation in Europe/Office for Democratic Institutions and Human Rights (OSCE/ODIHR) as "truth of the last instance." Moscow has a long history of conflicts with the OSCE about the organization's various activities in the former Soviet Union. Russian political scientist Vitaly Tretyakov, editor of the Moscow News weekly, added that former Soviet republics might not have any other choice but to ally with Russia on various issues, as the "EU or NATO cannot grow infinitely." Tretyakov went on to predict that further incentive for strong Armenia-Russia ties could lie in the creation of a new organization of former Soviet republics, in which Russian President Vladimir Putin, would play a leading role. Tretyakov put the timeline for such an event at "less than a year," but did not provide further details or cite sources for his information.
Nonetheless, as shown at the conference, ties between Moscow and Yerevan are far from trouble-free. Russian representatives did not answer questions from Republican Party parliamentarian Armen Ashotian on whether signatories of the 1992 CIS Collective Security Treaty would help Armenia in case of "possible aggression" from Azerbaijan, nor whether Russia might recognize the disputed territory of Nagorno-Karabakh if Western states recognize the breakaway territory of Kosovo in the Balkans. Other problems were also raised. Political scientist Iskandarian noted that Russia is losing its traditional influence in Armenia since Moscow "works only with the state and not with [Armenian] citizens." Among more than 30 think tanks in Armenia, he added, only two or three are supported by Russians. At the same time, he noted, Russian is losing ground to English as a second-language for Armenians. Moscow-based political scientist Andranik Migranian had a simple explanation: Russia is still recovering from the economic collapse of the 1990s, he claimed. Assistance to Armenian civil society will "increase rapidly," he predicted.
Source:
http://www.eurasianet.org/armenia/news/051007b.html
Moscow Signals Support For Armenian Power Handover


Tycoon Rules Out 'Revolution' In Armenia
Attempts to stage an anti-government popular revolt in Armenia are doomed to fail because they would meet with a tough response from President Robert Kocharian, according to his most trusted oligarch who looks set to do well in the upcoming parliamentary elections. Gagik Tsarukian interrupted the election campaign of his Prosperous Armenia Party (BHK) to visit Moscow late last week. No details of the trip were made public by his aides in Yerevan. RFE/RL learned on Monday that Tsarukian met with officials from President Vladimir Putin's administration and two senior members of Russia's parliament close to the Kremlin. It also emerged that he was interviewed by a little-known Russian television station, commenting on the political situation in Armenia and the future of its relations with Russia. "We will develop 90 percent of our relations with Russia and 10 percent with Europe and others," Tsarukian told the O2 TV channel in rare remarks on Armenian foreign policy. He declined to elaborate. The tycoon, whose party is widely seen as Kocharian's new power base, was also asked about the Armenian opposition's chances of replicating the kind of post-election regime change that took place in Ukraine and in Georgia to Moscow's dismay. "Our president is very strong and is closely following the pre-election struggle," he said. "If something happens, he will strictly punish the guilty."
Source:
http://www.armenialiberty.org/armeni...48682ADAC1.ASP
MOSCOW SIGNALS SUPPORT FOR ARMENIAN POWER HANDOVER
With less than a month to go before Armenia's crucial parliamentary elections, Russia has signaled its support for an anticipated handover of power from Armenian President Robert Kocharian to newly appointed Prime Minister Serge Sarkisian. In a series of early April visits to Yerevan, senior Russian officials indicated Moscow's strong opposition to regime change in the loyal South Caucasus state. The Russians also plan to send a record-high number of election observers, in an apparent bid to counter and/or water down Western criticism of the Armenian authorities' handling of the May 12 vote. Control of Armenia's next parliament is essential for the success of Sarkisian's plans to succeed Kocharian after the latter completes his second and final term in office in March 2008. His governing Republican Party (HHK) is widely regarded as the election frontrunner not so much because of its popularity as its vote-rigging capacity that manifested itself during the previous legislative polls. Talk of Sarkisian's presidential ambitions intensified after he was named to replace Prime Minister Andranik Markarian, who died of a heart attack on March 25. Some Russian media and pro-Kremlin analysts said that Sarkisian is Moscow's preferred candidate for the Armenian presidency.
Russian Foreign Minister Sergei Lavrov effectively confirmed this as he visited Yerevan on April 3. "The official position of Russia coincides with the unofficial position of Russia," he told journalists. Lavrov stressed the need for continuity in the Kocharian administration's policies, which he said have proved beneficial for Armenia. Russia wants to see a "continued movement in that direction," he said. "Russia, which traditionally plays an important role in internal political processes in Armenia, has made it clear who it has sided with," the Moscow daily Kommersant wrote on April 9. Russia's First Deputy Prime Minister Sergei Ivanov made it even clearer during a separate visit to Armenia two days later. Ivanov said he and Sarkisian had developed "not only good businesslike but also personal relations" in their previous capacity as defense ministers of the two countries. "The human capital which we developed in the past few years is very useful and allows us to discuss many issues in a straightforward and frank manner," he said at a news conference. Sarkisian underlined the significance of Ivanov's trip by greeting and bidding farewell to the Russian deputy prime minister at Yerevan airport, despite his higher government rank. Russian backing has helped him and Kocharian to keep the Armenian opposition at bay throughout their nearly decade-long joint rule. It will also bode well for the realization of his presidential ambitions, which seem to be approved by Kocharian. The Armenian constitution bars Kocharian from seeking a third five-year term. But he is clearly keen to remain in government in some other capacity.
The administration of President Vladimir Putin has little reason to be unhappy with Armenia's two most powerful men. After all, they were instrumental in the signing in recent years of highly controversial agreements that have given Moscow a near total control over the Armenian energy sector. Sarkisian has personally negotiated those deals in his capacity as co-chairman of a Russian-Armenian inter-governmental commission on economic cooperation. He and Kocharian have also bolstered the Russian presence in other sectors of the Armenian economy such as telecommunication. In addition, membership in the Collective Security Treaty Organization and the continued presence of Russian troops in Armenia remain key elements of Yerevan's national security doctrine.
All of that has more than offset Yerevan's increased security links with the West, including the launch of an individual partnership action plan with NATO and the dispatch of Armenian troops to Kosovo and Iraq. True, the Russians have covertly sponsored some pro-Russian opposition groups in Armenia. But they seem to have done so in order to hold the Kocharian-Sarkisian duo in check, rather than to cause its downfall. Moscow appears to be disinterested in regime change in Armenia also because of its broader opposition to the democratization of the political systems of this and other former Soviet republics. Two of those states, Georgia and Ukraine, are now led by staunchly pro-Western presidents as a result of democratic revolutions sparked by rigged elections. Armenia could likewise have a less pro-Russian regime if its current leaders hold a democratic election and run the risk of losing power.
Incidentally, the first foreign visitor received by Sarkisian after his April 4 appointment as prime minister was Vladimir Rushailo, the Russian executive secretary of the Commonwealth of Independent States. Rushailo arrived in Yerevan to discuss preparations for the upcoming elections. After the talks he announced that the CIS Secretariat plans to deploy some 200 election observers in Armenia, far more than it did in the past. Unlike their counterparts from the OSCE and the Council of Europe, CIS observers described the previous Armenian parliamentary and presidential elections tainted with widespread fraud as "free and fair." Their next verdict will hardly be more negative. The drastic increase in the size of the CIS observer mission, to be headed by Rushailo, is clearly aimed at giving its statements greater credibility. Russia also intends to seriously influence the findings of some 330 mostly Western observers that are due to monitor the Armenian elections on behalf of the OSCE. Their opinion will be key to the international legitimacy of the vote. As a leading OSCE member state, Russia can contribute up to 10% of the organization's vote monitoring missions. As Lavrov stated in Yerevan, Moscow, which has slammed the OSCE for questioning the legitimacy of former Soviet governments, will for the first time use its participation quota in full.
Source:
http://jamestown.org/edm/article.php?article_id=2372102