Going back to early antiquity, the western half of Asia Minor had been populated by Greek-speaking peoples and the mountainous eastern half of Asia Minor (also known to historians as the Armenian Highlands) had been populated primarily by Armenians. This very ancient Greek-Armenian era of the region began gradually changing in the 10th century AD when various nomadic Turkic tribes began infiltrating into Asia Minor in ever increasing numbers. By the middle of the 11th century, Armenia, a nation that had already seen over two thousand years of history at the time, had ceased to exist as a state. The fall of the great Bagrat

uni

capitol city of Ani, first to Byzantines and later to Seljuk Turks between 1045-64 AD, ushered in the new era. The fall of Ani caused a mass exodus of Armenians to Christian lands in Europe and elsewhere. Some of these Armenian migrants, which included nobility and knights, eventually formed
an Armenian kingdom in Cilicia
on the shores of north-eastern Mediterranean Sea

in the late 12th century with the help of European Crusaders. This Cilician Armenian kingdom lasted as an independent state until late 14th century. Nevertheless, with the absence a large Armenian kingdom within the Armenian Highlands of Asia Minor protecting Byzantium's increasingly vulnerable eastern frontiers, all of Asia Minor eventually fell under Turkish/Muslim rule by the middle of the 15th century when the great Byzantine city of Constantinople fell to Turkish Sultan Mehmed II in 1453 AD. As such, a historically and culturally rich region of the world that had from time immemorial been Greek and Armenian had transformed into an oppressive Turkic/Islamic cesspool.
The fall of Armenia and Byzantium would forever change the course of human history. The demise of Christendom in Asia Minor
plunged the region into darkness and shifted the epicenter of civilization, which for thousands of years had been located in Asia Minor, to Europe. The terrible darkness that descended on Asia Minor persists to this day.
Thoughts on the centennial of the Armenian Genocide
Even after centuries of segregation, oppression, periodic massacres and the policy of settling Turkic and Kurdish tribes into Armenian populated areas of the Armenian Highlands, there remained large numbers of culturally identifiable Armenians living under Ottoman rule in the 19th century. These Armenians were slowly awakening. After a national hibernation of nearly one thousand years, the cultural and national awakening of Armenians finally began to take root in the mid-19th century within the three main centers of Armenian culture and identity at the time: Constantinople, Tbilisi and the Mkhitarist religious order located in Italy and Austria. By the late 19th century, the Ottoman Empire, described by the Russian Tsar as the Sick Man of Europe, was in steady decline. For the Christian populations of the Turkish empire, Ottoman decline essentially translated into periodic reprisals against Christians. Experiencing the oppressive empire's bloody decline firsthand and watching peoples like Bulgarians and Greeks free themselves of oppressive Ottoman rule emboldened sentiments of autonomy among Armenians worldwide. Consequently, Armenian intelligentsia, clergy and political activists in both Constantinople and Tbilisi began taking steps towards actively seeking protection for Ottoman-Armenians from foreign powers. This effort gradually evolved into also seeking some from of Armenian autonomy in the Armenian populated regions of the Ottoman Empire known as the Six Vilayets. The national awakening among Armenians at the time was encouraged by foreign powers that were opposed to the Ottoman Empire: Namely, the Russian Empire and Western powers. Although reprisals by Ottoman Turks against their Armenian subjects were thus inevitable, no one however could imagine the scale of brutality Turks would resort to first in 1894 and later on a much greater scale during the First World War.
When the First World War broke out during the summer of 1914 Ottoman Turks found themselves on the side of the Central Powers (Germany, Austria-Hungary) opposing the powers of the Entente (Russian Empire, British Empire, France and the United States). As part of the Central Powers' war effort, Ottoman Turks attempted to strike at Russia in late 1914. It effort proved disastrous for the Ottoman army. Preempting an impending Ottoman strike, imperial Russian forces mounted a major winter offensive. This military offensive known as the Caucasus Campaign decimated the entire Ottoman army in the region. By February, 1915 the Ottoman army that had been sent to fight Russia had all but disappeared. Some Turkish leaders blamed Russian-Armenians for their historic defeat, even though Armenians (primarily from the Caucasus) made up a small fraction of imperial Russian forces involved in the Caucasus Campaign. Turkish leaders also began calling into question the loyalty of all Christian Armenians living under Ottoman rule, although a vast majority of Ottoman-Armenians, like my ancestors, were semi-assimilated, faithful subjects of the Ottoman Empire.
It should also be noted that Armenians that actually sought political independence from Turkish rule were a very tiny fraction within a largely assimilated Ottoman-Armenian community.
What a majority of Ottoman-Armenians wanted instead was protection and equality within a political system that had grown very aggressive. Moreover, Ottoman-Armenians were not in anyway preparing to assist the Russian invasion of the Ottoman Empire.
Nevertheless, throwing the allegiance of the entire Ottoman-Armenian community into question and using the Russian victory in the east as a pretext, Ottoman leaders decided to be done with their already decades-long Armenian problem also known as the "Armenian question". The agenda to exterminate the Armenian presence from within the Ottoman Empire may have been planned as early as 1911 during a secret conference held in Salonika by the Young Turk government, and one of the main motivations behind the sinister agenda was the racist ideology of Pan-Turkism.
With the powers of the Entente engulfed in a major war in mainland Europe, Ottoman authorities exploited the opportunity. Many hundred of Armenian community representatives and intelligentsia within Constantinople (mostly doctors, lawyers, writers, officials, clergy and businessmen) were arrested on April 24, 1915 and imprisoned. Most of those arrested were to be murdered in cold blood soon thereafter. About the same time, Armenian conscripts within the Ottoman military were disarmed and relegated to labor duties. Most of these were also to be slaughtered in cold blood soon thereafter. In this manner, in a relatively short period of time, Turks managed to incapacitate the entire Armenian population of the Ottoman Empire. With Ottoman-Armenians now effectively leaderless and thus powerless, Turks began to turn their bloodthirsty, murderous attention upon the defenseless Armenian citizenry throughout Asia Minor. Some reprieve came from the east as Russian forces continued advancing westward, eventually liberating territories as far west as Van and Bitlis. But by 1917 the Bolshevik revolution forced Russian troops to abruptly pull out of Asia Minor. With Armenians unable to fill the unexpected military vacuum created by the sudden Russian withdrawal, Turks redoubled their effort against their Armenian subjects.
While the traditional date known for the commencement of the Armenian Genocide is April 24, 1915, we need to always remember that the systematic extermination of Armenians by Ottoman authorities was first started in 1894. During 1894-96 approximately a quarter million Armenian peasants were slaughtered in the interior provinces.
The wholesale slaughter of Armenians by Ottoman Turks and their Kurdish henchmen continued periodically thereafter for the next twenty years, coming to a climax during the First World War.
Only after the vast majority of Armenians had disappeared from within Turkish occupied Asia Minor by 1923 did the slaughter of Armenians subside. While the figure of the number of Armenians killed by Ottoman authorities is traditionally noted to be around 1.5 million souls, the real number is most probably over 2 million souls, with hundreds-of-thousands driven into exile.

Unlike what victorious powers did to Germany after its defeat in 1945, the perpetrators of the Armenian Genocide were never adequately punished and the Turkish state that succeeded the Ottoman Empire was not held responsible by the victorious allies at the end of the First World War. The powers of the Entente also failed to live up to their promise of establishing an Armenian state within the historic Armenian Highlands. Western powers instead began pandering to Ataturk's Turkey. Some within Western power circles were even conspiring against "impossible Armenians". With the Russian Empire relegated to the pages of history by the end of the First World War, Bolshevik officials in the Kremlin also began making overtures to Turks, again at the cost of Armenian interests. In the end, it seemed as if the entire Armenian population of the Ottoman Empire was essentially sacrificed for the geopolitical interests of Western powers and Bolshevik occupied Russia.
Armenians have been for many decades commemorating this historic tragedy every April 24. Every April 24 Armenians worldwide renew efforts to encourage the global community to recognize what happened to Armenians during the First World War as a premeditated genocide. Every April 24 Armenians worldwide remind themselves of the lives that were lost.
Every April 24 Armenians worldwide remind themselves of their historic homeland that was lost. Every April 24 Armenians worldwide renew efforts to make Turkish authorities understand that their official recognition of the horrendous crime they perpetrated against the Armenian people is long overdue. Every April 24 Armenians worldwide renew efforts to make Turkish authorities understand that appropriate land and money reparations are long over due.
Knowing they have Western and Jewish support, the Turk remains unrepentant, defiant, belligerent and hostile. Periodically, Turks threaten Armenians to do "it" again. And as the events of 1992-93 showed, had it not been for the Russian Bear, the Turks would have indeed attempted to finish what they started during the First World War.
According to the Turkish narrative, it was a nasty war and many died on all sides. If so, then what happened to the entire Armenian population of the six Armenian Vilayets? How is it that only Kurds and Turks now live in those region? How did Armenians get scattered around the world? What battle did my many of my ancestors die in? According to another Turkish narrative, Armenians "betrayed" Turks by seeking autonomy and help from foreign powers. That Ottoman Armenians sought protection from Christian powers and autonomy for Armenians living in the six Vilayets was a very natural reaction to living as second class citizens within their homeland. After centuries of living as Gavurs and suffering periodic massacres and displacement, Armenians rightfully sought self-determination on Armenian soil. Nevertheless, as the Russian prime minister stated in response to Ankara's anger with Moscow, a crime against humanity
cannot be justified

regardless of reason. Regardless of what Armenians wanted at the time and how they went about seeking it, Turks had no right to resort to genocidal policies. Turks had no right to massacre millions and erase the presence of an entire nation from within their homeland nonetheless.
The idea that we Armenians were at least partially responsible for what happened to us or that is was a bad war where all sides suffered is a conversation that Turks, Jews and Western powers would like Armenians to get into because it serves to muddle the Armenian narrative and buffers the shock of genocide.
It is therefore a stunt and a red-herring. And it is why Turks and their allies want to leave the matter to "historians" to study. Nevertheless, the notion that Armenians were partially responsible is akin to saying: The victim resisted being abused, so we killed him and his entire family, as well as all his relatives.
The whole idea about educating, debating or explaining anything to the Turkish government about the events of the time is counterproductive to the Armenian cause, not to mention a total waste of time and precious resources. Armenians must therefore resist any attempt, be it by Westerners or be it by Jews, to get us Armenians into such kinds of debates with Turks. The issue at hand is not whether or not Armenians brought the tragedy upon themselves. The real issue is this: The millions strong Armenian population of pre-war Western Armenia no longer existed after the First World War. There was a vibrant Armenian population in Ottoman controlled regions of Western Armenia before the war. After the war, Armenians, along with Greeks and Assyrians, had simply disappeared. This, no matter how one looks at it, is the classic case of genocide.

No talk on the topic of the Armenian Genocide would be complete without also addressing the role organized Jewry at the time played in what happened. Similar to how the bloodthirsty Bolshevik leadership in Russia were mostly Jews, similar to how the warmongering Neoconservative leadership in the US today are mostly Jews, the reformist movement in the Ottoman Empire known as the Young Turks that was in power from 1908 to 1918 and was directly responsible for masterminding and carrying-out the Armenian Genocide during the First World War were also derived mostly from Jews. Ataturk the so-called "father of Turks" was also of Jewish ancestry. Therefore, it was perhaps only natural that Zionist-Jewish leaders in Europe at the time would be inclined to support the Ottoman Empire's genocidal agenda against Armenians. The following are perspectives on the subject matter from two righteous Jews -
"But I also thought about Theodor Herzl on the Armenian issue. Herzl's diary demonstrates that indifference to an indigenous Asian minority is in the DNA of Zionism. In 1896, Herzl made a trip to Constantinople to try and meet Sultan Abdul Hamid so as to negotiate the purchase of Palestine, which was then part of the Ottoman Empire. Herzl was prepared to offer millions of pounds to resolve the Turkish debt crisis, and get a Jewish state in exchange. The Sultan declined to meet with him (they met a couple years later) but his aides gave Herzl some terms. Could he work on the Armenian issue in the European press? Turkey was getting bashed for its treatment of the Armenians. And Herzl, who always bragged that his pen was not for sale, agreed to do so"
"The Armenian question has occupied the Zionist movement since a mass killing of Armenians was carried out by the Turks in the mid 1890s - prior even to the First Zionist Congress. Herzl's strategy was based on the idea of an exchange: The Jews would pay off the Ottoman Empire's huge debt, in return for the acquisition of Palestine and the establishment of a Jewish state there, with the major powers' consent"
Israeli author Yaʾir Oron did an excellent job in exposing Zionist indifference and indirect culpability in his well known book

The Banality of Indifference: Zionism and the Armenian Genocide. Jewish-Marxist activist Ralph Shoenman also exposed Zionist indifference and indirect culpability in his seminal work known as The hidden history of Zionism. For Zionist, the political motivation for supporting Turkey's genocidal policy against Armenians was clear: They were seeking land rights within Ottoman controlled Palestine. That Zionists diverted their lobbying efforts to London when the Ottoman Empire collapsed at the end of the war is altogether another story. In short: the Zionist founding fathers of Israel actively supported the Armenian Genocide while it was taking place. Knowing the Jewish mindset pretty well, I am pretty sure there were other, more domestic or

shall I say financial

factors at play in their willingness to help Turks exterminate their Armenian subjects. Organized Jewry, as well as the Ottoman Empire's well established Jewish community, must have known at the time that with wealthy Armenians (and Greeks) out of the way they would have less economic and financial competition and thus more sway in Turkey.
Nevertheless, for decades, Turks have regularly employed powerful Jewish lobbyists within the US and elsewhere to undermine Armenian efforts to gain recognition to what happened to the Armenian nation one hundred years ago. This Jewish-Turkish-Western collaboration is essentially the collaboration of genocidal powers responsible for the murder of tens-of-millions of people around the world. They keenly understand each other. This collaboration, particularly

between

their national and economic elite, continues to this day and despite some outward appearances it will not end for the foreseeable future. There is a historic bond between Jews, Turks and Anglo-Americans that goes back centuries. This love affair turned into an unholy marriage during the Cold War for it was during that time when "The incredible Turk" became an indispensable ally of the Anglo-American-Jewish alliance against the Russian-speaking world, against Arabs, against Iranians. The historic bond between Turks, Jews and Anglo-Americans is therefore
rooted in shared, geopolitical interests.
Geostrategically, Turkey is too important to give up. This is why Uncle Sam stations nuclear weapons on Turkish-occupied Armenian soil. Therefore, Armenians would do well to understand that whatever problems the Western world has with Turkey today is not about Turkey per se but about who's in power in Ankara. In other words: It's an internal matter between friends. The West is not about to turn against Turkey - not now, not for the foreseeable future.
Now, since there are Armenians that blame the religion of Islam for the Armenian Genocide, I'd like to state the following: I was very happy that Katholikos Aram I of the Cilician See publicly stated "
Armenians were not massacred because they were Christians".
Politics and pan-Turkic nationalism - not religion - was the reason why Turks sought to exterminate Armenians, Greeks and Assyrians. Yes, the Ottoman foot soldier or the brigand that did the actual killings of Armenians were mostly Turkish and Kurdish Muslims, but those that actually planned and ordered the murder of an entire race were more Jewish than Muslim. Those that actually planned and ordered the murder of the Armenian race were more atheistic than religious. And those who gave refuge to Armenians at the time were mostly Muslim Arabs and Iranians. In fact, even before the mass exterminations of Armenians during the First World War,
Grand Sheikh Salim al-Bishri of Egypt issued a Fatwa condemning Turks for the killings of Armenians in Adana. During the First World War, Al-Husayn Ibn 'Ali, Sharif of Mecca decreed the following -
While we are on the topic of Islam, the following lecture by a well known Islamic Sheikh Imran Hosein should be watched by all Armenians. The very charismatic sheikh makes references to "Anglo-American-Jewish" alliance; talks against the Chechen Jihad against Russia claiming it was funded and organized by Washington and Saudi Arabia; calls Russia the true progeny of the Byzantine Empire; claims the Ottoman Empire was un-Islamic and that its existence served as a wedge between Islam and Orthodox Christianity; mentions the Jewish role in the Bolshevik revolution; states communism was created to destroy the Russian Empire; says those behind communism gave Crimea to Ukraine to weaken the Russian nation once the Soviet Union dissolved; warns against the problem of not distinguishing between Russia and the Soviet Union; emphasizes the need for true believers of Islam to unite with Orthodox Russia; he also makes references to Armenia several times -
It is wrong to blame the religion of Islam for the Armenian Genocide.

The sheeple in any given country can be manipulated to do whatever their manipulators want. Religion, as with another other ism, can be easily tweaked by a political/financial elite and turned into a murderous weapon. Islam was not the reason nor was it the motivational factor behind the Turk's genocidal agenda against Armenians. Armenians have historically had good relations with Muslims.
Unfortunately, however, it has become very fashionable in recent years to blame Muslims for everything bad that occurs in the region. The problem in the Middle East has never been Islam per se but Turks, Jews and Westerners.

All Armenians have family stories

A majority of Armenians living today are the off-springs of genocide survivors. Most Armenians therefore have stories of death and survival. The following is my family story.
On my maternal side: At the turn of the 20th century, my maternal ancestors were a large family of bakers and farmers in Kilikia (Cilicia). My mother's father was young man when Turkish soldiers entered his hometown and began rounding up Armenians to place them on death marches to the Syrian desert. My grandfather's immediate family, however, met another fate. For reasons that my family does not know, Turkish jandarms murdered my grandfather's parents and some of his siblings. My grandfather somehow escaped and managed flee to the mountains surrounding his town. He was said to have lost his mind after witnessing the murder of his family (Khent Hagop or crazy Hagop was the nickname that he would eventually earn). Some time after living off the land he joined a band of Armenian fighters who, among other things, were also involved in helping Armenian girls and orphans escape Turkish and Kurdish captivity. Thereafter, my grandfather engaged in various raids into Turkish and Kurdish towns and villages in what essentially mounted to search-and-rescue operations seeking Armenian captives. According to stories recounted by my grandmother, my grandfather had turned into a ruthless killer. He was said to be an excellent marksman with his Russian-made Mosin rifle, with which he is said to have killed dozens of Turks and Kurds. According to one account of his exploits, he shot dead a Turkish Mufti on a Mosque minaret as the Muslim cleric was preparing to recite morning prayers. According to another story, he infiltrated into a Turkish village where he knew a young Armenian girl was being held captive. In the middle of the night he killed her captor and took her, on horseback, back to Armenian territory in French administered Syria. Once back in secure territory, he gave the rescued girl to a young Armenian man who was an orphan and told him to marry her.
My grandmother would recount that my grandfather would at times come home with the blood of his victims on his clothing. When she would ask what the stains were, he would only tell her that they were blood stains from slaughtering sheep. I did not have the honor of meeting my grandfather for he died before I was born. My mother and grandmother would say that even in his deathbed my grandfather would say the only thing he regretted in life was not killing enough Turks.

On my paternal side: As tradesmen, medical practitioners and lawyers, my father's family were affluent townsfolk in Sebastia at the turn of the 20th century. One particular relative held the title of village chief. Through their professions my father's family thus had direct contact with Turkish authorities within the area they lived. According to stories recanted by my father, his family would even once-in-a-while host Turkish officials at their home. Thus, when rumors of impending expulsion orders were heard, my father's family sought the protection of the Turkish authorities, with whom they thought they had good relations with. The Turkish governor, having received the request by my father's family to speak to him, invited the representatives my father's family over for dinner to see what they had to say. According to my father, his family pleaded with the Turkish official for protection. Claiming to be good Ottoman citizens and having no political affiliations, my father's family asked the Turk not to drive them from their hometown. My father's family and the Turkish official had a very friendly discussion over dinner. However, as they were about to leave the Turk's residence, my father's family asked if they could have the Turkish official's word that no harm would come to their families. In response, the Turkish governor ensured them that my father's family were well liked and respected by Turks... but that orders were orders. Soon after April 24th 1915, the order came to expel or eliminate all Armenians living in the region. My father's extended family was decimated. Some were killed outright by Turkish and Kurdish brigands. Some died from disease and starvation on forced marches. Some simply disappeared, never to be found again. And the rest, including my paternal grandfather, were driven to the Syrian desert starving, barefoot and penniless.
An interesting footnote to my father's family story was that of my father's paternal uncle. As Turks and Kurds were raiding his town, the young man escaped certain death by jumping into a fast flowing river and disappearing downstream. He was thought to have drowned. Many decades passed. One day, by a very strange coincidence, perhaps providence, my father met someone in the United States who turned up to be his lost uncle's son. It turned out, after jumping into the river and swimming downstream for a long distance my father's uncle was rescued by a Kurdish family. This Kurdish family fed him and kept him hidden from Turks and other Kurds for a long time. He eventually made his way to Constantinople and got married to an Armenian there and gave birth to several children. One of his children migrated to the US and by providence met his paternal uncle, my father.
Turkish apology or recognition is worthless without reparations
There are some fundamental things we Armenians need to recognize about Turkish-Armenian relations.
Foremost, we Armenians need to understand that Ankara's "recognition" of the Armenian Genocide is utterly worthless if it is not accompanied by significant reparations.
Armenians want at least portions of Western Armenia and financial reparations to compensate the lose

of two million lives as well as their material possessions.

With that said, it is downright delusional to think that Ankara will
voluntarily return historic Armenia to its rightful owners
or pay the tens-of-billions of dollars that it owes. What's more, Turks also know that once they give in to Armenian demands there will be Greeks, Assyrians, Syrians and Kurds demanding restitution as well.
Therefore, Armenians want things from Turks that Turks will never give up on their own. Therefore, it is not in Turkey's interest to recognize the Armenian Genocide. In fact, it is not in Turkey's interest to even have a prosperous Armenia, which is why they have blockaded the country for twenty-five years. Finally, we Armenians need to recognize that the nation known as Turkey today is founded upon the graves of Armenians, Greeks and Assyrians. Turkey is therefore an artificial construct that lives only through the support of the Anglo-American-Jewish alliance. Moreover, the Turkish military is a paper tiger. One good strike at Turkey and the whole country will fragment into several pieces, not much unlike Iraq. Ultimately, we Armenians must look at Turks as temporary squatters in Asia Minor.
Putting aside a handful of Turks (essentially the country's Marxists and ultra-liberals) that have in recent years seemingly begun siding with Armenians, a vast majority of Turks remain unrepentant, defiant and even openly hostile towards Armenians.
Armenians need to understand that when it comes to matters pertain to the Armenian Genocide there are essentially two kinds of mainstream Turks: The good Turk and the bad Turk. The good Turk

wants to whitewash Turkey's role in the Armenian Genocide, saying it was a terrible war where many died on all sides. The good Turks does apologize for the wholesale massacres of Armenians and does say that what happened may have constituted something resembling a genocide, but goes on to say that Armenians need to simply move on and forget about reparations because Turkey is in no position to give anything and, besides which, too much time has passed. The good Turk basically wants Armenians to forget the past and simply look to the future with Turks as good neighbors.

The bad Turk

says

it's Armenians that actually attempted a genocide against Turks. The bad Turks says Armenians backstabbed their Turkish neighbors by siding with Russians. The bad Turks says whatever happened to Armenians was warranted. The bad Turk therefore say Armenians deserved what happened to them. The bad Turk

also says they will do "it" again if need be.
Nevertheless, both the good Turk and the bad Turk essentially want one thing from us Armenians: They want us to forget about our lands and money reparations. Accepting an official apology and forgetting everything else is exactly what Uncle Sam wants from Armenians. In fact, this is what the US sponsored Turkish-Armenian reconciliation agenda is all about. The following video from Voice of America is a good example of what I am talking about -
The bottom line is this: Turks are willing to recognize and apologize as long as Armenians do not ask for land and money. They would have recognized and apologized a long time ago had they been sure that such a gesture by them would not lead to other things. For Armenians, Turkish recognition and apology is worthless without reparations in land and money. Turks know this. Therefore, no self-respecting Turkish government will give into Armenian demands, which to them would also mean essentially giving into Kurdish, Greek and Assyrian demands as well. This is why discussing the Armenian Genocide with Turks is a total waste of time. This is why US sponsored events such as Turkish-Armenian reconciliation is also a total waste of time. What's more, let's understand that a prosperous Armenia, especially one that is allied to Russia, is not within the strategic interest of Turkey or Western powers. Nevertheless, crimes such as genocide cannot be forgiven or forgotten or left unpunished. Thus, sooner or later, one way or another, the Turk will be made to pay.
The centennial is only the beginning
While western civilization was waking up, Armenian civilization was going into a hibernation that it would not come out of until hundreds of years later. Unfortunately, it took the near annihilation of the Armenian race to truly awaken the Armenian spirit. One hundred years ago Armenians faced near total annihilation.
Perhaps it was providence that we survived. Today, we may be a broken people but the Armenian spirit is alive and well and we have a nation once again. It has come a long way since o

ur little homeland gained its independence from the Soviet Union twenty five years ago. Long gone are the days when Armenia suffered severe energy shortages. Long gone are the days when Armenia suffered from food shortages. Long gone are the days when Armenia under constant danger of invasion. Long gone are the days when Armenia's factories were being torn down and sold to Iranians at scrap metal prices. Long gone are the days when Armenian politicians flirted with suicidal political policies such as the Goble Plan. Long gone are the days when world powers neglected Armenia. Although the devastation brought upon by the Western style, capitalistic chaos of the 1990s and its "oligarchic" legacy endures somewhat today, the Armenian state is nonetheless progressing. Although poverty and unemployment are still at unacceptable levels, Armenia continues to develop.
Despite immense odds and difficulties both foreign and domestic, Armenia has managed to not only survive in the tumultuous Caucasus but has also become a major political player. In fact, for the first time in over a thousand years, Armenia has actually increased in size and major powers around the world are being forced to consider the Armenian factor in their political calculations.
Rome was not built in a single day, nor were any of the best in the West. All fledgling nations go through periods of growing pains. Small nations, poor nations, nations landlocked in hostile geographic locations will naturally have longer and more problematic growing pains. Despite our best efforts to make politics/society in Armenia ideal, we have to also realize that Armenia will have to travel the same painful and difficult path every other developed nation has traveled throughout history. There is no other way. There is no magic cure. It would be best for us to simply assume that the road will be bumpy and therefore prepare as best as we can for the pain. Our fledgling homeland in the Caucasus still has a long-long way to go. What Armenia desperately needs today is political evolution, not a Western-funded revolution. We have a beautiful republic today that is secure; we have a republic today that is stable; we have a republic today that is moving forward with the help of its sons and daughters and sometimes - despite its sons and daughters. Armenia is a nation with great potential. Armenians are a people endowed with great potential. Under the right leadership Armenia will be able to reach its potential. It will happen. It's only a matter of time. Nevertheless, with the new century upon us, today is a day when all Armenians should put aside their petty differences and rejoice in knowing that we have a free and independent homeland, an Armenian republic that continues to grow stronger year-after-year. In the meanwhile, we Armenians need to stop becoming unwitting tools for those seeking to undermine our fledgling republic. We Armenians need to stop unwittingly participating in the Western/Turkish agenda of dissemination poisonous propaganda about Armenia. Armenia's Western funded NGOs, news outlets and political activists exists for a sole purpose: undermining the social fabric of the Armenian nation, alienating the Armenian Diaspora from the Armenian homeland, demoralizing Armenians and sowing sociopolitical discord in Armenia. We need to stop unwittingly helping those who are conspiring against Armenia. We waited nearly one thousand years for this opportunity. Now that it's upon us we need to learn to appreciate our statehood and act responsibly. What we do with our resurrected state is very important and each and every one of us has a constructive and positive role to play.
The centennial of the Armenian Genocide has served to galvanized the Armenian nation. I don't recall Armenians this united in purpose. During the past one month we saw our dispersed nation unite into a single organ and become one fist and one voice. A positive energy has been created. This energy has to be preserved. This energy has to be harnessed for the benefit of the Armenian homeland.
We Armenians will never forget the more than 2 million martyrs that gave their lives from 1894 to 1923. We Armenians will never forgive the perpetrators and their modern day successors of this most terrible of crimes against humanity. We Armenians will never forget those who stood with us nor will we ever forget those who did not stand with us during this centennial. We Armenians will always demand recognition, justice and reparations. We Armenians will always demand the return of Western Armenia. We Armenians are willing to work another century if need be to make sure that justice is served, Turks are punished and Western Armenian is returned.

I call on all self-respecting Armenians to always remember the road we as a nation traveled on to get to where we are today. I call on all self-respecting Armenians to love and appreciate their statehood. I call on all self-respecting Armenians to recognize that the only way to prevent another genocide is to make sure Armenia maintains a powerful military. I call on all Armenians to live their lives in a manner that would make our martyrs' deaths meaningful. They could not have died in vain: A death that serves no purpose is a tragedy, a death that serves a purpose is immortality. Therefore, see to it that their spilled blood fertilizes the spirit and awakens the consciousness and help gives birth to a new Armenia. Let their deaths be the beginning of a new and better life. The centennial therefore is not the end, it is merely the beginning, and the coming century will be a period of Armenian revival.
I must admit that centennial events exceeded all my expectations. The quality and the efficiency of organized events were a very pleasant surprise for me. The atmosphere in Armenia was vibrant, exciting and alive. There was, quite literally, electricity in the air.
I'm greatly impressed with the work carried-out by the centennial committee. From LA to the Vatican to Yerevan to Etchmiadzin, they did a monumental job in commemorating a monumental occasion. Therefore, my deepest gratitude to Armenian officials, clergy and Diasporan activists for the wonderful spectacle we all were treated to. The following links are to notable events -
I would like to point out that I was particularly happy that our martyrs were finally sanctified by our church. The canonization of our slaughtered ancestors were discussed by our church leaders for many years. I guess the centennial was indeed the best time to get it done. I am very glad the Vatican stood with us (a stark lesson to Greek Orthodox Churches who to the detriment of all Christian Orthodoxy still refuse to accept our church). It was wonderful seeing the great Russian Czar in Armenia once more.
I would have been happier with the French president's visit to Armenia had he not traveled to Azerbaijan on the same day.
I was surprised by the recognition given to us by the governments of Germany and Austria, especially because they have millions of Turks living within their lands, although we shouldn't make too much out of their recognition. I was very happy to see the presidents of Serbia and Cyprus in Armenia: T

wo truly brotherly peoples with a shared history and common enemy.
But where was the Iranian president? According to many of our Iranian-Armenian colleagues, Iran was supposed to be a better, more reliable friend to Armenia than Russia. So, what happened? Did Tehran, as Americans like to say chicken-out, like last time when Ahmadinejad was in Armenia and quietly flew back to Iran the night before he was scheduled to make an appearance at the memorial complex? The rumor at the time was that Ankara had threatened Iran in some way. Recognition of the Armenian Genocide is a good litmus test for friendship. Therefore, I ask: If Tehran can't bring itself to stand with us Armenians on this matter, should it be trusted by us on other matters? I am criticizing Tehran as a friend of Iran. I harbor no ill feeling towards Iranians whatsoever. In fact, I see Iran as a valuable neighbor and a potential ally. But to suggest that Iranians are more reliable or more friendly towards Armenians than Russians is ludicrous.
Where were the Greek and Georgian presidents? Busy kissing Turkish asses as usual? I actually respect Iranians much more than Greeks and Georgians. Politically speaking, what a worthless bunch of people Greeks and Georgians are.
Nevertheless, some thoughts regarding the EU and genocide recognition: Historically, traditional European powers - France and Germany in particular - have sought to keep Turkey at an arms length. Europe wants Turkey close but not too close. Europe wants good relations with Ankara but at the same time they don't want Ankara to be part of the European club. Europe will therefore trade with Ankara, they will allow Ankara to be part of their military apparatus but they will use the Armenian Genocide as one of their tools to keep Ankara out of the EU. With that said, the further Ankara drifts towards political independence and conservative Islam the more strained its relations will become with the EU. But, ultimately, Turkey as a nation is simply too valuable for Europe to give up. To think therefore that European powers will sacrifice all their ties with Turkey for a tiny, impoverished, landlocked and Russian-backed nation in the south Caucasus is a silly fantasy. Moreover, let's not forget the powerful backing Ankara has traditionally had from Anglo-American-Jews. Washington, London and organized Jewry have always lobbied in Europe on behalf of Turks. Why? As I keep saying: Turkey is a buffer against Russians, Arabs and Iranians. Therefore, Armenians would do good to recognize that whatever problems the Western world has with Turkey today is not about Turkey per se but about who's in power in Ankara. In other words: It's an internal matter. The West is not about to turn against Turkey - not now, not for the foreseeable future.
Needless to say, and a

s always, I was very disgusted by the
Anglo-American-Jewish alliance.
I was very glad that the royal pig and his piglet actually stayed away from Armenia. But did Armenians really think Obama might have said the "G" word this time? Are we really this naive? With that said, it's unfair to blame Obama for any of this for the fault lies not with any particular American president but on the political establishment in Washington DC.
Ultimately, t

he

Armenian Genocide is not recognized by Western powers today not because of Armenia's "obscurity" or the lack of "awareness" among western peoples but because of geopolitics and

also because Jews don't want any competition to their lucrative Holocaust business
.
Nevertheless, I am glad more-and-more Armenians are beginning to view the Anglo-American-Jewish world as an enemy. If Uncle Sam could not get himself to say the "G" word on the occasion of the centennial, it no longer matters what he says or does in the future. What matters is that Armenians worldwide are beginning to see the political West as an evil presence and a cause of death and destruction around the world.
The centennial has shown us Armenians who are our friends and who are our enemies.
As I said:
Recognition of the Armenian Genocide is a very good litmus test for friendship.

And with that in mind, let's all recognize that t
he Armenian nation has one true friend and ally and that is the Russian Bear.
Finally, I am very glad to report that the Turkish-Western agenda to derail centennial commemorations failed miserably. None of their tactics, be it the Gyumri massacre, Azerbaijani attacks on the border, "Founding Parliament's" promise to incite an uprising on April 24th or Victoria "fuck the EU" Nuland's appeal to Western-led activists in Armenia, worked in the end. Speaking of Founding Parliament's promised centennial revolution, after a few of their ringleaders were arrested a couple of weeks ago, Washington's shameless freak show in Armenia simply fell apart without as much as a whimper. All in all, I was very impressed with the way President Sargsyan's government has handled matters.
As I said earlier, there is positive energy throughout Armenia now.
At least for now, the Western-sponsored doom-and-gloom campaign is abated. At least for now, Uncle Sam's smut-peddlers are silenced. We now have the momentum. We must do what we can to maintain this momentum. The centennial is not the end, it is the beginning. We cannot allow our martyred ancestor's death to have been in vain. Let us use their memory to build a better Armenia.
Let us use their memory to remind ourselves that Armenian statehood and political stability is something that needs to be preserved at all cost. With the past one hundred years in clear hindsight for us all to assess and ponder, and the chaotic post-Soviet years well behind us as well, we as a nation need to look forward to the next one hundred years and build on what we have. In looking forward, we must also recognize that our building efforts should not only apply to Armenia but also to the Armenian. As much as Armenia was destroyed during the past one thousand years, so was the Armenian. We as a people have suffered one thousand years of material, spiritual, cultural and genetic damage.
Let this century be a period of Armenian revival.

It can be done because within us all dwells the genetic imprint of our glorious ancestors.
What happened to Asia Minor a thousand years ago is an important geopolitical lesson to be learned by regional Christians. One of the lessons that is still quite significant today is that the fall of the great Byzantine Empire in the 15th century begun with the fall of Armenia in the 11th century.
Ultimately, it was religious zeal, cultural arrogance and political shortsightedness of Greeks and Armenians at the time that essentially led to the demise of Christendom in Asia Minor. Greeks and Armenians - as well as Russians - would do well to learn the lessons of the past one thousand years.
A thousand years ago Armenia guarded the vulnerable eastern approaches of the great Byzantine Empire. Today, a resurrected Armenia guards the vulnerable underbelly of the great Russian nation, a nation that is the successor of the Byzantine Empire.
What Greeks and Armenians could not accomplish one thousand years ago, I hope to see Russians and Armenians accomplishing in the next one thousand years. I hope to see the rise of a new Byzantium. I hope to see a union of Christian Orthodox nations.
As a grandchild of genocide survivors I promise that I will do all that I can to somehow, someday avenge my murdered countrymen.
I pledge to keep the memory of our martyrs alive within my children. I pledge never to forget that we have unfinished business.
I pray for the souls of all my countrymen who opted to die as Armenians instead of betraying their God and nation. I pray to see Asia Minor - the cradle of human civilization, the cradle of Aryan nations, the cradle of Christianity - become the stronghold of Armenians, Greeks and Russians.
I pray to see Western Armenia, a Turkic cesspool today, returned to its former glory.

And with that in mind, let's collectively pray that Sarikamish II - of course without the first one's Bolshevik ending - is not too far down the Anatolian road

.
The need for self-reflection and cultural unity
Ever since the near-death experience we had a century ago we Armenians have been patting ourselves on the shoulder because of how wonderful we perceive we are. I understand that this is a natural form of self-reassurance that develops after coming face-to-face with death and managing to live. To feel good about our selves, we kept reminding ourselves (and anyone else that would listen to us) that we were the first Christians... we were the first this, the first that... this famous person was Armenian, that famous person was Armenian... We need to stop this silliness before it kills us.
If we truly love our homeland we seriously need to begin talking about our national flaws. After all, to a significant degree, it is our national (i.e. collective) flaws that has gotten us to where we are today. If we are genuinely concerned about Armenia's future and if we genuinely love our nation we need to come down from our self-induced euphoria and start taking a close, hard look at who we are today. Armenians need self-reflection.
I do not want to come across as if I'm trying to belittle our very rich history. Armenia was one of the greatest nations of the ancient world. Armenia was a major power during much of the preceding two thousand years before Armenia lost its independence in the 11th century. Moreover, much of modern human civilization has its origins within our historic homeland. Proto-Armenians brought civilization to lands stretching from India to the British Islands. Again, I am not attempting to belittle our magnificent history and immensely rich cultural heritage.
Armenians do have bragging rights. I am simply longing to see the revival of Armenia. I am hoping to see the resurrection of those Armenians that put Armenia at forefront of human civilization.
It can be done because deep within our people lies dormant the potential to be a great nation once again. We simply need a cultural reawakening. Therefore, we have some work to do because the modern Armenian is too materialistic, too proud, too arrogant, too negative, too impatient, too cynical, too self-righteous, too ostentatious, too gossip-prone, too politically ignorant and worst of all - too clannish.
Along side Armenia, Armenians themselves have also suffered nearly one thousand years of damage. In my opinion, the repair of this cultural/genetic damage should take precedence over constructing buildings in Armenia. In other words, before we attempt to reconstruct Armenia we first need to reconstruct the Armenian.

Case in point: Our wealthy Chobans-in-Armani-suits are a reflection of modern Armenian society. A nation full of materialistic, overly-ambitious, very intelligent, fiercely independent, deeply pessimistic, painfully cynical, extremely jealous, impossibly stubborn and politically naive people with Asiatic mindsets cannot in all honesty expect to have an "enlightened" government. To fix Armenia we therefore somehow need to figure out a way to fix the Armenian.

Armenia's problems today are thus an accurate reflection of modern Armenian society and culture, and no single politician - especially one that is serving a Western agenda - will be able to cure Armenia's fundamental ailments. What Armenia desperately needs today is a sociopolitical evolution; what Armenians desperately need today is farsighted nationalism, patience and cultural unity.
One of the most important lessons we Armenians were thought one hundred years ago was the crucial need for cultural and thus national unity. Ironically, however, one of the things that continues to get into the way of Armenian unity is Armenian pride.

Allow me to explain.
We don't need "proud" Armenians. We already have too many "proud" Armenians walking this earth without any connection to their Armenian homeland. We have too many proud Lebanese-Armenians; we have too many proud American-Armenians; we have too many proud French-Armenians; we have too many proud Russian-Armenians; we have too many proud Persian-Armenians; we even have proud Turkish-Armenians.
Armenian "pride" comes from Armenian arrogance. Armenian pride comes from Armenian tribalism. In other words, Armenian pride is about the Armenian ego. Therefore, Armenian pride is destructive and one of the causes for the divisions in our people. What we desperately need instead of "proud" Armenians are nationalist Armenians. I say this because a proud Armenian can be proud of his or herself anywhere on earth, an Armenian nationalist on the other hand can only feel proud in Armenia. A "proud" Lebanese-Armenian can easily discriminate against an Armenian from Armenia. And, vice-versa, a "proud" Yerevantsi can easily discriminate against an Armenian from Lebanon. A nationalist Armenian, however, would never discriminate against another Armenian because of where they were born.
Speaking of destructive Armenian pride, there is another form of pride that is very detrimental to the Armenian homeland and to Armenian nationalism and that is "Western Armenian" pride.
There are significant numbers of offspring of genocide survivors living in the Diaspora today who consider Turkish-occupied Western Armenia to be their one and only homeland. Although this emotional attachment to Western Armenia is in itself quite commendable, Diasporan Armenians who feel this way more often than not tend to look at the current Armenian state in the south Caucasus as a foreign, "Russified" entity.

T

hese champions of Western Armenia feel they have little in common with the current Armenian state. Dr. Henry Astarjian, a well respected Anglophile who also happens to be a well-respect ARF activist, is one of those Diasporans today advocating Western Armenianism in lieu of pan-Armenianism. His thoughts on the subject matter -
Living quite comfortably in their adopted homelands, worthless Diasporans like this clown above tend to subconsciously seek all sorts of excuses to refrain from the difficult building-process that is urgently required in Armenia. Diasporans like this Astarjian character, who are more Turkish and Kurdish at heart than Armenian, are the fundamental reason for Armenian disunity and political impotency. Diasporans like Astarjian go out of their way to immerse their children in the cultures of their adopted Diasporan homelands but when they happen to be in Armenia they do their best to preserve their "Western Armenian" culture. This is a destructive dichotomy within the Armenian psyche that I can't yet adequately explain. We saw this process play out recently among Syrian-Armenian refugees in Armenia. When Syrian-Armenians fled to Armenia, instead of immersing themselves into their homeland's culture, they opted instead to preserve their Syrian-Armenian identity -
No wonder there is a disconnect between native Armenians and Disporans. Instead of taking the opportunity given to them by fully embracing their homeland, Syrian-Armenians (known to be one of the most "patriotic" Armenians in the Diaspora) have been doing their best to essentially preserve their assimilation. And these people have the nerve to look down at Armenians in Armenia for being "Russified"?
I don't mean to digress from the topic but it's this kind of attitude displayed by Diasporans that fosters resentment among native Armenians. Why would Armenians try to preserve their Syrian-Armenian identity in Armenia? Why?!?!?!
I just don't get it.
That significant numbers of Diasporan Armenians today feel they have little in common with today's Armenia is beyond doubt. That the constant doom-and-gloom about Armenia by our Western-led propagandists is aggravating the situation is also beyond doubt. That assimilation plays a big role in this condition is also beyond doubt. But in my opinion this condition is also a by-product of our conscious efforts to preserve "Western Armenian culture" within Diasporan societies. When a child is raised begin told that his or her ancestral homeland is Western Armenia and that his or her native tongue is Western Armenian, that child will inevitably have a difficult time feeling a cultural and/or emotional connection to the Armenia we have today.
Are we trying to attach Diasporan children to a nation that only exists in concept, at the expense of the nation that exists in reality?!?!?!
Ethnic identity, religious faith and language are interconnected
and are the most important unifying and defining factors in any given society

. They are in fact the three pillars of identity and nationality.
In my opinion (an opinion of a Diasporan let me remind you), I believe there needs to be ONE Armenian homeland, ONE Armenian language and ONE Armenian church. For thousands of years rulers around the world have recognized the crucial need for cultural unity through the adoption of ONE language and faith under ONE state. This millennial old wisdom however seems to somehow escape a significant portion of Armenians today.
Just thinking: Is our attempt to preserve the Western Armenian language in the Diaspora actually becoming a stumbling block to genuine national unity?
Without a homeland within which to evolve in a language will inevitably die. It is therefore no surprise that The Western Armenian branch of the Armenian language is on the path of extinction.
Even increasing numbers of Diasporan Armenians are beginning to see the language as being on the verge of death. It's death blow came on April 24, 1915. It's been slowly dying ever since as fewer and fewer numbers of Armenians are speaking it.
How many Armenians do we know that can speak Western Armenian without mixing into it a large amount of Arabic, Turkish, French or English words? How many Diasporan Armenians speak Western Armenian at all? How many will speak it in one or two more generations? The reality of the matter is that Western Armenian is on the path of extinction and its course with destiny cannot be reversed because Western Armenian does not have a homeland within which to live and develop.
Just thinking: Should the entire Diaspora simply adopt the official language of the Armenian republic?
Armenia has a desperate need for cultural unity. As much as I hate to admit it, our clinging to "Western Armenian" identity and language is aggravating the situation and actually creation the very basis for division. Although we have one homeland and one official language, we have significant numbers of Armenians conceptualizing another homeland and teaching their children another language. We need to bury our Diasporan mentalities. We need to bury our provincial mentalities. The divisions we have had have been the by-products of our tragic history.
There is no Western Armenia. There is no Eastern Armenia. There is but ONE Armenia. There is no Diasporan Armenian. There is no native Armenian. There is but ONE Armenian. If we are to grow and prosper as a nation, there has to be one culture, one language, one church, one state. We waited one thousand years for this opportunity. We can't squander it now. At the end of the day, we need to realize that the Diaspora is a dead end. The Diaspora is in fact a graveyard for Armenians. Any penny spent on the Armenian Diaspora is a precious penny wasted. While it exists, the Diaspora has to be a source of support to the Armenian state. The Diaspora has to therefore, speak the language of the Armenian state, both figuratively and literally.
A common language is one of the core elements and a most crucial prerequisite in national unity.

As emotionally difficult as it may be, we need to stop trying to revive the dead. Western Armenian cannot be saved. We need to recognize our loss and look forward.
Accepting the official language of the Armenian Republic will go a long way in helping the Diaspora better understand the homeland and its people and vice-versa.

If we want future generations in the Armenian Diaspora (as long as the Diaspora survives) to feel a deep connection to and a genuine affinity towards their ancestral homeland in the south Caucasus, they need to be taught the official language of the Armenian state. If we are to feel as one nation and one culture and if we want our Diaspora to feel intimately connected to the Armenian state, we Western Armenians need to put aside our pride, arrogance and tribalism and learn to embrace the official language of our one and only Armenian homeland.
In short: If we want our Diasporan children to truly feel connected to the Armenian state they need to be thought the official language of the Armenian state. I would like to once more remind the reader that the liberation of Western Armenia can only start from Yerevan.
Russians and Turks will clash again, will Armenians be ready this time?
Director of the Yerevan based Caucasus Institute Alexander Iskandaryan recently stated: "Armenia is a key South Caucasus country for Russia and cannot be replaced by anything else. Importance of Russia to us is, of course, even greater. But Russia cannot substitute Armenia with Georgia, or Azerbaijan, or South Ossetia, Iran or Turkey. Russia uses its influence in the region due to the current format of its relationship with Armenia, and Putin has confirmed it". From a Russian perspective, Armenia is an indispensable geostrategic asset in a very strategic yet volatile region of the world. From a Russian perspective, despite its trade ties with Ankara, Turkey is a serious geostrategic threat due to its size, strategic location, large Muslim population and NATO membership. What's more,
Russia has long coveted territories under Turkish control due to Ankara's possession of ideal warm water ports on the Mediterranean Sea and its control over the strategic Dardanelles. Top level Kremlin officials know very well that the only thing stopping the Turkification and the Islamification of the entire Caucasus, both north and south, is a powerful Armenian presence in the region. That Russia sees Armenia as part of its civilization is therefore quite a natural thing and that Russia will militarily protect Armenia is beyond question.
In an article appearing in Russia Today, Mikhail Aleksandrov, a political analyst working for the Institute of CIS made the following comment about Moscow's military presence inside Armenia -
"Armenian-Russian ties support a balance of forces. With its presence in the South Caucasus, Russia is creating a counterbalance to Turkey, Iran and preventing the West from getting access to the region, including military. If it wasn't for Russia, the South Caucasus would be in a similar situation as we are observing in Syria or Libya today."
In another article produced by Russia's Pravda, Vice President of the Academy of Geopolitical Issues Konstantin Sivkov is quoted as saying -
"

If Turkey attacks Armenia, it will be treated as an attack on Russia. Russia would fight on Armenia's side with all its might. If necessary, Russia could use nuclear weapons against Turkey, both tactical, and if need be, strategic. This is defined in the military doctrine of the Russian Federation. Armenia is fully protected with the Russian umbrella of both conventional forces as well as strategic nuclear forces

.

"
Alexsei Arbatov,
the former deputy chairman of the Russia State Duma's Defense Committee defined Russian-Armenian relations with the following words -
"Armenia is our only classic military-political ally...Armenia will not survive without Russia, while, without Armenia, Russia will lose all its important positions in the Caucasus...Even though Armenia is a small country, it is our forepost in the South Caucasus. I would say that Armenia is more important to us than Israel is to the Americans."
In describing what Russia's reaction would be to a possible invasion of Armenia by Turkey or Azerbaijan, Alexander Khramchikhin, Director of the Institute for Political and Military Analysis said -
This comment by Alexander Dugin, the political philosopher many Armenians accuse of being pro-Turkish and anti-Armenian -
"Armenia is the single most serious ally of Russia. It is part of the Eurasian Economic Union and the Collective Security Treaty Organization, that is, we should have a unitary system of missile and air defenses and integration on all levels, including nuclear defense and the nuclear umbrella which we guarantee Armenia. Accordingly, these actions take place in the framework of deploying a system of strategic security around Russia in relying on its allies. Armenia belongs to this first and foremost. But this is not because we are planning some kind of aggravation of Turkey or, moreover, a war."
This comment by a Russian-Muslim political analyst, Ilqar Mammadov -
"When Azerbaijani officials, including the president, predict that Armenia will collapse as a state, they are mistaken. Nobody will let Armenia collapse. Even if only 100,000 people lived in Armenia, Russia would protect it as it regards Armenia as its outpost."
This comment by
head of Russia's

Institute

of Oriental Studies, Vitaly Naumkin -
"Russia will never allow Armenia to be harmed or attacked. If anyone attacks Armenia, Russia will take part in defending Armenia, this is absolutely obvious."
T

his comment by

a s

enior researcher of the Institute of World Economy and International Relations of the Russian Academy of Sciences, Viktor Nadein-Rayevsky -
"Russia will never cede Armenia for improving its relations with Turkey. This is a matter of principle. There are things one can sacrifice, but there are things one cannot. The point is not so much that two million Armenians live in Russia and many of them are Russian citizens. For Armenia Russia's steps must never be bad. The point is that even the Yeltsin Russia perfectly realized that it must not waive Armenia's interests, not mentioning Putin, who clearly sees the national interests, at least, the clear ones. He is trying to extrapolate them for the future. I simply can't imagine that Russia may yield Armenia – if Russia does this it will lose all of its positions in the Caucasus. Russia should understand one most important thing – there are partners and allied countries with whom one should keep up the sense of alliance and duty."
The following is an excerpt from a 1996 analysis by
the well respected director of the Carnegie Moscow Center, Dmitri Trenin -
"The purely military interest which Russia has had in the Caucasus appears to have receded in importance in comparison with the Imperial or Soviet periods. It is now essentially defensive in nature and precludes any large-scale strategic penetration, including the supply of military assistance, arms supplies, etc., to any third party. To prevent any potential Turkish opportunism at the time of the Soviet Union's disintegration, Marshal Shaposhnikov, then Commander-in-Chief of the Joint Armed Forces of the CIS, warned of a "Third World War" if Turkey were to interfere militarily in the Armenian-Azerbaijani conflict. In March 1993, General Grachev, Russia's Defence Minister, made Russia's own military co-operation with Turkey conditional on Ankara's discontinuing its military assistance to Baku."
And the following are the
comments of the Russian Ambassador to Armenia -
"It is impossible to imagine modern Russian history without Armenians"
As long as Russian nationalists are in power in Moscow, Russians will continue seeing Armenia as an asset and Turkic peoples as a threat. That Russia will militarily protect Armenia from all regional predators is therefore beyond question. Armenia's membership in the CSTO and the EEU and the Russian troop presence in Armenia is a guarantee that Turks and Azeris will remain on their sides of the border.
Once more I'd like to remind the reader that despite Moscow's very lucrative trade deals with Ankara during recent decades
, Moscow has not stopped recognizing the Armenian Genocide; Russian officials have not stopped from appearing at the Armenian Genocide memorial in Yerevan; Moscow has not allowed Artsakh to be invaded by Azerbaijan; nor has Moscow's profitable dealings with Ankara stopped the Russian military from paying less attention to the security of the Armenian-Turkish border.
Unlike in the Western world, where virtually everything has its price, Moscow's approach to regional politics is firmly based on its national security needs, and Armenia is an integral part of Russia's national security and it will remain so for the foreseeable future.
As long as Russian officials continue protecting Russian interests and as long as
Russian power and influence continues to grow throughout the Caucasus and the Black Sea region, Russians will sooner-or-later run into problems with Turks. Regardless of any trade deals they have between them, the resurgence of Russia - and Turkey's growing Islamization - thus sets the stage for a future clash between Russia and Turkey. In my opinion, such a clash is not merely a probability but an inevitability and such a clash will no doubt cause tectonic shifts in the political and cultural character of the region.
Let's recognize that Russians and Turks are from two, vastly different cultures and civilizations. Ethnic Russians are mostly decedents of central European Vikings settlers and ancient Iranic peoples that were Christianized about one thousand years ago and the Russian nation is the progeny of the Byzantine Empire. Muslim Turks, on the other hand, are the decedents of various central Asian nomadic tribes that invaded eastern Europe, the Caucasus and the Armenian Highlands during the past one thousand years. Christian Slavs and Muslim Turkic peoples have clashed throughout history.
It is essentially a natural rivalry within the human ecology that is similar to that of bears and wolves (pun intended) competing over the same feeding territory. Russians and Turks have come to blows over a dozen times only during the past two hundred years - each time with Russia winning. In the 1990s we again saw this rivalry between Russians and Turks play out in the Caucasus and in the Balkans, and more recently we saw it take place within Syria and Crimea. In each case the Russian Bear was victorious. The relationship between Moscow and Ankara cannot
get too warm because T
urks today have an instinctual fear of the Russian Bear and Russian have an instinctual disdain towards Turks. Another reason why Moscow will never lower it guard when it comes to dealing with Turks is Russia's large Turkic/Islamic population. Moscow has an inherent problem in this regard. Therefore, demographic concerns as well as fears of uprisings by its Turkic/Islamic population will force Russian officials to always keep relations with nations like Turkey at an arms length. Simply put: Russian officials know all too well the potential risks of pan-Turkism and blindly embracing Turks. There may be periods of peace and cooperation between the region's two natural competitors but the rivalry between Russia and Turkey will never totally disappear
. Recognition of the inevitability of a Russian-Turkish conflict is what has made the political West embrace the Turkish nation for the past two centuries.
It's not only me predicting an eventual Russo-Turkish clash. In the following article we see George Friedman's Stratfor also acknowledging this natural geopolitical inevitability -
"Ultimately, both Russia and Turkey know that this relationship is likely temporary at best. The two Eurasian powers still distrust each other and have divergent long-term goals, even if in the short term there is a small window of opportunity for Turkish and Russian interests to overlap. The law of geopolitics dictates that the two ascendant powers are doomed to clash — just not today"
T
he following quote taken from the Georgian press is a Russian take on the matter -
"Viktor Yakubin, analyst on the Caucasus region is confident that a confrontation in the region between Russia and Turkey is an historic inevitability"
And the following is the Turkish perspective appearing in the Voice of America -
"Soli Ozel, an International relations expert at Istanbul's Kadir Has University, said Ankara's latest spat with Moscow has exposed the unbalanced nature of the relationship. "The Russians have not been at all forthcoming in terms of respecting where Turkey has interests," said Ozel. "So I don't see the Russians being particularly careful about not upsetting, offending or whatever the Turks, whereas the Turks have been usually pretty careful. This is, in my judgment, a relation of unequals. Ozel pointed out that Ankara did not even recall its ambassador from Moscow, as it did with Austria, the Vatican and most recently Luxembourg when they backed Armenian genocide claims"
After all is said and done, one thing remains crystal clear for me: If Western Armenia is to be liberated someday (and I think it's a very real possibility), it wont come by the way of an "Armenian-Kurdish" alliance as some delusional idiots in the Armenian community think, it won't come as a result of "international law" as some Western-financed activists foolishly think, and it wont happen as a result of Armenians collaborating with Islamized Armenians inside Turkey. If Western Armenia is to be liberated someday it will only happen by Russian-Armenian troops marching westward from the south Caucasus. Kurds and Islamized Armenians will no doubt be utilized as factors on the ground only when such a Russian-Armenian force from the Caucasus enters Western Armenia.
We Armenians must understand that the only realistic chance we will have for liberating at least portions of Western Armenia is a future Russian-Turkish conflict.
A Russian-Turkish war is the only calculus we can place any kind of hope on. This calculation must be an integral part of our nation's long-term strategic formulations and an integral part of Armenian lobbying efforts in Moscow. I'd like to remind the reader that such a thing has a historic precedence. Something similar to what I'm suggesting nearly became a reality in 1915 when Russian troops successfully liberated large portions of Western Armenia. That Bolshevism reversed Russian gains is altogether another matter for discussion. Barring any future calamity within Russia (and there is nothing on the radar screen to suggest such a thing),
as they have always,

Russian forces will crush Turks in any future conflict.
Nevertheless, the road to Western Armenia starts in eastern Armenia, and the keys to Western Armenia's liberation are found in the Kremlin.
Diasporan Armenians need to begin thinking of the current Armenia state as their ONLY hope for resurrecting Western Armenia. All Armenians need to begin seeing Moscow as the ONLY place where to lobby Armenian interests. This is the long-term, pan-national agenda we Armenians must embark on - if - we want to see Western Armenia liberated one day.
I have no doubt that
Russians and Turks will come to blows once more
. I have no doubt Turks will be defeated once more. Will we Armenians be ready?
Thoughts on the liberation of Western Armenia
Turks will never willing give back Western Armenia to Armenians. Turks will never pay the many billions-of-dollars necessary to compensate Armenians for the lives lost and property looted. Moreover, placing any hope on "international law" for the return of Western Armenia or the payment of reparations is as good as placing hope on the tooth-fairy. International law always takes a backseat to the old adage of "might makes right". International law always takes a backseat to realpolitik and geopolitical interests. International law is created by the strong to control the weak. Once you have the big guns and the big funds, you simply take what is yours and then you manipulate "international law" to excuse your actions.
Once you have the big guns and the big funds, you simply reconfigure international law to meet your needs.
I have long maintained that Armenia's main problem today is not its "oligarchy" or "corruption" but its landlocked geography and the economic blockade its two neighbors have placed against it. Armenia will sooner-or-later need to expand and

breakout of its mountain prison

if it is to prosper and be taken seriously by the international community. I have always maintained that collaboration with Russia (and to a lesser extent with Iran) is the only way forward for Armenia in this regard. I have always maintained that the

best route

for Armenia to expand is through Georgia to the Black Sea and/or through Azerbaijan to the southern Russian border. My sentiments regarding this geostrategically important matter are reflected in the following blog entry -
With that said, the liberation of Western Armenia is also a hypothetical possibility and it should definitely be addressed. However, we should be mindful that if Western Armenia is to ever be liberated, chances are that it will have to be a joint Russian-Armenian venture. The keys therefore to Western Armenia is not found in some international law, it is not found in Brussels, it is not found in Washington and it is not found in the Armenian Diaspora. The keys to Western Armenia is found in Moscow and in Yerevan, and to a lesser extent in Tehran. Armenians need to wise-up, stop wasting their time and limited resources in an anti-Armenian vipers next like Washington and take the "Հայ Դատ" to the highest and most secretive offices of the Kremlin instead.

I fully acknowledge the fact that this is a very complex geopolitical matter. There are many variables involved, not the least of which is the unpredictability of tomorrow. No one but God knows when the day will come when Armenian tanks will drive into Van and reclaim Armenia's most ancient capitol city. That glorious day may or may not happen within our life times. Having said that, we as a nation need to be vigilant and ready for when an opportunity to do so does finally arrive. If we are not ready to exploit such an opportunity, then obviously there is no chance whatsoever. However, if we are ready and work towards that particular goal, then there is a chance, a very good chance. Therefore, it's ultimately up to us as a people to decide what we want for our future.
Sadly, however, when it comes to the discussion of liberating Western Armenia many Armenians either are indifferent to it, approach it irrationally or are categorically against it. And this apathy and irrationality is the main obstacle we face in this matter, not Turks.
Therefore, the "enemy" is us.
While the problem may be the Armenian, Armenia the nation-state is on route to actually becoming ready to embark on such an endeavor one day. Yes, despite what you hear about Armenia from Western-funded activists and propaganda outlets, Armenia is gradually becoming a major regional player thanks to its membership in the CSTO and the EEU. Unlike in 1914, Armenia is an independent nation with a major military victory already to its credit. Unlike in 1914, Armenia has a relatively powerful military that is getting stronger by the year.
Unlike in 1914, Armenia is an established nation-state with an important strategic alliance with the Russian Federation and very warm relations with Iran. Unlike in 1914, Armenia also has a worldwide Diaspora than will come to its aid in time of need.
Armenia today is a developing nation-state and one that already yields the most political clout in the south Caucasus.
Therefore, the last thing I want is for us Armenians to be asleep at the wheel once again when opportunity comes knocking on the door. Apathy, the lack of political awareness and patriotic ambition within Armenian society is my biggest concern. One hundred years ago the same situation allowed Turks to ravage historic Armenia and exterminate the region's native Armenian population. Despite all the patriotic songs and stories we have heard from the period of the First World War, the reality of the matter is that most Armenians at the time were either complacent with their overall condition as semi-Turkified Ottoman subjects or simply scared into inaction.
Let's remember that the Ottoman military had been utterly decimated and Turkey was not a serious fighting force soon after the start of the First World War. Moreover, when Russians retreated from Western Armenia in 1917 they left behind large stockpiles of weaponry that Armenians could have used for the liberation effort. Had we as a people collectively and enthusiastically rallied around the goal of liberation we would have been able to preserve significant portions of our historic lands - despite the Russian retreat in 1917 - and there would most probably not have been an Armenian Genocide to lament over. In my opinion, Armenian apathy, political ignorance, complacency and lack of preparedness allowed the genocide to take place.
In this regard, I
think we all can learn a lot from our warlike compatriots in Artsakh.
Being that
Armenians of Artsakh are the only major group within our nation that were not totally subjugated by any power at any time in history, t
hey are the direct genetic decedents of the warrior-aristocracy of the ancient Armenian Highlands. Armenians of Artsakh
carry within their genetic code the traits of our ancient ancestors. Therefore, it is fully understandable why a majority of the greatest Armenian men in modern times were derived from the general vicinity of Artsakh. This, in my opinion, speaks volumes about the importance of pedigree.
While the rest of the Armenian nation was deprived of its aristocracy and reduced to being subservient peasants, artisans and

merchants during the course of the past one thousand years, much to the chagrin of Persians, Turks and Bolsheviks, Armenians of Artsakh were able to preserve our people's ancient characteristics: Resourceful, disciplined, resilient, stubborn, intelligent, patriotic and warlike.
Needless to say, Azeris found all this out the hard way during the 1990s.
Artsakh reminded all Armenians that the external enemy has always been and continues to be the Turk. Artsakh showed us all that the only way forward is through armed struggle. Artsakh also gave us all a real lesson in genuine patriotism and realpolitik.
In a certain sense, Artsakh saved Armenia and the Diaspora, not the other way around.
Getting back to the First World War: Only a

minuscule

percentage of Armenians actually fought for Armenia's independence in Western Armenia. Insignificant numbers, lack of discipline and the lack of cooperation and coordination among various Armenian groups often characterized the Armenian liberation effort at the time.
Not only that, as noted above, many Armenians at the time were even rebelling against the Russian Czar and many within the Ottoman-Armenian community were actually conspiring against Armenian freedom fighters. As much as we are inclined to blame Turks, Kurds, Germans, Brits, French and Russians for our devastating losses during the First World War, we Armenians also share equal blame. In fact, I would go as far as saying what happened to Armenians back then was primarily the fault of Armenians because, unlike us Armenians, all the other players at the time were merely doing what was in their best interests.
We need to learn from our mistakes and look forward.
There are many important lessons to be learned from the First World War: The need for national unity; unconditional service to the national flag; a powerful military; being a part of genuine alliances with regional powers; a heightened awareness to the political world we all live in; and the importance of geostrategic foresight.
Moreover, the need to approach Armenia's current sociopolitical issues rationally and objectively is also fundamentally important - so is the need to stop chasing our tails with dangerous Western fairy

-

tales: toxic concoctions known popularly as Democracy, Capitalism, Civil Society, Westernization and Globalization. More importantly, we need to collectively work towards deepening our strategic alliance with the Russian Bear. We need to use our God given talents to figure out a way of turning Russia's national interests into an extension of Armenian interests. The foundation to do just that exists today for Moscow's and Yerevan's political interests converge to a great degree. This needs to be further cultivated in an organized effort.
The convergence of interests between our two nations needs to become institutionalized.
Armenian officials, business tycoon and activists therefore need to be a constant presence within the walls of the Kremlin. While Armenia's increasingly powerful military is without any doubt Armenia's TACTICAL advantage on the global chessboard, Yerevan's alliance with Moscow must be cultivated to become Armenia's STRATEGIC advantage on the global chessboard.
Armenia's expansion is therefore mainly based upon the nature of Russo-Armenian relations, as well as various other geopolitical and socioeconomic factors. Armenian officials need to work on these factors and the rest of us need to be patient and pray for the best. I firmly believe we will liberate our historic lands. It's merely a matter of when. I will now briefly address some reoccurring questions and objections some Armenians have every time the topic of liberating Western Armenia is brought up in conversation.

Will Russia help?

When the circumstances are right, in other words when the West is in no position to intervene perhaps due to a major war or economic collapse or when the Turkish state is on the verge of falling apart, Moscow may be very willing to participate in a military campaign inside Turkey in order to gain direct assess to the very strategic Strait of Dardanelles or to gain a foothold in the warm water sea ports in Cilicia. Geostrategically, it would fully serve Moscow's interests if their regional rival Turkey is broken into pieces and some of the pieces given to its strategic ally Armenia.

Will Iran participate?

Iran's position in such a scenario is more difficult to predict for Iran is an Islamic state and it also has a natural fear of Russians. But, with proper negotiations with Moscow and Yerevan and perhaps some incentives, Tehran may very well be convinced to seek the destruction of its historic rival, the Turk, as well.

How will Armenians defend the land when it's liberated?

The lands in question can easily be defended by a well armed and well trained modern military force. The land is rugged and alpine, once you acquire it and dig in, you are in total control. Artsakh is a good example of how effectively a relatively small but capable force can protect a large mountainous region. Also, if you do have a nuclear device behind you, you are virtually untouchable. North Korea is a good example this. Besides, I only envision Armenia making a move into Western Armenia when the Turkish nation is weak and if Yerevan has Russian and Iranian support. In other words, when the Turk is vulnerable and the geopolitical situation is appropriate, you stomp on its head as fast as you can and as hard as you can and you don't stop stomping until you accomplish your mission.

What about Kurds?
Western and Israeli interests in the region, which have been pushing for greater Kurdish autonomy, may cause serious problems for Armenian interests. Kurds may as a result pose problems for any westward expansion by Armenia. But Kurds can, at least

theoretically

, be negotiated with. There is therefore a possibility that Kurds may be willing to accept the liberation of at least some portions of Western Armenia, if of course they receive sovereignty in other Kurdish populated territories in exchange. In the event, however, Kurds oppose the liberation of any portions of Western Armenia, they can be made to comply. Because they are very fragmented and backward, Kurds are a much easier problem to solve than Turks. In any case,
Kurds who decide to remain within the liberated territories Western Armenia will do so as Armenian citizens. Having said that, however, the emphasis should be placed on negotiating with Kurds and convincing them to accept sovereignty in territories south and west of Van.

What is so important about Western Armenia?
Western Armenia, also known as Armenian Highlands, is the cradle of Armenian civilization as well as the cradle of human civilization. Western Armenia is where millions of our martyred ancestors lie in unmarked graves. Moreover, the region is rich in natural resources and agricultural potential. Every Armenian wants to see a prosperous Armenia, right? Well, a prosperous Armenia will need to expand eventually.
I envision the Armenian homeland growing in population in the next one hundred years. Armenians will eventually need more land, if only for living space. Therefore, what better land than our lands to expand into? More importantly, the Armenian Highlands - with access to the Black Sea - hold great geostrategic value. The strategic value of the territory that Ankara controls today is one of the fundamental reasons why Turkey is a major political and economic player in the region. The territory in question is an important international intersection and a potential major hub for trade. Those who control the Armenian Highlands automatically become major political players throughout the region and beyond.
The only way we Armenians will be able to get some respect from the international community is by creating a large and powerful nation: A nation that would be able to sit on the table as an equal with major powers. Let's not forget that politics is always dirty business. If we Armenians want our homeland to truly prosper we need to be aggressive yet prudent.
Isn't this how the wealthiest and the most powerful nations on earth got their start? Isn't this how the wealthiest and the most powerful nations on earth live today? To this effect, we need to get rid of our victim mentality. We need to get rid our our Diasporan mentality. Unfortunately, we Armenians tend to think small. When one thinks small one accomplishes small. As long as we remain small, dependent on foreign aid and politically indecisive and thus vulnerable, the international community will give us lip service at best or plot our destruction at worst.
Nevertheless, whether or not we will be able to liberate our historic lands in Western Armenia is more-or-less based upon the following factors:
A settlement of the Artsakh dispute in Armenia's favor
The strength of the Armenian economy
The strength of the Armenian military
The strength of Russian-Armenian alliance
The nature/quality of Armenian-Iranians relations
The nature/quality of Armenian-Kurdish relations
The nature/quality of Armenian-Arab relations
The nature/quality of Armenian-West relations
The nature/quality of Armenian-Greek relations
The degree of Turkey's internal problems
The degree of Turkey's problems with Western powers
The psychological readiness of Armenians
The above are more-or-less the main geopolitical factors that would determine whether or not we
will be able to see the liberation of Western Armenia one day. It's a tall order. Moreover, these are all hypotheticals and to some extent wishful thinking. The condition today is not yet ripe. The factors are not yet there. But, as I said: If we keep this agenda alive in our minds, desire it with all our hearts and be patient, there is a possibility. But if we don't do the aforementioned, then there is no chance whatsoever. Thus, the pivotal factor is played by nobody but us.
Western Armenia can only come under Armenian control when Armenia becomes powerful enough to take it back from Turkey. The only way Turkey will recognize the Armenian Genocide and pay its long overdue reparations in money and land is when it is on its knees. Anyone that thinks any of this can be done otherwise is delusional. From the beginning of time it's been "might makes right" and it's no different today. International law is made and broken by the rich and the powerful of this world. I

nternational law is made by the powerful to control the weak.

We must realize that only the strong can impose their version of history upon others. Only the strong can right the wrongs of history. Only the strong can enjoy a prominent position on the negotiation table. Only the strong are invited to lavish banquets as honored guests.

It does not matter if Yerevan (or Moscow) officially recognizes the Turkish border. Legal documents and treaties are made to buy time and are thus meant to be broken. Examples of this are far too many to recite. We need to allow our politicians to play their games on the international stage. But it is our responsibility to keep the light of Western Armenia lit within our hearts and minds - until the day comes when Ankara is on its knees. Until then, however, the prosperity and security of the current Armenian state takes precedence over all other concerns.
We have one homeland and that is the Armenian state with Artsakh. The road to Western Armenia starts in Artsakh and may yet pass through Javakhq. Therefore, our people's number one priority today should be to secure Artsakh's independence or its unification with Armenia and to strengthen the Armenian state militarily, economically and demographically. Everything else is secondary at this juncture.
I am not advocating a war with any nation. I simply want to see Armenia build a powerful military and economy for self-defense. I am confident that Turkey will sooner-or-later fall apart. We Armenians simply have to be ready to reclaim what is ours when it happens.
Thoughts on the Kardashians' visit to Armenia
When the world's most famous or recognized "Armenian family" is made up of low class, flashy, physically enhanced, utterly materialistic and sexually

deviant

bimbos from the US, it says a lot about the plight of modern Armenian civilization. When such materialistic bimbos from the US are adored and venerated throughout the world, it speaks volumes about the degenerate times we are living in. Sadly, we are living in a period in human existence where degenerate values (i.e. filthy behavior by low class people) is emulated throughout the world - thanks to the overpowering influence Western (i.e. Anglo-American-Jewish) cultural values have had around the world.

Those of us who were mindlessly praising the "Kardashian sister's" high profile visit to Armenia were basically promoting, be it wittingly or unwittingly, the corrosive tenets of Westernization in Armenian society. Those of us who were mindlessly making excuses for the "Kardashian sister's" trashy/slutty behavior are part of the reason why Western powers have an overwhelming influence on human society today. When I see Armenians mindlessly admiring low class behavior, I am reminded that it is we the sheeple that essentially give Western powers their overwhelming power over us. And this is what I mean when I warn people about the power of Western social engineering and cultural subversion. If a century ago religion was the narcotic of the masses, today, low quality Western entertainment is the narcotic of the masses. However, whereas organized religion continues to be crucially important for any given society, Western-style low grade entertainment is without any doubt very toxic for humanity. We need to therefore open our eyes and realize that the "Kardashian sisters" are an integral part of a vast array of powerful cultural tools Anglo-American-Jews are currently using to destroy European/western civilization, indigenous cultures, conservatives values, traditional families and Apostolic Christianity.

Although they and their fans surely don't realize it, the Kardashian sisters are actually powerful tools of Western style Social Engineering. They are the unwitting conveyors of Westernization, Americanization, Globalization, multiculturalism,

i

nterracialism, atheism, materialism, corporatism, consumerism, wealth worship, celebrity worship, etc.

Are we happy that the Kardashian sisters posed for pictures in front of the Mother Armenia monument? Are we happy that the Kardashian sisters
finally put Armenia on the map? What's the message to the world? Are we happy that Mother Armenia is now being associated with low class, Hollywoodian bimbos who basically made a big name for themselves by acting slutty and filming their sexual encounters with black-American celebrities? Are we now happy that Armenia is the ancestral home of professional whores millions of normal people around the world look down upon and despise? And what's the massage to young women in Armenia? That money and looks are everything? That they need to alter/enhance their physical features, dress in expensive and revealing clothing and sleep around in hopes of landing a wealthy husband? Do we realize how corrosive this all is especially for a small, fragile, poor and traditional societ

y

like Armenia, a country that is already suffering terribly from Western values such as capitalism?

What a wonderful situation we are in on the centennial of the Armenian Genocide: Professional whores and degenerate hoodlums are now representing Armenia on the world stage. And Armenians everywhere are

excited about it! Armenian girls finally have a larger than life role model to emulate! Armenian boys can now line

-

up in droves to take lessons on how to rap and dance like a hoodlum! We Armenians have nothing to worry about now! Armenia is finally on the map! This all speaks volumes about our people today.

The stated excuse by our idiots for enthusiastically honoring the lowest scum of humanity is gaining attention for Armenia and the Armenian Genocide. Well, we can all be happy now that the Armenian Genocide

f

eels like a blurry footnote to the Kardashian's visit to Armenia.

We Armenians didn't need the Kardashians to attract attention to Armenia. Those in the US who have an interest in the Kardashian sisters probably don't even know what a passport is and most probably cant even find the US on a map. We also don't need the Kardashians attracting attention to the Armenian Genocide. Let's please put an end to our collective stupidity and come to the realization that the Armenian Genocide is not recognized by Western powers today not because of Armenia's "obscurity" or the lack of "awareness" among western peoples but because of geopolitics (i.e. the West needs Turks against Arabs, Russians and Iranians) and also because Jews don't want any competition to their lucrative Holocaust business. Therefore, regardless of how trashy the Kardashians will act for us Armenians, they will not change the geopolitical calculus of the Western world not even one bit. And if they can't do so, then why are we making such a big deal about them? Why are we bestowing upon them a larger-than-life status? Are we Armenians this desperate? Are we this insecure? Are we this low class? Are we this stupid?

Using the Kardashian name to attract attention is like smearing shit on your face to get people to notice you.

Ultimately, whatever "positive" impact their visit to Armenia may have had on the country will be short-lived and superficial at best. However, long after whatever positive they may have brought to Armenia is long gone and forgotten, the negative impact they left

o

n Armenia and on human society in general will remain for a long time.

I personally have nothing for or against the Kardashian sisters. I have no problems with the Kardashians going to Armenia - even if they will then be
flying to Israel, where they are actually looking into purchasing a multimillion dollar summer home. I am glad they were in Armenia spending money and getting to know their ancestral roots. Moreover, I do not want to come across as being puritanical or old-fashioned. My comments here are not about independent, self-assured, non-traditional women getting ahead in life and making a name for themselves. In fact, I find strong/

independent

women to be very attractive. I also recognize that such women have a very important role to play in human society if only to act as a buffer against male dominance, which I find very aggressive and predatory. I may not agree with all their politics but I am a great admirer of Angela Merkel and Marine Le Pen and I think they should be role models for women around the world. My problem therefore is not with the Kardashians per se. They are who they are. My problem is with Armenians. My worry is about the class/quality of

my

people. We are enthusiastically venerating low class, trashy women who have made a name for themselves and acquired wealth essentially through exhibitionism, pornography and prostitution. This conversation is about us as a people and I'm afraid this conversation says a lot about the Armenian of today. This conversation also says a lot about the dumbed-down masses around the world that Western powers would like to see partake in political discourse through so-called democratic processes. Western powers realize its much easier to appeal to the animalistic sense of the sheeple through tools such as pop culture, television, cinema and music. Low quality pop culture is how Western powers appeal to the global masses. Western powers realize it much easier to manipulate the sheeple and have it do what it wants then to deal with non-compromising heads of states. In other words, the West leads from the bottom up.

When low class people like the Kardashian sisters are placed on a high pedestal (e.g. extensive press coverage, press interviews, meeting government officials, being escorted around the country, adoring fans lining up to see them, etc) it sends an unmistakable signal to society and that signal is: Being a flashy whore has great advantages in this day in age. What kind of message are we sending to our impressionable young? Is this what young girls in Armenia need to see? As noted above, Armenia is already suffering terribly from Western/American/Capitalistic values without us celebrating the lowest aspects of Western/American/Capitalistic culture. We should not be putting such people on a pedestal as if they are royalty. We should not be adoring such people as if they have advanced human civilization in some way.
There was a time when humanity only venerated scientists, writers, medical doctors, inventors, artists, explorers, scholars, clergy, royalty and military men. If we are to venerate humans we need to be venerating today's top rated scientists, intellectuals and artists. And speaking of humans to venerate: One of the greatest classical music conductors of modern times, Vladimir Spivakov, visited in Armenia for a one week stay during which he performed several classical music concerts in commemoration of the centennial of the Armenian Genocide -
Needless to say, Vladimir Spivakov, who's spouse is also Armenian, was not paraded around Armenia like illustrious royalty. It turns out Armenians reserve such honor only for professional whores from the United States. Social media in Armenia did not go crazy over one the world's most famous conductors giving free concerts in Yerevan. It turns out Armenians give such attention given only to jungle music. In fact, the very day thousands of excited Armenians had gathered around Swan Lake in Yerevan to adoringly listen to animalistic noise, there was a historic mass celebrated in Saint Peter's Basilica in the Vatican during which the Pope publicly recognized the Armenian Genocide -
The mass at the Vatican was specifically held in honor of Armenians for the centennial of the Armenian Genocide. During the ritual at the world famous basilica in Rome, Saint Gregory of Narek was proclaimed the Doctor of the Catholic Church, Katholikos' Garegin II and Aram I gave excellent speeches and the Holy Eucharist was prepared under the live sounds of the Armenian Duduk. It was a momentous event. But, for all its historic importance, it took a distant backseat to a bunch of low class people from the US and their low class, arrogant rapper who actually thinks he is Jesus Christ -
As the reader can see, world famous conductor Spivakov arrived in Yerevan to perform free concerts for Armenians, the Vatican celebrated a historic mass in honor of Armenians - while Armenians were out chasing whores and rappers from the US. It's shameful. I am absolutely taken aback by all this.

The presence of the Spivakovs and the Kardashians in Armenia were also symbolic in that the Spivakovs and the Kardashians are actually very worthy representatives of their respective civilizations: One produced a world class whore, the other produced a world class maestro. Whereas "drunk" Russians and "godless" Soviets brought high culture and intellectuality into Armenian society, thanks to the Westernization of Armenians in recent decades Armenians are systematically devolving as a people. The fact that the global masses - including us Armenians - are satisfied by mind-numbing nonsense and animalistic titillation is the reason why Western powers have sway over humanity today and why that thing called "democracy" is a very-very scary notion. Our love for things that are spiritually and intellectually void is the reason why Western powers, the producers of all things spiritually and intellectually void today, have so much power over us and the reason why western civilization and Christianity are in decline.
Note: We as a people also need to be mature enough to ignore the "politics" of Armenian celebrities. Who turned individuals like Charles Aznavour, Vardan Petrosyan, Ruben Hakhverdian or Serj Tankian into political analysts, international relations experts or even diplomats? What in the life of our politically outspoken celebrities have made them experts on serious geopolitical or even military matters? Have they studied the subject? Have they even read a scholarly book on the subject? Do they read at all? Expressing thoughts is one thing because everyone's got the right to speak their minds. But we as a people must not give our singers, musicians, poets, actors and comedians too much weight when they do speak their minds about serious political matters. Allow me to present this matter in another way: As we all know most disciplines in life require a diploma or a license to partake in or practice. We also know that international relations (i.e. politics) is a science which is why many colleges today have courses that teach "political science". In fact, there are prestigious institutions around the world that prepare diplomats, international relations experts and political analysts. Therefore, I ask: Why do people who are not in any way trained in politics so eager to voice their opinions on the subject? Why are people who have absolutely no training in politics so vociferous and uncompromising on the subject? Do people without medical training confidently speak about medical matters and expect to be taken seriously? Do people without musical training confidently speak about musical matters and expect to be taken seriously? Do people without architectural or engineering training confidently speak about construction of buildings and expect to be taken seriously? The answer is no. Then why is it that doctors, taxi drivers, actors, vegetable vendors, accountants, housewives, sales clerks, shoemakers and musicians speak about political matters and expect to be taken seriously? Think about this. This is a problem especially for a people as stubborn, as emotional, as arrogant and as naive as us Armenians.
Thoughts on Jirayr Sefilian's arrest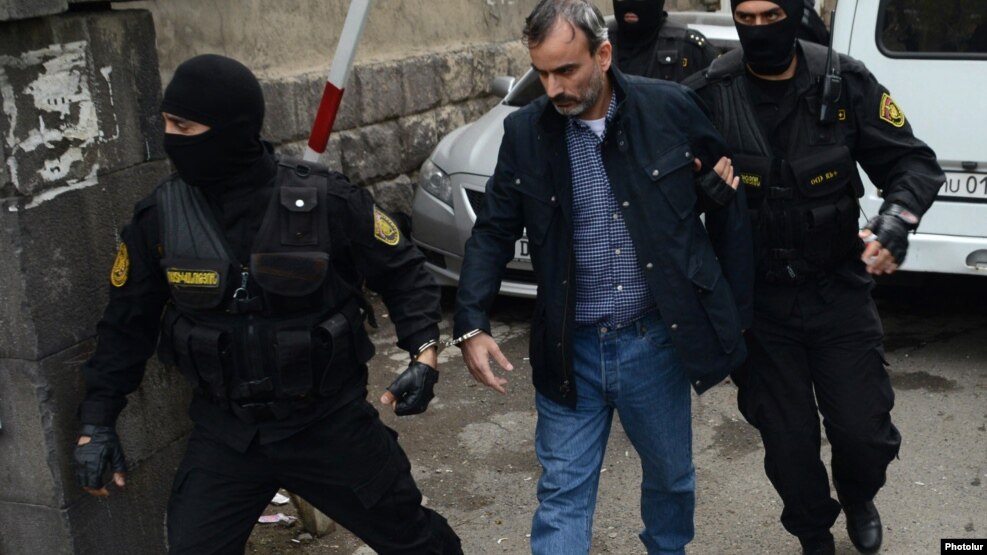 Although we Armenians have had numerous war heroes that have fought in foreign armies (particularly Russian and Soviet) we have had very small numbers of war heroes that have fought for an independent Armenia. Perhaps this unfortunate aspect of Armenian history is the reason why every single person who has fought in an Armenian war effort and has made a name for himself is unconditionally loved and venerated by Armenians today. While understandable and commendable our unconditional veneration of war heroes may however prove somewhat counterproductive at times.

We Armenians need to be mature enough to move away from the notion that just because someone courageously fought in the war of liberation in Artsakh some twenty years ago needs to be unconditionally loved and respected for the rest of his or her life. Moreover, what gives people the stupid idea that just because someone was courageous on the battlefield that someone will be a good political leader? What makes people think that just because someone was a war hero some twenty years ago cannot do things that are deemed treasonous today? In fact, what makes people think that a war hero has to be emotionally stable, psychologically normal or even smart? Simply put: Armenians need to stop bestowing supernatural powers to their war heroes. This applies even to the likes of our Monte Melkonians and Andranik Ozanians.

For all his legendary prowess on the battlefield General Ozanian was also hopelessly idealistic, fiercely independent, emotional, stubborn, proud and quite ignorant of international relations and geopolitics. General Ozanian was more of a champion of the "oppressed" than an Armenian nationalist. It is well documented that General Ozanian even took up arms against the ARF-led government in Armenia in 1918 because of political quarrels - at a time when Armenia was barely alive and Turks were systematically killing-off Armenians throughout the region. It is well known that General Ozanian hated and distrusted his brethren in the ARF yet for some reason looked up to and
trusted the Brits - which is part of the reason why we lost our control over Artsakh at the time. Finally, when the politics of the time proved more than he was willing to bear, General Ozanian took off to retire in sunny California with his young bride... whereas others like Garegin Nzdeh and Drastamat Kanayan remained to continue their fight for an independent Armenia. In my opinion, General Ozanian's greatness is strictly confined to the battlefield and then only as a rebel leader. Thus, when we honor a man like him we need to honor his military exploits and nothing else.

Chances are that had Monte Melkonian, the ASALA operative turned legendary freedom fighter in Artsakh been alive today he would have been a militant opposition leader in Armenia. The man was very courageous and very disciplined but also very idealistic and an ardent Marxist/Socialist. Melkonian was perfect for the battlefield! How would he fare in political life? What was his intellectual depth? How stable was he emotionally? How broad was his understanding of the political world? How well did he understand Armenia's geopolitical predicaments? Would he seek to topple the Armenian government because of Western catchwords such as "oligarchy" and "corruption"? Would he seek to push his Marxist ideas onto Armenian society? Would he look at Armenia's perceived subordination to Russia as a problem that needed to be resisted? Due to his idealism and thus political rigidity, would he be manipulated by Armenia's enemies? Chances are Melkonian would not have fared well in Armenian society after the war. Similar to General Ozanian, Monte Melkonian's greatness is also strictly confined to the battlefield as a guerrilla leader. Thus, when we honor a man like him we need to honor his military exploits and nothing else.

What I have described above is not strictly an Armenian problem. War heroes falling from favor is in fact a human norm around the world. For example: Consider how General Zhukov, the greatest Soviet general of the Second World War was treated by Stalin after the war ended. Similar processes happen even in the Western world. General Douglas MacArthur had serious problems in American society after the Second World War. And General Patton, the "legendary" American war hero who valiantly fought the German Wehrmacht in western Europe, was most probably assassinated by his government because he was too vociferous and too extreme -
General Patton can be described as a fanatical nutjob. It is now known that after the defeat of Nazi Germany, he actually wanted to go to war against the Soviet Union. Therefore, I think Uncle Sam did the world a great favor by having him killed. By killing him, Uncle Sam also gave future generations of Americans an unblemished, iconic war hero to idealize. Which brings up another international norm -
Dead war heroes are more effective in serving their nations than living ones
Yes, we need to respect out war heroes but we should not be tolerating destructive behavior by them. Yes, we need to respect our war heroes but we must expect them to play a ceremonial role during times of peace. Yes, we need to respect our war heroes but we need to be weary of them when they attempt to get into politics. Yes, we need to respect our war heroes but when our war heroes attempt to turn their guns against their state, we simply need to put aside all the niceties and just rein them in.

All of this also applies to today's ASALA. Please note that ASALA today, or whatever remains of it, is a foreign supported operation. The main ASALA representative in France is a nutjob who's most probably under a French payroll. He, like ARF activist Astarjian, is one of those Diasporans who places the concept of Western Armenia over-and-above the Armenian state. Monte Melkonian's ASALA associate Alex Yenikomshian, who is currently one of the leaders of the radical group known as "Founding Parliament", is also most probably working for the French.

Nevertheless, when Jirayr Sefilian attempted to take up arms against the Armenian state several years ago to stop official Yerevan from doing things that only existed in his paranoid head, it was a clear signal that our war hero was on a downward spiral. When Sefilian then became the leader of a foreign sponsored extremist organization known as "Founding Parliament" and began making plans to incite a revolution on the centennial of the Armenian Genocide, he essentially forfeited his place in Armenian society and negated all the previous good he had done for his homeland. Simply put: Jirayr Sefilian is a delusional nutjob. I say delusional because I would hate to think of him as a traitor to the Armenian state. Jirayr's time in Armenia has long expired. Armenian officials should hang a medal around his neck, thank him for his services to Artsakh twenty years ago and send him back home to Bourjhamoud. He would probably be much more useful in Syria.
Arevordi
April, 2015
(articles amended in 2018)
***
Events Commemorating the Centennial of the Armenian Genocide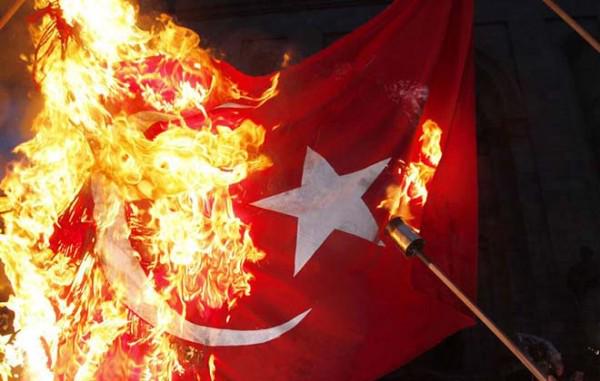 ***