When the Western-backed and Muslim Brotherhood-led "Arab Spring" first rolled into Syria back in 2011, no one thought the country would turn into a desolate battlefield where regional powers would be directly fighting for their geopolitical preponderance. But that is exactly what happened. Much to its misfortune, Syria has unsuspectingly become a geopolitical chessboard and a showcase where regional powers are desperately vying for power and influence. Syria has become a very fluid and complex battlefield where Iranians, Iraqis, Lebanese, Turks, Israelis, Kurds, Saudis, Jordanians, Americans, Europeans, Russians and Syrians are fighting to preserve their vital interests and ensure their political survival in a rapidly changing world. And in a fascinating turn of events, two allies, the United States and Turkey now find themselves on opposite sides of the battlefield and Israel is facing a growing Iranian military presence right on its borders.
Who could have predicted any of this?
Humanity is entering a new political era. The old political order is gradually giving way to a new one. The battlefields of Syria has become the place where a new world order is being born.
Anglo-American-Jews had a very grandiose agenda in Syria: Topple Bashar Assad's government; expel the Russian and Iranian presence from within Syria; put into power in Damascus a Sunni Islamist government; create an autonomous Kurdish region in the north; and secure vital energy transit routes and oil fields in the east.
Basically, the plan was to ensure the primacy of Western powers, Israel and Saudi Arabia in the strategic Middle East. But the laws of u

nintended consequences and unpredictable repercussions that audaciously reckless actions more often than not bring to bear, have created a situation that is now giving Western policymakers nightmares today.
Russia has suddenly and quite amazingly become the main political player on the ground in Syria.
Russia's unex

pected military intervention back in the autumn of 2015 - at a vital time when Damascus had lost control over much of Syria and was on the verge of collapse - has severely damaged

the Western agenda. Russian air power and special forces have helped Damascus liberate much of its lost territories and deal a crippling blow to Western-backed Islamist militants operating in the country. Moscow achieved this historic success with very limited military assets and relatively few lives lost. Moscow has thus returned to the Middle East in force and much to the chagrin of Western powers it is today by all accounts the main power-broker in the Levant. And according to John Kerry, the game changer in Syria -
Yes, Moscow fortunately changed the equation in Syria. All the roads in Syria today therefore leads to Moscow. And Western-backed Islamic terror groups that have long targeted Russian interests around the world have suffered immense losses on battlefields far from Russian borders -
Speaking more of unintended consequences, Iran's regional influence, which Anglo-American-Jewish interests had hoped would recede as a result of what they started in Syria in 2011, has only increased, and significantly so.
By fighting its enemies via proxies in Syria, Lebanon, Yemen, Iraq and Afghanistan

, Tehran has been able to keep its borders secure and its foes busy. In other words, Tehran has been able to take the initiative by taking the fight to its enemies and preserving its defensive depth; so much so that the Israeli leadership now finds itself directly confronting Iranian "assets" in Syria and Lebanon and has already begun suffering military loses. In other words, long feared by Anglo-American-Jews, Tehran has managed to bring the fight to Israel's (and Saudi Arabia's) borders and not the other way around -
Speaking more of unintended consequences:

What's happening in south-eastern Turkey and northern Syria between Turks and Kurds is particularly fascinating. With their support for Kurdish autonomy going as far back as 2003 and increasing in recent years, Anglo-American-Jews have severely and perhaps irreparably damaged their relationship with Erdogan's government. The troubles between the two NATO allies can only get worst now as Erdogan has officially embarked his country on a war against Syria's Kurds; and Moscow and Tehran cannot be happier. But, again, I want to point out once more that the main problem Anglo-American-Jews have is not with Turkey per se but with the ruling administration in Ankara. So, as soon as the wannabe-sultan gets ousted from power and a pliable puppet is put back at the helm in Ankara, the Anglo-American-Jewish love affair with the "Incredible Turk" will resume. I therefore think it is appropriate to wish Sultan Erdogan the best of health and stamina. Let's hope Ankara bravely continues its journey away from NATO.
Let's hope Ankara bravely continues its journey away from Anglo-American-Jews.

Let's hope Ankara continues using its ties with Moscow and Tehran as a hedge against the West. Let's hope Moscow and Tehran will continue encouraging Ankara every step of the way as a way to put a wedge between Turkey and Western powers. And let's hope that Turkey does indeed get pulled-apart in the process.
Simply put: Ankara is using Moscow as a hedge, Moscow is using Ankara as a wedge. It's working out well.


In any case, Russians are playing their chess pieces brilliantly. Moscow is doing an amazing job of driving a wedge deep between Turkey and the United States, NATO's two largest members. Not responding in kind to the Turkish provocation/ambush of the Russian warplane two years ago has been paying off for Moscow in ways no one could have imagined at the time. What we have been seeing from Moscow in Syria is a brilliant display of Russian patience, diplomacy, discipline, marshal skills and strategic foresight. Russians are once again proving themselves to be the world's premiere grossmeisters of realpolitik. The best thing for Moscow, Tehran and Damascus to do at this point is to instigate, stand back and watch as Turks, Kurds and Anglo-American-Jews fight it out -
In all this, those getting screwed once more are Kurds. As it was back in the summer of 2008, when Western powers and Israel abandoned their favorite Russophobic puppet in former Soviet space to his fate when the Russian Bear militarily intervened in Georgia to protect South Ossetia and Abkhazia from Tbilisi's aggression, we once again have been shown how Western forces are eager to manipulate and exploited but also ready to abandon and run away when things get untenable. Kurds have once again been mislead and betrayed by their allies. Syria has been the showcase where Anglo-American-Jews continue proving they are treacherous; Turks continue proving they are barbarians; and Kurds continue proving they are one of the world's most easily manipulated people. Kurds have no one but themselves to blame for their fate. They brought the current crisis upon themselves ultimately because of their political illiteracy. Kurds had been trying to take advantage of Syria's tragedy by seeking independence from Damascus. Needless to say, Kurds were being prodded in their endeavor every step of the way by Western and Israeli intelligence services; including Armenian activists in the service of Western intelligence, such as the France-based Government of Western Armenia (which is run by former ASALA members operating under Western/French intelligence).
In a nutshell: While Syria had descended into chaos, Syria's Kurds sought independence from Damascus despite Damascus', Moscow's and Tehran's expressed objections and warnings, and they did so by jumping into bed with those who are responsible for the Syrian tragedy. Kurds therefore deserve their fate.
Backstabbing Damascus thinking they will gain independence was one thing - that is realpolitik after all - thinking however that they will be helped by Western powers in times of dire need was a suicidal mistake. Similar suicidal mistakes have been made by many people, including us Armenians. Difference between Kurds and Armenians however is that we Armenians made that tragic mistake once, and that was one hundred years ago. Kurds have made this mistake continuously for many decades now. They will therefore continue paying a high price for their political illiteracy.
What's more, even Westerners now more-or-less admit that Russia has defeated the Western agenda in Syria and that Russia is now the undisputed power-broker in the country. They may not come out and publicly say it, but even Westerners are now reluctantly admitting that all roads in the Middle East, Syria in particular, lead to Moscow. To their misfortune, and precisely because of their Anglo-American-Jewish fetish, it seems that Kurds were unable to recognize any of this. Again, it's ultimately their fault. Now, Russians, Iranians and Syrians will therefore sit back and watch as Turks and Kurds, both allies of Anglo-American-Jews, kill each other.

Regarding the question as to why Moscow (or Damascus or Tehran) is not reacting forcefully to Turkish military incursions against Kurds inside Syria, the answer is quite simple: Why should they? Why would Moscow want to risk its newly normalized relations with Ankara by directly supporting Syria's Kurds if Syria's Kurds - against the wishes of Russians, Syrians and Iranians - are maneuvering towards independence with the help of Anglo-American-Jews? Why would Mo

scow want to risk its newly normalized relations with Ankara knowing full well that Ankara could (as it had not too long ago) make matters in Syria much more difficult for Russians, Iranians and Syrians? Moscow will therefore seek to keep ties with Ankara cordial. Not wanting hostile relations with Ankara is also observed in Moscow's dealings with Tel Aviv.
In short: Moscow will not risk igniting a wider war, especially on behalf of Western-backed Kurds. From a Russian perspective, a prudent strategy
vis-à-vis Syria would therefore entail helping create a situation in Syria where Turks, Kurds and Anglo-American-Jews instead find themselves opposed to each other and stuck in a quagmire. Getting the aforementioned i
nto a serious three-way confrontation

is fully in the interests of Moscow, Tehran and Damascus. It could therefore be said that
Ankara was being encouraged by Moscow, Tehran and Damascus to do the dirty work of stamping-out Kurdish autonomy, at the same time not being allowed to be victorious. This is essentially why Damascus quietly began helping separatist Kurds soon after Turkish forces entered northern Syria.
Simply put: It's conflict management and realpolitik.
So, t
he strategy Moscow, Tehran and Damascus are pursuing is becoming increasingly obvious: Distract Anglo-American-Jews, weaken the Kurds' independence bid, sow discord between Ankara and Washington and take the military initiative.
And, if lucky, somewhere along the way perhaps the two largest NATO members will come to blows.
Nevertheless, at this point, the last thing Moscow, Tehran or Damascus want is to get into a serious military confrontation with Western powers, Turkey or even Israel. They will therefore instead concentrate their efforts on conflict management and liberating as much of Syrian territory as possible west of the Euphrates River.

In any case, had Kurds been capable of at least a little amount of political wisdom and foresight, instead of seeking independence from Syria, with the help of Anglo-American-Jews nonetheless, they would have instead allied themselves to Syrians, Russians and Iranians and concentrated their collective effort on seeking independence in Kurdish populated territories in southeastern Turkey. Their political shortsightedness has therefore backfired on them once more. Once more they have become unwitting cannon fodder for regional powers. Moreover, from an Armenian perspective, let's never forget that those directly responsible for the Armenian genocide were Turks, Kurds and Jews. So, as far as I'm concerned, let them kill each other all they want. I would be more than happy to watch.


Nevertheless, what's happening in Syria and elsewhere today is ultimately a desperate fight for geopolitical hegemony - coming at a time when the political climate of the world (i.e. the post Second World War global order) is changing and nations such as Russia, China and Iran are gaining strength. Syria in particular has become a theater where the region's major powers are engaged in a desperate geopolitical tug-of-war.

During the early stages of the conflict in Syria this struggle was fought mainly via proxies. Moreover, the unrest was strictly confined to the borders of Syria. Gradually this changed. Today, all of the major powers in question - Russia, Iran, Turkey, Israel, Saudi Arabia and Western powers - are in various degrees directly involved in the fighting on the ground, and the bloodshed has at times spilled over Syria's borders and into Turkey, Iraq and Lebanon. No one could have foreseen any of this when the unrest in Syria first began in 2011, although many observers at the time did warn about the dangerous nature of the conflict in Syria and the potential it had to draw regional powers into its fire. Syria today has evolved into a battlefield that is very unpredictable, very volatile and very complicated. Syria today is where various major powers are on the ground and desperately fighting to preserve their strategic interests. As such, Syria continues to be a very volatile powder keg, and the most likely trigger for the next world war.
Let's once more recall that the grand Western strategy behind the carnage in Syria was to weaken Syria's pro-Iranian and pro-Russian central government, expel Russian troops from the strategic port city of Tartus and finally
stop Tehran's systematic westwardly march to the Mediterranean Sea.
Western allies with interests in Syria (i.e. Saudi Arabia, Jordan, Qatar and Turkey) were of course recruited into this endeavor as well. The overall calculus behind the war in Syria is also why Yemen was attacked and continues to suffer tremendously to this day. In an interesting turn of events, however, Ankara stopped following the Western playbook due to serious complications between it and Washington, and it has been trying to go it alone. This is making the situation on the ground all the more volatile, unpredictable and complicated.
In any case, as I have said before, if a greater regional war is not unintentionally triggered, ultimately, the fighting in Syria will inevitably become a stalemate.
Although with Russian and Iranian support, Damascus has survived and has been able to liberate much it its territory from Anglo-American-Jewish-Saudi backed Islamist terror groups, there will not be any clear winners in Syria in the end.
Anti-Syrian interests were not able to defeat the government in Damascus and expel Russians, Iranians or the Hezbollah from inside Syria. One of the unintended consequences of their actions in Syria was in fact the significant increase of Russian, Iranian and Hezbollah presence and influence in the country. There is now a powerful Russian military presence in Syria and from the looks of it, it will be there for well into the foreseeable future. Syria however is for the most part destroyed, hundreds-of-thousands its citizens have been killed, millions hurt and millions displaced. What's more, geostrategically speaking, Tehran has thus far been unable to create a viable land link from Lebanon to Afghanistan. Finally, a Western military presence seems firmly entrenched in eastern Syria. I don't see Americans troops abandoning this region anytime soon. So, like I said, there will not be any clear winners or losers in Syria.
To summarize what has happened in Syria in recent years: In 2008, Moscow and Damascus began strengthening their long neglected ties, and there was serious talk about Moscow providing Damascus with sophisticated ballistic missiles. In 2010, a high ranking Russian General working for Russia's military intelligence was murdered during a working visit in Syria. By 2011, Anglo-American-Jews and their Turkish and Saudi Arabian allies had begun using the distraction brought upon by the so-called "Arab Spring" to begin sending Islamist terror groups into Syria. Their intent was to overthrow the secular government in Damascus. They wanted President Bashar Assad out of power because he had brought Syria much closer to Russia and Iran and because he remained steadfastly behind Lebanon's Hezbollah. This upset Anglo-American-Jews, as well as Saudis. The ensuing unrest in the country then quickly transformed itself into an uncontrollable inferno. Hundreds of thousands have died and millions more have been injured and made homeless since.
At some point, the Islamist terror groups that were being used to topple the Syrian government were to also be used by Western powers as an pretext/excuse to invade Syria.
In other words, Anglo-American-Jews and their allies in the Middle East had meticulously created a compelling narrative;
namely that Syria was being overrun by very dangerous Islamist terror groups which had to be stopped. This narrative, peddled to the Western public by propaganda organs such as CNN and BBC, set the stage for Syria's final collapse and its eventual invasion by "forces of freedom and democracy".
Then, quite unexpectedly,
Moscow essentially stole the narrative Western powers had painstakingly crafted in Syria, by militarily intervening to save the embattled government in Damascus from an inevitable collapse, the repercussions of which would have been nothing-less-than catastrophic for th
e country's majority Alawite, Christian and moderate /secular Sunni populations.
For historical context, please revisit my previous blog commentaries about the war in Syria -
NATO plans campaigns in Libya and Syria to tighten noose around Iran - September, 2011: https://theriseofrussia.blogspot.com/2011/09/nato-plans-campaigns-in-middle-east-to_03.html
West, Arab League and Turkey Supporting Armed Islamic Militants in Syria - December, 2011: https://theriseofrussia.blogspot.com/2011/12/nato-arab-league-and-turkey-supporting.html
West, Arab League and Turkey Supporting Armed Islamic Militants in Syria - December, 2011: https://theriseofrussia.blogspot.com/2012/03/russian-anti-terror-troops-arrive-in.html
CIA arms Islamic rebels, Syria downs Turkish warplane - June, 2012: https://theriseofrussia.blogspot.com/2012/06/cia-arms-islamic-rebels-syria-downs.html
Middle Eastern geopolitics and the proxy war in Syria - May, 2013: https://theriseofrussia.blogspot.com/2013/05/geopolitics-and-proxy-war-in-syria-may.html
Syrian Conflict: A Brief Military Analysis - June, 2013: https://theriseofrussia.blogspot.com/2013/06/syrian-conflict-brief-military-analysis.html
Another Western War Crime In The Making - September, 2013: https://theriseofrussia.blogspot.com/2013/08/another-western-war-crime-in-making.html
Russia Steps Into World Leadership Role - September, 2013: https://theriseofrussia.blogspot.com/2013/09/russia-steps-into-world-leadership-role.html
Driving a Sunni wedge in the Shiite Arc - June, 2014: https://theriseofrussia.blogspot.com/2014/07/driving-sunni-wedge-in-shiite-arc-june_18.html
Russian victory in Novorossiya as a new chapter opens in Syria - September, 2014: https://theriseofrussia.blogspot.com/2014/09/russian-victory-in-novorossiya-as-new.html
As Western powers use ISIS to rearrange the Middle East, Moscow preemptively moves military assets into Syria - September, 2015 : https://theriseofrussia.blogspot.com/2015/08/temporary-peace-with-tehran-as-western.html
With Russian forces entrenched in Syria, Moscow seeks to extend its defensive depth and political reach - October, 2015: https://theriseofrussia.blogspot.com/2015/10/with-russian-forces-fully-entrenched-in.html
The Rise of Russia on the Warm Seas: A brief look at Russia's military in Syria - November, 2015: https://theriseofrussia.blogspot.com/2015/11/the-rise-of-russia-on-warm-seas-brief.html
Going forward, it seems that Israel and Turkey will be the wild cards in the Syrian battlefield. Their actions will therefore be pivotal. Due to its Kurdish concerns, Ankara will want a final say in how Syria will look after the war ends. Moreover, Ankara will want leverage over Iraqi Kurds. Due to its Iranian concerns, Israel will want to see Iranians (and Hezbollah) out of Syria as well as Lebanon. Therefore, from Moscow's and Washington's perspective, Turkish and Israeli actions with regards to Syria will remain problematic. Turkish and Israeli belligerence and nonconformity is already being felt in Moscow and Washington. This, coupled with the heightened tensions between Moscow and Washington, will continue causing problems for some time to come. Syria has thus become the manifestation of the proverbial Gordian Knot. I do not see another hotpot in the world, including North Korea, that is as complicated or as dangerous as Syria. Consequently, while we may be in the final chapter of the Syrian tragedy, the story of Syria's tragedy is far from being completed.
Nevertheless, Syria, as we knew it, is dead. A new nation, or nations, is to eventually emerge from its ashes. All of the invested powers now on the ground in Syria are currently maneuvering for the best possible seat in the new house. I
n other words, the current phase of fighting is about who will get what after the final bomb explodes. It's essentially about the spoils of war. Regarding who will get what: Although much of Syria is now back under the control of the Russian and Iranian backed government in Damascus, the country's Kurdish populated regions in the north, areas adjacent the border with Jordan and territories east of the Euphrates River, where Islamist forces are now concentrated, seems to be where Anglo-American-Jews are claiming as their area of interest -
Now, with the above in mind, take the following recent news report into close consideration -
The "Syrian side of the Syria-Iraq border northeast of Deir Ezzor province" where the director general of Iraq's intelligence and counter-terrorism office claims the seriously wounded ISIL/ISIS (Islamic State) leader is hiding is exactly where U.S. troops are in control today. It is now very obvious that Western powers will be laying claim for Syrian territories east of the Euphrates River. As we saw recently when pro-Syrian forces, including many Russian mercenaries, tried to advance in the region but were repelled by American air power, Western forces stationed in eastern Syria will not allow any Syrian or pro-Syrian forces to establish a foothold east of the Euphrates River. This will be the region in Syria where Anglo-American-Jews will allow the existence of Islamist militant groups. Eastern Syria will basically be the staging area for terrorist operations.

This illegal American military presence in Syria serves a number of geostrategic roles. For one, it ensures that Syria will remain weak and fragmented. It acts as a geostrategic counterbalance, ensuring that Russians and Iranians do not get too powerful in Syria. With regards to Iran, the American military presence in eastern Syria also acts as a deterrence to the formation of the much feared Iranian "Arc". Moreover, the American military presence in eastern Syria secures control over vital energy transportation routes and oil fields; helps apply steady pressure on a belligerent Ankara; ensures that Islamist militants such as Al-Qaeda, Al-Nusra Front and ISIS, or whatever else they are currently preparing in secret training bases in Syria and Jordan, remain a viable factor on the ground.
Washington was never serious about fighting Al-Qaeda or ISIS,
the ones we are told are attacking Western countries. The American military presence in Syria, Iraq and Afghanistan is specifically designed to keep Anglo-American-Jews in the region's geopolitical game. American forces will therefore continue acting as protectors of Islamic terror groups throughout the region to ensure an excuse for their military interventions. That American troops are directly aiding and abetting Islamist terror groups is now a well established fact, and a fact that more-and-more people around the world, including Americans, are beginning to better understand -
Note: A Russian warplane was for the first time shot-down by militants over rebel held territory in Syria. Russian sources are stating that the MANPAD used in the downing of the Russian warplane was brought into the country from an undisclosed neighboring country just several days prior to the incident; the implication being that it was a deliberate act ordered from somewhere outside the country. Coming on the heals of its recent military successes in Syria, the act was perhaps meant to be a punishing message to Moscow. The pilot of the Su-25 managed to parachute to the ground,
but after gunfight with Islamic militants he heroically killed himself to avoid capture.
A similar act of heroism took place two years ago,
when a Russian special forces operative called an air strike on himself to avoid being captured by militants
. Both warriors have since been awarded the highest military honor in Russia.
Also who can forget the incident two years ago when Turkish warplanes ambushed a Russian warplane over the Syrian-Turkish border. Two pilots from that warplane had parachuted to safety. One was rescued by a joint Russian-Syrian-Iranian special forces operation, the other however was brutally murdered by Turkish-backed Islamic militants.
The brutality of these incidents vividly remind us that the most shocking aspect of the Syrian tragedy has been the horrible crimes committed by Wahhabist and Salafist terrorist groups.
Due to the proliferation of digital cameras and smartphones in recent years, the historic tragedy in Syria has unfortunately become the most widely recorded in history of war. Consequently, the global public has been made to face the unspeakable horrors taking place up-close; and sometimes in real time. The atrocities that Islamic terror groups were deliberately committing, recording and broadcasting via the worldwide web, such as gruesome public executions, was essentially designed to be as psychological warfare. It was indeed an effective method of shock and awe. The acts of brutality were meant to demoralize their opponents by striking fear into their hearts and minds. The acts were also meant to shock the global community at large. The brutality of Islamic terror groups has become a phenomenon during the past twenty somewhat years. The years since September 11, 2001 have in particular been characterized by a dramatic upsurge in public displays of brutality and terrorism around the world. The same time period has also seen the constant dissemination of frightening information about various terror groups that often times seem to form out of thin air. All in all, the Americans cattle has been convinced that such terror groups are coming after Americans because "they hate the American way of life". Not a single day goes by today without hearing about the horrors of Islamic terrorism and the danger it poses to the American/Western way of life. It's all by design -
If a generation ago people around the world were terrified of the prospects of a nuclear war, today it is Islamic terrorism. Terrorism today is by-far the single most frightening factor for many peoples around the world - so much so that terrorism has turned the American people in particular into slaves of Zionists, Western war planners and the military industrial complex.
Needless to say, the topic of terrorism, Islamic terrorism in particular, i

s one of the most important subjects of our time.
It is a terrible scourge that will be written about for many generations to come. That is why in my opinion this topic is one of the most important subject matter of our day. It should therefore be understood well.
The disturbing fact that Anglo-American-Jews have been encouraging and at times directly supporting Islamic terror groups around the world through their intelligence services as well as their proxies in nations like Saudi Arabia, Jordan, Qatar, Turkey and Pakistan is something that cannot be emphasized enough to the public.
The disturbing fact that Western intelligence services are behind those groups or individuals that at times attack Western nations is something that cannot be overstated to the public.
I therefore want my current blog commentary to take another, more extensive look at the subject of Islamic terrorism and its intimate ties to Western intelligence.
To help the reader better understand the subject matter, I have compiled a large number of news articles and analytical reports, many of them produced by Western sources, concerning Islamic terrorism and its unmistakable ties to Western powers.
Staying true to this blog's traditional practice, I have featured these articles as a supplement to my blog commentary. Please note that the featured articles are a mere sampling, for there are literally thousands of them. I also need to point out that

some of these articles are whitewash/coverup attempts by mainstream presstitues working for the deep state. I'm confident that the reader here will quickly figure out which one's I'm referring to. I therefore suggest reading these articles in between the lines.
Nevertheless, even without my commentary, these articles, and the many more that exists throughout Cyberia, speak for themselves; and they tell us one thing: Western powers are behind all major Islamic terrorism incidents in the world today.
A closer look at Western intelligence and Islamic terrorism
For centuries it has been recognized by peoples around the world that "all warfare is based on deception". It is true that deception is one of the best ways to defeat an enemy. Less recognized however is the following: The leadership of a country, especially one that espouses democratic values, must deceive not only its enemy but also its citizenry. In other words, a dictatorship can simply force its subjects to war. An ostensibly democratic system on the other hand has to fool its subjects into wanting a war. This is the smart way. Because history has taught us that when a government - be it a kingdom, a dictatorship or a democracy - wages war without the willing and enthusiastic support of its subjects, it can be a recipe for defeat. So, before imperial officials begin waging wars overseas, they first wage psychological war or psychological operations (psy-ops) on their populations.
In modern times, waging war by deception has become an exact science and a highly refined art form. High level state officials continue seeking more-and-more sophisticated ways to make their subjects want to fight enemies both real and imagined. Depending on what civilization or culture a particular nation or a group of people find themselves in - religion, nationalism, tribalism or psychological conditions such as fear - are the most effective tools for making a people desire war. And the catalyst upon which the aforementioned tools of coercion travel upon is a nation's education system, news agencies, radio programming, television programming and cinema and increasingly, the internet. These are the tools politicians use to prepare their citizenry for war against their global opponents/competitors.
For the elite of any ambitious political entity, having an enemy is very important because it helps governing bodies focus resources and rally the citizenry. After all, if all's well and the country is not threatened, how would they excuse the expenditure of a nation's fortune on arms procurement or military conquests of countries around the world? How would they explain the need to build and maintain hundreds of military bases around the world? How would they explain why troops have to kill and be killed in remote lands that Americans cannot even locate on a map let alone understand why they are fighting? If there was no imminent threat to the nation how would they, the leadership, question the citizenry's patriotism and stifle dissent? Without a very imminent threat facing the nation how would they explain tampering with the nation's political traditions and laws? None of what I am saying here is a new revelation. Nation-states have long recognized the need for external enemies to focus their subject's attention on, and to exploit as a pretext for war -
Through the persistent dissemination of deceptive news reporting, and at times false flag operations, they create crisis which they then exploit to create a war frenzy and curb privacy laws. They never let a serious (if fabricated) crisis go to waste. This is nothing new. This has in fact been the American way for war for a very long time now.
With the notable exception of the Korean war,
all of the wars the United States has fought in the past one hundred-plus years - Spanish-American war, First World War, Second World War, Vietnam, Granada, Panama, Iraq war 1, Serbia, Iraq war 2, Afghanistan, Syria - have been imperial wars that were started through lies and deception.
Enemies were formed around the world. A crisis was thereafter created to strike fear into the people's hearts. The people's fear was then exploited. Imperials wars are then fought with the full support of the public. The nation's treasury is thus squandered and imperial objective are met (and sometimes not). All in all, it's the modern art of Western warfare, and lies, deception, fear-mongering and psychological operations are some of its primary components.
But there is still another important equation to solve. Creating a war frenzy in society by first creating a crisis and then using the crisis to exploit the people's fear is one thing. But the enemy in question has to still be defeated. So, the best way to solve this particular problem is to create your enemy yourself. These political philosophies lies at the very root of the Washington's phony "war on terrorism".
Having an enemy or two on the global stage is very important for an ambitious political system seeking imperial glory and spoils of war.
But Washington faced a problem in this regard some twenty-five years ago. The problem was that after the collapse of the Soviet Union, the Anglo-American-Jewish political order stood alone at the top of the global food chain. The world was essentially theirs for the taking. But this was the problem: To take the prize hanging in front of them, they needed a persistently large military presence around the world and the large sums of money to finance it. But they did not have any serious enemies at the gate to scare the Western public into going along with their very long-term, overly ambitious and costly agenda. Yes, after Saddam Hussein was for the second time (the first time being the Iraq-Iran war of the 1980s) stupid enough to be goaded into a war he could not win in the early 1990s, Western powers used the historic opportunity to send large numbers of forces into the Middle East.
But, the problem was that Saddam Hussein simply did not scare the American people enough to give Washingtonians the carte blanche to expand America's military role in the region, which was eagerly being sought after the Soviet collapse.
In short, Western war planners needed a long-term scary threat to use as an excuse to expand their military presence in the Middle East and elsewhere and of course the funding with which to realize it all.
Therefore, in the absence of serious enemies during the early post-Soviet period in the 1990s, and with a strong desire to deploy Western forces into the strategic theaters of operation around the world under the guise of "Rebuilding America's Defenses", what did Washington do?
Well, it created for itself a brand new enemy and that enemy was political Islam, and it p
roved to be a rather easy animal to manipulate and exploit.
Let's also recognize that the best enemy one can have is the one that you create yourself. Let's also recognize that Western collaboration with Muslim powers (e.g. Ottoman Empire and Saudi Arabia) and Islamic movements (Muslim Brotherhood) go back a very long time. But due to this blog commentary's limited scope I will primarily address Western ties to radical Islam starting from the 1980s, for that is when the collaboration in question flourished and began taking increasingly violent forms.

Political Islam - with its immense size and dispersion, its traditional ties to the Western world and its inherent radicalism and extremism - became a very effective and easily controlled tool at Western disposal essentially because the two power centers of Islam - Saudi Arabia and Pakistan - have been closely allied to Western powers for a very long time. The already established ties between Western powers, Saudi Arabia and Pakistan had deepened further in the 1980s during the war against the Soviet Union in Afghanistan. Therefore, going as far back as the 1980s, Western intelligence began gaining valuable hands-on experience in recruiting Islamic radicals from around the world and using them in various theaters of operation. Afghanistan of the 1980s was therefore where Islamic terrorism as we know it today and its ties to Western powers was born. This was how Al Qaeda, the first Islamic bogeyman to frighten Western public with, came into being.
The following by Michel Chosudovsky is a very comprehensive look at Al-Qaeda and Washington's phony "war on terrorism" -
I suspect Western powers have been somewhat surprised with the relative easy they have been able to exploit radical Islam for so long. But how/why has it been so easy?
Well,
I am not revealing a great secret when I say Muslim countries, especially those in the Middle East, are very backward societies. Moreover, and perhaps more importantly, there is throughout the Islamic world a massive surplus of young adults who are unemployed, uneducated, impoverished, desperate, increasingly radicalized and in many cases mentally ill males and females. Moreover, the world of Islam today is deeply divided and fragmented long ethic and religious lines. There are factions within factions, division within divisions, and the hate and fear they have towards each other is more than the hate or fear they have towards Christian or Jews. Shiites and Sunnis, for example, reserve more hostility and disdain towards each other than they do towards Christians or Jews. In short: The Sunni Muslim world, the corrupt leaders of which are closely tied to Western powers, is vulnerable and ripe for manipulation and exploitation.
All it would take is for an outside power to step in with some money and some Islamic terminology and begin recruiting foot soldiers for Allah, of course
in conjunction with local leadership

.
And that is exactly what Anglo-American-Jews have done in recent decades with great success

.
Senior policymakers in the West have long recognized the potential for political exploitation that lay in Muslim nations around the world -
"For the first time in human history almost all of humanity is politically activated, politically conscious and politically interactive… The youth of the Third World are particularly restless and resentful. The demographic revolution they embody is thus a political time-bomb... Their physical energy and emotional frustration is just waiting to be triggered by a cause, or a faith, or a hatred" -

Zbigniew Brzezinski
Reading between the lines of what senior policymakers like
Zbigniew Brzezinski

have to say, it becomes increasingly clear that Western powers have long recognized that there exists the potential to exploit the "downtrodden" around the world and guide them towards political goals that serve the Western world's imperial agenda. Western policymakers have long understood that there are today tens-of-millions of young, poor, restless, unemployed and illiterate people around the world, and they are all yearning for some kind of change. The same is especially true about the Muslim world. Muslim street wants change. The change they are seeking however is fundamentally quite different from the change for example that poor south Americans are seeking.

Due to Western military interventions and the proliferation of Saudi Arabian and Pakistani funded Madrases around the world in recent decades, the change young Muslims are typically seeking today is rooted in Islamic radicalism and extremism. These Islamic schools are where radicalism is disseminated and where intelligence agencies do their harvesting. Consequently, headed by Saudi Arabia, political Islam today is a major force in the world.

Simply put: If the leadership of a nation wants its subjects to fight in faraway lands for causes they does not even fully understand, there are ways. If the leadership of a nation wants to create a terrorist force, there are ways for that as well. There are many millions of radicalized Muslims today yearning for Jihad. They are yearning to fight for what they have been conditioned by their societies and governments to believe are sacred Islamic causes in faraway places such as Chechnya, Dagestan, Serbia, Afghanistan, China, Iraq, Libya, Syria, Sudan, Somalia, Yemen, Artsakh, etc. These masses are essentially the dormant forces that intelligence agencies are in a position to manipulate. These masses are essentially the cannon fodder Western powers in conjunction with Saudi Arabian and Pakistani intelligence have been exploiting since the early 1980s. And, as already stated, recruiting people to carry-out acts of terrorism is easy, as the following quote from a book written by a former Soviet officer confesses -
"If it is relatively easy to recruit a man to act as a 'sleeper', what about recruiting a foreigner to act as a real terrorist, prepared to commit murder, use explosives and fire buildings? Surely that is much more difficult? The answer is that, surprisingly, it is not."- Viktor Suvorov

The above excerpt is about the Soviet Union's exploitation of radical movements around the world. However, in today's political climate, the information provided by this author can go a long way to helping the reader better understand how any intelligence service operates in general. Obviously, the author of the book had a very clear anti-Russian/anti-Soviet political agenda. We must however bare in mind that the dark nature of intelligence services is in no way exclusive to Russia or the Soviet Union. Western powers, Israel, Saudi Arabia, Turkey and Pakistan in fact excel at procuring terror groups. Speaking of procurement, please note the following Al Jazaeera interview with a former FBI agent -
"Camp Bucca was a detention facility in southern Iraq. And Camp Bucca was a facility where anybody who was arrested because of activities against the coalition and against the Iraqi government, they used to take them and put them there in that detention facility. And there were a disproportionate number of people who were loyal to Saddam Hussein and the Baathist regime. Baathist and Islamists. So what happened is the Baathist and the Islamists met and we have a new brand of terrorism. We have new brand of terrorism that [is] half Saddam, half bin Laden. One of the detainees [in] Bucca is Abu Bakr al-Baghdadi. And if you look at the No. 1 tier type leaders, the tier one leadership of [ISIL], most of these individuals were Baathists who met each other and met al-Baghdadi in Bucca. So basically, the oil and the fire got to know each other in Bucca, and we have the new brand, explosive brand of terrorism is [ISIL]. It was rebranded with Baathists giving strategy to Islamic ideologues."

- Ali Velshi's interview with Ali Soufan
We learn from the FBI agent that ISIS came into being under American supervision. Now, with all the above in mind, please take into close consideration the following words spoken by a veteran CIA agent, Graham Fuller -
"The policy of guiding the evolution of Islam and of helping them against our adversaries worked marvelously well in Afghanistan against [the Russians]. The same doctrines can still be used to destabilize what remains of Russian power, and especially to counter the Chinese influence in Central Asia." - Graham Fuller
We have seen four very revealing comments by four government insiders. Their words should be carefully pondered as they are interrelated. When it comes to the topic of Islamic terrorism, their words are self-evident. The following is more-or-less what we learn from these men: There is today virtually a limitless supply of human resources (i.e. patsies) around the world to manipulate and exploit. Recruiting individuals or groups of people to carry out acts of terrorism is quite easy. Islamist militant groups are at times formed under American supervision. Finally, and more importantly, we learn that Islamic terrorism today is being deliberately guided and used against the enemies of the West. In other words, Islamic terrorism is being nurtured by Western powers as a force to used against Russia, Iran, China and Arab nationalism -
The aforementioned is why main targets of radical Islam in recent years have not been the United States or Israel but been Russia, Iran and various secular and/or nationalistic governments in the Middle East and north Africa. This is why on the battlefields of the Balkans, the Caucasus, Africa, Middle East and Central Asia, we see Western forces and Islamist militants more-or-less operating on the same side. There is now just too much evidence - circumstantial, demonstrative and direct - pointing to an active collaboration between Western intelligence and Islamic terror groups in the Middle East and elsewhere. Where there is a radical Islamic movement, chances are high that there is also Western collusion with Islamists, at least to some degree. Very often, the collusion between Western powers and Islamists takes place via elements within the Western intelligence community and allied nations that harbor Islamist movements, primarily Saudi Arabia and Pakistan.
We see this collaboration and collusion between Western powers and radical Islamist militants with the easy in which such militants freely travel from one hot spot to another via countries allied to Western powers. One day we are told a certain terror group is operating in Afghanistan, then we are told they moved to Iraq. One day we are told a terror group is operating in Pakistan, then we are told they are in Yemen. One day we are told a terror group is operating in Libya, they we are told they are fighting in Syria. They are in one place one day and in another place the next day. The same can be said about arms, some of which are modern variants, that show up in terrorist hands in various war zones. Someone is making these large movements of men and arms possible. Someone is funding these operations.
Those who are capable of funding and making such movements possible are regional powers allied to the West - i.e. Saudi Arabia, Jordan, Pakistan, Qatar, Turkey and Israel - and of course Western powers themselves. Western intelligence (American, British and French in particular) and Israel's Mossad are no doubt heavily involved with facilitating the movements of militants and arms into various war zones. Incidentally, some of the same players and methods are also involved in bringing narcotics from Central Asia into Europe and elsewhere. After all, Washington's favorite resource in Afghanistan is opium. And the CIA is still the world's number one narcotics trafficker. War zones like Libya, Afghanistan and Iraq and allied nations like Columbia, Albania and Pakistan are some of the main transfer points. Nevertheless, the active collaboration between Western powers and Islamist groups have only deepened in recent times. Until recently, little was know about this collaboration. It was all speculation by a handful of observers and "conspiracy theorists". Today however there is an overwhelming body of evidence documenting Western collusion with Islamic terror groups around the world. As a result, an increasing number of Westerners, including public officials in the United States, are beginning to address this matter -
There is now overwhelming evidence - circumstantial, demonstrative and direct - that point to Western collaboration and collusion with Islamic terrorists. There is a growing body of evidence showing that Western intelligence services have been involved in the creation of terror organizations like Al-Qaeda and ISIS. Islamic radicalism is a volatile yet a powerful tool Western powers have been utilizing against rivals such as Russia, Iran, Syria, Libya, Yemen, Serbia and China for many decades. In more recent years, Western powers have also used the existence of Islamic militancy as a convincing pretext for illegal military interventions in countries such as Iraq, Libya, Sudan, Somalia, Yemen, Afghanistan and Syria - as well as a justification for the expenditure of trillions of dollars that such interventions require. The following political cartoon does a good job of summarizing the methods I have outlined above -

The process of destruction pictured above is more-or-less what has taken place in places around the world - all in the name of securing energy transit route and oil fields; curbing Iranian and Russian influence in the region; and of course extending the life of artificially created nations such as Israel and Saudi Arabia. Having long ago frightened the Western public into compliance with periodic false flag attacks on Western soil, the presence of Islamist terror groups in various theaters of operation is now the main excuse or pretext Western imperialist powers use to illegally intervene in targeted countries. Such terrorist organizations are also used to scare the Western public from time-to-time, essentially to keep them pro military "defense" expenditures. In short: It's an imperial business based on deception, lies and of course the power of nightmares -
The existence of Islamic terror organizations in certain strategic regions of the world are used as a pretext to meddle, invade, bomb, kill, conquer and exploit. Similar to how the region's Crusader and Mongol invasions some one thousand years ago laid waste to much of the Middle East, Western powers have turned much of the Middle East today into a desolate wasteland once again. The Middle East is suffering another historic low point from which it will not recover from for generations to come. Similar to how they have turned Russia into the new enemy to supposedly protect Europe from (as they pursue their self-serving imperial agenda of curbing Russian influence in continental Europe), violent Islamist organizations such as Al-Qaeda and ISIS have been turned into the new enemy to supposedly protect the entire world from.
Islamist terror groups are essentially the Islamic military wing of the Western
imperial

war machine
From the perspective of Washingtonian reptiles, Russophobes in eastern Europe and Iranophobic Wahhabists/Salafists in the Middle East, essentially serve the exact same geostrategic purpose. Therefore, Ukrainian racists and Islamic terrorists are essential elements in the imperial calculus. Such assets help Western powers in their effort to reconfigure and redraw what they see as outdated borders, curb Russian and Iranian expansion and of course secure Anglo-American-Jewish primacy in the twenty first century.
Some time in the early 1980s, Western powers began understanding, and appreciating, the awesome potential that lay dormant in the still medieval world of Sunni Islam. Consequently, for about forty years now, "Al Qaeda" and "ISIS" type paramilitary forces have been acting as the Islamic military wing of the Western war machine around the world. For about forty years now, Western powers have been using their close ties in places such as Saudi Arabia, Jordan, Qatar, Pakistan and Turkey to procure Islamic terror cells, which they have then exploited for use against for the most part Russian and Iranian interests. As such, from the Balkans to China, from the Caucasus to the Maghreb, Sunni Islamic extremists have been advancing one Anglo-American-Jewish interest after another.
It's all well documented. The following series of pictures tell the story of how Western intelligence began conspiring with Islamic radicals over thirty years ago and how it continues to this day -
As many of us know now, the Islamic terror group known as Al Qaeda was the offshoot of the above noted "gentlemen" seen seated with President Reagan in the White House. Then, we have this 1993 profile about Osama Bin Laden -
Throughout the 1990s, American officials took under their arms other groups of Islamic terrorists, this time in the Balkans.
US envoy Richard Holbrooke seen below sitting next to a Kosovo Liberation Army (KLA) militant. The KLA was designated as a terrorist organization before US officials took them off the terrorist list in 1998

-
And the following two pictures show us where we are today: Here we see Presidential Candidate Hillary Clinton and Republican Senator John McCain meeting with Islamic extremists in Libya and an undisclosed location somewhere in Syria, Jordan or Turkey -

Ever since the CIA made a military pact with Islamist radicals against the Soviet Union, the factor of militant Islam has been an important component of Western policy formulations throughout Eurasia. Seeing how successful they were against the Soviets in Afghanistan during the 1980s, Western powers have been utilizing Islamic extremists like Al-Qaeda in various theaters of operation around the world with increasing frequency in recent years. For several decades now Wahhabist and Salafist extremist groups have been acting as the Islamic military wing of the Anglo-American-Zionist war machine in various hot spots around the world. From the Caucasus to north Africa, from the Balkans to Central Asia, Islamic hordes have been advancing one Western interest after another.
By the early 1990s, the Soviet Union had collapsed. There was no longer a serious geopolitical threat facing the West. With the Soviets relegated to the pages of history, the West got ambitious. A very ambitious blue print for global domination was devised -
With the Soviet Union gone, Western powers were forced to recreate Al -Qaeda as the new global monster Western society had to go to war against. However, when the fright factor from Al-Qaeda began diminishing, they had to create a new bogeyman.
As the face of 9/11 changed, a new frightening enemy was needed.

They therefore killed the narrative they had wrapped Al-Qaeda in by staging the assassination of a person we were told was Osama Bin Laden. Enter ISIS
. ISIS has in recent years been playing the strategic role once relegated to Al-Qaeda. As such, Islamic terror groups have been playing a very important role in Western strategy for decades. Their role has only increased in importance in recent years with the rise of Russian and Iranian power and influence in the Middle East.
So, naturally, when needed, the forces of "freedom and democracy" will provide propaganda as well as military assistance to Islamic terror groups. We have seen this happen in Syria, in Iraq, in Libya and of course in Serbia -
Russia and Iran are not the only targets of Western-backed Islamic radicalism. Some Islamic movements that are nurtured by the West are held in reserve to be used against targets such as Egypt, Turkey and China
-
If one day the Islamic/Turkic agenda gains traction inside China as well, you can bet the said project will have been masterminded and put into action right from inside Washington.
Uncle Sam has been the major force behind Sunni Islam around the world.
Under the guise of the "Arab Spring", a

Western-backed Islamist uprising was tried in Tunisia and Egypt. These however failed. A similar thing was done more recently in Turkey. It also failed. They will keep trying. Islamic radicalism is a powerful tool that will not be abandoned by Western powers anytime soon.
I need to add something important here: Islamists that we sometimes hear about getting assassinated or blown-up by American drones are more-or-less those that refuse to play Washington's game. In other words, Islamist militants that get targeted by Washington and its allies are either splinter groups, groups that have sprung-up spontaneously and/or groups that are supported by rival political interests. Therefore, next time we hear about an Islamic militant getting killed (and if it's not fake news) let's be rest assured that he or she was either a rouge player, a double agent or one that was working for an opposing force.
In other words, he or she did not serve Western interests.
Unbeknownst to the general public, m

any Islamist militants today, like the leader of ISIS Abu Bakr Al-Baghdadi (who may have been killed or seriously wounded by a Russian air strike), were once held captive in various American detention centers. Unbeknownst to the general public, many of these Islamist militants have returned to the battlefield to become leaders of various militant groups in different theaters of operation. Also unbeknownst to the general public is that some of the ISIS leadership were in fact members of the secular Bathist party in Iraq when Saddam Hussein was still in power. The conventional reasoning (i.e. what has been pushed by Western propaganda organs) suggests that while they were captives in American prison camps these former Bathists were somehow radicalized. The following is an Al Jazaeera interview with a former FBI agent that addresses this matter -
"Camp Bucca was a detention facility in southern Iraq. And Camp Bucca was a facility where anybody who was arrested because of activities against the coalition and against the Iraqi government, they used to take them and put them there in that detention facility. And there were a disproportionate number of people who were loyal to Saddam Hussein and the Baathist regime. Baathist and Islamists. So what happened is the Baathist and the Islamists met and we have a new brand of terrorism. We have new brand of terrorism that [is] half Saddam, half bin Laden. One of the detainees [in] Bucca is Abu Bakr al-Baghdadi. And if you look at the No. 1 tier type leaders, the tier one leadership of [ISIL], most of these individuals were Baathists who met each other and met al-Baghdadi in Bucca. So basically, the oil and the fire got to know each other in Bucca, and we have the new brand, explosive brand of terrorism is [ISIL]. It was rebranded with Baathists giving strategy to Islamic ideologues.

" - Ali Velshi's interview with Ali Soufan
Essentially, Sunni Arab Bathists and radical Islamists - the "oil and fire" - as Ali Soufan claims got to know each other under American supervision. As such, a hybrid militant force, which would later become variably known as ISIL, ISIS, Daesh and Islamic State, came into being while within American run detention camps
.
ISIS was created to defeat Bashar Assad's government and stop the unintended Iranification of Iraq (which was Washington's historic blunder in Iraq)

. Under the cover of President Obama's military pullout from Iraq, these militants were quietly released into various theaters of operation. And the rest is history.
Abu Bakr al-Baghdadi

's story is not unique at all.
Many Islamic militants, like Osama Bin Laden and Omar al-Shishani, have had direct ties to Western intelligence.
Actually, even Iran's Ayatollah Khomeini had extensive contacts with American intelligence. Throughout the 20th century e
ven many secular Arab leaders (i.e. Saddam Hussein, Yasser Arafat, Hosni Mubarak, King Hussein and his son King Abdullah) had, and in the case of King Abdullah, continue to have ties to Western intelligence.
Regarding how ISIS was created in American prisoner camps: Washingtonians claim it was all a result of political indecisiveness and lack of oversight, a major mistake on their part that they supposedly regret to this day. In an effort to explain the release of Islamic militants back into society, government controlled mainstream news organizations and other voices of the political establishment in the West often tries to whitewash such events by passing them off as government "incompetence" or a "mistake". Pleading ignorance has often been one of Uncle Sam's best defenses. Needless to say, what Washingtonian reptiles claim and what reality suggests are two, often very different things. Basing my opinion upon years of observation as well as what can be deduced from reports that periodically appear in the Western news press, the following is most probably how the procurement process in question works:
ISIS, which as we know is a fusion of Bathists and Islamists, was created by Western (and most likely Saudi Arabian and Israeli) intelligence agencies inside American run prison camps. They were then let loose in Syria and Iraq to essentially curb Russia's and Iran's growing clout in the two countries. S0, if Western intelligence officials assess that a captive under their control can be useful for any one of their agendas around the world, they will set him or her free regardless of whether or not he or she harbors hostility towards Westerners. Like I have said before, for the geostrategic value that such militants bring to the table, they are willing to risk periodic blowback.
When insurgents, radicals or militants in places like Iraq, Libya, Afghanistan are placed into custody by US forces they get closely evaluated by military interrogators, psychiatrists and intelligence experts. Sometimes, such captives are assessed to be potentially useful to an agenda in a certain theater of operation. These captives are slowly prepared to serve that agenda. When the time is right they get released and are transported to their target areas. Some of these released captives, especially the most radical ones among them, tend to have deep rooted psychological problems and/or low intelligence. They may therefore not even fully understand the greater purpose of their release or existence. Others however, like the more educated or intelligent ones among them, willingly cooperate with their Western captors. What is their motivation? Most probably to advance the cause of Sunni Islam against Russian and Iranian influence in the Middle East and Central Asia - even if it means collaborating with Western powers.
This is how Washington's Islamic allies come handy. Needless to say, Pakistani, Saudi Arabian, Jordanian, Qatari or Turkish support in helping Western intelligence agencies prepare such militants is fundamentally important.
The infamous Guantanamo Bay prison facility has had a revolving door and has long been suspected of being more than what meets the eye.
Prisoner camps like "Gitmo" should very well have been shut-down a very long time ago but not because they treated prisoner inhumanely or outside of due process - but because such detainment camps have been ideal environments to covertly train terrorists.
In fact, it is in the public record that "double agents" are being prepared there.
However, describing what they are doing in Guantanamo Bay as recruiting "double agents" is part of their deception. The infamous facility in question is where Western officials, most probably in conjunction with Saudi and Israeli intelligence agencies, most probably prepared their terrorists. It's their homegrown terrorists.
There are in fact many reported cases of Islamic militants held captive within U.S. run prison facilities for many years suddenly being released without much of an explanation from Washington. Several such reports appear in this blog's articles section below.
Many of these individuals go on to carryout operations in places like Russia, Afghanistan, Pakistan, Iran, Libya, Yemen, Sudan, Somalia, Egypt, Iraq and Syria. They are sometimes joined by Western agents, usually CIA or special forces types. Westerners among Islamic extremist groups actually seem to be doing a significant amount of the logistical work that goes behind planning or executing combat or terror operations. Sometimes their activities, or their deaths, make it into mainstream news and are quickly covered up by the mainstream press. Sometimes, Western militaries even provide direct assistance to such Islamist militants.
These also sometimes make it into mainstream news, which are then needless to say explained away by mainstream news agencies and government officials as mistakes and errors. In any case, that Western powers, in conjunction with allied governments in the region, are directly and indirectly assisting Islamist radicals in various theaters of war operations is a foregone conclusion. The following is a very poignant comment made by a Libyan official before Mummar Qadaffi was overthrown and murdered by Western backed and Al-Qaeda led insurgents in Libya -
"What we are facing now in this war is NATO led by al-Qaeda. The European and western officials are lying to their people when they say they are fighting terrorism. In fact they are fighting with terrorism against the Libyan nation and they are following al Qaeda's orders." - Libyan head of security services Abdullah Al-Snousi
Moreover, as we saw on September 11, 2001, sometimes
elements deep within Western intelligence agencies (which in my opinion can also be described as the deep state)
utilizes their contacts in the Middle East

to orchestrate attacks inside Western nations. When such attacks occur they are popularly known as "false flag" operations.
In recent years, we have seen smaller but more frequent terrorist attacks in the United States as well as in France, Germany, Spain, Belgium and Britain. There are clear signs that many of these attacks, if not every single one of them, are false flag operations carried out by elements within the Western and/or Israeli intelligence agencies. There are also strong indicators that at least some of the televised Islamic bogeymen are actually Western/Israeli intelligence agents, and that some of their televised atrocities are in fact staged.

The following are two

American-Jews -

Adam Gadahn (aka Adam Pearlman) and Yousef Al-Khattab - who supposedly converted to Islam and became outspoken advocates of "Al-Qaeda" -
There is no doubt that false flag attacks are being carried-out.
The evidence for this mostly circumstantial and indirect but it's overwhelming nevertheless.

We therefore see what they are doing. However, we can only speculate as to why they are doing it. As to the question of why it's being done, no one who is not connected to what's known as deep state would be able to answer that question in an
unequivocally

way. We the sheeple can only look at the bigger picture, study the available evidence and then speculate/theorize. With that said, in my speculation, such operations are meant to serve some long-term political purpose the details of which is yet unknown to the general public. Such terrorist operations also act as a weapon of psychological warfare.
In other words, false flag attacks may be carried-out in Western nations to advance a particular political goal (
guide political policy towards a certain direction

) and keep the Western sheeple frightened and therefore politically compliant.
Moreover, false flags may be carried-out to force the hand of nonconforming or overly complacent Western politicians. It is important therefore to point out that the civilian leadership of a Western nation that is targeted by a false flag attack may or may not have any knowledge of who/what is truly behind such attacks. After all, we know that at least in the United States, president don't really rule the country, it is special interests that do.
Allow me to explain: After the attacks of September 11, 2001, the civilian leadership of the United States well as the country's citizenry were enraged and seeking revenge. The leadership therefore had no choice but to react strongly to the horrendous attack, and the American citizenry was ready to accept all the costs associated with it. Washington's answer to the September 11, 2001 attacks was the infamous "war on terror", which was basically an open-ended agenda devised by special interests. So, when President Bush II returned to his office in the aftermath of the 9/11 attacks, he already had on his desk his directives for war.
The so-called war on terror essentially envisioned
unilateral action and

military interventions around the world, at the cost of trillions of U.S. Dollars, billions of which went to connected corporations such as Halliburton. It's not only Anglo-American interests that are benefiting politically from terror attacks. Jews and Israelis eagerly seek to exploit any attacks in Western countries that are carried-out by Muslims -
Nevertheless, I would like to reiterate once more: A nation's leadership, including its presidents or prime ministers, may not know who or what is really behind terrorist attacks that take place in their country. All the leadership may know is that a terrible attack has taken place and that they simply have to react in some forceful way. The leadership also sees that there are a number of special interests (i.e. influential think tanks like CFR, powerful lobbing groups like AIPAC and old institutions like the military industrial complex) ready and eager to take advantage of the situation. As noted above, the invasions of Afghanistan and Iraq were planned long before the attack on 9/11. Please see the following to put such special interests in Washington and their war agenda into a proper context -
As the reader can see,

as soon as the Soviet Union was no longer a geopolitical factor in the world, Western policymakers began drawing-up ambitious plans which were essentially a blueprint for global conquest. Such plans however could only be realized if Western countries were attacked. This is where terrorism like what occurred on the morning of September 11, 2001 plays a big role. And this brings up the question of blowback and collateral damage.

As we saw with the murder of Ambassador Christopher Stevens, the CIA-representative in Benghazi, Libya some several years ago, dealing with Islamic radicals is not always a neat job nor is it very predictable.
Precisely due to its inherent volatility, dealing with Islamic radicals can sometimes backfire and there is a price to be paid. Moreover, a
s we saw with the attacks of September 11, 2001 revealed, the deep state in the Western world is willing to suffer collateral damage in order to advance its political agenda. Incidentally, at the time when CIA operative Ambassador Stevens was killed in Benghazi, he was busy funneling arms and Jihadi militants into Syria -
There was also the well known case of Khalil Abu Mulal al-Balawi, the Jordanian militant who killed seven CIA officials in Afghanistan -
So, as we can we, sometimes militants inside Western-backed Islamic terror networks get out of control or are recruited by rival interests and there is a price to pay. The seven CIA officials and Ambassador Stevens' deaths was the price that had to be paid. But, as I have said on numerous previous occasions, for those in the deep state pulling the stings of government in the American empire, a few American lives lost or some property damaged from time-to-time is a price well worth paying for political value Western ties to Islamic extremists bring to the geopolitical table.
For senior policymakers in Washington, the geostrategic benefits brought upon by their support of such militants in certain areas of the world far outweighs the inherent risks involved with dealing with Al-Qaeda or Islamic State type movements. In the absence of true ideological movements in the world, radical Islam has been the spark to get things done around the world. Therefore, as far as Washingtonians are concerned, what's the big deal if some Americans get blown to bits once in a while - as long as the American empire remains a global hegemon?! As far as Washingtonians are concerned, what's the big deal if America is made to suffer some real-estate damage once in a while - if such a thing can be cleverly exploited towards long-term geostrategic agendas?! Aren't the terrible events of September 11, 2001 continuing to be used as a powerful excuse to advance a global agenda, which is essentially to remake the world in Washington's image... and of course curb civil rights in the United States and squander or steal trillions of dollars in the process?! Didn't Islamic State serve also this purpose, that is until Russia changed the equation by defeating them?
In a nutshell: They create a rabid animal to use against their enemies. Sometimes the rabid animal is used to carry-out false flag attacks in Western countries, which they then exploit to advance a political agenda. Once in a while, the rabid animal gets out of control and bites the hand that feeds it. In other words, there is blowback. At the end of the day, it's expected. It's a natural part of the game.
When they occur, false flags and blowbacks are politically beneficial for Western powers as well as Israel.
In fact, even blowback is ok because when such thing does occur it has an inherent value ingrained within it (i.e. psy-ops) that can also be exploited for even further political gain.
In other words, to scare the citizenry.
Speaking of psy-ops, CIA is not the only one involved in trying to scare the Western public. Israel's Mossad is just as active if at times not quite effective.
I should also add this:
Islamists that we sometimes hear about getting assassinated or blown-up by American drones are more-or-less those that refuse to play Washington's game. In other words, Islamist militants that actually get targeted by Washington and its allies are either splinter groups, groups that have sprung-up spontaneously and/or groups that are supported by rival political interests. So, next time you hear about an Islamist getting killed (and if it's not fake news) be rest assured that he or she was a rouge player or a double agent that no longer served Western interests.
Anglo-American-Jews using Islamic terror groups as a scalpel to remake the Middle East
At the height of the Syrian war back in 2015 no one was expecting Russia to jump headlong into the Syrian inferno. But, it did. After a long aerial bombardment campaign by Russian forces, during which Iran began playing an increasing role on the ground, Islamic State was finally defeated. Is was not easy or quick but Moscow, in conjunction with Tehran, got the job done. From the West's perspective, Islamic State's life was not to end this way. Islamic State was created to carve a "Sunni Caliphate" in eastern Syria. This territory was to eventually fall under Western, Israeli, Saudi and Turkish oversight.
As former Secretary of State John Kerry admitted, the Russian intervention in Syria changed the entire equation. Moscow stole the narrative Western powers had built for themselves. Islamic State's defeat in Syria or Iraq was not something Anglo-American-Jews were hoping. As a result, they are most probably redrawing their plans. They will do their best to hold on to at least some parts of Syria. They will most probably be forming new terror groups to help them get this done. Nevertheless, Islamic State's reign of terror in Syria is all but over. It's foot soldiers and leadership have been decimated under Russian bombings. The

monstrous

organization may finally put to rest by its creators and benefactors. But, let's take one more look at what Islamic State was designed to do.
The reader may recall that almost exactly two years before Moscow's military intervention in Syria, Russia had used political and military posturing to thwart an imminent Anglo-American-Jewish attack on Syria. The planned attack against Syria in September of 2013 was foiled at the last minute by Moscow.
Washington's desire to attack Syria at the time was also met with an antiwar outcry throughout the United States.
With the attack thwarted, many at the time hoped that the war's end was finally in sight. However, i

t was not to be - because Syria is simply too geostrategically important for Western powers and its allies.
The objectives against Syria could therefore not be abandoned.

Enter Islamic State.
The emergence of Islamic State (
also known as ISIS, ISIL and Daesh)

in Syria quickly solved Washington's problem. Within a year after Washington's 2013 setback in Syria, Islamic State began making news headlines around the world for its brutality.
Throughout the mainstream news press in the Western world,

t
he hype about Islamic State had become breathtakingly thorough. The global public was bombarded by horrific images of
Islamic State

atrocities on a persistent and consistent basis. Islamic State was presented as a threat not only to the Middle East but to the entire world. Therefore, Islamic State had to be fought. Western powers had to return to the Middle East to save it from monsters. And who in public would dare speak against what was perceived to be the West's valiant and humanitarian effort to fight bloodthirsty barbarians that go around blowing up historic monuments, beheading Westerners and genociding locals?
Yet, unbeknownst to the public,
at the very least, Islamic State

could be stopped with just two phone calls to two close allies: One to Riyadh, one to Ankara.
No such phone calls would be made. With the appearance of genocidal Islamic extremists in Syria and Iraq, Uncle Sam and friends were presented with an opportunity to curb Iran's growing influence in Syria and Iraq, and get the Anglo-American cattle to support the re-invasion of Iraq and military aggression against Bashar Assad's government.
Similar to what Western forces had done in Baghdad in 2003,
Islamic State

was meant to "shock and awe" its enemies on the ground into retreating without resisting.
Islamic State

was meant to literally slaughter its way into the people's consciousness and dwell in their darkest nightmares.
Islamic State

was meant to turn the typical antiwar pacifist in the Western world into a bloodthirsty warmonger.
Basically, the American people were shocked into compliance, and
Western powers and their allies were quite literally presented with a backdoor reentry into Syria.

It was in my opinion an amazing feat of social engineering and mind control. And as the reader can see, the power of nightmares continues to work wonders for Western warmongers essentially because Western civilization today is devoid of ethics, spirituality, genuine patriotism, critical thinking and rationale. Fear is what seems to work best with Westerners: Scare the sheeple and then herd them towards where you want them to go. It is deception and conflict management at its ugliest.
Consequently, with the supposed need to fight Islamic State "headhunters" becoming a desperate rallying cry in the Western world, imperial warmongers in the Anglo-American-Jewish world conveniently resumed beating the drums of war against Syria once more; because in their convoluted and bloodstained world: Defeating the Islamic State will require attacks against the Assad regime. Nevertheless, similar to what Al-Qaeda was before its terror value for the American cattle expired several years ago (which is why they put the no longer scary Osama Bin Laden scarecrow to rest), groups like Islamic State became the new monster Western powers would save the world from.
With the overused and now ineffective name "Al-Qaeda" no longer able to keep the American cattle awake at nights, new terror organizations like Islamic State, with their black flags and severed heads, would be the convenient excuse to continue Western crimes against humanity and keep the Middle East embroiled in bloody conflict for the foreseeable future.
Similar to what was done with Al-Qaeda back in 2001, when the attacks of September 11, 2001 was used to rally public support for long-term military engagements around the world, Islamic State 's brutality was meant to shock and awe and terrify the Anglo-American cattle into actually wanting their militaries to return to Iraq and carryout military operations inside Syria.
For Anglo-American-Jews and their friends, Islamic State

provided the perfect opportunity to undermine Iranian/Shiite influence by breaking up Syria and forcing the Shiite led Iraqi government to share power with Sunnis - as well as pull Western forces back in to the Middle East.
They intended to use Islamic State to essentially dissect the Shiite Arc of influence in the region, and create a north-south Sunni axis between Turkey and Saudi Arabia.And in the case for Turks at the time,
Islamic State

was also a good opportunity to attack the Kurdish PKK.
Simply put:
Islamic State was meant to give their so-called war on terror a whole new life.

Islamic State's sudden emergence in 2014 rejuvenated the Western agenda against Syria after it had suffered a setback due to Russian meddling in 2013. Groups like Islamic State are the tools Western powers are using today to advance their imperial agenda not only in the Middle East but also in Africa, the Caucasus and Central Asia. Islamic terror groups are the scalpel Washington and friends are using to remake the Middle East.
Therefore, stopping Islamic State was not
something Uncle Sam was particularly concerned about. Fighting
Islamic State

was never something Western powers were really interested in. And Western arms deliveries to
Islamic State

were not blunders or mishaps. Of course, they didn't want the public to know any of this. But the truth kept leaking out. We are living after all in an age of technology and information. Which is why perhaps an increasing number of Western observers are now readily willing to admit that
terror groups like Islamic State and Al-Qaeda can actually be useful tools against nations like Russia, China and Iran.
It must also be emphasized that besides using Islamic militants to fight against Russians, Serbians, Chinese, Syrians, Iraqis, Yemenis and Iranians in the region, Western powers have also used Islamic movements in the Middle East to impede the growth of secular, nationalistic leaders. The Zionist state and the West have always feared independent, nationalistic pan-Arab leaders in the very strategic and oil rich region. This is essentially the reason why Mossadegh was overthrown in Iran; this is essentially the reason why Nasser was killed in Egypt; this is essentially the reason why Saddam was killed in Iraq; this is essentially the reason why Qaddafi was killed in Libya; and this is essentially the reason why they are currently trying to kill Assad in Syria.
Anglo-American-Jewish-Saudi interests have created such a terrible situation on the ground, particularly in
Syria, Iraq, Yemen and Libya

, that many around the world have been calling for an immediate end to the bloodshed and the start of a new beginning, with new borders. The violence brought to the region has been so disturbing and on such a large scale that the Wall Street Journal, one of the main propaganda outlets of the Western political/financial order is curiously asking - "would new borders mean less conflict in the Middle East?" The insinuation is obvious: New borders in the Middle East will supposedly lessen future conflict. That is almost exactly what they were suggesting a century ago as they were arbitrarily creating the same borders they are currently attempting to destroy. The old format so hastily put together by the British and the French no longer seems to be serving its purpose. T

he redesigning of borders in the Middle East is more-or-less what they are seeking.

This is why I say terror groups like Islamic State and Al-Qaeda have been used as surgical tools, scalpels, in this regard

.
Therefore I ask my readers to disregard what they have heard on CNN and BBC and simply realize that Anglo-American-Jews actually prefer dealing with Islamic governments (Sunni Islamic governments in particular) rather than governments that are secular, independent and nationalistic. Therefore, it should not come as a surprise to anyone that Washington has been "training" Islamic political parties in Egypt; it should not come as a surprise to anyone that Washington has been encouraging/funding Islamic militants to carryout terrorist attacks in Syria, Iraq, Libya, Yemen and Iran; it should not come as a surprise to anyone that the main promoters of Islamic fundamentalism around the world, Saudi Arabia and Pakistan, are some of Washington's closest allies; and it should not come as a surprise to anyone that Washington is actually encouraging the Islamization of Europe.
In a nutshell: What Anglo-American-Jews want to see in the Middle East is smaller and weaker nations with redrawn borders, and nations with Sunni Islamic (i.e. backward) governments that are opposed to Russia and Iran.
Careful monitoring of Western news reports and analysis makes this fact quite obvious -
"What we are witnessing is the demise of the post-Ottoman order, the demise of the legitimate states... ISIS is a piece of that, and it is filling in a vacuum of the collapse of that order" - Francis Ricciardone, Former US Ambassador to Turkey and Egypt and a member of the Washington based think tank, Atlantic Council
"The map of 1919 which the British and French drew was wrong. [The new map of a partitioned Syria and Iraq] is the map that reflects the realities of sectarianism and is possibly more stable... [The state that ISIS has created stretching] from the edges of Baghdad all the way to Aleppo today is a Sunni state and it's already emerged. And what America is doing by bombing it is trying to destroy this state that is there and it is going to be a very hard thing to do... Accept reality, accept that state but try to get better rulers for it, not ISIS" - Joshua Landis, Director of the Center of Middle East Studies, Associate Professor at the University of Oklahoma's College of international Studies
"Khorasan is a region that encompasses much of Afghanistan, Pakistan, Uzbekistan, Tajikistan, Turkmenistan, and Iran. To ISIS [ISIL], Khorasan represents the first battleground of its end-of-days scenario. To regional powers, Khorasan represents the future of energy," Dr. Crosston noted in his article for New Eastern Outlook. War is not just politics but economics by another means. The Caspian region, or Khorasan, is now playing host to a Gordian knot of great power politics and economics. ISIS (ISIL) is a dialectical challenge for the United States, existing both as a US foreign policy failure in the present and presenting a unique strategic opportunity in the near future… I expect that as ISIS looks to Khorasan the US will look the other way," the professor suggested" - Dr. Matthew Crosston, Professor of Political Science, Director of the International Security and Intelligence Studies Program, and the Miller Chair at Bellevue University
"Israel's main strategic threat is Iran. Not Syria, not Hamas. Therefore, strategically, Israel should examine things from the perspective of what harms Iran and what serves Israel's agenda in confronting it. If Bashar remains in power, that would be a huge achievement for Iran. A weakened Assad [remaining in power] would be completely dependent on Iran. In my opinion that's the worst thing that can happen to Israel... "Bashar Assad must not remain in power. Period. What will happen later? God only knows. The alternative, whereby [Assad falls and] Jihadists flock to Syria, is not good. We have no good options in Syria. But Assad remaining along with the Iranians is worse. His ouster would exert immense pressure on Iran" - Sima Shine, Times of Israel - June 23, 2013
"The risks of a jihadist victory in Damascus are real, at least in the short-term, but they are containable by Turkey and Israel. The far greater risk to Middle East stability and U.S. interests is a victorious arc of Iranian terror from the Gulf to the Mediterranean backed by nuclear weapons" - Wall Street Journal - May 6, 2013
From reading the above, what becomes quite obvious is that "Jihadists" in Syria are really not much of a concern for the Anglo-American-Jewish global order. It also becomes quite obvious that borders in the Middle East will be changing in the coming years.

It is very interesting that Professor Landis - "the top Syria scholar in the US" - suggested at the time that Washington wanted Turkey to act as the guarantor of the new Sunni state being formed in Syria by having Ankara put in place there a "good government" so that the United States can thereafter "pour money into [its] development".

In any case, how drastic the changes and how cruel the bloodshed will be as a result will remain to be seen. I would like to point out here that Syria, Iraq, Libya, Yemen and Iran are not their only targets and their agenda to remake the Middle East is not new. A sinister plan for the entire region was first hatched three decades ago by an Zionist Jew named Oded Yinon. The following is his "Strategy for Israel in the 1980s" as summarized by Israel Shahak, a well known anti-Zionist activist -
"The plan operates on two essential premises. To survive, Israel must 1) become an imperial regional power, and 2) must effect the division of the whole area into small states by the dissolution of all existing Arab states. Small here will depend on the ethnic or sectarian composition of each state. Consequently, the Zionist hope is that sectarian-based states become Israel's satellites and, ironically, its source of moral legitimation." - Oded Yinon
Yemen has also become a victim of this anti-Iranian agenda. Tens-of-thousands of people have died in Yemen in recent years. More recently, a coalition of Western-backed powers are conducting a merciless aerial bombing of the country. Not much is being made of the terrible situation in Yemen in the Western press precisely because the Houthi rebels in Yemen are Shiites and the dictatorial government in Sanaa that was ousted by the Houthis is a Saudi-backed Sunni government.

For Anglo-American-Jews and their friends in the Middle East, the real enemy in the Middle East is Iran and pan-Arab nationalism.

Therefore, Sunni Islamist

groups will always be looked at geopolitical assets.
A lot of what's happening in the Middle East is ultimately about Israel's (and Saudi Arabia's) survival. As the reader can see, plans to fragment the Middle East into smaller, weaker and more manageable states are in fact decades old. The masters of the plan in question were basically emboldened when one of their main strategic obstacles against their agenda, the Soviet Union, collapsed in 1991. Nevertheless, calls to smash Syria and other regional nations into smaller pieces could be heard well before the Western-backed Islamic uprisings known as "Arab Spring" began in 2011a. The following chilling words from another Zionist Jew was first published in 2010 in a book titled Beware of Small States: Lebanon, Battleground of the Middle East -
"The total disintegration of Lebanon into five regional, localized governments is the precedent for the entire Arab world... The dissolution of Syria, and later Iraq, into districts of ethnic and religious minorities following the example of Lebanon is Israel's main long-rage objective on the Eastern Front. The present military wreaking of these states is the short-range objective. Syria will disintegrate into several states along the lines of its ethnic and sectarian structure... As a result there will be a Shiite Alawi state, the district of Aleppo will be a Sunni state, and the district of Damascus another state which will be hostile to the northern one. The Druze-even those in Golan - should form a state in Huaran and in northern Jordan... The oil rich but very divided and internally strife-ridden Iraq is certainly a candidate to fit Israel's goal... Every kind of inter-Arab confrontation... will hasten the achievement of the supreme goal, namely breaking up Iraq into elements like Syria and Lebanon. There will be there states or more around the three major cities, Basra, Baghdad and Mosul, while Shiite areas in the south will separate from the Sunni north, which is mostly Kurdish...The entire Arabian Peninsula is a natural candidate for (dissolution)... Israel's policy in war or peace should be to bring about the elimination of Jordan..." - Beware of small states, David Hirst, p. 125-126
As the reader can see, their intent has always been to divide and conquer. Therefore, ignore their public rhetoric and understand that Western officials do indeed want to see the Islamization (Sunni Islamization to be exact) and the fragmentation of states in the Middle East (i.e. smaller, weaker states). Why? Simply because, from an Anglo-American-Jewish perspective, Islamic societies are self-destructive/self-limiting. In other words, they are backward and therefore do not pose a long term threat to the Israel and the Western world. Additionally, Islamic states are easier to manipulate and exploit, essentially because the epicenter of Islam, Saudi Arabia, is closely allied to Western powers. We can therefore see why secular Arab nations in the region, especially those who espouse pan-Arabism or secular nationalism, have always been seen as long term threats. This is more-or-less why the secular governments of Tunisia, Libya, Egypt, Syria and Iraq were attacked by Anglo-American-Jews. As the reader can see, claims that Western/Zionist policymakers have been conspiring against countries in the Middle East and elsewhere is not merely a "conspiracy theory". This Western/Zionist plan to remake the Middle East should bring to mind General Wesely Clark's confession

and
journalist Seymour Hersh's prediction
-
About ten days after 9/11, I went through the Pentagon and I saw Secretary Rumsfeld and Deputy Secretary Wolfowitz. I went downstairs just to say hello to some of the people on the Joint Staff who used to work for me, and one of the generals called me in. He said, "Sir, you've got to come in and talk to me a second." I said, "Well, you're too busy." He said, "No, no." He says, "We've made the decision we're going to war with Iraq." This was on or about the 20th of September. I said, "We're going to war with Iraq? Why?" He said, "I don't know." He said, "I guess they don't know what else to do." So I said, "Well, did they find some information connecting Saddam to al-Qaeda?" He said, "No, no." He says, "There's nothing new that way. They just made the decision to go to war with Iraq." He said, "I guess it's like we don't know what to do about terrorists, but we've got a good military and we can take down governments." And he said, "I guess if the only tool you have is a hammer, every problem has to look like a nail." So I came back to see him a few weeks later, and by that time we were bombing in Afghanistan. I said, "Are we still going to war with Iraq?" And he said, "Oh, it's worse than that." He reached over on his desk. He picked up a piece of paper. And he said, "I just got this down from upstairs" — meaning the Secretary of Defense's office — "today." And he said, "This is a memo that describes how we're going to take out seven countries in five years, starting with Iraq, and then Syria, Lebanon, Libya, Somalia, Sudan and, finishing off, Iran." -

Wesley Clarke
"In the past few months, as the situation in Iraq has deteriorated, the Bush Administration, in both its public diplomacy and its covert operations, has significantly shifted its Middle East strategy. The 'redirection,' as some inside the White House have called the new strategy, has brought the United States closer to an open confrontation with Iran and, in parts of the region, propelled it into a widening sectarian conflict between Shiite and Sunni Muslims... The Saudi royal family has been, by turns, both a sponsor and a target of Sunni extremists, who object to the corruption and decadence among the family's myriad princes. The princes are gambling that they will not be overthrown as long as they continue to support religious schools and charities linked to the extremists. The Administration's new strategy is heavily dependent on this bargain... The policy shift has brought Saudi Arabia and Israel into a new strategic embrace, largely because both countries see Iran as an existential threat. They have been involved in direct talks, and the Saudis, who believe that greater stability in Israel and Palestine will give Iran less leverage in the region, have become more involved in Arab-Israeli negotiations" - Seymour Hersh
While they normally use grants, opposition politicians, news media, civil rights activists, economic sanctions, financial blackmail and cultural invasion as a way of undermining or subduing nations that are not enslaved by them, the political West has in recent years resorted to remodeling the Middle East at the tip of a very sharp bayonet.

Although Russia and Iran have been presenting serious political and military impediments for them, we are nevertheless in the midst of a forced remodeling of the Middle East. The old format/setup put together by England and France between the two world wars a century ago no longer seems suitable for them in the twenty-first century.


Consequently, Libya, Syria, Iraq and Yemen, as we knew them, are now dead. Their deaths will eventually spawn new births. All the political players on the ground
(i.e. Western powers, Israel, Saudi Arabia, Turkey, Russia and Iran)

are now currently maneuvering to get a piece of the territorial prize once its ready. In other words: The fighting now is more or less about who will get what after the final bomb explodes. All the political players involved in the Syrian conflict are therefore currently maneuvering for the best possible seat in the new house that;s being built. It may take a few more years and a few more hundred thousand casualties, but a new Middle East is nevertheless in the process of being created. This all naturally brings us to the Zionist factor in the Anglo-American-Jewish imperial war machine, for no conversation about the Middle East is complete without first addressing Zionist Jews and the fortress state of Israel.
Zionist factor behind Islamic terrorism
Washingtonian concerns about Russia and China are understandable. After all, Russia and China are major powers and their governments indeed have geostrategic ambitions, some of which run directly counter to Western ones. Moscow and Beijing therefore do pose long-term challenges and dangers to Western powers. This is an understandable concern Westerners have. However, Washington's concerns about Iran (as well as Syria, Libya, Iraq, Yemen and Lebanon's Hezbollah) does not make a lot of sense.
Iran

has never and will never pose any kind of threat to the United States or to Europe. Moreover,
Iran is

not and have never been sponsors of terrorism. What's more, Lebanon's Hezbollah is a paramilitary resistance group. However, Washington categorizes Iran and Hezbollah as sponsors of terrorism and a terrorist organization respectively solely because of the Jewish influence (i.e. the Zionist factor) in Washington.
Washington is religiously following the Zionist agenda propagated by men like Oded Yinon and David Hirst.
Consequently, t
he fundamental concern or problem Uncle Sam has with Iran is that Tehran together with Syria and Hezbollah, at least theoretically, can pose a long-term threat to the military superiority of the Zionist state. In other words, with the Sunni Arab world either in ruin (i.e. Iraq and Libya) or in the pockets of Anglo-American-Jews (i.e. Saudi Arabia and Jordan), Iran - not Islamic terrorism - is the only real military challenge Israel faces in the Middle East today. They have actually been quite vociferous about it -
A Wall Street Journal commentary in 2013 had this to say about the topic:
"The risks of a jihadist victory in Damascus are real, at least in the short-term, but they are containable by Turkey and Israel. The far greater risk to Middle East stability and U.S. interests is a victorious arc of Iranian terror from the Gulf to the Mediterranean backed by nuclear weapons." - Wall Street Journal (May 6, 2013)
The following quote, also from 2013, made by a high ranking Israeli minister:
"Israel's main strategic threat is Iran. Not Syria, not Hamas. Therefore, strategically, Israel should examine things from the perspective of what harms Iran and what serves Israel's agenda in confronting it. If Bashar remains in power, that would be a huge achievement for Iran. A weakened Assad [remaining in power] would be completely dependent on Iran. In my opinion that's the worst thing that can happen to Israel... "Bashar Assad must not remain in power. Period. What will happen later? God only knows. The alternative, whereby [Assad falls and] Jihadists flock to Syria, is not good. We have no good options in Syria. But Assad remaining along with the Iranians is worse. His ouster would exert immense pressure on Iran." - Sima Shine (June 23, 2013)
The following quote was made Director of the Center of Middle East Studies, Associate Professor at the University of Oklahoma's College of international Studies:
"The map of 1919 which the British and French drew was wrong. [The new map of a partitioned Syria and Iraq] is the map that reflects the realities of sectarianism and is possibly more stable... [The state that ISIS has created stretching] from the edges of Baghdad all the way to Aleppo today is a Sunni state and it's already emerged. And what America is doing by bombing it is trying to destroy this state that is there and it is going to be a very hard thing to do... Accept reality, accept that state but try to get better rulers for it, not ISIS" - Joshua Landis (November, 2014)
And this very recent commentary by one of the New York Times' best known columnist -
"This is a time for Trump to be Trump — utterly cynical and unpredictable. ISIS right now is the biggest threat to Iran, Hezbollah, Russia and pro-Shiite Iranian militias — because ISIS is a Sunni terrorist group that plays as dirty as Iran and Russia. Trump should want to defeat ISIS in Iraq. But in Syria? Not for free, not now. In Syria, Trump should let ISIS be Assad's, Iran's, Hezbollah's and Russia's headache — the same way we encouraged the mujahedeen fighters to bleed Russia in Afghanistan." - Thomas Friedman (April, 2017)
The above quotes by influential Jews explains things quite well:
What's troublingly obvious here is that jihadists in Syria are not of any concern for Israeli officials, and that Tel Aviv

wants to see the Bashar Assad government defeated at all cost. As I have been telling my readers for a very long time now, Jihadists have never been a real problem for Anglo-American-Jews.
I want the reader to finally understand that Israel's main concern in the Middle East today is not Turkey, not Egypt, not Saudi Arabia, not Jordan, not Lebanon, not Syria, not Hamas, not Hezbollah, not ISIS, not Al-Qaeda, not Al-Nusra... but Iran.
A few dead Westerners or Jews here and there, and some damaged property in Western nations from time to time is a very small price to pay for exploiting a geostrategic tool as powerful as Islamic extremism.
Islamic State is the monster intentionally created by the Anglo-American-Jewish alliance with the help of their regional allies for one purpose: To remodel the Middle East. This is what we need to recognize about Sunni Islamic terror groups such as Islamic State and Al Qaeda. Simply put: The expansion of Iran's military right onto the borders of Israel threatens Tel Aviv's military superiority. And since Israel exists today thanks only to its military superiority over its backward neighbors, the rise of a powerful Iran in the Middle East threatens, at least theoretically, the Zionist state's very existence.
Therefore, the last thing Zionists and their backers in the Anglo-American world want to see taking shape in Israel's neighborhood is an Iranian "Shiite Arc" stretching from western Afghanistan to southern Lebanon. This is essentially what's keeping Jews and their supporters in the Western world awake at nights.
And this is the reason why Tel Aviv will enthusiastically support any Islamic terror group that sees Iran as an enemy -
Why Is Trump Fighting ISIS in Syria?: https://www.nytimes.com/2017/04/12/opinion/why-is-trump-fighting-isis-in-syria.html?_r=1
Accept reality, accept [the state ISIS created] but try to get better rulers for it: http://globalpublicsquare.blogs.cnn.com/2014/11/08/is-backing-syria-rebels-a-mistake/
Israel's influence and the overall probability of a US war with Iran: https://www.mintpressnews.com/inevitable-war-iran-decline-us-hegemony/224644/
US opens 1st permanent military base in Israel as tensions with Iran rise: https://www.rt.com/usa/403747-us-israel-military-base-permanent/
'Faced with Russians and Iranians 24/7': Israel calls for US to be more active in Syria: https://www.rt.com/news/405540-israel-syria-us-russia-iran/
Why the Islamic State Isn't in Any Rush to Attack Israel: http://www.haaretz.com/world-news/.premium-1.605097
ISIS and Israel coexist on the Golan Heights: https://www.opendemocracy.net/arab-awakening/sam-brennan/isis-and-israel-on-golan-heights
ISIS fighters 'attacked Israel Defense Forces unit, then apologized' claims former Israeli commander: http://www.independent.co.uk/news/world/middle-east/isis-israel-defence-force-apology-attack-unit-golan-heights-defense-minister-moshe-ya-alon-a7700616.html
More Jews Have Joined Islamic State, French Official Says: https://www.haaretz.com/jewish/news/1.620751
Netanyahu: Iran Must Leave Syria Or "We Will Act": http://www.zerohedge.com/news/2017-08-24/netanyahu-putin-iran-must-leave-syria-or-we-will-act
Netanyahu: Israel Fear Iranian Foothold in Syria: http://www.euronews.com/2017/03/09/netanyahu-to-putin-israel-fears-iranian-foothold-in-syria
The best way to help Israel deal with Iran's growing nuclear capability is to help the people of Syria overthrow Bashar Assad: https://wikileaks.org/clinton-emails/emailid/18328#efmADMAFf
If only to deal a blow to the ayatollahs, Assad must go, says Israeli head of the Iran desk: http://www.timesofisrael.com/iran-needs-a-year-and-a-half-to-produce-the-bomb/
Ex-Mossad Chief Admits Israel In Alliance With Al-Qaeda: https://zionistreport.com/2016/11/interview-ex-mossad-chief-admits-israel-alliance-al-qaeda/
A New Strategy Against ISIS and al Qaeda: https://www.wsj.com/articles/a-new-strategy-against-isis-and-al-qaeda-1489530107
ISIS, like the matador's red cape, distracts from the truly mortal danger—a nuclear Iran chanting 'Death to America': http://www.wsj.com/articles/by-all-means-take-mosul-but-1477263327
Israel fears 'Iranian crescent' in Middle East: https://verizon.yahoo.com/news/israel-fears-iranian-crescent-middle-east-162010062.html
Netanyahu to meet Putin, says Iran seeks permanent foothold in Syria: https://verizon.yahoo.com/news/netanyahu-meet-putin-says-iran-seeks-permanent-foothold-115207162.html
Trump's policy has focused on eliminating Islamic State. But Netanyahu had a bigger concern: https://www.bloomberg.com/view/articles/2017-08-23/talks-reassure-israel-that-u-s-wants-iran-out-of-syria
ISIS Declares War on Hamas, and Gaza Families Disown Sons in Sinai: https://www.nytimes.com/2018/01/10/world/middleeast/isis-hamas-sinai.html
Iran Is Existential Threat to Israel: U.S. General: http://www.theisraelproject.org/iran-is-existential-threat-to-israel-u-s-general/
Israel and Iran are heading for conflict over southern Syria: https://www.wsj.com/articles/the-next-middle-east-war-1504826567
Obama's Iran deal only delayed a showdown. America and its allies should be using the time to prepare: https://www.wsj.com/articles/the-world-didnt-agree-to-a-nuclear-

armed-iran-even-in-10-years-1494369691
Syria's 'Army of Islam' Says It Wants No War With Israel: https://www.bloomberg.com/view/articles/2016-09-29/syria-s-army-of-islam-says-it-wants-no-war-with-israel?
Israel Sees Rising Threat From Iran After ISIS: https://www.wsj.com/articles/israel-sees-rising-threat-from-iran-after-isis-1510788403
Israel worried about becoming neighbors with Iran amid ongoing Syrian war: https://www.dailysabah.com/mideast/2017/01/16/israel-worried-about-becoming-neighbors-with-iran-amid-ongoing-syrian-war
US backed Arab alliance would share intelligence with Israel, with the goal of countering Iran's influence: https://www.wsj.com/articles/u-s-middle-east-allies-explore-arab-military-coalition-1487154600
Trump should support an independent Kurdistan and stymie Iran's march to the Mediterranean: http://www.foxnews.com/opinion/2017/08/27/trump-should-support-independent-kurdistan-and-stymie-iran-s-march-to-mediterranean.html
Creation Of Greater Kurdistan Will Contribute To Stability In Middle East – Former Deputy Chief of Israeli General Staff: https://southfront.org/israeli-general-pkk-not-terrorist-organization/
Israeli prime minister backs Kurdish independence in Iraq as a hedge against Iran: https://www.thenational.ae/world/mena/israeli-prime-minister-backs-kurdish-independence-in-iraq-1.628057
In the geostrategic calculus emanating out of Western capitols and Tel Aviv, not only are separatist Kurds looked upon as allies but also Islamic terror groups such as Islamic State and Al-Qaeda.
As the reader can see, none of what I have said about Anglo-American-Jews and Islamic terror groups is a theory of mine. They have actually been quite unambiguous about their hostility towards Iran and their very warm feelings about the Islamic State.
As the reader can see, all the anti-Iranian hysteria we have been exposed to in recent years is essentially brought to us by Zionist interests in the Western world.

The main problem the United States has with Iran is therefore, simply put, a Jewish matter. And as we have learned in recent years, Jewish matters in Washington get priority because, the United States has been turned into a catalyst, an imperial vehicle, driving Jewish interests around the world.
What is happening in the Middle East is therefore first and foremost an anti-Russian agenda (i.e. Western) and anti-Iranian agenda (i.e. Jewish).

Western powers and Tel Aviv are directly and indirectly responsible for the rise of Islamic terror groups like Islamic State.

There is no longer any doubt that Western powers and Tel Aviv are actively helping the Islamic insurgency in Syria. There is no longer any doubt that Sunni Islamist groups in the region are serving an Anglo-American-Jewish agenda.
The Zionist factor therefore plays prominently in the historic carnage we are seeing in the Middle East.
In any case, the aforementioned geostrategic calculus is why Anglo-American-Jews will continue supporting Islamic terror groups. And when such groups are difficult to come by, they will simply call on their friends in the region to help them create such groups. Nevertheless, t
hanks to Anglo-American-Jewish factor in modern global affairs,

the artificially created Islamic terror factor in the world will unfortunately remain a part of our daily lives for the foreseeable future. They will make sure of it.
Islamic terrorism and its FBI ringleaders

Although Americans are too distracted by entertainment, disinformation and/or simply trying to pay their ever-growing amount of bills at the end of every month to properly notice it, the United States has morphed into a massive and corrupt Orwellian police state. As we saw with Edward Snowden's revelations, the degree of control that Washington yields over the American public today is unprecedented, not only in American history but in the annals of world history. In fact, Washington and friends spy on the entire world. Knowing how closely and how zealously Uncle Sam monitors his subjects, knowing how ubiquitous Uncle Sam's surveillance programs are, I do not for one moment believe that there could exist elaborate terrorist plots in the United States without it being known to security officials. Therefore, recent acts of terrorism by Muslims inside the United States need to be assessed from within the context of the modern American police state.
Many already know that in their effort to uncover individuals or sleeper cells capable of carrying out acts of terrorism among the Islamic community, government security agencies actively monitor internet activity.
Many already know that Muslim community centers, mosques and student groups are under constant government surveillance. Many already know that government informants and undercover agents are working inside the Muslim-American community throughout the United States. We all realize that Americans, Muslim-Americans in particular, are under constant surveillance by their government. What's not very well known however is that government informants and undercover agents inside the Muslim-American community have also been known to organize/orchestrate many of the terror plots they supposedly uncover. The "sting operations" we occasionally hear about are essentially operations of entrapment. In other words, they are government agents coaxing, inciting and seducing unsuspecting individuals into performing criminal acts, which they are then punished for in public show trials.
From what we can see in the public record, most, if not all, of the uncovered/busted Islamic terror plots in the United States are actually orchestrated by government agencies like the FBI and the CIA. Again, this is not a theory of mine. The following are relevant materials about this topic -
Similar to what undercover intelligence agents do in Muslim nations around the world, security agencies in the United States, through their mass and targeted surveillance programs, proactively seek the recruitment of "Islamic terrorists", which are in reality just a bunch of patsies. These patsies are more often than not men who are young, naive, angry and/or fanatical with low intelligence and/or serious emotional problems.
Through brainwashing, such individuals are helped/encouraged to carry-out acts of terrorism within the American homeland.

Such terror plots are then either heroically uncovered and the involved terrorists arrested or, they are allowed to take place.
This is the way Uncle Sam's war on terrorism maintains the current climate of fear (
which they then exploit to curb additional privacy laws

); justifies the work of ever-growing law-enforcement agencies (which is then used to get more funding); and of course whip up anti-Muslim sentiments in the United States (which is then further exploited for towards imperial endeavors overseas).

So, no folks, Al-Qaeda or Islamic State is not really coming after "freedom loving" Americans. Al-Qaeda and Islamic State are actually going after them pesky Russians and Iranians. What's coming after Americans are Americans security officials.
Nevertheless, from the inner-cities of the Western world to the Palestinian slums of Lebanon to the stone-age villages of Afghanistan, there are literally tens-of-millions of uneducated, unemployed, desperate, angry and psychologically troubled young men (and women) waiting to be recruited by government agents armed with Jihadi rhetoric and/or bags full of cash and/or drugs - using whichever method happens to work best. And as we already know, every single Mosque, Islamic student group or Islamic community center in the United States is under constant government surveillance. Simply put: Nothing happens in Muslim communities in the United States without law-enforcement bodies not knowing about them. As we have already seen in this blog commentary, this is quite a common way of recruiting manipulating and exploiting terrorists around the world these days. This approach for finding and exploiting individuals for act of

violence

has been perfected by many different intelligence organizations
and has been around for many years

. Israeli, Turkish, Saudi Arabian, Pakistani, Russian, British and of course American intelligence agencies excel at this modus operandi.
Knowing what we know today, I do not for one minute believe that the Tsarnaev brothers, the so-called Times Square bomber, the Pakistani couple in California, the Battery Park assailant, the midtown pressure-cooker bomber, the Orlando gay club shooter or the Fort Lauderdale airport shooter were able to plan their attacks, arm themselves, obtain ammunition, build fairly sophisticated bombs with remote triggers - right under the nose of security officials without them knowing about it. Besides, almost after every terror incident, we learn that the terrorist suspect was on some government "watch list", but we are told that security officials somehow screw up/dropped the ball. Bullshit. If the aforementioned terror suspects are indeed guilty of the crimes they have been accused of committing, they must have been assisted by their undercover government handlers. No other explanation.
Of the aforementioned terrorism suspects, perhaps the strangest case was that of
Esteban Santiago, the Fort Lauderdale airport shooter. And this brings me to yet another topic that is very important to address: The role of psychotropic drugs in terrorism.
The role of psychotropic drugs and mind control in terrorism
Just like the Zionist factor I underscored above, the subject of Western intelligence and Islamic terrorism cannot be complete without also touching upon the subject of

mind-altering psychotropic/psychedelic medication. Mind altering substances (natural and synthetic) have always been at the forefront of man's age-long desire to tap into the supernatural world, experience a great "high" or create the "ultimate soldier". It is no surprise therefore that we are seeing the increasing use of drugs on the battlefields of Syria and elsewhere. There was a very significant news item a few years ago that did not attract much public attention. It was revealed at the time that a Saudi Arabian "prince" was arrested in Lebanon for smuggling into the country two tons of drugs. What made this news item highly significant was that the drugs in question were amphetamines, and it was rumored that they were destined to go to Saudi-backed Islamic militants in Syria.
A
mphetamines w

ere made famous during the Second World War when German and Allied troops used them for their "performance enhancing" qualities. This class of drugs can make its user feel awake, energetic, strong, fearless and aggressive. It's the ideal drug for soldiers and apparently Islamic terrorists. There are other types of drugs as well. We now know for a fact t
hat Islamic militants in Syria, suicide bombers in particular, regularly use similar substances to help them perform their Jihadi tasks

and they are being supplied from abroad -
As we can see, not only are Islamist rebels in Syria being supplied food, medicine and arms but also a variety of mind altering drugs. Of course, all in the name of Western-backed Jihad. Therefore, it can be concluded that at least some of the battlefield successes of Islamic terror groups such as Islamic State and Al-Qaeda can be attributed to their religious fanaticism plus an array of performance enhancing drugs.
I suspect many of the Jihadis that go on murderous rampages are under the influence of some form of mind altering medication. I suspect many of the American soldiers that periodically "snap" are also under the influence of drugs. Of these, Staff Sergeant Bailes readily comes to mind. The horrendous act he committed was most probably drug related. Was there much more to his story than we were told? Was Robert Bailes being experimented on with mind altering medication? What I am saying is not far-fetched nor is it sci-fi. I'm asking
very valid questions.

We know that psychotropic or psychedelic drugs have been worked on by psychiatrists and biochemists for many decades. The Nazis worked on them. The Soviet Union worked on them. Naturally, the successors of both the Nazis and the Soviet Union, Anglo-American-Jews have been working on them for a long time.
For a long time the American government has performed all sorts of experiments with a wide variety of psychedelic drugs.
These drugs are constantly being improved and it is quite logical to assume that they are also being weaponized.
The only question therefore is: How far has the development on mind altering drugs gone?
Now I want to take a brief look at the very strange shooting incident involving Esteban Santiago, an American soldier stationed in Alaska who is said to have spontaneously purchased an airline ticket to Fort Lauderdale, where he apparently shot to death five people in the airport. That's the official story. In other words, that is the cover up story. I am at a point now when anytime a major act of terrorism occurs, especially in Western nations, I immediately begin looking for anomalies; things that don't add up. Sure enough, the airport shooting incident involving Esteban Santiago quickly revealed the following three glaring anomalies:
First anomaly: At the time of the incident there initially were several police reports as well as several eyewitness accounts claiming that multiple gunmen were involved in the airport shooting. Law-enforcement officials later recanted the initial reports, saying they were errors. Valid reports of multiple shooters that are later recanted by officials has become a fairly common anomaly in recent terrorist attacks in the United States. A similar thing occurred in the San Bernardino Valley terrorist incident involving the Pakistani couple. Second anomaly: Before the terror incident at the airport took place, the Florida state government was preparing to begin discussions about "open carry" gun laws in Florida airports. Third anomaly: It was widely reported by news agencies that Esteban Santiago had previously complained to his superiors about hearing voices in his head. It was also reported that the terror suspect had previously gone to the FBI's regional office in Alaska to tell them that the U.S. government or the CIA was trying to get him to join ISIS.
The third anomaly noted above is what we need to take a closer look at for it clearly suggests the presence of some form of mind altering medication. So, was Esteban Santiago simply a homicidal lunatic who just happened to "snap" in Alaska and purchased a one way ticket to Florida to randomly kill people at the airport? Or was he a victim of some secretive, mind-control experiment? -
If Esteban Santiago was feeling homicidal or suicidal in Alaska, why did he not just do what he did where he was, like all the other mentally deranged people who do similar acts? Why did he instead purchase an airline ticket to Florida to carry out the killings there? If Esteban Santiago was just mentally ill, and we know that he had gone to the FBI to complain about hearing voices in his head, why was he allowed to remain on active duty and not taken in for mental health evaluation or treatment? Moreover, was this shooting incident and the debate on gun legislation that was said to be taking place at the time in the Florida state government merely a coincidence? Or is there more to the story than what we are being told? So, was Esteban Santiago a "Manchurian Candidate" and was what he did deliberately timed to help advance anti-gun laws in the United States? These are all very valid questions.

The use of mind altering drugs is becoming very prevalent throughout the United States. In fact, psychotropic drugs and their abuse have gone mainstream in the United States. And there is a clear correlation between drugs and the rapid and massive increase in suicides and homicides. In fact, all of the assailants in major mass shooting incidents in the United States have exhibited signs of being under the influence of drugs -
Yet, mainstream news press and government officials totally ignore these facts and instead concentrate their efforts on furthering anti-gun legislation. The increasing levels of random violence we are seeing in the United States may be for the most part a result of the adverse side-effects of mind altering drugs that an increasing number of Americans are being encouraged to take. I believe that at least some of them are related to mind control programs or experiments. Unbeknownst to us there may indeed be an army of Manchurian Candidates walking about among us.

As we all know, science has made historic advances in recent decades. It is frightening in fact how far science has

c

o

m

e in recent times. What we see in public or are told by officials is merely a fraction of what really exists in secretive government research centers around the world. Is it therefore really far-fetched to think that mind control or mind altering techniques have also come a very long way, especially in light of what we have been seeing in recent times? There is evidence for this -
Nevertheless, no discussion on mind altering medications and their use by government agencies would be complete without also taking a look at an old program called Mkultra. MKultra was a government program where extensive experiments were carried-out on mind altering drugs like LSD. American officials claim that the Mkultra program was ended and all records associated with it were destroyed. Well, call me a conspiracy theorist because I very strongly doubt it. I think the program or similar programs have been developing and advancing in secret laboratories. And, seeing the highly advanced state of science, it's frightening to think of how advanced they may have become in recent years. I think understanding government sponsored mind control/altering programs like Mkultra and others that we are not yet aware of is key to understanding some false flag operations and mass shootings that have taken place in the United States -
I therefore ask: Has the use of mind altering medication been mastered by biochemists and psychiatrists? Are they now being weaponized? Are they now also beginning to play an increasing role in Islamic terrorism and mass shootings that take place in Western countries? This is not science fiction. Science is at a point

where a

nything is possible today. Also, anything can be expected from Anglo-American-Jews and its deep state.
The following is more-or-less the official narrative we are expected to believe: Political Islam is attacking Western countries because they hate the Western way of life, in response Western powers and their allies are sending their militaries into Islamic hot spots around the world to root out evil terrorists.

That's the official story. In other words, that is far from the actual truth. So, anytime a "terrorist" incident takes place anymore, especially in a Western country, I immediately

/

automatically begin looking for anomalies, telltale signs suggesting a false flag operation.
Anytime now a terrorist attack takes place on Western soil, I begin looking for unusual things such as incriminating passports being left behind; important people involved in the case unexpectedly committing suicide; government drills taking place about the same time as the terrorist incident; reliable reports

that

multiple shooters were involved in the attack that are later explained away or refuted by government officials. Et cetera, et cetera. All of the major terror attacks I have personally looked into in recent years have indeed exhibited a number of anomalies. In my opinion, and in the opinions of many around the world, most, if not all, of the terror attacks that have made news headlines around the world seem to have been orchestrated, to at least to some degree, by intelligence agencies, most probably Western and/or Israeli.
There are no terror groups or paramilitary militias in existence today, Islamic or otherwise, that are not supported by one power or another. Islamic terror organizations in particular have major state players behind them. They would not otherwise have been able to enjoy the constant financing, arms supplies and the ability of movement from one war zone to the next.
The world, especially Islamic societies in the Middle East, Central Asia and southeast Asia, is literally overflowing with millions young, angry, poor, unemployed, uneducated, violent and emotionally scarred and men and women that have the potential for becoming drug runners, arms smugglers, rebels, separatists or terrorists for one political interest or another. Due to their cultural backwardness and archaic mentalities, Islamic societies are easily manipulated and exploited, and there are virtually limitless supplies of men and women throughout the Islamic world waiting to be recruited by one warlord or another who works for one intelligence agency or another. There is virtually limitless supply of human resources around the world intelligence agencies can easily tap into. All it would take is a group of well-funded and well-trained undercover agents to indoctrinate, recruit, train and when need be deploy such individuals into various hot spots. Similarly, undercover agents with a briefcase full of money - or a crate full of Korans - can create an Islamic terror cell practically overnight. Often, such clandestine operations are coordinated with local intelligence agencies. Sometimes, however, they are also carried-out unilaterally.
Western powers have been very successfully exploiting Islamic terror groups for the past forty years. So much so that groups such as Al-Qaeda and Islamic State today are operating essentially as the covert Islamic military wing of Western powers. This naturally refers to such terror organizations' top leadership and not its limitless supply of dispensable foot-soldiers that blindly serve them thinking they are doing "Allah's" work on earth. Also, those Islamists we periodically hear about getting assassinated or blown-up by Washington's drones from time-to-time are more-or-less those that refuse to play the game. In other words, of the Islamic groups or individuals that are actually targeted by Washington and its allies, some may be splinter groups, some may be groups that have sprung-up spontaneously

,

some may be groups that are supported by rival political interests and some may be so-called "lone wolves

"

.
By supporting the rise of Islamic radicalism in targeted regions of the world, the West is also planting within them the seeds of

their

eventual destruction. After all, when those socially primitive and politically dysfunctional Islamic powers get out of hand, as they tend to from time-to-time, they can simply be bombed into submission by their handlers with impunity. After all, the wholesale killing of Muslims in the Middle East

today

is not a major ethical dilemma for Western society. The Western sheeple has been s

ystematically

conditioned to think of

Muslim nations

as serious threats to their way of life and Muslims in general have been utterly dehumanized by Jewish-run Hollywood, television and mainstream news press in the United States. Muslim life today is therefore very cheep.

Nevertheless, during the past century, populations throughout the Middle East, Africa and Central Asia have been systematically radicalized as a direct consequence of Western policies and interventions, as well as

Western

support for Islamic movements

in

the region. Islamic nations allied to Western powers, Saudi Arabia and Pakistan in particular, have facilitated and amplified this radicalization by their funding of Madrasas around the world. Consequently, today, the Middle East stands on the verge of a radical Islamic makeover. And it is all occurring with the approval and help of Anglo-American-Jews. One does not need to be a rocket scientist to realize that with the help of their allies in the Middle East, Western powers have helped Islamic forces throughout the region at every pivotal turn. As we have seen in recent years, Western imperialists have also been using the guise of "democracy" and "civil society" as a meddling tool to encourage and empower separatists and radicals in targeted nations. In the Middle East, it is primarily Islamic groups that are assisted under such guises. Empowering Islamic groups in secular Arab nations was what the so-called "Arab Spring" was all about -
Recent years have made it quite obvious that all the Wahhabist/Salafist groups we see throughout the Middle East, North Africa, Central Asia are essentially serving as the Islamic wing of Western intelligence agencies. There is active coordination between Western forces and Islamic terror groups. This coordination has often taken place through the intelligence agencies of nations like Saudi Arabia, Qatar, Turkey, Jordan and Pakistan. Western support for Islamic extremists in the Middle East and elsewhere has sought to solve two major geostrategic problems: Curbing the growth of Russian and Iranian influence and preventing the formation of pan-Arab nationalism. For powers like Saudi Arabia, acting as liaisons between Western intelligence and Islamic terror groups is therefore a good idea because Riyadh is also seriously concerned about the rise of Russian and Iranian power a

s well as

secularism in the Middle East. Therefore there is a very clear and strong convergence of interests between Sunni Islam and Western powers. Similarly, Western support for Muslim peoples such as Turks, Tatars, Azeris, Chechens, Albanians, Kosovars, Bosnians, Afghans and Uighurs throughout Eurasia is designed to undermine the growth of Russian and Chinese influence.
Therefore, have no doubt, there is indeed a secret alliance between Western powers and Saudi Arabian backed Islamic terror groups. Therefore, the entire official story behind groups such as Al-Qaeda and Islamic State and the case for war against such groups (i.e. the so-called war on terror) is stuff only worthy of a tacky Hollywood movie.
All in all, the Islamist uprisings and the bloodletting we have been witnessing in the region in recent years was designed many years ago. And it was done as a measure to ensure the long-term hegemony of the Anglo-American-Zionist global order -
To realize their neo-imperialistic dreams in strategic places like the Balkans, Middle East, Caucasus, Africa and Central Asia, they have been busy collaborating with radicals throughout the Islamic world. In other words, they have radicalized Muslims doing their dirty work. And one of their dirty work is to cause the

breakup

of certain nations.


The agenda in Syria and Iraq is about partitioning them and forming a new Western-backed Sunni and Kurdish states as a counterbalance to growing Russian and Iranian power in the region. The existence of such states in Syria and Iraq

c

an also effectively dissect the Iranian Arc. So, in a sense, terrorist groups like Al-Qaeda and Islamic State is the monster their created and then set loose in Iraq and Syria to tear those countries apart. In the grand scheme of things, Al-Qaeda and Islamic State can therefore be looked at as the surgical scalpels that Western powers were using to give the Middle East a new Islamic look. They would have no doubt caged their monsters once their ultimate objective - to carve out a Sunni Islamic state between Damascus and Baghdad - was met. They had in fact come close to realizing this plan by the summer of 2015. A defacto "Islamic Caliphate" was established in Syria and Iraq and Western powers were preparing to put their monsters back into its cage and take control

of

the territory noted a

bove

. But, that was when Russia and Iran jumped into the Syrian inferno and basically "changed the equation".
In closing, I would like to reiterate that at some level, the false flag terrorist attacks that occur in Western countries is being made possible by elements within the Western intelligence community, most probably with outside support (e.g. Pakistani ISI, Israeli Mossad, Turkish MIT, Saudi Arabian GIP). Moreover, the historic bloodletting we see throughout the Middle East and adjacent regions today is primarily due to the toxic agendas pursued by Washington and friends.
Uncle Sam is recklessly playing with fire essentially because it feels it is at a safe distance away from such hot zones. I would like to therefore remind the reader that as long as Anglo-American-Jews are not ravaged with destruction as a result of their agendas they keep pushing around the world, they will continue playing with fire.
Below this commentary is a sampling of news articles that have appeared in the news press in recent years. They all in varying degrees address Western ties to terrorism. There are in fact many thousands of such articles. However, due to

personal

time restrictions as well as blog constraints, I have featured only a sampling. I would like to remin

d the reader

that some of these articles are attempts at deflecting blame and whitewashing Washington's role in Islamic terrorism. Therefore, reading in between-the-lines of some of these articles is absolutely essential. Nevertheless, whitewashed or not, misleading or not, deceptive or not, the troubling picture painted by these articles are self-explanatory and self-evident. And the final verdict is this: Islamic terrorism mainly serves the imperial interests (both foreign and domestic) of Anglo-American-Jews
. Period.

Arevordi
Spring, 2018

***
America's Devil's Game with Extremist Islam
A Timeline of US-Cold War Politics and the Rise of Militant Islamism
It is often difficult to trace the history of the United States' involvement with—and responsibility for—the evolution of radical Islamism around the world; many of the CIA's activities in support of Islamist groups were often covert, and a great deal of misinformation exists. Robert Dreyfuss' new book, Devil's Game: How the United States Helped Unleash Fundamentalist Islam, is an attempt at a comprehensive overview of this story, recounting how the CIA, guided by the belief that radical Islamist forces could act as a bulwark against communism, helped fuel the rise of political Islam and militant fundamentalism in the Middle East and Central Asia. Below is a timeline of major events in the U.S. government's 70-year flirtation with and support for the militant forces that would, in the late 1990s and on September 11, 2001, come back to haunt the United States.
1933 – Saudi Arabia grants oil exploration rights to the United States, and the two countries enter into a profit-sharing ownership of the Arabian-American Oil Company, which discovers the first commercial oil well in Saudi Arabia in 1938.
Feb. 18, 1943 – President Franklin D. Roosevelt declares the defense of Saudi Arabia of vital interest to the United States and makes the country eligible for Lend-Lease assistance.
1945 – The United States and Saudi Arabia sign an agreement that establishes an American military base in Dhahran, which houses American troops until April of 2003. The Saudis also give the United States permission to conduct a thorough survey of the Arabian Peninsula—which recommended establishing an air base.
Feb. 14, 1945 – Roosevelt meets with King Abdel Aziz ibn Saud, the first meeting of an American President with a Saudi monarch.
1951 – An accord between the two countries allows the United States to establish a permanent military training mission in Saudi Arabia.
1951 – The CIA sets up Radio Liberty to broadcast anti-communist programs around the world. In Central Asia, the station is used to incite local groups, many of them Islamic, against the Soviet Union.
1952 – The Saudi-American oil company, Aramco, pays for the printing of religious propaganda in Riyadh.
1952 – In Iran, the CIA offers money to Ayatollah Abol-Ghassem Kashani, who had formerly opposed foreign influences in Iran, to encourage Kashani to split from Mohammed Mossadeq's National Front. Kashani was the mentor of Ayatollah Ruhollah Khomeini, the future leader of the Islamic Revolution, who in the meantime would become a leader of the Devotees of Islam, an Iranian terrorist group.
Aug. 19, 1953 – The CIA and the British intelligence agency MI6 direct a coup against Iran's democratically-elected prime minister, Mohammed Mossadeq and restore the pro-Western Shah to power. Mossadeq's nationalization of Anglo-Persian Oil, along with his alliance with the Soviets, had threatened Western interests in Iran.
Sept. 1953 – President Dwight D. Eisenhower dines at the White House with Said Ramadan, a leader of the Muslim Brotherhood, the popular Islamist group which since the late 1940s has been notorious for its extensive ties to fanatics, assassins, and terrorists in the Middle East.
Oct. 26, 1954– A member of a secret wing of the Muslim Brotherhood attempts to assassinate Gamal Abdel Nasser, the leader of a 1952 military coup against King Farouk. The group is officially banned in Egypt, forcing it underground.
June 23, 1956 – Nasser officially becomes President of Egypt. Nasser's left-leaning ideology alarmed U.S. officials who worried that Egypt would be lost to Soviet control.
Jan. 1957 – The "Eisenhower Doctrine" is laid out in a speech to Congress. President Eisenhower declared that the United States would provide military and financial assistance in the Middle East to protect against Communist aggression in the region. Under the doctrine, Saudi Arabia became the primary beneficiary of American aid.
June, 1967 – The Six-Day War is fought between Israel and its Arab neighbors Egypt, Jordan, and Syria. Israel's victory leads most Arab nations to close their American embassies, leaving Saudi Arabia as the Arab world's primary liaison with the United States.
1970s – Alongside the traditional Islamic fundamentalist movement, a more radical strain of Islam begins to develop in the Middle East, including: the Islamic Community in Egypt, and later the Egyptian Islamic Jihad led by Ayman al-Zawahiri; militant Shiite fundamentalism in Iran; and Wahhabism in Saudi Arabia.
Oct. 1970 – In Egypt, Nasser dies and is succeeded by Anwar Sadat, who promises that sharia will be implemented as the law of the land. Political Islam begins to emerge in Egypt, and an Islamic banking system is created, both of which would become essential in assisting militant, radical Islamic movements.
May 1971 – Sadat consolidates his power, purging government of Nasserites and freeing Muslim Brotherhood prisoners.
1972 – The CIA founds the Asia Foundation to fund leaders of the Afghan Islamist movement at Kabul University. Beneficiaries include Rabbani Sayyaf and Gulbuddin Hekmatyar, two Afghans who would cultivate ties with Osama bin Laden. The two run a secret group that infiltrates the Afghan armed forces and will later lead jihad forces against the Soviet Union in the 1980s.
1972 – A secret military cell is created within the Organization of Muslim Youth, a student group in Afghanistan. The organization requests covert aid from the CIA for its anti-communist activities, including the killing of four "leftists." Although the entreaty is denied, the CIA offers its sympathy to the OMY.
Jul. 17, 1973 – Afghanistan's Soviet-friendly prime minister, Sardar Daoud, overthrows the Afghan royalty, establishes a democratic republic, and becomes President. The United States quickly begins funding Afghan dissidents and supporting the radical Islamic Party against Daoud.
Oct. 1973 – Israel fights and eventually wins the Yom Kippur War against Egypt, Syria after a surprise attack by the latter two nations. In response to U.S. support for Israel, OPEC reduces oil production. Oil prices will eventually quadruple, enriching the Saudi Arabian government, which uses the profits to foster Wahhabism in the 1970s and 1980s.
Sept. 1973 – The CIA partners with Iranian and Pakistani intelligence—the latter of which is loosely associated with fundamentalist Islamic Afghan groups—to run raids in Afghanistan and stage a failed coup against President Sardar Daoud. The effort is repeated in December of 1973 and June 1974.
1974 – In Egypt, the Muslim Brotherhood issues an official statement ordering members to support the economic reforms carried out by Egyptian President Anwar Sadat, in partnership with the International Monetary Fund. Throughout the 1970s, at the behest of the United States, the IMF will require countries in the region to adopt a variety of pro-market reforms as a condition of receiving loans—reforms which will often help destabilize Middle Eastern politics and society.
1975 – A State Department analysis identifies members of the Muslim Brotherhood as leaders of an insurgency against Afghan President Sardar Daoud. After the rebellion failed, Brotherhood leaders, including Gulbuddin Hekmatyar and Sayyaf, flee to Pakistan and find support from ISI, the Pakistani Intelligence Service.
1975-76 – Under pressure from the United States, Pakistan, and Iran, Daoud begins purging and assassinating leftists and communists from the Afghan government.
1976 – The Faisal Islamic Bank of Egypt (FIBE) is established to fund activities of the Muslim Brotherhood. In the 1970s, the Islamic banking system, funded by Saudi Arabia and often aided by western banks and governments, will spread throughout Egypt, becoming the financial backbone for militant Islamist groups. In 2001, US Department of Treasury will designate several of these Muslim banks "terrorist financiers."
Nov. 19, 1977 – Egyptian President Anwar Sadat visits Jerusalem and begins negotiations with Israel that lead to the Camp David agreement between the two countries. Egypt also breaks its ties with the USSR, quickly becoming one of the United States' foremost allies by 1980.
1978 – Israel backs the Islamic Association, a militant group led by Ahmed Yassin—later the spiritual leader of Hamas—as a bulwark against the Palestinian Liberation Organization. The United States turns a blind eye as Israel provides military training to terrorist groups.
1978-79 – The United States becomes fully aware that it was backing the Muslim Brotherhood by supporting various anti-communist organizations in Afghanistan. This knowledge was recorded by many State Department and embassy memos, including one from CENTO that directly warned that the Muslim Brotherhood was a rebellious threat to new regimes.
Late-1978 – Secretary of State Zbigniew Brzezinski presses his "arc of crisis" thesis, which argues that the United States can reassert its power in the Middle East by encouraging political Islam as a counter to Soviet and Arab nationalist movements.
Jan.-Feb. 1979 – Islamists, led by Ayatollah Ruhollah Khomeini, overthrow the Shah and install a theocratic dictatorship in Iran. The Iranian Revolution is seen as a threat to American interests, not least by depriving the United States of one of its staunchest allies in the Middle East, but also threatened the Soviet Union by disrupting the economic alliance between the two countries and provoking irredentist forces near the Soviet border.
Jul. 3, 1979 – President Carter issues the first secret directive that formally authorizes the CIA give direct aid to the Afghan muhjadeen, opponents of the pro-Soviet Afghan regime. The Soviet invasion invades Afghanistan in December.
Nov. 1979 – Ayatollah Khomeini coordinates the forced seizure of the American Embassy in Tehran, precipitating the Iranian hostage crisis.
Jan. 23, 1980 – The Carter Doctrine states that the United States will use military force in the Persian Gulf to protect its interests if necessary, although at this time it is mostly an empty threat, since the US lacks sufficient forces in the region.
Jan. 1980 – Secretary of State Zbigniew Brzezinski visits Egypt to gather Arab support for the Afghan war. Within weeks Egyptian President Anwar Sadat mobilizes arms and recruits fighters from the Muslim Brotherhood, and allows the US to station its air force base in Egypt. U.S. Special Forces train Islamist militants in bomb making, sabotage, arson and guerilla warfare. Many of the Islamist Arab recruits, including Osama bin Laden, who were trained as fighters by Green Berets and Navy Seals for the Afghan War, would go on to form the backbone of Al-Qaeda.
Mar. 1980 – As a deterrent to the Soviet threat, Carter establishes RDF, a military force for rapid deployment into the Persian Gulf in a crisis. Regan later expands RDF into Centcom, the first peacetime joint headquarters for military combat operations, which later serves as the American base of operations in the 1990 Persian Gulf War, the 2001 war in Afghanistan, and the 2003 Iraq war.
Oct. 6, 1981 – Egyptian President Sadat is assassinated by radical Muslim fundamentalists who view the Camp David peace accord with Israel as a betrayal of Islam.
1984 – Osama bin Laden and Abdullah Assam—who was central to US recruit efforts for the Afghan War—together establish the Services Bureau (MAK), a nascent incarnation of Al-Qaeda in Pakistan that coordinated Islamist jihad-fighters to foreign wars. As American goals evolve from draining Soviet resources to winning the Afghan war, CIA funding to Afghan militants increases rapidly, which is matched, dollar for dollar, by funds from Saudi Arabia.
1987 – Hamas is founded, growing out of radical elements of the Egyptian Muslim Brotherhood. U.S. intelligence reports show that the Israeli secret service is giving covert support to Hamas—as a counterpoint to Palestinian nationalism—but the US turns a blind eye.
1989 – The Islamic Salvation Front (FIS) is established in Algeria as a new political party, out of elements of the American-supported Islamist movement in the 1980s. FIS includes many Muslim Brotherhood members and Afghan fighters, among them Abdallad Anas, who joined the proto-Al Qaeda organization, MAK.
1992 – In Algeria, FIS wins the parliamentary elections in a landslide but is prevented from taking power by the ruling FLN party, which uses the military to arrest FIS leaders, precipitating a FIS terrorist campaign. This culminates in the Algerian civil war (which lasts until 1999), and provokes the United States to review of its policy towards political Islam.
Feb. 26, 1993 – Following the bombing of the New York World Trade Center, Omar Abdul Rahman, a co-founder of the Faisal Islamic Bank of Egypt who helped the CIA recruit militants for the anti-communist crusade in the Afghanistan war, was convicted in 1995 involvement in conspiracy.
1994-1998 – The US maintains a cooperative relationship with the Taliban, who are increasingly dependent on Osama bin Laden's financial support.
1996 – The Taliban provides refuge to Osama bin Laden in Afghanistan, after he is exiled from Sudan.
1997 and 1999 – Members of the Taliban vacation in Nebraska, where they visit Thomas Gouttierre, a CIA-funded propagandist who produces children's textbooks stocked with Islamic fundamentalist and jihadist rhetoric for supposed State Department educational programs in Afghanistan and Pakistan.
Aug. 7, 1998 – Islamic terrorist groups bomb the Kenyan and Tanzanian US embassies.
Oct. 12, 2000 – Islamic terrorist groups attacks the USS Cole off the coast of Yemen.
Sept. 11, 2001 – Al-Qaeda terrorists attack the World Trade Center and the Pentagon with suicide bombers.
Source:
https://www.motherjones.com/politics/2006/01/americas-devils-game-extremist-islam/
Was ISIS Leader Al-Baghdadi Radicalized at a US-Run Prison?
In early July, Abu Bakr al-Baghdadi, the head of the jihadist terror group now known as the Islamic State—formerly the Islamic State in Iraq and Syria, or ISIS—preached on high in Mosul and declared himself the "Caliph Ibrahim" of a new fundamentalist Sunni state stretching from western and northern Iraq to northern Syria. This announcement came after months of fighting over territory and skirmishes with Iraqi forces, as ISIS invaded and captured dozens of Iraqi cities including Tikrit, Saddam Hussein's hometown.
In short order, Baghdadi has become Iraq's most prominent extremist leader. But for much of his adult life, Baghdadi did not have a reputations as a fiery, jihadist trailblazer. According to the Telegraph, members of his local mosque in Tobchi (a neighborhood in Baghdad) who knew him from around 1989 until 2004 (when he was between the ages of 18 and 33) considered Baghdadi a quiet, studious fellow and a talented soccer player. When the United States invaded Iraq in 2003, Baghdadi was earning a degree in Islamic studies in Baghdad.
But within a couple years of the US invasion, Baghdadi was a prisoner in Camp Bucca, the US-run detainment facility in Umm Qasr, Iraq. And a US compound commander stationed at that prison—and other military officials—have in recent weeks wondered whether Baghdadi's stint there radicalized him and put him on the path to taking over ISIS in 2010 and guiding the movement to its recent military victories.
The details of Baghdadi's time in Camp Bucca are murky. Some media reports note that he was held as a "civilian internee" at the prison for 10 months in 2004. Others report that he was captured by US forces in 2005 and spent four years at Camp Bucca. The reason why he was apprehended is not publicly known; he could have been arrested on a specific charge or as part of a large sweep of insurgents or insurgent supporters. (A confidential Red Cross report leaked in May 2004 suggested than around 90 percent of detainees of Iraqi origin were arrested "by mistake.") Army Colonel Kenneth King, the commanding US officer at Camp Bucca in 2009, recently told the Daily Beast that he distinctly remembered a man resembling Baghdadi: "He was a bad dude, but he wasn't the worst of the worst." King noted he was "not surprised" that such a radical figure emerged from the facility.
Tracking ISIS to DC's Doorstep
The problem with America's "anti-ISIS coalition" is not a matter of poor planning or a lack of resources. It is not a matter of lacking leadership or military might. The problem with America's "anti-ISIS coalition" is that it never existed in the first place. There is no US-led war on ISIS, and what's worse, it appears that the US, through all of its allies, from across the Persian Gulf to Eastern Europe and even within Washington itself, are involved in feeding ISIS, not fighting it. Going from Syria itself, outward according to geographical proximity, we can trace ISIS' support all the way back to Washington itself. And as we do, efforts like the "talks" in Vienna, and all the non-solutions proposed by the US and its allies, appear ever more absurd while the US itself is revealed not as a stabilizing force in a chaotic world, but rather the very source of that chaos.
In Syria
Within Syria itself, it is no secret that the US CIA is arming, training, funding and equipping militant groups, groups the US now claims Russia is bombing instead of "ISIS." However, upon reading carefully any report out of newspapers in the US or its allies it becomes clear that these "rebels" always seem to be within arms reach of listed terrorist organizations, including Jabhat al Nusra. Al Nusra is literally Al Qaeda in Syria. Not only that, it is the terrorist organization from which ISIS allegedly split from. And while the US has tried to add in a layer of extra plausible deniability to its story by claiming Nusra and ISIS are at odds with one another, the fact is Nusra and ISIS still fight together on the same battlefield toward the same objectives. And while we'll get to who is propping up these two terrorist groups beyond Syria's borders, it should be noted that the US and European media itself has reported a steady flow of weapons and fighters out from its own backed "rebel" groups and into the ranks of Nusra and ISIS. Articles like Reuters' "U.S.-trained Syrian rebels gave equipment to Nusra: U.S. military" give at least one explanation as to where ISIS is getting all of its brand new Toyota trucks from:
Syrian rebels trained by the United States gave some of their equipment to the al Qaeda-linked Nusra Front in exchange for safe passage, a U.S. military spokesman said on Friday, the latest blow to a troubled U.S. effort to train local partners to fight Islamic State militants. The rebels surrendered six pick-up trucks and some ammunition, or about one-quarter of their issued equipment, to a suspected Nusra intermediary on Sept. 21-22 in exchange for safe passage, said Colonel Patrick Ryder, a spokesman for U.S. Central Command, in a statement. Before this, defections of up to 3,000 so-called "Free Syrian Army" (FSA) "rebels" had been reported, even by the London Guardian which claimed in its article "Free Syrian Army rebels defect to Islamist group Jabhat al-Nusra" that:
Abu Ahmed and others say the FSA has lost fighters to al-Nusra in Aleppo, Hama, Idlib and Deir al-Zor and the Damascus region. Ala'a al-Basha, commander of the Sayyida Aisha brigade, warned the FSA chief of staff, General Salim Idriss, about the issue last month. Basha said 3,000 FSA men have joined al-Nusra in the last few months, mainly because of a lack of weapons and ammunition. FSA fighters in the Banias area were threatening to leave because they did not have the firepower to stop the massacre in Bayda, he said. The FSA's Ahrar al-Shimal brigade joined al-Nusra en masse while the Sufiyan al-Thawri brigade in Idlib lost 65 of its fighters to al-Nusra a few months ago for lack of weapons. According to one estimate the FSA has lost a quarter of all its fighters. Al-Nusra has members serving undercover with FSA units so they can spot potential recruits, according to Abu Hassan of the FSA's al-Tawhid Lions brigade.
Taken together, it is clear to anyone that even at face value the US strategy of arming "moderate rebels" is a complete failure and that to continue proposing such a failed strategy is basically an admission that (in fact) the US seeks to put weapons and trained fighters directly into the ranks of Al Nusra and other hardcore terrorist groups.Of course, in reality, that was the plan all along. So even before our journey leaves Syria, we see how the US is feeding, not fighting terrorism, completely and intentionally.
Source: http://journal-neo.org/2015/11/23/tracking-isis-to-dcs-doorsteps/
Who created the new Frankenstein monster?

U.S. President Barack Obama has labelled the jihadist juggernaut that calls itself the Islamic State a "cancer," while his Defence Secretary, Chuck Hagel, has called it more dangerous than al-Qaeda ever was, claiming that its threat is "beyond anything we've seen." No monster has ever been born on its own. So the question is: which forces helped create this new Frankenstein. The Islamic State is a brutal, medieval organisation whose members take pride in carrying out beheadings and flaunting the severed heads of their victims as trophies. This cannot obscure an underlying reality: the Islamic State represents a Sunni Islamist insurrection against non-Sunni rulers in disintegrating Syria and Iraq.

Indeed, the ongoing fragmentation of states along primordial lines in the arc between Israel and India is spawning de facto new entities or blocks, including Shiastan, Wahhabistan, Kurdistan, ISstan and Talibanstan. Other than Iran, Egypt and Turkey, most of the important nations from the Maghreb to Pakistan (an internally torn state that could shrink to Punjabistan or, simply, ISIstan) are modern western concoctions, with no roots in history or pre-existing identity.

The West and agendas

It is beyond dispute that the Islamic State militia — formerly the Islamic State of Iraq and the Levant — emerged from the Syrian civil war, which began indigenously as a localised revolt against state brutality under Syrian President Bashar al-Assad before being fuelled with externally supplied funds and weapons. From Central Intelligence Agency (CIA)-training centres in Turkey and Jordan, the rebels set up a Free Syrian Army (FSA), launching attacks on government forces, as a U.S.-backed information war demonised Mr. Assad and encouraged military officers and soldiers to switch sides.

But the members of the U.S.-led coalition were never on the same page because some allies had dual agendas. While the three spearheads of the anti-Assad crusade — the U.S., Britain and France — focussed on aiding the FSA, the radical Islamist sheikhdoms such as Saudi Arabia, Qatar, Kuwait and the United Arab Emirates as well as the Islamist-leaning government in Turkey channelled their weapons and funds to more overtly Islamist groups. This splintered the Syrian opposition, marginalising the FSA and paving the way for the Islamic State's rise. The anti-Assad coalition indeed started off on the wrong foot by trying to speciously distinguish between "moderate" and "radical" jihadists. The line separating the two is just too blurred. Indeed, the term "moderate jihadists" is an oxymoron: Those waging jihad by the gun can never be moderate.

[...]


Source: http://chellaney.net/2014/08/26/who-created-the-new-frankenstein/
US and Saudi Arabia arms significantly enhanced Isis' military capabilities, report reveals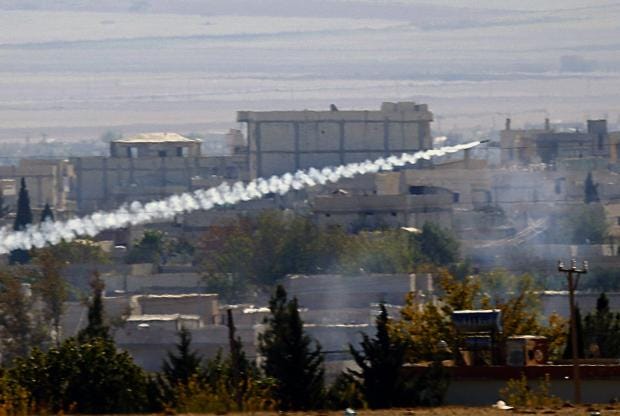 Number of US and Saudi supplied weapons in Isis' hands goes 'far beyond those that would have been available through battle capture alone'

An extensive field investigation into the origins of Isis' weaponry in Syria and Iraq has found that weapons supplied by the US and Saudi Arabia to the Syrian opposition often ended up in the jihadis' hands, enhancing the "quantity and quality" of their armaments. While most weapons in Isis' arsenal were captured from the Syrian and Iraqi armies, Conflict Armament Research (CAR)'s report, published on Thursday, found that the number of US and Saudi supplied weapons in Isis' arsenal goes "far beyond those that would have been available through battle capture alone". "Iraq and Syria have seen Isis forces use large numbers of weapons, supplied by states such as Saudi Arabia and the United States, against the various international anti-Isis coalitions that the two states support," researchers found. The US and Saudi supplied weapons were all manufactured in EU countries, and Washington and Riyadh had broken contractual clauses prohibiting their transfer, CAR said.

[...]


Source:http://www.independent.co.uk/news/world/middle-east/isis-us-saudi-arabia-arms-fighters-jihadis-military-capability-enhanced-weapons-syria-terrorism-a8112076.html
Empire's Murderous Fruits: Chaos, War, and Death
Earlier this week, jihadists loyal to the "Islamic State" – a self-proclaimed Caliphate in eastern Syria and northern Iraq – ritually beheaded American journalist James Foley, their captive since last year. The gruesome film of the execution was posted online, of course; the IS has eagerly embraced social media as a way of preaching jihad, seeing no irony therein.
Empire's Feral Friends
Foley's executioner is reportedly British – a UK citizen, rather, who went to Syria to join the jihad. And why wouldn't he? The British government has actually supported the Syrian "rebels" that ended up becoming ISIS (Islamic State of Iraq and Sham), along with the United States – sent them weapons, even. It was supposed to be a pretext for yet another evil little war, until it went off the rails last September. Now these jihadists – once advertised as "freedom fighters for democracy and human rights" – are beheading journalists, butchering Christian children, and putting people's heads on spikes.
It isn't the first time the Empire is in bed with murderers and terrorists: prominent Washington politicians have praised the "Kosovo Liberation Army" as fighting for "human rights and American values." In fact, one such politician – John McCain – has heaped praise on both the KLA and the ISIS. The KLA-run "Republic of Kosovo" has even helped the Empire "train" Syrian jihadists, back in 2012. Maybe that explains why so many Albanians (aka "Kosovars") are killing and dying in Syria and Iraq today.
Of course, the Imperial media claim the Albanians are "outraged" that one of theirs would behead people. Yet why would they be, when the KLA had no problem beheading Serbs or committing other atrocities in 1998-99? Jihadist beheadings were also common during the Bosnian War, but the media narrative of "Good Muslims" vs. "Evil Serbs" insisted on burying that inconvenient fact. The Empire continues to cover for the KLA even today.
Now Imperial officials are saying ISIS is a threat greater than Al-Qaeda, and arguing not just for a new invasion of Iraq, but also of Syria! It is a white-knight gambit: first one creates the problem, then rides in to "solve it", reaping applause and adulation. Except that it never actually works, and failure leaves countless corpses in its wake.
'CIA created ISIS', says Julian Assange as Wikileaks releases 500k US cables
WIKILEAKS founder Julian Assange today said the CIA was responsible for paving the way for ISIS as the whistle blowing organisation released more than half a million formerly confidential US diplomatic cables dating back to 1979. On the sixth anniversary of the first infamous "Cablegate" by WikiLeaks, when it releases its first batch of sensitive US files, on November 28 2010, it has expanded its Public Library of US Diplomacy (PLUSD) with 531,525 new diplomatic cables from 1979. In a statement to coincide with the release of the cables, known as "Carter Cables III", Mr Assange explained how events which unfolded in 1979, had begun a series of events that led to the rise of ISIS. He said: "If any year could be said to be the "year zero" of our modern era, 1979 is it." Mr Assange said a decision by the CIA, together with Saudi Arabia, to plough billions of dollars into arming the Mujahideen fighters in Afghanistan to tackle the Soviet Union, had led to the creation of terror group al-Qaeda. This, in turn, he said led to the 9/11 terror strikes, the invasion of Afghanhistan and Iraq by the US, and the creation of ISIS.


[...]
Source:https://www.express.co.uk/news/world/737430/CIA-ISIS-Wikileaks-Carter-Cables-III-Julian-Assange
​ISIS in Iraq stinks of CIA 'dirty war' op

For days now, since their dramatic June 10 taking of Mosul, Western mainstream media have been filled with horror stories of the military conquests in Iraq of the Islamic State in Iraq and Syria, with the curious acronym ISIS. ISIS, as in the ancient Egyptian cult of the goddess of fertility and magic. The media picture being presented adds up less and less. Details leaking out suggest that ISIS and the major military 'surge' in Iraq - and less so in neighboring Syria - is being shaped and controlled out of Langley, Virginia, and other CIA and Pentagon outposts as the next stage in spreading chaos in the world's second-largest oil state, Iraq, as well as weakening the recent Syrian stabilization efforts.

Strange facts

The very details of the ISIS military success in the key Iraqi oil center, Mosul, are suspect. According to well-informed Iraqi journalists, ISIS overran the strategic Mosul region, site of some of the world's most prolific oilfields, with barely a shot fired in resistance. According to one report, residents of Tikrit reported remarkable displays of "soldiers handing over their weapons and uniforms peacefully to militants who ordinarily would have been expected to kill government soldiers on the spot."

We are told that ISIS masked psychopaths captured "arms and ammunition from the fleeing security forces" - arms and ammunition supplied by the American government. The offensive coincides with a successful campaign by ISIS in eastern Syria. According to Iraqi journalists, Sunni tribal chiefs in the region had been convinced to side with ISIS against the Shiite Al-Maliki government in Baghdad. They were promised a better deal under ISIS Sunni Sharia than with Baghdad anti-Sunni rule.

According to the New York Times, the mastermind behind the ISIS military success is former Baath Party head and Saddam Hussein successor, General Ibrahim al-Douri. Douri is reportedly the head of the Iraqi rebel group Army of the Men of the Naqshbandi Order as well as the Supreme Command for Jihad and Liberation based on his longstanding positions of leadership in the Naqshbandi sect in Iraq.

In 2009, US 'Iraqi surge' General David Petraeus, at the time heading the US Central Command, claimed to reporters that Douri was in Syria. Iraqi parliamentarians claimed he was in Qatar. The curious fact is that despite being on the US most wanted list since 2003, Douri has miraculously managed to avoid capture and now to return with a vengeance to retake huge parts of Sunni Iraq. Luck or well-placed friends in Washington? The financial backing for ISIS jihadists reportedly also comes from three of the closest US allies in the Sunni world—Kuwait, Qatar and Saudi Arabia.

US passports?

Key members of ISIS it now emerges were trained by US CIA and Special Forces command at a secret camp in Jordan in 2012, according to informed Jordanian officials. The US, Turkish and Jordanian intelligence were running a training base for the Syrian rebels in the Jordanian town of Safawi in the country's northern desert region, conveniently near the borders to both Syria and Iraq. Saudi Arabia and Qatar, the two Gulf monarchies most involved in funding the war against Syria's Assad, financed the Jordan ISIS training.

[...]
Source: http://rt.com/op-edge/168064-isis-terrorism-usa-cia-war
Chaos theory: ISIS and Western foreign policy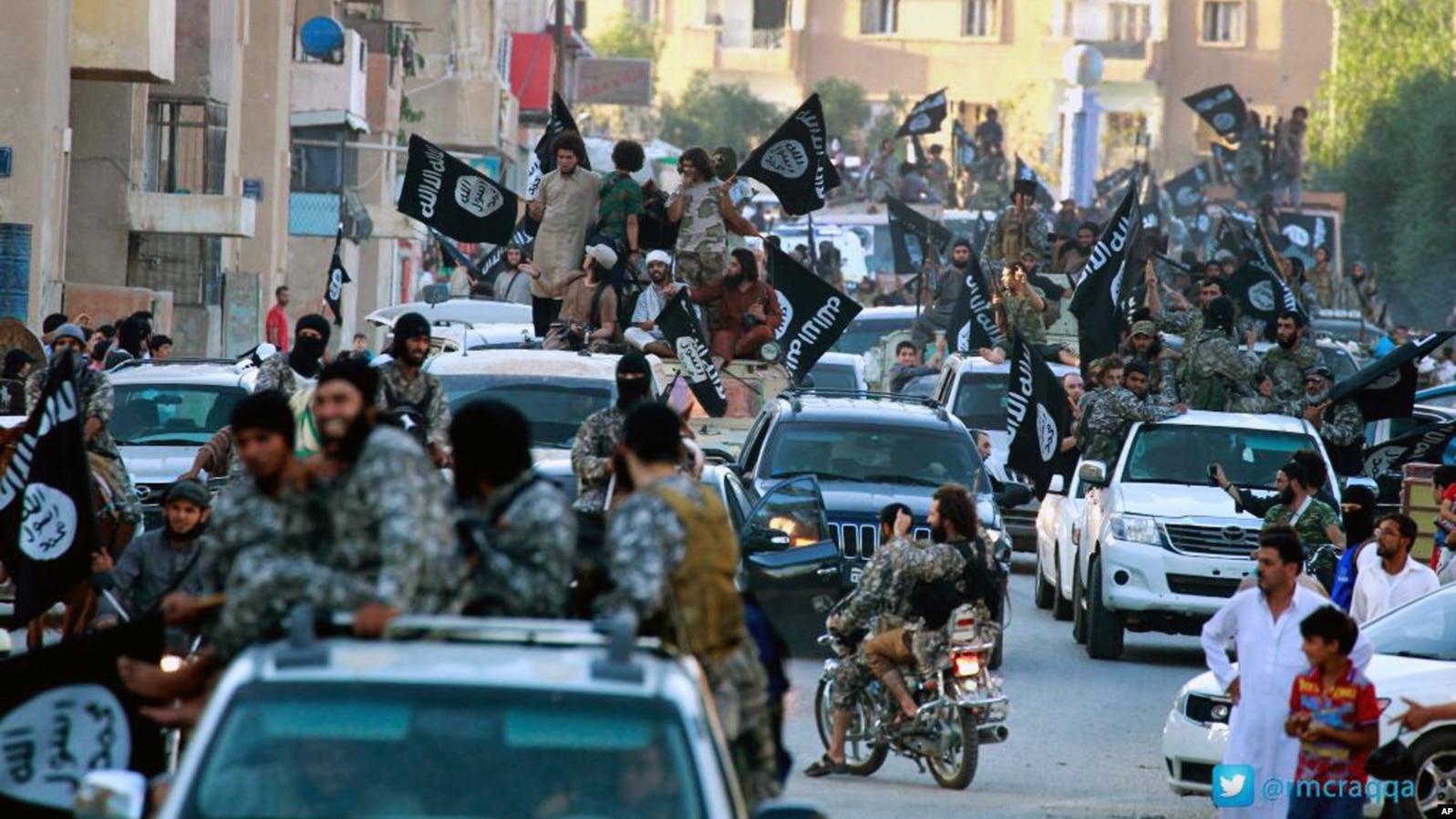 As ISIS/ISIL cuts a swathe through the Middle East, retroactively transforming Osama Bin Laden into the highbrow arm of modern Islamic terrorism, we've quite naturally begun the game of deciding who to blame for its existen. In fact, Tony Blair showed admirable consistency in sticking to the doctrine of preemptive self-defense by firing off a statement that the Islamic State in Iraq and the Levant had nothing to do with his policies in Iraq - the moment they made their big break into mainstream television.
This back and forth over responsibility is really at the heart of the matter, but in a far deeper way than we usually get around to discussing.
After all, a good deal of Western foreign policy post-Cold War has revolved around NATO states voluntarily assuming responsibility for issues that were, strictly-speaking, not their responsibility. Someone needs to 'police the world', 'bring the bad guys to book', exercise their 'R2P' ('responsibility to protect' – yes, we have descended into text-speak) and 'nation-build'. It looks good on paper.

But if you really look at how this policy has played out on the ground, you will notice that far from nation-building, this voluntary 'assumption of responsibility' has instead sown a level of chaos and dissension that cannot plausibly be blamed purely on 'mistakes' or 'unforeseeable circumstances'.
Instead, it seems to be the old divide and conquer strategy at work and we probably have keen minds like Richard Perle and Bill Kristol of the neo-conservative think tank Project for a New American Century (PNAC) to thank for this modern take on an old classic. We will return to the thoughtful documents penned and disseminated by PNAC shortly. But first, let's try to figure out what is really going on beyond the rhetoric when it comes to our 'responsibilities' around the world.
US Army Vet Eric Harroun Died Fighting with Syrian Rebels
Former U.S. Army trooper Eric Harroun fought with rebels in the world's most dangerous warzone, Syria, and was briefly jailed by his own government, accused of joining al Qaeda terrorists there. But in the end, Harroun died not on a battlefield or behind bars, but quietly in his father's house in Arizona this week, his family said.
"With deep sorrow, we regret to inform you of our beloved Eric Harroun's death. He will be missed by his family, friends, and many people around the world his life has touched," the family said in a statement posted on his Facebook page Wednesday. His sister Sarah Harroun posted a comment that said he succumbed to an "accidental overdose," but an official cause of death has not been released.
[...]
Syrian forces kill American and British citizen accused of fighting alongside rebels
Syrian state-run television reported Thursday that forces loyal to President Bashar al-Assad killed three Westerners, including an American woman and a British citizen, who it claims were fighting with the rebels and were found with weapons. Syrian TV identified the woman, releasing what it claimed were images of her Michigan driver's license and U.S. passport. It also released what is said was the name and passport of a British citizen. It did not identify a third person who it claimed was a Westerner. The report said the three were ambushed in their car in the flashpoint province of Idlib in northwestern Syria, where government forces have been battling rebels for control. TV footage showed a bullet-riddled car and three bodies laid out. It also showed weapons, a computer, a hand-drawn map of a government military facility and a flag belonging to the al Qaeda-affiliated al-Nusra Front.
U.S. Trained ISIS at Secret Jordan Base
Members of the Islamic State of Iraq and the Levant, or ISIS, were trained in 2012 by U.S. instructors working at a secret base in Jordan, according to informed Jordanian officials.
The officials said dozens of ISIS members were trained at the time as part of covert aid to the insurgents targeting the regime of Syrian President Bashar al-Assad in Syria. The officials said the training was not meant to be used for any future campaign in Iraq. The Jordanian officials said all ISIS members who received U.S. training to fight in Syria were first vetted for any links to extremist groups like al-Qaida.
In February 2012, WND was first to report the U.S., Turkey and Jordan were running a training base for the Syrian rebels in the Jordanian town of Safawi in the country's northern desert region. That report has since been corroborated by numerous other media accounts. Last March, the German weekly Der Spiegel reported Americans were training Syrian rebels in Jordan.
Quoting what it said were training participants and organizers, Der Spiegel reported it was not clear whether the Americans worked for private firms or were with the U.S. Army, but the magazine said some organizers wore uniforms. The training in Jordan reportedly focused on use of anti-tank weaponry. The German magazine reported some 200 men received the training over the previous three months amid U.S. plans to train a total of 1,200 members of the Free Syrian Army in two camps in the south and the east of Jordan.
Britain's Guardian newspaper also reported last March that U.S. trainers were aiding Syrian rebels in Jordan along with British and French instructors. Reuters reported a spokesman for the U.S. Defense Department declined immediate comment on the German magazine's report. The French foreign ministry and Britain's foreign and defense ministries also would not comment to Reuters.
Seymour Hersh report on Syria: White House knew US was arming Islamic State
Pulitzer-prize-winner journalist Seymour Hersh reports that the administration of President Barack Obama, in particular the CIA, has knowingly armed militant Islamists in Syria, including the Islamic State. "Barack Obama's repeated insistence that Bashar al-Assad must leave office -- and that there are 'moderate' rebel groups in Syria capable of defeating him -- has in recent years provoked quiet dissent, and even overt opposition, among some of the most senior officers on the Pentagon's Joint Staff," Hersh writes in the London Review of Books.
"Their criticism has focused on what they see as the administration's fixation on Assad's primary ally, Vladimir Putin. In their view, Obama is captive to Cold War thinking about Russia and China, and hasn't adjusted his stance on Syria to the fact both countries share Washington's anxiety about the spread of terrorism in and beyond Syria; like Washington, they believe that Islamic State must be stopped."
Hersh writes that a highly classified 2013 Defense Intelligence Agency/Joint Chiefs of Staff report on Syria forecast that the fall of the Assad regime would lead to "chaos" and possibly to Islamist extremists taking over Syria. Hersh reports that Lieutenant General Michael Flynn, director of the DIA between 2012 and 2014, told him that his agency sent a "constant stream" of warnings to the "civilian leadership" about the dire consequences of ousting Syrian President Bashar al-Assad. The DIA's reporting "got enormous pushback" from the Obama administration, Hersh quotes Flynn as saying. "I felt that they did not want to hear the truth."
[...]
Source: http://www.upi.com/Top_News/US/2015/12/27/Seymour-Hersh-report-on-Syria-White-House-knew-US-was-arming-Islamic-State/6951451232210/
Hackers trace ISIS Twitter accounts back to UK government
Hackers have claimed that a number of Islamic State supporters' social media accounts are being run from internet addresses linked to the Department of Work and Pensions. A group of four young computer experts who call themselves VandaSec have unearthed evidence indicating that at least three ISIS-supporting accounts can be traced back to the DWP's London offices.
Every computer and mobile phone logs onto the internet using an IP address, which is a type of identification number. The hacking collective showed Mirror Online details of the IP addresses used by a trio of separate digital jihadis to access Twitter accounts, which were then used to carry out online recruitment and propaganda campaigns. At first glance, the IP addresses seem to be based in Saudi Arabia, but upon further inspection using specialist tools they appeared to link back to the DWP.
"Don't you think that's strange?" one of the hackers asked Mirror Online. "We traced these accounts back to London, the home of the British intelligence services."
VandaSec's work has sparked wild rumours suggesting someone inside the DWP is running ISIS-supporting accounts, or they were created by intelligence services as a honeypot to trap wannabe jihadis. However, when Mirror Online traced the IP addresses obtained by VandaSec, we found they actually pointed to a series of unpublicised transactions between Britain and Saudi Arabia. We learned that the British government sold on a large number of IP addresses to two Saudi Arabian firms. After the sale completed in October of this year, they were used by extremists to spread their message of hate. Jamie Turner, an expert from a firm called PCA Predict, discovered a record of the sale of IP addresses, and found a large number were transferred to Saudi Arabia in October of this year.
[...]
Imperialism's Migration Agenda: Who is Funding the Refugees Transport into Europe?
Austrian intelligence officials have reportedly revealed that US government agencies are paying for the transport of migrants to Europe. On August 5th, 2015 Austrian magazine Infodirekt reported:
"It has come to our knowledge that US organisations are paying for the boats taking thousands of refugees to Europe. US organisations have created a co-financing scheme which provides for a considerable portion of the transportation costs. Not every refugee from North Africa has 11,000 Euro cash. Nobody is asking, where is the money coming from?"
French government officials have also been caught selling life boats to refugees in Turkey. France's France 2 Television station filmed French honorary pro-consul Françoise Olcay in Turkey in flagrante delicto.
When the official was asked if she was aware that her actions were illegal, she indicated that there were hundreds of Turkish officials involved. Many of the refugees/migrants arriving in Europe are being provided with false Syrian passports. Until the violence in Syria in 2011, Syrian passports were printed by French government printers. This fact strongly suggests French government involvement in the distribution of false Syrian passports. European governments are out-sourcing the management of the migrant crisis to private companies.
The aforementioned K-TV has also revealed that private multi-national project management companies such as ORS Services have been making millions of Euros from the plight of refugees. In 2014 ORS Services received 21 million Euros from the German government and has seen profits doubling since the refugee crisis. The Austrian newspaper Heute reported that ORS made 21 million euro this year alone from the migrant crisis.
Shareholder finance of ORS Services is managed by the private equity firm Equistone Partners Europe, an affiliate of the Rothschild-owned Barclays Bank, which is considered to be the most influential financial institutions in the world. German economist Wolfang Freisleben has described Barclays Bank as "Rothschilds slaughtership". Barclays is the most important shareholder in both NM Rothschild bank and Lazard Brothers. Former director of Barclays Marcus Agius is married to a daughter of Edmond de Rothschild. Agius was also director of the British Broadcasting Corporation's executive board and served in the Steering Committee of the secretive Bilderberg Group.
[...]