The so-called war against ISIS, the continuing carnage in Syria and the nuclear deal reached between Washington and Tehran
were the three main political news items this summer. In my opinion, the Iran nuclear deal was a desperate measure by Uncle Sam to, at least temporarily, avoid a major war that it knew would have been disastrous for Western powers and its allies in the region. Moreover, the final stage of the war in Syria may be finally upon us and the Middle East stands on the verge of a major remodeling. I'd like to also add that the historic refugee crisis that continental Europe is facing today is a direct by-product of Jewish and Western meddling in the Middle East and North Africa, although Jews predictably don't want to deal with its consequences and Western news media is more than ready to blame Russia. But make no mistake about it, the human tragedy playing out in front of our eyes was directly caused by Western powers and their allies in the Middle East, but continental Europe is being expected to deal with its consequences.

T
hose who broke Syria (as well as Libya, Iraq and Yemen) by arming and financing genocidal fanatics in an ill-conceived effort to overthrow the legitimate government of the country must be held directly responsible for this human tragedy. It is therefore the responsibility of Westerners, Gulf Arabs, Israelis and Turks to provide food and shelter to the millions displaced due to the wars they instigated. Moreover, the leadership of the aforementioned nations responsible for the current carnage in the region should also be punished for their crimes against humanity.
The horrible situation we currently have in the Middle East (as well as eastern Europe) is essentially the by-product of imperial hyper-ambition, imperial hubris and a lot of recklessness emanating from the desperation Western powers feel about gradually losing their long held prominence in global affairs to Russian and Chinese upstarts. Western powers are thus playing with fire in an already volatile region and causing misery for millions around the world essentially because they feel insulated from it all by vast oceans and great distances. As long as the political West is not made to suffer serious consequences for their criminal acts overseas, they will continue sowing unrest around the world.
A lot of what we are seeing in the Middle East is painfully reminiscent of what occurred in the same region almost exactly one hundred years ago. Back then it was millions of Armenians, Greeks and Assyrians that were caught in a merciless geopolitical tug-of-war. Today, it's Shi'ites, Alawites, Kurds and the region's Christian Arabs facing a similar situation. If the Western desire to overthrow the Alawite government in Damascus is ever realized, we will no doubt see the first genocide of the twenty-first century take place in Syria, ironically on the centennial of the first genocide of the twentieth century.
It can therefore be said that Russia's military presence in Syria is preventing a new genocide, although Western-financed monkeys like Gary Kasparov would beg to differ.
Although we may be nearing the final stages of the bloody war in the Levant, i
t may yet take a few more years, a few more hundred thousand casualties and a few million more displaced people before things settle. But the destruction that Western powers and its regional allies have brought to the region is so thorough, so severe that new borders in the Middle East is now all but inevitable. I would now like to further reflect on these interrelated topics with the current blog entry.
To begin with, I'd like to take another look at the Islamic terror organization known as ISIS and the important role it plays within the strategic calculus of Western powers and their regional allies. In my opinion, understanding ISIS is important for understanding what is happening throughout the region today.
For centuries it has been recognized that "all warfare is based on deception". Less recognized however is the following realization: A leadership must deceive not only its enemy but also its citizenry. This is because history has taught us that when a government -
be it in a kingdom, a dictatorship or a democracy - wages war without the enthusiastic support of its subjects, it is a recipe for defeat.
In modern times making war by deception has become a highly refined art form. In fact, it has become an exact science.

High level state officials continue to seek ways to make their subjects want to fight enemies both real and imagined. Depending on what civilization a particular nation finds itself in, religion, nationalism, tribalism or fear are the most effective tools in making a people want to go to war. And the catalyst upon which the aforementioned tools travel upon is a nation's educational system, internet, news agencies, radio programming, television programming and cinema.
For the elite of any ambitious political entity, having an enemy is important because it helps governing bodies focus resources and rally the sheeple. After all, if all's well and the country is not threatened, how would they excuse the expenditure of a nation's fortune on arms procurement? How would they explain the need to maintain hundreds of military bases around the world? How would they explain why troops had to kill and be killed in remote lands Americans cannot pronounce let alone locate on the map? If there was no imminent threat to the nation how would they question the citizenry's patriotism and stifle dissent? Without a very imminent threat facing the nation how would they explain tampering with the nation's constitution? None of what I am saying here is a new revelation -
Having an enemy is very important for an ambitious nation-state. But Washington and friends have had a problem in this regard because for the past twenty-five years the Western political order has not had any serious enemies on the global stage.
This was a fundamental problem for Western policymakers because during times when the state does not have an enemy at the gate and the people living in the given state are enjoying a good standard of living, it becomes very difficult to entice the masses into imperial wars around the world and justify the spending of a nation's fortune on weapons procurement. So, in the absence of enemies, what do state officials do?
They create an enemy - maybe even two, or three, or four.
The bigger you are, the more manageable enemies you have the better. In a nutshell: Washington and friends are so powerful, so self-assured - and so blinded by gluttony and arrogance - that they actually have the need to create enemies in today's world. And they are actually excelling at it. They have in recent years managed to turn Venezuela, Russia, Syria, Iran, North Korea and China into enemies, and they have quite literally created the terror group ISIS as yet another archenemy to focus the American cattle's attention on for the next few years. I guess the following political cartoon does a much better job of explaining what I am trying to convey to the reader with regards to Islamic terrorism in the Middle East -
The process pictured above is more-or-less what took place in Afghanistan, Iraq, Libya, Yemen and Syria. This process is what's behind the genocide of Christians and Yezidis in Syria and Iraq and atrocities currently being committed against Yemenis. Western powers and their regional Wahhabi friends have turned the Middle East into a bloodbath from which it will not recover for generations.
Similar to how they have turned Russia into the new enemy to protect Europe from,
as they pursue their self-serving imperial agenda of curbing the rise of Russian influence in the region

, ISIS will henceforth be the new enemy to protect the Middle East from, as they pursue their self-serving imperial agenda of curbing the rise of Iranian influence in the region. For Washingtonian reptiles, Russophobic racists in eastern Europe and Iranophobic Wahhabists in the Middle East therefore essentially serve the exact same geostrategic purpose: To reconfigure borders. Exactly one hundred years after similar geopolitical dynamics led to the genocide of Armenians, Greeks and Assyrians in Asia Minor, we are seeing the genocide of Christians, Shi'ites and Yezdis from the same region essentially by the same political players.
Islamic wing of the imperial war machine
For several decades now Wahhabist and Salafist extremist groups in the Middle East and elsewhere have essentially operated as the Islamic wing of the Anglo-American-Zionist war machine in various hot-spots around the world. Ever since the CIA made a pact with Saudi-backed Islamic radicals in Pakistan starting around 1979, the Islamic factor has been an important component of Western policy formulations throughout Eurasia.
Seeing how successful they were against the Soviet occupation of Afghanistan during the 1980s, Western powers have been utilizing Islamic extremists in various theaters of operation around the world with increasing frequency in recent years.
The following picture is essentially how it all started over thirty years ago -
As many of us know now, the Islamic terror group known as Al Qaeda was the offshoot of the above noted "gentlemen" seen in the White House with President Reagan in 1985. In the 1990s, American officials (US envoy Richard Holbrooke seen below sitting next to a KLA terrorist) took under their arms other groups of Islamic terrorists, this time in the Balkans -
And the following picture show us where we are today: Republican Senator John McCain meeting with Islamic extremists in an undisclosed location in Syria or Turkey -
Sunni Muslim militants have been the Islamic military wing of the Western war machine for decades now. From the Caucasus to north Africa, from the Balkans to Central Asia, Islamic hordes have been advancing one Western interest after another. Similar to how Albanian, Libyan and Syrian "rebel" groups have had front offices in Western nations, even Turkic Uyghurs of China
wh

o have been periodically carrying-out horrible attacks against civilians there have a noticeable presence inside Washington
-
If one day the Turkic/Islamic agenda gains traction inside China you can bet the project will have been masterminded and put into effect right from Washington.
As we have been seeing in recent years Western imperialists have been using
"democracy" as a tool to encourage and empower radicals in targeted nations around the world and Islamic groups are often utilized towards this purpose.
Needless to say, notions such as "democracy" and "self-rule" are used selectively for in the eyes of Western imperialists not all people deserve freedom. For example: Western powers granted Muslim Albanians their independence in Kosovo a land which is historically part of Serbia, but the same are opposing the self-determination of Armenians in Artsakh (Nagorno Karabakh). Another example: In stark contrast to Washington's stance with regards to south-eastern Ukraine, where the sentiments of the pro-Russia population there is utterly disregarded and crimes against it is totally ignored, when it comes to Sunnis in Iraq, Washington wants an "all-inclusive" government in Baghdad.
I'd like to point out here that the term "all-inclusive" is a code word for stopping the further growth of Shi'ite power in Iraq. In fact, most of the American political pundits, newspaper op-eds or US officials that I have seen addressing the political situation in Iraq is now primarily concerned about assisting minority Sunnis share government with majority Shi'ites.
Historically, Western support for Islamic extremists in the Middle East has sought to solve two geostrategic problems: 1) Curbing the growth of Shi'ite and Russian influence. 2) Preventing the formation of pan-Arab nationalism. Similarly, Western support for Muslim peoples such as Turks, Tatars, Albanians, Azeris, Chechens and Afghans in Eurasia has primarily meant to undermine the growth of Russian power as well as preventing the formation of Christian Orthodox unity.
Nevertheless, two years ago this month the Western war plan against Syria was

foiled at the last minute by Moscow. Many at the time hoped that the war's end was finally in sight. It was not to be. The war in Syria was too geostrategically important for the political West and its allies to abandon quite that easily. Western powers may have taken a step back in September 2013 but they surely did not give up on their greater agenda for Syria. Enter ISIS. Within a year after the Western setback in Syria, ISIS began making news headlines for their brutality. With the sudden rise of ISIS, Western powers and their allies were quite literally presented with a backdoor reentry into Syria.
With the need to fight ISIS "headhunters" consequently becoming a desperate rallying cry in the Western world, warmongers in the West conveniently resumed beating the drums of war against Syria once more - because in the convoluted, bloodstained world of the Anglo-American-Zionist global order and their Islamic friends in the region:
Defeating the Islamic State will require attacks against the Assad regime, and in the case for Ankara, attacks against Syria's Kurds.
Initially, as many of my readers may remember, Uncle Sam's desire to attack Syria was met with an antiwar outcry throughout the US. Needless to say, the emergence of ISIS quickly solved that problem. With the appearance of such genocidal extremists in Syria, Uncle Sam was presented with a way to get the American cattle to support the Western aggression against Bashar Assad's government. Basically, the American people were shocked into compliance. It was in my opinion an amazing feat of social engineering and mind control. As the reader can see, the power of nightmares continues to work wonders for Western warmongers because western civilization today is devoid of ethics, spirituality, genuine patriotism, critical thinking and rationale. Fear is what seems to work best with westerners:

Scare the sheeple and then herd them towards where you want them to go.

Deception and conflict management at its ugliest.
Today, ISIS is playing a major role for Western powers. With the overused and now ineffective name "Al-Qaeda" no longer able to keep the American cattle awake at nights, ISIS headhunters with their black flags will henceforth be the convenient excuse to continue Western crimes against humanity and keep the strategic region in question embroiled in bloody conflict for the foreseeable future - so that the region may never have the strength or the time to stand up and oppose Western/Israeli interests. Nevertheless, similar to what Al-Qaeda was before its terror value for the American cattle expired several years ago when they put the no longer scary Osama Bin Laden scarecrow to rest, ISIS is now the new, even nastier monster Western powers want to save the world from. ISIS is the tool Western powers are using today to advance their imperial agenda not only in the Middle East but also in Africa, the Caucasus and Central Asia.
Consequently, the hype about ISIS throughout the mainstream news press in the Western world in recent times has been breathtakingly thorough.
We the sheeple have been bombarded by horrific images of ISIS atrocities on consistent basis. Who in their right minds would now dare speak publicly against what is now
perceived

to be a valiant, humanitarian Western effort to fight bloodthirsty barbarians that go around blowing up historic monuments, beheading westerners and genociding locals?
Yet, unbeknownst to the sheeple, ISIS can be stopped with just two phone calls to two close allies: One to Riyadh, one to Ankara.
But stopping ISIS is not what Uncle Sam is concerned about. Fighting ISIS is not something Western powers are really interested in. And Western arms deliveries to ISIS are most probably not blunders or mishaps, as the Western press would like you to believe. Of course they didn't want you to know any of this. Make no mistake about it, ISIS is their asset on the ground. Even Western observers are willing to admit that ISIS can actually be a useful tool against Russia, China and Iran.
For added perspective on regional geopolitics, the Western role in the Middle East and ISIS or Islamic terrorism in general, please revisit previous blog commentaries listed below -
To summarize: With the existence of ISIS terrorists throughout the Levant and Mesopotamia, they have once more given their so-called "war on terror" a whole new life. With ISIS, they have once more terrified the Anglo-American cattle into actually wanting their militaries to

return

to Iraq and carryout military operations inside Syria. With the appearance of ISIS in Syria and Iraq, American officials have also managed to contain Bashar Assad's military and stop the further Iranification of Iraq by essentially forcing the Shi'ite-led Iraqi government to grant Iraqi Sunnis more political power.
As they use ISIS to dissect the Shi'ite Arc of influence in the region, they are also creating a north-south Sunni axis between Turkey and Saudi Arabia. Similar to what Western forces did in Baghdad in 2003, ISIS was meant to "shock and awe" its enemies on the ground into retreating without resisting. ISIS was meant to literally slaughter its way into the people's consciousness and dwell in their darkest nightmares. ISIS was meant to turn the typical antiwar pacifist in the Western world into a bloodthirsty warmonger. ISIS provides the perfect opportunity to undermine Iranian/Shi'ite influence by breaking up Syria and Iraq and pull imperial forces from the West back into the strategic Middle East.
And in the case for Turks, ISIS is also a good opportunity to attack the Kurdish PKK.
As said, this is Western style d
eception, manipulation and conflict management at its ugliest.
Using ISIS as a scalpel to remake the Middle East

Through the use of military power and the utilization of Islamic-Wahhabist-Salafist extremists such as Al Qaeda and ISIS, Anglo-American-Turco-Jewish-Saudi interests have meticulously created conditions in the region within which the nations of Iraq, Syria, Libya, Yemen and Lebanon cannot remain whole any longer. This is ultimately what they were seeking. They have created such a terrible situation on the ground, particularly in Syria, Yemen and Iraq, that many around the world are now calling for an immediate end to the uncontrolled violence and the start of a new beginning, with new borders. The bloody situation they have created in the region is key for keeping the masses compliant with their agenda to remake the Middle East and cast a hue of legitimacy on their crimes against humanity.

In their social engineering effort to remake the Middle East Islamic extremists groups such as ISIS thus plays a pivotal role. In fact, if you listen closely to their rhetoric you will clearly see them acknowledging a role for ISIS in the Middle East. Make no mistake about it. In the grand scheme of things ISIS is the surgical scalpel they are using to give the Middle East a brand new look. The current geopolitical landscape is changing fast. It is only a matter of time before borders are officially redrawn. If you can read between the lines of what they are saying you will come to the realization that they are actually not hiding their plans from the public. The following excerpts are a few examples -
"Camp Bucca was a detention facility in southern Iraq. And Camp Bucca was a facility where anybody who was arrested because of activities against the [American led] coalition and against the Iraqi government, they used to take them and put them there in that detention facility. And there were a disproportionate number of people who were loyal to Saddam Hussein and the Baathist regime. Baathist and Islamists. So what happened is the Baathist and the Islamists met and we have a new brand of terrorism. We have new brand of terrorism that [is] half Saddam, half bin Laden. One of the detainees [in] Bucca is Abu Bakr al-Baghdadi. And if you look at the No. 1 tier type leaders, the tier one leadership of [ISIL], most of these individuals were Baathists who met each other and met al-Baghdadi in Bucca. So basically, the oil and the fire got to know each other in Bucca, and we have the new brand, explosive brand of terrorism is [ISIL]. It was rebranded with Baathists giving strategy to Islamic ideologues." - Ali Velshi's interview with Ali Soufan
ISIS leadership are former secular Iraqi Bathists who the US military turned to by 2009 to help them stop the unintended Iranification of Iraq. As Ali Soufan states in his interview at Al Jazeera, ISIS was created as a result of a merger that took place between secular Bathists and Islamists - and this happened right under the watchful eyes of the US military in Iraq. Careful monitoring of Western news reports and analysis makes this quite obvious. More indicators -
"What we are witnessing is the demise of the post-Ottoman order, the demise of the legitimate states... ISIS is a piece of that, and it is filling in a vacuum of the collapse of that order" - Francis Ricciardone, Former US Ambassador to Turkey and Egypt and a member of the Washington based think tank, Atlantic Council
"The map of 1919 which the British and French drew was wrong. [The new map of a partitioned Syria and Iraq] is the map that reflects the realities of sectarianism and is possibly more stable... [The state that ISIS has created stretching] from the edges of Baghdad all the way to Aleppo today is a Sunni state and it's already emerged. And what America is doing by bombing it is trying to destroy this state that is there and it is going to be a very hard thing to do... Accept reality, accept that state but try to get better rulers for it, not ISIS" - Joshua Landis, Director of the Center of Middle East Studies,

Associate Professor at the University of Oklahoma's College of international Studies
"Khorasan is a region that encompasses much of Afghanistan, Pakistan, Uzbekistan, Tajikistan, Turkmenistan, and Iran. To ISIS [ISIL], Khorasan represents the first battleground of its end-of-days scenario. To regional powers, Khorasan represents the future of energy," Dr. Crosston noted in his article for New Eastern Outlook. War is not just politics but economics by another means. The Caspian region, or Khorasan, is now playing host to a Gordian knot of great power politics and economics. ISIS (ISIL) is a dialectical challenge for the United States, existing both as a US foreign policy failure in the present and presenting a unique strategic opportunity in the near future… I expect that as ISIS looks to Khorasan the US will look the other way," the professor suggested" - Dr. Matthew Crosston,

Professor of Political Science, Director of the International Security and Intelligence Studies Program, and the Miller Chair at Bellevue University
"Israel's main strategic threat is Iran. Not Syria, not Hamas. Therefore, strategically, Israel should examine things from the perspective of what harms Iran and what serves Israel's agenda in confronting it. If Bashar remains in power, that would be a huge achievement for Iran. A weakened Assad [remaining in power] would be completely dependent on Iran. In my opinion that's the worst thing that can happen to Israel... "Bashar Assad must not remain in power. Period. What will happen later? God only knows. The alternative, whereby [Assad falls and] Jihadists flock to Syria, is not good. We have no good options in Syria. But Assad remaining along with the Iranians is worse. His ouster would exert immense pressure on Iran" - Sima Shine, Times of Israel - June 23, 2013
"The risks of a jihadist victory in Damascus are real, at least in the short-term, but they are containable by Turkey and Israel. The far greater risk to Middle East stability and U.S. interests is a victorious arc of Iranian terror from the Gulf to the Mediterranean backed by nuclear weapons" - Wall Street Journal - May 6, 2013
From reading the above, what becomes quite obvious is that "jihadists" in Syria are really not much of a concern for the Anglo-American-Jewish global order.
It also becomes quite obvious that borders in the Middle East will be changing in the coming years and more blood will be spilled as a result. How drastic the changes and how cruel the bloodshed will remain to be seen.
I would like to point out here that Syria, Iraq and Iran are not their only targets and their agenda to remake the Middle East is nothing new. A sinister plan for the entire region was first hatched three decades ago by an Israeli Jew named Oded Yinon. The following is his "Strategy for Israel in the 1980s" as summarized by anti-Zionist political activist, Israel Shahak -
"The plan operates on two essential premises. To survive, Israel must 1) become an imperial regional power, and 2) must effect the division of the whole area into small states by the dissolution of all existing Arab states. Small here will depend on the ethnic or sectarian composition of each state. Consequently, the Zionist hope is that sectarian-based states become Israel's satellites and, ironically, its source of moral legitimation." - Oded Yinon
A lot of what's happening is about Israel's survival. As the reader can see, plans to fragment the Middle East into smaller, more manageable states is in fact decades old. They were basically emboldened when one of their strategic obstacles against this agenda, the Soviet Union, collapsed in 1991. Nevertheless, more recent calls to smash Syria and other regional nations into smaller pieces could be heard even before the Western-backed Islamic uprisings began in Syria three years ago. The following chilling words from another Jew was first published in 2010 -
"The total disintegration of Lebanon into five regional, localized governments is the precedent for the entire Arab world... The dissolution of Syria, and later Iraq, into districts of ethnic and religious minorities following the example of Lebanon is Israel's main long-rage objective on the Eastern Front. The present military wreaking of these states is the short-range objective. Syria will disintegrate into several states along the lines of its ethnic and sectarian structure... As a result there will be a Shiite Alawi state, the district of Aleppo will be a Sunni state, and the district of Damascus another state which will be hostile to the northern one. The Druze-even those in Golan - should form a state in Huaran and in northern Jordan... The oil rich but very divided and internally strife-ridden Iraq is certainly a candidate to fit Israel's goal... Every kind of inter-Arab confrontation... will hasten the achievement of the supreme goal, namely breaking up Iraq into elements like Syria and Lebanon. There will be there states or more around the three major cities, Basra, Baghdad and Mosul, while Shiite areas in the south will separate from the Sunni north, which is mostly Kurdish...The entire Arabian Peninsula is a natural candidate for (dissolution)... Israel's policy in war or peace should be to bring about the elimination of Jordan..." - Beware of small states, David Hirst, p. 125-126
As the reader can see, their intent has always been to divide and conquer. It is now painfully clear that there have been serious designs on the much troubled region. Therefore, claims that Western/Zionist policymakers are conspiring against Syria is not merely a "conspiracy theory" as some foolishly thought. Western/Jewish leaders are conspiring against targeted nations in the Middle East and elsewhere. Consequently, for sound geostrategic reasons, Bashar Assad's enemies would like to, at the very least, see the Lebanonization of Syria and the containment of Iran. This Western/Zionist plan to remake the Middle East should bring to mind former US general/war criminal Wesely Clark's troubling public confession some years ago -
As the reader can see, we are in the very midst of a forced remodeling of the Middle East. The old format put together by England and France between the two world wars less than a century ago no longer seems suitable for them in the twenty-first century. While they normally use grants, opposition politicians, news media, rights activists, financial sanctions, economic blackmail and cultural invasion as a way of undermining or subduing nations that are not enslaved by them, the political West has resorted to remodeling the Middle East at the tip of a very sharp bayonet.
The violence brought to the region has been so
disturbing and on such a large scale that the Wall Street Journal, one of the main propaganda outlets of the Western political/financial order is curiously asking - "would new borders mean less conflict in the Middle East?" The insinuation is obvious: New borders in the Middle East will supposedly lessen future conflict. That is almost exactly what they were suggesting a century ago as they were arbitrarily creating the same borders they are currently attempting to destroy. As said: The old format so hastily put together by the British and the French no longer seems to be serving its purpose. And organizations such as ISIS are being used towards this goal.
I

f anyone still thinks ISIS is not part of the Western-Israeli-Turkish-Saudi plan to fragment Syria and Iraq, please go and have your head checked.

ISIS is the monster intentionally created by the Anglo-American-Jewish alliance with the help of their regional allies for one purpose: To remodel the Middle East.

This is what we need to recognize about ISIS. Everything else we hear about them in the mainstream news is stuff worthy only for a tacky Hollywood movie.
Sunni Islamist groups in the region are first and foremost serving a Western agenda. What is happening in Iraq and Syria is first and foremost an anti-Iranian agenda.
Yemen has also become a victim of this anti-Iranian agenda. Tens-of-thousands of people have died in Yemen in recent years. More recently, a coalition of Western-backed powers are conducting a merciless aerial bombing of the country. Not much is being made of the situation in Yemen precisely because the Houthi rebels in Yemen are Shi'ites and the dictatorial government in Sanaa that was ousted by the Houthis was a Saudi-backed Sunni government. The aforementioned agenda to purge the Middle East of Iranian influence is why fighters from Al Qaeda and ISIS are also present in Yemen today.
In the big picture:
ISIS was needed to help Western powers and their regional allies to invade Syria and reestablish a military presence in Iraq. What is happening in Syria and Iraq is ultimately a fight over spoils of war. Syria and Iraq, as we knew them, are now dead. T
heir deaths will spawn a new birth. A new nation, or nations, are meant to emerge from the ashes of what was once Syria and Iraq. All political players are now currently maneuvering to get a piece of the territorial pie once its ready.
In other words: The fighting now is more or less about who will get what piece of territory after the final bomb explodes. In essence, all political players involved (i.e. Western powers, Israel, Saudi Arabia, Turkey, Russia and Iran) are currently maneuvering for the best seat in the house.
It may take a few more years and a few more hundred thousand casualties, but a new Middle East is nevertheless in the process of being recreated at the tip of a very sharp and bloody bayonet.
Ultimately, however, the Syrian tragedy will prove to be a stalemate because Bashar Assad and his allies around the world have proved to be more than a match for Syria's enemies.

But t

here will not be any clear winners in the Syrian tragedy. Western, Israeli, Saudi and Turkish interests were not able to defeat the Shi'ite front in Syria. With that said, Shi'ite-Alawite-Hezbollah interests have not been able to win either. Due to their national interests that often conflict with that of their allies, Turkey and Israel will be the wild cards in the geopolitical formulation process in all this. Ankara still wants a final say in how Syria will look after the war ends, Ankara still wants leverage over Iraqi Kurds. Israel, for its part, still wants to see Hezbollah defeated or disarmed and it still wants to stop Tehran from acquiring nuclear weapons capability. Therefore, going forward, Turkish and Israeli actions will remain unpredictable and thus pivotal.

The final chapter in Syria
The following is the link to an interview I saw some months ago on CNN. Watching it felt somewhat awkward because the whole thing looked and sounded like a rehearsed infomercial, not much unlike much of the news reporting we see all across the US because mainstream news media in the US falls very much in-line with CIA guidelines.

The CNN interview was in my opinion a signal that they currently are in the process of finalizing the final chapter on the nation formerly known as Syria

. So, with that in mind, please watch CNN's Farid Zakaira's interview with Professor Joshua Landis (who according to Farid is the "top Syria scholar in the US") very carefully and try to read in between the lines of what's being said -
Is backing Syria [home grown] rebels a mistake?
The following are revealing excerpts from the interview that tells it all -

The West was never serious about supporting Syria's homegrown, independently raised anti-Assad rebel factions simply because the rebel groups in question proved too disorganized and were not willing to serve or take direct orders from foreign powers. In other words, Western officials never took Syrian rebels seriously because they could not effectively control the situation on the ground with so many independent groups vying for power and influence. If you listen closely - and if you know how to read in between lines of what they write, you will hear Western officials more-or-less admitting that they are not serious about combating ISIS or supporting the "moderate" Islamist factions in Syria -
The Western military effort against ISIS is only a show
, a show meant to convince the western cattle that their governments are fighting ISIS. There is no Western agenda to destroy ISIS.
The real agenda in Syria from day one has been to partition the nation and form a new Western-backed Sunni state in its territory as a counterbalance to growing Iranian and Russian influence in the region. Western powers therefore needed a reliable partner for this long term, geostrategic agenda and ISIS has been that partner.

ISIS is the rabid dog they created and then set loose in Iraq and Syria

.

Now, ISIS headhunters have managed to carve out a Sunni state between Damascus and Baghdad thereby effectively cutting off Alawite Syria from Shi'ite Iraq. With that said, there may yet come a time when ISIS will be put back into its cage

, but it will have by then served its purpose.
Although I am not surprised, it is nevertheless very interesting that
Professor Landis -

who, allow me to remind the reader, is "the
top Syria scholar in the US" - even suggests that

Washington wants Turkey to act as the guarantor of the new Sunni state being formed in Syria by having Ankara put in there a "good government" so that the US can thereafter "pour money into [its] development". Put aside everything you have seen and heard from the CIA controlled news media: Washington's desire to see Ankara play a direct role in Syria is ultimately the reason why Turkey has been tasked with assisting ISIS operations in Syria from day one. We didn't need CNN telling us any of this. I had more-or-less pointed all this out in previous blog commentaries years ago. But I thought it would be better if you heard it right from the source.
And regarding the "news" source in question: It is noteworthy to mention that the Pakistani native, Farid Zakaria is one of the Council for Foreign Relation's many high paid lapdogs working throughout the Anglo-America-Jewish world. Individuals like Farid Zakaria, Wolf Blitzer, Anderson Cooper, Christiane Amanpour, Dan Rather, Geraldo Rivera, Peter Jennings, etc., are not journalists in the traditional sense of the word because they serve as cogs in the imperial war machine.


Yes, ISIS is indeed the monster they created and the terrible carnage we are seeing in Syria and Iraq is indeed caused by the Western world's imperial aspirations in the Middle East. Consequently, the political West and their Jewish, Turkish, Saudi Arabian and Qatari friends are in fact responsible for the genocide of Yezdis, Middle Eastern Christians and Alawites and a series of other crimes against humanity in Syria, Iraq, Yemen and Libya. Ironically, all this bloodshed comes exactly one hundreds years after Armenians, Greeks and Assyrians were similarly genocided by Turkish-Jewish interests with Western culpability.
To reiterate: ISIS is the monster intentionally created by the Anglo-American-Jewish alliance with the help of their regional allies: Turkey, Saudi Arabia, Qatar and Jordan. ISIS has been doing the preparatory ground work for the above mentioned evil partnership for the past few years. Geostrategically, ISIS is tasked with carving a territory for Wahhabist Sunnis in Syria and Iraq, thereby putting in place a powerful buffer against the growth of Iranian influence in the region.
ISIS atrocities are meant to enrage public sentiment around the world.

ISIS will be the convenient excuse to invade Syria with "peace keeping" troops from Turkey and Jordan. And ISIS will be the convenient excuse to officially fragment Syria and Iraq at a later date. I say convenient because they made sure to terrify the Western sheeple with ISIS atrocities aired on television on a 24/7 basis.
ISIS atrocities are meant to enrage public sentiment around the world.

Now, those who have plotted against Bashar Assad's government will, at least theoretically, have an easy time selling to the Western public the eventual invasion and partition of Syria and Iraq.
Turkey and Jordan to play a major role
Recent events regarding Jordan and Turkey are in my opinion part of the final chapter in Syria. I do not think that a Jordanian pilot was burned to death some months ago. I personally think the whole thing, like the beheadings of Westerners before it, may have been faked. Even the timing of the announcement of the pilot's death, which came while Jordan's puppet king was in Washington, was suspicious. But whether the pilot died or not is really not the issue here for he may very well have been killed. As with all ISIS acts, be it real or fake, the purpose of the pilot's "burning" was to "shock and awe" the public. What's more poignant and revealing was the political reaction that came out of Amman and Washington to the alleged killing. The spontaneous anti-ISIS protests in Amman (mostly by military age men) looked anything but spontaneous. The reaction by the Jordanian government felt very orchestrated. Jordan's American style war fever and the "tough" rhetoric coming out of Amman seemed formulated to primarily appeal to Western sentiments. I mean silly "badass" stuff like this -
Bordering Syria on the south, Jordan and its puppet king has been playing a major role in the agenda against Syria from day one. But Jordan is a nation of very limited capabilities. In other words, Jordan can be a strategic staging area for operations inside Syria, it cannot however play a major military role. Enter Turkey. Bordering Syria on the north and wielding the second largest military in NATO, Turkey as come center stage in recent weeks. After a deadly bombing in south-eastern Turkey that was blamed on ISIS by Turkish and Western state officials, Turkish and Western forces begun military operations inside Syria -
What is happening in Turkey in recent weeks has nothing to do with ISIS or an uprising by Kurds. What is happening in Turkey is part of the greater agenda for Syria. The deadly bomb explosion in south-eastern Turkey this summer, blamed on ISIS, was most definitely carried-out by individuals tied to Ankara (which does not rule out ISIS involvement). An uptick in activity by the Kurdish PKK is a reaction to Ankara's designs against Syria, which also includes designs against Syrian Kurds. The alleged ISIS bombing in Turkey was meant to draw Ankara directly into the Syrian conflict and also provide it with an opportunity to attack the PKK. As we have seen, the plan has succeeded. Ankara is currently conducting bombing air raids against the PKK inside Turkey and Syria in conjunction with Western powers. Nevertheless, Syria's border with Turkey and Jordan are now in the process of becoming fully militarized and ready for war. When the time is right and a green light is given, Syria will be invaded by ground forces from the north and from the south and a coalition of other nations will be providing the necessary military intelligence and air cover to the invasion force. The excuse for such an invasion will naturally be ISIS. The Kremlin of course fully understands all this as well as the role Ankara is playing in Syria, which is why Putin's meeting with Erdogan over the summer was reported to be unproductive to say the least.
Turkey today finds itself on the front-lines of various geopolitical tectonic plates that has been constantly shifting since the end of the Cold War. Ankara today faces on its very borders the growing influence of Iran, a resurgent Russia, an Arab world that is in utter chaos and the rise of militant Islam.

Moreover, with a booming population and a robust economy, Ankara feels destined to play a bigger regional role, w
hich is why Turkish officials have been pursuing neo-Ottoman dreams.
While Turks are for the most part collaborating with their Anglo-American-Jewish partners, it should also be pointed out that they are pursuing their national agenda as well.

Although Turkey is in a very tight strategic alliance with the West, its desire to revive its Ottoman era influence in the region may place Ankara into conflict with some of its traditional allies.
The conflict in question is about Kurdistan.
In other words: From Ankara's perspective, there is room for cooperation with Western powers and Israel in places such as the Black Sea region, south Caucasus, Syria and Iran but at the same time there is room for potential conflict when it comes to matters concerning Kurdistan.
Needless to say, Ankara would not like to see an independent Kurdistan anywhere on its border, whereas as some of its most important allies do. The US and Israel have been instrumental in creating a Kurdistan in the north of Iraq since their invasion of country in 2003. Some of the tensions we have been seeing between Ankara and Washington and Tel Aviv in recent years have their roots precisely in this matter.
A future Kurdistan will most probably be founded on Iraqi and/or Syrian territory. But Ankara sees such a state as a potential problem for Turkey in the long term, they may therefore look for ways to sabotage its creation. This may put Ankara into direct conflict with Western powers and Israel. The potential of a clash between Ankara and its allies over Kurdistan is making some Armenians hopeful. It's all in vain. It's just not going to happen. I

t would be utterly foolish to think that Western powers will risk loosing Turkey as a strategic ally over a bunch of unreliable and disorganized Kurds.

Turkey's geostrategic value as a military buffer against Russians, Iranians and Arabs is so important to the Western elite and Israel that they will seek ways to reach a compromise with Turks over any matter.
The West seems only concerned about preserving a territory for Kurds in northern Iraq. As long as Ankara keeps its attacks confined to Kurdish groups such as the PKK,
who arguably are the only Kurdish organization not currently under Western/Israel control,

I think Western powers will look the other way. Seeing the writing on the wall, the PKK has gone on the offensive.

The BP operated Baku-Tbilisi-Erzerum pipeline was blown up couple of weeks ago at a location near Kars. This was the second time that a Western operated energy pipeline was targeted in the region.
The PKK is suspect

-
As the reader can see, pipeline politics is very much part of the war calculus throughout the region
-
Once more I'd like to remind the reader that Washington's recent problems are not with Turkey per se but with the belligerent government of Erdogan. Western powers may want to see Erdogan's clique out of power but they would not want to hurt Turkey in the process.
Nevertheless, disagreements over Kurdistan will ultimately prove to be the Achilles' Heel of the Western-Israeli-Turkish-Saudi agenda in Syria and Iraq. Erdogan's Ankara will therefore continue being the wild card in regional politics
.
Nevertheless, a new Middle East is systematically being created and some form of a Western and Israel backed Kurdistan is definitely part of that agenda.
In fact, t
hey have already been acting as if Iraqi Kurdistan is a separate country, with its very own "American University".
No nuclear deal with Iran meant war they were not prepared to fight
Because of its political independence, energy potential, size strategic location and
growing influence in the greater Middle East,

Iran has been a major geostrategic problem for the political West for the past 35 years. In its efforts to punish and/or subdue Tehran, Western powers have resorted to all kinds of measures, including financial blackmail, economic sanctions - as well as the sanctioning of terror operations inside Iran. With Tehran nearing nuclear weapons capability in recent years, the calculus suddenly become even more desperate for Western powers, as well as for Israel and Saudi Arabia.
In a nutshell: Iran's existence as an independent regional power is seen as a long term threat to Western interests, Sunni Arab monarchies in the gulf and the Zionist state.
Iran proved to be more than a match for its antagonists.

Tehran has in recent years embarked on forging working alliances with Russia and China; Tehran has spared no effort in modernizing its armed forces; and Tehran made it clear to all that if attacked it would shutdown the strategic Strait of Hormuz, a narrow water passage that is estimated to supply 40% of the world's energy. Therefore, from a Western perspective, no nuclear deal with Iran meant war they were not prepared to fight.
Had Western powers known for sure that they could defeat Tehran militarily and roll back its nuclear program without suffering dire consequences in the process, they would have attacked Iran many years ago.
Tehran's steady approach to nuclear weapons capability coupled with the Western world's inability to safely wage war against Iran thus placed Western policymakers into a very serious predicament: Risk a major war that had the potential of proving disastrous for all involved or accept reality and seek an agreement?
Iran had deployed some powerful chess pieces during their recent negotiations with Western powers. Those pieces in question were: Iran's Russian and Chinese allies; EU nations such as France and Germany who want normalized trade relations with Iran; Hezbollah's military potential in Lebanon; Bashar Assad's resilience in Syria; the Houthi uprising in Yemen; Muqtada al-Sadr in Iraq; Iran's formidable military; Iran's potential nuclear weapons capability; Iran's ability to shutdown the Strait of Hormuz at any given time; and Iran's large oil and gas reserves.
In my opinion, Uncle Sam was maneuvered by Tehran into a very difficult corner where the best option for Washington was to stay in the game by lessening tensions with Iran.
Senior policymakers in the US realized they had three options on the table: 1) Sit back and watch Iran forge forward in its nuclear pursuits. 2) Start a war that Western powers knew would be very costly for them and their allies and a war that was not guaranteed to stop Iran's nuclear ambitions. 3) Make a deal with Tehran and hope to manage the situation by staying in the game. Wisely, they chose the latter.
Thankfully, American officials decided to put down the saber, at least for now, and reach a deal with Tehran. Tehran, for its part, was more than willing to negotiate because it wanted to free itself from the crippling sanctions.
But let's not be foolish enough to believe that Iran and Uncle Sam will now simply kiss and makeup.
There are too many obstacles getting in the way of normalizing Iran's relations with the West. The main three are Israel, Saudi Arabia and the Iranian mullahs' desire to survive in a very unforgiving geopolitical landscape. Moreover, Tehran realizes Uncle Sam is simply looking for others way to control Iran. In other words, for Tehran, the West will remain the Great Satan.
Since their military threats and economic sanctions against Tehran failed, they are trying the proverbial "carrot on a stick" approach. This approach will also fail because Iranians are not stupid. Iranians know that they have suffered decades of pain and anguish as a result of Anglo-American-Jewish conspiracies against Tehran. Iranians know that their antagonists are just looking for different ways to subdue them because

Washington and friends still see the submission of Iran as an ultimate geostrategic prize because, as noted above, Iran is fast becoming a major regional power and because Iran has good relations with Russia and China.
Iran has therefore got to be contained and/or controlled.
We obviously do not know what Western strategists are actually thinking or planning, we also do not see any of the behind-the-doors deals and negotiations that go on regularly between powers, even between enemies. We the sheeple just see how governments behave and what policies they implement, and we then try to use our reasoning abilities as well as our understanding of regional politics to figure out why. This process is what ultimately gives birth to speculation and conspiracy theories. So, allow me to speculate and delve a bit into a conspiracy theory of my own: Was the Iran nuclear deal actually meant to set the stage in the region for an eventual military clash between Saudi Arabia and Iran? In other words, by giving Iran a little maneuvering room and an economic boost, are Western powers actually forcing Saudi Arabia's hand by putting Riyadh into a position where it has to get more aggressive with Tehran?
It's just a thought. But s

uch a clash between arguably the region's two main Islamic powers could reap great benefits for Anglo-American-Jewish interests. After all, didn't they encourage Iraq's Saddam Hussein to go to war against Iran back in the 1980s? Getting Saudi Arabians and Iranians to fight now would actually be the climax of the Western/Jewish agenda in the Middle East. At the very least, by taking some pressure off Iran, the West is putting pressure on Sunni powers in the region. There are Western observers who think similarly -
Nevertheless, as long as Iran remains an independent geopolitical power in the region, it will be conspired against by its antagonists.
Since I don't see the Mullahs giving up all that they created during the past 35 years merely for promises of better relations with entities that they know want them dead, the recent nuclear deal between Tehran and Washington will ultimately prove futile.
In my opinion, normalization of Iranian relations with the political Western will prove elusive in the long-term due to the current global political climate, as well as the pro-Israel war camp in Washington. But
i
f the nuclear deal reached between Washington and Tehran somehow proves a bit resilient in the short-term and economic sanctions are indeed lifted, it will prove most beneficial for Iran because Tehran will get some economic breathing room and still maintain its nuclear capability. All in all, the nuclear deal holds promises for Iran as well as for Armenia and Russia. Although American agents such as Richard Giragosian are attempting to portray the matter as if Moscow is nervous about the Iran deal, it was in fact Moscow that made the Iran deal possible. The following picture perhaps says it all -
It is no secret that Iran wants better relations with the Western world simply because Iran wants to boost its stagnant economy. With that said, Iran will also seek to have close economic relations with Russia - its large and wealthy neighbor who has no designs on Iranian territory, who is not seeking to lessen Iranian influence in the Middle East and who does not seek to topple the mullahs in Tehran. Economically, politically and militarily speaking, better relations with Russia is potentially more beneficial and thus more important for Tehran - especially when fledgling entities such as SCO,
BRICS and EEU begins bearing fruit.
Moscow has begun preemptive military preparations in Syria

Despite
Russian and Iranian objections, I think we will eventually see an invasion of territories in Syria that are currently occupied by ISIS by Western-backed forces currently stationed on Syria's northern and southern borders.
As noted earlier in this commentary, after Russia stopped the initial Western-led invasion attempt of Syria exactly two years ago, Western powers and their regional allies have since found a backdoor entry into the country - via ISIS. Now, with the world community coerced into demanding an end to the refugee crisis and wholesale bloodshed, Western powers and their allies are gradually preparing the ground for an eventual invasion. Moscow will not be able to stop them this time because unlike last time, when Western powers sought to use naval air power stationed in the Mediterranean Sea to attack Syria, this time they will be using Turkey and Jordan as staging areas for an eventual invasion. But there still is something that Moscow can do to preserve its presence in Syria and prevent the genocide of Syria's Alawites and Christians.
Kremlin officials should be ready to counter Western moves in the region by preemptively inserting combat troops and military hardware into Syria. Similar to how Russian paratroopers, despite direct threats by US General Wesley Clark, rushed to secure a political role for Moscow in Kosovo back in 1999, Russia's troops have to be ready to carryout a similar operation in Syria as well because Syria holds great strategic significance for Moscow. Besides, this is not 1999 and a Western-backed drunk is not in power in the Kremlin. Itself now under constant attacks by Western powers, Russia has a lot of geostrategic interests at stake in Syria, not the least of which is power projection in the region. The Russian military has to therefore be on the ground and ready to protect Russian assets in Syria for when Western powers finally decide to make their move. At the very least, Alawite populated regions along Syria's Mediterranean coast, members of Bashar Assad's government and the Russian naval facility at the city of Tartus should be placed under Moscow's direct protection. Such an action by Moscow will secure Russia's military and political presence in the Middle East for the time when new borders are drawn. Such an action by Moscow will also prevent the near certain genocide of Alawites and Chrsitians in Syria at the hands of Wahhabist/Salafist maniacs. Moreover, such an action by Moscow will also show the rest of the world that Russia is a global superpower who's allies can truly rely on. According is recent news reports, Moscow has already begun military preparations inside Syria -
I think it's now obvious that the Russian military in Syria is on full alert and is currently preparing for the inevitable. And Syria is not the only place where Russia's military is currently active. Russia's Southern Military District, which also encompasses the 102nd base in Armenia, has seen a significant rise in military activity in recent times. This heightened state of military readiness by Russian forces stationed in the region is indeed a direct response to Western and Turkish actions in the Middle East as well as in the south Caucasus where there has been growing military cooperation between Turkey and Azerbaijan. Recent combat readiness drills conducted by the Russian military on Armenia's border facing Turkey and combat readiness drills conducted by the Armenian military on Armenia's border facing Azerbaijan is an unmistakable sign that Armenia today is on the front lines -
Russia's military base in Armenia alerted in snap combat readiness check: http://tass.ru/en/russia/806491
Here we again see the paramount importance of Armenia's strategic alliance with the Russian Bear. Here we again see Moscow ensuring the survival of the Armenian state in a very volatile political environment.
Our
little
homeland
in
the south Caucasus is on the front lines of a potential world war. Consequently, Shant 2015 was specifically designed to send Ankara, Washington, Brussels, London, Tel Aviv and Baku the message that Armenia and Russia are militarily prepared for any scenario.
Make no mistake about it: If a major war breaks out, Armenia can expect a fight on two fronts: Its eastern and western border
s

. Without Russia'
s

military
presence on Armenia's western border, Armenia would be doomed from day one.
As I have said on countless previous occasions: Had it not been for the Russian factor in the south Caucasus, Armenia would have been erased from the political map by regional predators a long time ago.
Our delirious Qaj Nazars somehow need to understand this and the rest of us need to understand that Armenia desperately needs to develop better, deeper and more efficient relations with the Russian Federation
- lest we also become a failed state as a result of our blind flirtations with Western powers in a very explosive environment.
Failed states are preferable for the West
History of the Middle East during the past seventy-plus years has taught us that the biggest threat the Anglo-American-Zionist alliance faces in the region is the rise of secular pan-Arab nationalism. More recently, the growth of Iranian influence is also seen as a strategic threat. Nevertheless, from Gamal Abdel Nasser and Mohammad Mosaddegh to Saddam Hussein, Muammar Qaddafi and Bashar Assad, secular forms of independent nationalism in the region have been seen as a serious danger to Western designs for the region. As a result, senior Western policymakers see Wahhabist/Salafist Islamic extremism as an effective antidote to Arab nationalism and the spread of Iranian (as well as Russian) influence in the region.
Of course there are other reasons why Sunni fundamentalism is being promoted throughout the region: Islamic societies tend to be tribal, backward, oppressive, economically primitive, culturally stagnant, militarily incompetent and thus easily manipulated and/or controlled.
As noted above, Wahhabi or Salafist forms of Sunni Islam is an effective way to curb the growth of Iranian Shi'ism. Anyone familiar with the region knows that Sunni Arabs and Shi'ites have an almost instinctual disdain towards each other. In fact, the historic rivalry between Sunni and Shi'ite sects of Islam are much deeper and much bloodier than Islam's rivalry against Christianity or Judaism.

The sudden and massive political vacuum created by the defeat of the Ottoman Empire during the First World War - and the utter backwardness of Arab/Islamic society - allowed victorious Western powers to set deep roots throughout the region. The political West is the creator of the modern Middle East. And as creators, they are doing as they please throughout the region. As they go on pitting one group against the other, as they replace one leader with another, as they form and reform nations, as they divide and conquer... it could be said that the West is, simply put, managing the much troubled region.
Failed states or fragmented states are the Anglo-American-Zionist global order's best friend, not only in the Middle East but everywhere.
Generally speaking, failed states are much easier to deal with than intact nations that don't want to cooperate with Western powers. Failed states are easier to control and they pose no serious threat, militarily or economically.
Failed states are also good sources for cheep energy, cheep labor, narcotics, loot and "rebuilding" contracts.
Moreover, failed states (i.e. Ukraine) at the door of your competitors (i.e. Russia) is a very good way to keep your competitor preoccupied for a long time. And what better way to create failed states than by democracy?!?!?!
The strategic thinking in the imperial homeland is ultimately this: They know they are insulated by oceans and great distances. They therefore have the strategic depth that keeps them immune to the fires they set around the world. They don't necessarily need to outright win any of the wars they start. They only need to figure out ways to destroy nations they are targeting without suffering any serious

blow-back

.
The more places they ruin in such manner the better it will be for them at home. It's all simply part of their age old "divide and control" and "order through chaos" approach to geopolitical matters.
Examples of this are many: When the Soviet Union collapsed and Russia fell into utter disarray, where did most of Russia's most wealthy people hide their money? In Western banks. Where did most Soviet scientists, doctors and skille

d laborers go searching for work to after the Soviet collapse? To the Western world. Who took control over Iraq's and Libya's national wealth and oil industry? Western powers. By turning Syria, Iraq, Libya and Yemen into a bloodbath, what have they accomplished? They have destroyed nations that posed a threat to them, weakening other enemies like Hezbollah, Iran and Russia in the process. And by plunging Ukraine into a civil war, they have managed to undermine Russia's growing influence throughout Europe and promote themselves as the protectors of Europe in the process.
As the reader can see, they don't have to outright win any wars. They only have to break things in such a way that will pay them geopolitical and/or financial dividends.
A
s long as the Western world's political and financial establishments are not seriously threatened with destruction (i.e. as long as the Western world does not suffer dire consequences for their actions around the world) they will continue treating the rest of the world as a far way, exotic land where to safely carryout toxic experiments. As long as this now centuries old process continues, the Western order, which thrives on being the world's top predator, will enjoy superiority in global affairs.
A vivid example of how Western powers are insulated from the chaos they cause around the world is the current refugee crisis in Europe, where nations like Germany, Hungary, Italy and Greece, who have absolutely nothing to do with the tragedy in Syria, Libya, Iraq and Yemen are being expected to bear the brunt.
And take a look at the depth of their arrogance and indifference to the human suffering they cause around the world: They exploit resources (both human and natural) around the world, they manipulate the global financial system to their benefit, they ruin entire nations and they destroy the lives of tens-of-millions, and when those people who's lives they have destroyed seek Western lands for the relative safety and opportunity it provides, they say, look at how wonderful we are -
Question: Are the millions of people on the move today yearning to be "free" or simply trying to find a safe place where they can provide for their families without the constant threat of bombs and bullets? Having sown so much unrest in so many corners of the world, it is only natural that people displaced by wars and financial ruin will seek refuge in Western nations. This is what I mean whan I say as long as Western powers don't suffer dire consequences for their actions around the world, they will remain indifferent, arrogant and ignorant.
Once more:

As long as Western countries are not ravaged with destruction as a result of destructive policies they keep pushing upon humanity, they will continue setting fires around the world.
If nations like Russia and China do not figure out a way of making Western aggression costly for the Western world, Western policymakers will continue playing with fire and humanity will continue suffering as a result.
With that said, the only nation today that is able - and willing - to stand up to the West is Russia.
The importance of Putin's Russia in global politics
The Western instigated wars in Serbia, Iraq, Libya, Syria and Ukraine as well as Western aggression against nations like Venezuela and Iran should be a wake up call to all of humanity. Western aggression around the world also underscores the great importance of the Russian Bear on the global political stage.
Ask yourselves: Where would Syria and Iran be today had it not been for the Russian factor in the Middle East? Where would Armenia be today had it not been for the Russian factor in the south Caucasus? It's a very frightening proposition. We Armenians in particular see the paramount importance of having Russian boots on the ground in Armenia.
In a world reeling under a uni-polar political paradigm that has served Western interests for well over twenty years now, Russia's rise as a superpower projecting its interests upon the global stage is a very, very welcome relief. The global community has long been brutalized under the boot of the Anglo-American-Zionist political order. The rise of Russia is thus providing the bipolarity in global politics that humanity desperately needs. I also hope to see one day nations such as China, India and Iran rise to global prominence as well. For now, however, we must realize that it's only the Russian Federation that is able - and willing - to stand up to the political West.
Russia today has the moral authority as m

ore-and-more nations are beginning to see the US as the greatest threat to world peace. Moscow has to capitalize on this newly found calling. And it is. At
the tenth annual gathering

of the Valdai Club back in 2013, President Putin
gave perhaps the most important speech of his career

-
The timing, coming on the heels of Moscow's success in stopping the Western war effort against Syria back in September, 2013 was highly significant. The venue, at the tenth anniversary of the Valdai Club (where Russian experts and guests from around the world meet to discuss political matters) was highly significant. And also highly significant was President Putin's profound message to the world: He spoke candidly about the dangers of Western Globalism, ultraliberalism, multiculturalism and uni-polarity in global politics, and he underscored the importance of traditional Christian values and national revival.

Recent global developments should again be reminding us Armenians of the cruel and unforgiving nature of the region in which Armenia is unfortunately located. We Armenians should be reminded that the obsessive pursuit of "democracy" (as per Western demands nonetheless) is a dangerous red-herring for there are much more important tasks that our underdeveloped and inexperienced nation needs to take on before it can afford to play around with such nonsense. Recent years should also have shown us that Western institutions (e.g. IMF, World Bank, USAID, NED) are a grave threat for politically inexperienced, underdeveloped and economically vulnerable nations like Armenia. While Western officials keep our Democracy Now(!) idiots preoccupied with silly things like "gay rights", "civil society" and "free elections", keeping Armenia politically isolated and economically stagnant has been their ultimate goal. Therefore, it would be wise to look past the lofty rhetoric of Washingtonian street whores such as Raffi Hovannisian, Vartan Oskanian, Richard Giragosian, Jirayr Sefilian and Paruyr Hayrikian and assess their role in Armenia within the following geostrategic context -
First, Armenians must somehow be made to understand that the Russian military's presence in Armenia is Armenia's only deterrence against Turkey. Second, Armenians must somehow be made to understand that expelling Russia from Armenia is precisely what Turkish and Anglo-American-Jewish interests are seeking. Therefore, the ultimate goal of Western powers continues to be either the strangling of Armenia (through their NATO member's economic blockade) or severing Armenia from Russia (through their political activists inside Armenia).
After all, the main reason why Western powers are interested in the south Caucasus in the first place is their desire to exploit Central Asian energy and contain Moscow and Tehran.

Thus, it could be said that the West's ultimate intention is to either destroy Armenia altogether or place it under the mercy of their Turkic and Islamic allies. Therefore, by extension, political activists that push a Western agenda inside Armenian society today are ultimately working against the Armenian state whether they realize it or not.
We truly live in a world turned upside-down where a little bit of Western financing goes a long way to deforming reality and twisting truth out of recognition. Consequently, we have today an army of
mentally disturbed individuals,

pseudo-historians, mercenary journalists and outright traitors roaming about Armenian society trying to convince ever gullible Armenians that Russia is in reality an enemy of Armenia. The following are some examples -
We can't continue making the tragic mistakes of our foolish and self-destructive forefathers. Armenians need to sober up and realize that without a strong Russian presence in the south Caucasus there won't be an Armenian presence in the south Caucasus. While Armenia's military is its tactical advantage in the south Caucasus, Armenia's alliance with the Russian Federation must be utilized as its strategic advantage on the global stage. Armenian lobbyists, activists, politicians, businessmen and military leaders must therefore be a constant presence within the walls of the Kremlin.
We need to deepen our alliance with the Russian Bear, especially at a time like this when the region where Armenia is unfortunately located in is on the verge of exploding.
Our "patriotic" lunatics and money-grubbing politicians with a Western fetish somehow must be made to understand all this.
In the following two television interviews we see Chairman of Union of Armenians in Russia Ara Abrahamyan and former Armenian National Security Council Secretary Arthur Baghdasaryan raising the alarm about the lack of Armenian lobbying efforts inside Moscow and the inability of Armenia today to efficiently exploit its strategic relationship with Russia -
It's high time for the Armenian house cat to stop seeing a wild lion when looking in the mirror.

In other words: We Armenians would do well to put aside our empty bravado and come to the sobering realization that Armenia exists today due to Yerevan's close ties with the Russian Bear

and nothing else. Armenians should also realize that Russia's 102nd base in Armenia is Armenia's only

deterrence against Turkey's military, one of the world's largest and most aggressive militaries. If

Armenia has not suffered the fate of Cyprus, Serbia, Georgia, Iraq, Libya, Syria, Yemen or the Ukraine, it's not because of Armenia's tiny military or the big talking Diaspora - it's because of the Russian military presence in Armenia

. Armenia is untouchable by regional predators today because of the Russian factor. Unfortunately, however, due to twenty-plus years of Western propaganda, a growing number of Armenians today are either too arrogant or too politically illiterate to realize any of this.

In this dog-eat-dog world, we Armenians need to be very grateful that we have a very powerful ally like the Russian Federation. We must be very grateful that a neighboring superpower like Russia is sincerely interested in Armenia's survival as a nation-state in a very hostile and unforgiving environment. Russia is the only nation on earth that would be adversely impacted if Armenia disappeared from the map. Russia is the only nation on earth where Armenia plays an important geopolitical role. Russia's alliance with Armenia is therefore natural and genuine. We Armenians must therefore do everything in our power to exploit this historic opportunity

. And we must also understand that whatever flaws that currently exists in Armenia's relationship with Russia is primarily due

to our politician's counterproductive flirtations with Western powers and due

to the lack of Armenian lobbying efforts in Moscow.

In closing, I'd like to once more reiterate some of the main points of this blog commentary:

A new and perhaps a bloodier chapter is being opened in global affairs

and m

ajor powers are once more converging over historic Mesopotamia;

The current fighting in Syria is essentially about who will control what after the final bomb explodes; Weak militarily and economically, Western powers are using Islamic terrorists to fight for Western interests; The Middle East is on the verge of restructuring; The Western instigated civil war in Ukraine was meant to spoil Europe's increasingly good relations with Russia and use it as an excuse to militarize the European continent once again; The nuclear deal with Iran was meant to keep Washington in the game as Western powers think of other ways to undermine Tehran's government.

Nevertheless,

Syria's fate was decided a very long time ago by Western, Israeli, Turkish and Saudi interests. Bashar Assad's enemies wanted to neuter Syria politically (as they had done with Iraq and as they would later do with Libya and Yemen) because Syria was backed by Iran and Russia and because Syria was a vital bloodline for Lebanon's Hezbollah. But Syria's enemies had a problem: Russia's military presence in the country. Thus, when Moscow began broadening its military ties with Damascus between 2008 and 2010, Syria's enemies panicked and went into action. In my opinion, the Syrian tragedy began five years ago when Russian General Yuri Ivanov, the GRU's second in command was mysteriously murdered while on an official trip to the country. The current Western, Turkish, Israeli and Saudi backed Islamic uprising began in Syria merely a year after General Ivanov's murder. Thus, began one of the bloodiest episodes in the region's history.
Two years ago this month they used the false flag serin gas attacks to psychologically prepare the western sheeple for a full scale war against Assad's government. They were on the verge of beginning an aerial bombardment campaign against Assad's military assets but Moscow managed to put a stop to it essentially at the last minute. Assad's enemies pulled back and began thinking of alternative ways to realize their agenda in the Levant: Enter ISIS; enter the refugee crisis. They have since meticulously created conditions in the region that are extremely dire, which they are now using as an excuse to militarily intervene in Syria once more. This time, however, they will violate Syrian territory from Turkey and Jordan so as not to go over Russian military assets along Syria's western sea coast as they had sought to do back in 2013. Ultimately, Assad's enemies are too deep in the bloody mess they created in Syria during the past four years. Pulling back now will be a total victory for Russia, Iran, Assad's Alawites and Lebanon's Hezbollah. They are therefore stuck in a situation where they have to push forward with their plan. Best case scenario in all this is what I suspect has already begun to take place behind closed doors: A negotiated partitioning of Syria, one that will preserve a territory for Syria's Russian and Iranian backed Alawites. But there is also a worst case scenario: W

ith so many powers in such close proximity to each other, t

he unintentional start of a world war is very real. Even FM Sergei Lavrov recently raised this very serious concern. Nevertheless, seeing that a military invasion of Syria is imminent once again, Moscow's recent military buildup in the country, which is specifically designed to preserve Assad's government, has essentially forced Western powers to talk to Russia and face the prospect of negotiating with Bashar Assad. A brilliant move by Moscow if I may say. The West has been checked once again by grossmeisters in Moscow, and not only in Syria -
It remains to be seen how all this will play out in eastern Europe and the Middle East in the coming months and years.

There are too many potentially explosive and unpredictable variables at play, which makes accurate forecasts nearly impossible.

Nevertheless, everything you see happening in eastern Europe and the Middle East today is in preparation of a new reality. It may take another few years and another few hundred thousand casualties, but the destruction that has been sown in the two regions is so severe that a new eastern Europe and a new Middle East is inevitable.

Ukraine and Syria, as we knew them, is dead. Since separatists in Novorossiya and Bashar Assad's government proved resilient thanks to Russia and Iran, Russian speaking Novorossians and Syria's Alawites will most likely be allowed to have some form of a state under the protection of its patrons. The birth of a new Syria is more imminent. As noted above, I suspect that a deal has already been reached or is in the process of being reached with Bashar Assad's government. I think Syria's final partition has been decided by all powers involved in the civil war, including Russia, including Iran.
We are indeed living in times of great peril.

We are again living in a time period of great geopolitical changes. Much of what we are seeing in recent years are in fact eerily reminiscent to political events that led to the First World War almost exactly one hundred years ago.
With so many competing powers maneuvering in close proximity to each other in Europe, the Middle East and Asia, we may again be merely one unfortunate or unintended incident away from a major global conflagration.
T
he good news, if there is one, is that Russia, unlike one hundred years ago, is not a vulnerable power in decline.
Russia today is a rising global power, so is China. While circumstances of the First World War propelled the West to the top of the world, what we are witnessing around the world today may yet prove to be the birth-pangs of a post Anglo-American-Jewish political order and the end of the current unipolar political paradigm. Much of the misery we are thus seeing around the world is essentially the by-product of a desperate Anglo-American-Jewish
effort to preserve prominence in global affairs against upstarts like Russian, Chinese and Iran.

Nevertheless, a new, multi-polar political order is on the verge of birth. But its birth will no doubt be in a lot of pain and anguish. While Serbia, Afghanistan, Iraq, Georgia and Libya were the prelude, Syria and Ukraine may very well be the opening acts of what will eventually prove to be a very long and bloody play that will ultimately end with the death of the Anglo-American-Jewish world order.
Would New Borders Mean Less Conflict in the Middle East?
The region is living with the combustible legacy of states artificially carved from the remains of the Ottoman Empire
Shortly after the end of World War I, the French and British prime ministers took a break from the hard business of redrawing the map of Europe to discuss the easier matter of where frontiers would run in the newly conquered Middle East. Two years earlier, in 1916, the two allies had agreed on their respective zones of influence in a secret pact—known as the Sykes-Picot agreement—for divvying up the region. But now the Ottoman Empire lay defeated, and the United Kingdom, having done most of the fighting against the Turks, felt that it had earned a juicier reward.
"Tell me what you want," France's Georges Clemenceau said to Britain's David Lloyd George as they strolled in the French embassy in London. "I want Mosul," the British prime minister replied.
"You shall have it. Anything else?" Clemenceau asked. In a few seconds, it was done. The huge Ottoman imperial province of Mosul, home to Sunni Arabs and Kurds and to plentiful oil, ended up as part of the newly created country of Iraq, not the newly created country of Syria.
The head of the Turkish delegation, Damad Ferid Pasha, arrives in Vaucresson, France, in 1920, to sign the Treaty of Sèvres, which abolished the Ottoman Empire after its defeat in World War I. Photo: Maurice Branger/Roger-Viollet/The Image Works
The Ottomans ran a multilingual, multireligious empire, ruled by a sultan who also bore the title of caliph—commander of all the world's Muslims. Having joined the losing side in the Great War, however, the Ottomans saw their empire summarily dismantled by European statesmen who knew little about the region's people, geography and customs. The resulting Middle Eastern states were often artificial creations, sometimes with implausibly straight lines for borders. They have kept going since then, by and large, remaining within their colonial-era frontiers despite repeated attempts at pan-Arab unification. The built-in imbalances in some of these newly carved-out states—particularly Syria and Iraq—spawned brutal dictatorships that succeeded for decades in suppressing restive majorities and perpetuating the rule of minority groups. But now it may all be coming to an end. Syria and Iraq have effectively ceased to function as states. Large parts of both countries lie beyond central government control, and the very meaning of Syrian and Iraqi nationhood has been hollowed out by the dominance of sectarian and ethnic identities.
The rise of Islamic State is the direct result of this meltdown. The Sunni extremist group's leader, Abu Bakr al-Baghdadi, has proclaimed himself the new caliph and vowed to erase the shame of the "Sykes-Picot conspiracy." After his men surged from their stronghold in Syria last summer and captured Mosul, now one of Iraq's largest cities, he promised to destroy the old borders. In that offensive, one of the first actions taken by ISIS (as his group is also known) was to blow up the customs checkpoints between Syria and Iraq.
"What we are witnessing is the demise of the post-Ottoman order, the demise of the legitimate states," says Francis Ricciardone, a former U.S. ambassador to Turkey and Egypt who is now at the Atlantic Council, a Washington think tank. "ISIS is a piece of that, and it is filling in a vacuum of the collapse of that order."
In the mayhem now engulfing the Middle East, it is mostly the countries created a century ago by European colonialists that are coming apart. In the region's more "natural" nations, a much stronger sense of shared history and tradition has, so far, prevented a similar implosion.
A map attached to the secret Sykes-Picot agreement of 1916 divvied up the Middle East between Britain and France. Photo: The National Archives of the UK
"Much of the conflict in the Middle East is the result of insecurity of contrived states," says Husain Haqqani, an author and a former Pakistani ambassador to the U.S. "Contrived states need state ideologies to make up for lack of history and often flex muscles against their own people or against neighbors to consolidate their identity."
In Egypt, with its millennial history and strong sense of identity, almost nobody questioned the country's basic "Egyptian-ness" throughout the upheaval that has followed President Hosni Mubarak's ouster in a 2011 revolution. As a result, most of Egypt's institutions have survived the turbulence relatively intact, and violence has stopped well short of outright civil war.
Turkey and Iran—both of them, in bygone eras, the center of vast empires—have also gone largely unscathed in recent years, even though both have large ethnic minorities of their own, including Arabs and Kurds.
The Middle East's "contrived" countries weren't necessarily doomed to failure, and some of them—notably Jordan—aren't collapsing, at least not yet. The world, after all, is full of multiethnic and multiconfessional states that are successful and prosperous, from Switzerland to Singapore to the U.S., which remains a relative newcomer as a nation compared with, say, Iran.
In all these places, a social compact—usually based on good governance and economic opportunity—often makes ethnic and religious diversity a source of strength, not an engine of instability. In the Middle East, by contrast, "in the cases where the wheels have come off, there was not good governance—there was in fact execrable governance," says Mr. Ricciardone.
A century ago, many hoped that Syria and Iraq, too, would follow Switzerland's path. At the time, President Woodrow Wilson sent a commission to the Middle East to explore what new nations should rise from the wreckage of the Ottoman Empire.
Under Ottoman rule, neither Syria nor Iraq existed as separate entities. Three Ottoman provinces—Baghdad, Basra and Mosul—roughly corresponded to today's Iraq. Four others—Damascus, Beirut, Aleppo and Deir ez-Zor—included today's Syria, Lebanon and much of Jordan and Palestine, as well as a large strip of southern Turkey. All were populated by a hodgepodge of communities—Sunni and Shiite Arabs, Kurds, Turkomans and Christians in Iraq, and in Syria, all these groups as well as Alawites and Druse.
President Wilson's commissioners, Henry King and Charles Crane, reported back their findings in August 1919. In Europe at the time, the breakup of the Austro-Hungarian and Russian empires was leading to the birth of new ethnic-based nation-states. But the U.S. officials had different ideas: They advised Wilson to ignore the Middle East's ethnic and religious differences.
What is now Iraq, they suggested, should stay united because "the wisdom of a united country needs no argument in the case of Mesopotamia." They also argued for a "greater Syria"—an area that would have included today's Lebanon, Jordan, Israel and the Palestinian territories.
The end of Ottoman rule, King and Crane argued, "gives a great opportunity—not likely to return—to build…a Near East State on the modern basis of full religious liberty, deliberately including various religious faiths, and especially guarding the rights of minorities." The locals, they added, "ought to do far better under a state on modern lines" than under Ottoman rule.
The hopes of the Americans didn't pan out.
In Syria, the French colonial authorities—faced with a hostile Sunni majority—courted favor with the Alawites, a minority offshoot of Shiite Islam that had suffered discrimination under Ottoman rule. The French even briefly created a separate Alawite state on what is now Syria's Mediterranean coast and heavily recruited Alawites into the new armed forces.
In Iraq, where Shiites make up the majority, the British administrators—faced with a Shiite revolt soon after their occupation began—played a similar game. The new administration disproportionately relied on the Sunni Arab minority, which had prospered under the Ottomans and now rallied around the new Sunni king of Iraq, whom Britain had imported from newly independent Hijaz, a former Ottoman province since conquered by Saudi Arabia.
Those decisions helped to shape the future of Iraq and Syria once the colonial order was gone. The Assad family has ruled Syria since 1970; Saddam Hussein became president of Iraq in 1979. Notwithstanding their lofty rhetoric about a single Arab nation, both regimes turned their countries into places where the minority ruling communities (Alawites in Syria, Sunni Arabs in Iraq) were decidedly more equal than others.
Attempts by the Sunni majority in Syria or the Shiite majority in Iraq to challenge these harshly authoritarian orders were put down without mercy. In 1982, the Syrian regime bulldozed the largely Sunni city of Hama after an Islamist revolt, and Saddam unleashed his wrath to crush a Shiite uprising in southern Iraq after the Gulf War in 1991.
In Syria today, many Alawites are backing President Bashar al-Assad against largely Sunni rebels out of fear that the regime's collapse could wipe out their entire community—a threat reinforced by Islamic State, whose Sunni extremists offer Alawites and mainstream Shiites a stark choice between conversion and death.
In Iraq, the Shiite-dominated governments that have ruled since the U.S. invasion in 2003 have turned the tables on the country's former rulers by discriminating against the minority Sunnis. As a result, Islamic State managed to seize Sunni parts of Iraq last year largely unopposed because the group was often seen by the locals as a lesser evil.
"It's not just the territorial boundaries that are an issue—it's the map of governance that was contrived by Europe," says Vali Nasr, dean of the School of Advanced International Studies at the Johns Hopkins University and a former State Department adviser. "Colonial powers within the states created colonial administrations that educated, recruited and empowered minorities. When they left, they left the power in the hands of those minorities—they left the dictatorship of the minorities."
"Power was so out of alignment in Iraq, Syria and many of these countries, and there is no proper formula of how to make this right. The winners don't want to share, the losers don't want to give up power," Dr. Nasr added. "The Middle East is going through a period of big turmoil, after which it will end up with a very different political configuration and perhaps also a different territorial configuration."
But how much appetite is there in the Middle East to change these territorial configurations? And if they were changed, what might a new map of the region look like?
One obvious possibility involves the Kurds, whose desire to win an independent state in what is now eastern Turkey and northern Iraq was endorsed by the short-lived Treaty of Sèvres, a 1920 pact among the Western allies and the Ottomans. That treaty was promptly repudiated by Turkish nationalists led by Mustafa Kemal Atatürk, the founder of the modern Turkish state. Until recently, in fact, Turkey has denied the very existence of a separate Kurdish ethnicity.
The Kurds, who live scattered across Iraq, Turkey, Syria and Iran, have already enjoyed decades of virtual independence under an autonomous government in northern Iraq—the mountainous part of what was once the Ottoman province of Mosul. They have now established three autonomous "cantons" in northern Syria.
"I'd be surprised if, in 20 years, there won't be a country called Kurdistan," said Karim Sadjapour, a Middle East analyst at the Carnegie Endowment. "It already exists, de facto."
With their separate language and culture, the Kurds in Iraq already control their borders and security, limiting entry by Arab Iraqis. As civil war has raged in Syria, Kurdish militias there have come to identify, by and large, with a different national project. "The other rebels fight for Syria, but we have our own Kurdistan, and that is what we care about," said Farid Atti, an official with a secular Kurdish militia combating Islamic State near the town of Kobane, which is one of the three autonomous Kurdish "cantons" in Syria.
Beyond Kurdistan, however, the case for separate new nations becomes much less clear, despite the ethnic and sectarian horrors that torment the region today.
For one, no matter how artificial they originally were, the post-Ottoman states have proven surprisingly resilient. Consider Lebanon, a country of some 18 squabbling religious communities that survived a bloody, multi-sided civil war from 1975 to 1990 and has repeatedly defied predictions of its imminent demise. Despite—or perhaps because of—that strife-filled history, Lebanon remains an island of relative stability amid the current regional upheaval, even as it is being overwhelmed by more than a million Syrian refugees fleeing the chaos next door.
"The rulers of those countries that were formed along admittedly artificial borders initially have put plenty of effort into building a sense of nationalism. The question is how much it took?" says Michele Dunne, a former senior State Department official who is now a Middle East expert at the Carnegie Endowment. "It may not be as strong as in a country that had a sense of itself for centuries, but it still may be there."
Indeed, even in battered and tattered Iraq and Syria, nationalist feelings remain very much alive. "If any country passed through what Iraq has passed through in the last 12 years, it would have been dismembered by now," said Ayad Allawi, Iraq's vice president and a former prime minister. "What kept the country going was the will of the people."
In Syria, a 19-year-old student Mohammed Ali recently recalled the way that locals reacted to the arrival of Islamic State in his hometown of al-Boukamal, near the Iraqi border. As part of its campaign to erase colonial frontiers, the new rulers detached al-Boukamal from the Syrian province to which it belongs and incorporated it into Islamic State's new "Province of Euphrates," governed from the Iraqi city of Qaim.
At first, Mr. Ali said, the locals were excited by the destruction of the nearby border. "For 30 years, we have not been able to cross and visit our relatives on the other side," Mr. Ali said. Since then, however, the mood has turned to patriotic backlash amid resentment of Iraqis flooding the area, lording over al-Boukamal and trucking "stolen" Syrian oil across the frontier. "We don't want them here; we now want the border back," he said.
Standing in the way of possible new partitions in the region is another set of issues: Where exactly would you draw the lines? And at what cost?
Despite the ethnic cleansing of recent years, Sunnis and Shiites still live together in many parts of Iraq, including Baghdad, and a great many Syrian Sunnis would still rather live in cities controlled by the Assad regime than in war-ravaged areas under rebel sway. Mr. Allawi, the Iraqi vice president, points out that many of the country's traditional tribal groups include both Shiites and Sunnis—and that many Iraqi families, especially in the larger cities, are mixed too. "You'd have to go through the bedrooms of people to separate the country," he quips. And in Iraq as elsewhere, Sunnis, Shiites and Kurds are hardly unitary, consensus-driven groups; rivalries abound within them.
The only recent partition of an Arab country—the split of Sudan into the Arab north and the new, largely non-Arab Republic of South Sudan in 2011—doesn't provide an encouraging precedent for would-be makers of new borders. South Sudan quickly slid into a civil war of its own that has killed tens of thousands and uprooted two million people.
"There is no alternative to replace the state system," says Fawaz Gerges, who teaches Middle East studies at the London School of Economics. "Otherwise, you might replace one civil war with multiple civil wars, and that's exactly what can happen in Syria or Iraq. This is a catastrophic cycle."
Forging a new bottom-up social compact within the region's existing borders—something likely to happen only after populations tire of endless wars—is the only way forward, says Stephen Hadley, who served as President George W. Bush's national security adviser and now chairs the board of the U.S. Institute of Peace. The real problem in the Middle East, he says, "is a collapse not of the borders but of what was happening inside the borders: governments that did not have a lot of legitimacy to start with and did not earn legitimacy with their people. You're not going to solve these problems by redrawing the borders."
F

inding those solutions, Mr. Hadley acknowledges, won't be easy.
"It may be past redeeming," he says. "Getting out of this is going to be the work of a generation."
The Infamous "Oded Yinon Plan". Introduction by Michel Chossudovsky
The following document pertaining to the formation of "Greater Israel" constitutes the cornerstone of powerful Zionist factions within the current Netanyahu government (which has recently been re-elected), the Likud party, as well as within the Israeli military and intelligence establishment. The election was fought by Netanyahu on a political platform which denies Palestinian statehood. According to the founding father of Zionism Theodore Herzl, "the area of the Jewish State stretches: "From the Brook of Egypt to the Euphrates." According to Rabbi Fischmann, "The Promised Land extends from the River of Egypt up to the Euphrates, it includes parts of Syria and Lebanon." When viewed in the current context, the war on Iraq, the 2006 war on Lebanon, the 2011 war on Libya, the ongoing war on Syria and Iraq, the war in Yemen, the process of regime change in Egypt, must be understood in relation to the Zionist Plan for the Middle East. The latter consists in weakening and eventually fracturing neighboring Arab states as part of an Israeli expansionist project."Greater Israel" consists in an area extending from the Nile Valley to the Euphrates. The Zionist project supports the

Jewish settlement movement. More broadly it involves a policy of excluding Palestinians from Palestine leading to the eventual annexation of both the West Bank and Gaza to the State of Israel. Greater Israel would create a number of proxy States. It would include parts of Lebanon, Jordan, Syria, the Sinai, as well as parts of Iraq and Saudi Arabia. (See map).
According to
Mahdi Darius Nazemroaya in a 2011 Global Research article,
The Yinon Plan was a continuation of Britain's colonial design in the Middle East:
"[The Yinon plan] is an Israeli strategic plan to ensure Israeli regional superiority. It insists and stipulates thatIsrael must reconfigure its geo-political environment through the balkanization of the surrounding Arab states into smaller and weaker states. Israeli strategists viewed Iraq as their biggest strategic challenge from an Arab state. This is why Iraq was outlined as the centerpiece to the balkanization of the Middle East and the Arab World. In Iraq, on the basis of the concepts of the Yinon Plan, Israeli strategists have called for the division of Iraq into a Kurdish state and two Arab states, one for Shiite Muslims and the other for Sunni Muslims. The first step towards establishing this was a war between Iraq and Iran, which the Yinon Plan discusses. The Atlantic, in 2008, and the U.S. military's Armed Forces Journal, in 2006, both published widely circulated maps that closely followed the outline of the Yinon Plan. Aside from a divided Iraq, which the Biden Plan also calls for, the Yinon Plan calls for a divided Lebanon, Egypt, and Syria. The partitioning of Iran, Turkey, Somalia, and Pakistan also all fall into line with these views. The Yinon Plan also calls for dissolution in North Africa and forecasts it as starting from Egypt and then spilling over into Sudan, Libya, and the rest of the region.
Greater Israel" requires the breaking up of the existing Arab states into small states.
"The plan operates on two essential premises. To survive, Israel must 1) become an imperial regional power, and 2) must effect the division of the whole area into small states by the dissolution of all existing Arab states. Small here will depend on the ethnic or sectarian composition of each state. Consequently, the Zionist hope is that sectarian-based states become Israel's satellites and, ironically, its source of moral legitimation… This is not a new idea, nor does it surface for the first time in Zionist strategic thinking. Indeed, fragmenting all Arab states into smaller units has been a recurrent theme." (Yinon Plan, see below) Viewed in this context, the war on Syria and Iraq is part of the process of Israeli territorial expansion. Israeli intelligence working hand in glove with the US, Turkey, Saudi Arabia and NATO is directly supportive of the crusade directed against the so-called Islamic State (ISIS), which ultimately seeks to destroy both Syria and Iraq as nation states.
Michel Chossudovsky, Global Research, September 06, 2015
---
The Zionist Plan for the Middle East
Translated and edited by
Israel Shahak
The Israel of Theodore Herzl (1904) and of Rabbi Fischmann (1947)
In his Complete Diaries, Vol. II. p. 711, Theodore Herzl, the founder of Zionism, says that the area of the Jewish State stretches: "From the Brook of Egypt to the Euphrates." Rabbi Fischmann, member of the Jewish Agency for Palestine, declared in his testimony to the U.N. Special Committee of Enquiry on 9 July 1947: "The Promised Land extends from the River of Egypt up to the Euphrates, it includes parts of Syria and Lebanon."
from Oded Yinon's
"A Strategy for Israel in the Nineteen Eighties"
The Association of Arab-American University Graduates finds it compelling to inaugurate its new publication series, Special Documents, with Oded Yinon's article which appeared in Kivunim (Directions), the journal of the Department of Information of the World Zionist Organization. Oded Yinon is an Israeli journalist and was formerly attached to the Foreign Ministry of Israel. To our knowledge, this document is the most explicit, detailed and unambiguous statement to date of the Zionist strategy in the Middle East. Furthermore, it stands as an accurate representation of the "vision" for the entire Middle East of the presently ruling Zionist regime of Begin, Sharon and Eitan. Its importance, hence, lies not in its historical value but in the nightmare which it presents.
2
The plan operates on two essential premises. To survive, Israel must 1) become an imperial regional power, and 2) must effect the division of the whole area into small states by the dissolution of all existing Arab states. Small here will depend on the ethnic or sectarian composition of each state. Consequently, the Zionist hope is that sectarian-based states become Israel's satellites and, ironically, its source of moral legitimation.
3
This is not a new idea, nor does it surface for the first time in Zionist strategic thinking. Indeed, fragmenting all Arab states into smaller units has been a recurrent theme. This theme has been documented on a very modest scale in the AAUG publication, Israel's Sacred Terrorism (1980), by Livia Rokach. Based on the memoirs of Moshe Sharett, former Prime Minister of Israel, Rokach's study documents, in convincing detail, the Zionist plan as it applies to Lebanon and as it was prepared in the mid-fifties.
4
The first massive Israeli invasion of Lebanon in 1978 bore this plan out to the minutest detail. The second and more barbaric and encompassing Israeli invasion of Lebanon on June 6, 1982, aims to effect certain parts of this plan which hopes to see not only Lebanon, but Syria and Jordan as well, in fragments. This ought to make mockery of Israeli public claims regarding their desire for a strong and independent Lebanese central government. More accurately, they want a Lebanese central government that sanctions their regional imperialist designs by signing a peace treaty with them. They also seek acquiescence in their designs by the Syrian, Iraqi, Jordanian and other Arab governments as well as by the Palestinian people. What they want and what they are planning for is not an Arab world, but a world of Arab fragments that is ready to succumb to Israeli hegemony. Hence, Oded Yinon in his essay, "A Strategy for Israel in the 1980′s," talks about "far-reaching opportunities for the first time since 1967″ that are created by the "very stormy situation [that] surrounds Israel."
5
The Zionist policy of displacing the Palestinians from Palestine is very much an active policy, but is pursued more forcefully in times of conflict, such as in the 1947-1948 war and in the 1967 war. An appendix entitled "Israel Talks of a New Exodus" is included in this publication to demonstrate past Zionist dispersals of Palestinians from their homeland and to show, besides the main Zionist document we present, other Zionist planning for the de-Palestinization of Palestine.
6
It is clear from the Kivunim document, published in February, 1982, that the "far-reaching opportunities" of which Zionist strategists have been thinking are the same "opportunities" of which they are trying to convince the world and which they claim were generated by their June, 1982 invasion. It is also clear that the Palestinians were never the sole target of Zionist plans, but the priority target since their viable and independent presence as a people negates the essence of the Zionist state. Every Arab state, however, especially those with cohesive and clear nationalist directions, is a real target sooner or later.
7
Contrasted with the detailed and unambiguous Zionist strategy elucidated in this document, Arab and Palestinian strategy, unfortunately, suffers from ambiguity and incoherence. There is no indication that Arab strategists have internalized the Zionist plan in its full ramifications. Instead, they react with incredulity and shock whenever a new stage of it unfolds. This is apparent in Arab reaction, albeit muted, to the Israeli siege of Beirut. The sad fact is that as long as the Zionist strategy for the Middle East is not taken seriously Arab reaction to any future siege of other Arab capitals will be the same.
Khalil Nakhleh
July 23, 1982
Foreward
by Israel Shahak
1
The following essay represents, in my opinion, the accurate and detailed plan of the present Zionist regime (of Sharon and Eitan) for the Middle East which is based on the division of the whole area into
small
states, and the dissolution of
all
the existing Arab states. I will comment on the military aspect of
this plan in a concluding note. Here I want to draw the attention of the readers to several important points:
2
1. The idea that
all
the Arab states should be broken down, by Israel, into small units, occurs again and again in Israeli strategic thinking. For example, Ze'ev Schiff, the military correspondent of
Ha'aretz
(and probably the most knowledgeable in Israel, on this topic) writes about the "best" that can happen for Israeli interests in Iraq: "The dissolution of Iraq into a Shi'ite state, a Sunni state and the separation of the Kurdish part" (
Ha'aretz
6/2/1982). Actually, this aspect of the plan is very old.
3
2. The strong connection with Neo-Conservative thought in the USA is very prominent, especially in the author's notes.
But,
while lip service is paid to the idea of the "defense of the West" from Soviet power, the real aim of the author, and of the present Israeli establishment is clear: To make an Imperial Israel into a world power. In other words, the aim of Sharon is to deceive the Americans after he has deceived all the rest.
4
3. It is obvious that much of the relevant data, both in the notes and in the text, is garbled or omitted,
such as the financial help of the U.S. to Israel
. Much of it is pure fantasy.
But
, the plan is not to be
regarded as not influential, or as not capable of realization for a short time.
The plan follows faithfully
the geopolitical ideas current in Germany of 1890-1933, which were swallowed whole by Hitler and the Nazi movement, and
determined their aims for East Europe
. Those aims, especially the division of the existing states, were carried out in 1939-1941, and only an alliance on the global scale prevented their consolidation for a period of time.
5
The notes by the author follow the text. To avoid confusion, I did not add any notes of my own, but have put the substance of them into this foreward and the conclusion at the end. I have, however, emphasized some portions of the text.
Israel Shahak
June 13, 1982
---
A Strategy for Israel in the Nineteen Eighties
by Oded Yinon
This essay originally appeared in Hebrew in
KIVUNIM (Directions)
, A Journal for Judaism and Zionism; Issue No, 14–Winter, 5742, February 1982, Editor: Yoram Beck. Editorial Committee: Eli Eyal, Yoram Beck, Amnon Hadari, Yohanan Manor, Elieser Schweid. Published by the
Department of
Publicity/The World Zionist Organization
, Jerusalem.
1
At the outset of the nineteen eighties the State of Israel is in need of a new perspective as to its place, its aims and national targets, at home and abroad. This need has become even more vital due to a number of central processes which the country, the region and the world are undergoing. We are living today in the early stages of a new epoch in human history which is not at all similar to its predecessor, and its characteristics are totally different from what we have hitherto known. That is why we need an understanding of the central processes which typify this historical epoch on the one hand, and on the other hand we need a world outlook and an operational strategy in accordance with the new conditions. The existence, prosperity and steadfastness of the Jewish state will depend upon its ability to adopt a new framework for its domestic and foreign affairs.
2
This epoch is characterized by several traits which we can already diagnose, and which symbolize a genuine revolution in our present lifestyle. The dominant process is the breakdown of the rationalist, humanist outlook as the major cornerstone supporting the life and achievements of Western civilization since the Renaissance. The political, social and economic views which have emanated from this foundation have been based on several "truths" which are presently disappearing–for example, the view that man as an individual is the center of the universe and everything exists in order to fulfill his basic material needs. This position is being invalidated in the present when it has become clear that the amount of resources in the cosmos does not meet Man's requirements, his economic needs or his demographic constraints. In a world in which there are four billion human beings and economic and energy resources which do not grow proportionally to meet the needs of mankind, it is unrealistic to expect to fulfill the main requirement of Western Society,
1
i.e., the wish and aspiration for boundless consumption. The view that ethics plays no part in determining the direction Man takes, but rather his material needs do–that view is becoming prevalent today as we see a world in which nearly all values are disappearing. We are losing the ability to assess the simplest things, especially when they concern the simple question of what is Good and what is Evil.
3
The vision of man's limitless aspirations and abilities shrinks in the face of the sad facts of life, when we witness the break-up of world order around us. The view which promises liberty and freedom to mankind seems absurd in light of the sad fact that three fourths of the human race lives under totalitarian regimes. The views concerning equality and social justice have been transformed by socialism and especially by Communism into a laughing stock. There is no argument as to the truth of these two ideas, but it is clear that they have not been put into practice properly and the majority of mankind has lost the liberty, the freedom and the opportunity for equality and justice. In this nuclear world in which we are (still) living in relative peace for thirty years, the concept of peace and coexistence among nations has no meaning when a superpower like the USSR holds a military and political doctrine of the sort it has: that not only is a nuclear war possible and necessary in order to achieve the ends of Marxism, but that it is possible to survive after it, not to speak of the fact that one can be victorious in it.
2
4
The essential concepts of human society, especially those of the West, are undergoing a change due to political, military and economic transformations. Thus, the nuclear and conventional might of the USSR has transformed the epoch that has just ended into the last respite before the great saga that will demolish a large part of our world in a multi-dimensional global war, in comparison with which the past world wars will have been mere child's play. The power of nuclear as well as of conventional weapons, their quantity, their precision and quality will turn most of our world upside down within a few years, and we must align ourselves so as to face that in Israel. That is, then, the main threat to our existence and that of the Western world.
3
The war over resources in the world, the Arab monopoly on oil, and the need of the West to import most of its raw materials from the Third World, are transforming the world we know, given that one of the major aims of the USSR is to defeat the West by gaining control over the gigantic resources in the Persian Gulf and in the southern part of Africa, in which the majority of world minerals are located. We can imagine the dimensions of the global confrontation which will face us in the future.
5
The Gorshkov doctrine calls for Soviet control of the oceans and mineral rich areas of the Third World. That together with the present Soviet nuclear doctrine which holds that it is possible to manage, win and survive a nuclear war, in the course of which the West's military might well be destroyed and its inhabitants made slaves in the service of Marxism-Leninism, is the main danger to world peace and to our own existence. Since 1967, the Soviets have transformed Clausewitz' dictum into "War is the continuation of policy in nuclear means," and made it the motto which guides all their policies. Already today they are busy carrying out their aims in our region and throughout the world, and the need to face them becomes the major element in our country's security policy and of course that of the rest of the Free World. That is our major foreign challenge.
4
6
The Arab Moslem world, therefore, is not the major strategic problem which we shall face in the Eighties, despite the fact that it carries the main threat against Israel, due to its growing military might. This world, with its ethnic minorities, its factions and internal crises, which is astonishingly self-destructive, as we can see in Lebanon, in non-Arab Iran and now also in Syria, is unable to deal successfully with its fundamental problems and does not therefore constitute a real threat against the State of Israel in the long run, but only in the short run where its immediate military power has great import. In the long run, this world will be unable to exist within its present framework in the areas around us without having to go through genuine revolutionary changes. The Moslem Arab World is built like a temporary house of cards put together by foreigners (France and Britain in the Nineteen Twenties), without the wishes and desires of the inhabitants having been taken into account. It was arbitrarily divided into 19 states, all made of combinations of minorites and ethnic groups which are hostile to one another, so that every Arab Moslem state nowadays faces ethnic social destruction from within, and in some a civil war is already raging.
5
Most of the Arabs, 118 million out of 170 million, live in Africa, mostly in Egypt (45 million today).
7
Apart from Egypt, all the Maghreb states are made up of a mixture of Arabs and non-Arab Berbers. In Algeria there is already a civil war raging in the Kabile mountains between the two nations in the country. Morocco and Algeria are at war with each other over Spanish Sahara, in addition to the internal struggle in each of them. Militant Islam endangers the integrity of Tunisia and Qaddafi organizes wars which are destructive from the Arab point of view, from a country which is sparsely populated and which cannot become a powerful nation. That is why he has been attempting unifications in the past with states that are more genuine, like Egypt and Syria. Sudan, the most torn apart state in the Arab Moslem world today is built upon four groups hostile to each other, an Arab Moslem Sunni minority which rules over a majority of non-Arab Africans, Pagans, and Christians. In Egypt there is a Sunni Moslem majority facing a large minority of Christians which is dominant in upper Egypt: some 7 million of them, so that even Sadat, in his speech on May 8, expressed the fear that they will want a state of their own, something like a "second" Christian Lebanon in Egypt.
8
All the Arab States east of Israel are torn apart, broken up and riddled with inner conflict even more than those of the Maghreb. Syria is fundamentally no different from Lebanon except in the strong military regime which rules it. But the real civil war taking place nowadays between the Sunni majority and the Shi'ite Alawi ruling minority (a mere 12% of the population) testifies to the severity of the domestic trouble.
9
Iraq is, once again, no different in essence from its neighbors, although its majority is Shi'ite and the ruling minority Sunni. Sixty-five percent of the population has no say in politics, in which an elite of 20 percent holds the power. In addition there is a large Kurdish minority in the north, and if it weren't for the strength of the ruling regime, the army and the oil revenues, Iraq's future state would be no different than that of Lebanon in the past or of Syria today. The seeds of inner conflict and civil war are apparent today already, especially after the rise of Khomeini to power in Iran, a leader whom the Shi'ites in Iraq view as their natural leader.
10
All the Gulf principalities and Saudi Arabia are built upon a delicate house of sand in which there is only oil. In Kuwait, the Kuwaitis constitute only a quarter of the population. In Bahrain, the Shi'ites are the majority but are deprived of power. In the UAE, Shi'ites are once again the majority but the Sunnis are in power. The same is true of Oman and North Yemen. Even in the Marxist South Yemen there is a sizable Shi'ite minority. In Saudi Arabia half the population is foreign, Egyptian and Yemenite, but a Saudi minority holds power.
11
Jordan is in reality Palestinian, ruled by a Trans-Jordanian Bedouin minority, but most of the army and certainly the bureaucracy is now Palestinian. As a matter of fact Amman is as Palestinian as Nablus. All of these countries have powerful armies, relatively speaking. But there is a problem there too. The Syrian army today is mostly Sunni with an Alawi officer corps, the Iraqi army Shi'ite with Sunni commanders. This has great significance in the long run, and that is why it will not be possible to retain the loyalty of the army for a long time except where it comes to the only common denominator: The hostility towards Israel, and today even that is insufficient.
12
Alongside the Arabs, split as they are, the other Moslem states share a similar predicament. Half of Iran's population is comprised of a Persian speaking group and the other half of an ethnically Turkish group. Turkey's population comprises a Turkish Sunni Moslem majority, some 50%, and two large minorities, 12 million Shi'ite Alawis and 6 million Sunni Kurds. In Afghanistan there are 5 million Shi'ites who constitute one third of the population. In Sunni Pakistan there are 15 million Shi'ites who endanger the existence of that state.
13
This national ethnic minority picture extending from Morocco to India and from Somalia to Turkey points to the absence of stability and a rapid degeneration in the entire region. When this picture is added to the economic one, we see how the entire region is built like a house of cards, unable to withstand its severe problems.
14
In this giant and fractured world there are a few wealthy groups and a huge mass of poor people. Most of the Arabs have an average yearly income of 300 dollars. That is the situation in Egypt, in most of the Maghreb countries except for Libya, and in Iraq. Lebanon is torn apart and its economy is falling to pieces. It is a state in which there is no centralized power, but only 5 de facto sovereign authorities (Christian in the north, supported by the Syrians and under the rule of the Franjieh clan, in the East an area of direct Syrian conquest, in the center a Phalangist controlled Christian enclave, in the south and up to the Litani river a mostly Palestinian region controlled by the PLO and Major Haddad's state of Christians and half a million Shi'ites). Syria is in an even graver situation and even the assistance she will obtain in the future after the unification with Libya will not be sufficient for dealing with the basic problems of existence and the maintenance of a large army. Egypt is in the worst situation: Millions are on the verge of hunger, half the labor force is unemployed, and housing is scarce in this most densely populated area of the world. Except for the army, there is not a single department operating efficiently and the state is in a permanent state of bankruptcy and depends entirely on American foreign assistance granted since the peace.
6
15
In the Gulf states, Saudi Arabia, Libya and Egypt there is the largest accumulation of money and oil in the world, but those enjoying it are tiny elites who lack a wide base of support and self-confidence, something that no army can guarantee.
7
The Saudi army with all its equipment cannot defend the regime from real dangers at home or abroad, and what took place in Mecca in 1980 is only an example. A sad and very stormy situation surrounds Israel and creates challenges for it, problems, risks
but also far-reaching opportunities for the first time since 1967
. Chances are that opportunities missed at that time
will become achievable in the Eighties to an extent and along dimensions which we cannot even imagine today.
16
The "peace" policy and the return of territories, through a dependence upon the US, precludes the realization of the new option created for us. Since 1967, all the governments of Israel have tied our national aims down to narrow political needs, on the one hand, and on the other to destructive opinions at home which neutralized our capacities both at home and abroad. Failing to take steps towards the Arab population in the new territories, acquired in the course of a war forced upon us, is the major strategic error committed by Israel on the morning after the Six Day War. We could have saved ourselves all the bitter and dangerous conflict since then if we had given Jordan to the Palestinians who live west of the Jordan river. By doing that we would have neutralized the Palestinian problem which we nowadays face, and to which we have found solutions that are really no solutions at all, such as territorial compromise or autonomy which amount, in fact, to the same thing.
8
Today, we suddenly face immense opportunities for transforming the situation thoroughly and this we must do in the coming decade, otherwise we shall not survive as a state.
17
In the course of the Nineteen Eighties, the State of Israel will have to go through far-reaching changes in its political and economic regime domestically, along with radical changes in its foreign policy, in order to stand up to the global and regional challenges of this new epoch. The loss of the Suez Canal oil fields, of the immense potential of the oil, gas and other natural resources in the Sinai peninsula which is geomorphologically identical to the rich oil-producing countries in the region, will result in an energy drain in the near future and will destroy our domestic economy: one quarter of our present GNP as well as one third of the budget is used for the purchase of oil.
9
The search for raw materials in the Negev and on the coast will not, in the near future, serve to alter that state of affairs.
18
(Regaining) the Sinai peninsula with its present and potential resources
is therefore a political priority
which is obstructed by the Camp David and the peace agreements
. The fault for that lies of course with
the present Israeli government and the governments which paved the road to the policy of territorial compromise, the Alignment governments since 1967. The Egyptians will not need to keep the peace treaty after the return of the Sinai, and they will do all they can to return to the fold of the Arab world and to the USSR in order to gain support and military assistance. American aid is guaranteed only for a short while, for the terms of the peace and the weakening of the U.S. both at home and abroad will bring about a reduction in aid. Without oil and the income from it, with the present enormous expenditure, we will not be able to get through 1982 under the present conditions
and we will have to act in order to
return the situation to the status quo which existed in Sinai prior to Sadat's visit and the mistaken peace agreement signed with him in March 1979
.
1
0
19
Israel has two major routes through which to realize this purpose, one direct and the other indirect. The direct option is the less realistic one because of the nature of the regime and government in Israel as well as the wisdom of Sadat who obtained our withdrawal from Sinai, which was, next to the war of 1973, his major achievement since he took power. Israel will not unilaterally break the treaty, neither today, nor in 1982, unless it is very hard pressed economically and politically
and Egypt provides Israel
with the excuse
to take the Sinai back into our hands for the fourth time in our short history. What is left
therefore, is the indirect option. The economic situation in Egypt, the nature of the regime and its pan- Arab policy, will bring about a situation after April 1982 in which Israel will be forced to act directly or indirectly
in order to regain control over Sinai as a strategic, economic and energy reserve for the long
run
. Egypt does not constitute a military strategic problem due to its internal conflicts and it could be
driven back to the post 1967 war situation in no more than one day.
1
1
20
The myth of Egypt as the strong leader of the Arab World was demolished back in 1956 and definitely did not survive 1967, but our policy, as in the return of the Sinai, served to turn the myth into "fact." In reality, however, Egypt's power in proportion both to Israel alone and to the rest of the Arab World has gone down about 50 percent since 1967. Egypt is no longer the leading political power in the Arab World and is economically on the verge of a crisis. Without foreign assistance the crisis will come tomorrow.
12
In the short run, due to the return of the Sinai, Egypt will gain several advantages at our expense, but only in the short run until 1982, and that will not change the balance of power to its benefit, and will possibly bring about its downfall. Egypt, in its present domestic political picture, is already a corpse, all the more so if we take into account the growing Moslem-Christian rift.
Breaking
Egypt down territorially into distinct geographical regions is the political aim of Israel in the Nineteen Eighties on its Western front
.
21
Egypt is divided and torn apart into many foci of authority. If Egypt falls apart, countries like Libya, Sudan or even the more distant states will not continue to exist in their present form and will join
the
downfall and dissolution of Egypt. The vision of a Christian Coptic State in Upper Egypt alongside a number of weak states with very localized power and without a centralized government as to date, is the key to a historical development which was only set back by the peace agreement but which seems inevitable in the long run
.
1
3
22
The Western front, which on the surface appears more problematic, is in fact less complicated than the Eastern front, in which most of the events that make the headlines have been taking place recently. Lebanon's total dissolution
into five provinces serves as a precendent for the entire Arab world
including Egypt, Syria, Iraq and the Arabian peninsula and is already following that track. The dissolution of Syria and Iraq later on into ethnically or religiously unqiue areas such as in Lebanon, is Israel's primary target on the Eastern front in the long run, while the dissolution of the military power of those states serves as the primary short term target. Syria will fall apart, in accordance with its ethnic and religious structure, into several states such as in present day Lebanon, so that there will be a Shi'ite Alawi state along its coast, a Sunni state in the Aleppo area, another Sunni state in Damascus hostile to its northern neighbor, and the Druzes who will set up a state
, maybe even in our Golan, and
certainly in the Hauran and
in northern Jordan
. This state of affairs will be the guarantee for peace and security in the area in the long run,
and that aim is already within our reach today
.
1
4
Iraq, rich in oil on the one hand and internally torn on the other,
is guaranteed as a candidate for
Israel's targets
. Its dissolution is even more important for us than that of Syria. Iraq is stronger than
Syria. In the short run it is Iraqi power which constitutes the greatest threat to Israel. An Iraqi-Iranian war will tear Iraq apart and cause its downfall at home even before it is able to organize a struggle on a wide front against us.
Every kind of inter-Arab confrontation will assist us in the short run and will
shorten the way to the more important aim of breaking up Iraq into denominations as in Syria and in Lebanon
. In Iraq, a division into provinces along ethnic/religious lines as in Syria during Ottoman times
is possible. So, three (or more) states will exist around the three major cities: Basra, Baghdad and Mosul, and Shi'ite areas in the south will separate from the Sunni and Kurdish north. It is possible that the present Iranian-Iraqi confrontation will deepen this polarization.
1
5
24
The entire Arabian peninsula is a natural candidate for dissolution due to internal and external pressures, and the matter is inevitable especially in Saudi Arabia. Regardless of whether its economic might based on oil remains intact or whether it is diminished in the long run, the internal rifts and breakdowns are a clear and natural development in light of the present political structure.
1
6
25
Jordan constitutes an immediate strategic target in the short run
but not in the long run, for it does not
constitute a real threat in the long run
after its dissolution
, the termination of the lengthy rule of King Hussein and the transfer of power to the Palestinians in the short run.
26
There is no chance that Jordan will continue to exist in its present structure for a long time, and Israel's policy, both in war and in peace, ought to be directed at the liquidation of Jordan under the present regime and the transfer of power to the Palestinian majority. Changing the regime east of the river will also cause
the termination of the problem of the territories densely populated with Arabs west of the
Jordan. Whether in war or under conditions of peace, emigration from the territories and economic demographic freeze in them, are the guarantees for the coming change on both banks of the river, and we ought to be active in order to accelerate this process in the nearest future
. The autonomy plan ought
also to be rejected, as well as any compromise or division of the territories for, given the plans of the PLO and those of the Israeli Arabs themselves, the Shefa'amr plan of September 1980, it is not possible
to go on living in this country in the present situation without separating the two nations, the Arabs to Jordan and the Jews to the areas west of the river
. Genuine coexistence and peace will reign over the
land only when the Arabs understand that without Jewish rule between the Jordan and the sea they will have neither existence nor security. A nation of their own and security will be theirs only in Jordan.
1
7
27
Within Israel the distinction between the areas of '67 and the territories beyond them, those of '48, has always been meaningless for Arabs and nowadays no longer has any significance for us. The problem should be seen in its entirety without any divisions as of '67. It should be clear, under any future political situation or military constellation, that
the solution of the problem of the indigenous Arabs
will come only when they recognize the existence of Israel in secure borders up to the Jordan river
and
beyond it, as our existential need
in this difficult epoch, the nuclear epoch which we shall soon enter. It
is no longer possible to live with three fourths of the Jewish population on the dense shoreline which is so dangerous in a nuclear epoch.
28
Dispersal of the population is therefore a domestic strategic aim of the highest order; otherwise, we shall cease to exist within any borders. Judea, Samaria and the Galilee are our sole guarantee for national existence, and if we do not become the majority in the mountain areas, we shall not rule in the country and we shall be like the Crusaders, who lost this country which was not theirs anyhow, and in which they were foreigners to begin with. Rebalancing the country demographically, strategically and economically is the highest and most central aim today. Taking hold of the mountain watershed from Beersheba to the Upper Galilee is the national aim generated by the major strategic consideration which is settling the mountainous part of the country that
is empty of Jews today
.
l
8
29
Realizing our aims on the Eastern front depends first on the realization of this internal strategic objective. The transformation of the political and economic structure, so as to enable the realization of these strategic aims, is the key to achieving the entire change. We need to change from a centralized economy in which the government is extensively involved, to an open and free market as well as to switch from depending upon the U.S. taxpayer to developing, with our own hands, of a genuine productive economic infrastructure. If we are not able to make this change freely and voluntarily, we shall be forced into it by world developments, especially in the areas of economics, energy, and politics, and by our own growing isolation.
l
9
30
From a military and strategic point of view, the West led by the U.S. is unable to withstand the global pressures of the USSR throughout the world, and Israel must therefore stand alone in the Eighties, without any foreign assistance, military or economic,
and this is within our capacities today, with no
compromises. 20 Rapid changes in the world will also bring about a change in the condition of world Jewry to which Israel will become not only a last resort but the only existential option. We cannot assume that U.S. Jews, and the communities of Europe and Latin America will continue to exist in the present form in the future
.
2
1
31
Our existence in this country itself is certain, and there is no force that could remove us from here either forcefully or by treachery (Sadat's method). Despite the difficulties of the mistaken "peace" policy and the
problem
of the Israeli Arabs and those of the territories, we can effectively deal with these problems in the foreseeable future.
Conclusion
1
Three important points have to be clarified in order to be able to understand the significant possibilities of realization of this Zionist plan for the Middle East, and also why it had to be published.
2
The Military Background of The Plan
The military conditions of this plan have not been mentioned above, but on the many occasions where something very like it is being "explained" in closed meetings to members of the Israeli Establishment, this point is clarified. It is assumed that the Israeli military forces, in all their branches, are insufficient for the actual work of occupation of such wide territories as discussed above. In fact, even in times of intense Palestinian "unrest" on the West Bank, the forces of the Israeli Army are stretched out too much. The answer to that is the method of ruling by means of "Haddad forces" or of "Village Associations" (also known as "Village Leagues"): local forces under "leaders" completely dissociated from the population, not having even any feudal or party structure (such as the Phalangists have, for example). The "states" proposed by Yinon are "Haddadland" and "Village Associations," and their armed forces will be, no doubt, quite similar. In addition, Israeli military superiority in such a situation will be much greater than it is even now, so that any movement of revolt will be "punished" either by mass humiliation as in the West Bank and Gaza Strip, or by bombardment and obliteration of cities, as in Lebanon now (June 1982), or by both. In order to ensure this,
the plan
, as explained orally, calls for the establishment of Israeli garrisons in focal places between the mini states, equipped with the necessary mobile destructive forces. In fact, we have seen something like this in Haddadland and we will almost certainly soon see the first example of this system functioning either in South Lebanon or in all Lebanon.
3
It is obvious that the above military assumptions, and the whole plan too, depend also on the Arabs continuing to be even more divided than they are now, and on the lack of any truly progressive mass movement among them. It may be that those two conditions will be removed only when the plan will be well advanced, with consequences which can not be foreseen.
4
Why it is necessary to publish this in Israel?
The reason for publication is the dual nature of the Israeli-Jewish society: A very great measure of freedom and democracy, specially for Jews, combined with expansionism and racist discrimination. In such a situation the Israeli-Jewish elite (for the masses follow the TV and Begin's speeches)
has to be
persuaded
. The first steps in the process of persuasion are oral, as indicated above, but a time comes in
which it becomes inconvenient. Written material must be produced for the benefit of the more stupid "persuaders" and "explainers" (for example medium-rank officers, who are, usually, remarkably stupid). They then "learn it," more or less, and preach to others. It should be remarked that Israel, and even the Yishuv from the Twenties, has always functioned in this way. I myself well remember how (before I was "in opposition") the necessity of war with was explained to me and others a year before the 1956 war, and the necessity of conquering "the rest of Western Palestine when we will have the opportunity" was explained in the years 1965-67.
5
Why is it assumed that there is no special risk from the outside in the publication of such plans?
Such risks can come from two sources, so long as the principled opposition inside Israel is very weak (a situation which may change as a consequence of the war on Lebanon) : The Arab World, including the Palestinians, and the United States. The Arab World has shown itself so far quite incapable of a detailed and rational analysis of Israeli-Jewish society, and the Palestinians have been, on the average, no better than the rest. In such a situation, even those who are shouting about the dangers of Israeli expansionism (which are real enough) are doing this not because of factual and detailed knowledge, but because of belief in myth. A good example is the very persistent belief in the non-existent writing on the wall of the Knesset of the Biblical verse about the Nile and the Euphrates. Another example is the persistent, and completely false declarations, which were made by some of the most important Arab leaders, that the two blue stripes of the Israeli flag symbolize the Nile and the Euphrates, while in fact they are taken from the stripes of the Jewish praying shawl (Talit). The Israeli specialists assume that, on the whole, the Arabs will pay no attention to their serious discussions of the future, and the Lebanon war has proved them right. So why should they not continue with their old methods of persuading other Israelis?
6
In the United States a very similar situation exists, at least until now. The more or less serious commentators take their information about Israel, and much of their opinions about it, from two sources. The first is from articles in the "liberal" American press, written almost totally by Jewish admirers of Israel who, even if they are critical of some aspects of the Israeli state, practice loyally what Stalin used to call "the constructive criticism." (In fact those among them who claim also to be "Anti-Stalinist" are in reality more Stalinist than Stalin, with Israel being their god which has not yet failed). In the framework of such critical worship it must be assumed that Israel has always "good intentions" and only "makes mistakes," and therefore such a plan would not be a matter for discussion–exactly as the Biblical genocides committed by Jews are not mentioned. The other source of information,
The
Jerusalem Post
, has similar policies. So long, therefore, as the situation exists in which Israel is really a "closed society"
to the rest of the world, because the world wants to close its eyes
, the publication and even the beginning of the realization of such a plan is realistic and feasible.
Israel Shahak
June 17, 1982 Jerusalem
Source:
http://www.globalresearch.ca/greater-israel-the-zionist-plan-for-the-middle-east/5324815
Syrian military official: There's been a 'big shift' in Russian military support for Assad
While the desperate flight of Syrians from their country's war was dominating news bulletins this summer, yet another diplomatic push to end the four-year-old conflict was quietly running into the sand. That largely unnoticed failure has reinforced the view amongst Syria experts that there is no solution in sight, with one of the biggest obstacles a seemingly unbridgeable international divide over President Bashar al-Assad's future. As a consequence, Syria looks set for ever greater fragmentation into a patchwork of territories, one of them the diminishing Damascus-based state where Assad appears confident of survival with backing from his Russian and Iranian allies.
While some Western officials say even Assad's allies now recognize he cannot win back and stabilize Syria, Moscow is setting out its case for supporting him in ever more forthright terms. Russia's foreign minister in recent days reiterated the Russian view that Assad is a legitimate leader, slammed the U.S. position to the contrary as "counterproductive", and likened the west's approach to Syria to its failures in Iraq and Libya. Russia meanwhile continues to supply Assad with weapons. A Syrian military official told Reuters there has recently been a "big shift" in Russian military support, including new weapons and training.
"Our ties are always developing but in these days a qualitative shift has happened. We call it a qualitative shift in Arabic, which means big," the Syrian official said.
Such assertions are difficult to verify, but U.S. Secretary of State John Kerry expressed his concern over reports of increased Russian involvement in a telephone call with Russian Foreign Minister Sergei Lavrov on Saturday. The New York Times said Russia had sent a military advance team to Syria, citing American intelligence analysts. Reflecting the logjam over Assad, some of the ideas being tabled for advancing a political process sidestep the question of his future altogether - at least for now, according to a diplomat tracking the conflict. Yet this remains the biggest single obstacle to breaking a diplomatic impasse around a war whose repercussions are being felt like never before in Europe, which faces a migration crisis fueled by Syrian refugees.
In turn, it is a big complication for efforts to fight the Islamic State group that has flourished in the bloodshed of a conflict that has killed a quarter of a million people and driven another 11 million from their homes. Despite a U.S.-led bombing campaign against the jihadist group, Islamic State (ISIS) still holds wide areas of Syria and is poised for further moves toward the big, Assad-controlled cities in the west: Islamic State already has a presence in the southern suburbs of Damascus. "I don't see a tremendous amount of change out of the Iranians or Russians. There is some talk of them being tired, but their positions are pretty firm," said Andrew Tabler, a Middle East specialist with the Washington Institute.
"They think that Assad's immediate departure would lead to a collapse of the regime. Washington also sees a rapid collapse of the regime as something that would be a boon for ISIS. They are in a conundrum: if Assad goes right away, it would help ISIS, but if he doesn't go at all, you have no hope of putting the pieces of Syria back together again," he said. "This recent outburst of diplomacy is because everyone was becoming concerned, and rightfully so. But the results of that process were remarkably poor. They seem to cement the earlier political positions of the region when it comes to Syria."
The recent flurry of diplomatic activity followed the conclusion of Iran's nuclear deal with world powers and included high-level meetings between states with a stake in the conflict, with Russia taking the lead.

Unlimited Support
Assad has wagered on the West rehabilitating him as a partner in the war against Islamic State. But while the priority for U.S. policy in Syria today is battling Islamic State, not unseating Assad, Washington has stuck by its position that he is part of the problem, saying his brutality has fueled extremism. The 49-year-old who assumed power 15 years ago upon the death of his father, Hafez al-Assad, has shown no appetite for negotiations despite losing more ground to rebels this year and admitting the Syrian army faces a manpower problem.
The military support from backers in Tehran and Moscow has allowed him to absorb the advances by insurgents who, while better equipped than before, still remain mostly defenseless against the Syrian government air strikes. "So far, there is no real political solution because of the unlimited support from Russia and Iran," said Bashar al-Zoubi, head of one of the biggest rebel groups fighting Assad in southern Syria, speaking to Reuters via Whatsapp from Syria. Assad, who describes all the groups fighting him as terrorists, has poured cold water on the idea of imminent political progress. In a recent interview, he said the war would only be near its end when states "conspiring against Syria" ceased doing so - a reference to Saudi Arabia and Turkey.
A steady flow of Iranian officials to Damascus has also underlined Tehran's support for an ally who has safeguarded its interests in the Levant in alliance with Lebanon's Hezbollah, the Iranian-backed group fighting alongside Assad in Syria. Since concluding its nuclear deal, Iran says it is trying to launch a new push to resolve the Syrian war. But there is no sign of Tehran giving ground on Assad.
No Alternative?
"The Syrians are loving it ... Damascus is calm."
Source: http://www.businessinsider.com/syrian-military-official-theres-been-a-big-shift-in-russian-military-support-for-assad-2015-9?r=UK&IR=T
Investigative historian Eric Zuesse is the author, most recently, of They're Not Even Close: The Democratic vs. Republican Economic Records, 1910-2010, and of CHRIST'S VENTRILOQUISTS: The Event that Created Christianity.
So important to Assad is fortifying Latakia against rebel assault that his regime has mounted a significant counteroffensive made up of the Syrian Arab Army, the praetorian Republican Guard, and the National Defense Force, a consortium of sectarian militias constructed, trained, and financed by Iran's elite Revolutionary Guards Corps-Quds Force.
http://www.thedailybeast.com/articles/2015/09/01/russia-puts-boots-on-the-ground-in-syria.html
Now we can confirm that to the best of our knowledge, despite denials (remember Crimea?) Russia has cast its lot and made a very important decision to enter the Syrian war. This decision may yet save Syria from total collapse and incidentally save Europe, too, from being swept by refugee waves. The Russian air force will ostensibly fight Da'esh, but probably (as Michael Weiss guessed) they will also bomb not just Da'esh but the US-allied opposition of al-Nusra (formerly al-Qaeda) and other non-Da'esh Islamic extremists for the simple reason that they can't be distinguished from Da'esh.
The Russian Foreign Minister Mr Sergey Lavrov proposed to organise a new coalition against Da'esh including Assad's army, Saudis and some opposition forces. The US envoy visiting Russia said that there is no chance that the Saudis or other Gulf states would agree to join forces with Bashar Assad. Russia still plans to build this coalition, but in the view of the American rejection, apparently President Putin decided to act. Russia is worried by successes of Da'esh, as this force fights and displaces Christians in Syria, while Russia considers itself a traditional protector of these people. Russia is also worried that Da'esh may begin operations in Muslim areas of Russia, in the Caucasus and on the Volga River. And the US-led anti-Da'esh coalition didn't do the trick.
The US and its allies have wreaked havoc in Syria. The US is far away and can enjoy the show. Europe is a loser once removed as it gets the flood of refugees. Turkey is a direct loser, as it gets refugees, terrorism, the rapid decline of President Erdogan's popularity, and a drop of living standards, all this being due to its erroneous policies in Syria.
Now Russia has taken over the difficult task of saving the situation. If Erdogan, Obama, Kerry, and the Saudis had thought that Putin would drop Assad, now they are having a rude awakening from such delusions. The Russian position is rather nuanced. Russia will not fight for Assad, as it did not fight for [the Ukrainian President] Yanukovych. Russia thinks it is up to Syrians to decide who will be their president. Assad or somebody else – that's an internal Syrian affair. On the other hand, Obama and his allies do fight against Assad. He had "lost his legitimacy", they say. They have a problem with Assad, as they admit. Russia has no problems with Assad. As long as he is popular with his people, let him rule, Russians say. If some members of the opposition will join him, fine.
Russia does not intend to fight the armed opposition per se, as long as this opposition is ready for peaceful negotiations and does not demand impossible (say, Assad's head). In real life, nobody can distinguish between legitimate and illegitimate groups and Da'esh. All of them are likely to suffer when the Russians will begin to do the job seriously. They'd better negotiate with the government and come for some arrangement. The alternative (destruction of Syria, millions of refugees, uprooting of Middle Eastern Christendom, jihadi attack on Russia proper) is too horrible to contemplate.
The War in Syria is fraught with dangers for Russia; that's why Putin steered clear of direct involvement since 2011. The adversary is well armed, has some support on the ground, it has the wealth of the Gulf states and fanatic warriors likely to unleash a wave of terror attacks in Russia. The US position is ambiguous: Obama and his staff does not react on the growing Russian involvement. Thierry Meyssan thinks that Obama and Putin came to agreement regarding the need to defeat Da'esh. In his view, some American officials and generals (Petraeus, Allen) would like to undermine this agreement; so do the Republicans and the Neo-Cons.
Some Russian officials are worried. Perhaps Obama keeps mum in order to lure Putin into the Syrian War. Remember, the US enticed Saddam Hussein to invade Kuwait. Russian and American planes in the air over Syria could come to hostile encounters. Others say: shouldn't Russia get involved in the Ukraine, rather than in Syria? But the apparent decision of Putin to enter war in Syria makes sense.
A war far away from home presents logistic challenges, as the US experienced in Vietnam and Afghanistan, but there is much less danger of war spilling into Russia proper. In the distant theatre of war, Russian army, navy and air force will be able to show their pluck.
If they will succeed, Syria will regain peace, refugees will return to their homes, while Russia will remain forever in the Eastern Mediterranean. Russian success will cool the warmongers in Washington, Kiev, Brussels. However, if they will fail, NATO will think that Russia is ripe for reaping and may try to move war close to home. We can compare it with military campaigns on 1930s. The Russians under brilliant Marshal Zhukov soundly trashed the Japanese at Khalkhyn Gol in 1939, and the Japanese signed Neutrality pact with Russians and refrained from attacking Russia during the Soviet-German war. But the Red Army managed poorly against Marshal Mannerheim in Finland in 1940, and this encouraged Hitler to begin the war.
This time Russia will act within the international law framework, as opposed to Saddam Hussein's adventure in Kuwait. While the US and Turkey bomb and strafe Syria without as much as 'by your leave' from the legitimate government of the state, Russia is coming by permission and by invitation of the Syrian authorities as their ally. There is a Mutual Defence Treaty between Russia and Syria. Syrian government offered Russians its facilities, airports and harbours for the defence purposes.
The Christian Churches of the Middle East welcome Russia and ask for its assistance in the face of the jihadi onslaught. The ancient Orthodox Church of Antioch and the Orthodox Church of Jerusalem welcomed Russian involvement. The most high-ranking and politically active Palestinian clergyman, Archbishop Theodosius Atallah Hanna expressed his hope the Russians will bring peace to Syria and the refugees will return home.
For the Europeans, this is the chance to wean themselves from blind support of the US policies, to return millions of refugees home from European railway stations and hostels. If it will work, this Putin's initiative in Syria will count with his greatest achievements. He is playing his hand keeping cards very close to his chest, and this report is the first emanating from his vicinity.
Israel Shamir reports from Moscow and can be reached at adam@israelshamir.net
Source:
http://www.globalresearch.ca/russia-embarks-on-expansion-of-its-military-presence-in-syria/5473633
A day before in Qatar, Russian Foreign Minister Sergey Lavrov, U.S. Secretary of State John Kerry and Foreign Minister of Saudi Arabia Adel Al-Dzhubeyr discussed ways to step up the fight against terrorists from the "Islamic State". During the talks, Lavrov presented to his colleagues the details of the plan of Vladimir Putin to neutralize the Islamists. The plan is to build a broad coalition with the participation of the Syrian and Iraqi armies, Kurds, as well as the countries in the region. The new format of struggle against the IS proposed by Sergey Lavrov in the interview to RUSARMINFO analyzed Vladimir Yevseyev, the director of the Center for Civil and Political Researches. The expert believes that the project will succeed only if the United States withdraw from the agenda the ouster of Syrian President Bashar al-Assad.
"In view of the fact that Barack Obama has been very pleased with the fact that Russia helped the United States to resolve the issue with Iran, it will be reasonable if the United States cease to destabilize Syria. In principle, the coalition is possible, as now a difficult situation has occurred in Turkey – the U.S. ally. The events have acquired internal political character, the Kurdish problem has aggravated."
Yevseyev believes that in such a situation, the United States should adjust their policy on Syria not to repeat the Libyan scenario.
"If somehow the power of Bashar al-Assad in Damascus is overthrown, in Syria the Libyan scenario will be repeated in its worst manifestation: all the religious minorities will be subjected to the physical destruction. In the context of radicals' takeover, there will be a genocide of the peoples living in Syria, following the example of the Armenian Genocide in the Western Armenia in the early XXth century. "
Vladimir Yevseyev assures that if the United States reconsider their position, a further step will be the imposition of the U.S. pressure on Turkey to limit the financial support of the IS. And if the current support remains, it will be extremely difficult to win the IS. But in parallel, besides the U.S., it is important to engage in dialogue with other countries, such as Qatar and Saudi Arabia, which, in fact, are the sponsors of terrorism in the face of radical Islamists.
Source:
http://rusarminfo.ru/vladimir-yevseyev-the-overthrow-of-assad-is-fraught-with-the-first-genocide-of-the-xxi-century/
Source:
http://www.rt.com/news/313274-lavrov-splitting-iraq-biden/
The attack and further actions of the Turkish government, and what is happening in Turkey now – is the result pursued by the Turkish government, both in their internal and external policies. I should remind that the Turkish government led by Erdogan and his entourage are from the medium of moderate Islamists. The internal policy pursued by Erdogan is based on the "creeping islamization" of the Turkish society, development of Turkey's Islamic way that is contrary to the foundations on which the Turkish state was created.
Now Turkey, attacking on the armed units of the PKK, which in some countries are recognized as terrorist organizations, weakens the front against the IS. We know that Turkey, under the guise of the fight against the IS, actually supports the IS, which is fighting against the Kurdish national movement, Assad, the Iraqi government and Iran. All of these goals coincide with the goals of the Turkish leadership.
Currently, Turkey can not be an ally of Russia due to the historical peculiarities. Yes, there are politicians, businessmen who want to develop relations with Russia, but historically, Turkey has identified himself as the heir to the Ottoman Empire, and all the territory that once belonged to the Ottoman Empire, to some extent is in the scope of Turkey's interests. The historical relations between Armenia and Turkey, of course, also affect the Russian-Turkish relations. Armenia is Russia's partner, a member of various organizations, where Russia is present. Our president has recognized the Armenian Genocide, this has clearly disappointed Erdogan.
Source:
http://rusarminfo.ru/boris-dolgov-the-turkish-leadership-goals-coincide-with-those-of-the-is/
Gen. Wesley Clark: 'ISIS Got Started With Funding From Our Closest Allies'

Many remember General Wesley Clark as the man who almost started World War III by ordering the British to fire on Russian peacekeepers who landed in the Kosovo capital, Pristina, before the Americans. British commander of the international KFOR peacekeeping force, General Sir Mike Jackson, is reported to have replied, "I'm not going to start the third world war for you."

One of the most interesting things about Gen. Clark, however, is his propensity to blurt fascinating things out every now and again. Who can forget his interview with Amy Goodman back in 2007 where he revealed that one of the top generals in the Pentagon had showed him a memo from then-defense secretary Donald Rumsfeld not long after the 9/11 attack outlining US global war plans. According to Clark at the time, the general said:
[W]e're going to take out seven countries in five years, starting with Iraq, and then Syria, Lebanon, Libya, Somalia, Sudan and, finishing off, Iran." I said, "Is it classified?" He said, "Yes, sir." I said, "Well, don't show it to me." And I saw him a year or so ago, and I said, "You remember that?" He said, "Sir, I didn't show you that memo! I didn't show it to you!" Well Clark is back with another very interesting blurt. Far from a spontaneously-arising root-of-all-evil organization, at least according to General Wesley Clark, ISIS was created and funded by our "closest allies." As the General said:
ISIS got started through funding from our friends and allies... to fight to the death against Hezbollah. Which friends and allies, he did not say. But he did suggest that it has become a "Frankenstein monster." So the insider, Gen. Wesley Clark, informs us that our closest allies in the Middle East have helped create ISIS -- the organization we are spending billions of dollars to fight. We do know that Israel, Saudi Arabia, and the other Gulf States have long been obsessed with fighting Hezbollah and Assad, and that both are keen to keep the US fighting on their behalf in the region. Could these be who he was thinking about? Maybe rather than continue to expand the US military presence in the region to fight ISIS, it's time for the US to have a really good talk with its "allies" in the Middle East.
General Petraeus: The Islamic State isn't our biggest problem in Iraq
Gen. David H. Petraeus, who commanded U.S. troops in Iraq during the 2007-2008 surge, was back in that country last week for the first time in more than three years. He was attending the annual Sulaimani Forum, a get-together of Iraqi leaders, thinkers and academics, at the American University of Iraq - Sulaimani in northern Iraq's Kurdistan region.
In his most expansive comments yet on the latest crisis in Iraq and Syria, he answered written questions from The Post's Liz Sly, offering insights into the mistakes, the prosecution and the prospects of the war against the Islamic State, also known as ISIS, which he refers to by its Arabic acronym, Daesh.
How does it feel to be back in Iraq after four years away?
Iraq is a country I came to know well and the place where I spent some of the most consequential years of my life. So it has been a bit of an emotional experience to return here after my last visit in December 2011 as director of the CIA. I was very grateful for the chance to be back to see old friends and comrades from the past.
That said, it is impossible to return to Iraq without a keen sense of opportunities lost. These include the mistakes we, the U.S., made here, and likewise the mistakes the Iraqis themselves have made. This includes the squandering of so much of what we and our coalition and Iraqi partners paid such a heavy cost to achieve, the continuing failure of Iraq's political leaders to solve longstanding political disputes, and the exploitation of these failures by extremists on both sides of the sectarian and ethnic divides.
Having said that, my sense is that the situation in Iraq today is, to repeat a phrase I used on the eve of the surge, hard but not hopeless. I believe that a reasonable outcome here is still achievable, although it will be up to all of us — Iraqis, Americans, leaders in the region and leaders of the coalition countries — to work together to achieve it.
You oversaw the gains of the surge in 2007-08. How does it make you feel to see what is happening today, with ISIS having taken over more of Iraq than its predecessor, AQI [al-Qaeda in Iraq], ever did?
What has happened in Iraq is a tragedy — for the Iraqi people, for the region and for the entire world. It is tragic foremost because it didn't have to turn out this way. The hard-earned progress of the Surge was sustained for over three years. What transpired after that, starting in late 2011, came about as a result of mistakes and misjudgments whose consequences were predictable. And there is plenty of blame to go around for that.
Yet despite that history and the legacy it has left, I think Iraq and the coalition forces are making considerable progress against the Islamic State. In fact, I would argue that the foremost threat to Iraq's long-term stability and the broader regional equilibrium is not the Islamic State; rather, it is Shiite militias, many backed by — and some guided by — Iran.
These militia returned to the streets of Iraq in response to a fatwa by Shia leader Grand Ayatollah Sistani at a moment of extreme danger. And they prevented the Islamic State from continuing its offensive into Baghdad. Nonetheless, they have, in some cases, cleared not only Sunni extremists but also Sunni civilians and committed atrocities against them. Thus, they have, to a degree, been both part of Iraq's salvation but also the most serious threat to the all-important effort of once again getting the Sunni Arab population in Iraq to feel that it has a stake in the success of Iraq rather than a stake in its failure. Longer term, Iranian-backed Shia militia could emerge as the preeminent power in the country, one that is outside the control of the government and instead answerable to Tehran.
Beyond Iraq, I am also profoundly worried about the continuing meltdown of Syria, which is a geopolitical Chernobyl. Until it is capped, it is going to continue to spew radioactive instability and extremist ideology over the entire region. Any strategy to stabilize the region thus needs to take into account the challenges in both Iraq and Syria. It is not sufficient to say that we'll figure them out later.
What went wrong?
The proximate cause of Iraq's unraveling was the increasing authoritarian, sectarian and corrupt conduct of the Iraqi government and its leader after the departure of the last U.S. combat forces in 2011. The actions of the Iraqi prime minister undid the major accomplishment of the Surge. [They] alienated the Iraqi Sunnis and once again created in the Sunni areas fertile fields for the planting of the seeds of extremism, essentially opening the door to the takeover of the Islamic State. Some may contend that all of this was inevitable. Iraq was bound to fail, they will argue, because of the inherently sectarian character of the Iraqi people. I don't agree with that assessment.
The tragedy is that political leaders failed so badly at delivering what Iraqis clearly wanted — and for that, a great deal of responsibility lies with Prime Minister Maliki. As for the U.S. role, could all of this have been averted if we had kept 10,000 troops here? I honestly don't know. I certainly wish we could have tested the proposition and kept a substantial force on the ground.
For that matter, should we have pushed harder for an alternative to PM Maliki during government formation in 2010? Again, it is impossible to know if such a gambit might have succeeded. But certainly, a different personality at the top might have made a big difference, depending, of course, on who that individual might have been.
Where I think a broader comment is perhaps warranted has to do with the way we came to think about Iraq and, to a certain extent, the broader region over the last few years. There was certainly a sense in Washington that Iraq should be put in our rearview mirror, that whatever happened here was somewhat peripheral to our national security and that we could afford to redirect our attention to more important challenges. Much of this sentiment was very understandable given the enormous cost of our efforts in Iraq and the endless frustrations that our endeavor here encountered.
In retrospect, a similar attitude existed with respect to the civil war in Syria — again, a sense that developments in Syria constituted a horrible tragedy to be sure, but a tragedy at the outset, at least, that did not seem to pose a threat to our national security. But in hindsight, few, I suspect, would contend that our approach was what it might — or should — have been. In fact, if there is one lesson that I hope we've learned from the past few years, it is that there is a linkage between the internal conditions of countries in the Middle East and our own vital security interests.
Whether fair or not, those in the region will also offer that our withdrawal from Iraq in late 2011 contributed to a perception that the U.S. was pulling back from the Middle East. This perception has complicated our ability to shape developments in the region and thus to further our interests. These perceptions have also shaken many of our allies and, for a period at least, made it harder to persuade them to support our approaches. This has been all the more frustrating because, of course, in objective terms, we remain deeply engaged across the region and our power here is still very, very significant. Neither the Iranians nor Daesh are 10 feet tall, but the perception in the region for the past few years has been that of the U.S. on the wane, and our adversaries on the rise. I hope that we can begin to reverse that now.
What are your thoughts when you see Qasem Soleimani, the IRGC's Quds Force commander who funded and armed the militias who blew up U.S. troops and shelled the U.S. Embassy while you were in it, taking battlefield tours like you used to?
Yes, "Hajji Qasem," our old friend. I have several thoughts when I see the pictures of him, but most of those thoughts probably aren't suitable for publication in a family newspaper like yours. What I will say is that he is very capable and resourceful individual, a worthy adversary. He has played his hand well. But this is a long game, so let's see how events transpire. It is certainly interesting to see how visible Soleimani has chosen to become in recent months — quite a striking change for a man of the shadows.
Whatever the motivations, though, they underscore a very important reality: The current Iranian regime is not our ally in the Middle East. It is ultimately part of the problem, not the solution. The more the Iranians are seen to be dominating the region, the more it is going to inflame Sunni radicalism and fuel the rise of groups like the Islamic State. While the U.S. and Iran may have convergent interests in the defeat of Daesh, our interests generally diverge. The Iranian response to the open hand offered by the U.S. has not been encouraging.
Iranian power in the Middle East is thus a double problem. It is foremost problematic because it is deeply hostile to us and our friends. But it is also dangerous because, the more it is felt, the more it sets off reactions that are also harmful to our interests — Sunni radicalism and, if we aren't careful, the prospect of nuclear proliferation as well.
You have had some interactions with Qasem Soleimani in the past. Could you tell us about those?
In the spring of 2008, Iraqi and coalition forces engaged in what emerged as a decisive battle between the Iraqi Security Forces and the Iranian-supported Shiite militias. In the midst of the fight, I received word from a very senior Iraqi official that Qasem Soleimani had given him a message for me. When I met with the senior Iraqi, he conveyed the message: "General Petraeus, you should be aware that I, Qasem Soleimani, control Iran's policy for Iraq, Syria, Lebanon, Gaza, and Afghanistan." The point was clear: He owned the policy and the region, and I should deal with him. When my Iraqi interlocutor asked what I wanted to convey in return, I told him to tell Soleimani that he could "pound sand."
If you look back at what happened when the surge of U.S. troops under your command turned the tide of the war, is there anything you would have done differently? What are your regrets?
There are always actions that, with the benefit of hindsight, you realize you misjudged or would have done differently. There are certainly decisions, in the course of my three deployments to Iraq, that I got wrong. Very candidly, there are several people who are causing enormous harm in Iraq today whom I wish we had taken off the battlefield when we had the chance to do so. Beyond that, there certainly were actions taken in the first year in Iraq, in particular, that made our subsequent effort that vastly more difficult that it needed to be. But those are well known.
What would be (or is, assuming people must be asking) your main advice on how best to prosecute the war against ISIS now?
In general terms, what is needed in Iraq at this point is all of the elements of the comprehensive, civil-military counterinsurgency campaign that achieved such significant progress during the Surge, with one huge difference — that Iraqis must perform a number of the critical tasks that we had to perform. Iraqis must, for example, provide the "boots on the ground," albeit enabled by advisers and U.S. air assets, with tactical air controllers if necessary.
If the Iraqis cannot provide such forces, we should increase efforts to develop them. Iraqis must also be the ones who pursue reconciliation with Sunni leaders and the Sunni Arab community. We may help in various ways, but again, sustainable results can only be achieved by Iraqis — who clearly have the ability to do so, even if the will is sometimes not fully evident.
In more specific terms, I would offer the following:
First, it is critical that Iraqi forces do not clear areas that they are not able or willing to hold. Indeed, the "hold" force should be identified before the clearance operation begins. This underscores the need for capable, anti-Daesh Sunni forces that can go into Sunni-majority areas and be viewed as liberators, not conquerors or oppressors.
Second, the Iraqi forces that conduct(s) operations have to demonstrate much greater care in their conduct. I am deeply concerned by reports of sectarian atrocities — in particular by the Shiite militias as they move into Sunni areas previously held by the Islamic State. Kidnappings and reprisal killings, mass evictions of civilians from their homes — these kinds of abuses are corrosive to what needs to be accomplished. Indeed, they constitute Daesh's best hope for survival — pushing Sunnis to feel once again the need to reject the Iraqi forces in their areas. The bottom line is that Daesh's defeat requires not just hammering them on the battlefield, but simultaneously, revived political reconciliation with Sunnis. Iraq's Sunnis need to be brought back into the fold. They need to feel as though they have a stake in the success of Iraq, rather than a stake in its failure.
Third, as I explained earlier, we need to recognize that the #1 long term threat to Iraq's equilibrium — and the broader regional balance — is not the Islamic State, which I think is on the path to being defeated in Iraq and pushed out of its Iraqi sanctuary. The most significant long term threat is that posed by the Iranian-backed Shiite militias. If Daesh is driven from Iraq and the consequence is that Iranian-backed militias emerge as the most powerful force in the country — eclipsing the Iraqi Security Forces, much as Hezbollah does in Lebanon — that would be a very harmful outcome for Iraqi stability and sovereignty, not to mention our own national interests in the region.
Fourth, as long as we are talking about difficult problems, there is Syria. Any acceptable outcome [in Syria] requires the build-up of capable, anti-Daesh opposition forces whom we support on the battlefield. Although it is encouraging to see the administration's support for this initiative, I think there are legitimate questions that can be raised about the sufficiency of the present scale, scope, speed, and resourcing of this effort. It will, for example, be impossible to establish a headquarters inside Syria to provide command and control of the forces we help train and equip as long as barrel bombs are dropped on it on a regular basis.
The Phony War Against ISIS: The U.S. and its allies mostly harass, unwilling to strike decisively
The "Phony War": That's how history recalls the meager Allied effort in Western Europe early in World War II. Despite having declared war on Germany in September 1939, the Allies shrank from a major offensive for months. They considered real war too painful and themselves unprepared. Nonetheless, what quickly followed was France's capitulation on June 22, 1940—75 years ago last week. Today, another phony war is being waged, this time in the Middle East. Those opposed to Islamic State—the Saudis, Iraqis, Kurds, Turks and, yes, Americans—mostly squat and occasionally harass, unable or unwilling to strike decisively.

On the other side of the battlefield, Islamic State and Iran, though from rival sects and opposed in their ultimate ends, are matched in violence, ambition and immediate aims. Tehran seeks to attain nuclear weapons; to dominate oil-rich, Arab-Shiite southern Iraq; and to preserve its Syrian ally, Bashar Assad. These three purposes advance its dream of controlling the region and becoming the knife's edge of Islam's penetration into the West. For now, Islamic State advances these goals, which limits direct conflict between the two powers. Each sees the other as a most useful enemy, helping consolidate support and hold the U.S. at bay.

In Syria, Islamic State only spars with Mr. Assad, even abetting his efforts to gut the "moderate" opposition. Fearful that Islamic State would dominate a post-Assad era, the U.S. largely stays its hand, unwilling to aid Mr. Assad or depose him. Thus, Mr. Assad and Islamic State preserve each other. As a bonus, U.S. inaction discourages the Turks from assisting anti-Assad Sunnis in Syria or anti-Islamic State Sunnis in Iraq.

Baghdad's Shiite leaders, under threat from Islamic State and seeing U.S. hesitation, embrace Iranian support. Tehran stages anti-Islamic State forays but mostly defends Baghdad and the Shiite south. In turn, this increased role of Shiite militias and Iran's Revolutionary Guard Corps prevents Sunnis in the western Anbar Province from turning on their Islamic State masters. Better to be enslaved by Islamic State, these Sunnis reason, than to fall into the hands of a Shiite militia. The resulting centrifugal forces tear the country apart and press Iraqis toward one camp or the other. Neither helps us.

Tehran knows that the Obama administration dreams of a nuclear deal and, unwilling to act in Iraq, hopes that Iran will slay the Islamic State beast. So the U.S. cedes ground in the nuclear talks and temporizes.

The Obama administration lately projects an anti-Islamic State campaign of three to five years at best, or a decade perhaps at worst. Meanwhile, U.S. leaders hope to tame Iran's nuclear hunger and bloody misdeeds with inspections and respect, a coin that must be paid in years of restraint. Maybe the administration believes regional powers can be goaded into not just pricking, but, with limited U.S. aid, defeating Islamic State and Iranian ambitions.

Whatever the reasoning the net consequence is the same: Iran and Islamic State have won years to gather weapons and riches, inflame hatreds, reap recruits and plot. The time will come, Islamic State and Iran know, to settle scores between them. But that will be another day. In the interim, both prosper.

The administration preserves its focus on preferred domestic goals. President Obama proclaims that he envisions a benign equilibrium taking hold in the region in the mid to long term. But it isn't hard to envision the Middle East, bereft of U.S. leadership and awash in blood, with its hatreds and violence spilling ever westward. Herein lies the great gamble of the phony war.

To be successful, Mr. Obama's strategy must judge rightly the enemies' future strategies and America's own. If the enemies defy his expectations, or if future administrations reject the risks he has accepted, we will regret having dallied as the first lines of defense eroded. Historians recognize that, having long misplayed their hands, the Allies had few choices at the onset of World War II. They used their phony war to rearm. Future generations may not be so kind toward ours.

Mr. Fradkin is director of the Center on Islam, Democracy and the Future of the Muslim World at the Hudson Institute. Mr. Libby, a senior vice president at the Hudson Institute, served in the George W. Bush administration as assistant to the president and assistant to the vice president for national-security affairs.
Source: http://www.wsj.com/articles/SB11091212670656464670804581058451367149150
Top US General: Few U.S.-Trained Syrians Still Fight ISIS
Only four or five Syrian individuals trained by the United States military to confront the Islamic State remain in the fight, the head of the United States Central Command told a Senate panel on Wednesday, a bleak acknowledgment that the Defense Department's $500 million program to raise an army of Syrian fighters has gone nowhere. Gen. Lloyd J. Austin III, the top American commander in the Middle East, also told the Senate Armed Services Committee that the United States would not reach its goal of training 5,000 Syrian fighters anytime soon.
His comments came during a testy hearing in which a succession of senators from both parties criticized the American-led effort in Iraq and Syria against the Islamic State, the Sunni militancy also known as ISIS or ISIL. Senator John McCain, Republican of Arizona and the chairman of the Armed Services Committee, questioned why the United States had not set up a no-fly zone over Syria to help protect civilians from bombardment by the government of President Bashar al-Assad. Senator Claire McCaskill, Democrat of Missouri, said that despite all the "good news" talk from American military officials about how well the war effort was going, "the practical realities aren't being embraced."
In May, the Defense Department began its training program for up to 5,400 fighters a year, in what White House officials described as a necessary component of President Obama's strategy to use local troops on the ground against the Islamic State, combined with American air power. Mr. Obama has been loath to send American ground troops into Iraq or Syria, and has insisted that ground combat against the Islamic State be handled by forces within the countries fighting to rid their territories of the group. In Iraq, that strategy has had limited success. Iraqi security forces and Kurdish pesh merga fighters have retaken some territory that had been seized by the Islamic State, and the group has stalled in its expansion there. But in recent weeks the campaign to retake Ramadi has stalled, and efforts to take back Mosul and Falluja have taken a back seat.
In Syria, the effort to use local ground forces has yet to take off. General Austin told the Senate committee that many fighters in the first class of 54 graduates of the training program for Syrians were attacked in July by an offshoot of Al Qaeda, the Nusra Front, and either fled or were killed, leaving only a "small number" of rebels still in the fight. He acknowledged that the program was behind schedule, and said that the military was reviewing it. Asked how many fighters were still in Syria, General Austin said that "it's a small number." He added, "We're talking four or five." Defense officials said that only 100 to 120 Syrian fighters were in training right now. "So we're counting on our fingers and toes at this point when we had envisioned 5,400 by the end of the year," Ms. McCaskill said.
The White House acknowledged that the program had not succeeded. "The administration knew on the front end that this would be a quite difficult task, and it's proved to be even more difficult than we thought," Josh Earnest, the White House press secretary, said on Wednesday. Mr. Earnest tried to turn the tables on critics of the administration by noting that they had long argued in favor of American training of Syrian rebels. "Many of our critics had proposed this specific option as the cure-all for all of the policy challenges we're facing in Syria right now," he said.
General Austin also told the committee that he could not comment on an internal Pentagon investigation into whether senior military officers manipulated the conclusions of reports on the war against the Islamic State, because the investigation was in progress. He said that "once the investigation is completed, based on the findings, you can be assured that I will take appropriate actions." Separately on Wednesday, France's defense minister said that French forces would join the coalition of Western and Middle Eastern countries carrying out airstrikes on the Islamic State in Syria, with the first strikes likely to come in the next couple of weeks.
The airstrikes would represent an expansion of France's military activity in the region, where it has already been involved in bombing Islamic State targets in Iraq and began reconnaissance flights in Syria last week. The Islamic State has control of much of the territory that extends from northern Syria across the Iraqi border to Mosul and south to within about 30 miles of Baghdad.
Exclusive Leak: 50 Spies Say ISIS Intelligence Was Cooked
It's being called a 'revolt' by intelligence pros who are paid to give their honest assessment of the ISIS war—but are instead seeing their reports turned into happy talk. More than 50 intelligence analysts working out of the U.S. military's Central Command have formally complained that their reports on ISIS and al Qaeda's branch in Syria were being inappropriately altered by senior officials, The Daily Beast has learned. The complaints spurred the Pentagon's inspector general to open an investigation into the alleged manipulation of intelligence. The fact that so many people complained suggests there are deep-rooted, systemic problems in how the U.S. military command charged with the war against the self-proclaimed Islamic State assesses intelligence.
"The cancer was within the senior level of the intelligence command," one defense official said. Two senior analysts at CENTCOM signed a written complaint sent to the Defense Department inspector general in July alleging that the reports, some of which were briefed to President Obama, portrayed the terror groups as weaker than the analysts believe they are. The reports were changed by CENTCOM higher-ups to adhere to the administration's public line that the U.S. is winning the battle against ISIS and al Nusra, al Qaeda's branch in Syria, the analysts claim.
That complaint was supported by 50 other analysts, some of whom have complained about politicizing of intelligence reports for months. That's according to 11 individuals who are knowledgeable about the details of the report and who spoke to The Daily Beast on condition of anonymity.
The accusations suggest that a large number of people tracking the inner workings of the terror groups think that their reports are being manipulated to fit a public narrative. The allegations echoed charges that political appointees and senior officials cherry-picked intelligence about Iraq's supposed weapons program in 2002 and 2003. The two signatories to the complaint were described as the ones formally lodging it, and the additional analysts are willing and able to back up the substance of the allegations with concrete examples.
Some of those CENTCOM analysts described the sizeable cadre of protesting analysts as a "revolt" by intelligence professionals who are paid to give their honest assessment, based on facts, and not to be influenced by national-level policy. The analysts have accused senior-level leaders, including the director of intelligence and his deputy in CENTCOM, of changing their analyses to be more in line with the Obama administration's public contention that the fight against ISIS and al Qaeda is making progress. The analysts take a more pessimistic view about how military efforts to destroy the groups are going.
The large number of analysts who complained to the Pentagon inspector general hasn't been previously reported. Some of them are assigned to work at CENTCOM, the U.S. military's command for the Middle East and Central Asia, but are officially employed by the Defense Intelligence Agency.
The complaints allege that in some cases key elements of intelligence reports were removed, resulting in a document that didn't accurately capture the analysts' conclusions, sources familiar with the protest said. But the complaint also goes beyond alleged altering of reports and accuses some senior leaders at CENTCOM of creating an unprofessional work environment. One person who knows the contents of the written complaint sent to the inspector general said it used the word "Stalinist" to describe the tone set by officials overseeing CENTCOM's analysis.
Many described a climate in which analysts felt they could not give a candid assessment of the situation in Iraq and Syria. Some felt it was a product of commanders protecting their career advancement by putting the best spin on the war. Some reports crafted by the analysts that were too negative in their assessment of the war were sent back down the chain of the command or not shared up the chain, several analysts said. Still others, feeling the climate around them, self-censored so their reports affirmed already-held beliefs.
"While we cannot comment on the specific investigation cited in the article, we can speak to the process. The Intelligence Community routinely provides a wide range of subjective assessments related to the current security environment. These products and the analysis that they present are absolutely vital to our efforts, particularly given the incredibly complex nature of the multi-front fights that are ongoing now in Iraq and Syria," said Air Force Col. Patrick Ryder, U.S. CENTCOM spokesman. "Senior civilian and military leadership consider these assessments during planning and decision-making, along with information gained from various other sources, to include the insights provided by commanders on the ground and other key advisors, intelligence collection assets, and previous experience."
Two of the officials who spoke to The Daily Beast said that analysts began airing their complaints in October in an effort to address the issue internally and only went to the inspector general when that effort failed. Some of those who complained were urged to retire, one official familiar with the report told The Daily Beast. Some agreed to leave. In recent months, members of the Obama administration have sought to paint the fight against ISIS in rosy hues—despite the terror army's seizure of major cities like Mosul and Fallujah.
"ISIS is losing," John Allen, the retired Marine general charged with coordinating the ISIS campaign, said in July. "I am confident that over time, we will beat, we will, indeed, degrade and ultimately destroy ISIL," Secretary of State John Kerry said in March, using the government's preferred acronym for the group. "No, I don't think we're losing," President Obama said in May. Yet a growing group of intelligence analysts persisted with their complaints. For some, who have served at CENTCOM for more than a decade, scars remained from the run-up to the 2003 war in Iraq, when poorly written intelligence reports suggesting Iraq had weapons of mass destruction, when it did not, formed the basis of the George W. Bush administration's case for war.
"They were frustrated because they didn't do the right thing then" and speak up about their doubts on Iraq's weapons program, the defense official told The Daily Beast.
Delivery of US Weapons and Ammunition to ISIS: Iraqi Commander Wiretaps ISIS Communications with US Military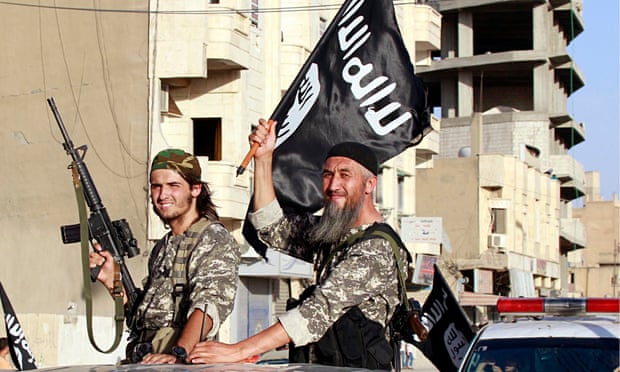 A commander of Iraq's popular forces disclosed that wiretapping of ISIL's communications has confirmed the reports that the US planes have been airdropping food and arms supplies for the Takfiri terrorists.
"The wiretapped ISIL communications by Iraqi popular forces have revealed that the US planes have been dropping weapons and foodstuff for the Takfiri terrorist group," Commander of Iraq's Ali Akbar Battalion told FNA on Wednesday. He noted that tapping on ISIL disclosed the terrorist group's regular contacts with the US army, and said,
"They exchanged sentences like if they would have a share of the ammunition dropped near (Spiker Military Base) or responses such as 'you will also receive your share'."
"The US forces by dropping weapons and ammunition for ISIL, specially in Yassreb, Al-Ramadi and near Spiker Base in Hay al-Qadessiya have provided a lot of help to the ISIL," he added. Many similar reports by Iraqi officials and forces have surfaced in the last few months. In February, an Iraqi provincial official lashed out at the western countries and their regional allies for supporting Takfiri terrorists in Iraq, revealing that the US airplanes still continue to airdrop weapons and foodstuff for the ISIL terrorists.
"The US planes have dropped weapons for the ISIL terrorists in the areas under ISIL control and even in those areas that have been recently liberated from the ISIL control to encourage the terrorists to return to those places," Coordinator of Iraqi popular forces Jafar al-Jaberi told FNA. He noted that eyewitnesses in Al-Havijeh of Kirkuk province had witnessed the US airplanes dropping several suspicious parcels for ISIL terrorists in the province. "Two coalition planes were also seen above the town of Al-Khas in Diyala and they carried the Takfiri terrorists to the region that has recently been liberated from the ISIL control," Al-Jaberi said.
Meantime, Head of Iraqi Parliament's National Security and Defense Committee Hakem al-Zameli also disclosed that the anti-ISIL coalition's planes have dropped weapons and foodstuff for the ISIL in Salahuddin, Al-Anbar and Diyala provinces. In January, al-Zameli underlined that the coalition is the main cause of ISIL's survival in Iraq. "There are proofs and evidence for the US-led coalition's military aid to ISIL terrorists through air(dropped cargoes)," he told FNA at the time. He noted that the members of his committee have already proved that the US planes have dropped advanced weaponry, including anti-aircraft weapons, for the ISIL, and that it has set up an investigation committee to probe into the matter.
"The US drops weapons for the ISIL on the excuse of not knowing about the whereabouts of the ISIL positions and it is trying to distort the reality with its allegations. He noted that the committee had collected the data and the evidence provided by eyewitnesses, including Iraqi army officers and the popular forces, and said, "These documents are given to the investigation committee … and the necessary measures will be taken to protect the Iraqi airspace." Also in January, another senior Iraqi legislator reiterated that the US-led coalition is the main cause of ISIL's survival in Iraq. "The international coalition is only an excuse for protecting the ISIL and helping the terrorist group with equipment and weapons," Jome Divan, who is member of the al-Sadr bloc in the Iraqi parliament, said.
He said the coalition's support for the ISIL is now evident to everyone, and continued, "The coalition has not targeted ISIL's main positions in Iraq." In Late December, Iraqi Parliamentary Security and Defense Commission MP disclosed that a US plane supplied the ISIL terrorist organization with arms and ammunition in Salahuddin province. MP Majid al-Gharawi stated that the available information pointed out that US planes are supplying ISIL organization, not only in Salahuddin province, but also other provinces, Iraq TradeLink reported. He added that the US and the international coalition are "not serious in fighting against the ISIL organization, because they have the technological power to determine the presence of ISIL gunmen and destroy them in one month".
Gharawi added that "the US is trying to expand the time of the war against the ISIL to get guarantees from the Iraqi government to have its bases in Mosul and Anbar provinces." Salahuddin security commission also disclosed that "unknown planes threw arms and ammunition to the ISIL gunmen Southeast of Tikrit city". Also in Late December, a senior Iraqi lawmaker raised doubts about the seriousness of the anti-ISIL coalition led by the US, and said that the terrorist group still received aids dropped by unidentified aircraft. "The international coalition is not serious about air strikes on ISIL terrorists and is even seeking to take out the popular (voluntary) forces from the battlefield against the Takfiris so that the problem with ISIL remains unsolved in the near future," Nahlah al-Hababi told FNA. "The ISIL terrorists are still receiving aids from unidentified fighter jets in Iraq and Syria," she added.
Hababi said that the coalition's precise airstrikes are launched only in those areas where the Kurdish Pishmarga forces are present, while military strikes in other regions are not so much precise. In late December, the US-led coalition dropped aids to the Takfiri militants in an area North of Baghdad. Field sources in Iraq told al-Manar that the international coalition airplanes dropped aids to the terrorist militants in Balad, an area which lies in Salahuddin province North of Baghdad. In October, a high-ranking Iranian commander also slammed the US for providing aid supplies to ISIL, adding that the US claims that the weapons were mistakenly airdropped to ISIL were untrue.
"The US and the so-called anti-ISIL coalition claim that they have launched a campaign against this terrorist and criminal group – while supplying them with weapons, food and medicine in Jalawla region (a town in Diyala Governorate, Iraq). This explicitly displays the falsity of the coalition's and the US' claims," Deputy Chief of Staff of the Iranian Armed Forces Brigadier General Massoud Jazayeri said.
The US claimed that it had airdropped weapons and medical aid to Kurdish fighters confronting the ISIL in Kobani, near the Turkish border in Northern Syria. The US Defense Department said that it had airdropped 28 bundles of weapons and supplies, but one of them did not make it into the hands of the Kurdish fighters. Video footage later showed that some of the weapons that the US airdropped were taken by ISIL militants. The Iranian commander insisted that the US had the necessary intelligence about ISIL's deployment in the region and that their claims to have mistakenly airdropped weapons to them are as unlikely as they are untrue.
US to Buy Arms for Sunni Tribes in Anbar Province
A Pentagon document sent to Congress detailing plans to spend $1.6 billion of additional "training and arming" money on the ISIS war includes a plan to buy AK-47s and rocket-propelled grenades to give to assorted Sunni tribes in Anbar Province. Joint Chiefs Chairman Gen. Martin Dempsey has talked up arming the tribes for some time, but with many of the tribes not on particularly good terms with the Iraqi central government, the decision was controversial. The Pentagon is arguing for arming them anyhow, on the grounds that "not arming tribal fighters" will make them reluctant to fight against ISIS, which controls over 80 percent of Anbar. Only one Sunni tribe in Anbar was on good terms with the central government, Albu Nimr, but ISIS has massacre hundreds of its members since then. Other tribes have so far been more or less willing to accept ISIS rule as at the very least no worse than living under the central government, and it's not clear who these other tribes even might be.
Hackers trace ISIS Twitter accounts back to internet addresses linked to Department of Work and Pensions
Teenage computer experts unveil astonishing web of unpublicised interactions linking extremist social media mouthpieces to the British government
Hackers have claimed that a number of Islamic State supporters' social media accounts are being run from internet addresses linked to the Department of Work and Pensions. A group of four young computer experts who call themselves VandaSec have unearthed evidence indicating that at least three ISIS-supporting accounts can be traced back to the DWP's London offices. Every computer and mobile phone logs onto the internet using an IP address, which is a type of identification number. The hacking collective showed Mirror Online details of the IP addresses used by a trio of separate digital jihadis to access Twitter accounts, which were then used to carry out online recruitment and propaganda campaigns. At first glance, the IP addresses seem to be based in Saudi Arabia, but upon further inspection using specialist tools they appeared to link back to the DWP.
"Don't you think that's strange?" one of the hackers asked Mirror Online. "We traced these accounts back to London, the home of the British intelligence services."
VandaSec's work has sparked wild rumours suggesting someone inside the DWP is running ISIS-supporting accounts, or they were created by intelligence services as a honeypot to trap wannabe jihadis. However, when Mirror Online traced the IP addresses obtained by VandaSec, we found they actually pointed to a series of unpublicised transactions between Britain and Saudi Arabia. We learned that the British government sold on a large number of IP addresses to two Saudi Arabian firms. After the sale completed in October of this year, they were used by extremists to spread their message of hate. Jamie Turner, an expert from a firm called PCA Predict, discovered a record of the sale of IP addresses, and found a large number were transferred to Saudi Arabia in October of this year.
He told us it was likely the IP addresses could still be traced back to the DWP because records of the addresses had not yet been fully updated. The Cabinet Office has now admitted to selling the IP addresses on to Saudi Telecom and the Saudi-based Mobile Telecommunications Company earlier this year as part of a wider drive to get rid of a large number of the DWP's IP addresses. It said the British government can have no control over how these addresses are used after the sale.
A Cabinet Office spokesperson said: "The government owns millions of unused IP addresses which we are selling to get a good return for hardworking taxpayers. "We have sold a number of these addresses to telecoms companies both in the UK and internationally to allow their customers to connect to the internet. "We think carefully about which companies we sell addresses to, but how their customers use this internet connection is beyond our control." The government did not reveal how much money was made from selling the IP addresses to the pair of Saudi firms, because it regards this information as commercially sensitive.
Source:
http://www.mirror.co.uk/news/technology-science/technology/hackers-trace-isis-twitter-accounts-7010417
US Policy Strategists Aware That ISIL Poses Threat to Russia, China, Iran
The Islamic State poses a serious threat to Russia, China, and Iran and the United States is strategically aware of it, American scholar Dr. Matthew Crosston stresses.
Washington is strategically aware that the rise of ISIL (Islamic State) poses a significant threat to Eurasia's geopolitical players, most notably Iran, China and Russia, according to Dr. Matthew Crosston, a professor of Political Science and Director of the International Security and Intelligence Studies program at Bellevue University and Evan Thomsen. The professor stressed that the popular conspiracy theory that the Islamic State was created by the United States bears no relation to reality. However, it is obvious that Washington realizes that ISIL is in some sense playing directly into America's hands in the region, the scholar adds. The professor envisages that ISIL will continue its advance, targeting Khorasan, Eurasia's new geopolitical battleground.
"Khorasan is a region that encompasses much of Afghanistan, Pakistan, Uzbekistan, Tajikistan, Turkmenistan, and Iran. To ISIS [ISIL], Khorasan represents the first battleground of its end-of-days scenario. To regional powers, Khorasan represents the future of energy," Dr. Crosston noted in his article for New Eastern Outlook. China, Russia and Iran have relatively free access to this "pie." However, the United States is unwilling to allow Eurasia's geopolitical competitors to develop their energy infrastructures further.
"[T]he US can try to increase NATO presence through security commitments and public displays of force, seeking to undermine the Russian regional energy hegemony. We have already seen the public march of NATO throughout Europe. We are in the midst of developing a simultaneously overt and covert strategy of economic and energy subversion. It seems likely such a strategy would seek to align military and economic power rather than detach them," the professor remarked. At the same time "the US has a geopolitical interest in acting as at least a partial impediment" to China's plans to explore natural resources in the Caspian region, the professor noted. On the other hand, while negotiating with Iran, Washington keeps in mind that ISIL's growing threat in the region could make Tehran more tractable, since the Islamic State undermines Iran's economic stability and security.
"War is not just politics but economics by another means. The Caspian region, or Khorasan, is now playing host to a Gordian knot of great power politics and economics. ISIS (ISIL) is a dialectical challenge for the United States, existing both as a US foreign policy failure in the present and presenting a unique strategic opportunity in the near future… I expect that as ISIS looks to Khorasan the US will look the other way," the professor suggested.
So, maybe that is why Washington is not rushing to exterminate the Islamic State, prompting fierce criticism from Tehran and Baghdad? The US is not the only power that is benefitting from the ongoing turmoil in the Middle East, instigated by the rise of the Islamic State. The Gulf monarchies are also interested in containing their energy rivals and Shia neighbors. Thus far, it comes as no surprise that the Gulf States, which have repeatedly been accused of sponsoring al-Qaeda affiliates and terrorist insurgents in the Middle East, turn a deaf ear to the pleas of Syrian refugees. Ian Bremmer, the president and founder of US-based Eurasia Group, has pointed out that Saudi Arabia, Bahrain, UAE, Qatar, and Kuwait have not raised a finger to support Syrian shelter-seekers.
Source: http://sputniknews.com/analysis/20150828/1026316572.html
One of top ISIS commanders was a 'star pupil' of US-special forces training in the country of Georgia
Aside from ISIS' 'caliph' Abu Bakr al-Baghdadi, the Georgian ex-commando Omar al-Shishani might be the most recognizable and popular of the powerful militant group's leaders. Sporting a recognizable red beard and happy to pose for photos, Shishani has acted as a very public face for some of ISIS' most notorious successes.
It was Shishani who posed with the stolen US Humvees that ISIS had seized from Mosul and brought back into Syria. And it was Shishani who had led successful ISIS military campaigns throughout Syria as well as a blitz through western Iraq that put the group within 100 miles of Baghdad. These military successes are not simply the result of any innate military capabilities. Instead, Shishani spent years conducting military campaigns against the Russians, first as a Chechen rebel and then as a soldier in the Georgian military. During Shishani's four years in the military, from 2006 to 2010, his unit received some degree of training from American special forces units.
"He was a perfect soldier from his first days, and everyone knew he was a star," an unnamed former comrade who is still active in the Georgian military told McClatchy DC. "We were well trained by American special forces units, and he was the star pupil."
"We trained him well, and we had lots of help from America," another anonymous Georgian defense official told McClatchy about Shishani. "In fact, the only reason he didn't go to Iraq to fight alongside America was that we needed his skills here in Georgia."
In 2008, when Russia and Georgia briefly went to war over the Georgian breakaway province of South Ossetia, Shishani reportedly was a star soldier. Although Russia quickly won the war, Shishani and his special forces unit caused asymmetrical damage to the invading Russian forces, including the wounding of the Russian commander of the 58th Army. Shishani ultimately fell out of favor with the Georgian military and was arrested for 15 months for illegally harboring weapons. In 2012, after serving his sentence, Shishani fled Georgia and went to Syria via Turkey. However, his history of asymmetrical fighting against the Russians in the Caucasus, both before and after having received American training, has played a key role in defining Shishani's military and command style.
"Shishani is somewhat unique among ISIS's commanders. Shishani is fighting like an insurgent," Daveed Gartenstein-Ross, a senior fellow at the Foundation for Defense of Democracies, told Musings on Iraq. "He's using a complex style in Anbar [province in western Iraq], relying on a very small force ... Shishani's forces emphasize speed and agility."

"They'll hit multiple targets on the same day, and engage in harassing attacks to try to draw out the enemy, the Iraqi Security Forces or the Sahwa [Sunni tribes aligned against ISIS in Iraq]. Then he loves trapping the people he's able to draw out that are in pursuit of him."

These tactics have worked extremely well for Shishani throughout Iraq. Despite US-led coalition airstrikes and the combined forces of the Iraqi Security Forces and Iranian-backed militias, ISIS has continued to seize territory and embed itself deeper into Iraq's Anbar province. And more concerning is that even if ISIS were to lose ground, there is no clear indication that it would make Shishani any less dangerous. Having trained and specialized in insurgent-like, asymmetrical warfare, Shishani would be just as much of a danger to Iraq even should ISIS begin to lose territory.
Sour
ce:
http://finance.yahoo.com/news/one-isis-top-commanders-star-165700972.html
Chechen Jihadis Leave Syria, Join the Fight in Ukraine
Just an hour's drive from this city under siege, at an old resort on the Azov Sea that's now a military base, militants from Chechnya—veterans of the jihad in their own lands and, more recently, in
Syria
—now serve in what's called the Sheikh Mansur Battalion. Some of them say they have trained, at least, in the Middle East with fighters for the so-called
Islamic State, or ISIS
.
Among the irregular forces who've enlisted in the fight against the Russian-backed separatists in the
Donbas region of eastern Ukraine
, few are more controversial or more dangerous to the credibility of the cause they say they want to serve. Russian President Vladimir Putin would love to portray the fighters he supports as crusaders against wild-eyed jihadists rather than the government in Ukraine that wants to integrate the country more closely with Western Europe. Yet many Ukrainian patriots, desperate to gain an edge in the fight against the Russian-backed forces, are willing to accept the Chechen militants on their side.
Over the past year, dozens of Chechen fighters have come across Ukraine's border, some legally, some illegally, and connected in Donbas with the Right Sector, a far-right-wing militia. The two groups, with two battalions, have little in common, but they share an enemy and they share this base. The Daily Beast spoke with the Chechen militants about their possible support for the Islamic State and its affiliate in the Northern Caucasus region of Russia, which is now called the Islamic State Caucasus Emirate and is labeled a terrorist organization by both Russia and the United States.
"Mansur came here from Syria. He used ISIS as a training base to improve his fighting skills."
The Chechen fighters said they were motivated by a chance to fight in Ukraine against the Russians, whom they called "occupiers of our country, Ichkeriya," another term for Chechnya. Indeed, they were upset that Ukrainian authorities did not allow more Chechen militants to move to Ukraine from the Middle East and the mountains of the Caucasus. The Sheikh Mansur Battalion, founded in Ukraine in October 2014, "needs re-enforcement," they said.
The man the Chechens defer to as their "emir," or leader, is called "Muslim," a common forename in the Caucasus. He talked about how he personally crossed the Ukrainian border last year: "It took me two days to walk across Ukraine's border, and the Ukrainian border control shot at me," he said. He lives on this military base here openly enough but is frustrated that more of his recruits can't get through. "Three of our guys came here from Syria, 15 more are waiting in Turkey," he told The Daily Beast. "They want to take my path, join our battalion here right now, but the Ukrainian border patrol is not letting them in."
Muslim pulled out a piece of paper with a name of another Chechen heading to join the battalion. The handwritten note said that Amayev Khavadzhi was detained on September 4, 2014, in Greece and now could be deported to Russia. (Khayadzhi's lawyer in Greece told The Daily Beast on the phone that there was a chance that his defendant would be transferred to his family in France instead.)
"Two more of our friends have been detained, and are threatened with deportation to Russia, where they get locked up for life or Kadyrov kills them," Muslim told The Daily Beast, referring to the pro-Putin strongman of Chechnya, Ramzan Kadyrov.
The commander pointed at a young bearded militant next to him: "Mansur came here from Syria," Muslim said. "He used ISIS as a training base to improve his fighting skills." Mansur stretched out his right hand, which was disfigured, he said, by a bullet wound. Two more bullets were still stuck in his back, he said. "No photographs," Mansur shook his head when a journalist tried to take his picture. Not even of his hand, not even from the back: "My religion does not allow that."
In fact, to demonstrate they were tough, armed, and that their numbers were growing these Chechens posted their photographs on the Russian social network
Vkontakte
, which actually is controlled by the Russian government. But several had their faces blanked out, presumably to avoid prosecution, whether in Russia or the West. "Kadyrovtsy [Kadyrov] knows my face and my hand too well," Mansur explained to The Daily Beast.
Mansur said he did not have to run across the border under a hail of of bullets like Muslim. "We managed to reach an agreement with the Ukrainians," he said. The arrival of pro-Ukrainian Chechen fighters from abroad helped relieve some of the immigration problems of Chechens already living in Ukraine, the militants explained. Kadyrov had sent some of his Chechens to fight on the Russian side of the conflict last year, said Muslim, and as a result "there was a temporary danger that Chechen families might be deported from Ukraine… But as soon as we started coming here last August, no Chechen in Ukraine had reasons to complain." Were former fighters coming to Ukraine from Syria because they were disappointed (or appalled) by the ideology of ISIS?
"We have been fighting against Russia for over 400 years; today they [the Russians] blow up and burn our brothers alive, together with children, so here in Ukraine we continue to fight our war," the commander said. Many in Ukraine remembered the Chechen war of the mid-1990s as a war for independence, which briefly was given, then taken away. Since then the war in the Caucasus has morphed into terrorism, killing about 1,000 civilians, many of them children, in a series of terror attacks. And whatever the common enemy, that poses a serious problem for Kiev if it embraces such fighters
"The Ukrainian government should be aware that Islamic radicals fight against democracy," says Varvara Pakhomenko, an expert at the International Crisis Group. "Today they unite with Ukrainian nationalists against Russians, tomorrow they will be fighting against liberals."
Pakhomenko says something similar happened in Georgia in 2012 when the government there found itself accused of cooperation with Islamic radicals from Europe, Chechnya, and the Pankisi Gorge, an ethnic Chechen region of Georgia. For international observers covering terrorism in Russia and Caucasus in the past 15 years, the presence of Islamic radicals in Ukraine sounds "disastrous," monitors from the International Crisis Group told The Daily Beast. But many ordinary Ukrainians and officials in Mariupol support the idea of retaining more Chechen militia fighters. "They are fearless fighters, ready to die for us, we love them, anybody who would protect us from death," said Galina Odnorog, a volunteer supplying equipment, water, food, and other items to battalions told The Daily Beast. The previous night Ukrainian forces reported six dead Ukrainian soldiers and over a dozen wounded.
"ISIS, terrorists—anybody is better than our lame leaders," says local legislative council deputy Alexander Yaroshenko. "I feel more comfortable around Muslim and his guys than with our mayor or governor."
The Right Sector battalion that cooperates with the Chechen militants is a law unto itself, often out of control, and tending to incorporate anyone it wants into its ranks. In July two people were killed and eight wounded in a gun and grenade battle between police and Right Sector militia in western Ukraine. On Monday, Right Sector militants triggered street battles in the center of Kiev that left three policemen dead and over 130 wounded. Yet the government in Kiev has been considering the transfer of the Right Sector into a special unit of the SBU, Ukraine's security service, which has made many people wonder whether the Chechen militia will be joining the government units as well. So far, neither the Right Sector battalion nor the Chechen battalion have been registered with official forces.
In Ukraine, which is losing dozens of soldiers and civilians every week, many things could spin out of control but "it would be unimaginable to allow former or current ISIS fighters to join any government-controlled or -sponsored military unit," says Paul Quinn-Judge, senior adviser for International Crisis Group in Russia and Ukraine. "It would be politically disastrous for the Poroshenko administration: No Western government in its right mind would accept this, and it would be an enormous propaganda gift for the Kremlin. The Ukrainian government would be better served by publicizing their decisions to turn ISIS vets back at the border."
Part 2 – THE LONG WAR
Follow the money
Media reports following ISIS' conquest of much of northern and central Iraq this summer have painted the group as the world's most super-efficient, self-financed, terrorist organisation that has been able to consolidate itself exclusively through extensive looting of Iraq's banks and funds from black market oil sales. Much of this narrative, however, has derived from dubious sources, and overlooked disturbing details.
Al-Qaeda drives the opposition in Syria

The West identifies with the opposition

The establishment of a nascent Islamic State became a reality only with the rise of the Syrian insurgency (there is no mention of U.S. troop withdrawal from Iraq as a catalyst for Islamic State's rise, which is the contention of innumerable politicians and pundits; see section 4.D. below)

The establishment of a "Salafist Principality" in Eastern Syria is "exactly" what the external powers supporting the opposition want (identified as "the West, Gulf Countries, and Turkey") in order to weaken the Assad government

"Safe havens" are suggested in areas conquered by Islamic insurgents along the lines of the Libyan model (which translates to so-called no-fly zones as a first act of 'humanitarian war'; see 7.B.)

Iraq is identified with "Shia expansion" (8.C)

A Sunni "Islamic State" could be devastating to "unifying Iraq" and could lead to "the renewing facilitation of terrorist elements from all over the Arab world entering into Iraqi Arena." (see last non-redacted line in full PDF view.)
Source: http://www.ibtimes.co.uk/focus-turkeys-airstrikes-isis-just-cover-hit-pkk-warns-top-kurd-activist-1513491